Ashes 2021-22: Analysis of Day 2 of the first Ashes Test at the Gabba
Australia has taken a stranglehold of the first Test after Travis Head's blistering third session century secured a massive lead. LACHLAN McKIRDY has the key statistics and moments covered.
STUMPS: Australia 7-343 (Travis Head 112*, David Warner 94, Ollie Robinson 3-48, Joe Root 1-29) after 84 overs lead England by 196 runs
Head's quick-fire century: Travis Head became the first man to score 100 runs in a session of Test cricket at the Gabba when he hit a brilliant 101* off 85 balls against a lacklustre England bowling attack.
Going into tea, Head was 0* and in the middle of an Australian batting collapse where they lost four quick wickets.
As England limped towards the new ball, Ollie Robinson and Ben Stokes both look hampered by injury while Jack Leach became the most expensive spinner at the Gabba in 80 years. Head had no respect for the tourists, blasting 12 boundaries and two sixes as he brought up just his third Test century to put Australia in an extremely dominant position at the end of Day 2.
66 per cent of Head's runs were scored on the off-side as he capitalised on any width offered to him by the English bowlers.
Only four Australians have scored a Test century faster than Head's 85 balls - Adam Gilchrist, David Warner, Matthew Hayden and Jack Gregory.
*****
ASHES MATCH CENTRE: LIVE SCORES, STATS, COMMENTARY
*****
Full steam a-Head: Travis Head made the most of the older ball as he put together a run-a-ball half century late on Day 2 at the Gabba. Despite copping a blow to the arm - where he looked in considerable discomfort - Head managed to bat on and hit seven boundaries and a six to bring up his fifty. With 65 per cent of his runs coming from boundaries it was a clear sign of intent from the No.5 batter who battled for his spot in the side with Usman Khawaja.
Travis Head enjoys batting at the Gabba. His Test average at the ground is 80.50, only behind Manuka Oval in terms of his favoured venues. Head has only been able to convert two of nine half-centuries into triple figures in his Test career but Day 2 at the Gabba presents a perfect opportunity for him to get his third century.
*****
South Australia represent: For the first time in eight years two South Australian batters have come together at the crease for Australia at Test level. Alex Carey, making his debut, walked out to the crease with a familiar face at the other end, his state captain Travis Head.
In a similar role to Jos Buttler on Day 1, Head opted to take an aggressive approach to the start of the innings. He took 12 off one Ben Stokes over, who looked somewhat hampered by a potential injury, as well as dispatching Joe Root back over his head for six.
Alex Carey was brought unstruck after mistiming a pull shot straight to Ollie Pope at mid-wicket, the partnership only managing 41 runs.
*****
Robinson strikes: Ollie Robinson brought England well and truly back into the game with two quick wickets after tea. He forced a false shot from David Warner on 94 who could only mistime a drive to Ben Stokes at mid-off. Next ball, Cameron Green didn't offer a shot and Robinson took out his off-stump. It means Australia lost 4-29 and a middle-order collapse that has become all too common with Australia's batting in recent years.
CricViz found that the ball to dismiss Green moved 1.5 degrees to clip the stumps. Only seven of Robinson's deliveries across Day 2 moved more.
It's the first time that David Warner has been dismissed between 50-99 at the Gabba, a record that didn't look like changing when he was handed life after life by England.
Green's batting average now sits at 29.50 through eight innings at Test level.
Robinson's dismissal of Green was only the fourth time he has bowled an opponent out at Test level out of 31 wickets.
*****

TEA: Australia 3-193 (David Warner 94*, Marnus Labuschagne 74, Robinson 1-30, Wood 1-35) after 54 overs with a lead of 46 runs
Smith goes early: Mark Wood has been England's best bowler on Day 2 and finally got his reward with the early wicket of Steve Smith for 12. He put the ball out a bit wider to find Smith's edge with Jos Buttler taking a comfortable catch.
When Smith is dismissed for less than nine, 62 per cent of the time he is caught. It shows he has a propensity to mistime shots early in his innings.
It's only the fifth time in 13 innings at the Gabba that Smith has been dismissed for less than 30.
Smith has normally performed a lot stronger against England. His return of 12 in the first innings is Smith's lowest against England since scoring six in the second innings of the 2017 Adelaide Test.
Since the 2017 series, Smith's average against England has been 113.30 with six centuries in 15 innings. It suggests he'll want to bounce back if he gets another chance in the second dig.
*****
Marnus' bunny? Jack Leach has become the first bowler in Test cricket to dismiss Marnus Labuschagne three times. After getting the Australian talisman two times in the 2019 Ashes series, Leach drew a false shot from Labuschagne who mistimed a cut shot straight to Mark Wood.
After being dismissed for 74, it is the sixth time that Labuschagne has been out between 70 and 99 in Test cricket. It is also the 11th time Labuschagne has been unable to convert his half-century into triple figures, which equates to 34 per cent of his Test innings.
*****

Leach leaks runs: Australia has attempted to hit England spinner Jack Leach out of the attack by taking an aggressive approach to the wily left-arm off-spinner.
After four overs, Leach's economy rate sat at 8.25, which is the most of any bowler at the Gabba in the last ten years and the third-highest of all time at the venue. Naturally, the rate will come down as he bowls more overs but unless you're Nathan Lyon it's usually hard work at the Gabba.
Lyon's bowling average of 31.55 over the last ten years at the Gabba is impressive when you compare it to international spinners at the venue. The next three best averages by spinners at the Gabba in the last ten years are all-rounders: Pakistan's Haris Sohail (37.50), Sri Lanka's Dilruwan Perera (42.00) and India's Washington Sunday (42.25).
Of the noted international spinners to play at the Gabba in the last ten years, Daniel Vettori (44.00), Moeen Ali (48.50), Yasir Shah (54.14) and Ravichandran Ashwin (64.00) have all had very disappointing returns.
And don't mention the Gabba to Graeme Swann, the English off-spinner has an average of 94.00 at the venue.
*****
Upping the tempo: After an initial period of caution, David Warner and Marnus Labuschagne really adjusted the scoring rate in the first session. With an extra eight overs due to Wednesday's rain, Australia scored at 3.64 an over to finish the session at 1-113.
There's no doubt the conditions have suited batting on Day 2 but it's a stark contrast to just how hard it was for England to get started on Day 1.
England's run rate in the first session yesterday was only 2.26 and over and they went into the changeroom at 4-59. It has certainly felt like a game of two halves.
*****

LUNCH: Australia 1-113 (Labuschagne 53*, Warner 48*, Robinson 1-19) after 31 overs trail England by 34 runs
Marnus' Gabba love-affair: It's no surprise that Marnus Labuschagne's best Test match ground is his home deck in Brisbane. In four Tests he has shown just how good he is in the Queensland conditions with his batting average currently sitting at 113.00.
He also has the best Test strike rate of his career at the Gabba with 61.74.
Labuschagne has also scored centuries in his last two Test matches at the venue including 185 against Pakistan back in November 2019.
*****

The unbreakable duo: After struggling early, Marnus Labuschagne and David Warner have flicked the switch to start being more aggressive and have brought up their 100-run partnership.
It is the 11th partnership between the pair and the fifth time they have passed 100 runs together. They average 99.70 when batting together. Of Australia pairs to bat together more than three times in the last 10 years, Warner and Labuschagne's average is only behind Travis Head and Usman Khawaja (163.00 in three innings) and Ryan Harris and Nathan Lyon (131.00 in three innings including two not out partnerships).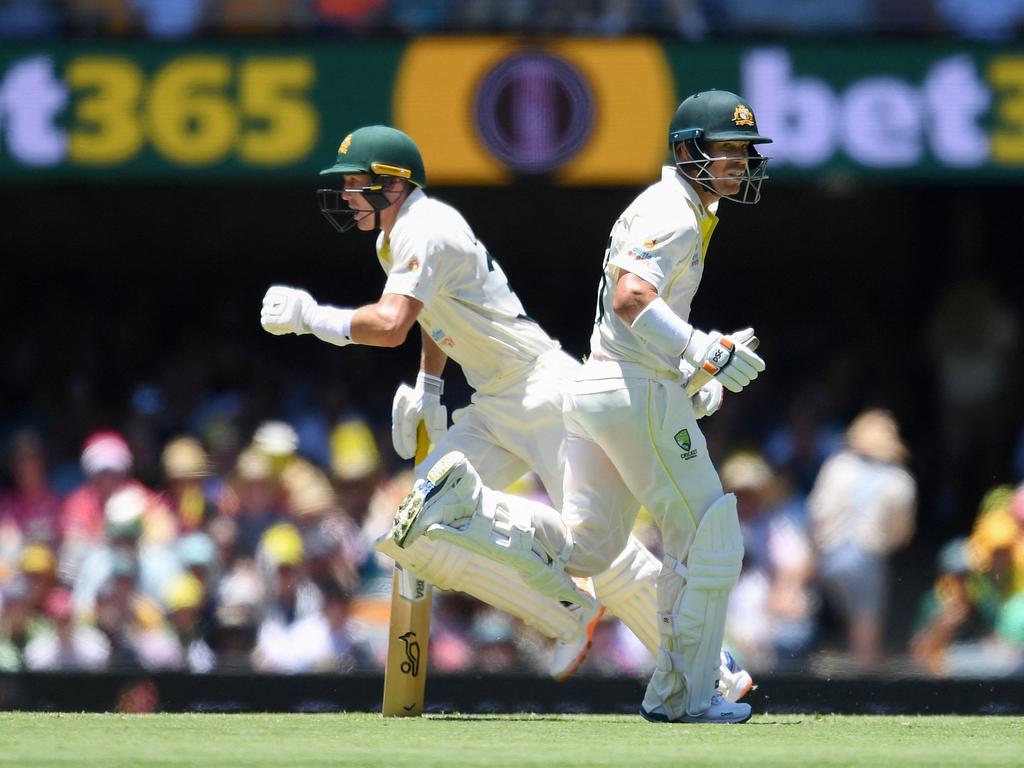 Labuschagne and Warner have thrived batting together. Picture: Dan Peled/AFP
*****

Patient Warner: After being given a life by Ben Stokes' no-ball, David Warner seems determined to make the most of the opportunity. He isn't taking many risks with how he plays and is being more considered with his shots.
His career Test strike rate is 72.49 and after reaching 32 off 68 balls on Day 2 at the Gabba, his strike rate sits at 47.05. It shows that the going is tough early in Brisbane but if he stays in, he should be rewarded.
It is an approach Warner has taken regularly at the Gabba. His career Test strike rate in Brisbane sits at 68.13, the only two Australian venues where he has a lower strike rate are Bellrieve Oval (67.69) and the new Optus Stadium, where he has only played one Test (45.25). But as a result, Warner's Test average at the Gabba sits at 64.14 which is higher than his average in both Sydney (57.69) and Melbourne (45.00).
Once Warner passes 50 at the Gabba, he has a phenomenal rate of converting the start into triple figures. He has scored four centuries and only once hasn't converted, when he was 87* in the fourth innings of the 2017 Ashes Test and Australia had chased down England's total.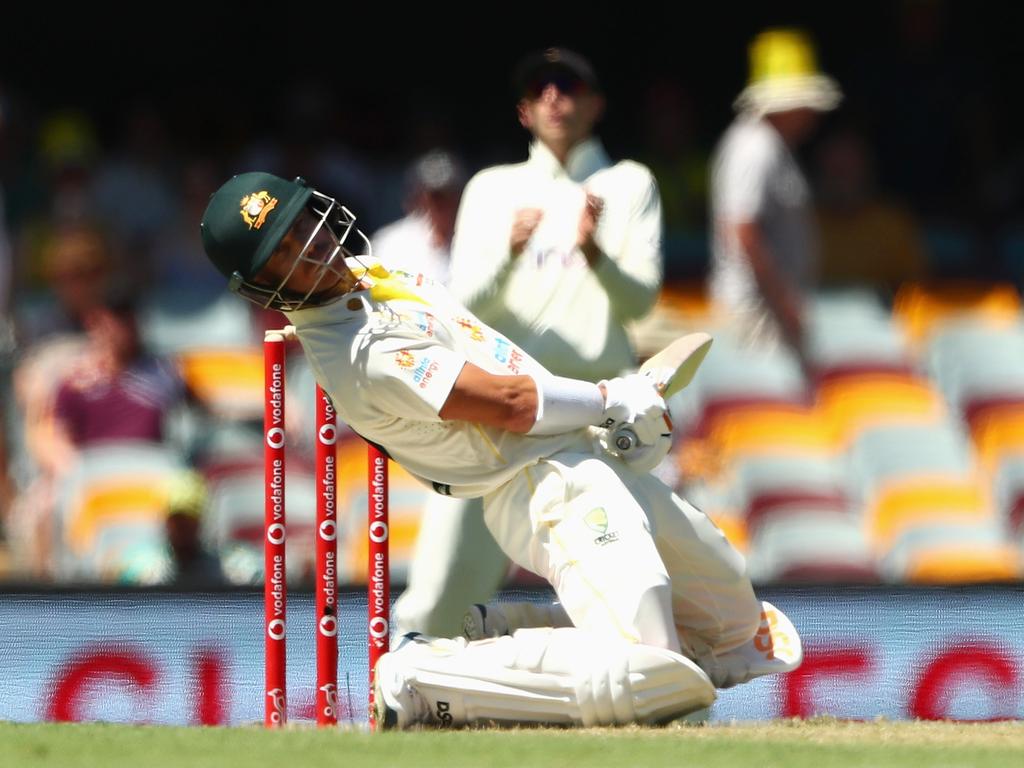 Warner has been forced to take his time early on Day 2 at the Gabba. Picture: Chris Hyde/Getty Images
*****
NEWS UPDATE – No-ball technology failure
– Ben Horne
A technological failure has been blamed for umpires missing a sequence of four Ben Stokes' no balls which led to David Warner getting a match-shaping lifeline at the Gabba.
For the past two years, the ICC has utilised auto no-ball technology, which relies on four cameras constantly feeding vision through to the third umpire so calls can be made on front-foot no-balls after every single delivery.
However, that technology crashed at the Gabba before the Test started, and so this match is being played under old playing conditions where front-foot no-balls are only reviewed by the third umpire after wicket-taking deliveries.
Players knew the revised conditions before the match, which might explain Stokes' contained reaction after being called for a no-ball when he should have had Warner bowled for just 17.
The technological issues at the Gabba may have cost England dearly, because if any of his previous three no-balls were picked up, he may have checked his run up before the wicket-taking delivery.
Further analysis confirmed Stokes has bowled 14 deliveries over the line, yet only one had been called.
Warner got another life on 48 when Rory Burns dropped an absolute sitter at third slip off the bowling of Ollie Robinson.
There have been five previous occasions in Warner's career where he's been given a reprieve from a front-foot no-ball and every time he's gone on to make hundreds.
*****
No-Ball, No-Wicket: When Stokes bowled David Warner with just his fourth delivery of the morning, it signalled his true arrival this Ashes series. Warner, bat under his arm, could only start walking towards the dressing room.
However, replays showed that Stokes had over-stepped and Warner was giving a reprieve. It always seems to be Warner who gets dismissed on a no-ball.
Stokes' no-ball was the first no-ball of the match, the Australians didn't overstep once. It goes to show just how crucial those mistakes can be.
*****

Harris' nerves: Marcus Harris continues his inauspicious Test cricket career after being dismissed for 3 by Ollie Robinson early on Day 2 at the Gabba. Admittedly, he received a beauty of a delivery from Robinson but with hard hands, he handed a prized early chance to Dawid Malan at third slip who made no mistake.
Of Harris' 19 dismissals in Test cricket, 13 have been to right-arm pace. Nine of those have been caught by either a fielder or the wicketkeeper. It is also the sixth time he has been dismissed for less than nine runs with his Test average sitting at 22.68.
Harris has also traditionally struggled with the extra bounce that the Gabba can provide. In seven first-class matches, Harris only averages 18.83 with a high score of 62. It is his lowest first-class average at all the Australian Test venues, his next lowest is 31.92 at Adelaide Oval.
Marcus Harris walks off the Gabba after being dismissed for just 3 in Australia's first innings. Picture: Chris Hyde/Getty Images
*****
Warner's upside: With Australia to bat from the start of day two of the first Test, the Gabba crowd will be hoping to again see the 'good' Dave Warner.
Warner averaged 9.5 in the last Ashes series; 95 runs from 10 innings during a miserable tour of England. Nemesis Stuart Broad dismissed him seven times.
Yet Warner away is a far different beast to Warner at home.
The veteran left-handed opener averages a full 30 runs more in Australia than he does abroad: 63.20 against 33.17. He averages just 26.04 in England.
Warner has made 18 of his Test centuries, against just six abroad, and four have come at The Gabba. He revels in the fast, bouncy Australian conditions and he got a massive leg-up for the Ashes opener when England decided to rest Broad.
Warner dropped hit first delivery to the off-side and scampered through for a quick single off Chris Woakes to immediately get off the mark.
*****
State of play: Pat Cummins claimed five wickets in his first Test as Australian captain. Joe Root got a duck as his side crashed to 147 all-out in 50.1 overs.
It's clearly advantage Australia heading into Day 2.
*****

Subscribe now for full access to CODE on website and app – Download viaApp StoreorGoogle Play
And don't forget to check out CODE's weekly podcast: CODE Words