Ashes 2021-22: Marnus Labuschagne scores Ashes century in Adelaide, where his unlikely rise began
Marnus Labuschagne just cemented his status as a Test superstar with an Ashes century in Adelaide – the same venue things began for him seven years ago, before his career was plunged into uncertainty.
Adelaide Oval holds a special significance to Marnus Labuschagne.
When an unassuming 20-year-old Labuschagne first walked to the middle of the iconic ground in 2014, no one could have imagined how prolific he would become.
In his first-class debut for Queensland, the right-hander opened the batting with Joe Burns and made 83 and 0 against South Australia.
You'd think an 83 on debut would garner attention; Could this be the opening batter Australia's been waiting for?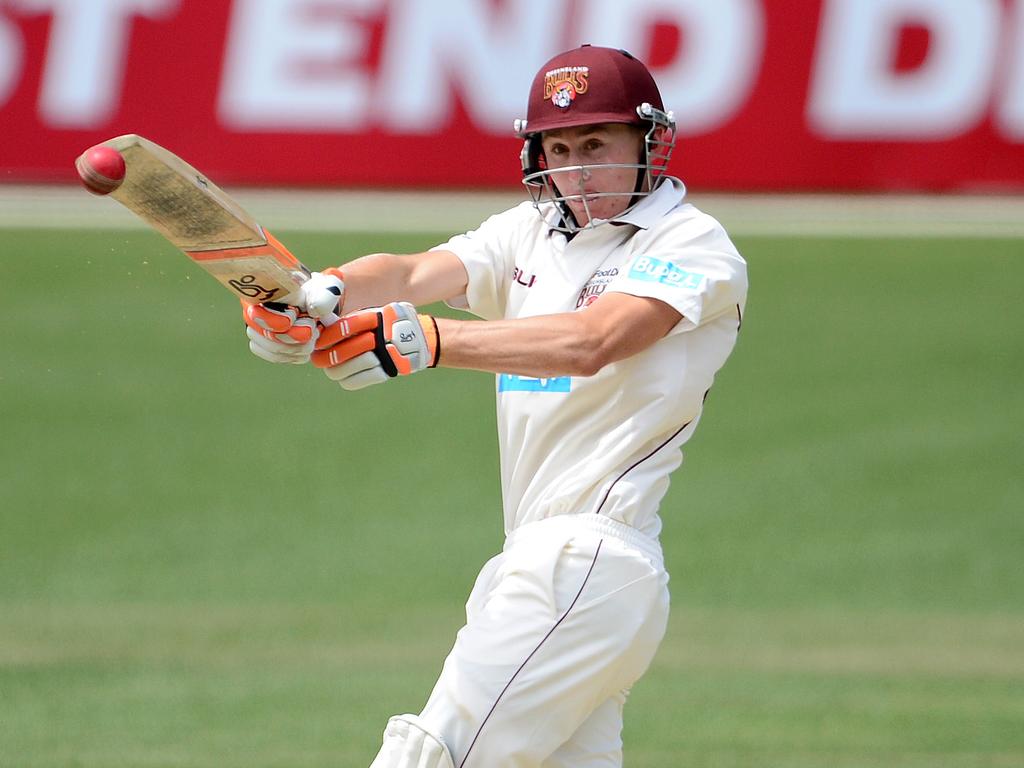 Labuschagne plays a pull shot in his debut match for Queensland at the Adelaide Oval in 2014. Picture: Mark Brake
Yet the big talking points from that innings said otherwise.
A hat-trick by industrious quick Chadd Sayers and a 256-run partnership from Queensland wicketkeeper Chris Hartley and Nick Stevens stole the show. Labuschagne then scored only 100 runs in his next eight Sheffield Shield innings and Queensland delisted him.
That debut match in Adelaide so nearly proved a flash in the pan.
Instead, Labuschagne raised his bat for a sixth Test century on Friday at the same venue. That humble Shield game of seven years ago can now be remembered as the birth of a record-breaking career.
Labuschagne plays a similar pull shot at the same ground he made his first-class debut at all those years ago. This time with a phenomenal Test record already next to his name. Picture: William West/AFP
*****
Labuschagne didn't speak much English when he first arrived in Queensland from South Africa. After the Queensland Academy came calling at age 11, not only did it present him with an opportunity to pursue his first love, cricket, it also gave him a pathway to settle into Australia.
Progressing through the Queensland representative system, the talent was evident. He played for his new state at both under-17s and under-19s level.
Yet proving himself on the big stage was always the goal. Very early, Labuschagne opted to veer from the well-trodden path and look for experience elsewhere.
Before he had made his first-class debut, Labuschagne spent two seasons in England. He first played for Plymouth as a teenager in the Devon League in 2013, scoring 799 runs at an average of 61.46. The following year, he had an even more fruitful season for Sandwich Town in the Kent Premier League, breaking Justin Langer's competition record for the most runs in a season with 1,049 at 74.92.
By October 2014, Labuschagne's confidence was sky-high, even if those in Australia hadn't quite taken notice; except for his brief moment of fame after coming on as a substitute fielder in the Gabba Test to take a screamer at short-leg against India.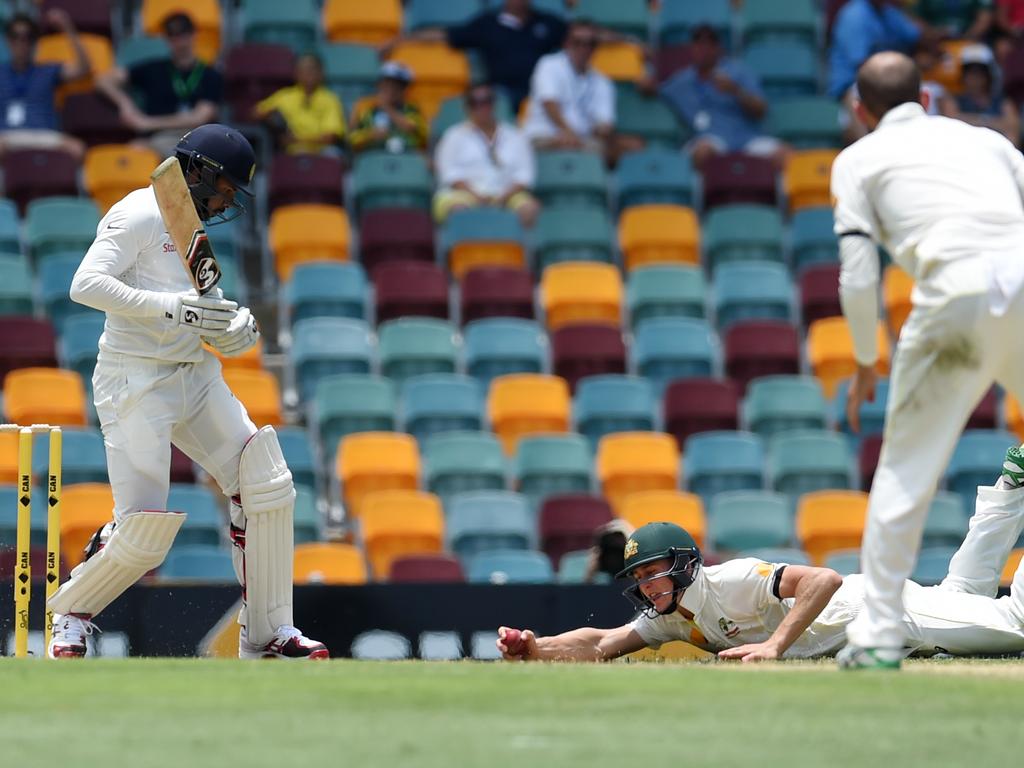 Labuschagne's stunning catch to remove India's Varun Aaron. Picture: Dan Peled/AAP Images
His inauspicious start to Shield cricket kept him under the radar, perhaps to his benefit.
By the time he scored his maiden first-class century, coincidentally also against South Australia in November 2015, it was a weight off Labuschagne's shoulders.
Not until the 2016-17 season was Labuschagne handed a contract by Queensland. By no means was he barging the door down with the bat either – 629 Shield runs at 28.6 – but in an attempt to revitalise the side, Queensland gambled on youth.
He immediately repaid the faith, being named player of the tournament in the 2016 One-Day Cup as he scored 271 runs at 45.16 to lead Queensland to the final.
The message from Labuschagne was resounding: give me a chance and I won't disappoint.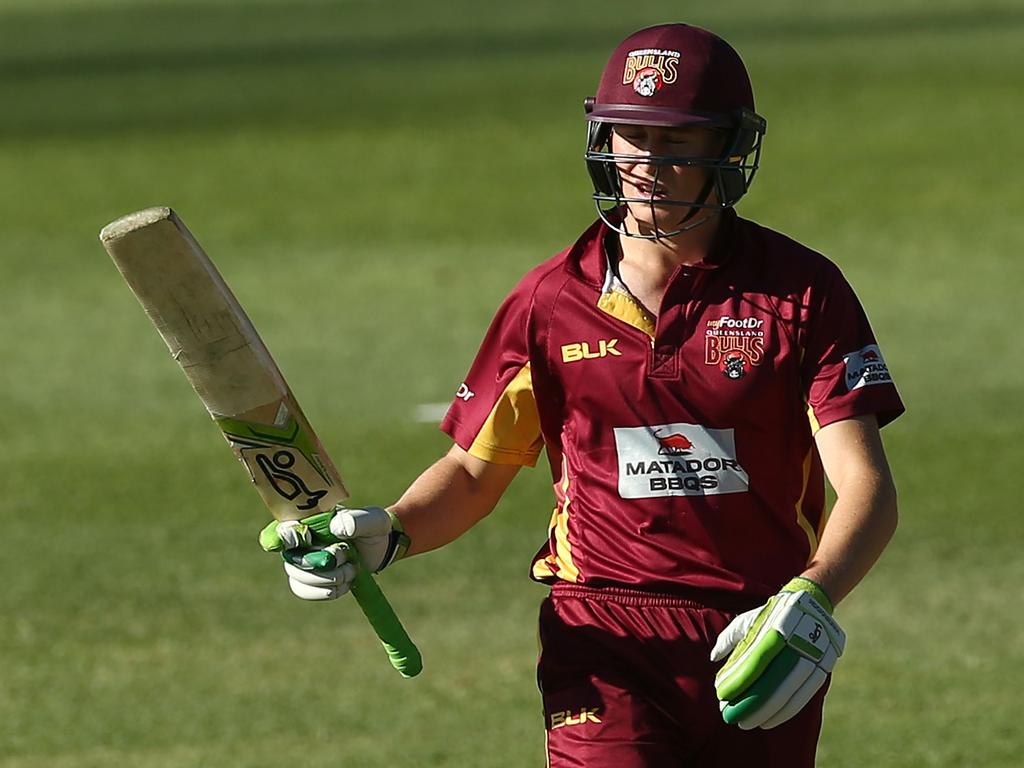 Labuschagne truly arrived for Queensland in the 2016 One-Day Cup, named player of the tournament. Picture: Mark Metcalfe/Getty Images
*****
A lot has been made of Labuschagne's first-class record when he was called up to the Test team in 2018. Many questioned whether he had earned the baggy green; irrespective of him simply being handed an opportunity by the selectors.
After five Tests and an average of 26.25, many labelled it a failed experiment. Labuschagne, however, knew it was just the beginning.
He returned to England. Looking to regain the confidence he found in Plymouth and Sandwich Town, he linked with Glamorgan. Ten matches and 1114 runs later, Labuschagne was back. And soon the world knew it.
Returning to England proved to the be the spark yet again for Labuschagne as he amassed a formidable record for Glamorgan. Picture: Harry Trump/Getty Images
When he became the first concussion substitute in Test cricket at Lord's in 2019, it was the start of a meteoric rise. To Labuschagne, it was finally delivering on unrealised potential.
The flamboyant batter following in the footsteps – and extravagant leaves – of Steve Smith was just expected to fill a gap out of necessity. In Australia's Ashes squad, he was the like-for-like replacement that had to replace Smith as dictated by the ICC's rules.
He hasn't just been like-for-like. He has completely stepped out of Smith's enormous shadow.
Since the Lord's Test, Labuschagne has averaged 74.08 across 15 matches. In first innings knocks, he averages 102 and has only failed to record a half-century on three occasions (each time finishing in the 40s).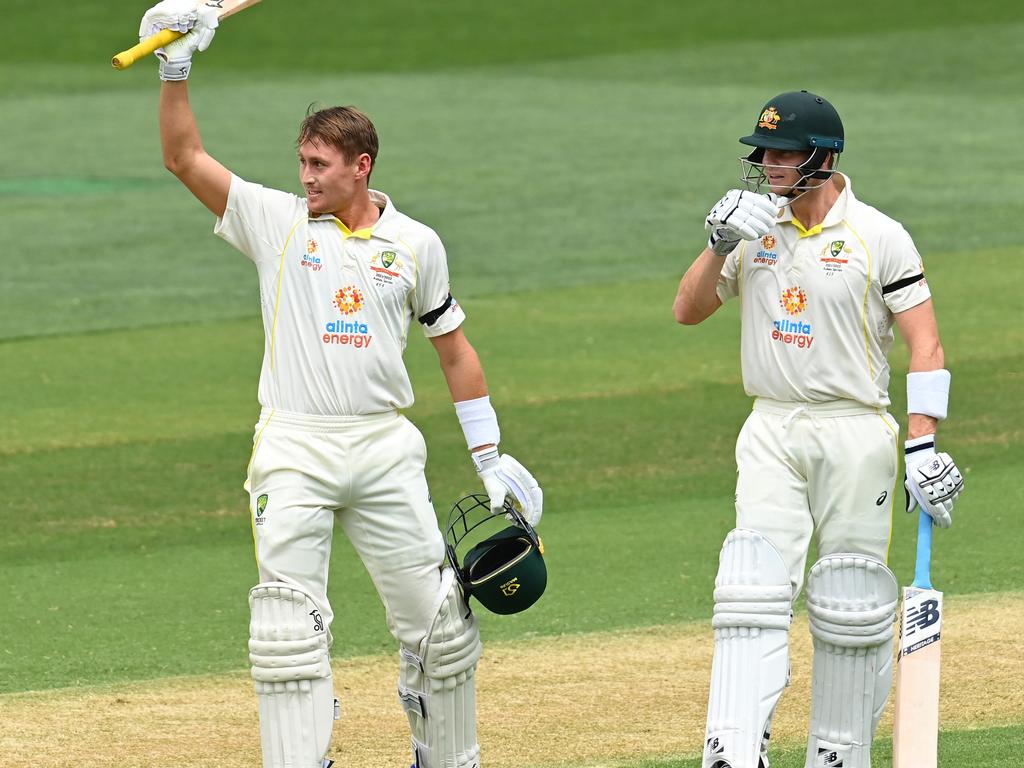 Despite idolising Steve Smith, Labuschagne has well and truly forged his own path in Test cricket. Picture: Quinn Rooney/Getty Images
During his 103 in Adelaide, Labuschagne continued to break records. He brought up his 17th score of 50+ in Tests, the best in the history of cricket after 20 matches. He also became the fifth-fastest batter to bring up 2,000 Test runs and the first to notch three centuries in day-night Tests.
His pink-ball record might suggest an affinity with the day-night conditions; in reality, it speaks to his mental fortitude. "If anything, it's harder," Labuschagne admitted on Friday.
Throughout his career, Labuschagne has fought to prove he belongs at the highest level. It's a journey that achieved its first significant milestone at the Adelaide Oval back in 2014.
Now, the same venue has provided the latest chapter in a career set to go down in the record books.