Ashes 2021-22: Nathan Lyon's fourth innings at the SCG was the fastest he has bowled, and it's becoming an issue for Australia
Again, Australia fell short on the final day and, again, questions are being asked of Nathan Lyon, writes CricViz analyst BEN JONES.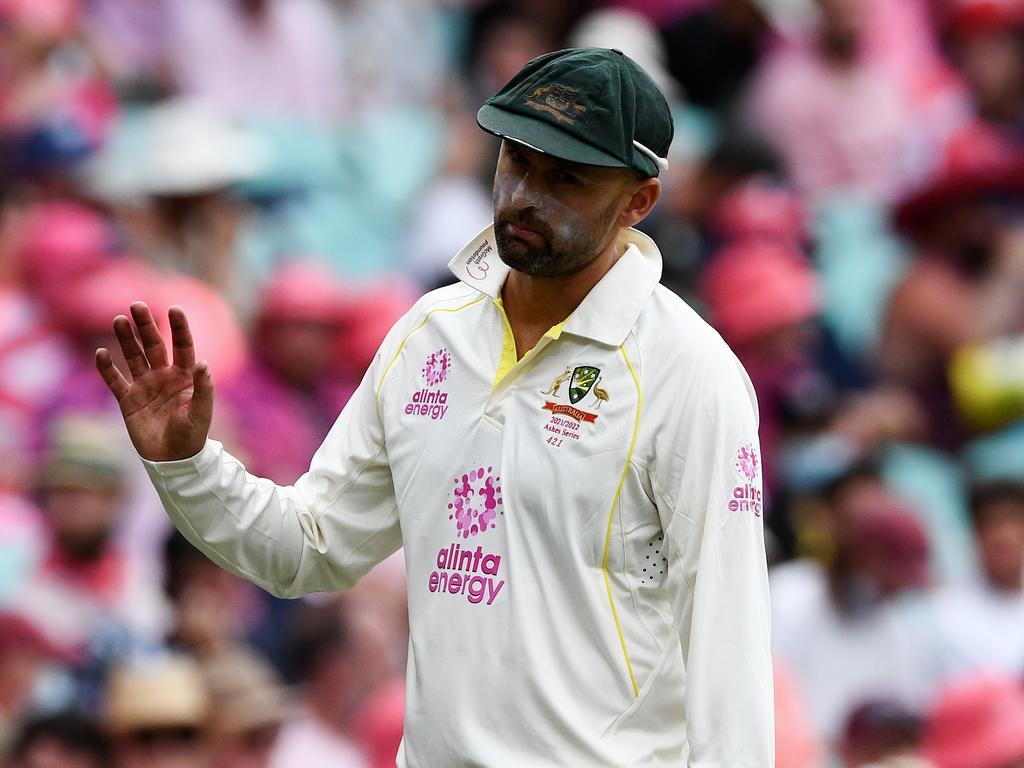 Nathan Lyon is under the microscope after the SCG draw. Picture: Steven Markham/Icon Sportswire via Getty Images.
In the immediate aftermath of the Sydney Test, there was a tendency to get swept up in the drama of the occasion – because we have been sorely lacking it this summer. The Ashes has been a walkover, save for the odd tense half-hour here and there, and the final day at the SCG offered – largely thanks to rain – some genuinely competitive cricket for five hours or so. And so we went into praise-mode. In a series of depressing one-sided contests, this was a day for reveling in the positives.
Well, we're a week on now – so let's get back to the negatives.
For Australia, this was another disappointing climax to add to an increasingly large clump in recent times. Headingley, 2019, the SCG v India, the Gabba v India, and now here in Sydney this week (against a much, much inferior batting order) have all seen Australia fail to bowl out the opposition in the fourth innings with more than 100 overs at their disposal. Having assumed dominant positions, Australia have found it hard to force wins over the line in tight matches.
In those four fourth innings, Nathan Lyon has taken 8-341, averaging a tick under 45 with the ball. Four times he's been asked to deliver a win on the final day of play, and he's failed to get them over the line. Others may take responsibility, and collective failure can rarely be pinned on one individual, but the fourth innings of red ball cricket is where spinners come to life – and Lyon's been subdued for some time.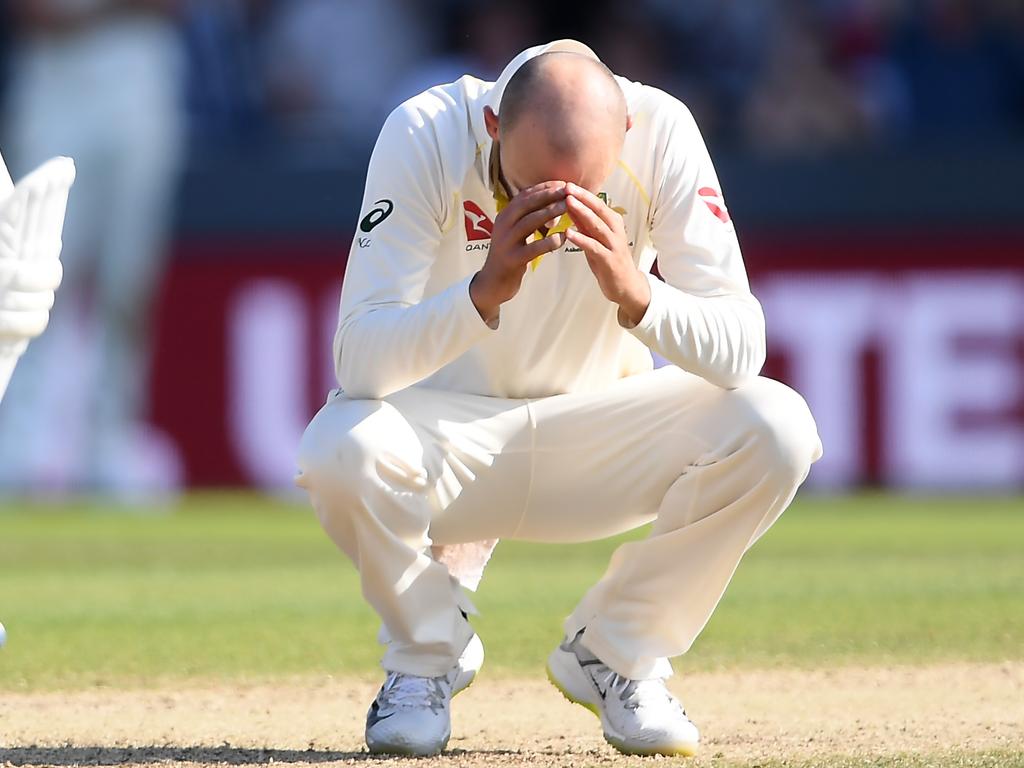 Headingley, 2019, the SCG v India, the Gabba v India, the SCG v England this year – Four times Australia have failed to bowl out the opposition in the fourth innings. Picture: Alex Davidson/Getty Images.
Let's look at Sydney specifically. The most common criticism of Lyon is that he bowls too straight to the right-handers, not getting enough deliveries pitching wide outside off so as to attack both edges. This was, broadly, true on Sunday afternoon. Lyon certainly wasn't bowling an ultra-aggressive wide line (not one of his deliveries to the right-handers pitched in the "wide" zone), and was instead consistently in the channel outside off. 62% of his deliveries pitched in the channel, the second most he's ever recorded in the fourth innings of a Test match. These deliveries are still threatening, and Lyon can still draw the outside edge with the ball that kicks straight on, but it is a more defensive, economy-focused approach, offering very few deliveries which invite the drive. He is a hugely experienced bowler who has been (generally, fairly) lauded as one of the greats – but he consistently makes this error, and rarely learns.
Equally, what is perhaps more significant than the line Lyon was bowling (or rather, what amplified the effect of that defensive line) was the speed at which he was bowling. In this arena, you can claim that Lyon was a bit unfortunate. The dismissal of Dawid Malan, early in the piece, came from a 95 kph delivery; in his third over, Lyon was rewarded for bowling quickly, forcing England's left-hander into a peculiar imitation of his usual simple technique. However, this reward may have sent Lyon down a blind alley. His subsequent average speed on day five was 91 kph – the quickest he's ever bowled in the fourth innings of a Test match. It didn't work.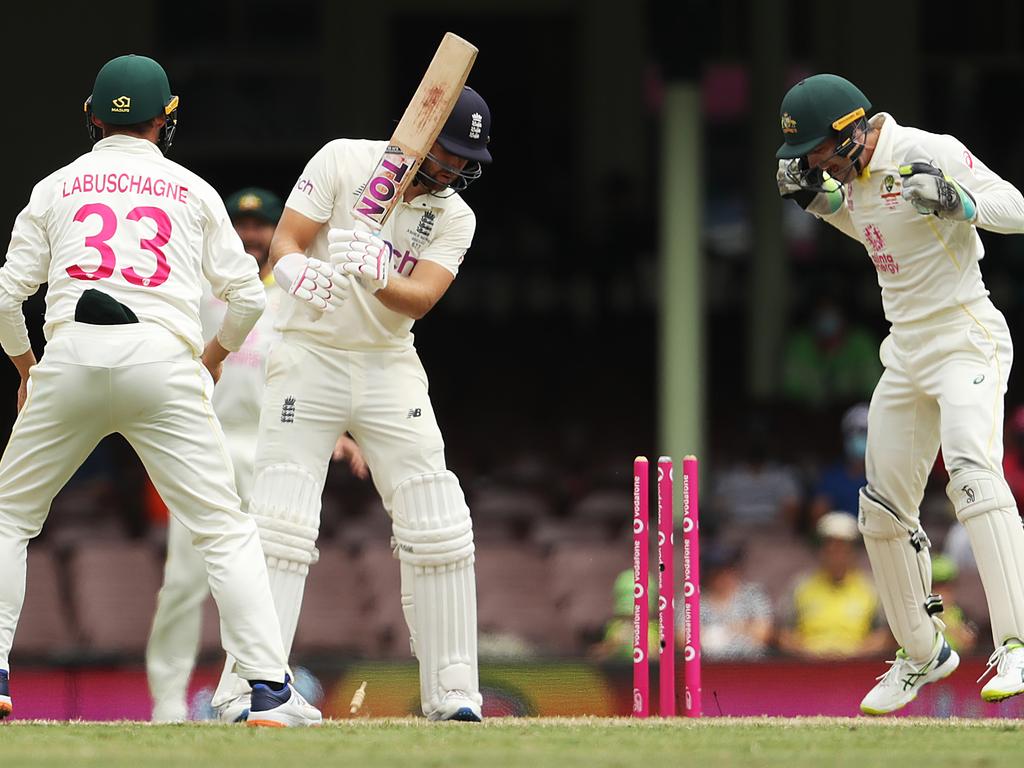 The early dismissal of Dawid Malan may have pushed Nathan Lyon down a blind alley. Picture: Mark Metcalfe – Cricket Australia via Getty Images.
The only other wicket Lyon managed, as the underpowered tourists clawed their way to safety, was of Ben Stokes, and came from a ball 10 kph slower than Malan's – the fourth slowest delivery Lyon bowled all day. The ball turned significantly, albeit from a shorter than ideal length, but this was the pace which got the pitch onside, and drew the assistance. Clear and obvious indicators of the ideal speed Lyon could be bowling, but then seven of his next eight deliveries were up above 90 kph again.
He didn't learn.
This isn't to deny the importance of varying pace. Bowling the optimal speed, every ball for a day of Test cricket, is unlikely to yield hugely positive results. Just as quicker bowlers get wickets with the pitch-up ball following a barrage of bouncers, a flighted, turning delivery might have more chance of being effective following some quicker, flatter deliveries. The issue for Lyon isn't that he's varying his pace, but that he has – even with the benefit of the doubt – got the ratios wrong. Too many darts, not enough turn, too little threat.
Some might leap to Lyon's defence and, understandably, point out that 2-28 are hardly the figures of a man who's bowled poorly. They would be right. But they would also be moving too far from Lyon's actual role on this final day – to take wickets. Here, there wasn't even the figleaf of the Gabba, the legitimate claim that the opposition might have chased down the runs and that a defensive contribution was still valuable. It was not.
Similarly, resorting to more defensive tactics when the pressure comes on late in games has been a reasonable criticism of Lyon for much of his career.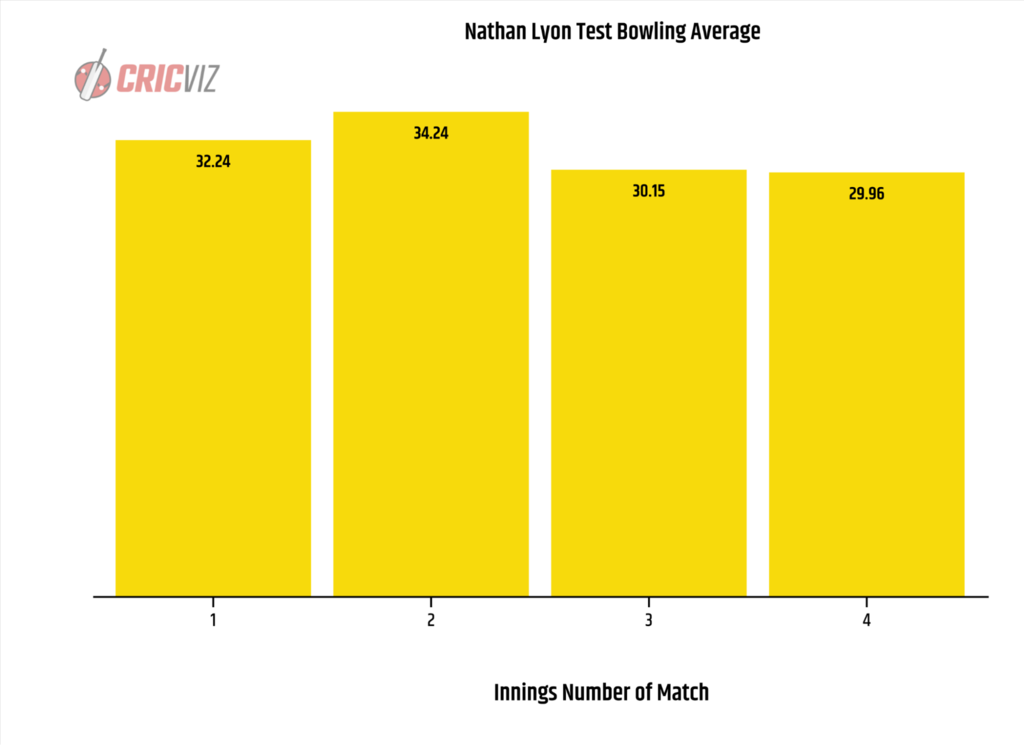 Nathan Lyon's average in each innings of a match.
If Australia line up the rest of their side properly, and key individuals come to the party, the next 12 months will see other chances for Lyon to close out other Test wins for Australia – and in far more favourable conditions. However, those chances are likely to be shared with another spinner.
Mitchell Swepson, the Queensland leggie, has built a strong reputation as a bowler capable of rattling through sides on the last day of Shield matches, and his strike rate of 45 in fourth innings backs that up on the scorecard. There's no question that Lyon is still Australia's premier spin bowler in red ball cricket, and the balance of two men turning the ball in different directions may even help shield Lyon from bowling to those he is ill-suited to, but there will be increased scrutiny on his attacking credentials when Swepson is playing alongside him.
With support, comes the pressure of comparison.
A damp and cloudy Hobart is unlikely to be the spot for Lyon to get back on the horse in terms of final day victories, but a wearied England side may still offer the chance to regain some confidence and strut. He desperately needs it.