Ashes 2021-22: Stuart Broad may well be playing his last Test on these shores and Australian audiences will miss him
He's been booed, shunned and sledged but Stuart Broad will leave Australia as one of our favourite foes, writes DANIEL CHERNY.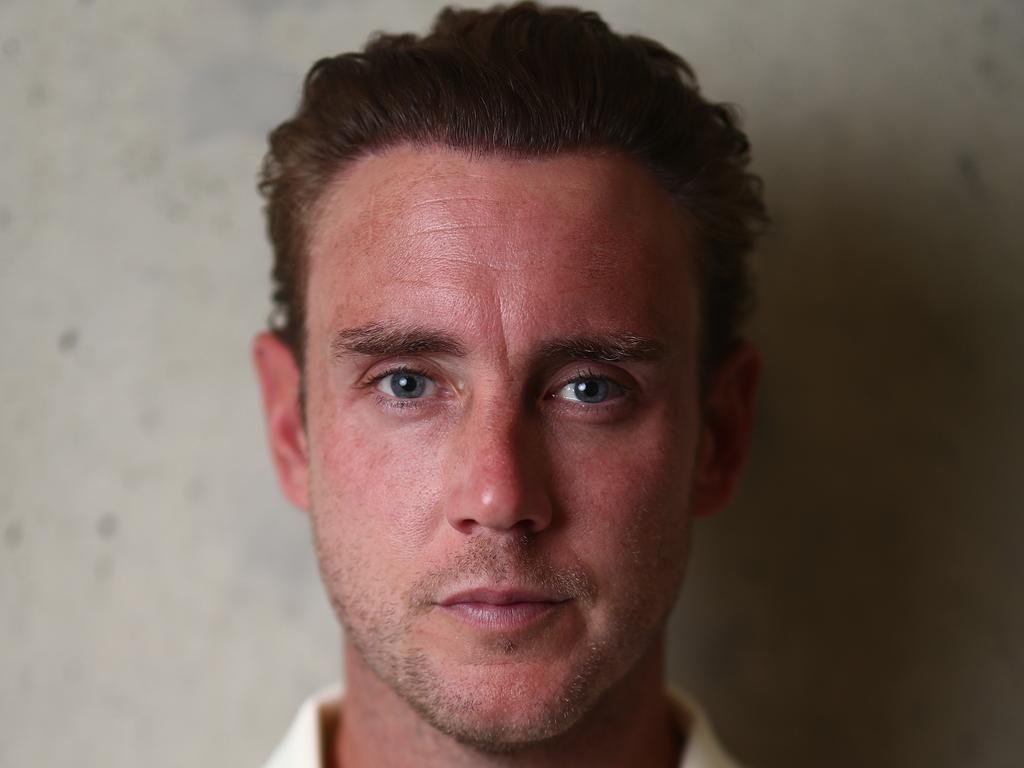 The man we love to hate. CODE writer Daniel Cherny hopes this isn't the last we see of Stuart Broad in Australia. Picture: Chris Hyde/Getty Images
We know Jimmy is still going at 39, so if you're anything like him (and you are), you might still be back next time. But we didn't want to risk it.
Gee. Why is this so hard to say? Surely they could've got someone from human resources to do this? Or a robot? That's quite topical actually.
But OK, enough dodging the issue. It's time to fess up.
Stuart, Stu, Broady, Draco … we like you. Yes we know we're not supposed to. We know Boof told us all those years ago to give you a hard time after what happened at Trent Bridge all those years ago. That "blatant cheating."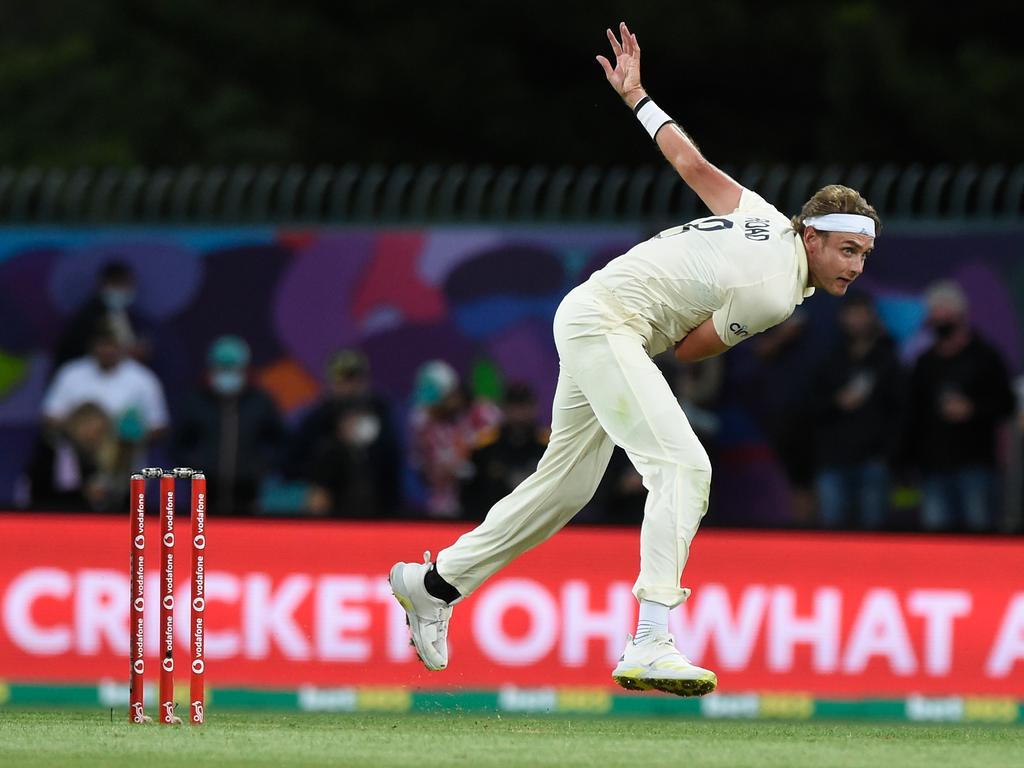 Stuart Broad has been the problem that won't go away for Australia, and even at 35 is still threatening with the ball. Picture: Matt Roberts - CA/Cricket Australia via Getty Images
We know the Courier-Mail wouldn't mention your name for a bit there. We know you love to take it up to us.
We know you were born with cricket's equivalent of a silver spoon in your mouth.
We know you've almost single-handedly taken the Ashes away from us, twice.
We know you continue to torment David Warner.
We know you can't tell the difference between an appeal and a celebration.
But, Stu, the horrible, scary truth; the feeling that has us questioning every fibre of our being and makes us all want to take a shower, is that we actually reckon you're all right.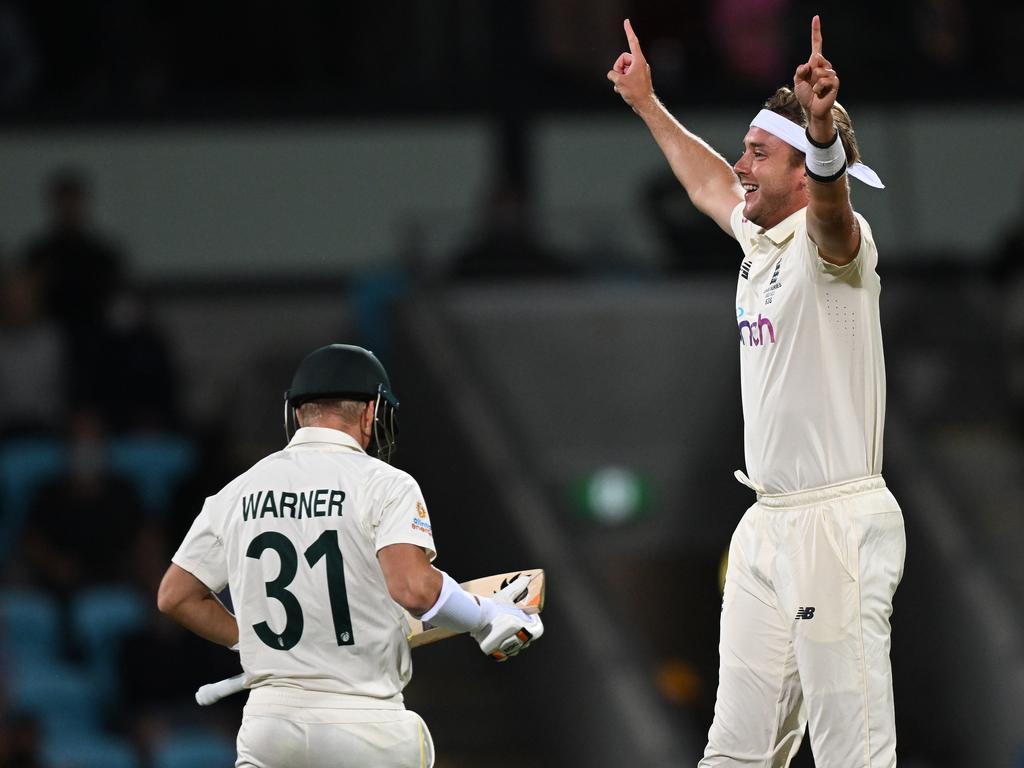 Stuart Broad has shared an enduring rivalry with David Warner, taking the Australian opener's wicket 14 times. Picture: Steve Bell/Getty Images
What's that, you ask? The booing? Calling you a w***er? You know we never really meant that. Deep down we always liked the chutzpah of a bloke who would nick it to the cordon and stay.
And your carry on? At least it's kept things interesting. There hasn't been much else to write home about of late. Slipping onto your face on the first ball of a Test and then still having the presence of mind to appeal! Why didn't we think of that?
Having a go at the Foxy Rover camera? We didn't mind it. And you stopped short of going the full Virat on the broadcasters.
We like how you are inadvertently paying tribute to Carlos Moya with your delightful headband.
We know you really wanted to play in Brisbane. Look, you don't do a great job of hiding it. We love how you tell it as it is. And we were torn ourselves. We knew they'd stuffed up by not picking you, but we really like having you out there. We didn't know who to boo. We were lost.
And we love how much you love to prove them wrong. How a bloke who is 35, who shouldn't really need to bother anymore, who could have easily just packed up mid-series has hung around and kept taking wickets. How you're outlasting guys years younger than you. And how the only time England haven't lost in this series was when you and Jimmy fought it out to the death. How you made Marnus look ridiculous on Monday.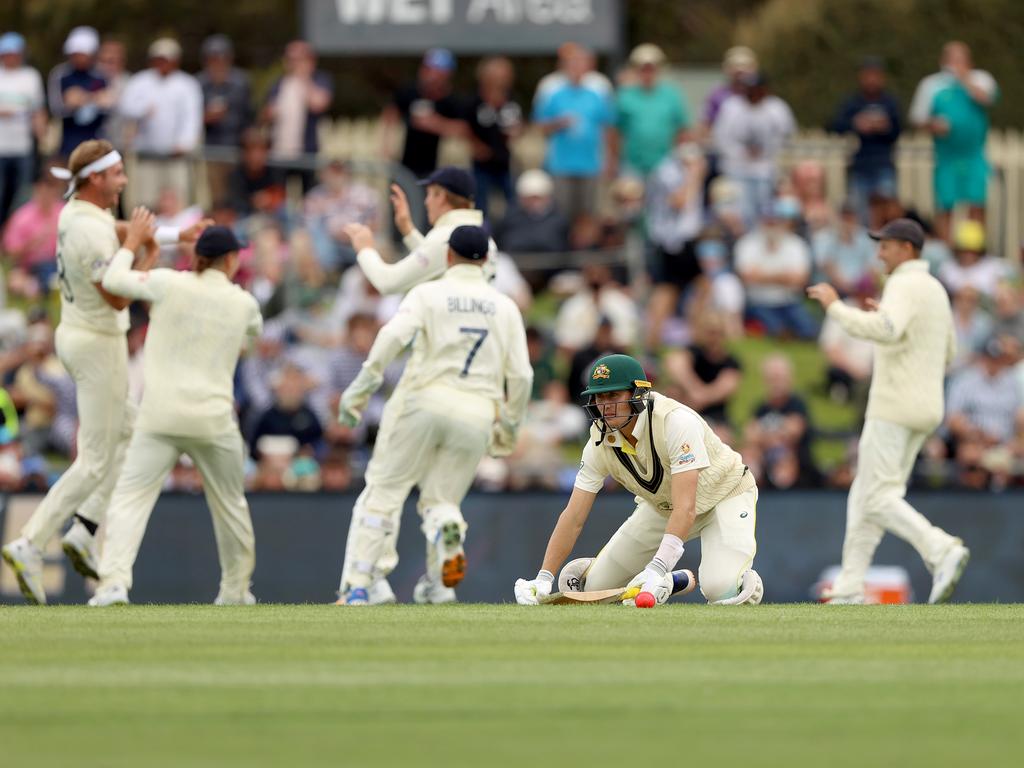 Marnus Labuschagne's revival of Australia's first innings ended in comical fashion on Day One of the Hobart Test, when Stuart Broad took the No. 1s wicket. Picture: Robert Cianflone/Getty Images
And what was even better about that was we got to watch you bat. Weird, wonderful, bereft of footwork. The way Mitchell Starc cleaned you up on Saturday night. Chef's kiss.
This next generation of England players, they are so bland. It's hard to take pleasure in beating up on Haseeb Hameed or Ollie Pope. Mark Wood seems like a nice bloke. Ollie Robinson can barely stay out there long enough for us to make our minds up.
Where's the fun in thrashing a team of vanilla characters that barely force our boys out of second gear? That allows us to blow a handful of chances on day two and for it to not really matter.
The truth is sport needs villains. Not Novak Djokovic villains, we've had enough of that sort.
But guys like you.
We know you've played before in the Big Bash League. Can you think about coming back again once you're done with Test cricket? You are just what the BBL is crying out for, a big name, with some spunk, some character. Someone who doesn't do things by halves. Someone who will promote the competition properly and get bums on seats.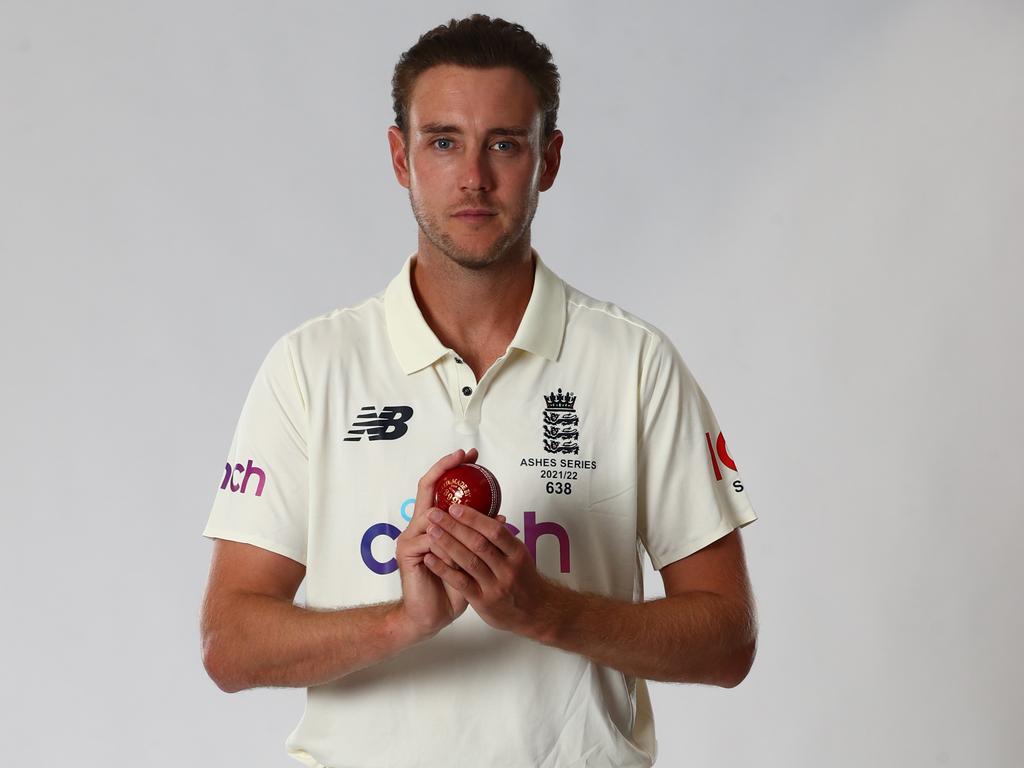 Stuart Broad has been one of the most consistent threats to Australia this series, taking nine in the last four Test after being omitted from England's XI at the Gabba. Picture: Chris Hyde/Getty Images
Stuey, what we are trying to say is, don't leave. We can't believe we're saying it, but we mean it.
We'll really miss you. Don't think Warner will though.
Sincerely? Na, too formal.
With love? A bit too much.
Maybe let's just say, hoping we see you again soon enough.
The people of Australia
P.S. "Stop moving the robot!"