Ashes 2021-22: Travis Head given a quiet vice-captaincy nod amid Covid chaos
As Covid-19 restrictions sensationally ruled Pat Cummins out of Adelaide, Travis Head's revival at Test level took another meaningful step, even if very few noticed.
Travis Head's return as vice-captain, however brief, signifies a vote of confidence in a batter who finally looks set to cement his place in the Australian team. Picture: Brenton Edwards/AFP
Amid the hullabaloo surrounding Pat Cummins' forced withdrawal from the Adelaide Test, a minor detail of the story escaped relatively under the radar.
Yes, Steve Smith has returned to the captaincy. And finally, Michael Neser was handed a baggy green he thought may never come.
But quietly, and without much fuss, Travis Head became Australia's Test vice-captain again.
"The National Selection Panel met this morning and on very short notice recommended that Travis step in," Cricket Australia CEO Nick Hockley said on Thursday.
"Travis is a very experienced captain. He obviously knows the Adelaide Oval intimately. So we're just very fortunate we've got leaders across the group that are ready to step in."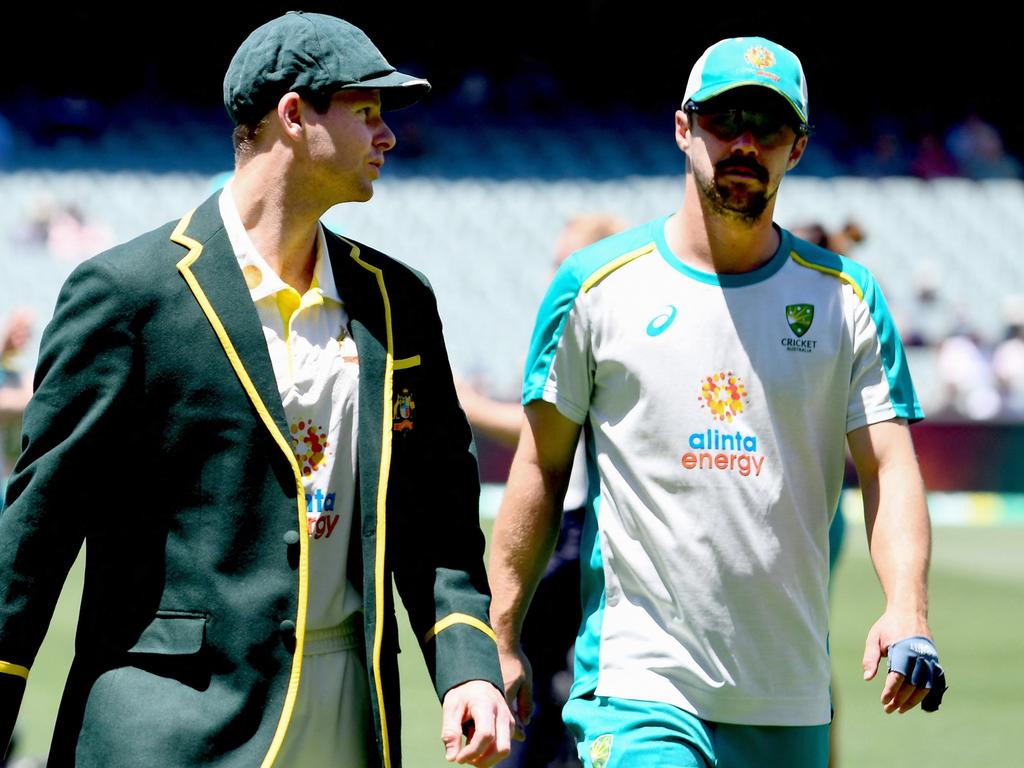 The new leadership team of Steve Smith (L) and Travis Head set to take the reins for Australia in the Adelaide Test. Picture: William West/AFP
For a lot of good judges, Head wasn't even in Australia's best XI for the Gabba Test with Usman Khawaja breathing down his neck.
But just one week on and the South Australian has another Test century and a leadership promotion next to his name. How quickly things can change.
*****
Head's leadership potential was identified at a very young age. He captained South Australia for the first time in 2015 as a 21-year-old – the youngest to ever do so in the state's history of first-class cricket.
During the previous campaign the Redbacks had finished bottom of the table. In his first year in charge, Head took them to the 2015-16 Sheffield Shield final after finishing on top of the ladder.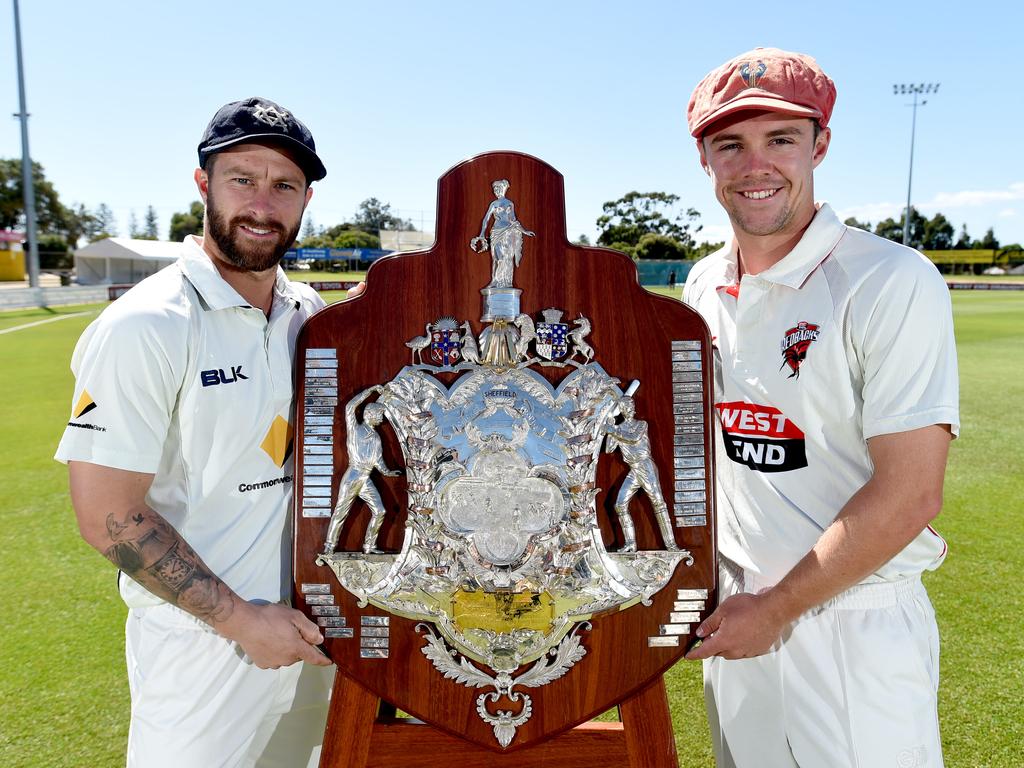 Despite his age, Travis Head made an immediate impact for the Redbacks, leading them to the Sheffield Shield final in his first season in charge. Picture: Sam Wundke
The late Keith Bradshaw explained exactly why Head was earmarked as a leader of men so early.
"Travis has demonstrated an ability to show resilience under pressure on the field in his short time playing for South Australia," Bradshaw said in 2015.
"Off-field, Travis is already well respected by the entire cricket community both in South Australia and around the country. We are excited to appoint a young, capable leader who we believe can achieve higher honours in his cricketing career."
His promotion in Adelaide is the second time Head has held the role as Australian vice-captain. He was elevated to the position, alongside Cummins, ahead of the 2019 home series against Sri Lanka.
When the appointment was made, Cricket Australia made a point of Head's exceptional record and how he handled the interview process.
"Travis was an impressive candidate when interviewed during the leadership identification process we conducted last year," former chair of selectors Trevor Hohns said in 2019.
"He has also continued to develop his leadership qualities since joining the Australian men's Test team."
Travis Head thrived against Sri Lanka as he filled Australia's leadership void in impressive fashion as vice-captain. Picture: Saeed Khan/AFP
It looked a natural fit immediately – Head averaged 152 against Sri Lanka in the two-Test series with no signs the burden of leadership impacting his game.
Head's promotion came as a result of the leadership ban handed down to Steve Smith and David Warner post-Cape Town. But the results showed it was a fairly successful appointment in a time where Australia was lacking leadership experience.
His tenure included Australia's retention of the Ashes in England in 2019. Regularly fielding at short leg with the helmet on, Head proved that despite a disappointing series with the bat, he was willing to do whatever the team needed.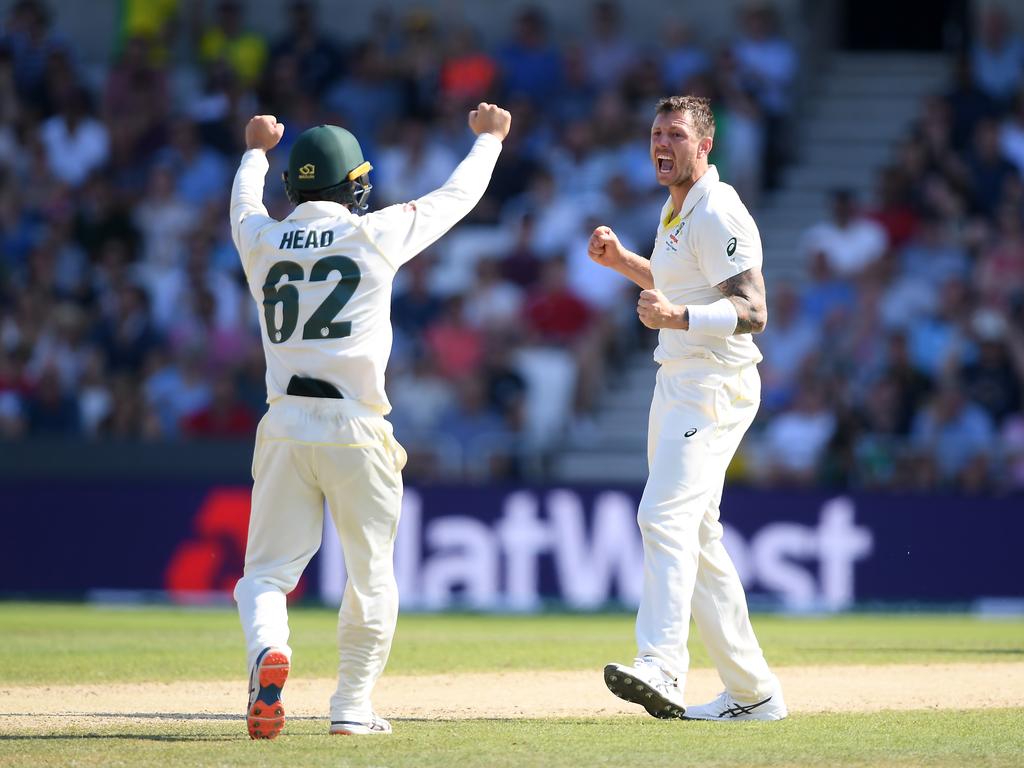 Head was a big part of the team first mentality that saw Australia return from England with the Ashes in 2019. Picture: Alex Davidson/Getty Images
As the certainty of Head's place in the Test team drifted, selectors opted to make Cummins the sole vice-captain ahead of the 2020-21 home series against India.
"There was no real reflection on anything I'd done wrong," Head said after the decision in 2020.
"I was very privileged to get that opportunity in the first place having not played a great deal of Tests, and to be vice-captain of an Ashes series was a massive opportunity for me and something I learnt a lot from.
"I think I offered a little bit to that and have captained South Australia for a fair chunk of my career now, and it's something that's continued to develop.
"At the end of the day, I've got to be getting runs – if I can help on the side with leadership then fantastic."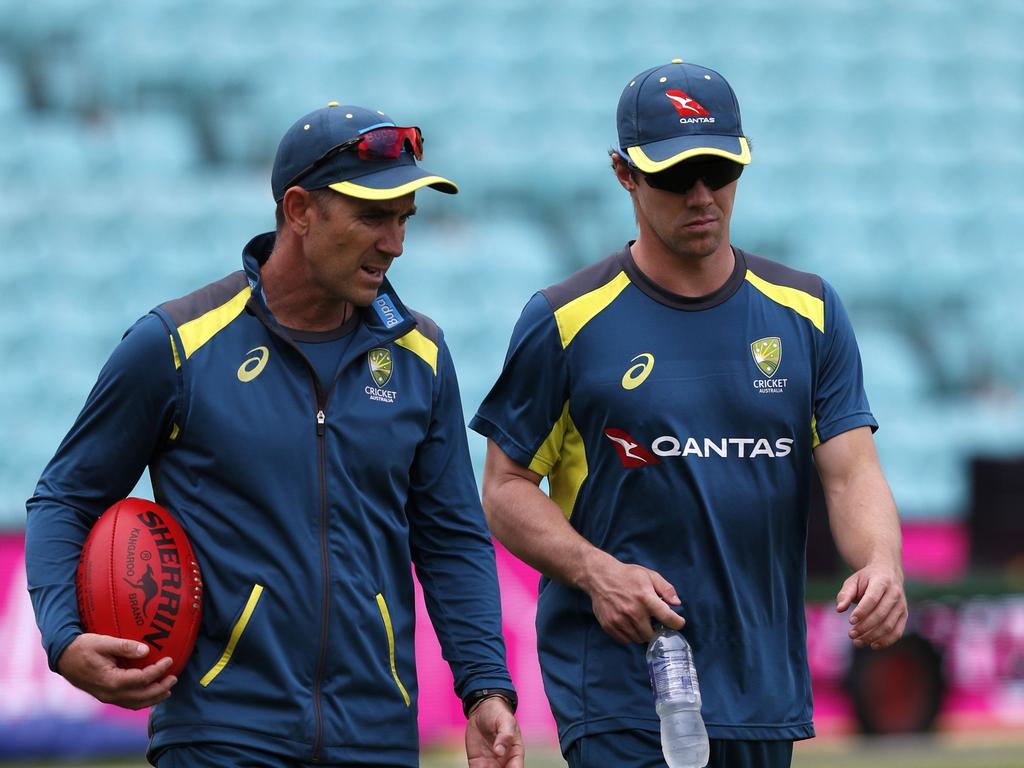 Head has stuck close to Langer since his introduction into the Australian team as he looks to absorb knowledge from the coach. Picture: Adrian Dennis/AFP
*****
Head's century at the Gabba last week was a euphoric moment for the 27-year-old. The raw emotion as he raised triple figures said it all.
He has been maligned throughout his career for not being consistent with the opportunities he has been given. In the last two series Australia has played, Head was dropped for the final Test on each occasion.
His state coach, Jason Gillespie, described the decision to leave out Head for the final Test against India at the Gabba this year staggering. So no doubt it tasted all the sweeter to return to Brisbane and declare, finally, real intent to make the No. 5 position his own, returning with a bang against England.
"I think there's a lot of people who would still be doubting my ability, what I can bring, I understand that," Head said after his 152 in Brisbane.
"It is one innings but hopefully it's one innings that can kickstart a nice little journey, a nice little couple of months for me in the Ashes.
"It's now consistency, and as a player, I want to be as consistent as I can."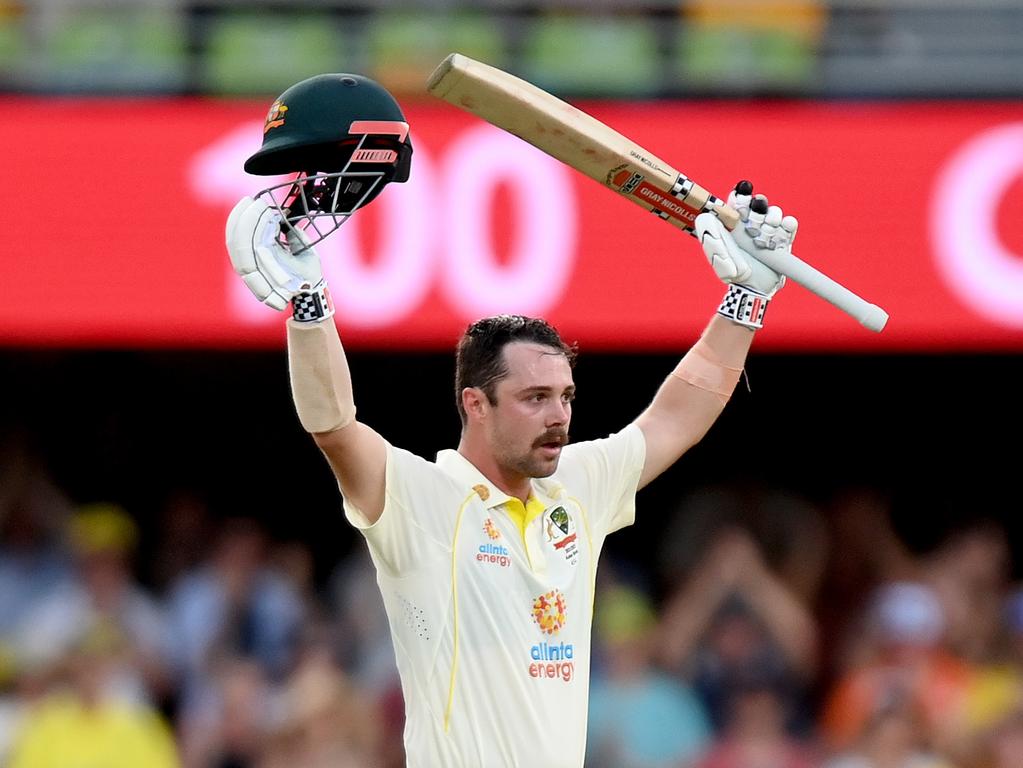 Travis Head's fantastic knock in Brisbane should give him breathing room to find his feet, again, at Test level. Picture: Bradley Kanaris/Getty Images
Now with runs on the board, it's likely he will be afforded that opportunity to find consistency, yet again.
The decision to name Head vice-captain for the pink-ball Test in Adelaide, his home ground, won't be a permanent one. Cummins is all but confirmed to return for the Boxing Day Test and Smith will take over the seat that Head has kept warm for him.
Yet it really could have been a different story.
Had Head been more consistent during his first stint in the Australian team, there was every chance he would have been Australia's next Test captain. As the only regular member of Australia's squad to lead at state level, that experience would have held a lot of weight at the selection table.
Plus, he's not a bowler – which has long been a desirable criterion for some when theorising their next choice to don the blazer.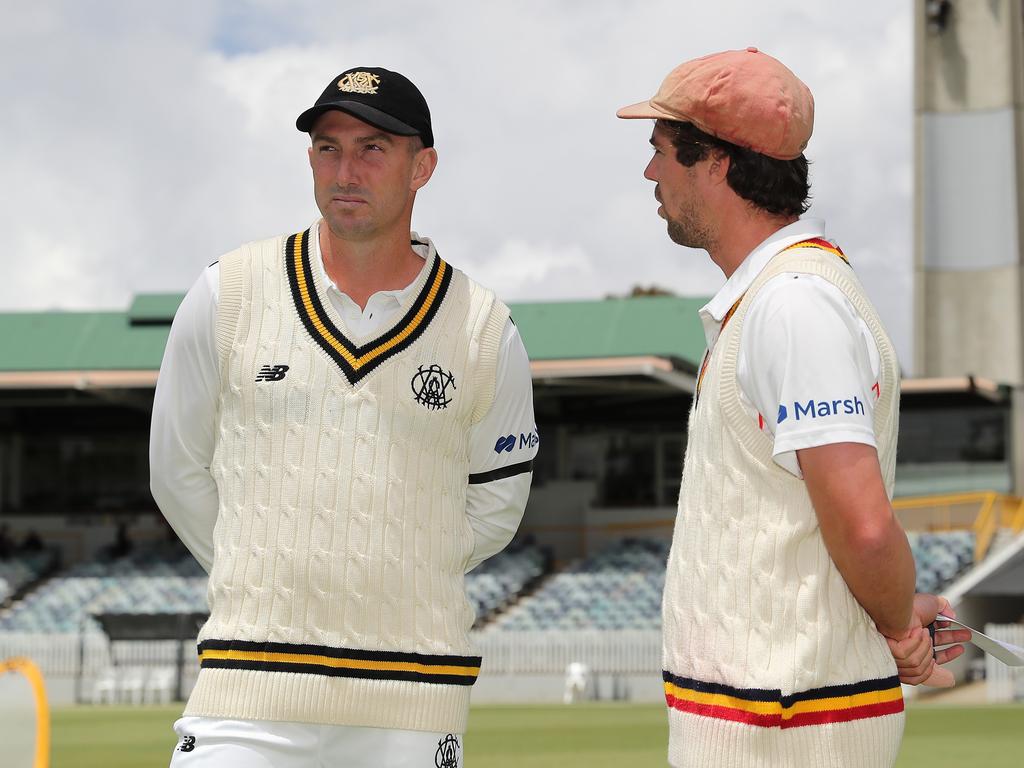 Head's (R) position as captain of South Australia could have set him apart in the Test captaincy debate, if his place in the team was more secure. Picture: Will Russell/Getty Images
The significance of Head's return to the leadership circle, however brief, should be seen as meaningful.
It's a vote of confidence from selectors. It's a vote of confidence from Justin Langer.
And most importantly, it's a gesture that there is faith in Head to become the cricketer everyone around him knows he can be.