Ashes 2021-22: Travis Head thrilled with record-breaking century at The Gabba
Travis Head has put Australia in the box seat on Day 2 of the Gabba Test thanks to a flurry of runs in the third session that broke a record that had never previously been set in Brisbane.
Travis Head copped it on the chin, but it was England who finished on the canvas after a devastating Ashes knockout at the Gabba.
In an extraordinary comeback story from being dropped last summer, Head's stunning 85-ball century was the first ever hundred scored in a session of cricket at the Gabba and the third fastest in Ashes history.
But shortly after celebrating a defining moment that could change the course of his enigmatic 20-Test career, Head was brutally clocked on the jaw by one of the most frightening beamers ever bowled by England's Mark Wood.
David Warner rode his luck to set the platform for Australia on day two with a heavy duty 94, but a mini collapse of 4-29 brought a fighting England storming back into the contest – that was until Head unleashed a masterpiece for the ages in the final two hours of play.
Head will resume at 112 not out with Australia holding an almost unbeatable 196 run lead at 7-343 and England in the midst of a full-blown crisis with superstar Ben Stokes hobbling with a knee injury, frontline quick Ollie Robinson leaving the field clutching his hamstring and batsman Dawid Malan (hamstring) also under a cloud.
Head's dynamic stroke play took the game out of England's hands. Picture: Patrick Hamilton/AFP
"I'm still pinching myself, I can't quite work out what transpired the last couple of hours," said Head.

So swashbuckling was Head's stroke play, Fox Cricket expert Brett Lee at one point compared him to his left-handed mate from South Australia – the late and great Phil Hughes.
"Bit of a reminder of Phil Hughes there. I know they were great mates," said Lee on Fox.
Unnervingly, the moment Head was floored by Wood cast brought back more chilling flashbacks.
Already forced to swallow a pain killer early in his blitzkrieg innings following a nasty blow to his forearm, things got much uglier for Head when a head-high full toss from 150km/h English spearhead Wood knocked him flat to the ground.
"I saw it pretty much the whole way. Lucky I got a bit of hand on it. My hand took most of the blow," said Head.
"I was a bit surprised if anything. But within a couple of seconds I knew I was fine and Woody was good about it as well. Obviously he didn't mean to do it. "Fortunately I'm fine so no stress.

"Woody bowled very aggressively today. We knew how he was going to come. I'll look after (my elbow) tonight as much as I can. It wasn't comfortable but structurally no issue."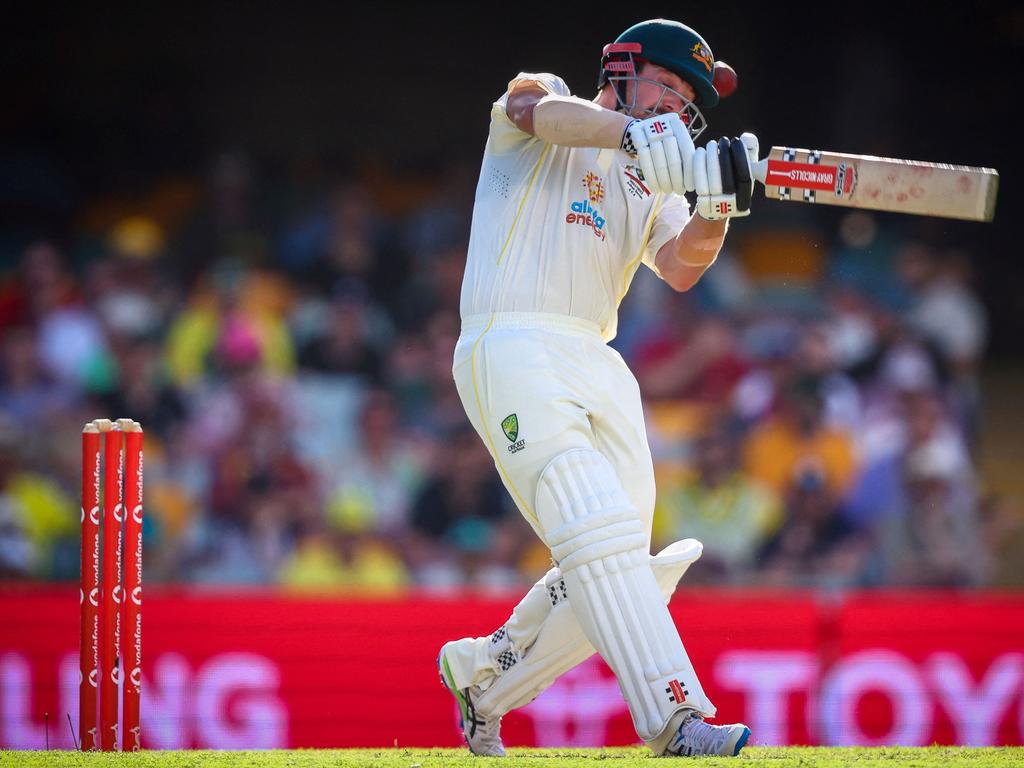 Head wasn't afraid to be aggressive in his innings, despite the best efforts of England's bowlers. Picture: Patrick Hamilton/AFP
The tough as nails South Australian jumped to his feet and warmly accepted a heartfelt apology from an aghast Wood, with his physical courage matched in every way by the fearlessness of a hundred which heeded captain Pat Cummins' call for Australia to regain its killer instinct.

When Head walked to the crease he was confronted by five slips and a steaming Robinson, after Australia let slip its stranglehold on the match when the world class Marnus Labuschagne (74) blew a shot at another hometown hundred before Steve Smith (12) nicked off. Warner also fell short of another famous hundred, although he had already done his job in putting Australia on the path to victory after surviving being bowled for 17 because of a Stokes front foot no ball and then getting further chances on 48 and 60 due to further England errors in the field.
Cameron Green then followed the procession with a golden duck shouldering arms to one that hit the stumps, and at that point Australia had just a 48-run lead to show for all their dominance.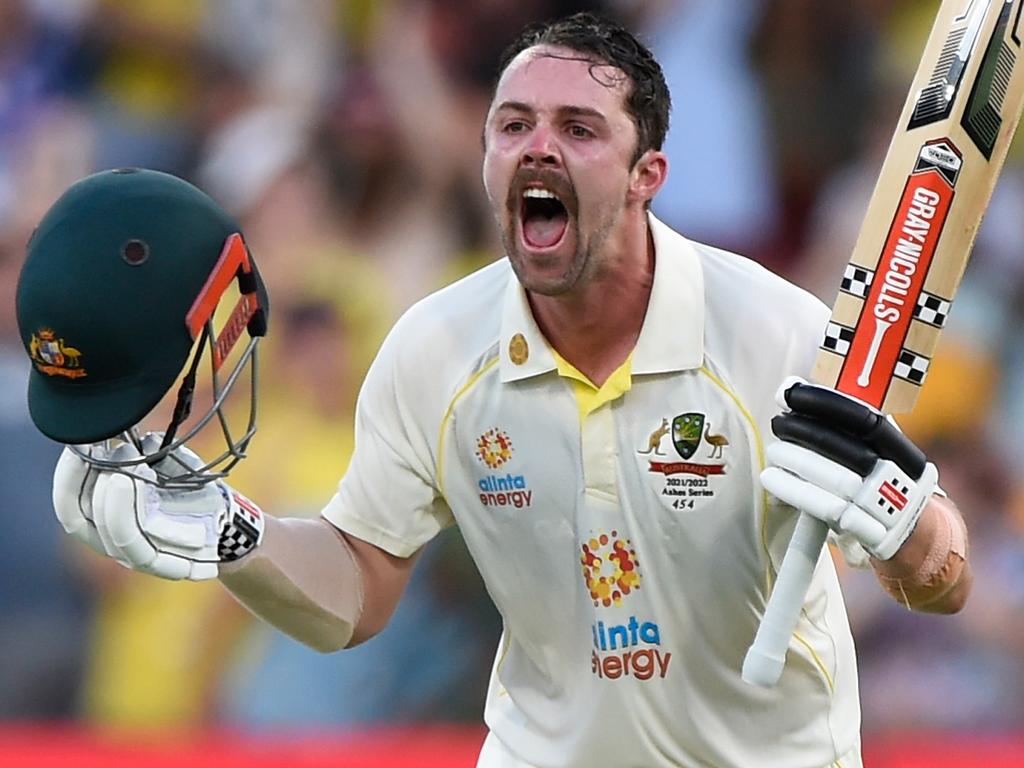 Travis Head celebrates his brilliant Ashes Test century with a roar at The Gabba. Picture: Matt Roberts - CA/Cricket Australia via Getty Images
Under enormous pressure, both with the situation of the game and also the context of his own career, Head produced courage under fire with an innings so significant it not only sniffed out any chance of an England fightback but might have killed them off for the series.
"I want to contribute to Australian wins and hopefully we've put ourselves in a nice position. That's what I'm here to do," said Head.
"I was really relaxed through the game. Patty and the coaching staff have been great on how they wanted me to play – to play how I see it and I had great confidence in that.
"I wanted to take a bit of momentum out of the game and if a ball was presented to try and score."
As Head smashed 12 fours and two sixes to every part of the Gabba, England's main strike weapons started dropping like flies as their most likely wicket-taker Robinson (3-48) limped off and Stokes reduced to half rat power for most of the day after pulling up sore chasing a ball to the fence early in the day.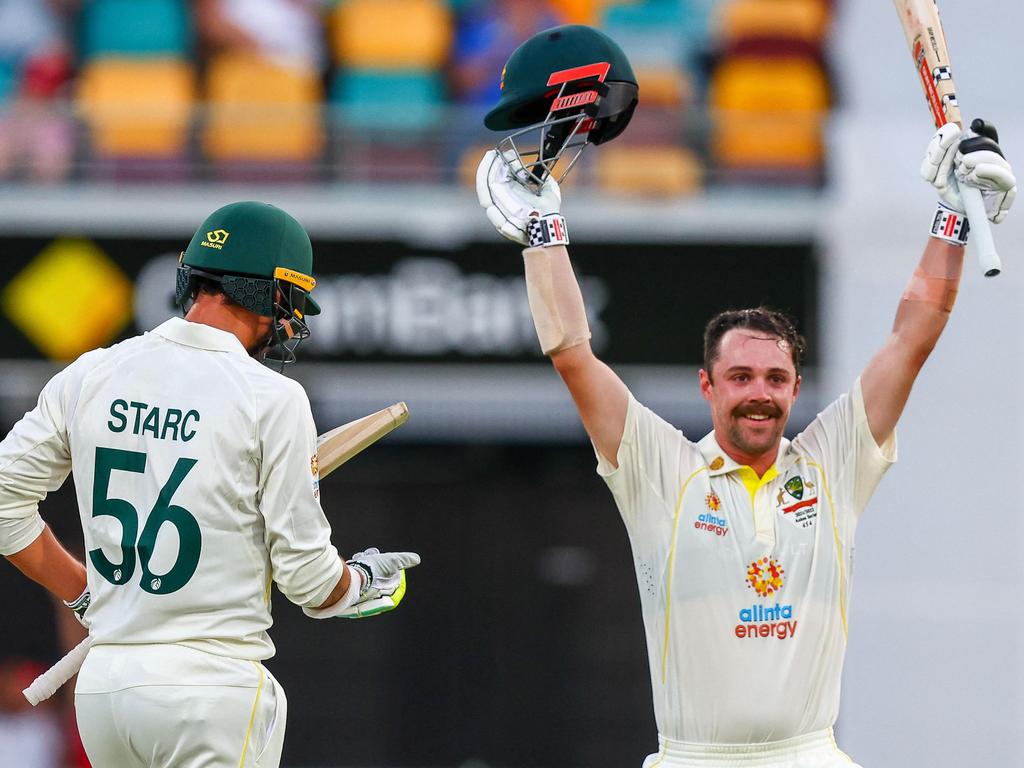 Head brought up his third Test century with a classy on-drive for four. Picture: Patrick Hamilton/AFP
Meanwhile, the fully fit Stuart Broad and James Anderson bowled at full tilt at the Gabba nets, with the decision to leave out England's greatest ever wicket-takers becoming more mystifying by the moment.
Head was locked in a selection battle with Usman Khawaja up until a week ago when the call was made to back in the left-hander who already had two centuries to his name and a Test average of almost 40 – but yet had failed to announce himself as a consistent force.
The faith of George Bailey and the selectors was more than justified and Head may have just turned a major corner.
Cummins declared before the Test that he wanted Australia to rediscover its ruthless streak after last summer's embarrassing loss to India was marred by the batters not jamming their foot on the throat when they had the chance.
But Head stepped up and along with Warner, made sure the effort of Australia's bowlers to skittle England for 147 was consolidated to the fullest extent possible.
– News Corp Australia Sports Newsroom