Ashes 2021-22: Travis Head's ton a rare combination of attack and control after one of the most seam-friendly sessions recorded
Travis Head's blistering century in Hobart was, in many ways, a data anomaly, writes CricViz analyst BEN JONES.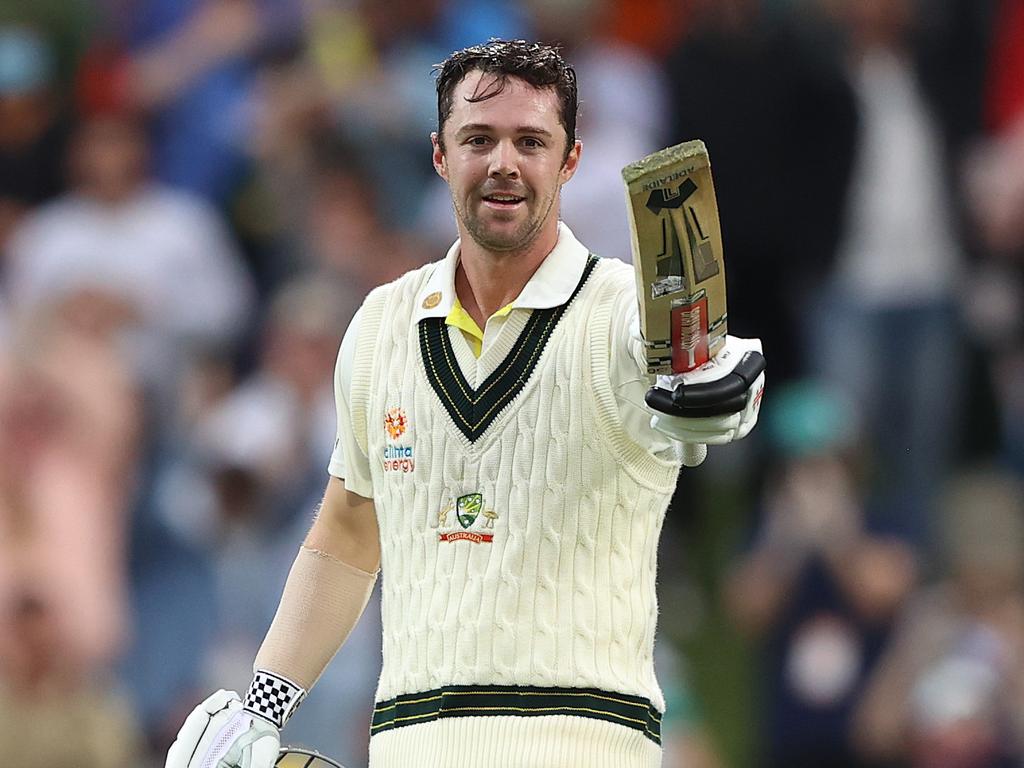 Travis Head combined aggression and control perfectly in Hobart. Picture: Robert Cianflone/Getty Images.
England, finally, got themselves off to a flier. All the talk of the strength of their new ball attack, all the experience and bags of wickets around the necks of Stuart Broad and James Anderson, Joe Root's attack has nonetheless found it all but impossible to lay early blows on the Australian top order. In the entirety of this series, England have taken just seven wickets in overs 1-to-10.
Three of them came on Friday.
Much of the debate around England's lack of early incisiveness has focused on the length they have bowled. It's often been a tad reductive – generally a good length is, well, a good length – but it is probably no coincidence that the one time the tourists have sliced through was their fullest opening spell of the series. An average length of 6.2 metres from the batsman's stumps is only about 40 centimetres fuller than what they have typically bowled this series, but it made a huge difference. Ollie Robinson nicked off David Warner (for his longest duck in Test cricket, at 22 balls), before Broad did the same to Usman Khawaja, and Robinson accounted for Steve Smith, again edging behind. Reduced to 3-12, Australia were on the ropes.
In terms of early threat, it was right up there with the most we've seen in these conditions. Of the 298 innings in Australia where we have ball tracking data, this was the 15th most seam movement we've seen in an opening 10 overs; it was the 10th most seam we have seen in the opening session of an Australian Test since 2006. What was obvious with the naked eye – that the ball was moving significantly off the surface – was backed up by the data.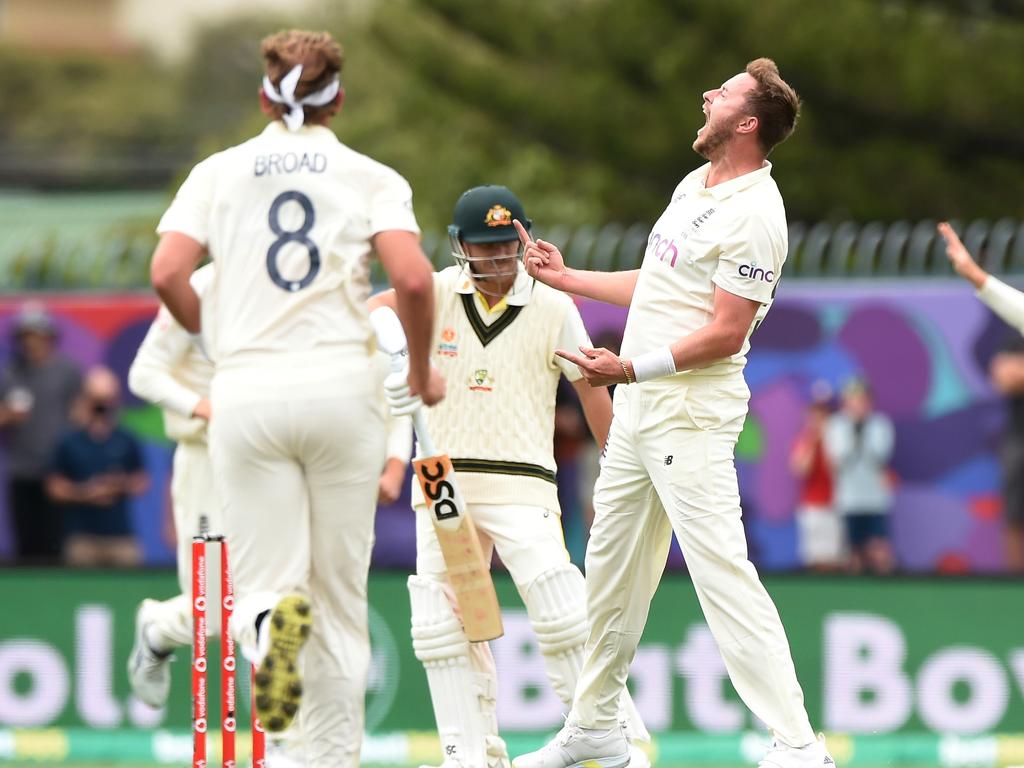 England were rewarded for bowling full with the new ball. Picture: Matt Roberts – Cricket Australia via Getty Images.
Enter, Travis Head. The situation may have been rough – whether you were looking at the scorecard or the surface – but the South Australian stepped out and saw an opportunity, and an opportunity to put some pressure back on England. Alongside Marnus Labuschagne, he put on 71 runs in 74 balls, throwing the bat at everything England sent down. It was a day where many remarked that, "There's a ball with your name on it," and these two batted like it. Mark Wood conceded 31 runs from his first three overs as both Australians climbed into his slightly errant line and length, and the wheels – having only been on for an hour – were off. Only a remarkable dismissal of Labuschagne just before the break kept Australia from taking the morning.
And yet it meant, with the No.3 gone, that Head could take centre stage, and he made the most of the limelight. Similar to Brisbane, and that record breaking ton, the shots just kept coming: 35 drives, five cuts, pulls, hooks. You name it, he played it.
England were shocked. England were done.
Forty two per cent of the deliveries bowled to Head were met with an attacking shot. The last time an Australian played more aggressively on route to a Test century was in December 2015, when Adam Voges attacked 43% against the West Indies. But that aggressive intent didn't come with a loss of control; his false shot percentage was 18%, slightly above the average for Test cricket (15%) but below the average for the day in Hobart 20%.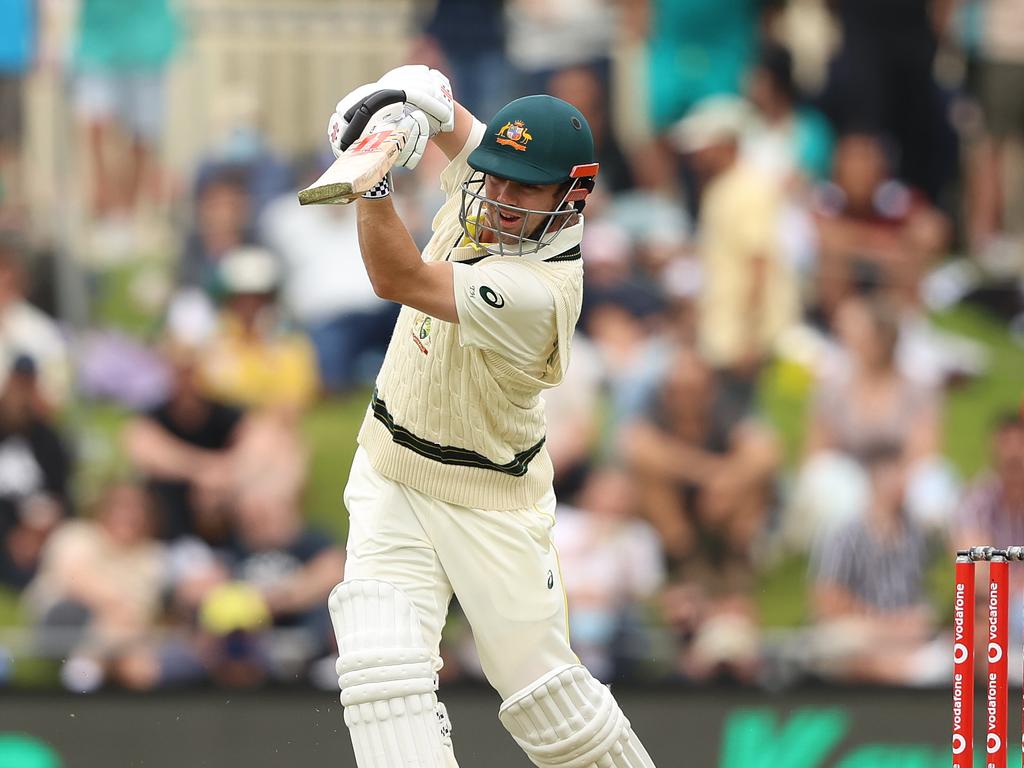 Travis Head played with plenty of aggression without a loss of control. Picture: Robert Cianflone/Getty Images.
Against full deliveries, Head scored at 7.4 runs per over; against short balls, he went at eight runs per over. While he was hardly a shrinking violet against good length deliveries (3.7 runs per over), Head's method of throwing his hands at anything resembling a change-up delivery, a deviation from the stock ball, put all the pressure back on England.
According to our Expected Wickets model, the deliveries that England bowled to Head would – had they been bowled to a typical batsman in Test cricket – have conceded 59 runs, and taken two wickets. The fact that Head outstripped expectations for run scoring and scoring rate is obvious, but it's important to not ignore how long he avoided being dismissed. This was a sharp, aggressive innings, but it wasn't a 60-ball dart. Across the course of 113 balls, Head faced plenty of good ones, and he saw them off.
The pattern of the red Kookaburra ball is well known. It moves prodigiously for five overs, then slightly less for 15 overs, and then very little for an awfully long time. The pink Kookaburra ball does not behave differently, but rather as a more intense version of the red ball. It moves more in those first 20 overs, swing and seam, but then it stops moving almost entirely. It gives you plenty more assistance early on, but then removes it entirely. Head didn't need to gamble against those early seaming deliveries, but by doing so he was bang in and set for when the ball stopped moving. It was a calculated risk that paid off handsomely.
At the start of the summer, Head's place in the XI was insecure. Khawaja – as we saw last week – is in sublime touch, and was well worth a spot. But careers often hinge on those sorts of moments, those forks in the road where you have to take your chance. Having been backed at the Gabba, Head has taken that to mean he can express himself with all the flair and aggression which defines his game, and it hasn't sent him into his shell. It's brought out the best in one of the most naturally attacking red ball players around and, at stumps on day one, it has kept Australia in the Test.