Ashes 2021-22: Women's Covid protocols tightened to ensure World Cup travel to New Zealand
Australia's women cricketers will face tighter Covid-19 restrictions during the Ashes in a bid to ensure they can enter New Zealand for the upcoming World Cup.
Australian and England players will be subject to tighter biosecurity restrictions during the Women's Ashes due to the risk they could miss the upcoming Women's World Cup in New Zealand. Picture: David Rogers/Getty Images
Australia's women cricketers will face tighter Covid-19 restrictions during the Ashes in a bid to ensure they can enter New Zealand for the upcoming World Cup.
Cricket Australia confirmed on Friday that based on current restrictions, Australia will only be able to take one squad to New Zealand in February ahead of the tournament starting on March 4.
Any player that tests positive for Covid-19, or misses the flight for any other reason, is unlikely to be able to join the campaign because of the conditions that have been put in place for the tournament by the ICC and the New Zealand Government.
Selector Shawn Flegler confirmed on Friday that Australia is likely to send a 17-player squad to New Zealand for the World Cup. That squad is set to depart immediately following the Women's Ashes series which ends on February 8 in Melbourne.
"At the moment, (based) on the information we're receiving, it's just the one squad that can go over at the one time," Flegler said.
"If things do change and we can get players over later then we'll look to do that. But at the moment, it's one group leaving and doing quarantine together. That's why we're trying to put protocols in place to minimise issues with Covid.
"We're planning on leaving pretty much a day or so after the Ashes. We're still working through that with the ICC and New Zealand Health to make sure we can get flights and rooms in the MIQ (Managed Isolation and Quarantine) facility."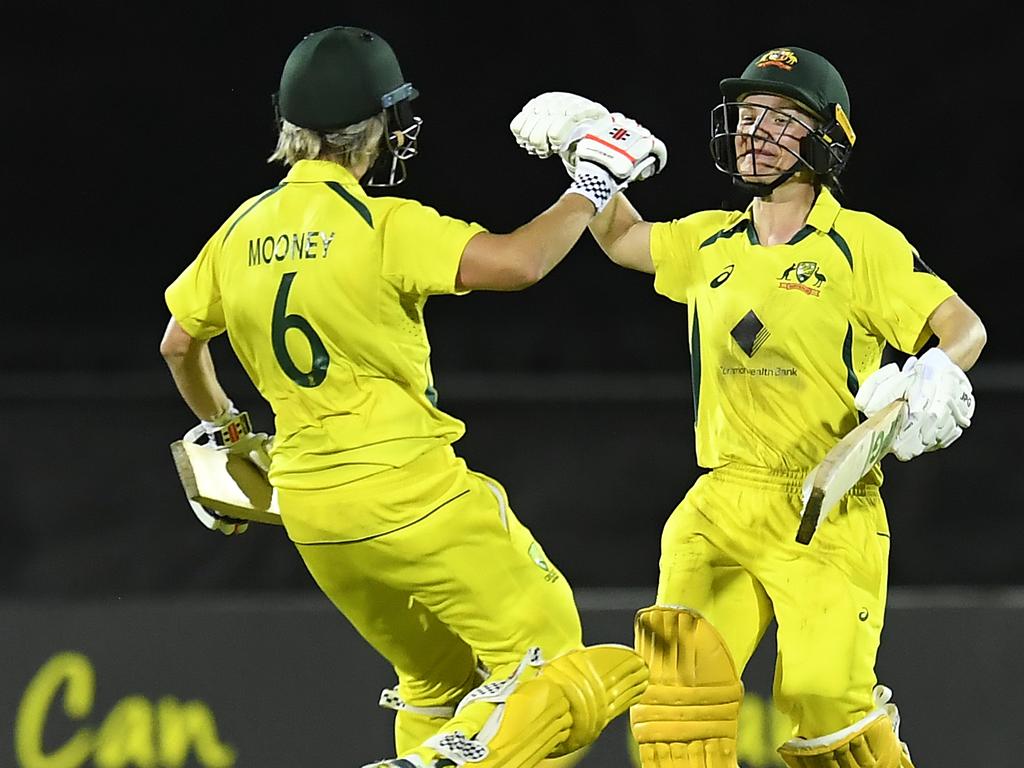 Australia's high-profile stars are on high alert to the fact that if they contract Covid, it could rule them out of the World Cup in New Zealand. Picture: Albert Perez/Getty Images
English players in Australia for the Ashes are likely to face the same scenario ahead of the World Cup. The reality of Australia's Covid situation has Flegler prepared for players to potentially miss games during the Ashes series because of a positive test.
"Hopefully, it doesn't happen but that's what we're planning for just in case," Flegler said.
"The strength we do have is that we've got a number of players who could come in and take the place of someone who does have Covid."
The Ashes series was brought forward by a week with fixtures rearranged on Thursday to accommodate the 10-day quarantine required ahead of Australia's first World Cup game on March 5 against England in Hamilton.
The first of three T20 matches in Adelaide – originally due to be played at North Sydney Oval – will now start the Ashes on January 20 in place of one-off Test in Canberra that now begins a week later.
Australian players will start entering isolation protocols from Monday (January 10) while England's extended squad are flying out for the series on Friday.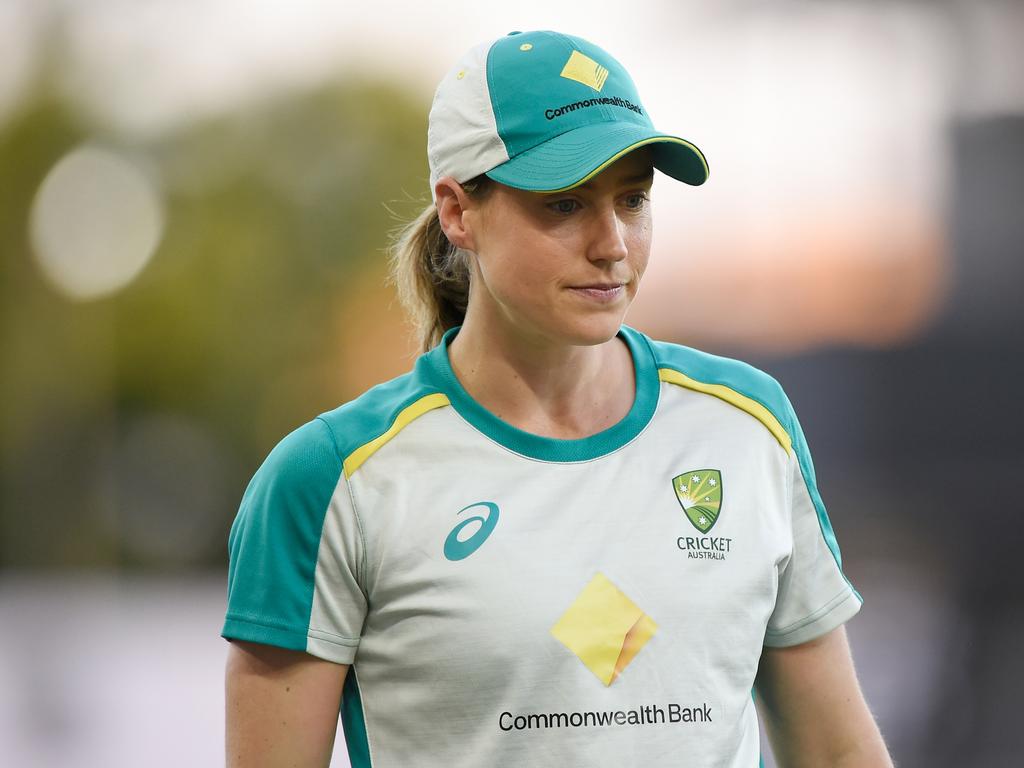 Ellyse Perry will be one of an extended squad of players for Australia for the Ashes. Picture: Matt Roberts/Getty Images
Both squads will be subject to tighter restrictions than those seen during the men's Ashes.
"There will be increased restrictions compared to what we were hoping," Flegler said.
"Things like dining in restaurants, that's not going to happen with the way things are moving at the moment. We're trying to minimise as much contact indoors wherever possible.
"So outdoor eating or in your room, things like training, we've got to be careful with things like indoor training and minimise that as much as possible.
"We have to keep in mind England, their focus is on the Ashes but also defending their World Cup title. They're very keen to make sure all their players are available."
Given the issue of transporting players between states during the men's Ashes – Pat Cummins had a charter flight arranged to ferry him from Adelaide to Sydney while several players drove from Melbourne to the NSW capital to avoid travelling as a group on one plane – all options are being considered for the women's squads.
Flegler confirmed that includes the possibility of commercial flights, as long as the risk of getting Covid can be minimised.
Australia is expected to name their squads for the Ashes and World Cup at a similar time next week. Some players will then travel earlier to South Australia to start a period of isolation and limit contact before the series starts.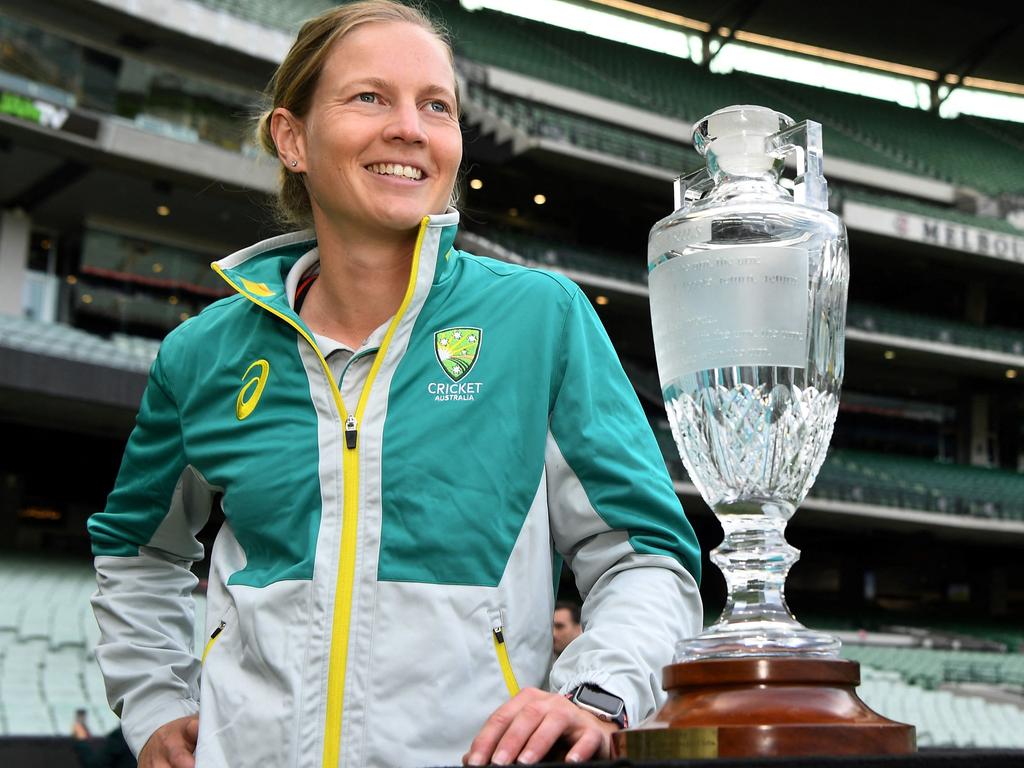 Meg Lanning will again lead the Australian side for the Ashes and the World Cup. Picture: William West/AFP
An Australia A team is also set to be named for six matches against England A that will overlap with the Ashes series. The original plan was for Australia A players to be available for Australian selection, however, Flegler suggested that with the tighter biosecurity restrictions this may not be possible.
"We're trying to have a bubble around that Ashes squad," Flegler said.
"Things have changed rapidly and we've got to be careful with our protocols that if someone does get Covid, that it doesn't take down the whole touring squad.
"We've got to go larger to cover all formats. We will have that A squad that will be in and around the group but we'll try to keep that separate. If there are opportunities that players can cross over, we'll try and take that. But we've got to go larger with the squad."