Ashes 2022: Women's Tests have declined in number for decades and it's time for change
Too few in number, too short in length. CricViz analyst BEN JONES breaks down the issues confronting women's Test cricket ahead of the Ashes Test.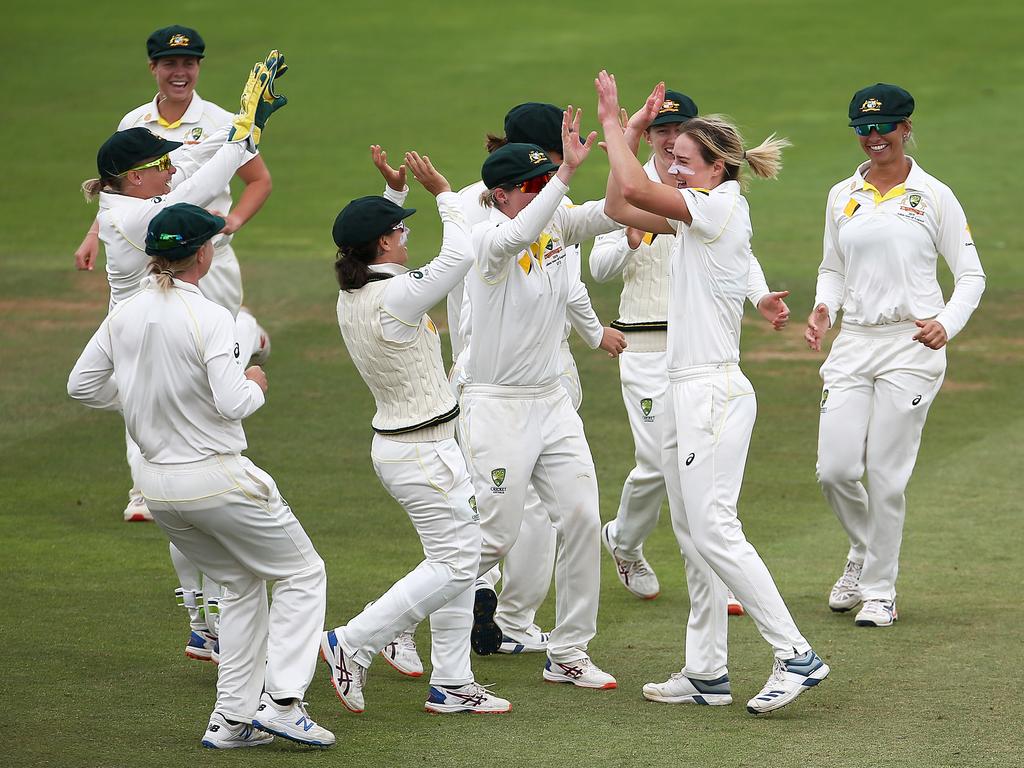 Australia's Ellyse Perry celebrates taking the wicket of England's Tammy Beaumont during day three of the Women's Ashes Test match in 2019. Picture: Mark Kerton/PA Images via Getty Images.
Let's get this out of the way: there are not enough Test matches in women's cricket.
At a time when the women's game is making huge strides in terms of popularity and growth, when the WBBL is the fourth most watched sports league in Australia, and the direction of travel is overwhelmingly positive, the decline in Test cricket's prominence stands out. More than anything else - and more than what we will discuss here - that absence is what needs dealing with.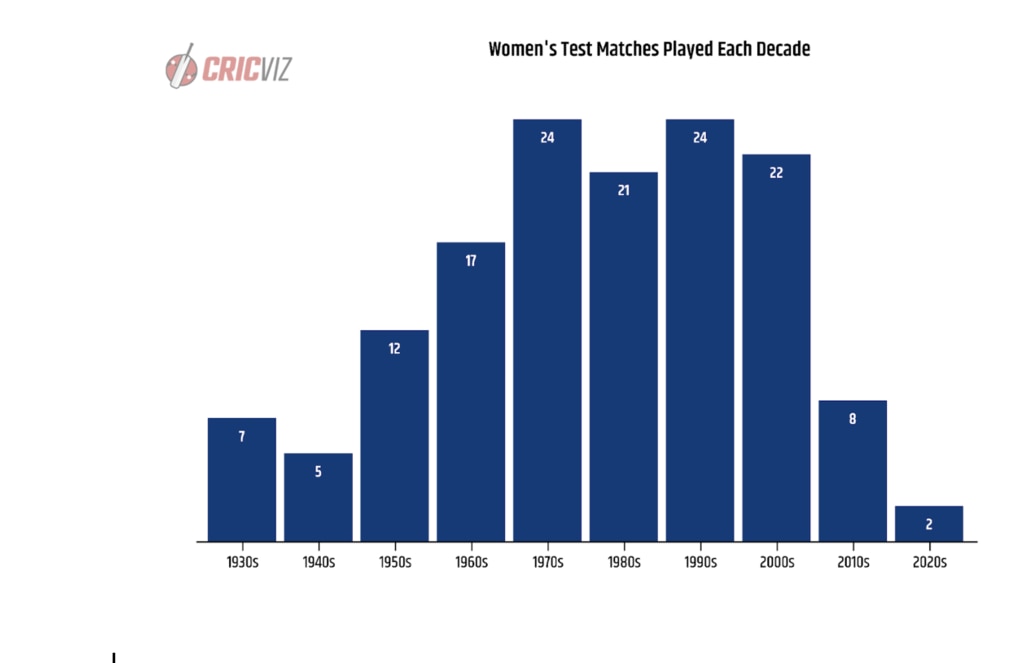 The number of women's Test matches played has decreased significantly since the 1990s.
However, the distraction we are going to take a look at is a bit more specific. The last four women's Tests have all been played by the same three teams (Australia, England, and India) and more significantly all four matches have brought the same result - draws, and not particularly close ones. Quality has not been in short supply, from Ellyse Perry's unbeaten Ashes double-century to Shafali Verma's brutal 96 (152) in Bristol, with plenty more excellence along the way, but competitive jeopardy certainly has been a scarce resource. While ODIs and T20Is have brought tense, tactically rich contests in recent years, women's Tests have far too often felt like a slow-paced interruption to the proper cricket.
Rising star Shafali Verma of India fell just 4-runs short of a century in a Test against England last year. Picture: Ashley Allen/Getty Images
One key difference between men's and women's Test cricket is that the latter is played over four days, rather than five; for obvious reasons, this makes the draw a more likely result, given there are simply fewer overs in the contest, with 400 scheduled (four days of 100 overs) rather than 450 (five x 90 overs). In terms of getting those overs in, over rates are less of a problem in women's cricket due to the dominance of spinners. In men's Tests in England and Australia since 2000, just over 27% of deliveries are bowled by spinners, but in women's Tests that figure is just under 40%. To state the obvious, spinners bowl their overs more quickly than seamers do, so more spin leads to a higher over rate. In that sense four-day Tests nicely emphasise a strength of the women's game.
However, in another more real sense, the four-day time frame actually works against the contest. In men's Tests, some have advocated four day contests as a progressive move to bring the draw back into the game, with batting averages and dismissal rates falling across the board. There is a good argument that women's Tests should do the opposite, to achieve the opposite aim.
Argument in favour of five-day women's Test matches?

There have been 142 women's Test matches played overall. This is the seventh to feature three declared innings.

There have been 2,433 men's Test matches. Only six have featured three declared innings.#AUSvIND

— hypocaust (@_hypocaust) October 3, 2021
One of the main arguments against four-day Test cricket for men has always been that the intervention of rain can make the contest too dull too quickly. Even losing two sessions could, on all but the liveliest surfaces, see the match ambling towards a draw far too easily - and this is exactly what we've seen in each of the women's Tests since 2015. In this ongoing Ashes series, we have already seen two matches lost to weather, and a glance at the forecast for this week in Canberra suggests they won't be the last. Men's teams play enough Tests to roll the dice on having a few dull, rain-affected draws a year; women's teams don't. There is a greater active need for results in women's Tests, as a direct result of their scarcity.
It isn't just about rain intervention, though. The last four women's Tests have seen a wicket fall every 86 deliveries, with batters averaging 39; last year, men's Tests saw a wicket fall every 58 balls, with batters averaging 29. In other words, wickets are quite a rare commodity in women's Test cricket, and the current playing conditions arguably make them harder to come by. On the one hand it does this with the obvious reduction in overs bowled, but also because of the lack of time available for the pitch to deteriorate, with no play on 'Day 5'. Recently, the first day has seen a wicket fall every 20 overs and batters averaging north of 50, before both of those figures fall to more competitive levels on Day 2 - but they haven't generally fallen from that point on, staying stable on days 3 and 4.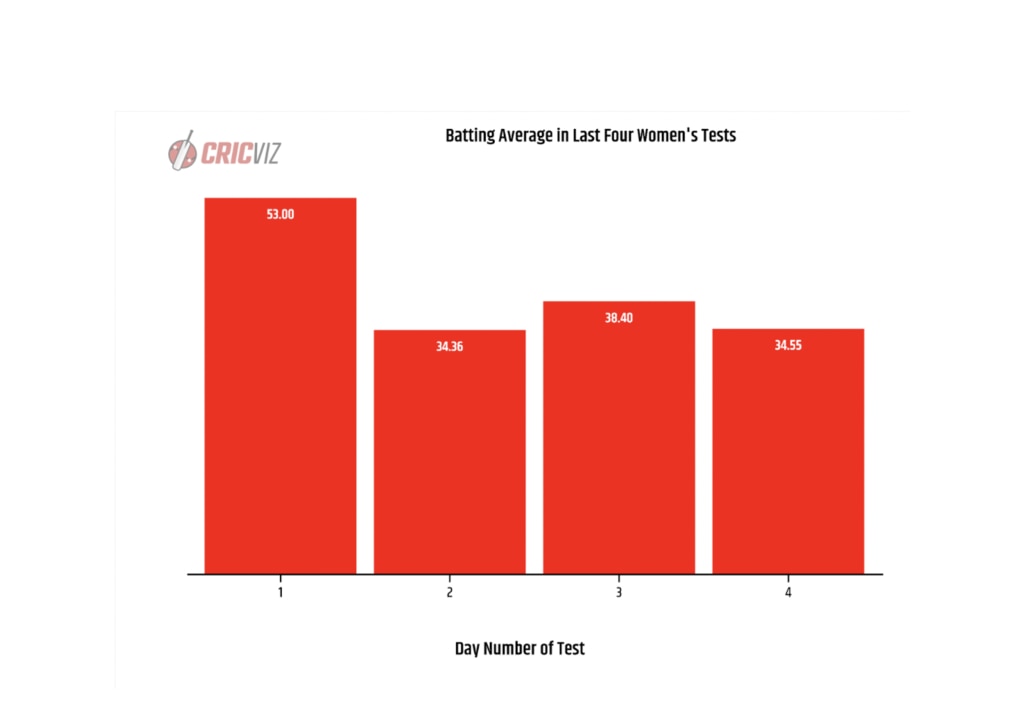 The last four women's Tests have seen a wicket fall every 86 deliveries, with batters averaging 39.
In the context specifically of Ashes Tests - the context in which the overwhelming majority of women's Tests have been played for the last 15 years - there is another element at play, and that's the points system for multi-game series. This Ashes, white ball matches come with a two-point reward for the winning team, while a Test victory is rewarded with four points.
In the earlier multi-game series (2013 and 2013/14), the Test had an even greater weighting, with six points awarded for a win compared to two points for a limited-overs win. In 2015 this was reduced to the current system, but even now the Test occupies an odd space in the series; partly a consequence of how rarely these sides play Test cricket generally, but also because the increased weighting makes it harder to come back and win the series if you do lose it. There is structural encouragement in favour of conservative cricket.
Not all of the blame can be placed at the door of the playing conditions or the weather - the pitches have rarely played their part. The surface for the 2019 Ashes Test in Taunton was lifeless and resistant to both the spectacle and any possibility of a result, and the next Test England's women played, in Bristol last summer, was on a used pitch.
Australia celebrate their victory over England in 2019 the Women's Ashes after the final T20 match at Bristol County Ground. Picture: David Davies/PA Images via Getty Images
There are non-sporting elements to this debate, without question. Four-day Test cricket is cheaper to host than five-day Test cricket, be it played by men or by women. While the calendar of women's cricket is nowhere near as packed as the men's, and you are rarely competing with other women's games for eyeballs, there is still a clear benefit to squeezing a match into a window when there is little other international cricket being played, and that is easier the shorter the games are. In an ideal world neither would be a consideration, but we are not in that place.
There are advantages to four-day Test cricket as well. People talk freely about how rain can ruin the spectacle, but when it remains dry, you can get a hugely compelling contest with all four results in play. The idea of the "dull draw" almost becomes a straw man, when huge wins by the side batting first see teams racking up massive, irrelevant third innings scores with no jeopardy. In men's Test cricket, the counterweight of the draw is important, but the current dynamics of women's multi-day cricket are seemingly rather different.
Hopefully, the rain stays away from Manuka in the coming week and we get four full days of vibrant, engaging cricket. But going forward, the option to extend women's Tests into a fifth day might help create a more reliable, competitive contest.