Ashes 2022: All the latest Australian team news for fourth Test at the SCG
Scott Boland has cut his teeth on flat tracks for several years, so the forecast batters' paradise in the Sydney Test at the SCG presents no fears for Australia's new cult cricketer.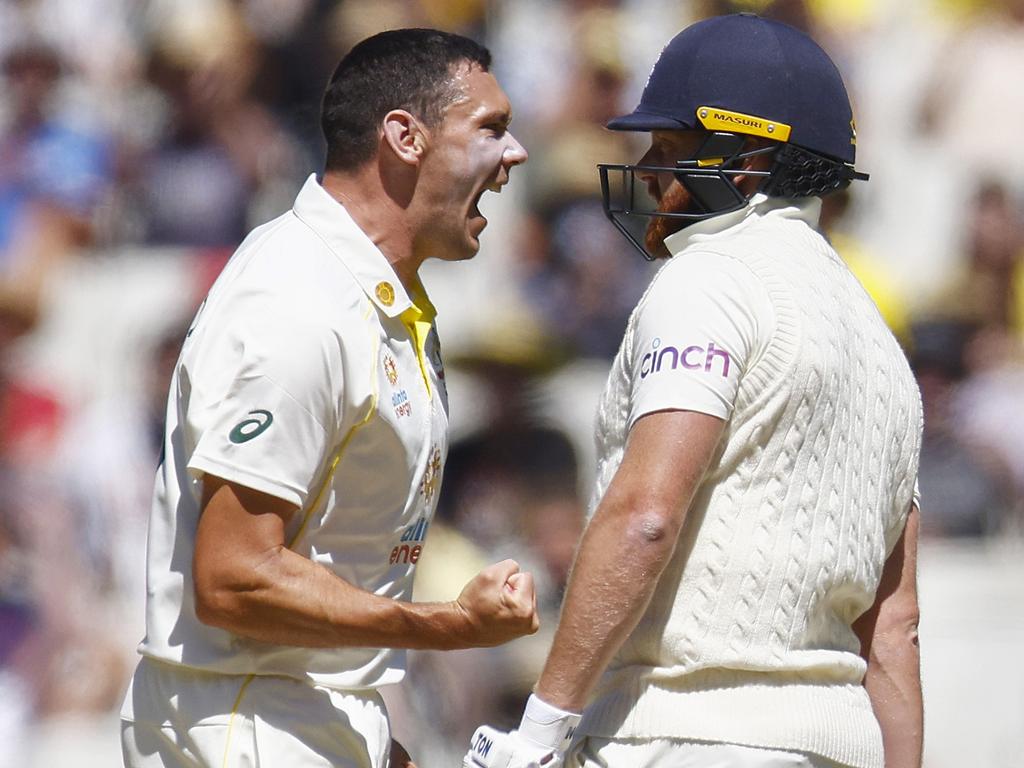 Scott Boland's ability to bowl stump to stump on flat pitches for hours was a key factor in him being chosen for his second Test. Picture: Daniel Pockett/Cricket Australia/Getty Images
Pat Cummins has spoken of his relief at helping haul "bulldozer" Scott Boland into the Sydney Test and out of the biggest and loneliest club in Australian cricket.
Boland's magical 6-7 at the MCG will live in the history books and the memories of those who witnessed it for decades to come, but the 32-year-old has now gone one step further by escaping the purgatory that is to be cast as a one-Test wonder.
And there's so many that didn't.
On Boxing Day, Boland became the 463rd man to play Test cricket for Australia — but of that number, 72 have only played one Test.
That's one in every six or seven to be handed a baggy green, have only experienced the privilege of pulling the cap on once.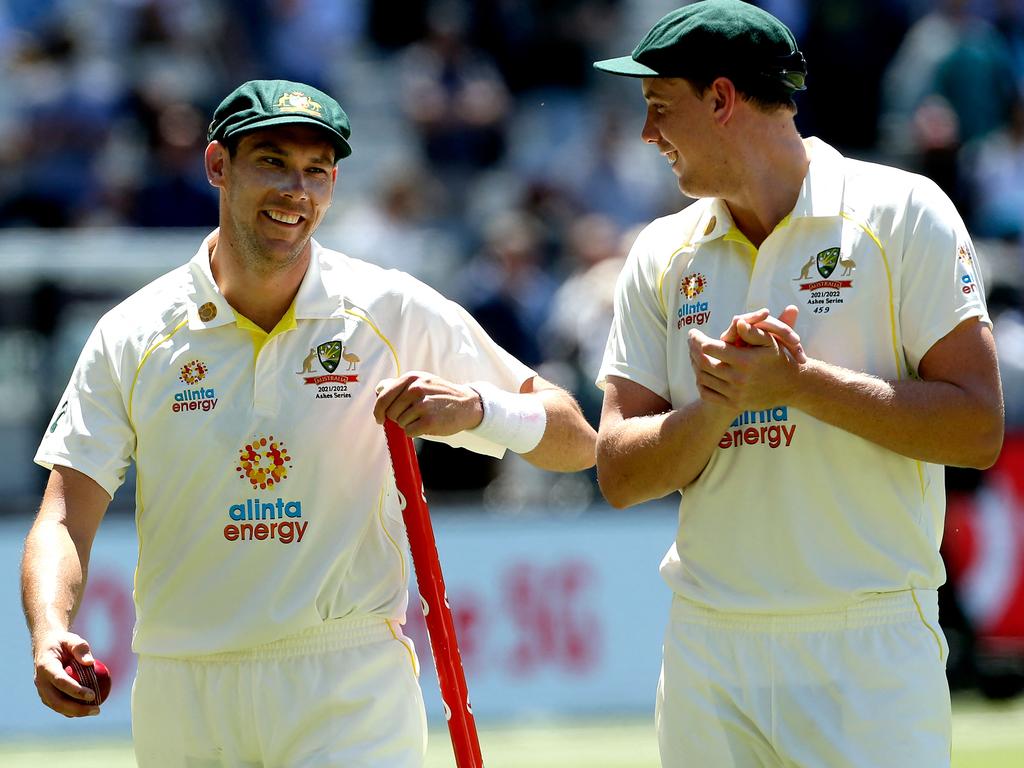 Scott Boland walks off the field with a teammate Cameron Green during the third Ashes cricket Test match at the Melbourne Cricket Ground. Picture: Hamish Blair/AFP
At 32 years of age and with Josh Hazlewood to return from injury at some point in such a rich era for outstanding fast bowlers, it's possible that had Boland not been picked in Sydney he may never have gotten another opportunity.
Cummins was a one-Test wonder for five years after his debut and is glad flat track "bulldozer" Boland has the chance to extend his fairytale.
"It's just huge. I spent about five years sitting on one Test and I hated it when people talked about it because I felt I hadn't proven anything — I'd only done one Test match," Cummins said.
"It's just great. He's bowling as well as he ever has. It's great that he can just keep going from last week and have another crack here.
"I doubt it's going to be 6-7, but I did say to him, 'we'll take last week, nothing more than that — so don't try any harder'."
While there's no escaping from the fact injury to Hazlewood (side strain) and Jhye Richardson (shin) has opened the door for Boland to become one of Test cricket's biggest bolters — selectors had earmarked him months' in advance for these two Tests in Melbourne and Sydney.
His draught horse physique and ability to bowl stump to stump on flat pitches for hours on end provides tremendous balance to the Australian attack that can allow the likes of Cummins, Mitchell Starc and Cameron Green to take turns firing cannons from the other end in a desperate search for wickets on what has recently been a batsman's surface.
Scott Boland bowls during an Australian nets session at Sydney Cricket Ground. Picture: Mark Evans/Getty Images
"There's not a lot of swing here and even not a lot of bounce. So you need that bulldozer bowler who will just give you 50 overs in a Test," Cummins said.
"You need a really good economical, challenging fast bowler that's going to challenge the knee roll of the batters and I just think that suits him to a T.
"He's done that for Victoria for a number of years. He's done that at the MCG when it's been flat — he's done that pretty well.
"He's super experienced. He's played 80 odd games. You know what you're going to get. So you just feel like you can walk in and know he's going to do a great job straight away.
"Traditionally here over the last 10 years it's been pretty hard work for the bowlers. I don't see a lot that's going to be different this week.
"There's a bit of grass around … maybe day one or two it might nip around and then probably just holds together."
Cummins said Hazlewood is still hopeful for a return for the final Test in Hobart next week, while Richardson's shin problem is also not a long-term issue.
Originally published as Ashes 2022: All the latest Australian team news for fourth Test at the SCG