Ashes 2022: Ellyse Perry's spell reminds us how good she is with ball in hand
Ellyse Perry was under pressure heading into the Ashes, but, she reminded us how effective a bowler she is during Sunday's ODI, writes CricViz's BEN JONES.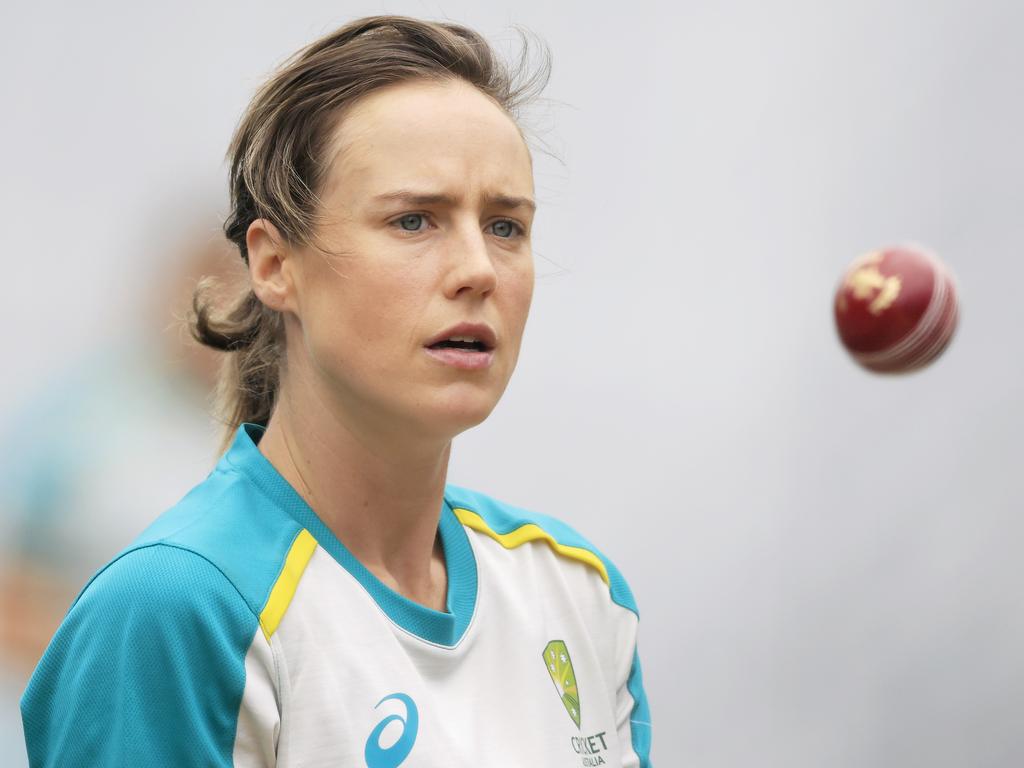 Ellyse Perry's spot in the Australian side had come under scrutiny leading into the Ashes. Picture: Mark Evans/Getty Images
The main story of the Women's Ashes has been the dominance of Australia. Despite the competition feeling infinitely more balanced and competitive than the men's series - hardly a huge accomplishment given how one sided things were - the primary narrative of this series has been the overwhelming quality of Meg Lanning's side.
Now onto the seventh day of cricket in the series, and England are still yet to win a game, and even taking into account the remarkable final day of the Test in Canberra, they are yet to feel like properly being in charge. It has been another series of controlled aggression and dominance for the hosts.
But beyond the clean sweep of the Australian side, the main stories have often surrounded a player who has, quietly, not had a hugely effective series. Ellyse Perry will, for a great number of reasons, generally be the breakthrough player in terms of media coverage. Her status as a star and a mainstream figure is undeniable and, even when her on-field activities dip, she still stands out as the most immediately recognisable member of an all-conquering Australian side. The poster-girl.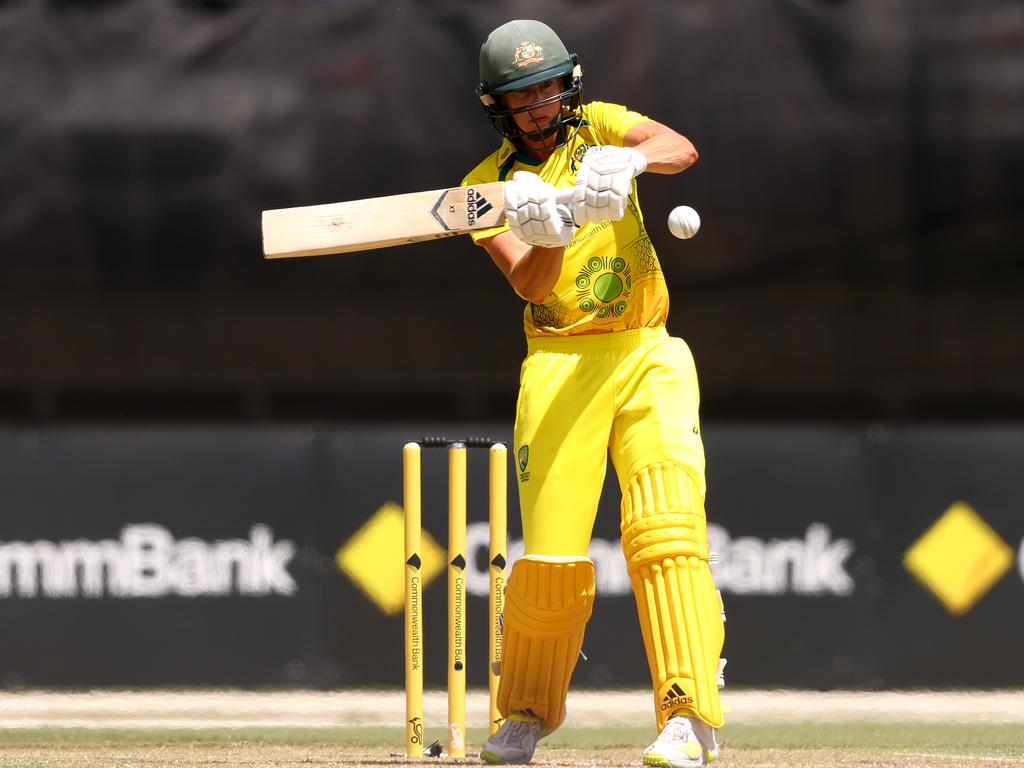 Arguably Australia's highest profile player, Ellyse Perry has had a relatively quiet series. Picture: Jonathan DiMaggio/Getty Images
And yet that has not translated into on-field success in this series. The debate around Perry's place in the T20 side was a rare and welcome example of a women's cricket story focused entirely on sport and selection, rather than any wider discussion. This was about the deserving or undeserving of a spot in the side of a player who, to the casual fan, was surely the first name on the team sheet. And yet, in reality, she wasn't. Her scoring was too slow, and as Matthew Mott has made clear on a number of occasions, if Perry wasn't getting into the side as a top order batter then her bowling was not enough to get in on its own.
That lack of bowling incision is clear in her ODI record as well. Before today, Perry had not taken a wicket in her last seven ODIs, dating back - largely through fault of the schedule rather than her own issues - to October 2019. Of late, she has consistently found it tricky to justify her status as an all-rounder, and while her batting prowess in the longer forms of the game is never in doubt, her bowling has been less and less effective.
Which is why today felt significant. 7-1-12-3 in a dead rubber might only stand out to those who didn't watch the game, as the key performance in limiting England to just 129 in their innings, but it was more important than that for Perry, in that it was a reminder of what she can do with the ball in hand. The dismissal of Tammy Beaumont in the fourth over of the contest was a beautiful hooping delivery that moved away late, drawing a loose booming drive from the England opener, and a great catch from Alyssa Healy behind the wicket.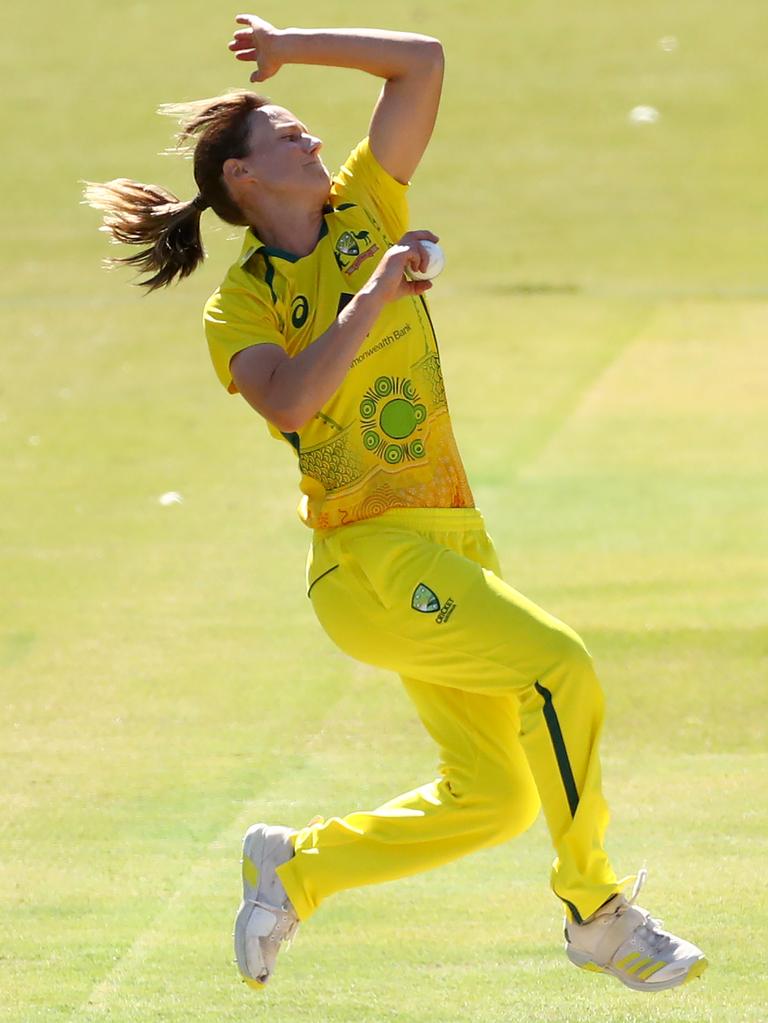 Before Sunday's win, Perry hadn't taken a wicket in seven ODIs. Picture: Kelly Defina/Getty Images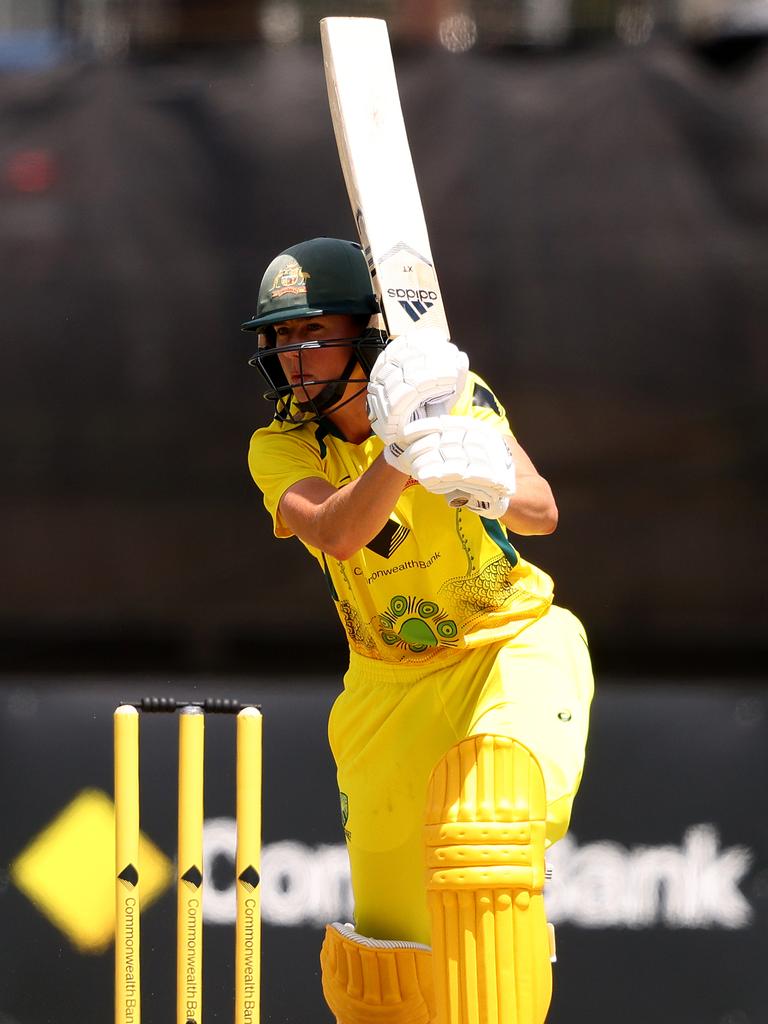 Perry scored 40 in Australia's run chase of 130 on Sunday. Picture: Jonathan DiMaggio/Getty ImagesC
A quarter of her deliveries were short balls, demonstrating those red ball skills that she so rarely gets to show off. Almost 50% of her deliveries swung left-to-right, and slightly over 50% swung in the other direction, moving the ball at will in both directions. The fact that the wickets of Charlie Dean and Sophia Dunkley illustrated, respectively, what those two different threats can be, was an enjoyable extra element to her spell.
Equally, England's women have not been nailing things consistently when batting first of late. In their last seven innings when they have had the first go at things, they have been bowled out six times. For all the talk of batting intent, England have struggled consistently to pace their innings and bat out their overs - a basic element of the game, but a significant one. Perry wasn't necessarily pushing against much.
Eventually Perry saw things home with the bat as well, playing an authoritative knock that carried Australia over the line in their nominal chase. She played just 5% false shots across the course of her stay at the crease, the lowest for any batter on either side in the match. It was that sort of day it was - a day for quietly going about your business once the back of the game was broken, not overcomplicating things, and playing with control to see the game home.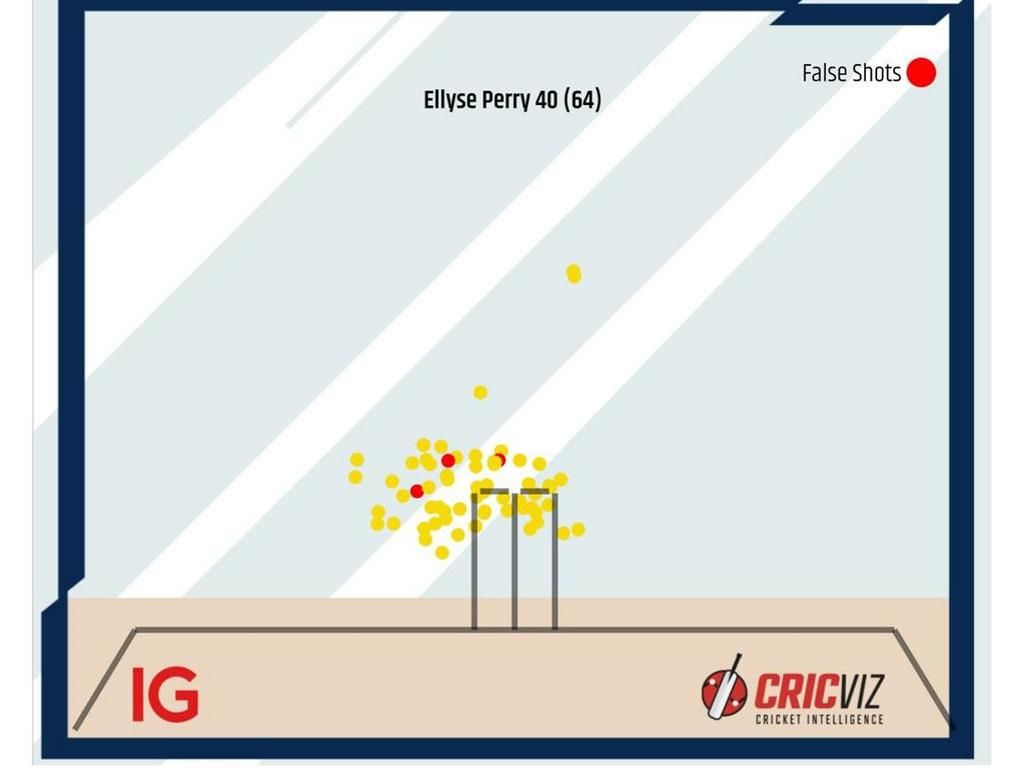 Ellyse Perry false shots.
It felt appropriate that after a tour which has, from an Australian perspective, been showing exactly how good they can be without Perry in the side or at full strength, that they sealed the ODI series with a demonstration of how good they can be with Perry in it.