Ashes 2022: Red-ball cricket's complicated role as women's game goes from strength to strength
Australia's all-conquering women play just their ninth Test on home soil in 22 years as desire for more red-ball cricket grows. So where does longer format cricket fit in the women's game, asks LACHLAN McKIRDY.
Nine Tests on home soil since 2000 at less than one red-ball outing every two years. White-ball cricket has driven the stunning growth of the women's game, but where does that leave the first-class format?
Australia's all-conquering women are poised to play just their ninth Test on home soil since the year 2000 this week.
They've averaged less than one red-ball outing every two years since the turn of the century.
Thursday's Ashes Test at Manuka Oval follows the four-day clash earlier in the summer against India, marking the first home summer since 2003 that has featured two women's Tests.
So, with so little first-class cricket, but a growing desire for more, how best to prepare Australia's domestic players for the red-ball game?
"We don't play a lot of [Tests] so we can't exactly go in there with this great Test match mindset," Australian wicketkeeper Alyssa Healy said earlier this week.
"We approach it the only way we know how, and that's playing really good one-day cricket with a little bit more patience and a bit more time to showcase your skills."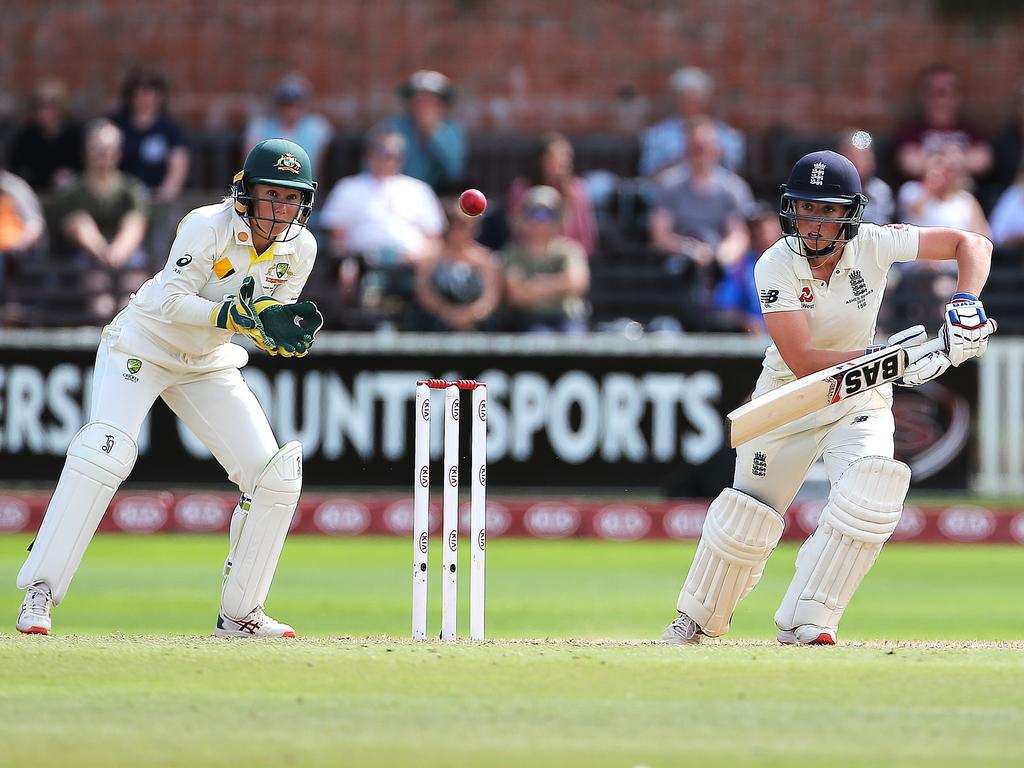 Australia's wicketkeeper Alyssa Healy in action on day three of the 2019 Women's Ashes Test match. Picture: Mark Kerton/PA Images via Getty Images
Cricket Australia's scheduling this summer points to more women's Test cricket in the home calendar – provided willing opponents can be found.
Among the players there is an understandable appetite for a domestic red-ball competition. But by the same token, the women's game has come a long way via CA's white-ball strategies – with limited overs cricket to continue the heavy lifting for some time yet.
*****
The next generation of Australian cricketers have been born-and-bred largely on white-ball cricket, definitely by design.
From Australia's first women's ODI in 1973 to the start of 2000, the ratio of Test matches to ODIs for the Australian women's team was less than 1:4 (34 Tests to 117 ODI matches).
Since 2000, that ratio has exploded to one Test for every 13 ODIs (16 Tests to 221 ODIs), and one Test for every 23 limited overs matches when T20s are included (16 Tests to 370 white-ball matches).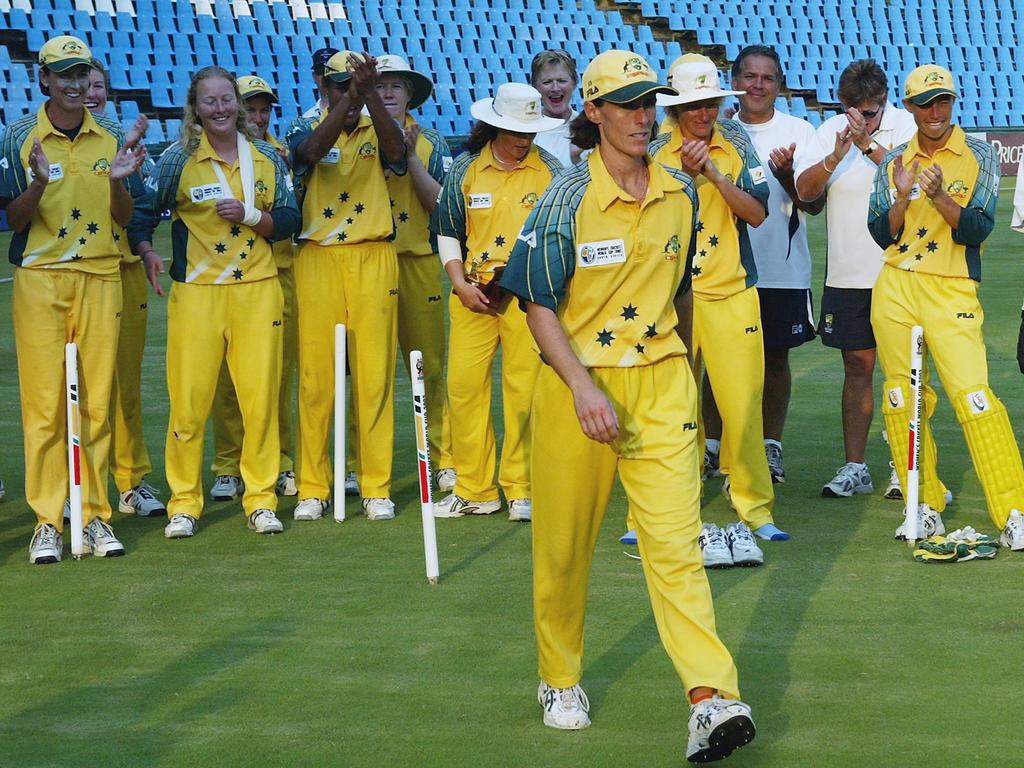 Former Australian cricketer Belinda Clark believes that, currently, funding would be best spent on strengthening the WBBL and Australia's national and youth team pathways.

Picture: Touchline/Getty Images
Just as white-ball cricket has been picked out as the vehicle to attract younger audiences and participants alike, there is little arguing with Belinda Clark's point that it has served the same purpose for the women's game.
As a decorated former Australian captain, Clark was still playing when the last domestic red-ball cricket – a hybrid of one and two-day cricket back in 1995-96 – was phased out to focus on preparing the national side for 50-over World Cups.
As a one-time member of CA's executive, she has also been an administrator faced with the challenge of generating revenue and creating a brighter future for the game – T20 and 50-over cricket being the clear format to do that.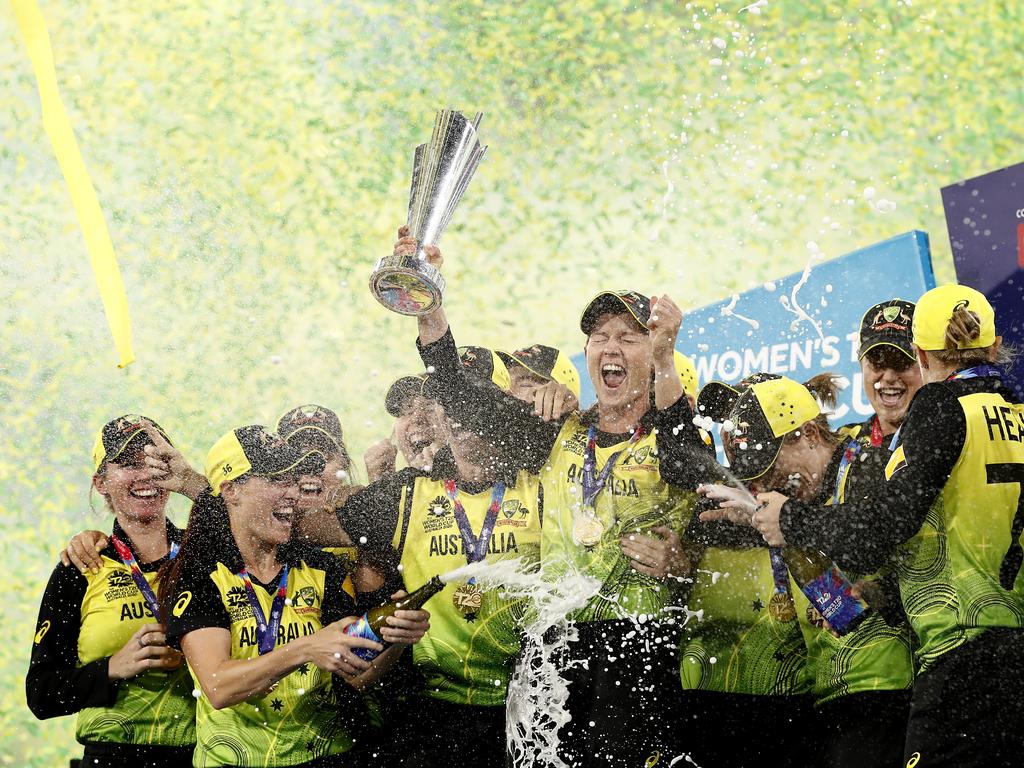 Belinda Clark believes that Australia's domestic system should help develop players to perform at World Cups. Picture: Ryan Pierse/Getty Images
"I'm a big believer in moving things forward in a way that grows the game," Clark says.
"There are the players that play today and there are the players that will play tomorrow or beyond. Everything you do should be aligned to, 'How do I make sure the players of today are playing as much as possible and then make sure you set it up for the next generation?'
"My question is, if there is an amount of money to be injected into women's sport to grow the game, how would I spend it? I don't think at the moment I'd be spending it on a four-day domestic competition.
"I'd be spending it to strengthen the WBBL, to make sure our national team and youth teams have got pathways in, that the international game is flourishing and that we're still performing at World Cups.
"A World Cup is the pinnacle event for the sport. In terms of building your domestic system to create players for the international system, it makes more sense to go down that path."
*****
There is support for the status quo and white-ball dominance in the schedule among current players, just as there is a desire to play Test cricket – provided they have adequate exposure to red-ball cricket via a domestic competition.
"For sure, that's the dream of every cricketer," says Phoebe Litchfield, one of the most talented young batters in the country.
"I haven't really thought of the baggy green as a thing until recently when the girls have been playing Tests and I've thought, 'Oh, I can get one too now', hopefully."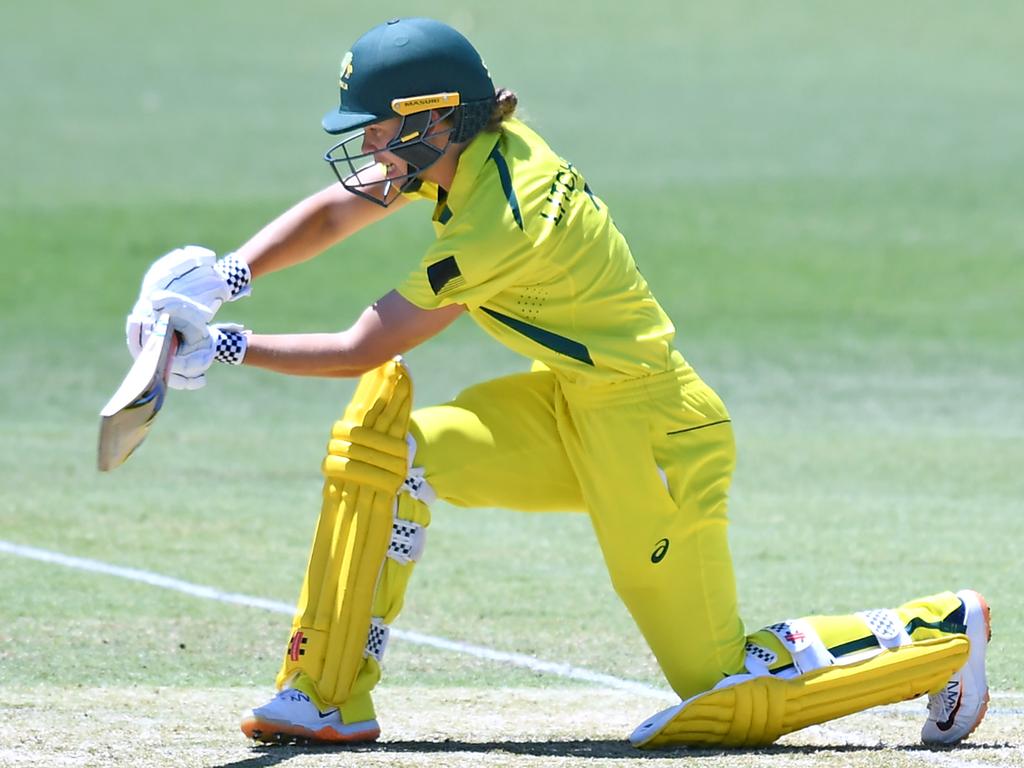 Rising star Phoebe Litchfield welcomed the prospect of playing Test cricket. Picture: Mark Brake/Getty Images
Litchfield has been lucky to have some exposure to red-ball cricket, but that has only come through playing in men's competitions. The current NSW Women's Premier Cricket competition only has 50-over and T20 matches in first grade.
Having just finished school and moved from Orange to Sydney in pursuit of a cricketing career, Litchfield suggests a shift at international level could further red-ball growth in the domestic game.
"I've never played a four-day match or anything but I love that format and I love it as a batter. I can bat all day and I think it's a really good thing that women are getting more games like that," Litchfield says.
"I know it's not commercial and whatnot, but I think if we get Test matches to five days that will help and then we can start playing more of it at domestic level, sort of two-dayers. I enjoy it and the girls enjoy it too. It doesn't need to be televised, I still want to play it.
"A lot of people love the T20, the quick in and out, and then there's nuffies like me and a few others. I think it will be a while until that happens but I think a few players are keen."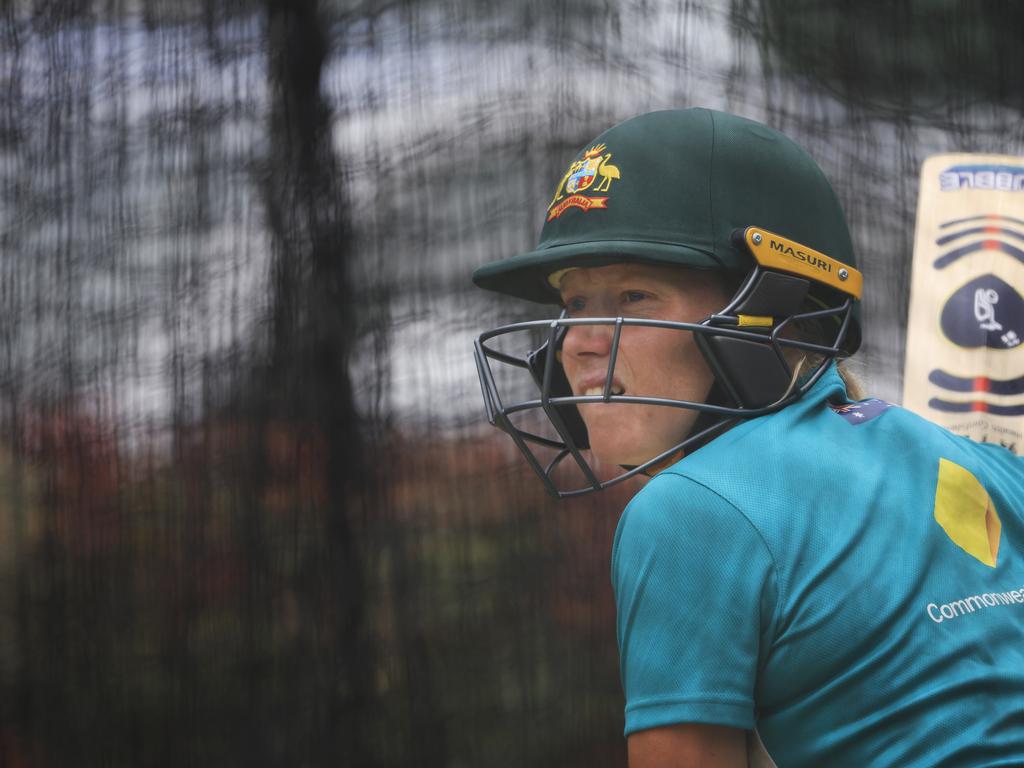 Alyssa Healy suggested that two-day red-ball cricket could pave the pay for longer women's Test matches. Picture: Mark Evans/Getty Images
Healy agrees that a domestic competition to encourage red-ball cricket should be prioritised, while fellow veteran Elyse Villani sees a home and away 50-over fixture as a gateway to more first-class games.
"I think that's the step that needs to be taken first," Villani says. "I think the T20s, we play enough of those and I think that's good.
"So if we can increase the one-day competitions… I think for sure bringing in some longer format cricket as well would be good."
Healy adopts similar caution in her endorsement of more red-ball games if it is driven by an increase in women's Tests.
"If there's more scope for Test match cricket on the calendar, they're going to have to try and find a way to put it in our domestic schedule at some point so that we get some sort of exposure to it," Healy says.
"I don't think we're naturally going to be able to throw four-day competitions in willy nilly. Whether it starts with good old fashioned two-day red-ball cricket, I don't know how it starts."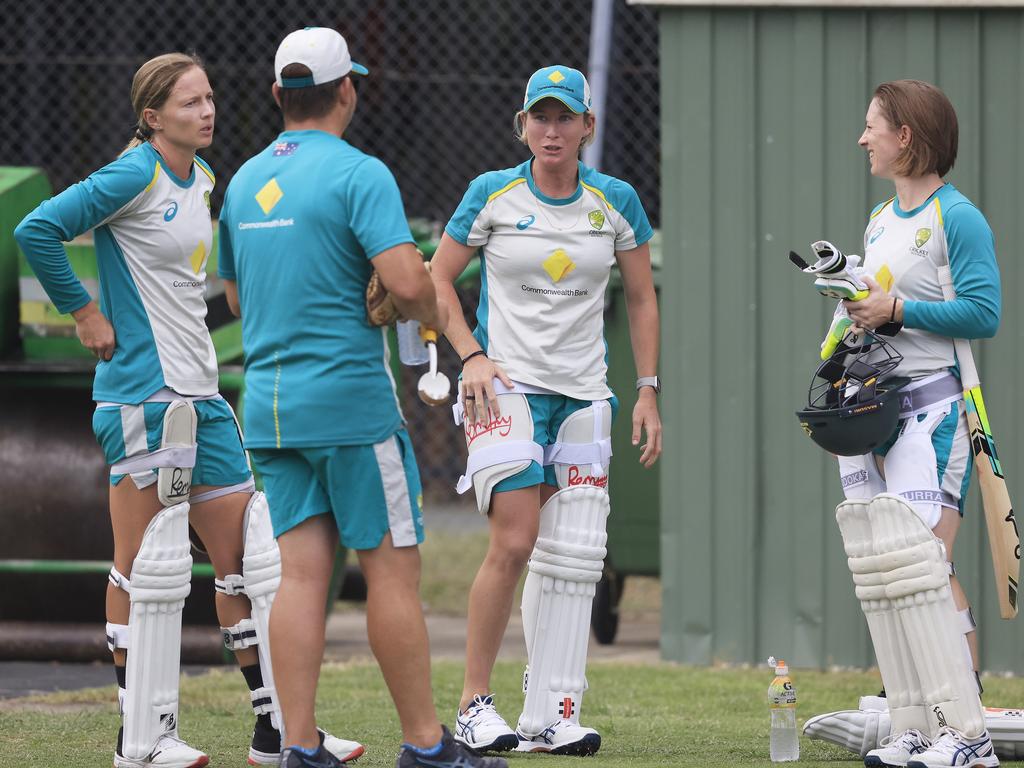 Australian coach Matthew Mott runs a session with Meg Lanning, Beth Mooney and Rachael Haynes ahead of the 2022 Women's Ashes.

Picture: Mark Evans/Getty Images
*****
From an administrative perspective, a domestic red-ball competition isn't in any immediate plans.
Ben Oliver, CA's national teams' manager, firmly believes limited-overs cricket is the path that still presents the most opportunities for women's cricket, though the players' embrace of Test cricket does provide food for thought.
"What I do love is that the players love wearing the baggy green, I think they love the challenges of Test cricket," Oliver says.
"So our focus in the short term is really about how do we make that experience of Test match cricket as part of a multi-format series as positive as it can be?
"[We're] very supportive of Test matches being part of a multi-format series. And that's certainly something we'll continue to pursue, particularly with countries that are in a position to do that, that have got strong and well-established women's programs."
The standard of the women's game internationally means only a handful of countries are truly in a position to play multi-format series. Beyond England and India, South Africa and New Zealand are likely the only two other countries currently able to compete with Australia in all three formats.
At this stage, India, England, South Africa and New Zealand are the only countries in a position to compete with Australia in all three formats. Picture: Matt Roberts/Getty Images
As is the case in the men's game, it is simply easier for fledgling nations to gain a foothold in short-form white-ball cricket than it is with longer versions.
"The global strategy has been built on the back of the T20 format," Oliver says.
"And we're starting to see countries emerge and I think more and more countries will move into a position with investment in the women's game where things like Test matches as part of multi-format series can hopefully become part of that future."
At a domestic level, exposing players to the red ball more and more is a challenge CA wants to pursue, though Oliver argues the current system serves its purpose given how much multi-day cricket is played at the moment.
"The strength of the WNCL has played a key role in the development of players over time," Oliver says.
"We certainly think that the 50-over format is good in exposing players to different conditions and different scenarios that help prepare them for longer-format cricket.
"We do feel as though given the volume of Test cricket that we have at the moment that an Australia A program and our ability to expose players at that sort of international level is a positive way to prepare players for Test cricket.
"How we weave in red ball opportunities through domestic cricket is something that we're continuing to discuss and work through."