Ashes: Ian Chappell says Ben Stokes would be foolish to accept England captaincy
Ben Stokes has all the attributes to be England captain, but Aussie legend Ian Chappell reckons he'd be foolish to take the job.
Ian Chappell says he has the perfect way to fix the respective coaching conundrums Australia and England face: get rid of them all together.
England is almost certain to part ways with Chris Silverwood after their dismal Ashes showing, while Justin Langer is no certainty to keep his job, despite Australia's winning ways.
Every cricketing nation has a head coach, but legendary former Australian captain Chappell says it's time to do away with them at the top level and entrust the captain with control of their nation's fortunes.
Are coaches still needed at the top level of cricket?
Justin Langer's teams are winning, but will that be enough to save his job? Picture: Chris Hyde/Getty Images
"Everyone's talking now 'oh, get rid of Silverwood and get this bloke, get that bloke' — it's not going to make a lot of difference," Chappell said.
"I don't know why everyone jumps up and down about coaching at the highest level.
"The simple fact of cricket is if you've got a captain who you think is good and you give him a bunch of competitors who want to play for the captain, they'll win a hell of a lot more games than they'll lose.
"The whole game has got a system that doesn't work.
"It's down to the guys who get the wickets and make the runs and take the catches.
"If you're trying to have a game any other way than the captain running the show, then it's a mistake."
With Silverwood and a number of assistants in quarantine due to Covid-19, the Poms will test Chappell's theory in Sydney this week.
Chappell spoke to News Corp after he joined forces with Bare Cremation to create an outrageous "Ashes" ad to encourage people to talk about their afterlife arrangements and use humour and memories at funerals to celebrate, rather than mourn.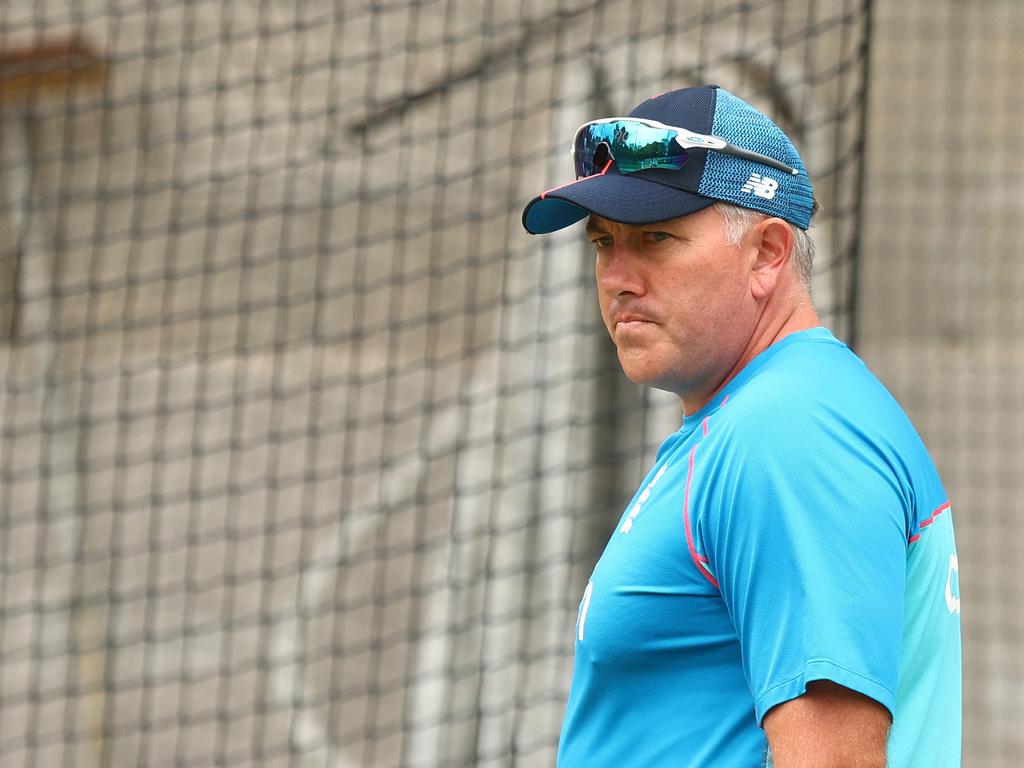 England is almost certain to part ways with head coach Chris Silverwood after their dismal Ashes showing. Picture: Mike Owen/Getty Images

Chappell has a "fatalistic view" of death, brought about by the untimely death of his father and discussions with his mother before she passed away.
Tough conversations and decisions is why he believes woeful England are staring down the barrel of a 5-0 Ashes whitewash because they have a long history of being frightened to make big calls.
"Australia has made a move on some very good captains," he said.
"Mark Taylor got moved on from the ODI captaincy, Steve Waugh got the same, Ricky Ponting was probably told it's time to move on. Australian cricket has been better at making tough decisions.
"England won't do that. They had Alastair Cook as captain for a long time. Now Alastair wasn't a very good captain. Joe Root's not a very good captain."
He believes Ben Stokes should be England's next leader, but doubts the brilliant all rounder would want a job that has become a poison chalice.
"Ben Stokes has got all the attributes you'd want of a captain, but you'd have to say that Ben Stokes is probably smart enough to say 'well, I don't really want the job'," he said.
"If I was offered the job, I'd say I'll take the job, but under my conditions and just be very clear on what you want to do. And if they don't want to meet those conditions, then say 'go find someone else'.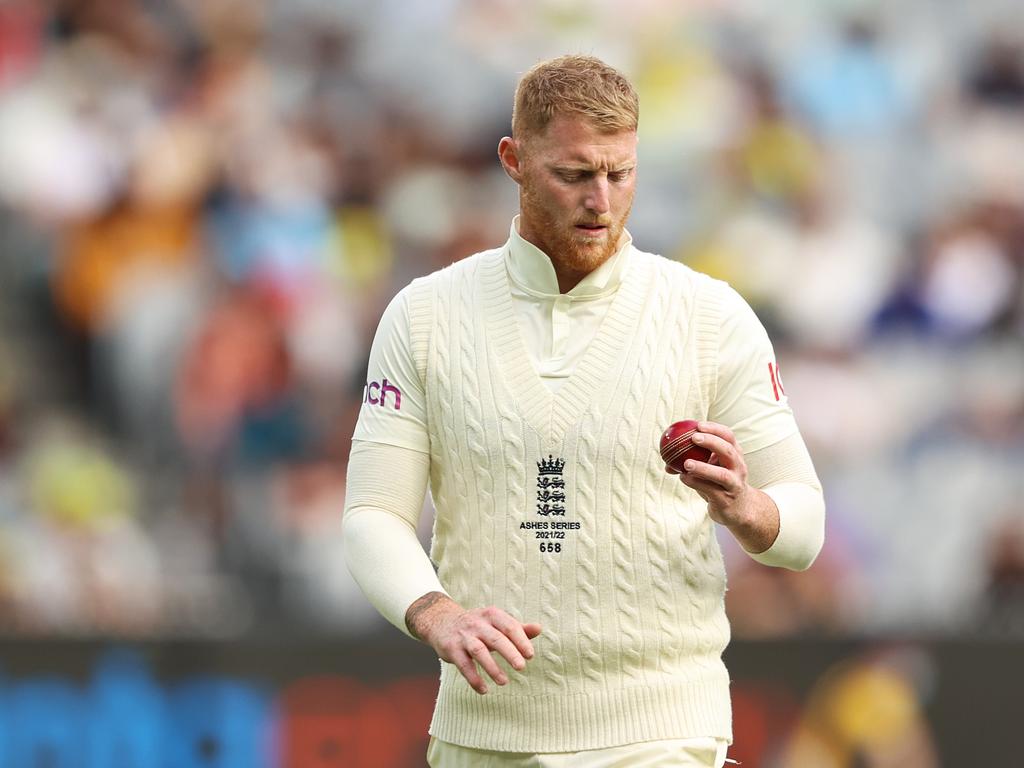 Ian Chappell believes that England's Ben Stokes has great leadership attributes, but may not want to tackle the role of captain.Picture: Robert Cianflone/Getty Images
Vaughan's big play: If Aussies don't want Langer, grab him
—Sam Landsberger
Embattled England has been urged to target Justin Langer to rebuild its broken Test side if the Australian coach become a free agent and counterpart Chris Silverwood gets sacked after the failed Ashes campaign.
No man has ever walked from one Ashes camp into enemy territory to coach the opposition, but former England captain Michael Vaughan told News Corp that Langer was the perfect candidate to steel his country with a harder edge after its humiliating 0-3 start to the series.
"If England do make the change and Australia don't want Justin Langer …. phwoah," Fox Cricket's Vaughan said on Thursday.
"Whatever he's doing is working. Whether people like him or not he's getting results, and that's all it's about in sports. At the highest level it's about can you get a group of people to produce to get results.
"That means sometimes you don't always have to have coaches that are nice to people.
"If the Aussies don't want him, I'll have him. I think he's got passion, drive, he's got honesty.
"I think the modern players potentially don't like being told things they don't want to hear and I think he's a bit old-school."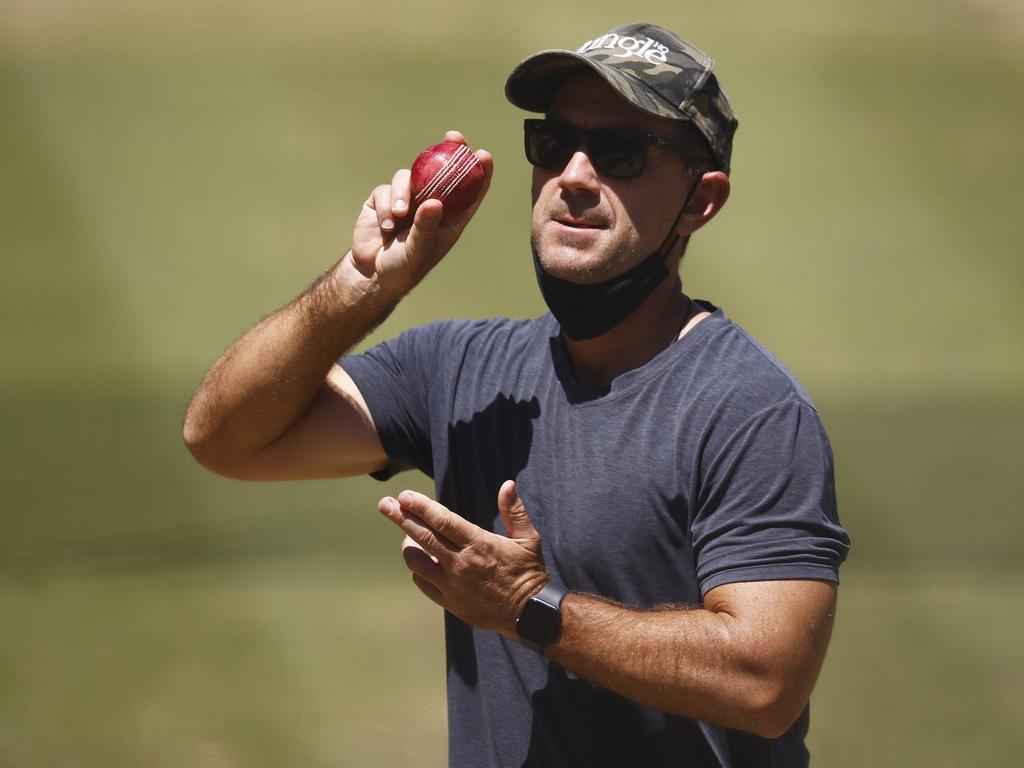 Australia head coach Justin Langer in action during an Australian nets session at MCG. Picture: Getty Images
Langer has an intricate knowledge of English cricket, having captained Somerset during a four-year stint at the end of his first-class career. He owns the County's top score — 342 against Surrey in 2006.
Langer — fresh from delivering the T20 World Cup and Ashes glory — wants to continue coaching Australia in all three formats, but Cricket Australia has not guaranteed him a contract beyond midway through 2022.
Player feedback has not been kind to Langer, although he has recently mellowed out and already achieved this summer's two missions.
Vaughan said England's "horrendous fielding" pointed to poor coaching.
"We've not hit the stumps and the no-balls are an absolute madness at this level," he said.
"You go and watch practice and massive no-balls are being bowled in practice. These are the things that coaches should absolutely be able to stamp out."
Vaughan suspected opener Rory Burns would be recalled for Haseeb Hameeb at the SCG but said selection was "irrelevant" because the system was broken.
"The only person I would bring back in is Ollie Pope, because I think he's a young player with a career, and maybe put (Jonny) Bairstow behind the sticks.
"But I don't care. They're shuffling the chairs, but it's still the same table."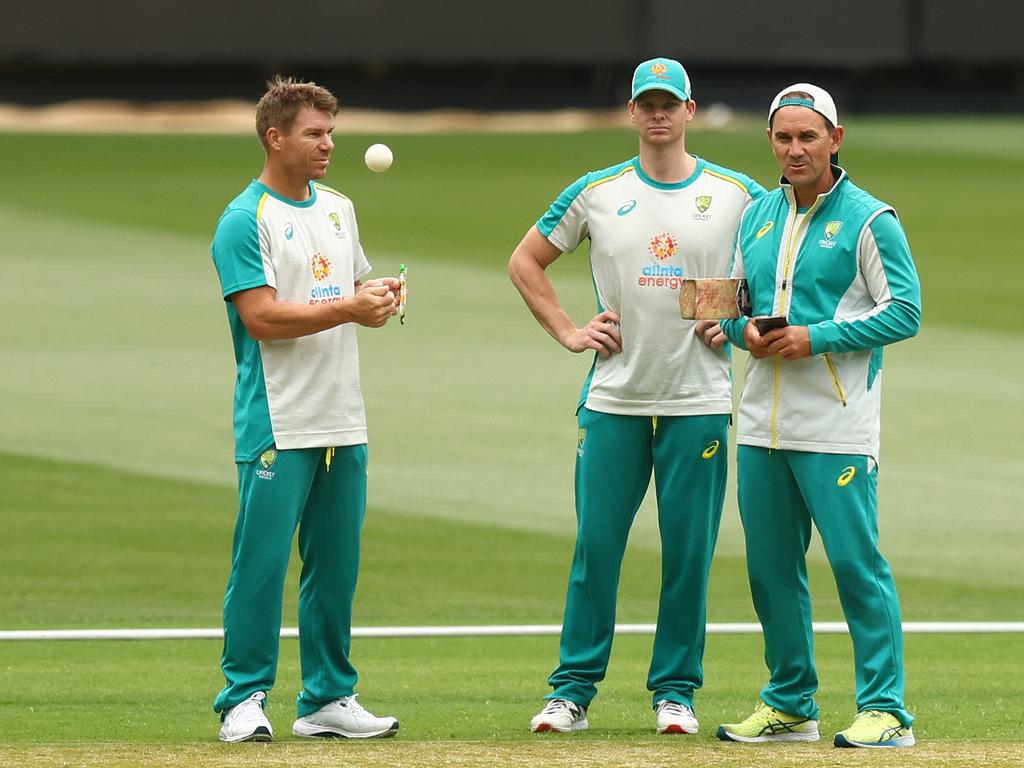 Michael Vaughan says Langer's hard edge is exactly what England needs. Picture: Getty Images
Vaughan said all countries should appoint separate red and white-ball coaches, but if Langer wanted to take on all three formats he would still be the right man for England.
"I'm led to believe he wants to do all formats. I just don't think it's possible," Vaughan said.
"With his history of County Cricket in the UK, absolutely I'd be looking at Justin Langer if he became available and England had a vacancy.
"English cricket has got to be honest with itself. For 35 years we've only won six Test matches in Australia.
"This tour is by far the worst of them all because no one's done anything.
"There's been no hundreds, no five-wicket, no real individuals to celebrate.
"Usually when England are getting hammered down here there's always an individual or two who are scoring hundreds or getting wickets — that's not been the case.
"This is the worst of them all. There has been too much of a focus on white-ball cricket in the UK. We've all got to be honest — we lost 4-0 last time, we last 5-0 the previous time, we lost 5-0 in 2006-7, we lost 4-1 in 2002-03.
David Warner and the national coach during day two of the Adelaide Test. Picture: Getty Images
"Our system has not been right for a long while to prepare players to be successful and for teams to be successful to beat Australia in Australian conditions.
"They have to look at the system and the pathway and the development and the pitches and the ball — they have to look at every aspect of the game to finally I hope realise that we do need change.
"Like we did with the white-ball team in 2015 we changed the pitches, we changed the ball, we changed the mentality, we dedicated more time to the white-ball game, we let players go and play in these leagues around the world.
"That's what we have to do now with the Test team, we need a thorough examination of exactly what's required to produce a world-class Test match performance.
"It'll probably take four or five years to get to that. England has never ever in my time, from the 1980s to the 90s to the 21st century, been a dominating force in Test cricket.
"We've had very good teams, but never had a dominant side like Australia or the West Indies or Pakistan briefly."