Australian batsmen belt English spinner Jack Leach out of the attack and probably the series
Finger spinners typically have a tough time of it Down Under. Poor old Jack Leach's time in the series already looks to be up after a day two mauling, writes DANIEL CHERNY.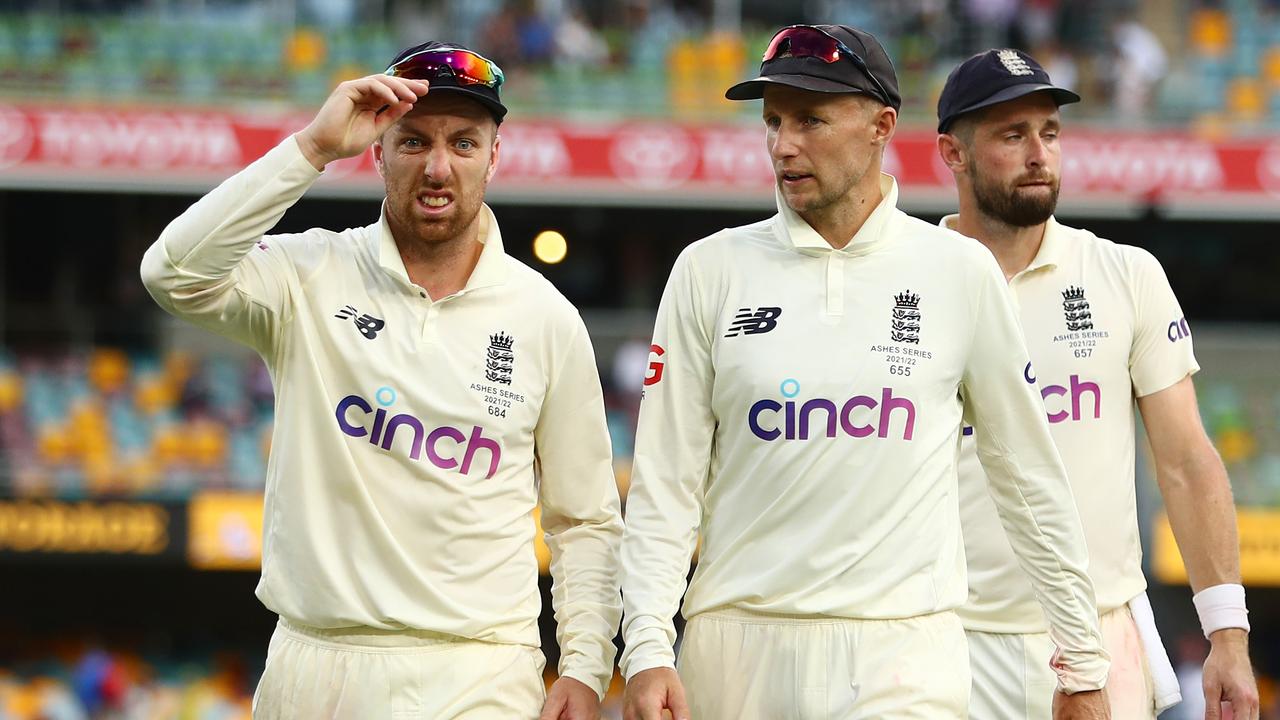 Jack Leach had a day to forget in Brisbane as Australia got on top in the first Ashes Test. Picture: Chris Hyde/Getty Images
Towards the end of the 2019 Ashes series, Steve Smith sparked a minor controversy when he wore glasses while celebrating Australia retaining the urn. It was alleged that Smith was mimicking the English spinner Jack Leach, but Smith clarified that it was another bespectacled Test cricketer – Chris Rogers – who was the butt of the joke.
But even if Smith had been mocking Leach two years ago, it would have been nothing on the lack of respect they showed him on Thursday.
Australia has not historically loved finger-spin. The reason Nathan Lyon has been called the GOAT for so long is because the previous most prolific Aussie Test offie – Hugh Trumble – doesn't even make it into the top 25 wicket-takers in the nation's history. On hard, bouncy Australian wickets, selectors have tended to opt for wrist-spin, those who can give it a big rip. Think O'Reilly, Grimmett, Benaud, Warne and MacGill. But if you think off-spin has been given short shrift, try bowling slow lefties in this country. None of Australia's 50 highest men's Test wicket-takers are left-arm spinners. The most successful left-arm orthodox bowler was Bert Ironmonger, and he finished up almost 90 years ago!
The history lesson may seem irrelevant, but it provides some context for the way the Aussie top order treated Leach on day two at the Gabba. Leach will forever be etched into Ashes folklore for his unbeaten 76-run 10th wicket stand with Ben Stokes to win the 2019 Headingley Test, a partnership to which Leach contributed precisely one run, flicked off Pat Cummins to backward square leg, a shot which has inspired tribute T-shirts of his wagon wheel.
Jack Leach was a memorable part of England's 2019 miracle at Headingley but had a day to forget at the Gabba against a ruthless Travis Head. Picture: Ryan Pierse/Getty Images
It is with the ball though that he is paid to make an impression. Leach entered this summer's Ashes with a very respectable return of 62 Test wickets at 29.98. But as mentioned above, being a finger-spinner in Australia can be a mug's game. That is especially the case for touring finger-spinners, and even more so for touring left-arm orthodox bowlers.
Daniel Vettori; second only to Rangana Herath for Test wickets bowling left-arm spin, played 12 Tests in Australia and took his wickets at more than 40. Herath fared a bit better in his lone series on these shores, but his 12 wickets at 33.91 still came at almost six runs more than his career Test average.
The only visiting slow left-arm bowlers to have had any major success on these shores over the past three decades are Ravindra Jadeja, who took 4-62 in the first innings of last summer's Sydney Test, and his Indian coach last summer, Ravi Shastri, who picked up 4-45 at the same venue 29 years earlier.
The final spot in England's attack for this Test came down to a choice between Leach, and Stuart Broad, of whom it barely needs reminding was David Warner's destroyer in the Ashes two years ago.
With history stacked against him, England didn't need Leach to perform miracles this series. His role would be in the classic genre of spin to contain and relieve, allowing the rotating quicks – particularly the rapid but injury-prone Mark Wood – to keep as fresh as possible to eat into a suspect Australian batting line-up, with probably only three of the top seven able to be described as established Test batters. This task became even more important when Ben Stokes pulled up lame during the first session of day two.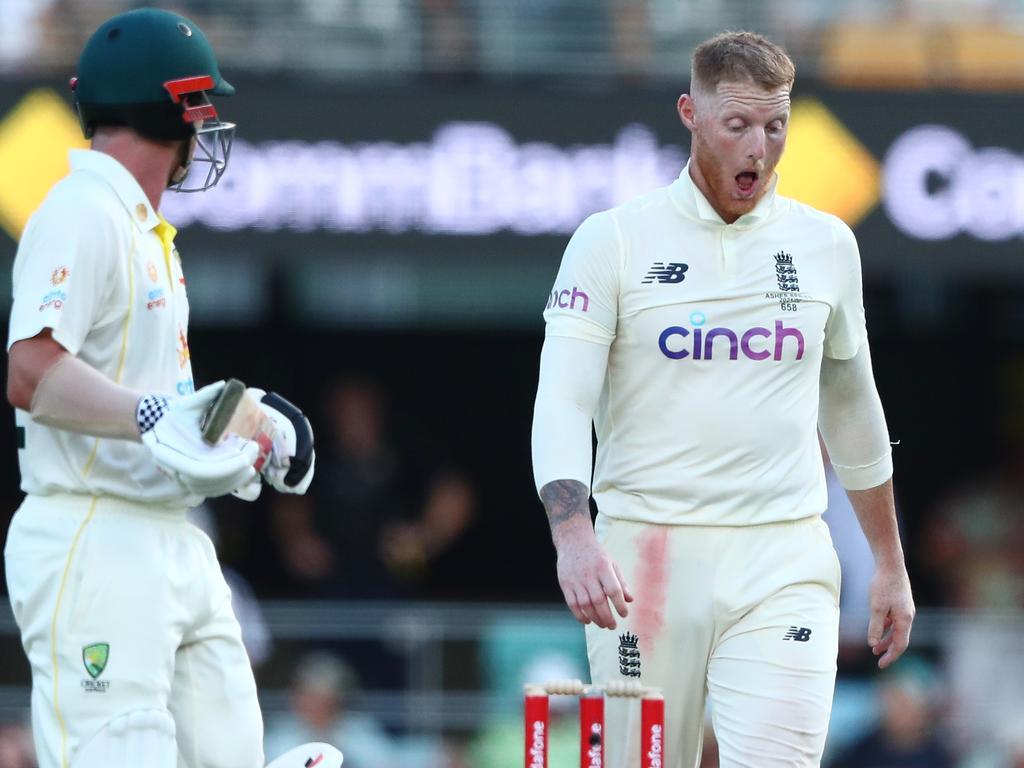 Ben Stokes struggled through injury late on Day 2 at the Gabba. Picture: Chris Hyde/Getty Images
If Leach could play the role of offie Graeme Swann 11 years ago, or Paul Harris for South Africa two summers before that – taking wickets at a bit below 40 but keeping his economy rate below three – he would have done enough.
But on day two in Brisbane, Australia's senior batters showed they would not let Leach tick those boxes.
Introduced not long before lunch, Leach's first over went for just one before Warner and Marnus Labuschagne decided to tee off. They combined for three sixes across Leach's next two overs, the tweaker heading to the interval with figures of 0-31 from three. If there was a 15-minute period to underscore Australian cricket's prevailing attitude towards left-arm orthodox spin, this was it. Leach was recalled midway through the middle session. Take two. Similar violent themes; Warner slog-sweeping him for four and then Labuschagne thumping another six over long-off. This was sheer, unadulterated contempt for the bowler. A lack of respect can sometimes prove beneficial for a bowler. And so it proved, with Australia's No. 3 – having barely played a false shot all innings – cutting Leach straight to backward point.
Leach got the massive wicket of Marnus Labuschagne but there wasn't much else to celebrate on Thursday. Picture: Patrick Hamilton/AFP
Time for the Aussies to give Leach a bit of credit? Not on your life. In came Smith, dancing down the wicket to the second ball he faced, popping one to the deep mid-wicket boundary.
Warner still wanted his piece, going through deep square leg for another four the following over.
Project Leach was again shelved. Eight overs. No maidens. 1-62.
When it came to keeping it tight later in the innings, England skipper Joe Root preferred his own darting off-spin to Leach's craft.
Then again at the 70-over mark, Leach returned. Not for long. Travis Head was already in an attacking mood, and stepped it up a notch. By the time he was finally put out of his misery, Leach had figures of 1-95 from 11 overs. His economy rate of 8.63 was the highest for a bowler sending down more than four overs in an innings in Ashes history.
If Australia had aimed to hit Leach out of the attack, they had succeeded. They might have just about played him out of the series, and given he didn't appear in any home Tests this year, Leach might just about be stamped "only open in Asia."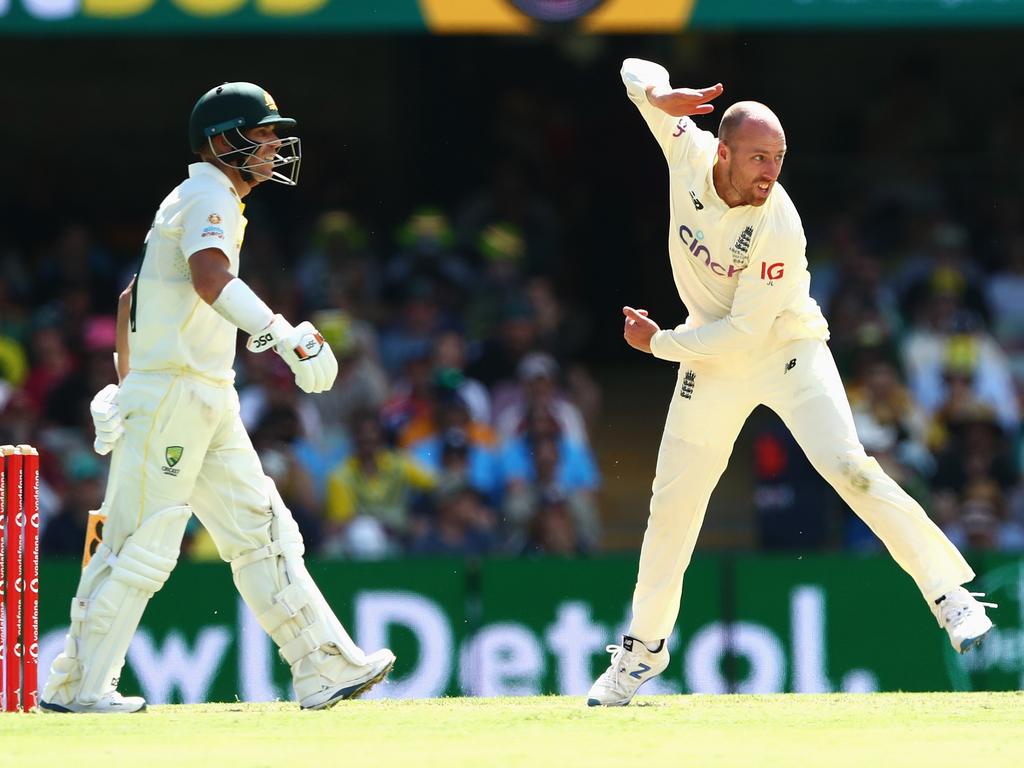 Jack Leach's bowling figures were the highest for a bowler sending down more than four overs in Ashes history. Picture: Chris Hyde/Getty Images
Across town in Brisbane, England's other specialist spinner in their Ashes squad – Dom Bess – took 4-80 for England Lions against Australia A, removing the handy trio of Bryce Street, Nic Maddinson and Mitch Marsh.
If they still see value in spin after this Test, he's likely to get a run soon. Bess might not be best, but he has to be better.