Mike Atherton: England must avoid Ashes whitewash and restore some pride at SCG
Gastro, heat exhaustion and his only Test omission make the hallowed SCG a bogey ground for England's captain, but this match gives Joe Root the chance to restore both personal and national pride, writes MIKE ATHERTON.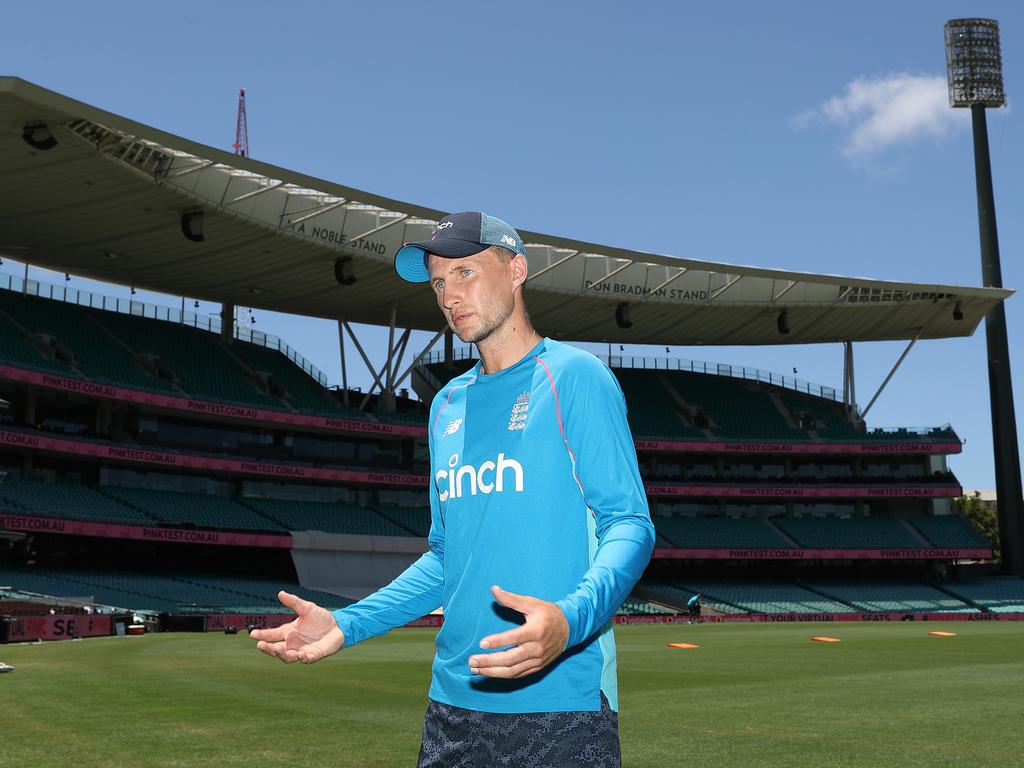 Joe Root has been a credit to himself and his country through the series, but the SCG provides a personal challenge given his previous difficult encounters at the historic ground. Picture: Mark Metcalfe/Getty Images
Under piercing blue skies and with the old Victorian pavilions standing much as they did when a 12-year-old Don Bradman watched the first Ashes whitewash a little more than a century ago, there are few grander venues than the Sydney Cricket Ground. Yet, as he stands on the verge of breaking Alastair Cook's record to become England's longest-serving captain, Joe Root may reflect that, so far, the old place has brought him nothing but pain.
It was here eight years ago that he was dropped from the Test team for the only time in his career. There has never been any doubt, from the moment he walked to the middle for the first time in an England cap in Nagpur, that here was a great cricketer in the making, and when he was ditched at the fag-end of that whitewash in 2013-14, it was only likely to be a blip in a long and successful career, but the memory has stayed with him and driven him on ever since.
In his book, Bringing Home the Ashes, he described turning up in Sydney expecting to play, only to be told by Cook that he would be missing out and how his "distraught" reaction was, in hindsight, "unacceptable and not befitting my personal standards". Being dropped, he said, made him do a lot of growing up quickly. In his next innings, the following Test of the summer, he made a double hundred at Lord's. He has not been dropped since, 21 of his Test hundreds coming at an average of 51.97 after that.
Four years ago here, suffering from heat exhaustion, dehydration and viral gastroenteritis, he battled gamely to try to save his team from a fourth defeat. Eventually, illness overcame him, so that when the Ashes were finally done, he was asleep on the physio's bed, curled up in a ball. James Anderson, the vice-captain, was forced to take on Root's end-of-series media duties, when he said that — despite the scoreline — it didn't feel like a completely disastrous series, that most of the games had gone to the fifth day, and that an upheaval was not required.
Joe Root unwell at the crease during the last SCG Ashes Test in 2018. Picture: Mark Evans/Getty Images
What will history make of this tour? Mitigation around preparation and Covid-19 notwithstanding, it has felt very disastrous so far, if such a term can be attached to a cricket tour. "It's a marathon and not a sprint," was the mantra from England's management at the start of the series and that has translated in to a slow and uninspiring plod against a fast-twitch Australia team, who were out of the blocks quick-time. The mismatch in general cricketing standards has been painful to watch.
Still, with two matches to go, there is an opportunity to retrieve something, even if it is hard to see how this shell of a team can mount such a challenge. There has been a little chat of the great wins in Sydney of 2010-11 and 2002-03 and of uplifting moments such as the Darren Gough hat-trick here four years before that. You don't have to search too hard for other consolation victories at the end of Ashes series which provided a little short-term cheer.
Adam Hollioake's would-be presence before getting pinged and having to isolate recalled one such. His second Test at the Oval in 1997 ended in victory once the Ashes were done, and there were others in 1993 (the Oval), 1998-99 (Melbourne), 2001 (Headingley) and 2002-03 (Sydney). None of these victories was especially significant in the grand scheme of things, not even 02-03, which came not that long before the famous 2005 series. At that stage, England's players felt they were as far away as ever from winning the Ashes.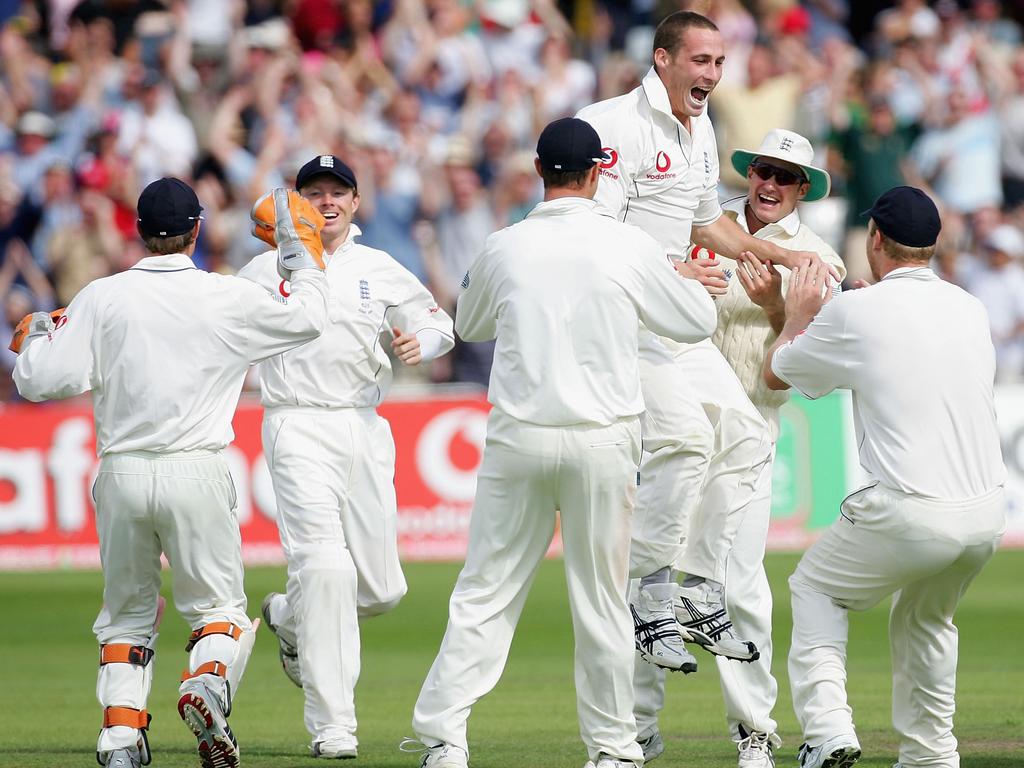 The 2005 Ashes series was one of England's most glorious, against the preeminent Test side in the world at the time, Australia. Picture: Hamish Blair/Getty Images
Yet for supporters, and indeed players, they provided some relief and joy. Having played in a few of those myself, I cannot remember that the games were played with any less intensity, or indeed that the joyous feelings at the end of the match were any less restrained. Every Test match carries its own significance, regardless of the surrounding context, and 45,000 spectators at Sydney should bring motivation for both sides.
These matches occasionally produced career-defining performances. At Headingley in 2001, a match Australia would certainly have won but for a day's rain that forced the stand-in captain Adam Gilchrist's hand, Mark Butcher played the innings of his life. Dean Headley's finest bowling performance came at Melbourne in 1998. Gough's hat-trick, while not career-defining, lit up Sydney a week later. There is always an opportunity to create a little Ashes history.
Yet lately these consolations have been harder to find. Think, instead, of the debuts handed to Scott Borthwick and Boyd Rankin (in 2013-14) and Mason Crane (in 2017-18), none of which ended well. Maybe present schedules have much to do with it; an absence of cricket in between Tests makes it harder for fringe players to find form, and makes it harder to stop the momentum gathered by a winning side. Early victories have the effect of setting a large boulder down a hill and it is difficult to stop.
The English team has a crucial challenge ahead of it in Sydney, if the tourists hope to regain some pride after losing the Ashes in Melbourne. Picture: Mark Metcalfe/Getty Images
Whitewashes, a once-a-20th-century event, have happened twice since the turn of the millennium, so they are part of the conversation now in a way they were not. Draws are much more unusual in the modern game, because of the pace of it, and therefore, again, momentum is much harder to stop. Australia have certainly set their eyes on a clean sweep, and have Usman Khawaja, an experienced Test cricketer, to come in for the isolating Travis Head, and maybe a fast bowler to come back in place of Scott Boland.
Zak Crawley sounded ever so confident in his press conference three days before the game, and it was good to hear a young England player speak positively, but it is hard to share his optimism. England have no good options; there is no one in decent form to bring in and no changes that will make them stronger, save perhaps Stuart Broad for Ollie Robinson, whose fitness has looked increasingly in doubt the longer the tour has gone on.
It will be a proud moment, for sure, when Root walks to the middle on Wednesday morning, teamsheet in hand, hope in his heart and the great ground looking a picture. Sixty matches on from his first game in charge in July 2017, Root has never given less than his all and never conducted himself in anything other than an honourable and admirable way. He has been an absolute credit to himself and his family, and the way his form has held up says so much for his character and his toughness.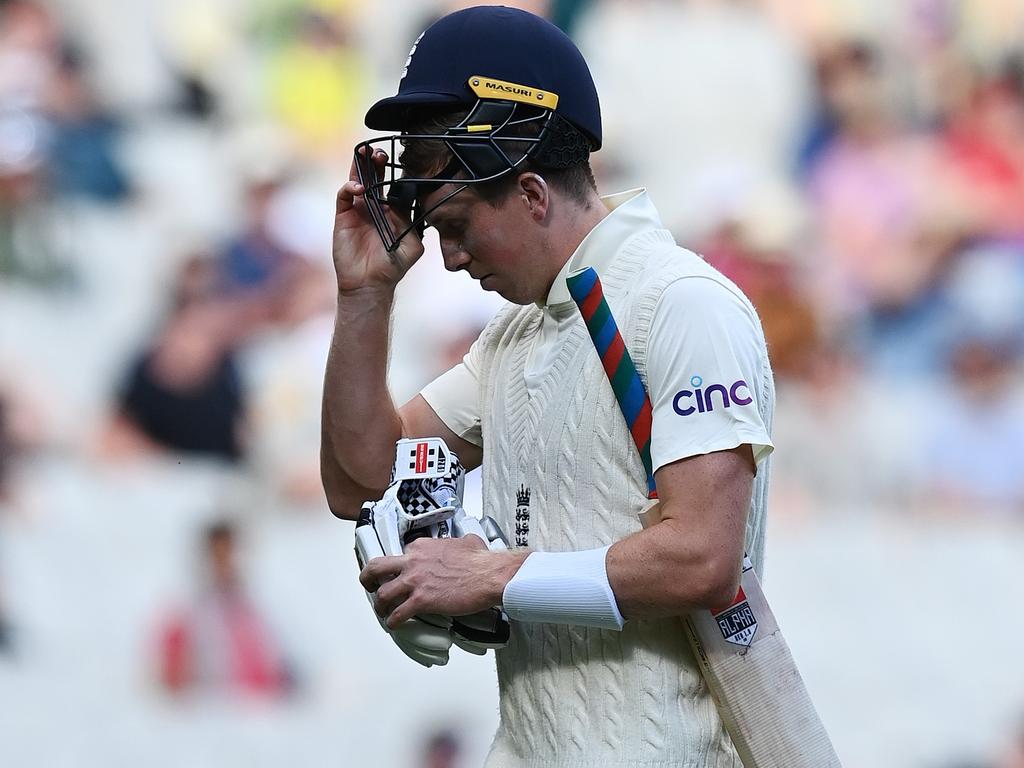 Zak Crawley was called up to the side as an opener in Melbourne and will likely be given the chance to better his last-year average of 10. Picture: Quinn Rooney/Getty Images
Yet, over that long span of time, it has been hard to discern exactly how the teams that have played under his leadership should be defined. They have won matches and lost them — a similar number of each, as it happens. Captaincy is a rum old thing: very few captains are outstanding, very few are hopeless. Most sit in the middle, trying hard, succeeding a bit and failing a bit, and Root occupies that middle ground. Maybe a performance here will at least be a signal from his players that they care for his leadership.
If Broad does come back into the side, then the spine of this team will all have made their mark in Test cricket before Root came into the job. Anderson, Broad, Ben Stokes, Jonny Bairstow, Jos Buttler and Mark Wood all made their debuts before Root took over. It is hard to think of one young player that has come in under Root's captaincy and is now established as a settled and improved Test player. Which is why the general talk of a Test renewal under his captaincy demands scrutiny, even if he can find a way of easing the pain that Sydney has usually given him.
-The Times