Cricket Australia ruled Pat Cummins out of the Adelaide Test before he was even interviewed by health authorities
Cricket Australia ruled superstar captain Pat Cummins out of the Adelaide Test before he was even interviewed by SA health authorities.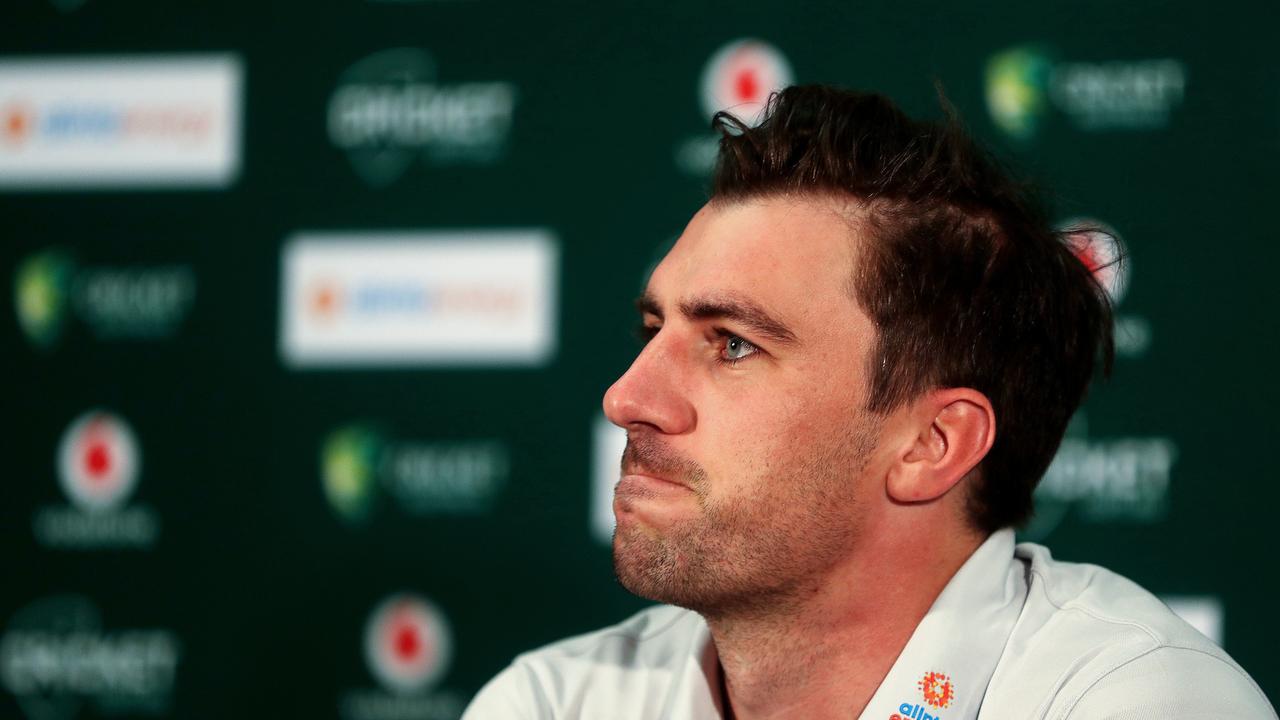 ADELAIDE, AUSTRALIA – DECEMBER 15: Pat Cummins, Captain of Australia during a press conference before training at Adelaide Oval on December 15, 2021 in Adelaide, Australia. (Photo by Sarah Reed/Getty Images)
South Australian premier Steven Marshall has claimed Cricket Australia ruled Pat Cummins out of the Adelaide Test before he was even interviewed by health authorities.
As reported by News Corp, eyebrows have been raised in some quarters that Cricket Australia didn't at least try to work with Government authorities to see if Cummins could have played in the second Test after being deemed a close contact.
Cricket Australia felt the risk posed to the entire series was too great if Cummins was infected, and therefore felt they had no choice but to make him a sacrificial lamb.
There are suggestions Marshall may also be trying to pass the buck, with CA sources claiming they did have discussions with SA Health and were left under no illusions that the fact Cummins was seated indoors had sealed his fate as a close contact.
Marshall refused to say whether SA Health would have let Cummins – who by Thursday morning had already returned a negative Covid test – play.
But he put the stunning decision to pull the Australian captain on match morning firmly on Cricket Australia – by declaring SA's investigation into the case had not been completed.
"I think this was a decision that was made by Cricket Australia. Let's be very clear about it," said Marshall on Friday.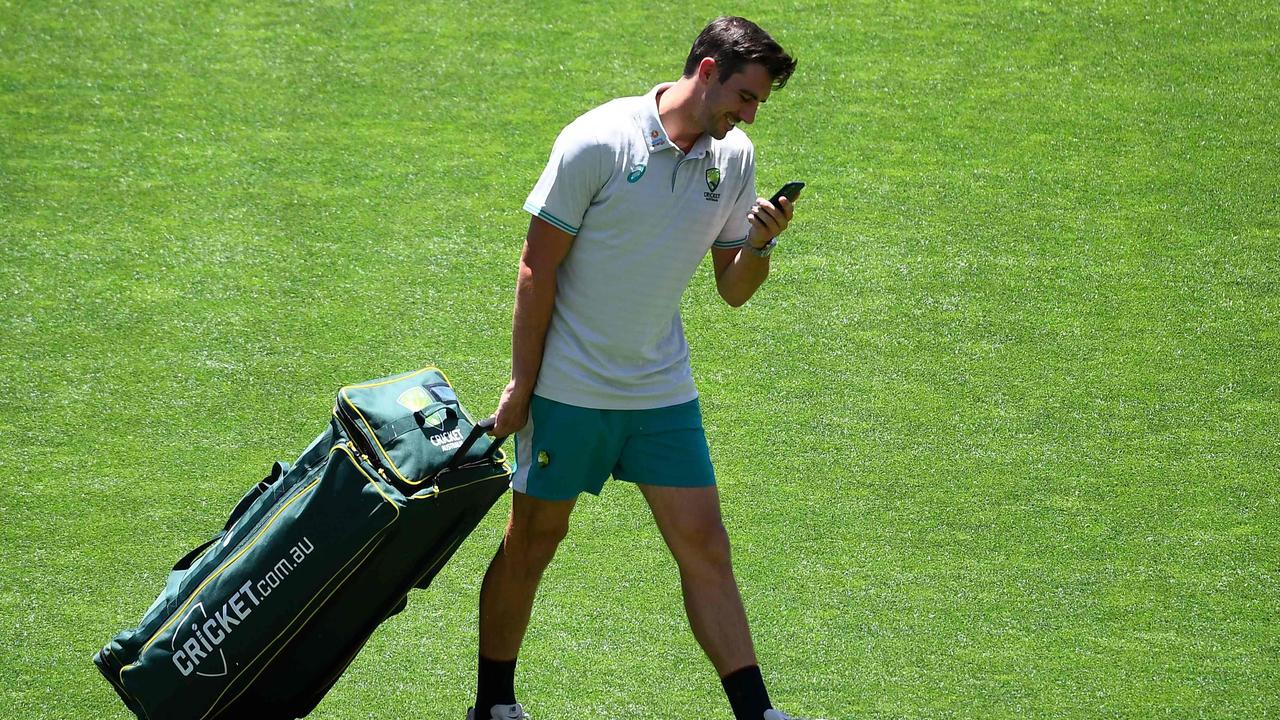 Pat Cummins was quickly ruled out of the second Test. Picture: William West/AFP Images
"They put their statement out before we had actually conducted the interview with Pat. So the issue is I think that Cricket Australia probably formed the opinion that they didn't want to have a chance for the entire two teams to be deemed as close contacts and ruin the entire Test series."
Asked could Cummins have played, Marshall endorsed Cricket Australia's logic to protect the safety of the Ashes tour overall, but distanced SA Health from the decision.
"I'm just saying I don't think it was in anybody's interest to have a potential person who was infected playing Ashes because it could potentially throw the entire series out," said Marshall.
"That was a decision that was made before we'd even conducted the interview."
Marshall defended South Australian rules that require close contacts to isolate for seven days, yet allow interstate arrivals to roam freely before they receive their Covid test results.
It was the combination of those two factors which conspired against Cummins and Australia.
The chastening thing for Cummins was that had he been sitting outside at the restaurant – as Mitchell Starc and Nathan Lyon were – he would not have been deemed a close contact and could have played.
Cricket Australia's biosecurity rules allowed players to sit indoors at restaurants despite the severe ramifications of being deemed a close contact.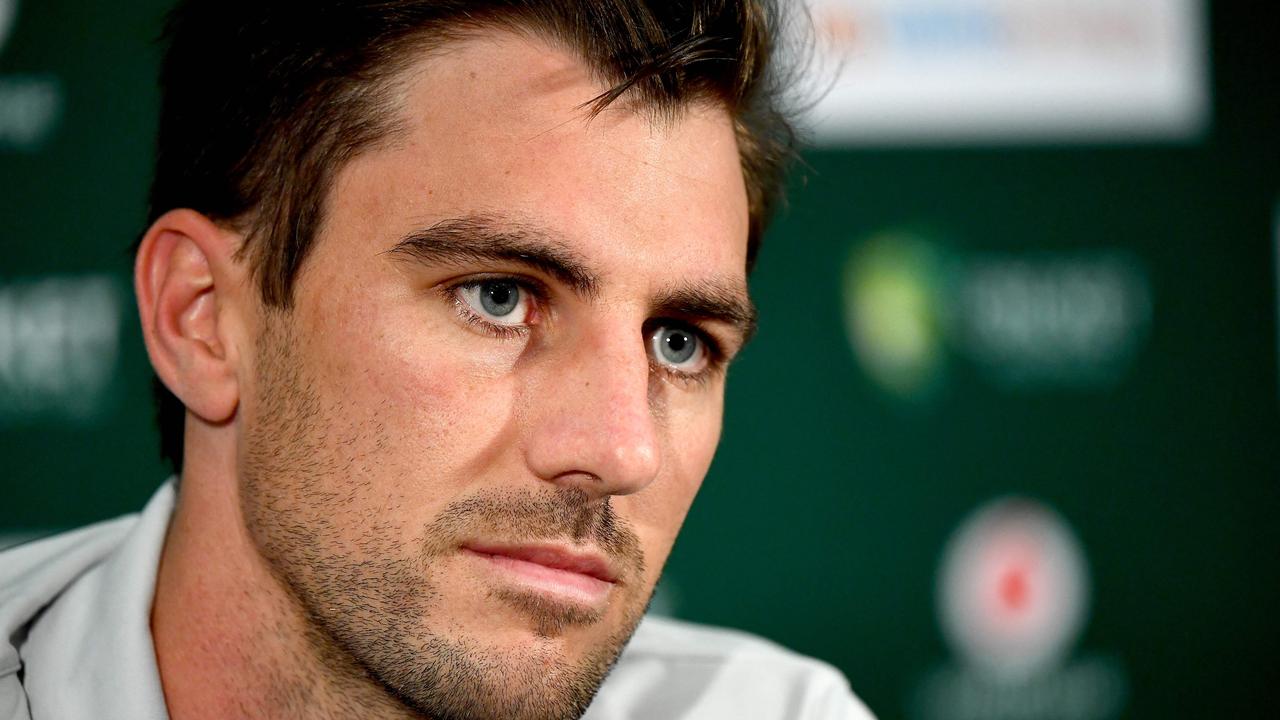 Pat Cummins was quickly deemed a close contact. Picture: William West/AFP Images
Australian star David Warner said players were at the mercy of local Government rules and said all they could do was be smart about their choices when in public.
"I think the decision is based on the Government here in South Australia … that's the rules," he said.
"I think we saw that in England with players testing positive, that they played the next day. You are Governed by what state you're in. I'm just glad it got changed to seven days not 14 for Pat's sake and our sake.
"The rules for us is three players can be at a venue, that's the rule. There was three (on Wednesday) night but two were outside. We have to check in with each other.
"The rules in Sydney and Melbourne are different, we can't eat indoors there.
"But with borders opening and Covid hitting South Australia it's up to the medical staff.
"It's just being smart isn't it? Don't go to where you think restaurants are jam packed. Thankfully it's a night game so we don't have to worry about that now. It's a tough one, just be smart."
EXPLAINED: WHY AUSSIES COULDN'T FIGHT Covid CALL
Australia was forced to make captain Pat Cummins a sacrificial lamb in Adelaide to ensure the safety of the entire Ashes was not jeopardised, as player freedoms now hang by a thread.
The Ashes teams will be asked to only dine outdoors from now on, but CA are adamant they will not force them back into bubbles, as WA Premier Mark McGowan sniped to Cricket Australia 'I told you so' for axing Perth from the Test schedule, where restaurants would have been banned.
There has been some eyebrows raised that Cricket Australia didn't at least try and lobby harder with Government authorities to see if Cummins could receive clearance to play on Thursday, after a bombshell morning where he was ruled out of the second Test for being deemed a close contact of a positive Covid case and Mitchell Starc and Nathan Lyon only narrowly avoided a similar fate.
Despite being ruled out of the Test, Cummins would technically be eligible to play a Big Bash League game, and it's still possible the captain could be given permission to flee Adelaide for Sydney or Melbourne before his seven days of isolation is complete, given he's already returned one negative result.
Had the Test been in Sydney or Melbourne where the definition of close contact and ramifications if you are identified are far more forgiving, Cummins would have been cleared to play, with Cricket Australia again paying the price for the gamble of taking Ashes Tests to states with strict Covid-19 rules.
Cummins said he was "gutted", however Cricket Australia felt they had to accept South Australia's strict close contact rules, or risk the disastrous prospect of the Ashes series collapsing – as looks like happening to the West Indies current tour of Pakistan.
Pat Cummins has been ruled out of the second Test after being identified as a close contact of a positive Covid-19 case. Picture: Sarah Reed/Getty Images
"Our main focus was working through with SA Health and also having a mind to what it means to the continuity of the tour," said Hockley, when asked if he'd tried to take the issue up with Prime Minister Scott Morrison, with Cummins not even allowed to train while in isolation.
"What we do know is Pat was a close contact and we want to make sure we can continue with the tour.
"The steps we've taken and the advice of SA Health is consistent with anyone else in the community and it's also a prudent approach to keep the tour going."
Cummins was dining with Adelaide Strikers fast bowler Harry Conway at restaurant The Little Hunter, when a Sydney grade cricketer came over to their table for a brief conversation where it's understood he shook hands with Cummins.
A short time later the grade cricketer – understood to be devastated at inadvertently and completely innocently costing Cummins the Test – received a text message from SA Health telling him he'd returned a positive test. Despite flying from Sydney, the grade cricketer didn't break any rules because there's no requirement to isolate before a test result is received.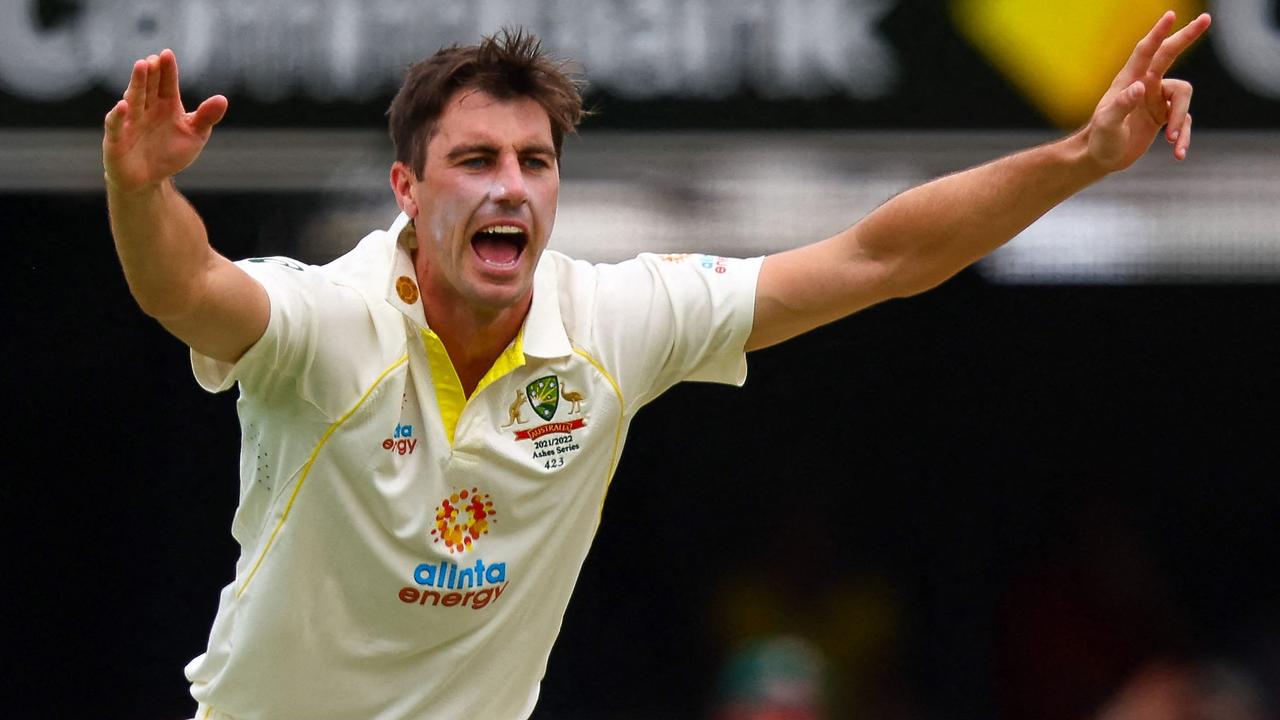 Cummins was in superb form for Australia in his first Test at the helm. Picture: Patrick Hamilton/AFP
It raises questions about why Ashes players were allowed to dine indoors in South Australia, where the risks of being pinged as a close contact were so extreme.
However, Hockley insists the protocols did not let Cummins down and vowed to continue allowing Ashes players their freedoms – because that's what they want after 18 months of bubble life.
"No, I think we struck a balance. We always know that there's a level of risk. I think we've just been extremely unlucky," said Hockley.
"For Pat it's just a case of wrong place, wrong time and I think if you look at the whole balance of managing wellbeing, the alternative would have been to lock everyone down completely for the whole tour, which we've learnt over the last 18 months … that's got other consequences in terms of mental health and wellbeing."
Hockley said he would be asking players to dine outdoors for the rest of the series, with injured quick Josh Hazlewood resigned to changes after speaking to a "shattered" Cummins.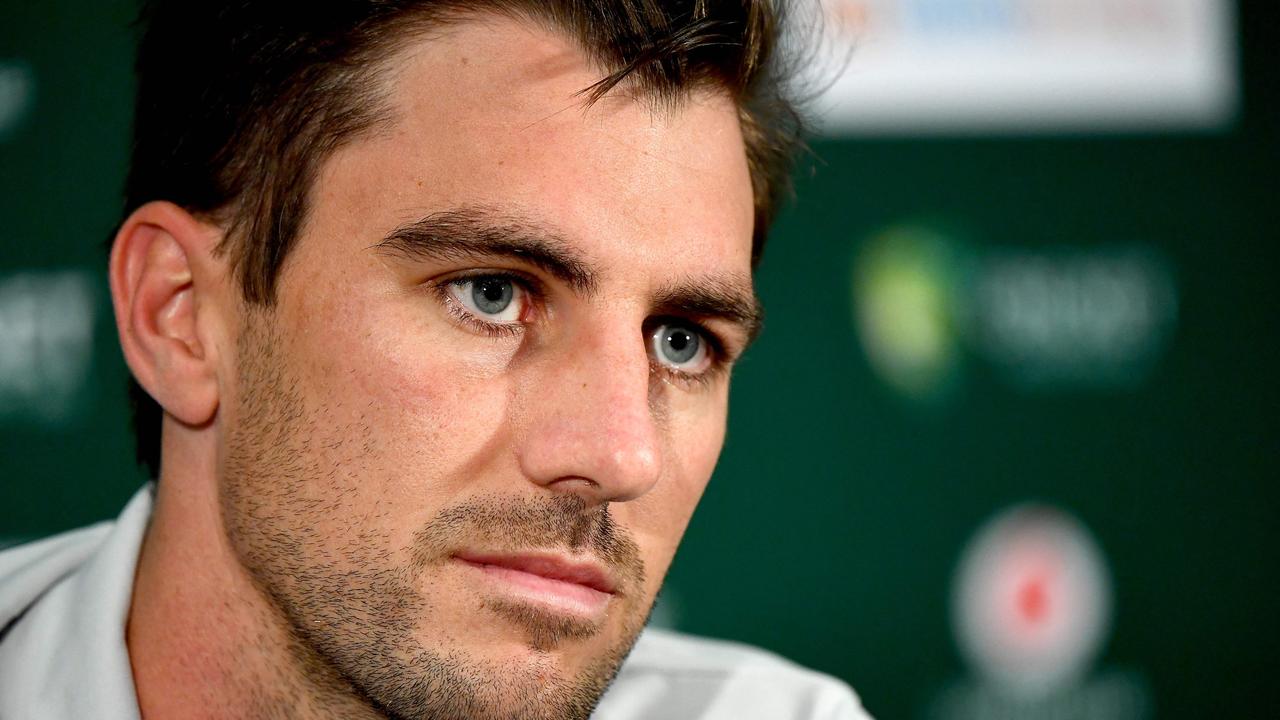 Cummins has returned a negative test but still has to isolate. Picture: William West/AFP
"The rules are, yes, we're allowed to eat inside restaurants, I think we are up to groups of six now, so six players at any one time … But I think, yeah, it might be revisited now after what was to happen last night," Hazlewood told Channel 7.
As all BBL games were taken from Perth, WA Premier McGowan said the Cummins drama served Cricket Australia right for openly risking a Covid disaster.
"We did say that when they are in Sydney they should not be out at restaurants or bars or cafes and pubs and nightclubs because they ran the risk of becoming Covid positive. Obviously what's happened in Adelaide now verifies that that was the correct position," Mr McGowan said.
"I don't know why cricket has not applied the same strictures and restrictions on themselves as other sporting codes have, but obviously they've decided not to so now obviously it's causing them some grief."
Originally published as Cricket Australia ruled Pat Cummins out of the Adelaide Test before he was even interviewed by health authorities