Gillespie: How the new England could play into Australia's Ashes hands
Jason Gillespie warns SIMON WILDE that the gung-ho approach produced by the Ben Stokes and Brendon McCullum revolution may not always be the best way for England to challenge Australia.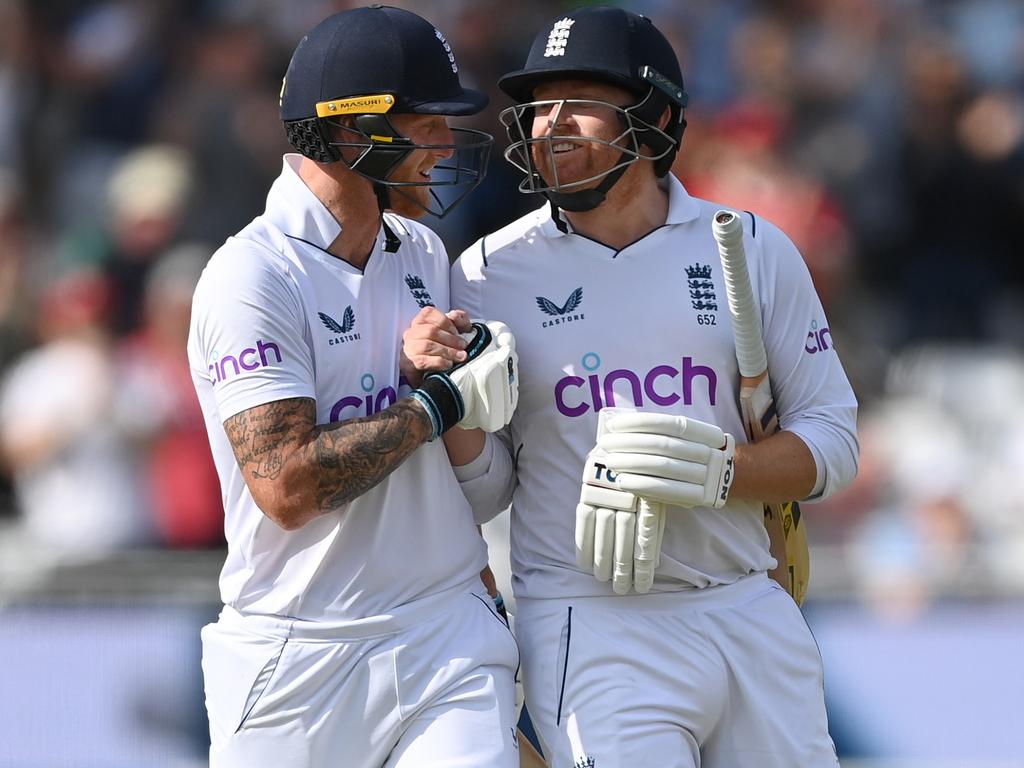 Jonny Bairstow is congratulated by Ben Stokes after their match-winning partnership during day five of the Second Test Match between England and New Zealand. Picture: Stu Forster/Getty Images
The Aussie voice down the end of the line from Adelaide could not help but chuckle when the question was put as to whether an England Test team playing more off the front foot, as they have in two remarkable games against New Zealand, would be welcome come the Ashes next summer.
"Oh yes, definitely. You want to play opposition teams at their best and Australia is no different. Everyone is talking about this new regime, this new era. England have started well. It's not like the English press, though, to get all optimistic and think they're going to win everything after one or two wins, is it? Let's calm the farm a bit.
"But, look, Trent Bridge was a great sign for Test cricket, seeing a Test match go to day five, a full house, and England going bonkers chasing a challenging total and making it look quite easy. It was fantastic and it's exactly what Test cricket needs. It was pretty cool to watch."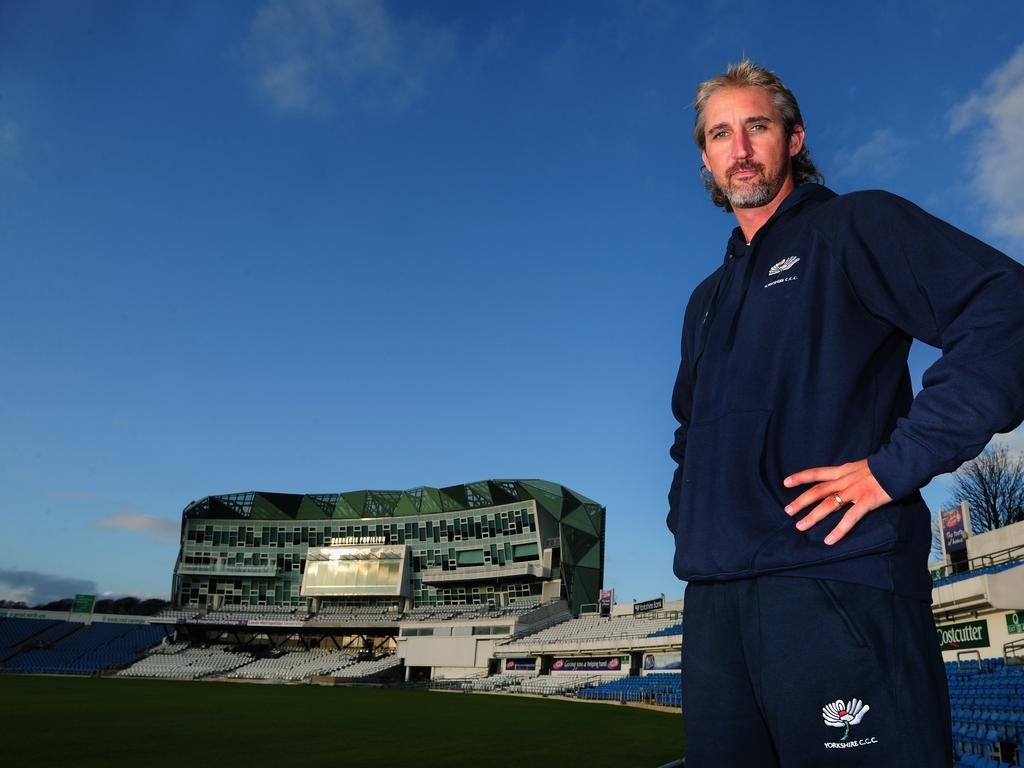 Jason Gillespie worked with a young Joe Root and Jonny Bairstow at Yorkshire. Picture: Stu Forster/Getty Images
Jason Gillespie, once one of Australia's finest fast bowlers, is now the head coach at South Australia, having formerly worked with Yorkshire and Sussex, so he knows a number of the England players well. He was particularly delighted to see the runs scored last week by Joe Root and Jonny Bairstow, two Yorkshiremen he worked with closely during their early years as England batsmen.
"I love seeing England lose to Australia obviously but to see them [Root and Bairstow] have success was absolutely fantastic," he said. "No genuine Australian supporter would begrudge England what was a wonderful victory."
Gillespie also praised the initiative from Nottinghamshire in opening the gates to fans free of charge: "OK, you miss some ticket revenue, but they created an atmosphere and an event that will last long in the memories of cricket lovers in the UK and around the world. Can you put a number on that? I'm not sure you can."
England batsman Jonny Bairstow celebrates his century during day five of the Second Test Match between England and New Zealand. Picture: Stu Forster/Getty Images
Test cricket certainly needs all the help it can get as it faces an existential threat from a voracious and expanding Indian Premier League. Ironically, had it not been in such grave trouble Brendon McCullum might not have taken the England head coach job; he believes that by reviving a team such as England that play so much Test cricket he might galvanise the format on a global scale. It's fair to say the Kiwi has made a decent start.
At the end of Tuesday's astonishing run-chase, Ben Stokes, two matches into his reign as Test captain, promised more of the same, starting this week in the third Test at Headingley. "We're going to be even more positive," he said. "I don't know how we can be more positive, but we will try. With this group of players, I have no idea what is possible. The sky's the limit, but we could probably go further than that."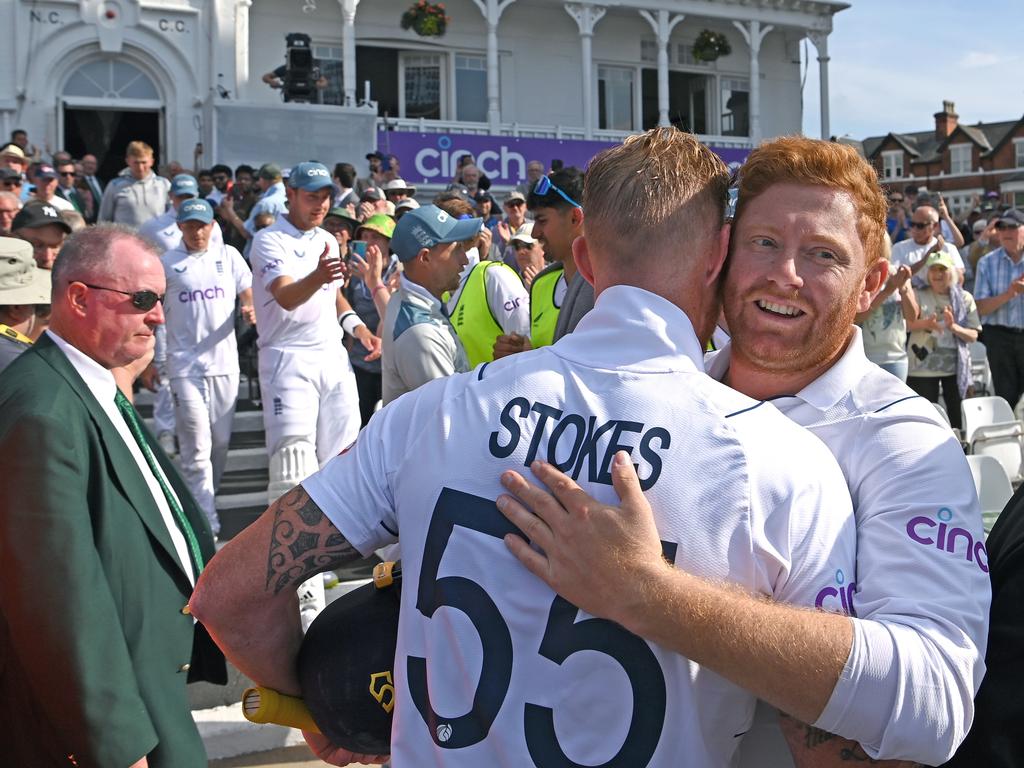 England batsman Jonny Bairstow congratulates captain Ben Stokes after day five of the Second Test Match between England and New Zealand. Picture: Stu Forster/Getty Images
These were ambitious words — no doubt partly designed to boost a team that had endured 18 months of misery — but can such a gung-ho approach really be sustained, let alone be improved upon?
The first thing to say is that England have been lucky. A Colin de Grandhomme no-ball gave Stokes a reprieve at Lord's that probably turned the game; it is hard to see how England would have won from 77 for five, still needing another 200 runs, with only Root and Ben Foakes of the recognised batsmen left.
At Trent Bridge, New Zealand were without Kane Williamson and one of their best bowlers, Kyle Jamieson, for the last seven sessions and the game was played on the fastest-scoring ground in the country — perfect for England's freewheeling style. Winning the toss was also crucial. As Stuart Broad said: "The whole idea of bowling first was based around the pitch not deteriorating and [then] we can set up a chase."
The pitches are going to be crucial if England are to bat like this again (as they were when they rebuilt themselves as a 50-overs side). How Headingley plays is very weather-dependent; if the skies are overcast, seam and swing bowlers can dominate, but if the sun is out conditions for batting can be ideal, with the outfield often lightning fast. Four of the 12 fastest scoring Tests in England since 2000 were on this ground and there have been some notable fourth-innings run-chases there, in 2001, 2017 and 2019.
Looking further ahead, how does the Stokes-McCullum partnership intend to approach three Tests in Pakistan on what are normally very slow pitches, or next year's Ashes series, which does not involve a match at the Trent Bridge crazy-house? Do England now ask for short boundaries for home Tests, as they did in 2005, to play to their explosive batting strength? Should they try this ploy for their forthcoming one-off Test against India at Edgbaston, another fast-scoring ground?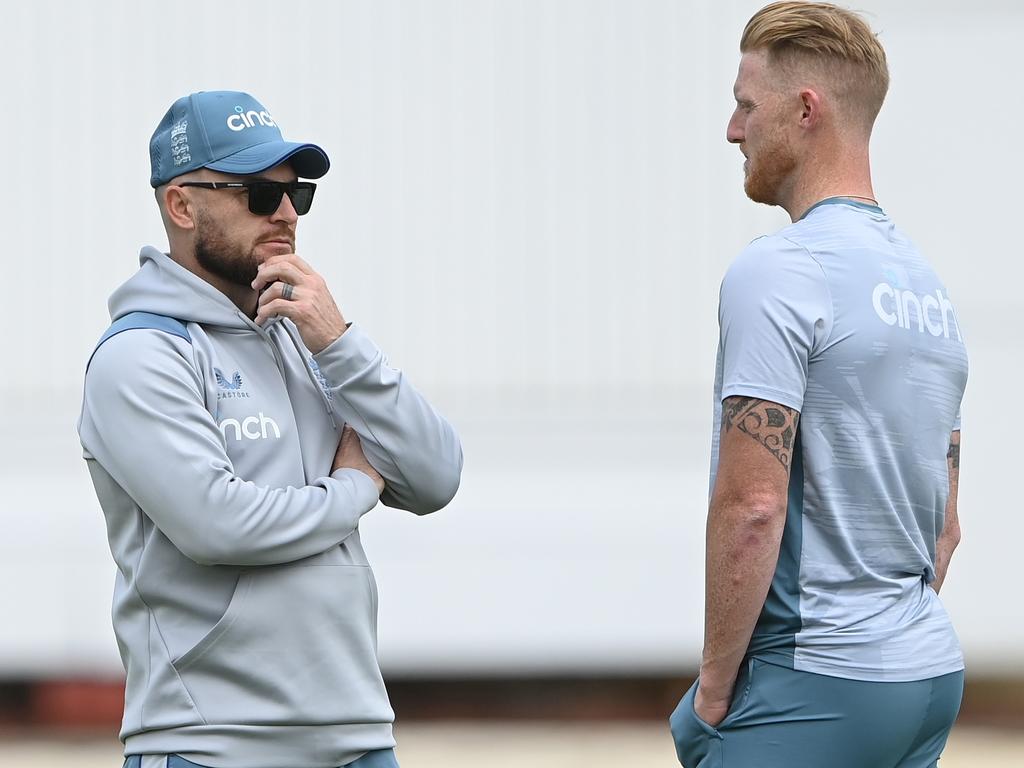 England coach Brendon McCullum and captain Ben Stokes chat during nets ahead of the Second Test Match between England and New Zealand. Picture: Stu Forster/Getty Images
Attacking bowlers from India and Australia head-on may not be easy: the likes of Jasprit Bumrah and Josh Hazlewood are some of the best white-ball bowlers in the world and are used to batsmen coming at them in the IPL. Jos Buttler, all too briefly, hit Hazlewood down the ground to good effect in the Gabba Test last winter and Bairstow recently got after him in one match at the IPL, but the idea of taking on an entire, full-strength attack is another matter.
Gillespie played more than half his 71 Tests under Steve Waugh, who was as keen to take the draw out of the equation as Stokes is now. Waugh was rightly credited with changing the way Test cricket was played and took pride in Australia scoring at three runs per over.
I once asked him if he thought this rate could be significantly improved upon and he doubted it. His implication was that if teams strove to score faster than that the risks they would have to take would cost them wickets and as a consequence they would fail in their objective.
Waugh has essentially been proved right. In 2004, the year he retired, the run-rate in Tests touched 3.30, and the following year — the year of the first T20 international — it reached 3.38, but it has never been as high since. Since January 1, 2020, the rate has been 3.03.
Jason Gillespie played under the captaincy of Steve Waugh, when Australia strived to increase scoring rates. Picture: Brett Costello.
After Trent Bridge, social media debated whether the way England were playing was new. There was no shortage of Indians pointing out that Virender Sehwag and Rishabh Pant had brought a one-day mindset to the red-ball arena, and that India won chasing more than 300 in Brisbane last year.
Perhaps, though, T20 methodology can be brought to bear more on Test cricket, and this is what McCullum and Stokes have in mind. Interestingly, Bairstow credits the IPL with educating him in playing under pressure.
Stokes and McCullum want to create an environment in which anything feels possible, not because the extraordinary will become routine but because the potential for the unexpected inspires the England players, unnerves opponents and galvanises spectators. "Don't underestimate the power of the home crowd," Stokes said. "It'll make the opposition feel the whole world is on top of them." Visiting teams, you have been warned.
Gillespie advises against overexcitement. "Everyone assumes attacking cricket is just running down the wicket," he said. "Batsmen may have the intent to score but bowlers are allowed to bowl well. You can look to take calculated risks, but the attacking play may be to get through a good spell so it allows the opportunity to attack others.
"There were games in our era that we lost trying to win and games we had to save. You play as long as you can to win and if all opportunities are exhausted then you look to avoid defeat. Any team should be trying to win the game for as long as possible."