CricViz: How each English batsman has been strategically and forensically sent packing
Joe Root has been left high and dry as England's one batting bright spot this Ashes, thanks to Australia's calculated and cold-blooded exploitation of his teammates, explains CricViz's BEN JONES.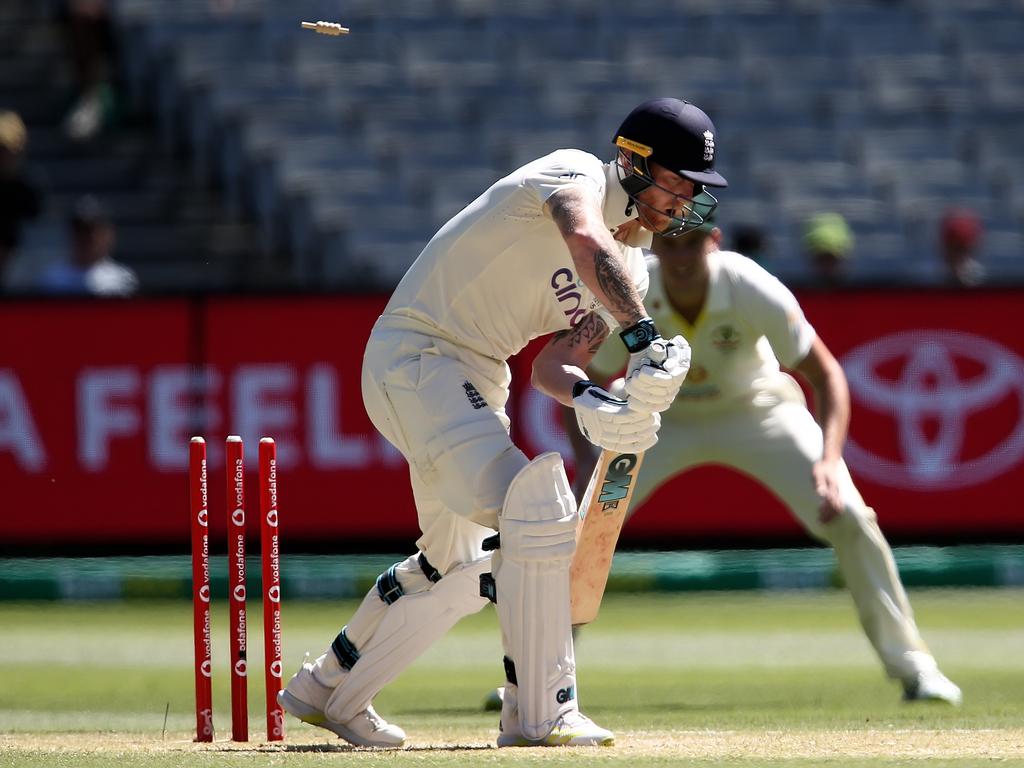 Australia's seamers have done a great job off restricting England's most dangerous batters. Picture: Dave Hewison/Speed Media/Getty Images
Despite finding themselves 3-0 down in the series, there has been one crumb of comfort for England supporters across this Ashes contest so far.
The form of Joe Root has continued from the summer, and the tours of Asia last winter, and the England skipper stands at the top of the run-making charts after the opening three Tests of the series.
Root might still be searching for that elusive century on Australian soil, but his own performance has underpinned what little success the tourists have had on this tour.
And yet, that success has been minimal because of how well Australia have bowled to the other members of England's batting order. Root is the only England batsman to average over 35 on tour so far, with all other established members of the team falling well short. So how have Australia's seamers limited the effectiveness of England's supporting cast?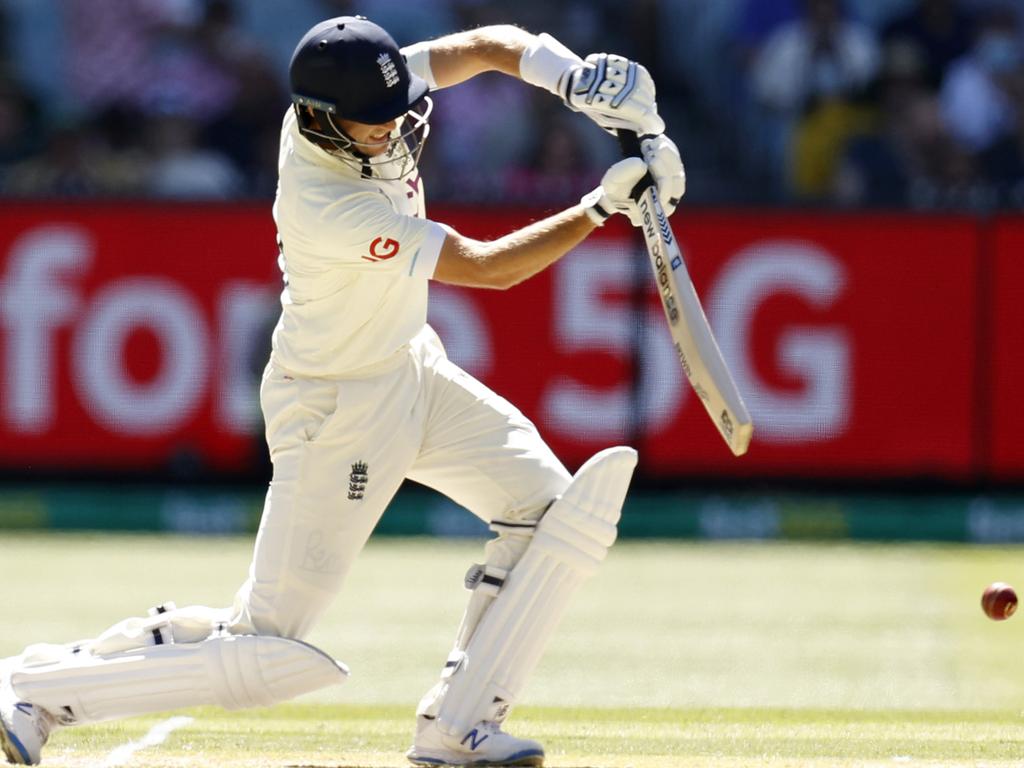 Joe Root has been the lone shining light for England this summer. Picture: Darrian Traynor/CA/Getty Images
Ben Stokes
Ben Stokes is naturally suited to playing the short ball, and had an excellent record against it going into the series – but he's struggled to play it in these three Tests. He's faced 43 short balls across the series, scoring 14 runs and being dismissed twice – he's not dominated in the way we would have expected.
Australia have cramped him for room by going round the wicket, offering him very few wide deliveries to climb into. The plan has been so successful in fact, that it's changed the entire rhythm of Stokes' batting. He's scored slower in this series than any other in his career, and he's attacked just 17 per cent of the balls bowled to him – the fourth lowest for any series.
Australia's accuracy has shackled Stokes' natural aggression, and while he's tried to soak up the pressure as he so memorably did in Leeds three years ago, that approach requires you to be at absolute peak. Stokes, understandably given his preparation, has not been at peak.
Ben Stokes dismissals vs pace
Jos Buttler
There was a lot of discussion pre-series about how Jos Buttler could play a key part in England's success this tour, by counter-attacking against the old ball given his white ball excellence. However, he's rarely been afforded the luxury of coming in against that old ball, instead arriving to try and mop up the mess caused by the top order.
Australia have maintained a very disciplined approach to Buttler when he has been at the crease, hanging back but on a good channel line – 30 per cent of their deliveries to him have been short of a good length, the most for any England batsman in the series.
Buttler's strength, crashing full deliveries to the rope through the covers, has been denied him, with Cummins et al refusing to get greedy and overpitching. They've hovered outside off, and the rewards have come.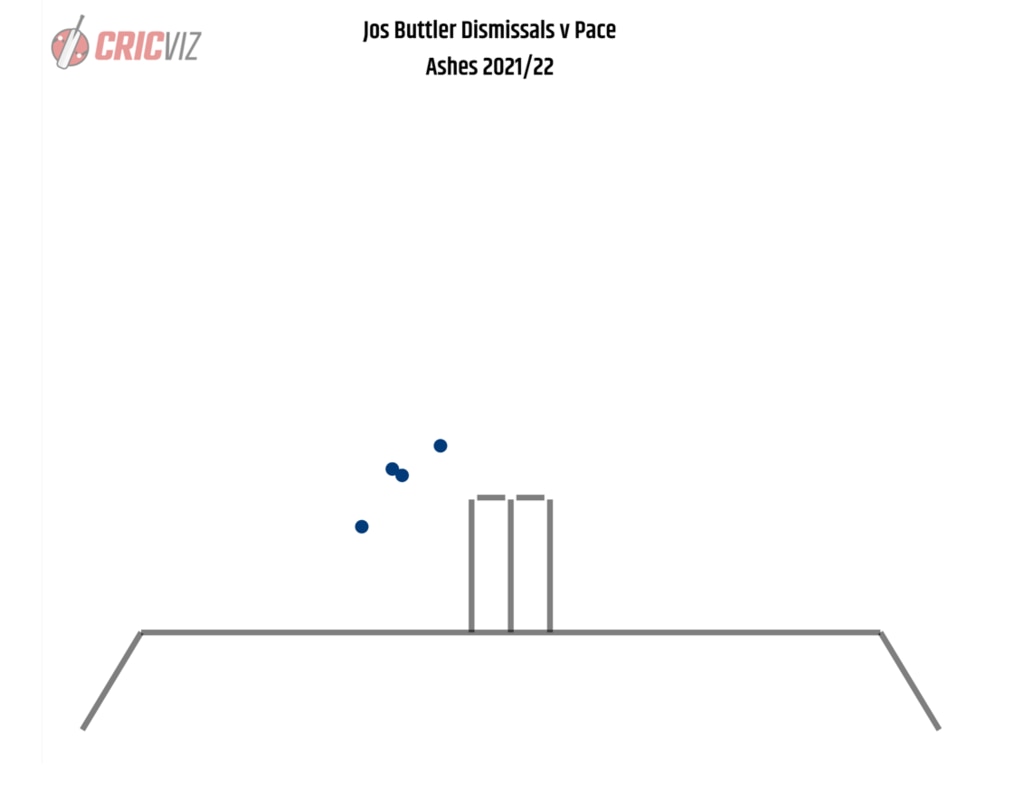 Jos Buttler dismissals vs pace
Dawid Malan
While he's been clearly England's second best batsman, Malan has not been consistently effective in this series. Against the seamers, he's averaged just 25, and has been getting out in repetitive ways, a concern over the course of a five-match contest.
The general school of thought with Malan was that, like many left-handers, he enjoys width and the opportunity to cut and drive, so going round the wicket was a sensible option to limit his supply of width. Indeed, this was the method Australia used consistently in 2017-18, most notably late on day four in Adelaide four years ago when Root and Malan were putting up some stern resistance.
This time though, it's been the angle across that's caused the problems. Malan often rides the bounce, and prefers to defend rather than leave on length. But that has got him out consistently this series with deliveries getting big on him thanks to unexpected bounce from Australia's bang-it-in quicks.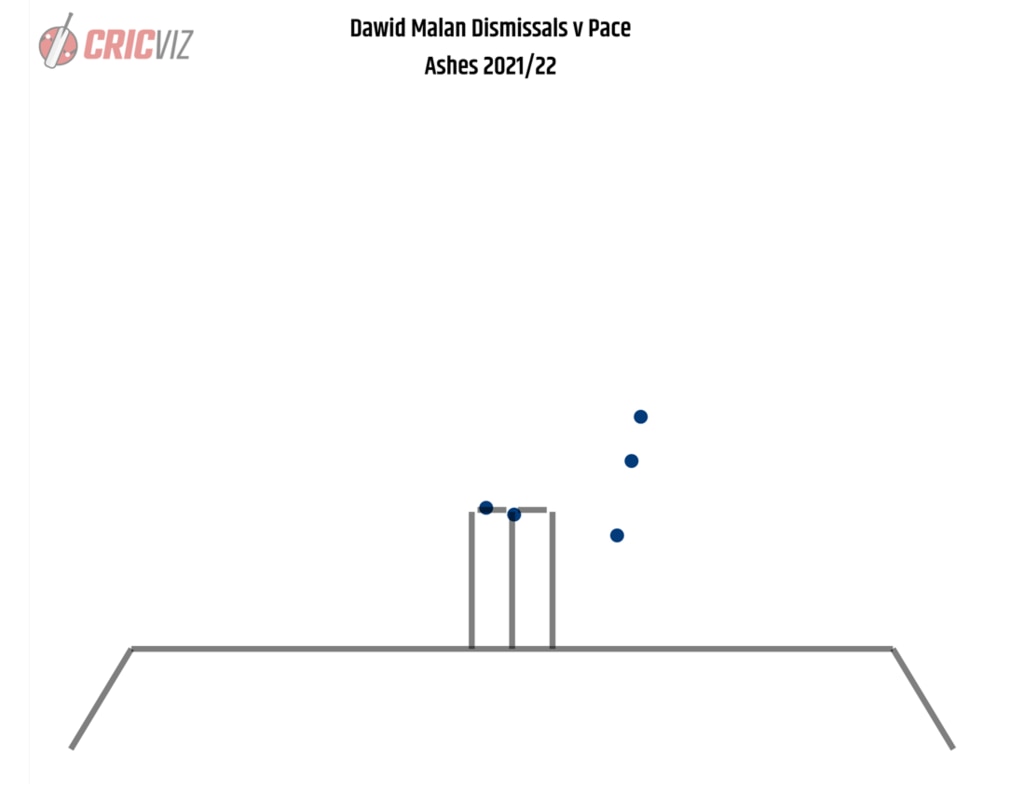 Dawid Malan dismissals vs pace
Haseeb Hameed
Hameed arrived in Australia on the back of a recall in England, which immediately brought good results. Two century partnerships with Rory Burns suggested that, potentially, England might have found an opener to stay the course – but he's struggled significantly in this series.
His issue is unsurprising given his first-class record, but Hameed has found himself unable to cope with Australia's quicks. While he plays an elegant cover drive on his day, Australia have been reassured that he won't consistently hurt them with the stroke, and they've bowled full – very full, in fact.
More than 30 per cent of the deliveries to Hameed have been pitched up, the highest figure for any England batsman, targeting that top of off zone. He has got plenty of good balls – four of his dismissals have come to balls swinging in and then seaming away – but it's clear that the Australian attack have worked out a plan, and they haven't seen the need to move away from it.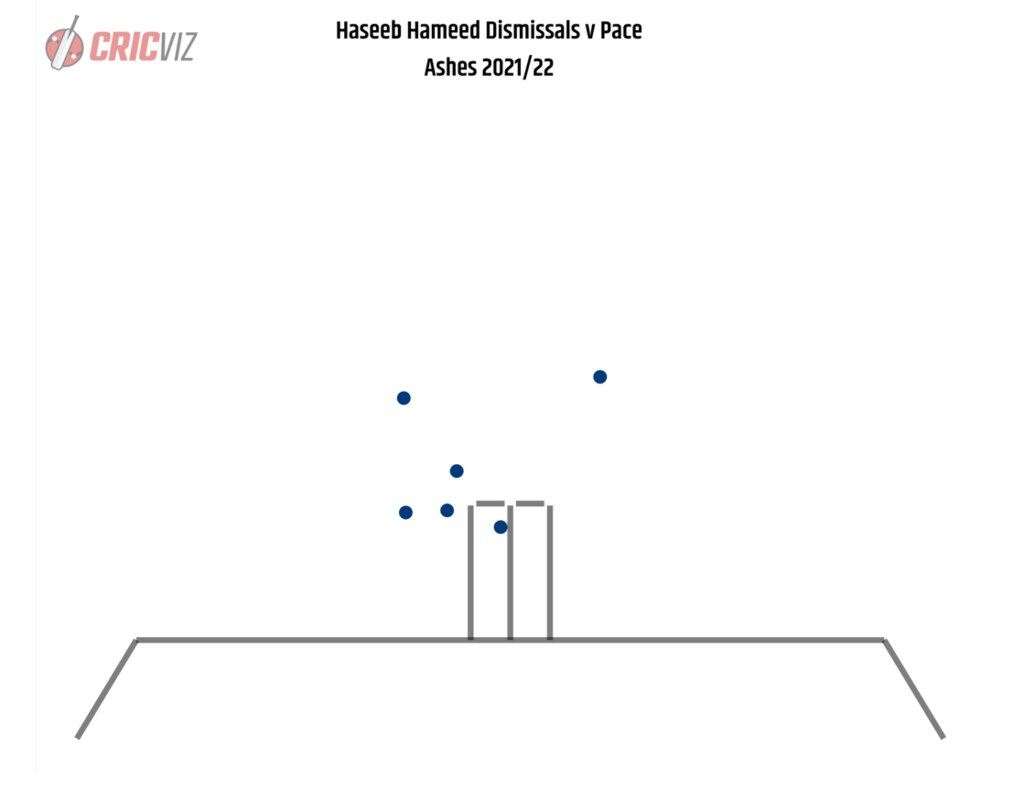 Haseeb Hameed dismissals vs pace
*****
And so, it's on England to counter these plans in the remaining two Tests - or things aren't going to change.
Buttler and Malan need to show more discipline outside off stump, or acknowledge the risk in their approaches and live with it.
Stokes could return deeper into his crease, having batted down the track almost every innings this series, allowing himself more time to get stuck into the short balls which he normally dines out on.
Hameed's issues may be more technical than tactical, and much harder to overcome in a few net sessions, but even leaving the ball better might force Australia to bowl straighter, opening up a few more scoring areas on the legside.