Mike Atherton: England have too many problems to count – but drinking isn't one of them
Do not be distracted by the leaked video of England's late post-Ashes drinkathon. The team has a mountain of problems but drinking is not one of them, writes MIKE ATHERTON.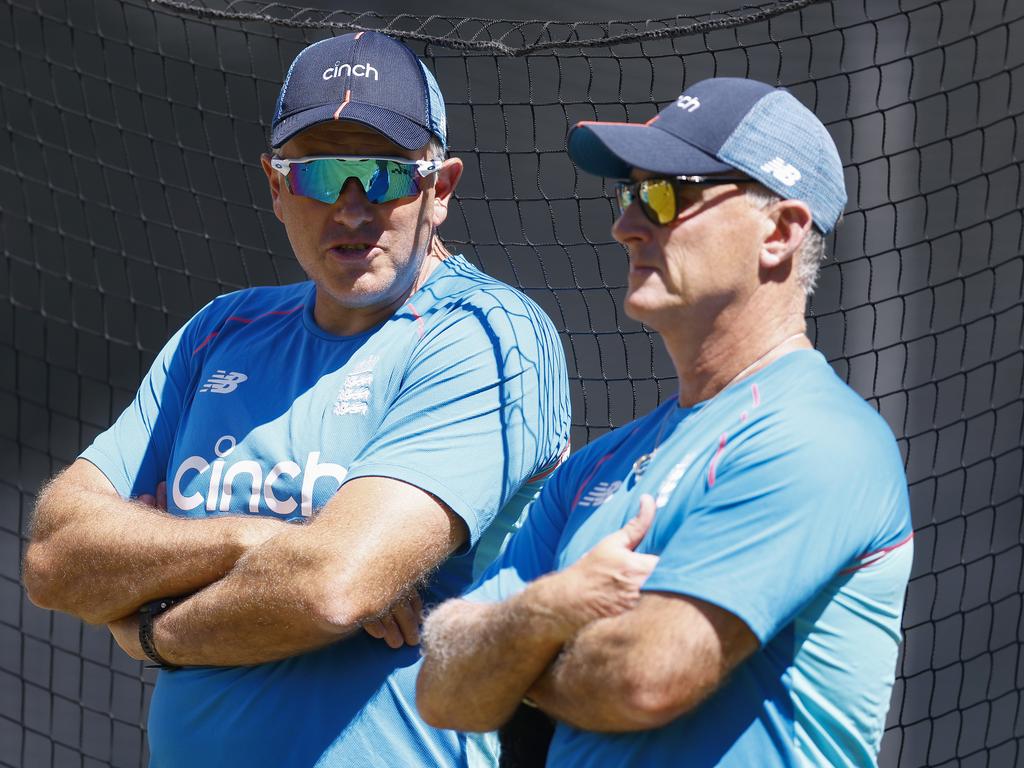 Chris Silverwood and batting coach Graham Thorpe are both in the firing line after England's dire Ashes performance. Picture: Daniel Pockett/Getty Images.
'There was nothing untoward. No one was removed. It's not uncommon to get people complaining about noise." With her simple statement, Linda Collis, the general manager of the Crowne Plaza hotel in Hobart, put to bed any notion that the story of England's late post-Ashes drinkathon demands much of our attention.
Two years ago, after the Ashes of 2019, Danny Reuben, England's media manager, posted a video of both teams sharing a long night of beers in the Oval dressing room. Months later, Justin Langer told me that was the night he plonked a baggy green on Ben Stokes's head and lifted him on his shoulders, as if to say "can we have him please?"
Public reaction to the photograph of the players enjoying a long post-series drink then was entirely positive. The series had been played in good spirits after the tetchy Ashes of 2017-18, but was hard-fought, ending in a 2-2 result. Supporters enjoyed seeing both players mingling, sharing tales and displaying evident camaraderie after a competitive series. Former players liked to see that a long-held tradition continued. All good.
Some of the happiest memories of my career are of these moments after play. International sport can be hard and stressful, and it is good to unwind at the end of a match or series. Good to get to know opposition players, too, to realise that they are just like you; that they share the same fears and insecurities. It is possible to be competitive and show camaraderie. Surely, that is the essence of sport?
For this year's post-series gathering an outside terrace at the hotel was sought because of Covid restrictions. The day-night factor — Root did not finish his media duties until near midnight — meant any lengthy drowning of sorrows would head into the small hours of the morning. Root and Nathan Lyon are old friends from club cricket days in Adelaide, and were seen happily mingling as they had been two years before.
A complaint was made — either about noise, or smoking indoors or both — and the police dispersed the gathering with no fuss made by anyone. Stupidly, Graham Thorpe, the assistant coach, filmed the police arrival and, as is the way with these things, the video found its way into the public domain. Stupid? Yes. Malicious? No. Reason for losing the Ashes? No.
The reason why this is different to 2019 (and indeed to 2005 when the players went on a two-day bender after the last Test) is that England have been hammered 4-0. There has been a lot of excuse-making in the aftermath of this series and this is one more distraction away from the issues that matter.
England's management have been exceptional at passing the buck, from Covid to county cricket and beyond, and while this episode brings the focus directly back on to them, it is a stretch to link it with why the tour went wrong. The Ashes were lost because Australia are a better side, primarily, but also because England, by playing poor cricket, made Australia look better than they are.
The nature of this tour should mean changes to the management team. There is absolutely no way the status quo can or should continue after this 4-0 loss. What will happen? A best guess is that head coach Chris Silverwood is certain to go; Ashley Giles might hang on grimly as director of cricket and Root will continue by dint of the paucity of alternatives and because of the hope that a new coaching team might give him a new lease of life.
But linking events of Sunday evening to a broader malaise is missing what is important. The notion that there is a boozing culture among the players is an exaggeration. Some have a drink from time to time; some don't touch it all, and, generally, there is far less consumed than once upon a time. They try to pick and choose their moments to unwind. One or two need a kick up the backside more than others, as is always the way, and as was indicated by the comments from coaches during the last Test about Ollie Robinson's general fitness.
This should not detract from some issues around the management of the team and the balance between first-class and limited overs cricket in the domestic game that have to be tackled. Unlike England's white-ball team, the Test team is not very good and therefore needs a different type of coach. It requires someone who can drive things forward with energy, passion and conviction and can mould young players and teach them how to improve. Silverwood is not that man.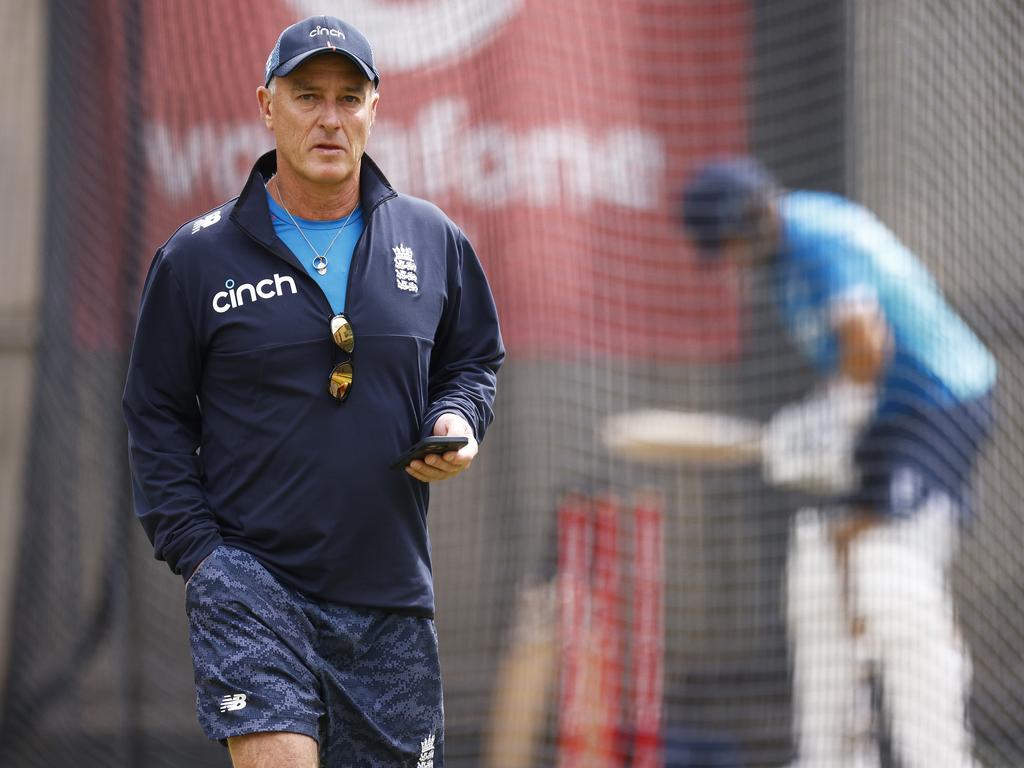 Graham Thorpe should be under pressure for how England's batters performed, not a leaked video. Picture: Daniel Pockett/Getty Images.
The discussion around Thorpe should not be about his role in videoing events of Sunday night, as foolish as that may have been, but about his influence as a batting coach. Why have England failed to reach 300 once on this tour? Why did only one batsman (Jonny Bairstow) reach a hundred? Why have England's batsmen underperformed for a long period of time? Why have young players failed to improve and, in some cases, regressed since coming into the England set-up?
"What has been, will be again; what has been done, will be done again; there is nothing new under the sun," so the saying goes. Having been around for a long time, these issues come around like clockwork. Once upon a time England lost in India because (apparently) of the players' facial hair and because the team travelled to matches in tracksuits. When Graham Gooch, the captain of that tour in 1993, was called to explain matters, more time was spent on appearances than why the batsmen couldn't play spin.
Sunday's late-night revelry is of similar irrelevance. Of the two things to tackle, the first- the management of the team — is an easy fix and will bring immediate dividend; the second — a better balance in domestic cricket between when first-class and limited overs cricket is played — is very manageable, too, although will take some time for the benefits to filter through. But that is where attention must be focused urgently by those charged with making decisions, not on the fourth floor of the Crowne Plaza, a few late-night drinks and a dozy bit of filming.
- The Times