Mike Atherton: England's hope ruthlessly ended by Australia at The Gabba
Hopes raised during the hour either side of tea, when five wickets fell, were snuffed out brutally, and England finished the day on their knees, writes MIKE ATHERTON.
The drama came late in the day, the turning points much earlier. Travis Head, a struggler in the Championship for Sussex last summer and in the 2019 Ashes, put England's weary bowlers to the sword and became the first man to score a Test hundred at the Gabba in a single session. Hopes raised during the hour either side of tea, when five wickets fell, were snuffed out brutally, and England finished the day on their knees.
Head had won the final batting spot for this match from Usman Khawaja. He had given notice of his form earlier in the domestic season, when he made 230 in 127 balls in a one-day game, and he took that intent into the final session, scoring his hundred in just 85 balls, between tea and the second new ball. Not even an accidental beamer from Mark Wood, which struck Head just under the jawline, could halt his charge.
Wood was taking the second new ball with Chris Woakes, partly because Ollie Robinson was suffering from cramp, which was indicative of the physical challenge England's three main seamers faced, heightened by an injury to Ben Stokes, who had pulled up gingerly in the first session, and the limited opportunity for Jack Leach, who had been taken for 95 runs in 11 bruising overs. England were clearly short of conditioning, which made the missed opportunities earlier on, mostly granted to David Warner, even more costly.
Warner had shared a second-wicket partnership of 156 with Marnus Labuschagne, which set up Australia's dominant position by the close, but he was missed three times before scooping Robinson to mid-off just after tea, six short of his hundred. In the morning, on 17, his defences had been breached by Stokes only for a front-foot no-ball to bring a reprieve. On 48, in the first over after lunch, he had offered a straightforward chance to Rory Burns at second slip and was reprieved again.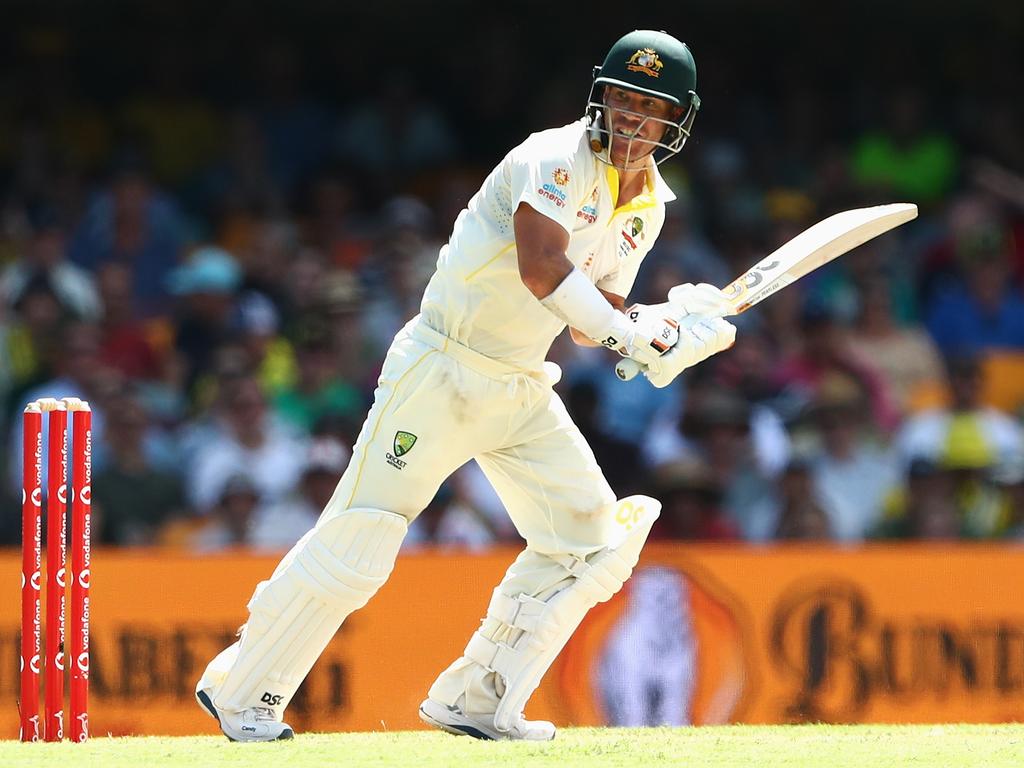 David Warner was given multiple lives by England in the first Test at The Gabba and he made them pay by nearly notching a century. Picture: Chris Hyde/Getty Images
Six overs after lunch, Warner tucked Wood into the leg-side, and set off for a run. Haseeb Hameed intercepted the ball at short-leg, fumbling first of all and then gathering cleanly, and Warner, sensing the danger, turned back to his crease. He slipped, dropped his bat and began to front crawl to his ground. From two yards away, with three stumps to aim at, Hameed delayed his throw a second to compose himself, then released it and missed.
Warner, crawling desperately, finally slapped a gloved hand down beyond the popping crease, and, having made his ground, lay there grinning sheepishly; Hameed, had he known, could have walked the ball in to the stumps. As a snapshot of England's day, it could not have been bettered: so many missed opportunities, resulting in a return to productivity for a man, who, in the 2019 Ashes, could barely make a run and a situation from which there is likely to be no return.
Little went right for England, initially. The morning after St Patrick's day, the sun shone — of course it did. Gone was the dark cloud and humidity of the first day, replaced by piercing blue skies and dry heat. Splendid batting conditions, in other words, and an opportunity for Australia's batsmen to twist the knife into Root after his decision at the toss to bat first. Twist it they did, slowly for the most part, unless Leach was bowling, when they attacked with brutal intent.
We had been told of England's detailed plans, drawn up over a two-year period, for this series but under no circumstances could they have envisaged a situation in which Chris Woakes would bowl the first over. The injury to Jofra Archer and the interrupted preparation, so costly for Jimmy Anderson and Stuart Broad, who were seen pounding away in the nets in the morning session, caused plans to be ripped up — events, dear boy, events — with the result that a man averaging more than 50 runs per wicket abroad led the charge.
England captain Joe Root looks on during day two of the first Test, with Australia piling up the runs and building a huge first-innings lead. Picture: Chris Hyde/Getty Images
Woakes was steady with the new ball, nothing more, and the greater threat came from Robinson and Wood. Robinson's line was immaculate and brought the early wicket of Marcus Harris, edging to slip, and Wood bowled more quickly than anyone else in the match. Marnus Labuschagne, in particular, gave a wonderful exhibition of how to leave the ball on length; his judgment was superb, as befits a man with a Bradmanesque average (99.75 before this game) at this ground.
Warner, too, has made his share of runs here. The absence of Broad no doubt gave him a lift, as England failed to challenge him from round the wicket, which is from where Broad enjoyed such success, but fluency was hard to find. With the introduction of Stokes in the 13th over, Warner's stumps were rattled, but the cold, aborted nature of the celebration told its story: Stokes had overstepped the front line — much as he had done on his debut in Adelaide eight years earlier, when what would have been a maiden wicket was not.
The technology was not working by all accounts and so the old system, with responsibility on the standing umpires to call no-balls and the third umpire able to review matters only if a wicket fell, was in use again. It transpired that Stokes overstepped on 14 occasions during his first spell of five overs, of which only one was called on the field, a sign of just how rusty he is after a five-month lay-off. After sprinting to prevent a boundary just before lunch, he pulled up sharply and did not bowl again until after tea.
Labuschagne looked impressively secure, other than one edge that fell short of Root at slip, and a miscued pull that teased Ollie Pope at leg-gully. The rain on the first day meant an extended morning session, and it was in the final half-hour that Root turned to Leach. Warner hadn't lasted long enough in 2019 to face any spin and jumped at the opportunity now, stepping down to launch Leach twice into the stand. Leach's initial three overs cost 31 runs, and he was withdrawn.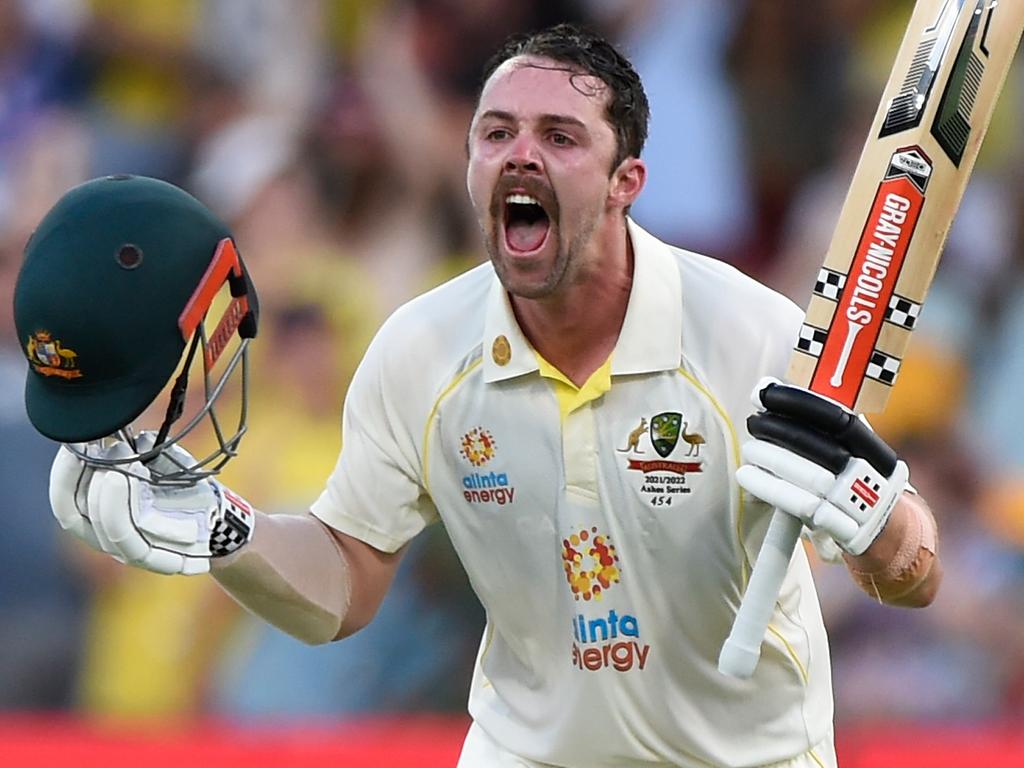 Australian No.5 batter Travis Head celebrates his brilliant Ashes century against England at The Gabba with an emotional roar. Picture: Matt Roberts – CA/Cricket Australia via Getty Images
England's slip cordon was porous throughout the summer, and remains suspect. Stokes, no doubt feeling the effects of his finger operation, is a non-starter, so Burns and Dawid Malan, the latter a butterfingered presence in the cordon during the India series of 2018, have been requisitioned. Five balls after lunch, Burns was given a regulation catch to his left by Warner but fluffed the chance — he is not having a distinguished match so far.
Labuschagne's dismissal came out of the blue and coincided with Leach's second spell and another premeditated assault. It was the ball after Labuschagne launched the spinner down the ground for another six that he sliced an innocuous short wide ball to point. Steve Smith was immediately greeted with a host of fielders on the leg-side and Wood was rewarded for his gameness, when Smith edged a rising ball to Jos Buttler.
After tea, two wickets fell in consecutive balls to Robinson, Cameron Green the second of them as he played no shot at a ball that cannoned into off-stump. When Alex Carey toe-ended a pull to Pope, five wickets had fallen in the hour either side of tea. It is the hope that kills: the final act of the day, when Buttler dropped a tough chance to his right off an inside edge from Mitchell Starc, was the more realistic abiding image of a long and difficult day.
– The Times