No cigar as Justin Langer catches up with Tim Paine, still at risk of joining him on Aussie scrapheap
There will be no cigar smoking when coach Justin Langer catches up with Tim Paine, who vacated his home for the Ashes finale rather than leading Australia in a glorious Test farewell.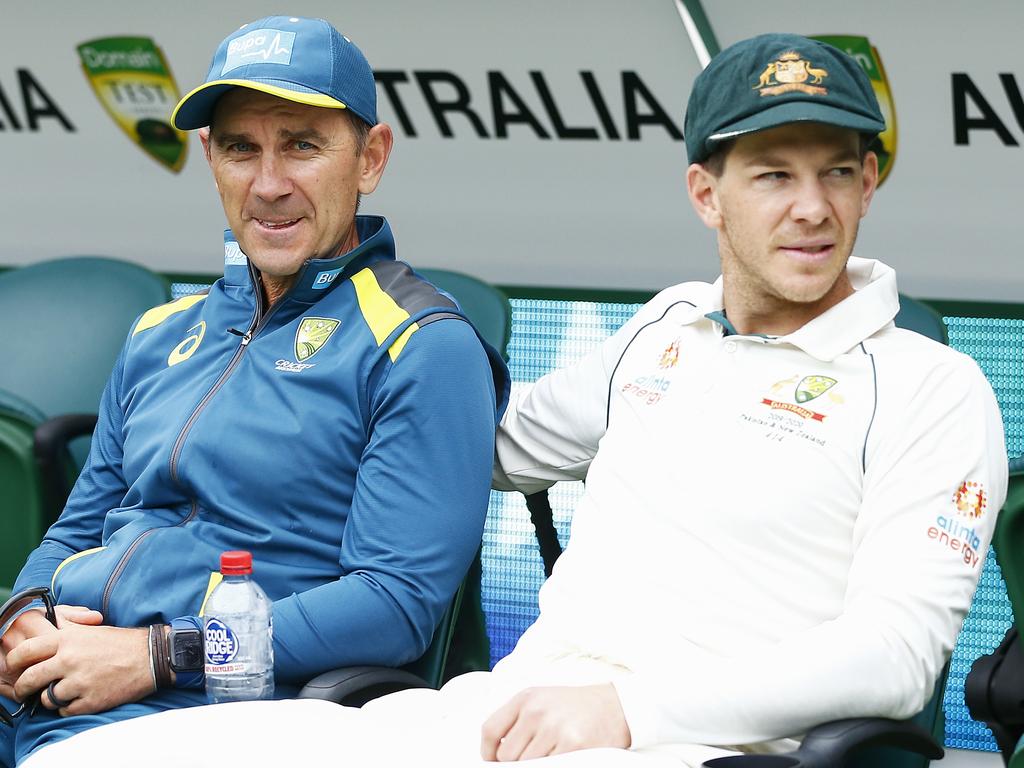 Australian head coach Justin Langer and former captain Tim Paine during the Boxing Day Test of 2019. Picture: Daniel Pockett - CA/Cricket Australia via Getty Images
The party has left town, but two men responsible for resurrecting Australian cricket will meet for coffee in Hobart on Thursday with their futures unclear.
There will be no cigar smoking when coach Justin Langer catches up with Tim Paine, who vacated his home for the fifth and final match of the series.
Paine was denied a fairytale end to his career – bowing out as an Ashes winning captain in a historic home Test – when he was forced into stepping down on the eve of the series over a lewd text exchange with a former Cricket Tasmania employee.
He was investigated and exonerated by Cricket Australia at the time, but was given little choice when the incident from four years before became public and upset new members of the CA board.
The woman involved has a court hearing in Tasmania for matters that are not related to the sexting scandal that engulfed the former Australian captain.
Tim Paine and Justin Langer during an Australian team net sessions last year in Sydney. Paine suffered a stunning downfall as Australian Test captain, while Langer's future as coach remains unclear despite his success. Picture: Ryan Pierse/Getty Images
Langer's fate as coach would be decided when the general manager of teams, Ben Oliver, makes a presentation to the board in ­February.
CA has refused to guarantee the coach another contract and said it would make a decision after the Ashes.
Langer claimed he was "comfortable" with that approach on radio on Wednesday.
"It's been four really big years and it's an all-encompassing job and it's a tough gig," he told SEN radio in Perth.
"There's plenty to be spoken about."
Langer has not seen his family in Perth since September but was going to stay with the side and coach the white ball team in the series against New Zealand.
That series was cancelled on Tuesday when the visitors decided it was not worth enduring 10 days quarantine on return just to play three ODIs and a T20.
Langer, however, remained locked out of his state and must endure hard quarantine before making a quick turn around to fly out to Pakistan next month.
His fate could be decided before depending on what Oliver presented to the board.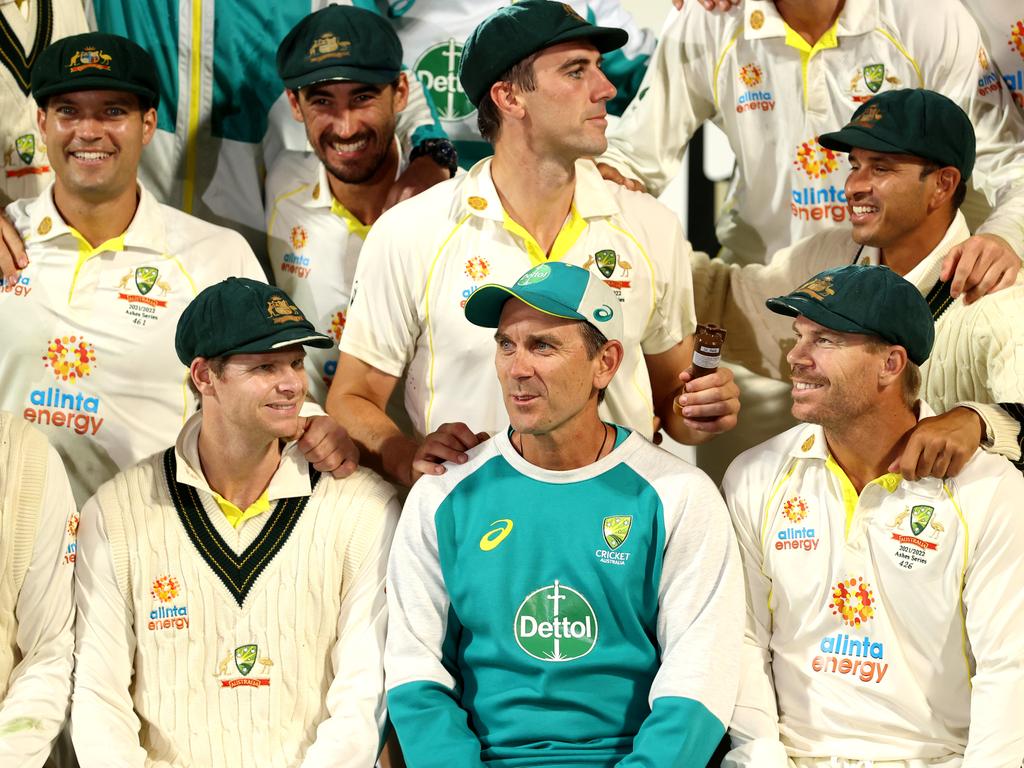 Justin Langer sits among his players after completing a 4-0 Ashes series win, a triumph that has still not secured his future as coach. Picture: Robert Cianflone/Getty Images
Former England captain and columnist for The Australian Michael Atherton called Langer's sit­uation "extraordinary" on pod­cast Cricket Et Cetera this week.
"This is a team that has just won the T20 World Cup, that has just performed admirably in the Ashes and my reading of it – having read all your stories during our last English summer – clearly there was some disquiet about Justin's methods, that he was a bit full on, if you like. Certainly I had the impression during the World T20 that he'd slightly backed off a little bit, was a little bit more relaxed and that's the sense in the Ashes," Atherton said.
"That's why we find it hard to understand because, A, there is a lot of success there and, B, he seems to have done what's been asked of him and there is still this degree of uncertainty.
"If you get rid of him we'll have him."
Atherton said he believes that a little tension in the dressing rooms can be a positive.
"I've always felt a bit of tension is not a bad thing, clearly you can have destructive tension and you can have creative tension and I think a dressing room with absolutely no tension is not always a good place to be.
"Maybe coaches just have a shelf life," Atherton said. "Justin's been doing it across four years and maybe there is a case for saying there's a limited shelf life, I'm not sure.
"All our focus is on the coach here, but it depends where your team is at. England has a lot of young players – people that need driving, teaching, pushing, guiding and a character like Langer, who is quite passionate and driven and intense, would suit England's Test team at the moment."
Tim Paine and Justin Langer inspect the pitch at the Gabba in January 2021. No one could have predicted the fate of both men a year on. Picture: Bradley Kanaris/Getty Images
Steve Waugh and Ricky Ponting have both thrown their support behind Langer in the past week – there is almost nobody in Australian cricket whose opinion carries the weight of those two.
Langer was at odds with senior players in the side, but since the selection panel and assistant coaches' roles were changed he has taken a more hands-off role and allowed the team leaders to navigate a more independent course.
Commentators find it hard to understand how a man who coached a team to victory in the T20 World Cup and Ashes, as well as changing his methods as requested, could be discarded.
Langer and Paine were critical to rehabilitating Australian cricket's reputation and changing its approach following the sandpaper scandal.
The coach (and captain) was asked by the board and chief executive in 2018 to change the team's behaviours and earn back the respect of the public. He was then asked to deliver more ­success.
Langer and Paine worked extremely hard behind the scenes in the early days and, of late, Paine had taken a leading role in creating a player-driven culture as it moved into a new era.
– The Australian