Steve James: Selfishness may be England's only batting saviour amid Ashes debacle
The secret to Joe Root's glut of Test runs has been becoming more selfish as a batter. There's something in that for his hapless England teammates, writes STEVE JAMES.
The ball was driven sweetly and convincingly through mid-on for four with the straightest of blades. This was the Ben Stokes we know and so admire.
To that ball from the left-arm over-the-wicket bowling of Mitchell Starc on the last fateful morning in Melbourne, the left-handed Stokes had used the big back-and-across trigger movement that has become his modus operandi in recent times, going so far across that he was outside off stump.
But then to the next ball he decided to do something different, this time going only to middle stump with his back foot. By the time he was bowled by Starc six balls later (admittedly from a very decent delivery, and Stokes had also hit a nice off-driven four in that time too), a change in the field with third slip going to leg slip meant that he was going back on to leg stump.
Stokes clearly did not want to turn one straight to that leg slip, but if you were searching for one small passage of play to sum up Australia's superior thinking and its trumping of England's overthinking on this Ashes trip, then this was not a bad place on which to alight.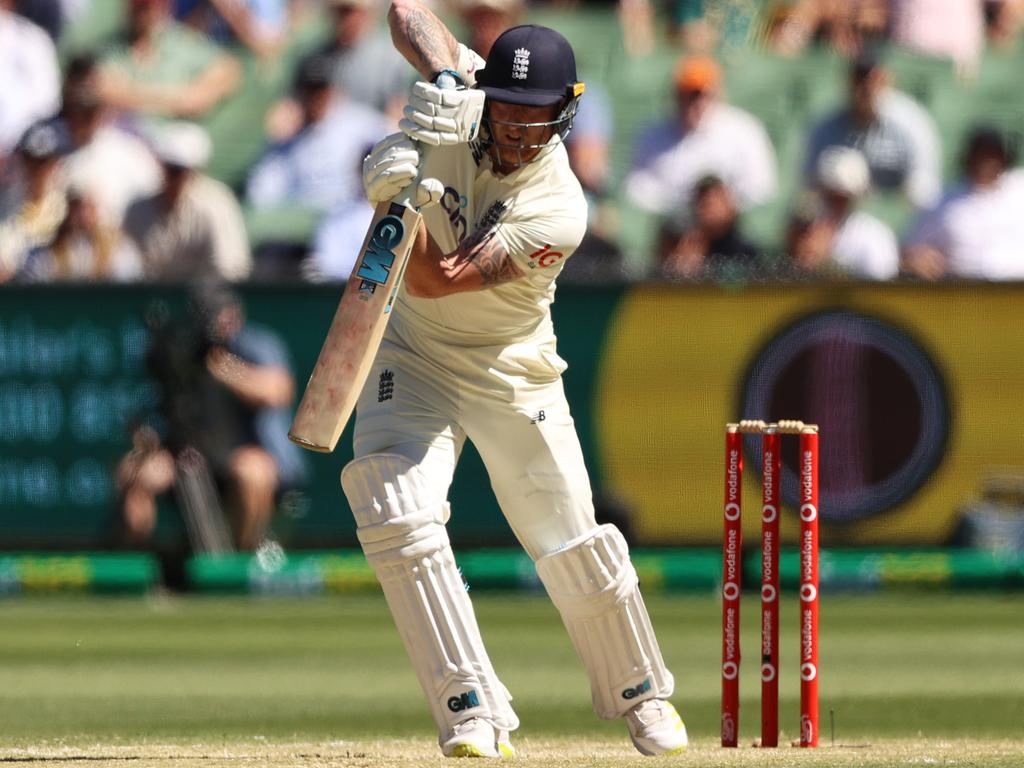 Ben Stokes drives straight during day three of the third Test, though it was a short-lived stand in a dismal defeat for England. Picture: Robert Cianflone/Getty Images
Too much was expected of Stokes in this series, of course it was, but for such a high-quality player he has been overcomplicating things with the bat ever since he advanced down the pitch — and then shouldered arms to — his first ball of the series. You could go back further too, because when he made that iconic 135 not out at Headingley in 2019 he did not have that exaggerated trigger movement. He was looking rather decent then.
It is almost as if he has been more interested in playing mind games with the bowlers than actually scoring runs, and here those mind games were turned on him. The result has been an average of only 16.83 in the series and a strike rate of 31.46.
It is almost as if, too, that he has been trying to set the standard for his colleagues in terms of patience at the crease. Little wonder that in these pages Shane Watson declared himself "blown away" and "gobsmacked" by how defensive Stokes has been. Good to hear, then, that he was being more aggressive in the Sydney nets on Monday.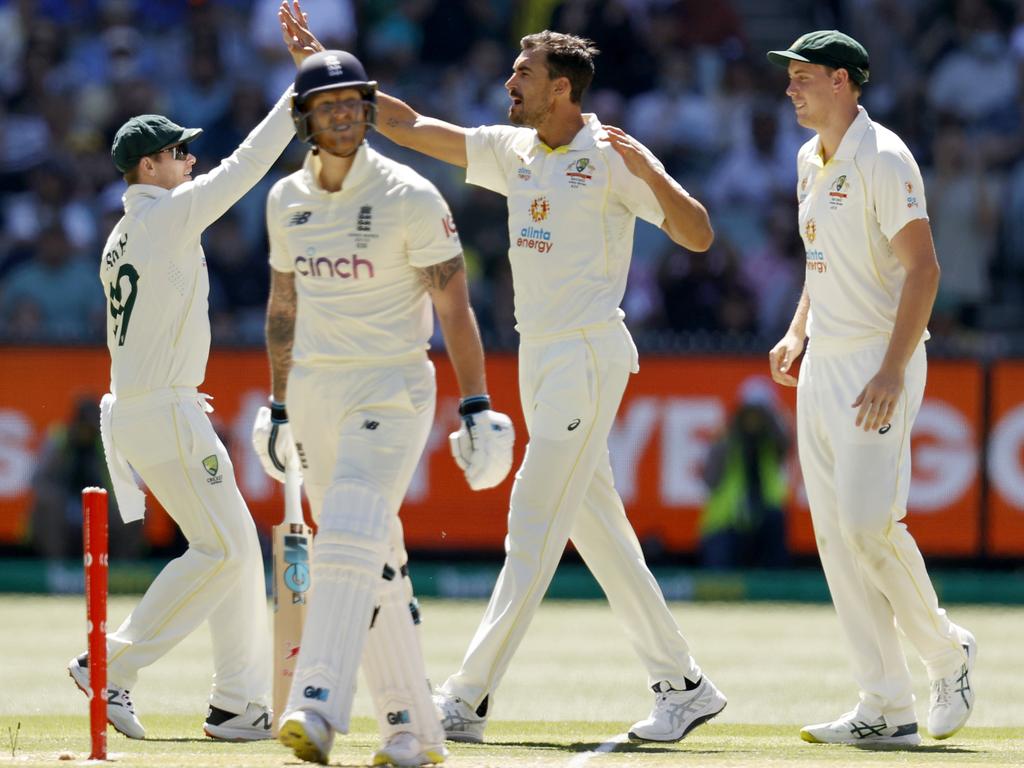 Mitchell Starc celebrates the wicket of Ben Stokes during day three of the third Test. Stokes has been a shadow of his usually-imperious self during the Ashes, in which England are already 3-0 down. Picture: Darrian Traynor – CA/Cricket Australia via Getty Images
As captain Joe Root has discovered, you cannot bat for others in the team. Batting is a singular existence, despite the presence of a partner at the other end. Once the music stops and the bowler's run-up begins, you are on your own.
And if England's batsmen are to salvage anything from this ill-fated series, then they would do well to remember that. Runs are all that matter, and they must gather them in their own way. And they must be very clear about what that way is, and how the consistency in their thinking and movements will achieve that.
It is not about playing at one predetermined tempo, especially one that will realise only two runs an over. It is about making shrewd decisions at the appropriate times, which in Australia especially means defending well with hands close to one's body (otherwise the ball should be left), only driving when the ball is right under one's eyes and generally looking to the horizontal-bat shots (pull and cut) when attacking the shorter balls.
After Melbourne Root said that he could not be selfish and think about his future as captain, which is admirable, but he certainly can be selfish with the bat in his hand, as can all the others in the top seven.
As Root told The Daily Telegraph after a successful series in Sri Lanka early last year: "One big change I made ahead of the series was to be a bit more selfish about my batting. It goes against everything I am about as a person, but I know if I am scoring hundreds we have never lost a game. So be a bit more selfish and think about constructing a personal innings that will benefit the team."
As it has transpired Root did score a century in the summer, at Lord's against India — 180 not out, no less — when England lost a Test, but they have never lost on any of the other 22 occasions on which he has passed the fabled three figures in Test cricket.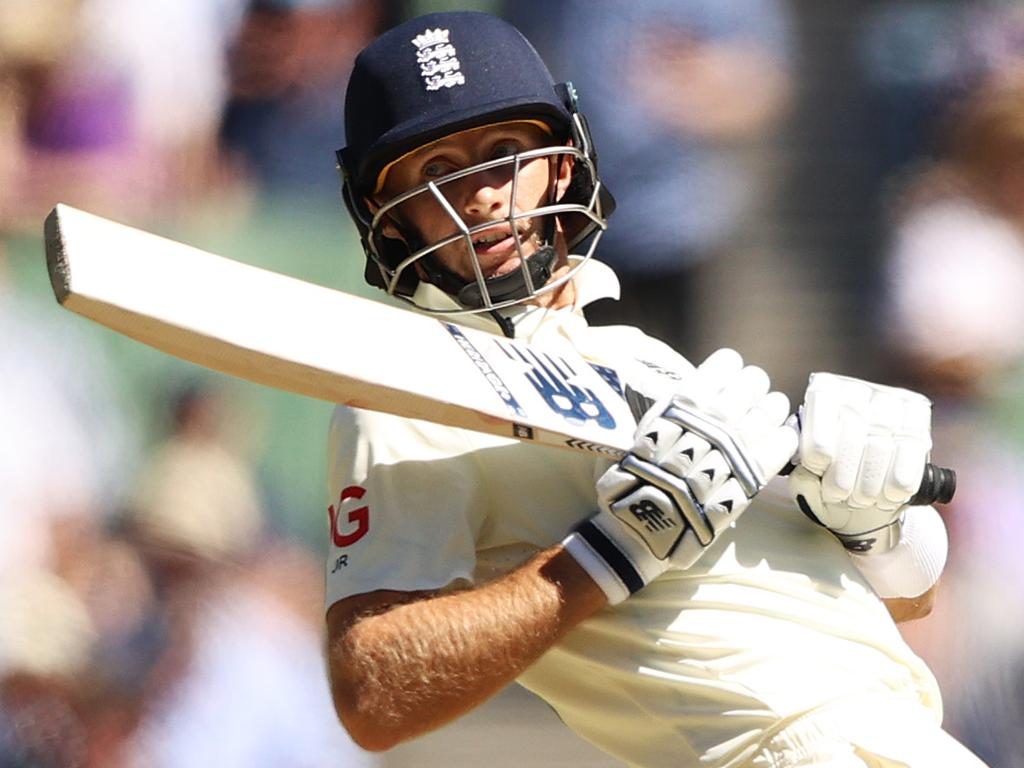 While not at his prolific best, Joe Root has still been England's most reliable batter during the Ashes and has proven himself one of his country's finest-ever players. Picture: Robert Cianflone/Getty Images
There is certainly something in that. Because of some spicier pitches this has not been a run-laden Ashes, but through Marnus Labuschagne and Travis Head, Australia still lead England 2-0 in the century stakes, while David Warner has twice been dismissed in the nineties, as has Steve Smith, once.
Root has been England's highest scorer with 89 and that hundred in Australia still eludes him. Even last time in Australia, in 2017-18, England made three centuries, through Alastair Cook, Jonny Bairstow and Dawid Malan, while Australia made nine. In 2010-11, when England won the series 3-1, England made nine (three from Cook) and Australia only three. In 2013-14, Stokes was England's only century-maker, when Australia made ten between them.
As Gary Kirsten noted last week on the talkSPORT podcast in which he talked about his desire to become England's next head coach should Chris Silverwood be relieved of his job, centuries are a Test batter's currency.
So no wonder England were looking so destitute in 2021, with only Rory Burns's 132 against New Zealand joining Root's six centuries on the roster. The next highest scorer was Dom Sibley, with his 87 against India in Chennai.
Sibley has spent the winter at home attempting to remodel his game, while Burns was dropped for Melbourne. Both their games need simplification. What a complicated and confused mess the batting is in.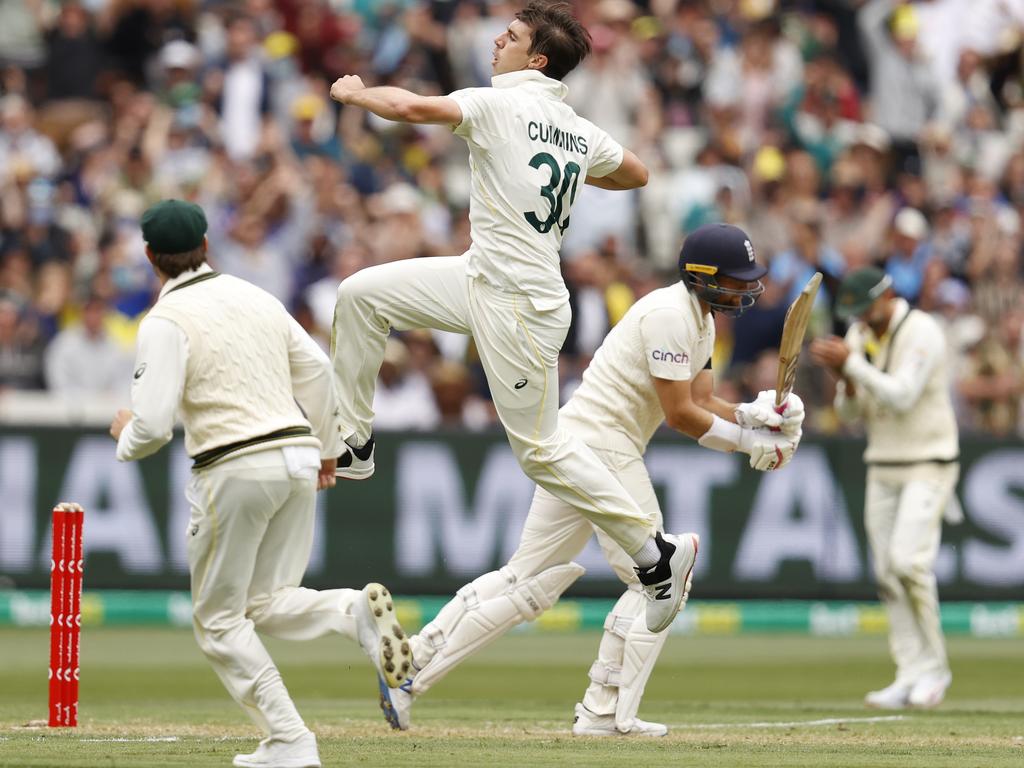 Pat Cummins celebrates the wicket of Dawid Malan during the third Test. The England No.3 has shown flashes of class but has substandard numbers after 20 Test appearances. Picture: Darrian Traynor – CA/Cricket Australia via Getty Images
Two Tests await for a group of batsmen with careers and reputations on the line. For all his magnificence last year Root needs that century in Australia — and hopefully for him a victory that usually accompanies such a score if he is to keep the captaincy; Stokes needs a score to show that No.5 is not too high in the order for him; the 34-year-old Malan had a decent 2021 (averaging 34.22 in five Tests) but he still only averages 29.48 in 20 Tests overall and was too defensive in Melbourne; and surely this is the time for Jos Buttler (averaging 25.21 in nine Tests in 2021) to obey the message on his bat handle ("F*** it") and demonstrate that he can dismantle a Test attack like he can those in white-ball cricket. He has nothing to lose. Most have written him off anyway.
As they have the others. It is time for all the batsmen to make names for themselves. Ashes hundreds endure, whether a series is alive or not.
Just ask Mark Butcher. His stunning, matchwinning 173 not out in 2001 at Headingley came after the series had been lost, but no one remembers that. All they remember is the brilliance of his stroke play. And rightly so.
– The Times