The Ashes: Distraction, dysfunction and disharmony – the inside story of England's humiliation
SIMON WILDE reveals the poor preparations, conflicts in the camp and skewed priorities that led to England's humiliating 4-0 Ashes series defeat.
It took one ball for England's Ashes campaign to part company with the rails. Rory Burns has always had an idiosyncratic batting technique, but even he does not normally go as far over to off stump as he did to the opening delivery of Mitchell Starc's first over at the Gabba.
Nerves alone explain what he did. The ball may have looked like it was going harmlessly down leg but it swung back enough to clip the stumps and send Australia into paroxysms of delight. Had Burns really considered in advance the magnitude of the occasion? It seems not.
It was the first time a wicket had fallen to the first ball of an Ashes series since 1936, simply the first of many gruesome records Joe Root and his players would notch up over the coming weeks. The Poms were on the back foot from the start — and that's where they stayed.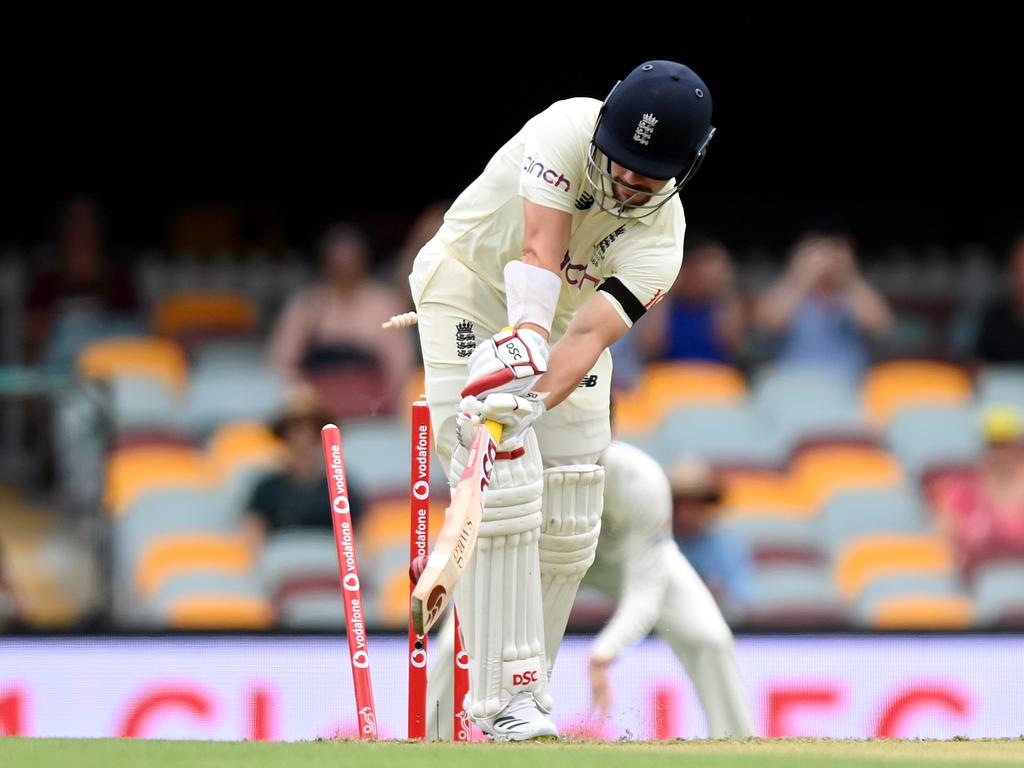 Mitchell Starc cleanly bowls Rory Burns with the first ball of the series. Picture: Bradley Kanaris/Getty Images
Even before Starc ran in, the morning had been full of drama. England revealed a team without Stuart Broad, James Anderson or Jonny Bairstow. To leave out one of their champion bowlers in such a condensed five-Test series might have made some sense, but to omit both was extraordinary, especially given Broad's new-ball dominance over David Warner. Anderson's state of fitness became a matter of debate; he said he was fit for selection, the management claimed otherwise. Players and management were not to agree on much.
Selected for his first Test in nine months, the spinner Jack Leach took such a hammering that he conceded 100 runs in only 12.1 overs, an Ashes record. In a later interview with an Australian radio station, Leach said he had been nervous in part because he had played so little — another indictment of England's planning.
Then there was the toss: Root won it and chose to bat, which was the bold option in favourable bowling conditions. History was at play here — Root had long teased Nasser Hussain for bowling first in Brisbane in 2002 with disastrous consequences, so it was going to take a lot for him to take the same route — but he may have thought boldness equated with strength.
The Burns dismissal was only the start. Root himself was out for a duck and England were rushed out for 147 before the weather closed in and spared Australia batting until next day, under clearer skies. Root and Dawid Malan scored eighties second time but no one else managed 40 in either innings. Australia ran out easy winners.
Only twice had England won a five-match series in Australia after losing the first Test. More to the point, tactically they were all over the place and under fire from all quarters, but it was entirely a problem of their own making. They were already in a deep hole.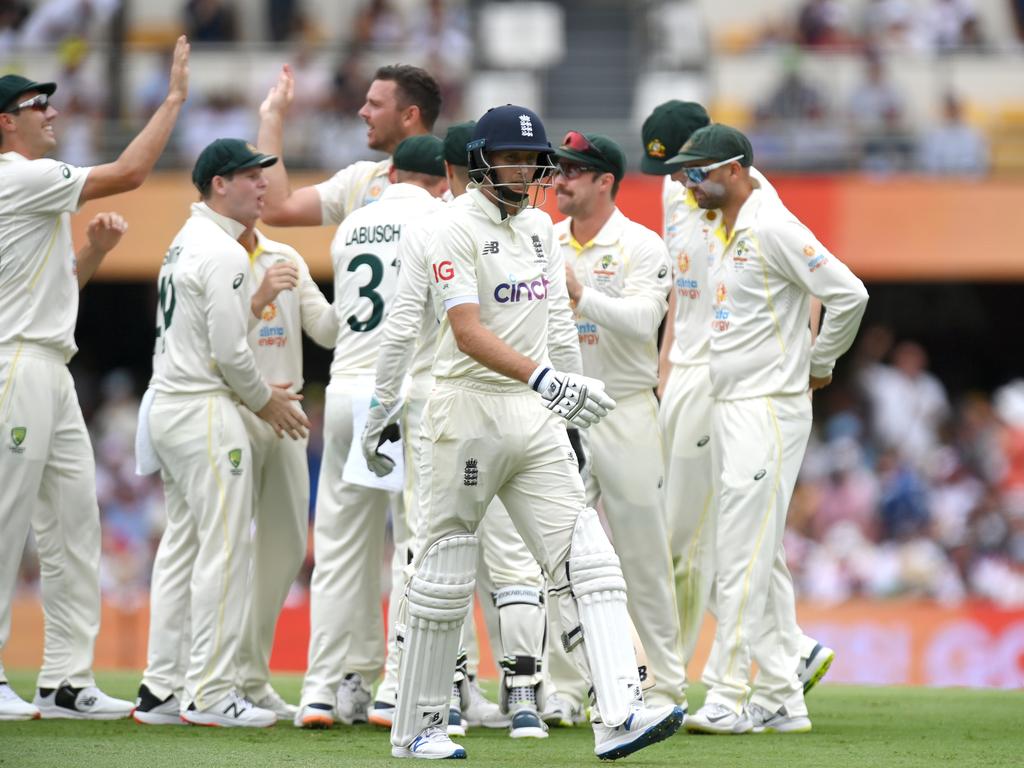 While Joe Root was the best of the English batsman through the series, his first day duck in Brisbane set the tone for the series. Picture: Bradley Kanaris/Getty Images
Distracting family time and a 'lack of zest from the word go'
It was not unexpected that England lost, but what was shocking was that after two years of planning they had still seemed wrong-footed. Early last summer their head coach, Chris Silverwood, had declared: "We want to travel to Australia, fitter, faster, leaner, more ready than ever before. They get off the plane and it is, 'Right, we're here, we mean business and we're full of confidence,' and that will take us through [to the end of the tour]."
Root would double down on this: "I'm absolutely determined to put the record straight. Look at the two previous [Australia] tours. Performances weren't good enough. If we go and approach things in the exact same manner then we're likely to get similar results. It's really important we are brave and take the game to them." Both these statements now appeared utterly laughable.
Covid had not helped. A delay to the Twenty20 World Cup meant that it concluded only three weeks before the Ashes, while endless biosecure bubbles had taken their toll on England's players in particular. Since January 1, 2021, they had played 12 Tests to Australia's one, Australia having spent most of the pandemic hunkered down at home.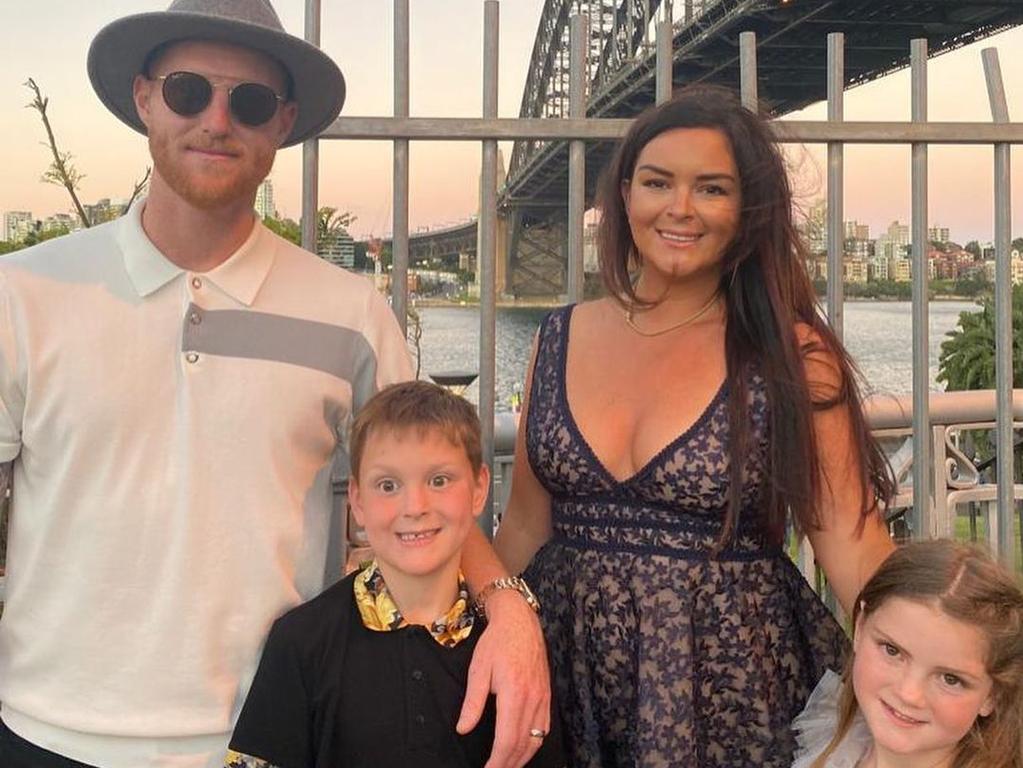 Ben Stokes and his family enjoyed New Years Eve in Sydney, away from the Ashes camp. Picture: Instagram
The ECB may have regretted co-operating with a BBC podcast series called Project Ashes which further burnished the notion that nothing was left to chance when it came to tour preparations. Even its performance director, Mo Bobat, admitted: "Ideally you'd want more space between the World Cup and the Ashes. We mustn't underestimate how much energy that is going to take out of the guys."
Australia's piecemeal approach to easing lockdown restrictions complicated planning and the tour was only signed off late after extensive haggling. Crucially, families were allowed entry — otherwise some players might have pulled out, but their presence also became a complication. They were around for far longer than on usual tours, which would only fuel suggestions that the players lacked focus and intensity.
The long periods of time the players spent in hotel rooms — often with wives or girlfriends — also facilitated greater alcohol consumption by some players, even if there was no danger of the sort of public drunkenness that has blighted tours in the past.
The best piece of news for Root beforehand was Ben Stokes belatedly making himself available after a long lay-off for injury and mental health issues, but in fact Stokes was to be a bitter disappointment, promising so much but delivering so little. He often cut a distracted, detached figure.
Nothing summed up the delusional nature of the tour better than how Stokes fared. He seemed to turn up after three months away from the game thinking he could flick a switch and conjure the magic of 2019. Perhaps he too readily bought into the popular conception of him as the returning super-hero. But in 2019 he was in peak physical and playing condition; now he was attempting to scale the old heights from a much less advantageous position.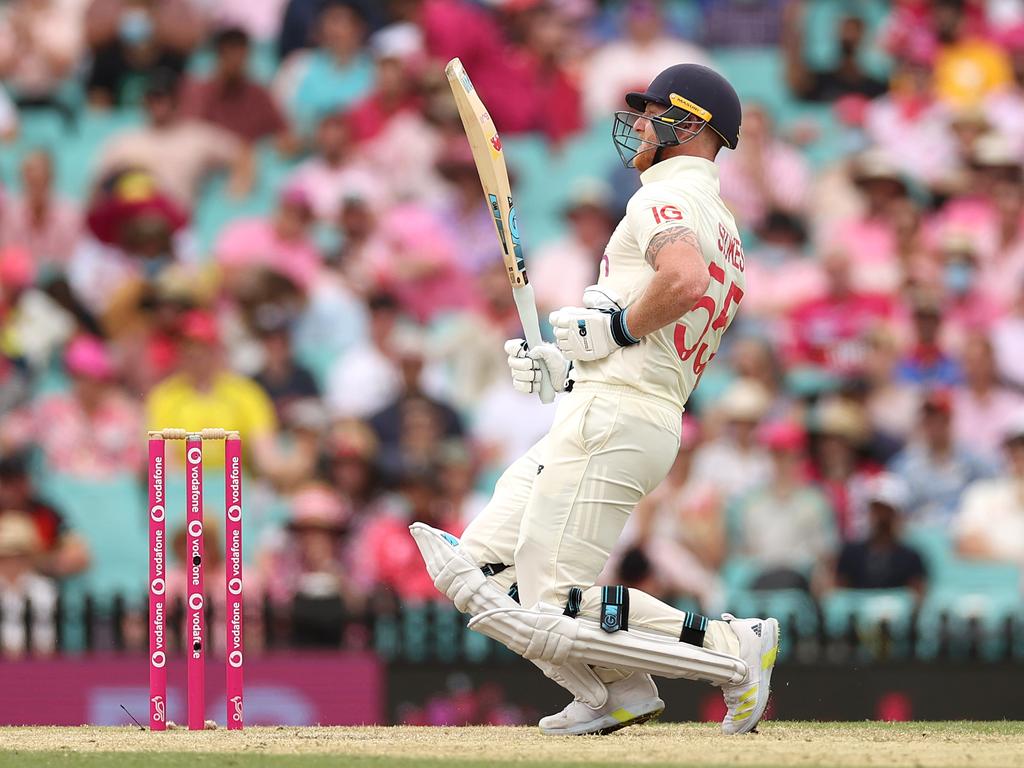 Ben Stokes batted through a side strain he picked up in the fourth Test. He struggled for form and full fitness throughout the series Picture: Cameron Spencer/Getty Images
It took him four Tests to find form with the bat and in that same game he suffered a low-grade tear to his left side which stopped him bowling. He fell to one soft dismissal after another and was totally outperformed by his opposition all-rounder Cameron Green. There were shades here of Ian Botham on his first tour to Australia after the heroics of '81: he thought he could repeat the heroics without putting in the work. He had feet of clay after all.
Rules and regulations would be a constant problem. Queensland, the designated starting point, had one of the strictest approaches to Covid and when Silverwood and the T20 players arrived from Dubai they had to serve their quarantine on the other side of a metal fence from the Test specialists. Silverwood understandably found this an outrageous imposition. "Was this really necessary?" someone asked.
Near the end of the tour, Tom Harrison, ECB chief executive, said: "We've been negotiating almost on a daily basis with Cricket Australia to ensure common sense drives the decision-making."
The preparation phase was little short of a disaster. Atrocious weather on the Gold Coast almost entirely wiped out the intra-squad matches. There was little media access to England training but Robert Craddock, a veteran local reporter, noted: "There was just a general lack of zest from the word go."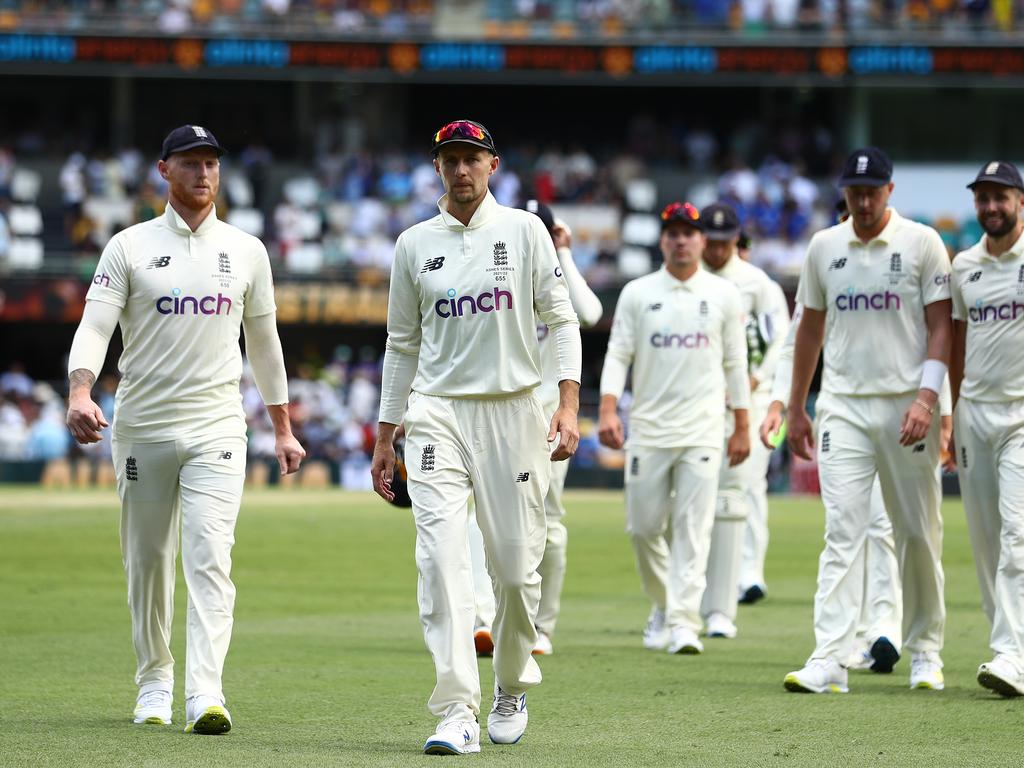 England's attitude became increasingly dejected through the series, affected by their poor first innings start at the Gabba. Picture: Chris Hyde/Getty Images
Tricks were missed. An England Lions match against Australia A in Brisbane at the same time as the first Test could have been used to give some players game-time, but no one was summoned from the Test squad.
Meanwhile, most of Australia's batsmen had got in a lot of Sheffield Shield cricket and were tracking nicely. Pat Cummins, Mitchell Starc and Josh Hazlewood were at the World T20 but this was not the handicap England had hoped. Cummins and Starc proved exceptional, and although Hazlewood broke down his replacements were better than anything England could muster. Scott Boland was a stunning addition.
Even the resignation of Tim Paine over a sexting scandal before the series did not hurt the hosts. Cummins, the new captain, effortlessly raised his game.
Two days out from the Gabba Test, Root conceded that there was no way of preparing for the uncompromising nature of an away Ashes series. "You can never really ready yourself … [but] we're trying to ready the guys as best as possible. It is about trying to calm your emotions. It is easy to say and sometimes not as easy to do." Despite that, England chose a starting XI with seven players who had not experienced Test cricket in Australia. Burns and Leach were not the only ones whose heads were spinning.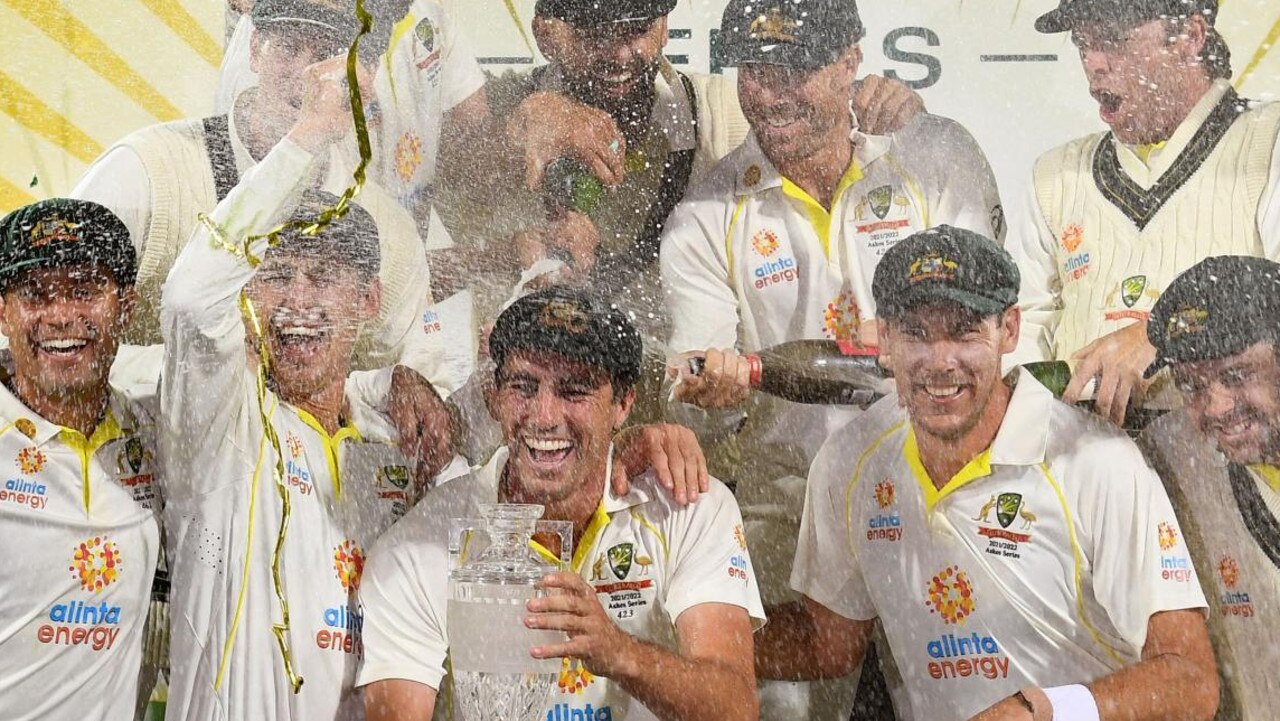 Cummins celebrates with the trophy and teammates after completing a 4-0 win. His captaincy was widely praised after taking over from Paine. Picture: Robert Cianflone/Getty Images
'If you can't influence your bowlers, what are you doing on the field?'
Root insisted he had no regrets about Brisbane but he would not be so sanguine about how things panned out in Adelaide for the second Test. Incredibly, given his insistence on not repeating past mistakes, the attack was remarkably similar to the one used in the corresponding fixture on the previous tour: Anderson, Broad and Chris Woakes all featured again, along with Ollie Robinson. Four medium-fast bowlers, none equipped with out-and-out pace. It took them 150 overs to take nine wickets.
As was the case in 2017-18, they got their lengths wrong. Nor did it go unnoticed that one of their best passages with the ball came when Root was off the field on the fourth morning, having taken a blow to the groin during warm-ups. Stokes took over and England briefly appeared more disciplined. When late in the day Root sunk to the floor again after taking another blow to the groin shortly before Starc dismissed him, the England captain's humiliation was complete.
England had earmarked this as a must-win game and when Australia lost Hazlewood to injury and Cummins as a Covid close contact, it seemed they had been presented with a golden opportunity to level the series. But at no stage did they get their noses in front.
If their bowling was a disappointment, the passivity of their batting was extraordinary. No one had the ability or inclination to put pressure back on the bowlers, certainly not Stokes, who focused on all-out defence. Led by Jos Buttler, who virtually gave up scoring altogether, England battled to avoid defeat but when Buttler trod on his wicket in the final session, the game was up.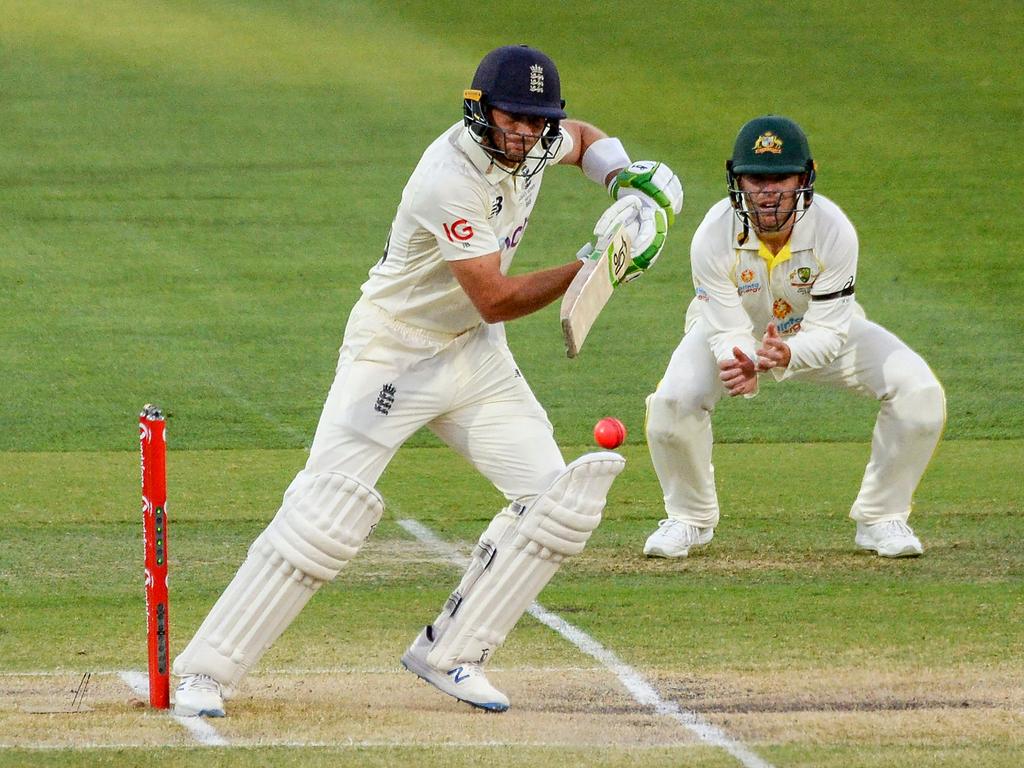 Jos Buttler steps on his wicket on day five of the second Ashes Test. Picture: Brenton Edwards/AFP
The aftermath was revealing. Root, in his post-match comments, accused his bowlers of not being brave enough to pitch the ball full, but this incensed the former Australia captain turned TV pundit Ricky Ponting, who asked: "Why are you captain? If you can't influence your bowlers on what lengths to bowl, what are you doing on the field?"
In the dressing room the batsmen were made to watch video footage of their dismissals as part of a debrief session, but according to some versions Root's harsh words were not echoed by those of the coach. Some of the batsmen became exasperated by what they felt was the failure of England's coaches to offer them meaningful help on tour, so much so that one even considered asking his county coach for help from 9,000 miles away. The following day, during a remote press conference with English journalists, Silverwood gave the impression that he had few answers to the crisis engulfing his team.
Burns reads about being dropped before being told
Things hit rock bottom with the Boxing Day Test in Melbourne. Broad was left out again, a decision that shocked players with nothing like his sort of record. If a player of his stature is surplus to requirements, what chance for them? Burns and Ollie Pope already knew the answer to that one: they too were left out.
Their impending demotions were a badly kept secret. When Silverwood eventually got round to telling Burns, he received the abrupt reply: "I know, I've already read it in the papers." Although there was regular tension in discussions between management and senior players, there was a separate but equally damaging issue in the lack of communication between the coaches and less experienced players, and those without central contracts, who were not included in some meetings. To add to the sense of the surreal and downright dysfunctional, some junior batsmen were spotted during training batting on one leg, apparently to aid their balance. Social media had a field day.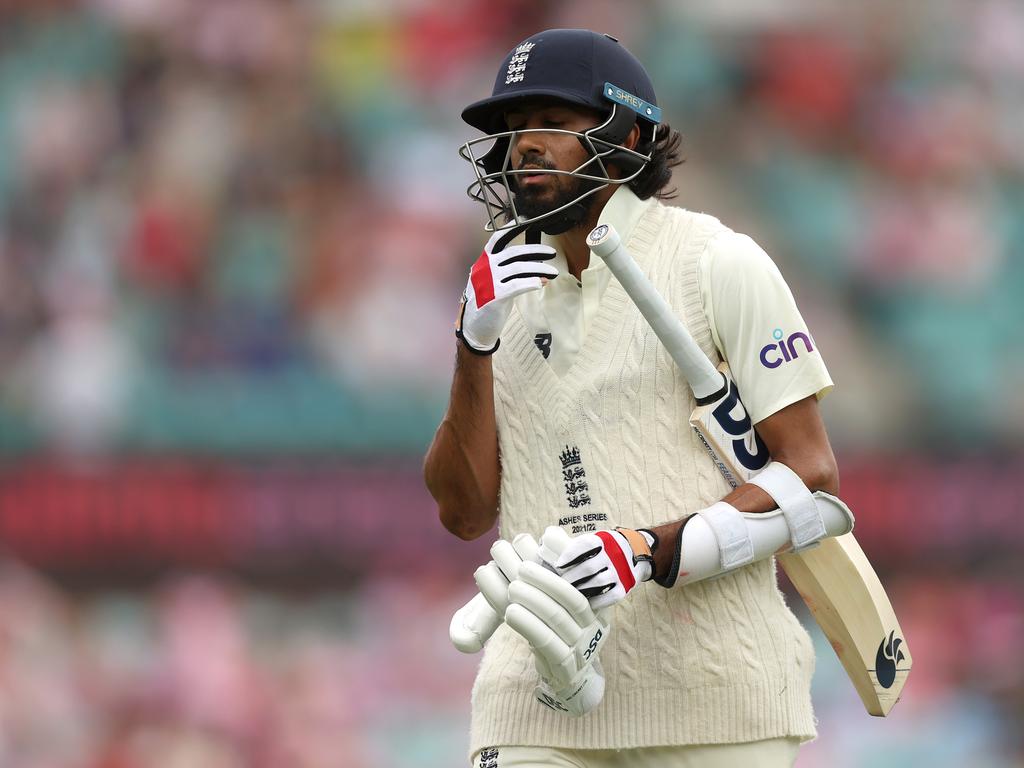 Haseeb Hameed was dropped from the XI after a poor showing in Brisbane and Adelaide, before images emerged of him batting one-legged in a nets session. Picture: Mark Kolbe/Getty Images
The inevitable happened. Covid cases started emerging among the family groups of players and coaches, a process probably accelerated by a Christmas party in a restaurant in St Kilda for about 60 to 70 of them. The cases were largely confined to coaching staff and their wives and children, but to minimise further spread some players detached themselves from family by moving into separate rooms.
Such was the disruption that the start of the second day of the Test was delayed until the England players had been tested and cleared. It was distracting, but in the field the team gave one of their best performances, restricting Australia to a lead of 82. But even on two legs, the rejigged batting unit struggled and the Test was in effect decided in an electric final hour in which four wickets tumbled. With 40,000 Australians baying for English blood, the younger batsmen found the experience overwhelming.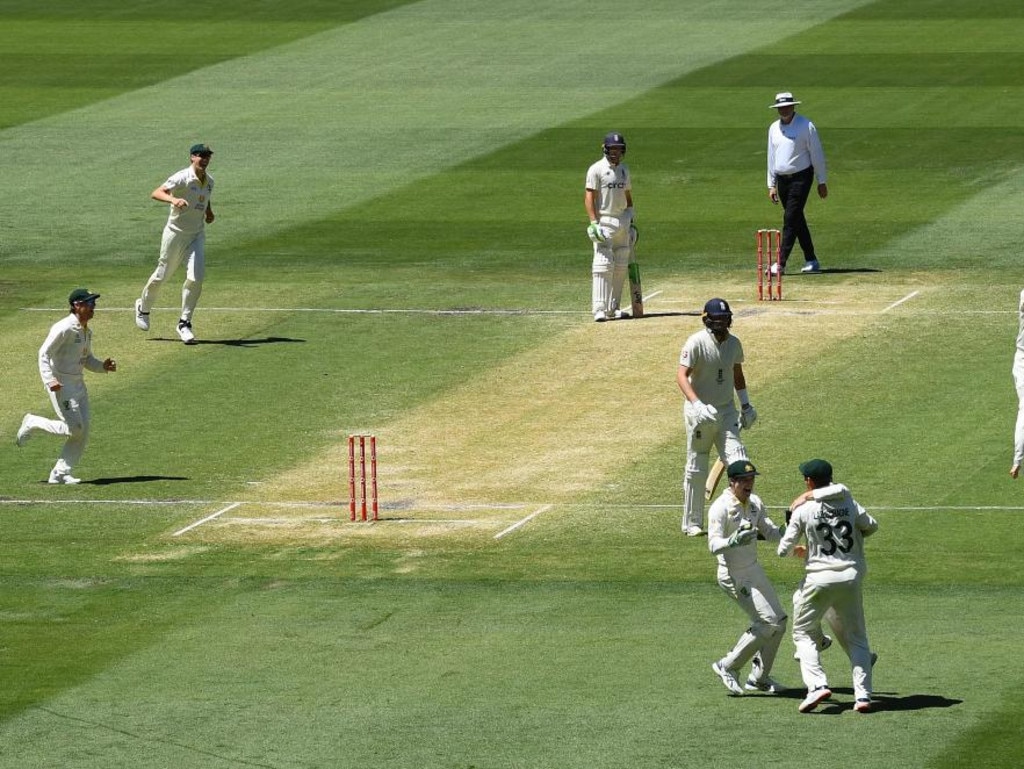 Boland and Australia celebrate after dismissing Bairstow in the second innings of the third Test, part of a collapse in which England lost six wickets for 22 runs. Picture: Quinn Rooney/Getty Images
With the fight knocked out of them, England the next morning lost six wickets for 22. It was England's ninth defeat of 2021, making it the worst year in their history, while their duck tally rose to 54, the joint most for any one year.
Then Silverwood tested positive, preventing him from attending the Sydney Test, and Broad, writing in a newspaper column in which he insisted he would not be retiring, said that the players were at the end of their tether with Covid. By now, speculation was rife about the futures of the head coach and the captain. Even Geoff Boycott advised his fellow Yorkshireman Root to step down immediately.
Tension rise between bowlers and squad
The tour was on a par with the 5-0 whitewash in 2013-14 as the most chaotic Ashes missions of modern times, and cracks were appearing in the ranks. The bowlers were grumpy with a batting line-up that would not top 300 once in the series, the first time this has happened since 1963. When Broad, recalled for the fourth Test in Sydney, took five wickets in Australia's first innings, he delivered some home truths in his press conference.
"You live by first-innings runs and we haven't delivered," he said. "Honestly, it doesn't matter what bowlers you play if you're being bowled out for 140. It might be brutal but that's the truth in Test cricket." He also had a go at the management's obsession with long-term planning: "If you don't win the battle in front of you it's all irrelevant. We need a short-term mindset for the next couple of games because there are points to prove."
Broad's comments jarred with Root's pre-match call for unity: "It would be easy," the England captain said, "to get fractious and point fingers at who could be better. We need to stick tight and stay together."
Ashley Giles, managing director of England men's cricket, defended the team during a round of media interviews on the eve of the game, emphasising the impact of the pandemic. "Performance has almost been the last thing we've had to think about," he said. "How much time have we had to think strategically? Not a lot. We're trying to keep our people well." Fair enough, but were Silverwood and Root actually any good at their jobs?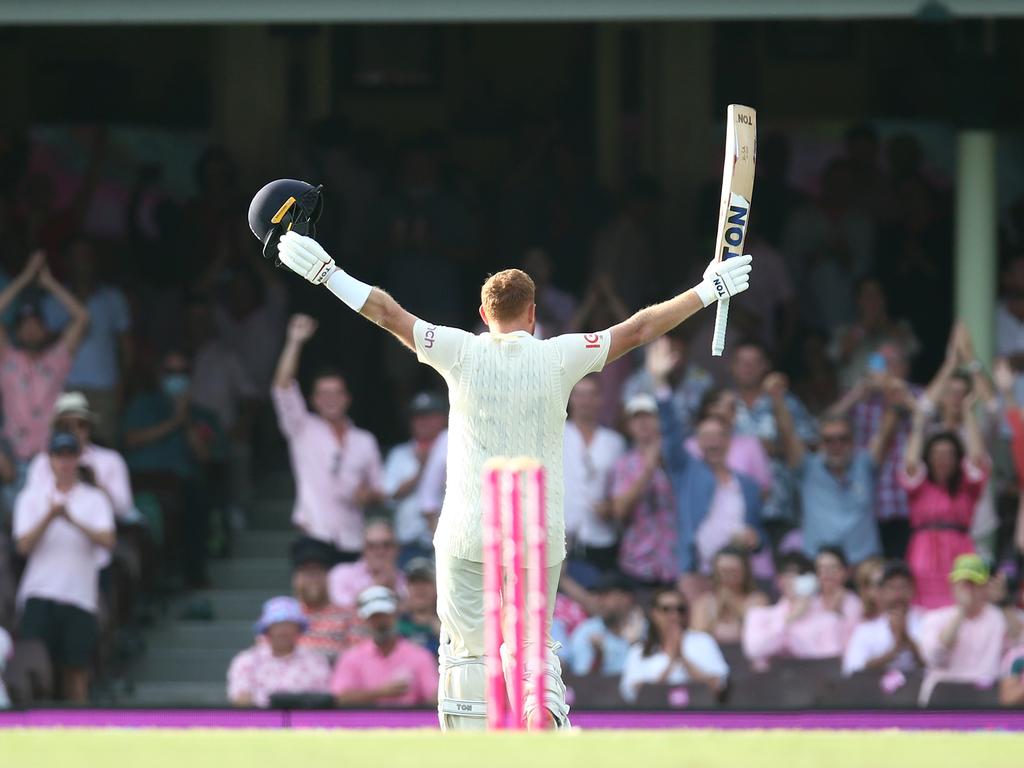 Johnny Bairstow celebrates his century, England's only one of the tour, in front of an appreciative SCG crowd. Picture: Jason McCawley - CA/Getty Images
On the third morning, another defeat beckoned but out of the rubble of 36 for four England rallied through Stokes and Bairstow, who scored the team's only century of the series despite a hand injury. Surprisingly, Bairstow declared himself unfit for the final Test. An 80-Test player, he ought to be giving a lead to the youngsters but he remains a marginal figure with an uncertain future in red-ball cricket.
For once, the team showed some guts as they batted out 102 overs to secure a draw, albeit with their last pair, Broad and Anderson, at the crease and time lost to rain. The whitewash had been averted.
Injuries, fitness concerns and two rounds of golf
Silverwood's claim that his players would be "fitter, faster, leaner, more ready than ever before" came back to haunt the team for the final Test in Hobart. Anderson was ruled out with a hamstring issue, while Robinson convinced the management to pick him ahead of Craig Overton — only to succumb to a back spasm.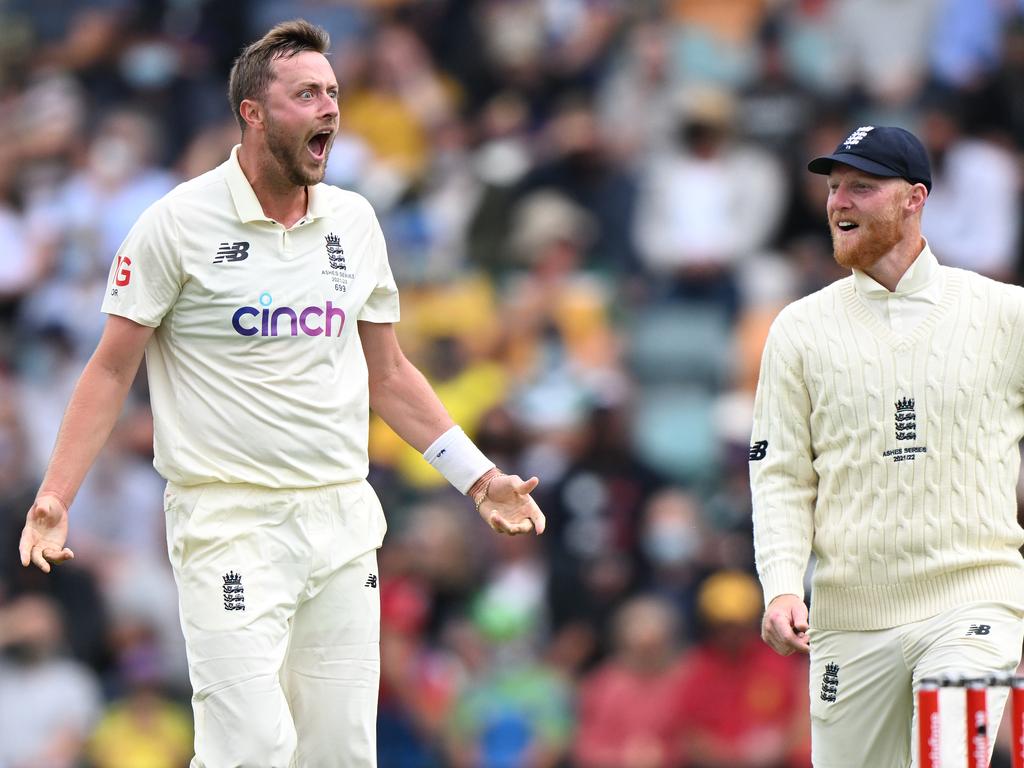 Robinson, here celebrating dismissing the Australia batsman Steve Smith in the fifth Test, had his fitness questioned by England coaches. Picture: Steve Bell/Getty Images
Robinson's general conditioning had caused a running battle with the management throughout the tour and his preparations now came under scrutiny after it emerged that he and many of the squad had flown to the north of Tasmania for 36 holes of golf. "If he's going to perform consistently at this level he'll need to be fitter. It's up to him to do the work," Jon Lewis, England's fast bowling coach, said. But Robinson was far from the only one carrying a few extra pounds — bubble life had not been kind to some.
Problems were not only physical; the players were mentally shot as well. Hobart brought their worst batting displays of the series, dismissed in less than 50 overs in both innings. The most disheartening aspect was the total lack of fight shown as wickets tumbled as the match and series sped to its grim conclusion.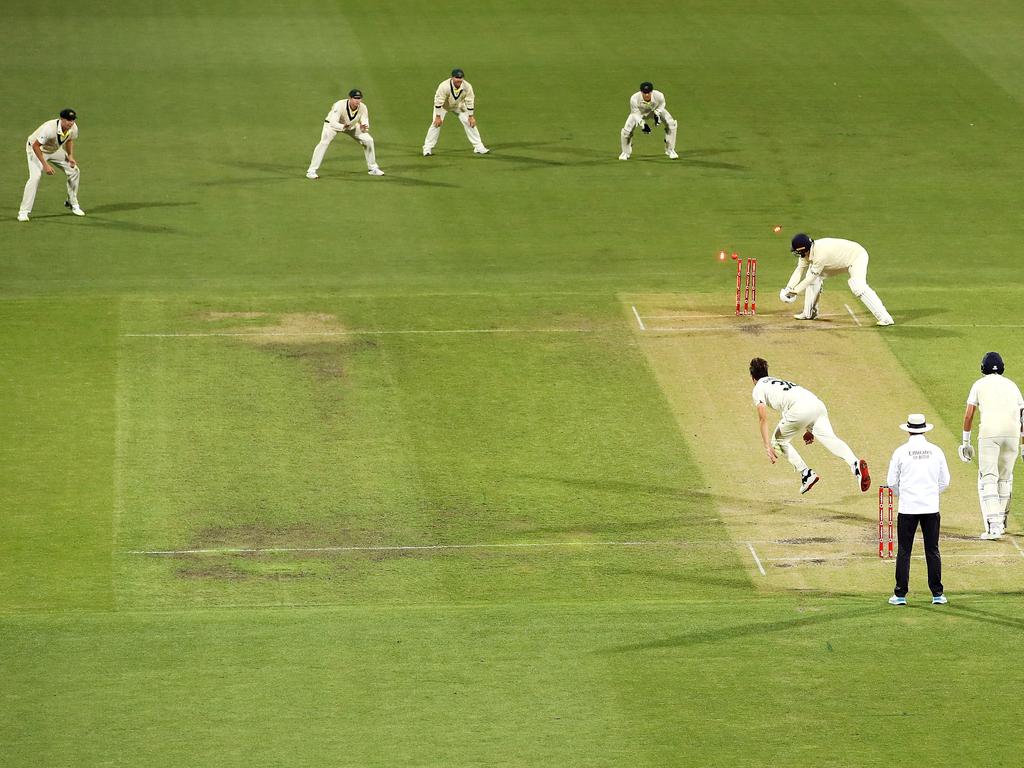 Ollie Robinson is bowled by Pat Cummins in the final Test to end England's misery. Picture: Mark Kolbe - CA/Getty Images)
The final moment featured Robinson, retreating towards square leg, bowled neck and crop by Cummins. The story had come full circle, the final ball of the series as dismal as the first.
How many heads will roll?
After 78 days in Australia, England head home this week without the urn and without a win. A post-mortem was already under way and Root, Silverwood and Giles all waited nervously to discover whether they will keep their jobs. Harrison was still on the tour, staying in a more exclusive hotel than the team, while he considered what action to take.
Root had said the tour would define his captaincy but steadfastly refused to resign, calling instead on domestic cricket to be changed. "I'm not going to make excuses for a performance like that [Hobart] … but anyone that's coming into this Test team is doing it in spite of county cricket, not because of county cricket," he said.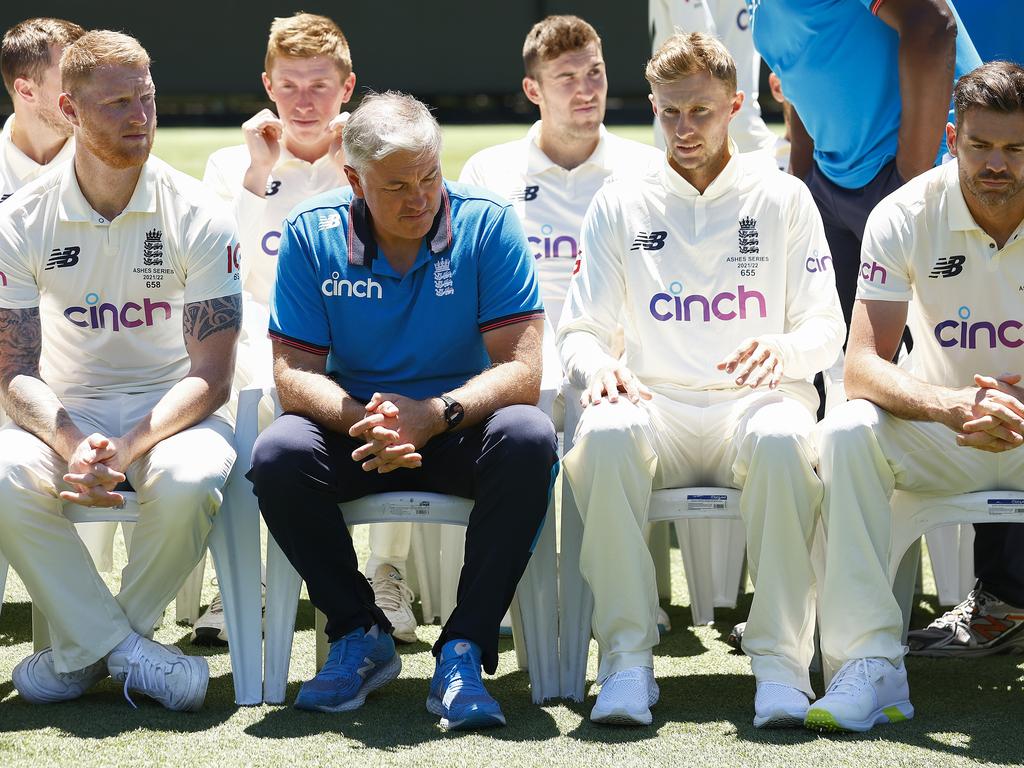 tokes, Silverwood, Root and Anderson look dejected as they wait to pose for a team photo before the Boxing Day Test. Both Silverwood and Root could lose their roles. Picture: Daniel Pockett/Getty Images
On this, his words were echoed by Harrison, who said: "We absolutely need to be successful at Test cricket. This is a moment to reset the importance of red-ball cricket in our domestic schedule. We have to narrow the gap between Test and first-class cricket." Some thought this rich coming from one of the principal architects of The Hundred.
Giles is putting the finishing touches to a tour report set to be passed to the former England captain Andrew Strauss and his ECB cricket committee. Ironically, it was Strauss's insistence in 2015 on improving England's white-ball game that probably contributed to the decline of the Test side, but he is the one with the power to fire and hire, in conjunction with Harrison and the ECB board of directors.
As Root said in a moment of candour, "off the back of a disappointing series like this there's generally a fall guy". Most England fans would like to see more than one.
Additional reporting by Elizabeth Ammon
-The Times