The Australians are 3-0 up in the Ashes but even the English can't agree on how good they are
The Australians are 3-0 up in the Ashes and have been dominant all series but even the English can't agree on just how good their opponents are, writes PETER LALOR.
Australia is 3-0 up in the Ashes but it is still a mystery just how good Pat Cummins' side is. Picture: Robert Cianflone/Getty Images
While there is almost universal acceptance that this has been one of the worst performances by an England side on these shores — and this may be one of the worst teams to ever visit — it is hard to get a bead on how good the Australians are.
The same Australian team, essentially, that was beaten by an undermanned India last year.
The one that hasn't left home for two years.
Ben Stokes says the opposition bowling at the MCG was "the highest quality" he has seen in a Test match, but Stuart Broad says this Australian team is good, but not that good.
Zak Crawley says he and a few others might be in a better place if they learned not to fear the Australian attack.
Steve Smith admits he's never seen a wicket seam like the MCG did, but points out that England got the best of the conditions.
When you get the best of it but lose by an innings after the opposition post 267 …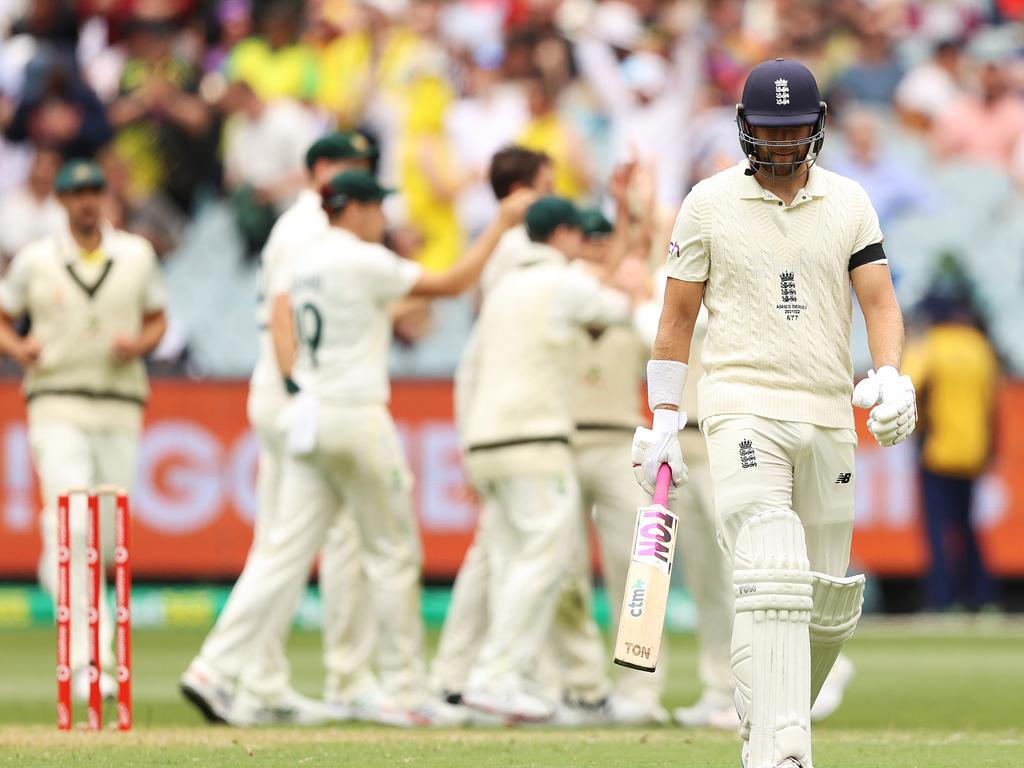 England had the best of the MCG conditions and still lost by an innings. Picture: Robert Cianflone/Getty Images.
England captain Joe Root, standing in the hot sun at the venue where his miserable 2017-18 series came to an end, did his best to send a positive message.
"We are better than the performances we put in," he said. "The biggest challenge for us as a group is can we make sure that we are showing improvement, that we are standing up to the pressure and putting in performances on this stage — especially off a couple of difficult defeats.
"This can be the making of some sides and the start of something special."
Root was hospitalised during the last SCG Test and was so ill he could not attend the ceremonies post match.
He was alone when they were conducted at Melbourne last match, the rest of his outfit retreated to the dressing room to lick their wounds as the rituals were performed.
England are a lost tribe, one trying to convince itself this exile — excruciating as every second of it is — will end soon.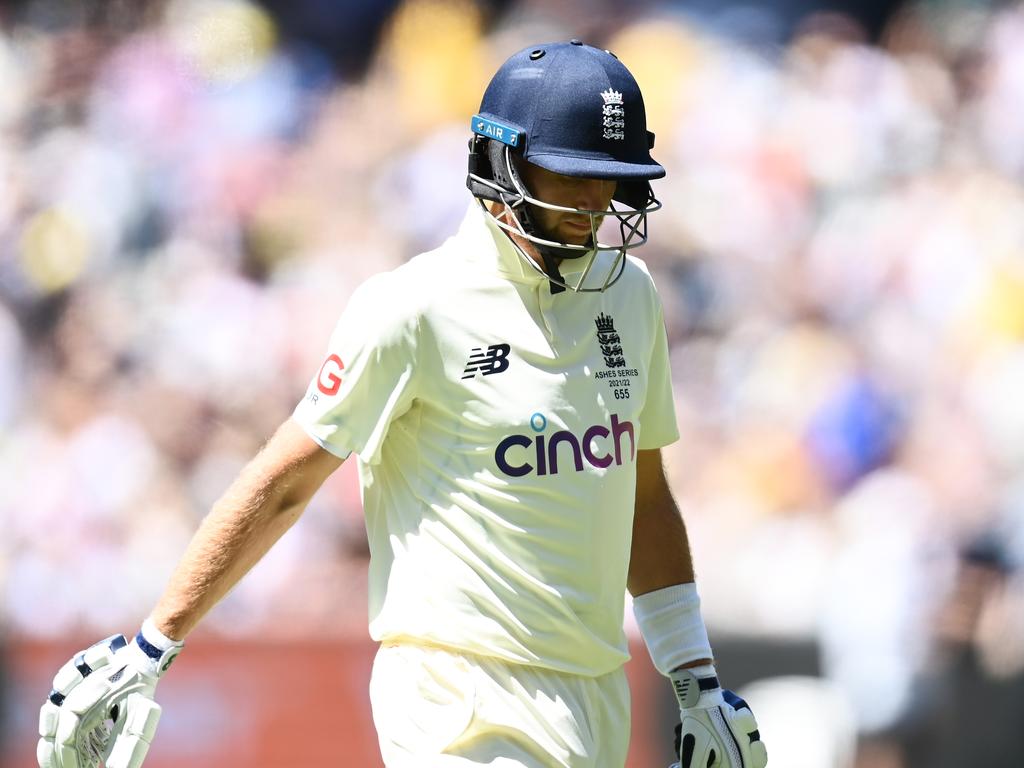 Joe Root was the lone Englishman at the MCG post-match presentation. Picture: Quinn Rooney/Getty Images
The coaching staff have been struck down by Covid, their spirits are unwilling after two years on the road.
Broad, overlooked for Brisbane and Melbourne, is peeved about his personal circumstances, but philosophical about the state of his teammates. He suggests the performances reflect the preparation.
"Part of the reason things feel so down within our camp is that while Australia are a good cricket team, they are not the best we have faced here and I still feel that, without Covid, an opportunity existed to do something special," Broad wrote in his Daily Mail column.
"However, the reality is we turned up undercooked while Marcus Harris, Marnus Labuschagne, Travis Head, Cameron Green, Alex Carey, Nathan Lyon, Scott Boland and Jhye Richardson were playing state cricket.
"Yes, like us, Australia had players at the Twenty20 World Cup until mid-November, but was it a level playing field? Not really."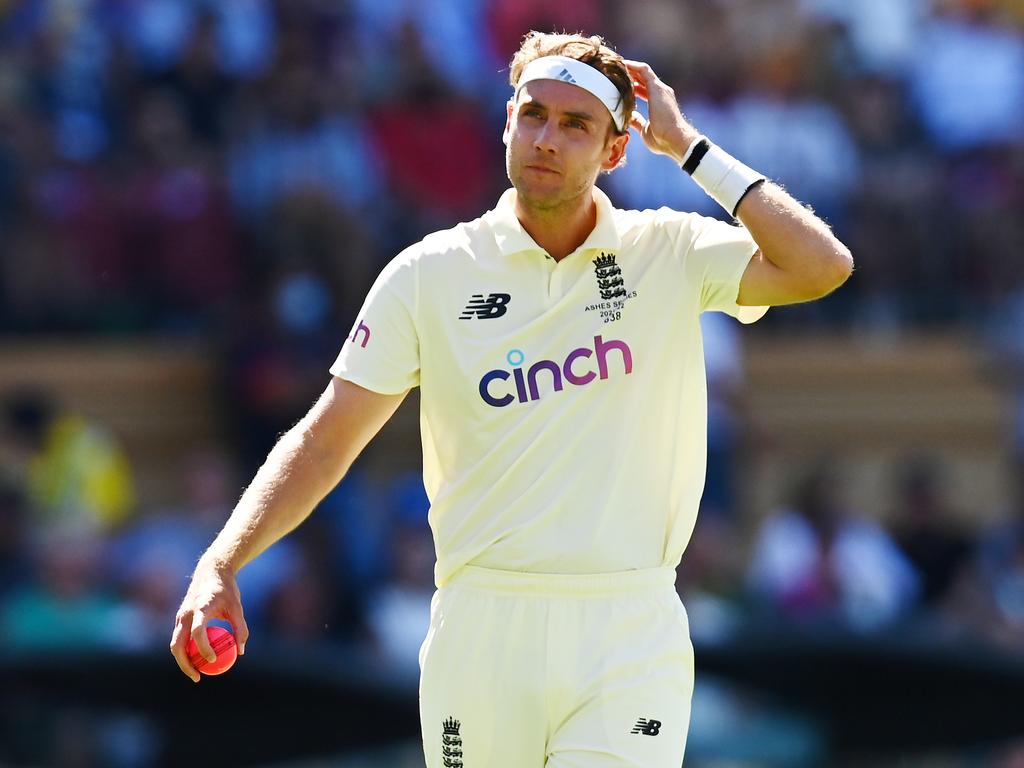 Stuart Broad maintains this is no the best Australia side they have faced Down Under. Picture: Quinn Rooney/Getty Images
Some might suggest you can't have it both ways, you can't be undercooked and burnt out, but blame is a burden that needs to be widely, if not logically, assigned.
England were technically underdone and mentally over it according to the seamer, who has only played one Test so far.
"This tour has taken its toll on all of us," Broad said. "Without sounding like making excuses, we may be at the end of our mental tether with Covid.
"We are the only team that has played solid international cricket throughout the pandemic and our multi-format guys had already done 50 days in a bubble before they turned up here.
"We spent day two of the Boxing Day Test match testing for Covid and having guys moving out of their hotel rooms, away from their families, so they were no longer classed as close contacts."
Stokes withdrew from the England summer with mental and physical issues and has struggled to find his rhythm in Australia.
He recognised in the Australian attack at the MCG something that was very special — and even more so when you consider neither Josh Hazlewood or Jhye Richardson were playing.
"Even I was watching that going, 'I don't know what I would do to counteract that'. That was some of the highest quality bowling I think I've seen in a Test match," he said.
"I don't think I've ever been booed by 49,000 people when I walked out. It's the first time I've actually been taken aback by an atmosphere in a ground.
"Although we were on the receiving end of that, it was pretty special to feel that at the MCG."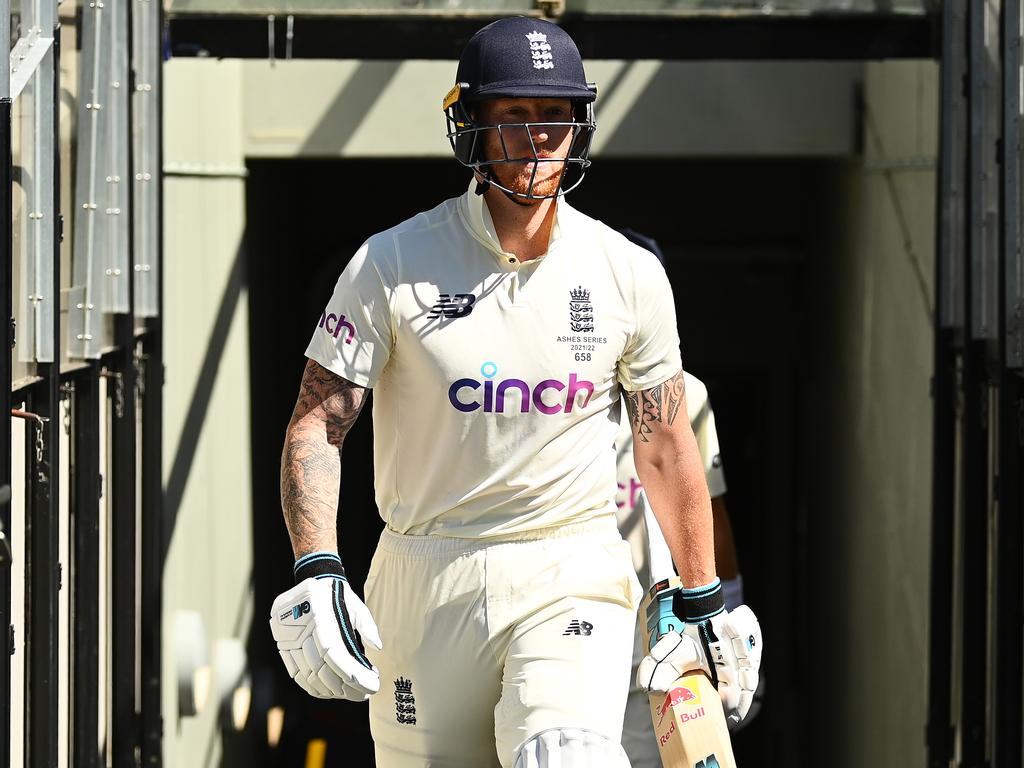 Ben Stokes was in awe of the MCG crowd and the Australian attack at the Boxing Day Test.
Steve Smith admitted the MCG was seaming more than any wicket he has ever seen, but pointed out that England had the best of it when they were invited to bat first.
"They (Australia's quicks) bowled really good lengths, I've probably never seen any seam movement like that in my life," he said. "One of those balls (Haseeb) Hameed left that evening when it hit him it came back like an off spinner. The ball was seaming as far as I've seen in my life on any wicket so it was never going to be easy for the batters.
"Probably day one was the best time to bat when we sent them in, it was a little bit slower, there probably weren't as many divots on the grass. Day two and three it started seaming a lot more.
"You've still got to put the ball in the right areas. Jimmy did it really well for them, put the ball in the right spot, challenged our defence.
"Our bowlers were relentless with their line and lengths and when you've got a wicket doing as much as that was you are eventually going to get an edge, or hit the stumps, or the pad."