Trevor Bayliss' inside story of being the Aussie coach behind an England Ashes miracle
Coaching England in an Ashes series is one of the toughest jobs in world cricket. The last guy to do it, Aussie Trevor Bayliss, is more comfortable watching grade cricket in Western Sydney.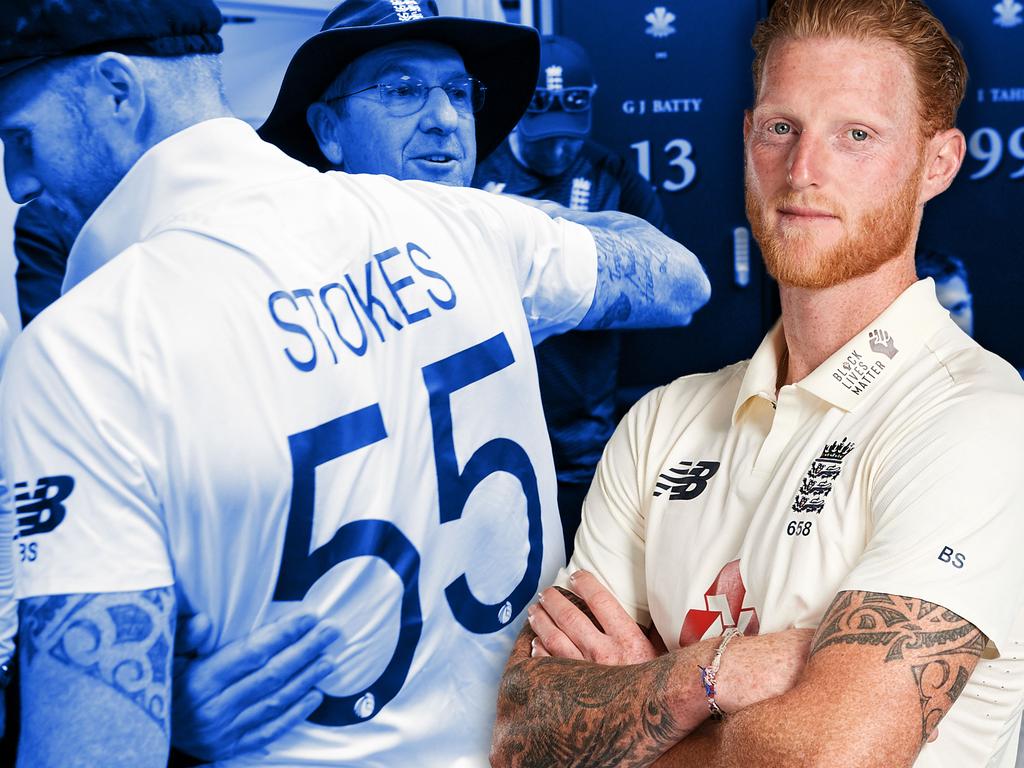 Trevor Bayliss was England coach for some truly incredible Ben Stokes moments.
It's an image that haunts Australian cricket to this day.
Ben Stokes, bat thrust to the heavens and screaming at the top of his lungs. He had just carried No. 11 Jack Leach through a 76-run, 60-minute final-wicket partnership to win the third Test in 2019. The raucous Headingley crowd went wild, as did the home dressing room.
At the centre of it all was a quietly spoken, unassuming Australian.
"When they first started [the partnership], they'd be lying if they said they thought they had a chance," then-England coach Trevor Bayliss recalls. "I think everyone realised that and it made for a special time inside the change room.
"It was just disbelief. Coming only six weeks after the World Cup win, it was the same sort of thing all over again."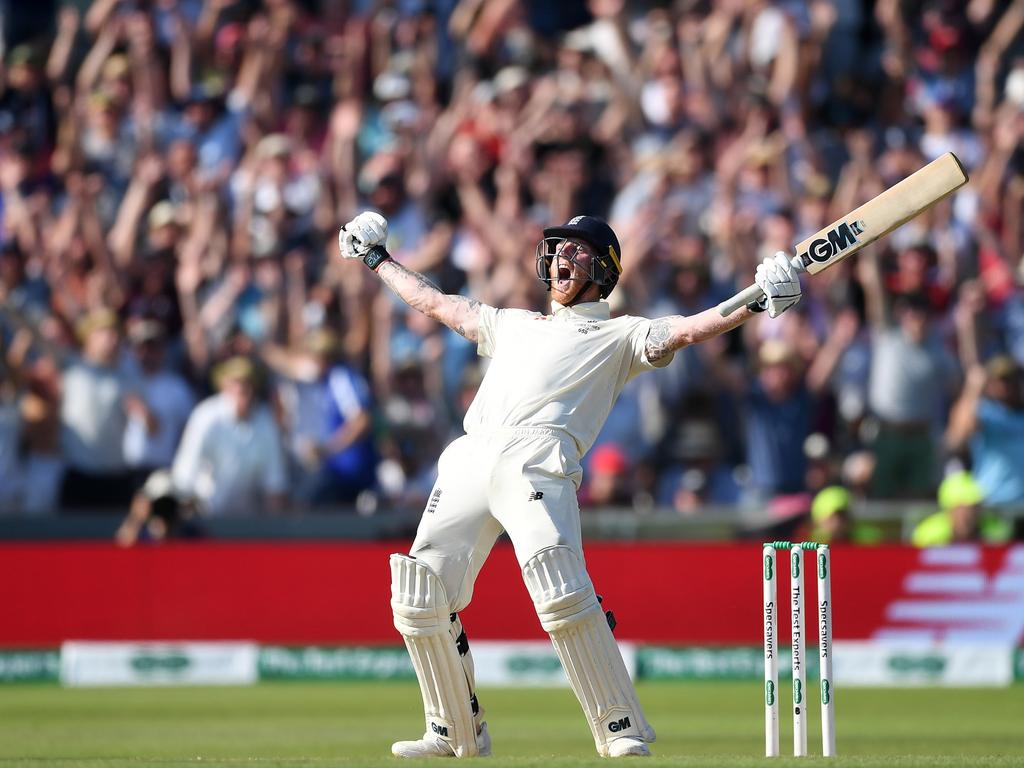 The image of Ben Stokes that Australian or English cricket fans won't be forgetting anytime soon. Picture: Gareth Copley/Getty Images
The image of Stokes blasting Pat Cummins to the cover boundary and sealing a famous victory – England, remember, had been rolled for 67 in the first innings, Joe Denly the only batsman to reach double figures – will forever be etched in Ashes lore.
Bayliss, however, believes Stokes's biggest impact on the match wasn't his unbeaten 135.
"The one thing that's forgotten about in that match was the spell he put in from a bowling sense," Bayliss says.
"In England's second innings, he bowled for more than two hours in a row, it was over a session. It was hostile, it didn't go for too many runs and he picked up wickets.
"Australia could have easily been 400-450 in front but, because of his spell, they were only chasing 300 and something."
Ben Stokes left everything out on the field and Trevor Bayliss believes his effort with the ball was almost more crucial than his last innings century. Picture: Stu Forster/Getty Images
'Don't talk to Tim': Antipodean allegiances
A familiar figure can often be found sat in a parked car on the boundary of Penrith's Howell Oval on any given weekend, watching on from on the other side of the white picket fence. This is Bayliss in his element. For a man who has lifted domestic, international and ICC trophies, the veteran coach is seldom happier than when watching his old team, Penrith, play.
"It's what I enjoy the most," Bayliss says. "After being in the spotlight for a number of years, I always tried to sort of take a back seat."
You get the sense that if Bayliss could have earned a living in grade cricket, he'd have taken it. Those who know him best describe him as allergic to the spotlight, a man driven by a pure, uncomplicated love of the game rather than riches it can offer.
A cricket nuffie and fiercely proud of it.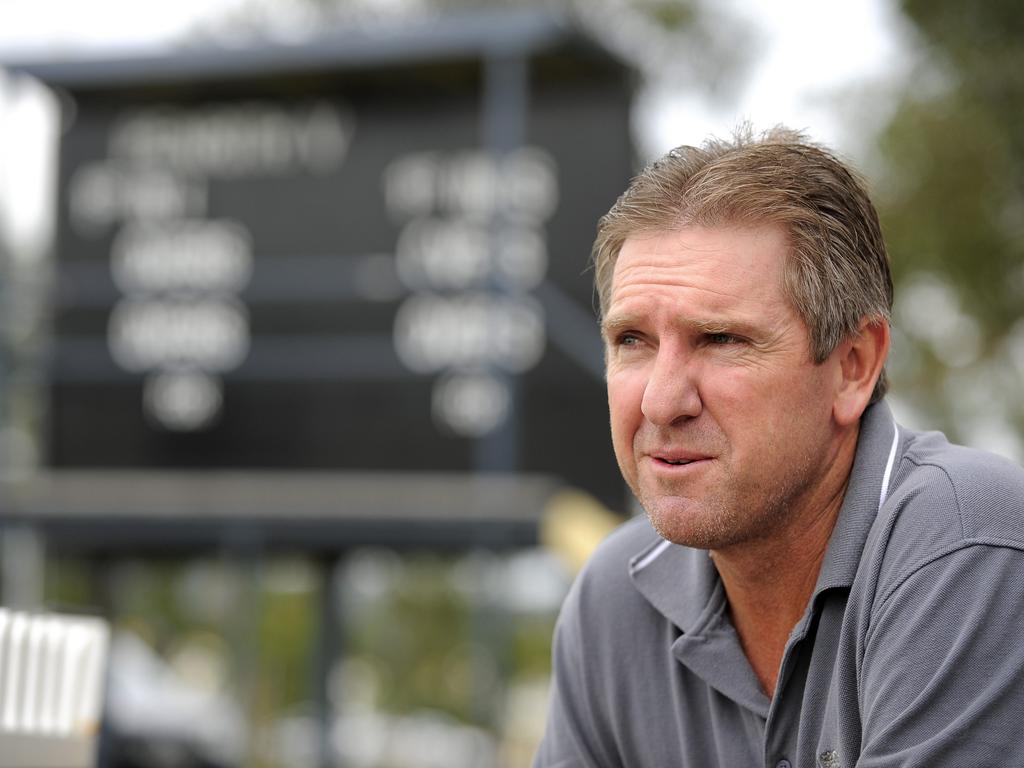 The white picket fence of Howell Oval have always offered a sense of familiarity for Bayliss, no matter where in the world he has been coaching. Picture: David Hill
Bayliss' cricket journey has, by any measure, been extraordinary. As coach of Sri Lanka during the deadly Lahore terror attack of 2009, and coach of NSW on the day of Phillip Hughes' tragic passing at the SCG five years later, he has experienced the game at its saddest, lowest ebb.
He has also seen it exultant. Having won the IPL (twice), BBL, Sheffield Shield, World Cup and many more titles in between, Bayliss has lived through some of cricket's greatest moments – Headingley, anyone? – and, on pretty much every occasion, gone out of his way to play down his influence on their outcome.
The 2019 Ashes was one such occasion. And to think it almost never happened.
Bayliss initially turned down the England job when Andrew Strauss first offered it to him in 2015. He was working with the Kolkata Knight Riders and the Sydney Sixers at the time and was happy with both, not least because they afforded him the opportunity to spend more time at home with his wife, Julie, and the rest of his family.
But Strauss, well known for persistence and determination in his previous vocation atop the England batting order, eventually talked him around. For the first time in the near 140-year history of Test cricket, an Australian would be coaching England.
"It was a privilege, I was surprised to get the call actually," Bayliss recalls. "The opportunity to go and be involved with a team with such history in the game was something I couldn't really knock back."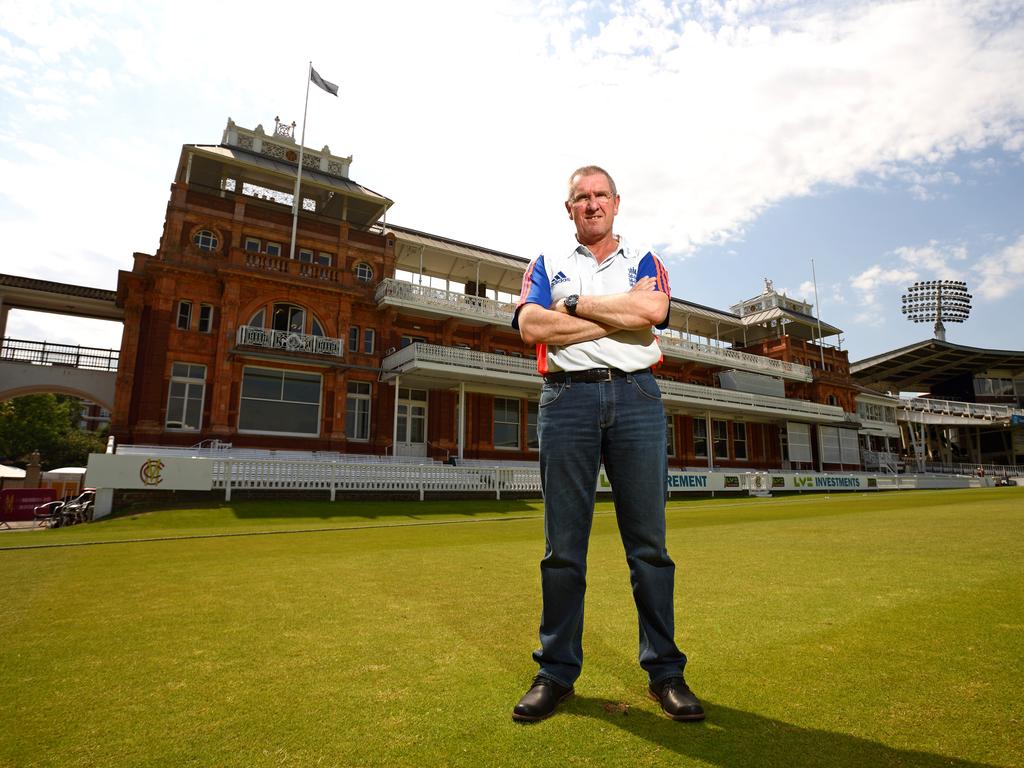 Bayliss at the home of cricket, Lord's. He was prepared to take England to the summit in a role he couldn't refuse. Picture: Jordan Mansfield/Getty Images
Bayliss was thrown straight into the fire: a home Ashes series against Australia in 2015.
After a period of underwhelming performances and instability around the English XI, both of which resulted in the sacking of coaching predecessor Peter Moores, Bayliss was handed the unprecedented task of reversing England's fortunes against his country of birth.
"Most of the guys in the room had no idea about Trevor Bayliss at all," recalls Paul Farbrace, Bayliss' assistant coach, of his first interaction with the team at a camp in Desert Springs, Spain.
"He said a few words and then halfway through he paused and stopped talking mid-sentence. People were looking at him asking what had happened. It was a very simple word, he remembered it and carried on.
"Everyone looked at him and thought, 'This bloke, this great coach, stumbles on his words?'"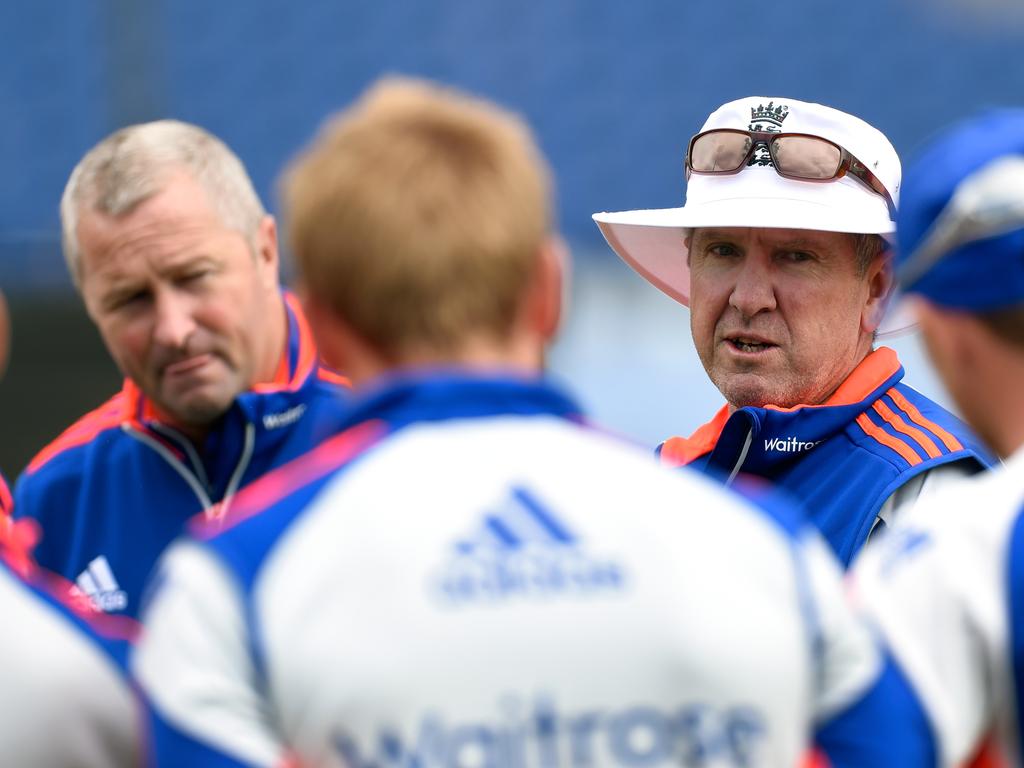 Bayliss and Farbrace (L) loved addressing the playing group because no one ever knew what Trevor was going to say next. Picture: Stu Forster/Getty Images
Any doubts the team harboured about Bayliss were soon dispelled, however, when he promptly launched into an analysis session on the Australian team. "He wanted to take the aura out of them," Farbrace says.
Bayliss' connection with the Australian squad was no secret. Having spent so long in the NSW system, he was close with at least half the touring Ashes squad. Darren Lehmann, the Australian coach, knew as much. He issued the tourists with a directive to not talk to Bayliss.
Bayliss had other ideas.
"With the guys I knew, Haddin and Lyon, it took them about half an hour to start having a chat," Bayliss remembers. "With others it was funny. Peter Nevill, who was captain of New South Wales, who I was obviously working with fairly closely over the previous year or two, didn't actually speak to me until about the third Test. It was his first tour away, so he was obviously trying to do the right thing, which I understood."
That didn't stop Bayliss from trying to engage.
"He thought it was hilarious and did everything he could to make them talk to him," Farbrace says. "At the end of that series, we offered the Aussies into our sheds for a beer, which they declined. We did that on purpose because it was like, 'C'mon fellas, it's just a game here'."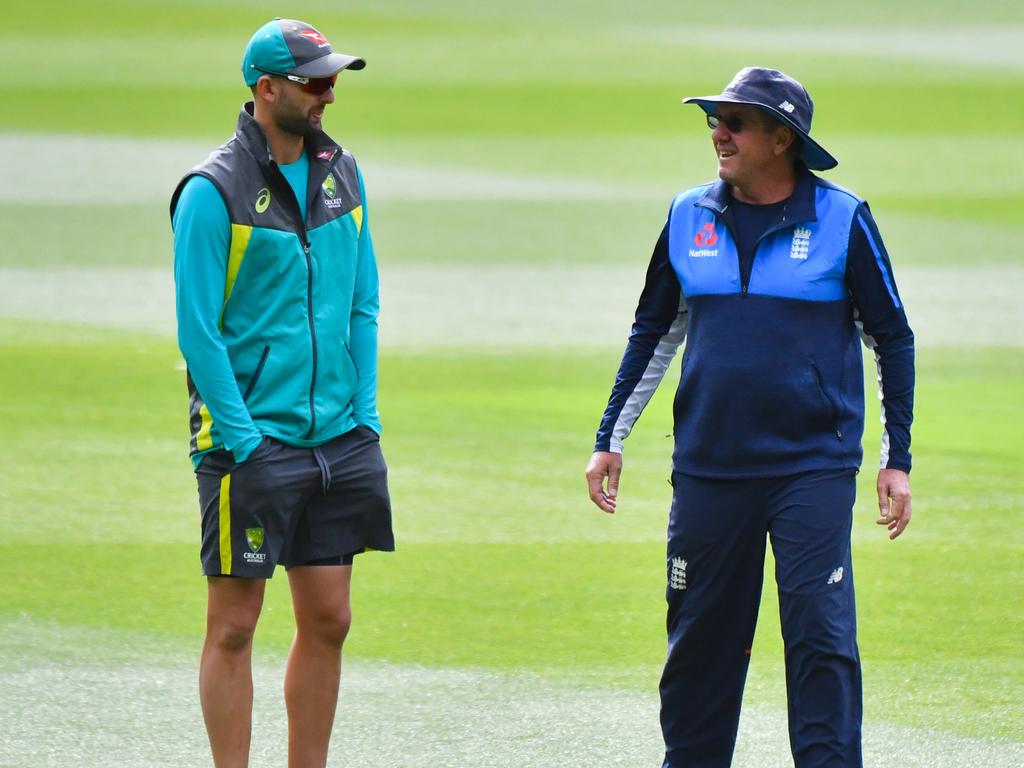 Bayliss has always prioritised relationships in coaching. The NSW players stood no chance of not talking to him during the 2015 Ashes. Picture: Vince Caligiuri/Getty Images
And, now, the obvious question: was it difficult to set allegiances when playing Australia?
"I likened it to playing cricket in the backyard against your mates and your brothers," Bayliss says. "While the game was going on, you wanted to win at all costs. But after the games, years ago as a kid after a game in the backyard, we used to run down to the river for a swim.
"We're still going to be mates after the game."
England won the first Test of 2015 in Cardiff by 169 runs, only to lose the second by a whopping 405 runs courtesy of a Steve Smith first innings double-century.
Farbrace recalls Bayliss speech to the team in the immediate aftermath of the Lord's defeat.
"'Tomorrow morning, we wake up and we'll still be f--king breathing and we'll come back better at Edgbaston'. Every time we used to have a bad day from there on in Stokesy would shout out, 'Still f--king breathing mate!' and it brought humour and it brought a bit of normality, where other coaches would want to talk about the loss."
England won the third Test by eight wickets and the series 3-2.
They had entered the series as underdogs.
The world was on notice.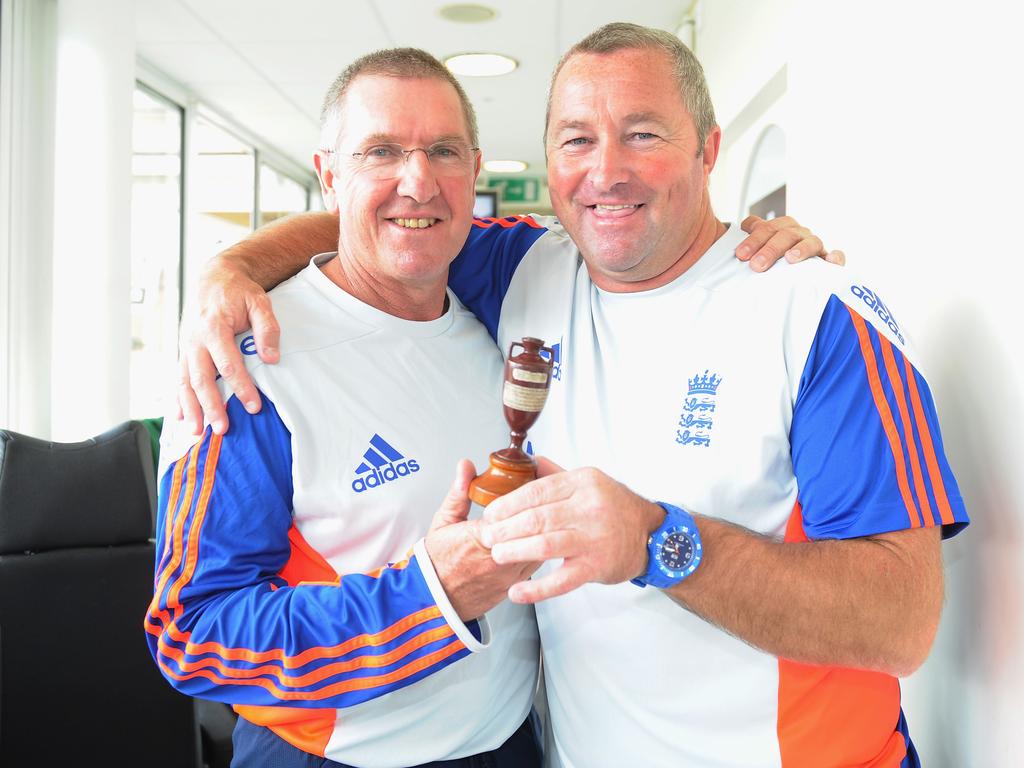 Bayliss (L) and Farbrace embrace with the treasured little urn at the end of the Ashes series. Picture: Gareth Copley/Getty Images
'Just put the cones out': Man behind the world champs
Bayliss is known throughout the cricket world as a no-bullshit straight shooter. It's part of the reason he brought Farbrace on board when he was with Sri Lanka. Someone to balance out his bluntness.
He prides himself on individual conversations and an arm-around-the-shoulder mentality. More than any net session or team meeting, Bayliss has done some of his most important work at a small table in a cafe.
"There were so many stories from lads about close chats with Trev," Farbrace says. "It wasn't about Churchillian speeches and heart-thumping. He didn't do that. He just quietly went about his business and relied on the rest of us to do our job properly.
"The lads loved him for it because he was normal. He didn't pretend to be something he was not. I think that's his greatest strength as a bloke, he would have so many people that would have fond memories of him because of the way he makes people feel. That's a rare attribute in international sport with so many people who have egos."
By 2019, Bayliss had helped transform England into a global white-ball power.
No longer could they claim the tag of underdogs. Expectations were high ahead of a home summer headlined by a World Cup immediately followed by an Ashes series.
An early World Cup defeat to his old side Sri Lanka came as a shock. When it was followed with another loss to Australia, fears abounded that England's ill-fated 2015 campaign was set to repeat.
But Bayliss was having none of it. He credits the Australian defeat as providing the spark for England's eventual run to the final. His players realised that if they were playing their best cricket, they were unbeatable.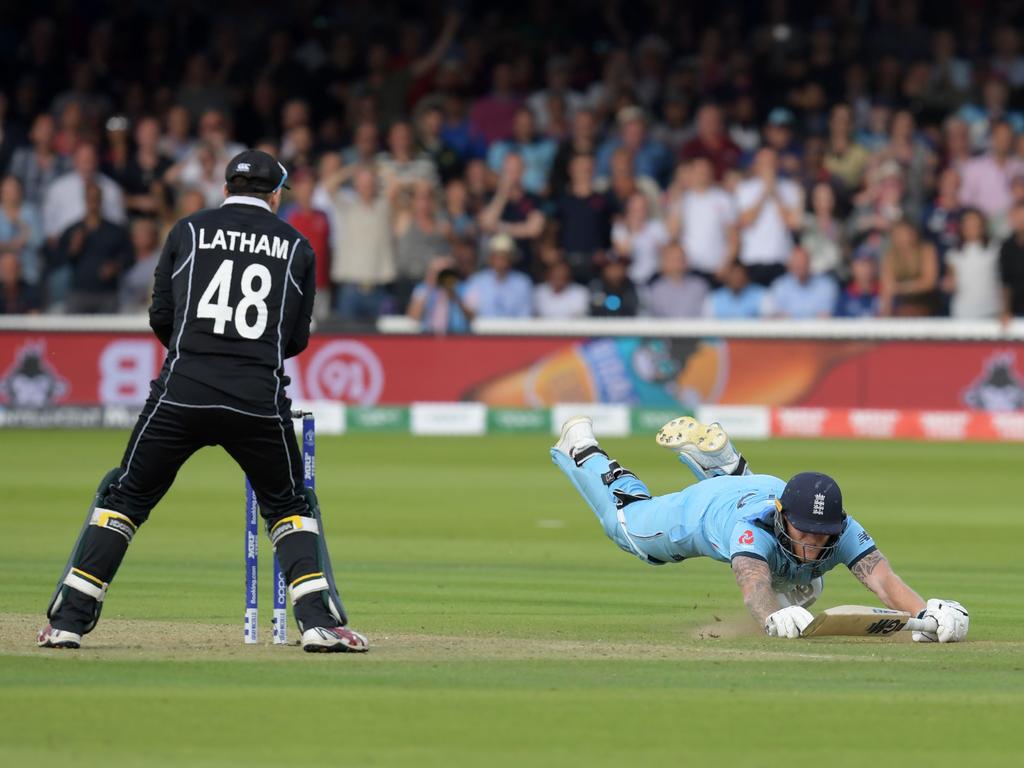 Ben Stokes' final over heroics will be remembered as just one of the many incredible moments from the 2019 World Cup final. Picture: Dibyangshu Sarkar/AFP
A tied match, a tied super over and a favourable boundary countback later – unless, of course, you're a New Zealander – Bayliss and England were world champions.
Bayliss typically deflects praise regarding his role in the triumph.
"All credit to them."
That doesn't surprise Farbrace. He recalls an interview ahead of the 2016 T20 World Cup final, during which it was put to the pair that their winning experience would help get England across the line.
"We've won f--k all, us two, we haven't won anything," Bayliss responded. "It's the players who win it, we're just lucky enough to throw the cones out in the morning, hit a few catches and sit back and watch them play. Don't go about saying we've won trophies, we haven't won anything, me and him.'"
"That's Trev to a T," Farbrace says.
"I was thrilled to bits that he won the [2019] World Cup. I interviewed Trev when he got his OBE, I was genuinely thrilled for him and Julie and his family because it was a really nice touch he got that. We joked on air that morning that OBE stood for 'Other Blokes' Efforts'."
While he refuses to admit it, Trevor Bayliss will always be remembered as the coach that led England to their first 50-over World Cup triumph. Picture: Gareth Copley/ICC via Getty Images
No sooner had the Queen tweeted her congratulations to England for their World Cup victory than the Ashes campaign was beginning.
England's mission was clear: to somehow stop Steve Smith.
"It doesn't get anywhere near as much publicity but the first Test match where Steve Smith made two 140s was just as important for Australia as that match at Headingley was for Stokes and England," Bayliss said.
"If Steve Smith hadn't done that in the first Test, it could have been 1-0 the other way. Australia were 8-122 with Steve still in and they got to 284. Then he made another 140 in the second innings.
"In the context of the series, those two innings from Steve Smith were just as big as Stokes'."
Nothing encapsulated the drama and tension of the series more than the incredible battle between Smith and Jofra Archer at Lord's. Archer's fiery spell had fans around the world on the edge of their seats. Bayliss was as enthralled on the team balcony as any punter in the stands.
"Jofra, when he bowls like that he can be very, very difficult to play," Bayliss says. "But it's only the very best players that are able to handle that and come out the other side. You admire not just the way that Archer bowled but you admire the way that people like Smith and [Marnus] Labuschagne batted in that innings and stood up to it and actually scored some runs against that spell.
"You've got to sit back as a cricket fan and sort of say 'that's tough cricket and they're quality cricketers.'"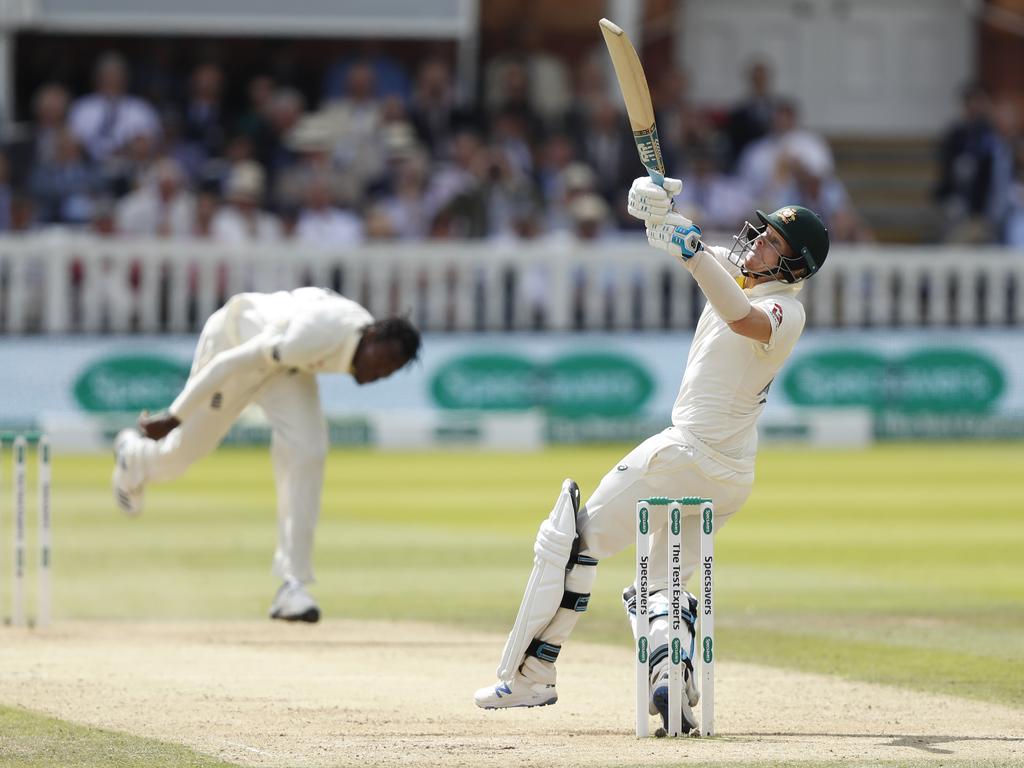 The battle between Steve Smith and Jofra Archer at Lord's in 2019 will go down as one of the greatest Ashes moments. Picture: Alastair Grant/AP Photos
But Stokes at Headingley will forever remain the defining image of the series.
"Stokes flourished under Trevor," Farbrace says. "His relationship with Stokes and the way he managed him was fantastic. He just had Stokes down as this leader of men and people followed because he was the heartbeat of his team. He managed him brilliantly and he just loved having him in his team."
Stokes once again looms as the headline act this Ashes summer. A late call-up after an extended period out of the game due to injury and issues pertaining to mental health, the combative all-rounder has breathed life into England's hopes of a historic away series win.
Bayliss is in no doubt of the significance of Stokes' inclusion.
"He's a hard worker and is second to none," Bayliss says. "We had to tell him to be careful how much he did at practice. In a way, he had to practice smarter because he practiced so hard that it was basically like he was playing a seven-day Test match.
"Whatever he does – batting, bowling or fielding – he gives it 100 per cent every single time. I think he gives the rest of the guys in the team confidence as well just by being there. They know there's a guy in the team that can actually win a game with a bat, ball or in the field."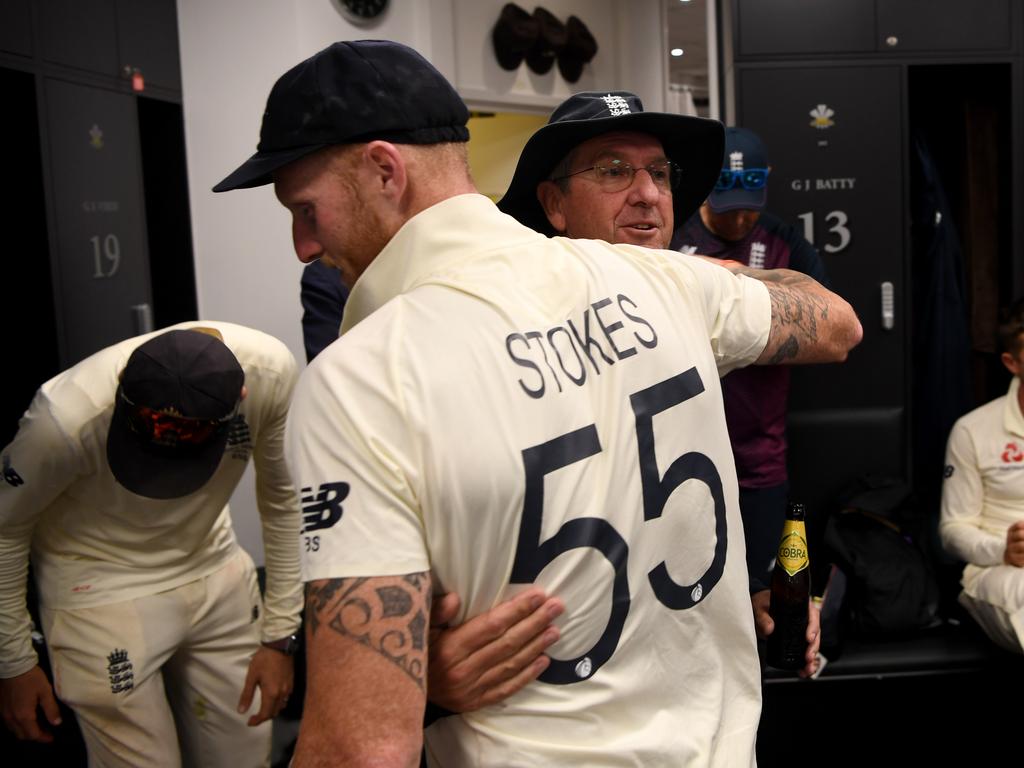 Stokes and Bayliss shared a close bond during his time in charge of England. The coach believes the all-rounder will be crucial for this summer's Ashes series. Picture: Gareth Copley/Getty Images
2021 and beyond: Ashes from the outside
Bayliss will be an interested Ashes onlooker this summer in between his commitments with the Sydney Thunder in the BBL.
"It's not just the players but the coaching staff and the support staff behind that England team [who] I got on with extremely well," Bayliss says. "I still keep in contact with a number of them now. I'm sure we'll be friends until the end of time."
But has he really coached his last Ashes series? Farbrace, for one, is not convinced.
"I think he's so passionate about the game of cricket," he says. "It wouldn't be about his CV, [but] if he felt he could help the Australian team win games of cricket and help them improve he would definitely improve.
"I think he would be the perfect person to follow Justin [Langer]. The next coach needs to be one that lets players be players and let them make decisions for themselves. I think that's exactly what Trevor Bayliss would be.
"I'm not advocating for Justin to get the boot, but Trev would perfectly complement the job Justin has done."