Australia A tour of Sri Lanka: How Todd Murphy caught the attention of selectors after just two Shield games
Todd Murphy took up spin at 16 and has played two Shield games. He speaks to JACOB KURIYPE about his Australia A call-up.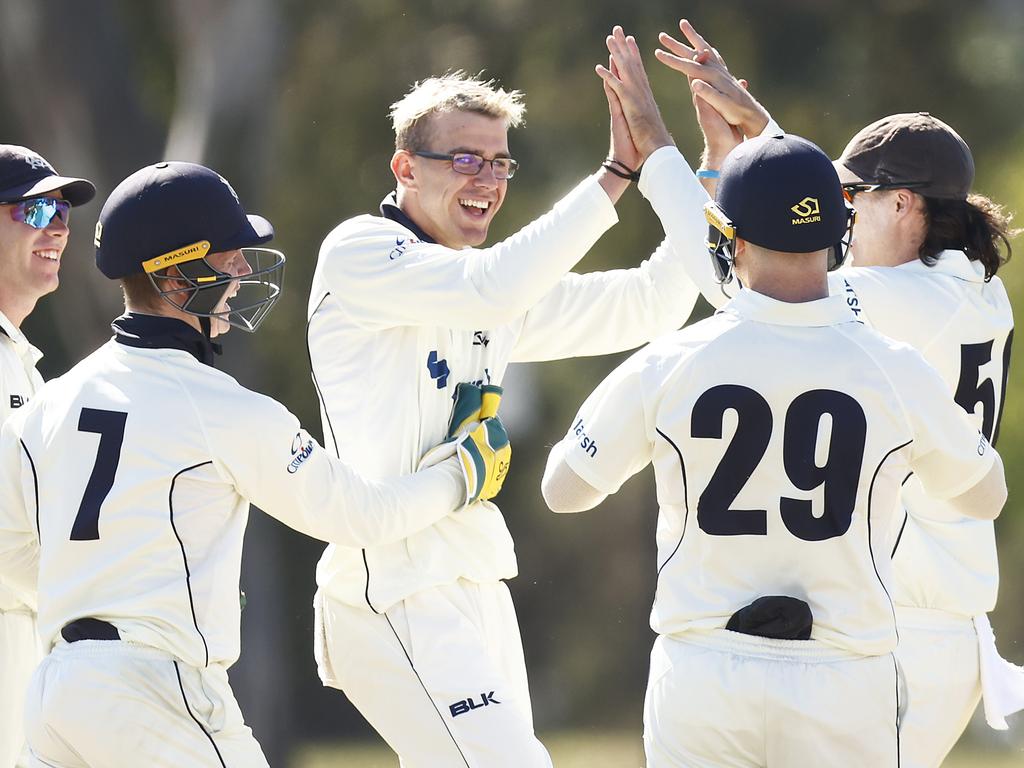 Todd Murphy's selection in the Australia A squad might seem like a surprise, but the off-spinner has been working tirelessly for this opportunity for years. Picture: Daniel Pockett/Getty Images
Todd Murphy was 16-years-old when he took up spin bowling and three years later was playing at the Under-19 World Cup. This week, having played just two first class matches, Murphy was called up to an Australia A squad to tour Sri Lanka.
In both cases, Murphy's rapid rise has made for a remarkable story.
But don't mistake fast with easy.
"I don't think things have always come that easily for him," said Chris Rogers, Murphy's coach at Victoria and previously at the Under-19 World Cup "A right-arm off-spinner, it's tough to make it. The fact that he has done so well at such a young age doing a difficult craft, that speaks to his resilience.
"There's going to be times when you're a young spinner that you get destroyed. The fact that he bounces back, is always willing to go again, that is the steel that underlies his skill."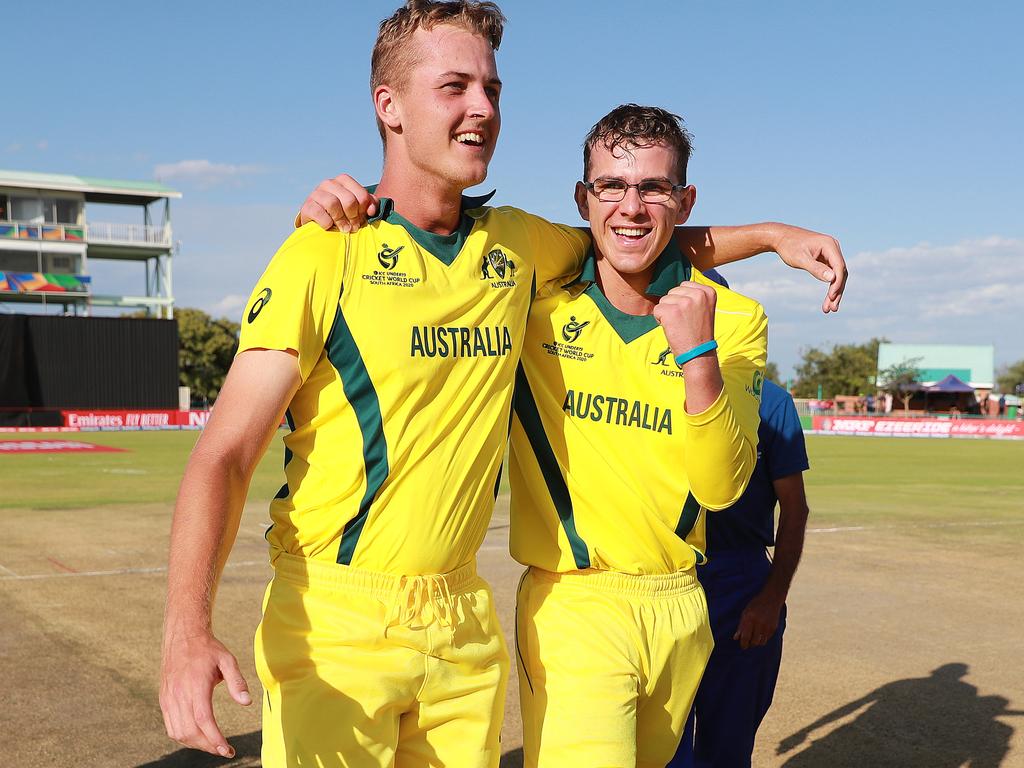 Murphy (R) is no stranger to representing his country on the big stage. Picture: Matthew Lewis-ICC/ICC via Getty Images
Murphy, 21, ranks among the bolder selection calls Australia has made in recent times. Indeed, there are parallels with another practitioner of the off-spin craft – Nathan Lyon – who was rushed into the Test squad just seven months after making his first class debut eleven years ago, also for a tour of Sri Lanka.

In both cases, their selections came at a time when Australia's finger spinning stocks were somewhat thin. But unlike Lyon, who bowled offies from a young age, Murphy only took to off-spin after encouragement from spin guru Craig Howard while playing under him at Sandhurst Cricket Club in Bendigo as a teenager.
"Growing up I always thought of myself as a batsman and I just bowled gentle medium pace," Murphy said. "The first time I was bowling off-spin when Craig was there, straight away he said he liked what he saw.
"He's the one guy that knows my game probably better than anyone … [and] that year there when I was 16, [I worked with] him just closely developing everything. I was lucky that I had a little bit of natural ability with it but a lot of the stuff I still didn't really understand.
"No doubt it was probably the best change I ever made but it did take time. I didn't just bowl off-spin on day one and then go and be successful at national carnivals. It was a lot of balls bowled in the nets and that sort of stuff to try and develop my consistency."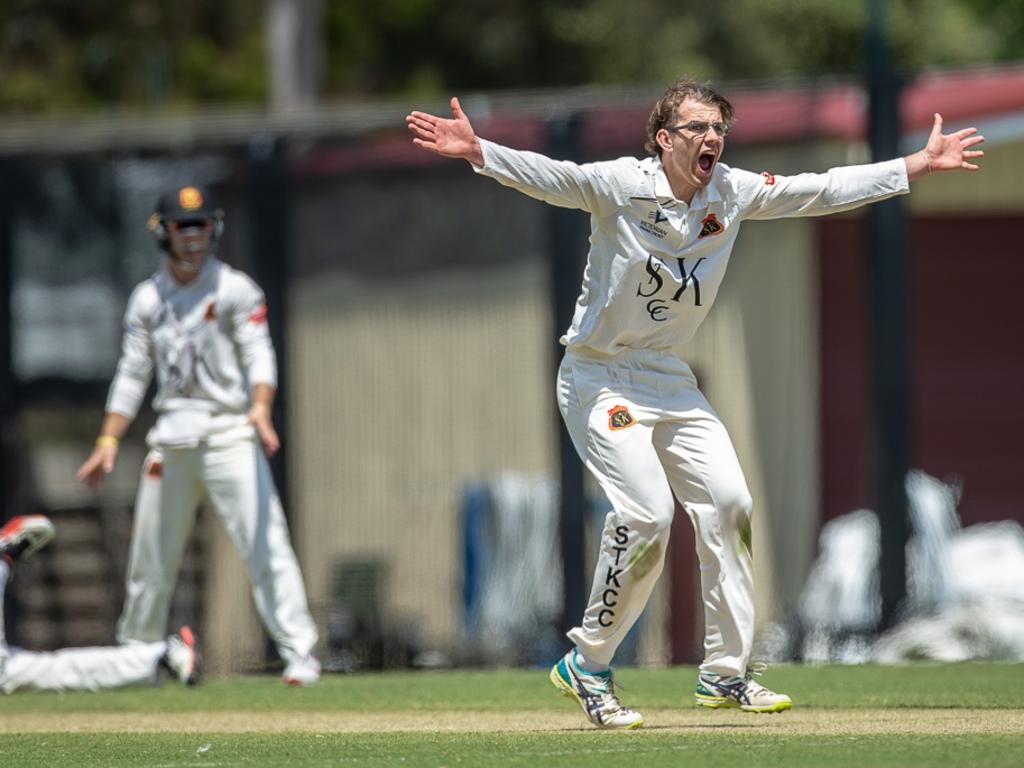 From Sandhurst, Murphy made the move to Premier cricket side St Kilda. In a bigger pond, with bigger fish, he finally got a true gauge on where his game was at and the dream of being a professional cricketer became a genuine prospect.
By 21 he received his state call-up, once more linking with Rogers.
"Being a right-arm off-spinner I've obviously watched Nathan Lyon so much and I just love what he does so I just try and replicate that as best as I can," Murphy said. "[I am] obviously nowhere near as good but just try and be accurate, bowl with a lot of overspin and just try and challenge both sides of the edge."
Rogers first coached Murphy at the 2020 Under-19 World Cup. He liked what he saw then, and he liked what he saw when they reconnected at Victoria.
"He looked like he had the foundations of off-spinning pretty well in terms of the technical and tactical stuff," Rogers says of first impressions. "It's not as easy just running into bowl when you're an off-spinner. The importance of your strategy, your field placements, all those kinds of things are so, so important. He's been one of the young guys who has really absorbed those lessons."
It took Murphy a solitary over to claim his maiden Sheffield Shield wicket, bowling Henry Hunt. He went wicketless for his remaining 46 overs in the match and waited close to a year for his next and most recent first-class outing.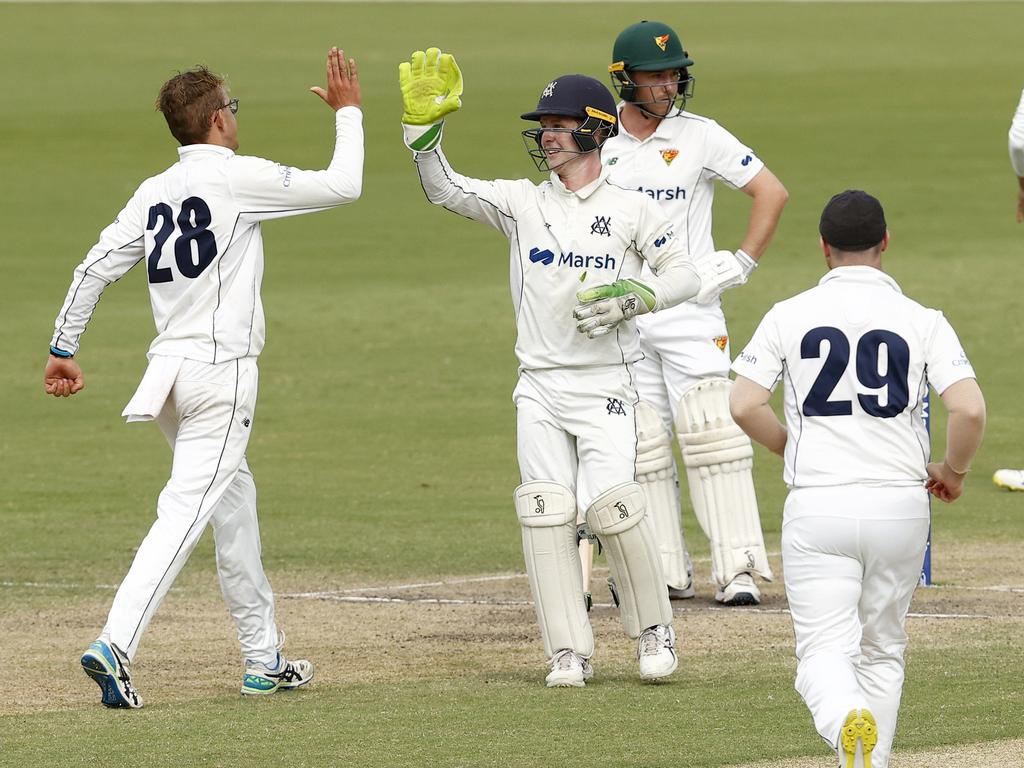 Murphy has made an immediate impact for Victoria. Picture: Darrian Traynor/Getty Images
He shone the second time around, claiming seven wickets for the match (4-31 and 3-48) before showing the steel Rogers spoke of in a game-winning 47-run stand with the bat.
Impressive as they were, those performances weren't enough to earn him selection in Victoria's last two games of the season, including the final. So when he answered an unknown number while up in Darwin on Thursday, he was not expecting Tony Dodemaide to be on the other end of the line.
"I didn't really expect to be on the radar at the moment," he said. "It took me by a bit of a surprise."
Murphy's call-up – along with those of fellow spinners Tanveer Sangha and Matthew Kuhnemann – for Australia A's tour of Sri Lanka serves as tacit acknowledgment by selectors that they must accelerate Australia's spin-bowling succession planning with Lyon approaching his 35th birthday.
Rogers played 22 Tests alongside Lyon and can see similarities between the pair off the field.
Rogers sees lots of Nathan Lyon in Murphy. Picture: Morgan Hancock/Getty Images
"Todd seems like he's the serious type but he's actually quite a lot of fun and quite cheeky, and I think Nathan's a bit like that," Rogers said. "Maybe you've got to have that little personality when you're doing that kind of craft."
Mitchell Swepson and Ashton Agar are currently ahead in the queue to support, and ultimately succeed, Lyon in the Test squad, but a strong Australia A tour of Sri Lanka could quickly vault Murphy, Sangha or Kuhnemann up the list.
Murphy has had the benefit of serving his apprenticeship behind another international off-spinner in Jon Holland, who played two of his four Test matches in Sri Lanka.
"When you're competing against a player who has the experience and the seniority that Jon Holland has, it's always going to be really tough but I've never heard him complain," Rogers said. "He gets on with it. He knows this is a part of his journey and he makes the most of it."
Said Murphy: "There are obviously times where you'd like the opportunity but I also understood that Jon Holland was the No.1 spinner at Victoria. I didn't have an issue with that.
"I love what he does and I've been lucky enough to be able to work with him for so long.
"There's times when you potentially do get a little bit impatient but there's also in the background you know that you're learning off one of the best spinners in the country. To be able to develop your game under him is just as beneficial sometimes as being out there playing."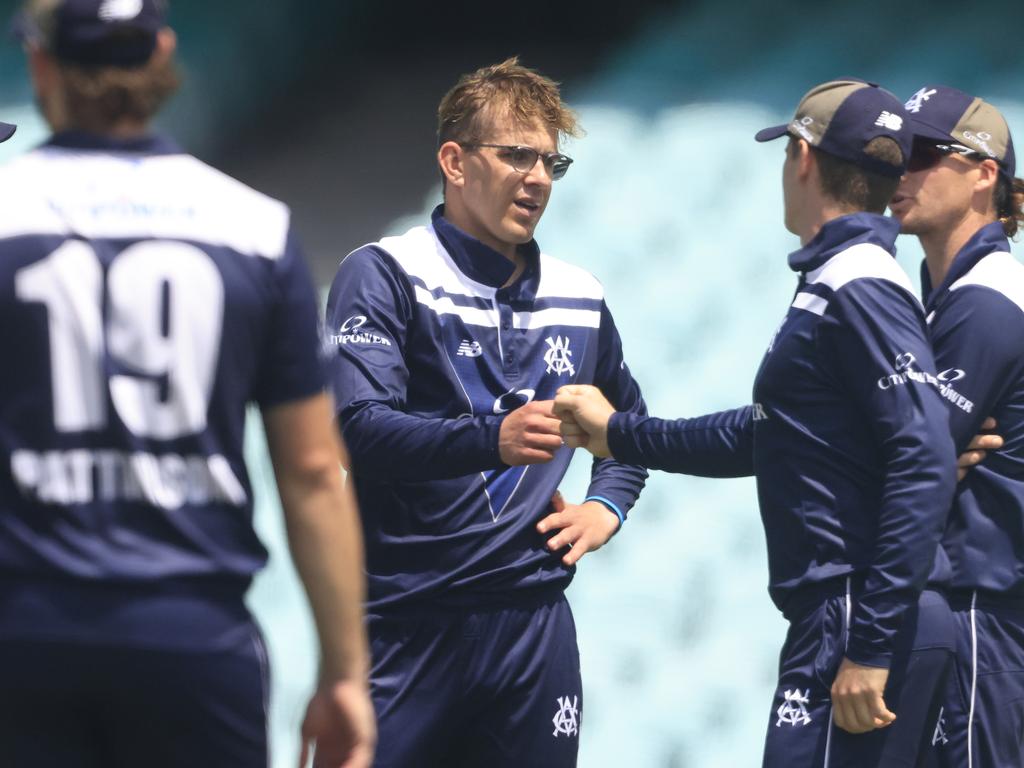 Murphy's rise in 2021-22 has been rapid but he feels ready for the challenge that playing for Australia A poses. Picture: Mark Evans/Getty Images
Colombo is a long way from his hometown of Echuca and Murphy is relishing the opportunity to hone his craft in new conditions – and perhaps enhance his case for higher honours in the process.
"I just want to go over and enjoy it for what it is and try and make sure I'm learning the whole time," he said.