Australia v Pakistan: Robert Craddock recaps second Test draw
Australia's failure to bowl Pakistan out over 170 gruelling overs has left many pondering whether Pat Cummins should have enforced the follow-on. This is Robert Craddock's take.
Dotted through the Pakistan Test series coverage on Fox Cricket have been some absorbing flashbacks of Shane Warne's career featuring Australia's infamous and iconic "fifth day furnace.''
By chance, as Australia was beating its head against a green brick wall on the final day in Karachi, up popped Warne announcing himself to the world with a 7-52 last day MCG hatchet job on the West Indies in the 1991-92 summer.
Cricket fans came to know that searing, pressure-laden fifth day experience well.
They would turn up to a ground knowing Warne and company would simply gang tackle an opponent on a wearing wicket and pocket a landslide Test win.
Watch Australia's Tour of Pakistan on Kayo. Every Test, ODI and T20 Live & On-Demand. New to Kayo? Try 14-Days Free Now >
Opponents often arrived at the ground grim faced and nervous. They knew their fate. The pressure came from everywhere … the swaggering bowlers, the chirpy fieldsmen, the scoreboard, the crowd … and it was simply overwhelming.
Australia's cricket team has done a solid job in recent times and deserves credit for the fight and class they have displayed in Pakistan but if there's one crack in the system it has been an inability to put teams away on the last day of a Test.
Pakistan's Mohammad Rizwan celebrates after scoring a century late on day five.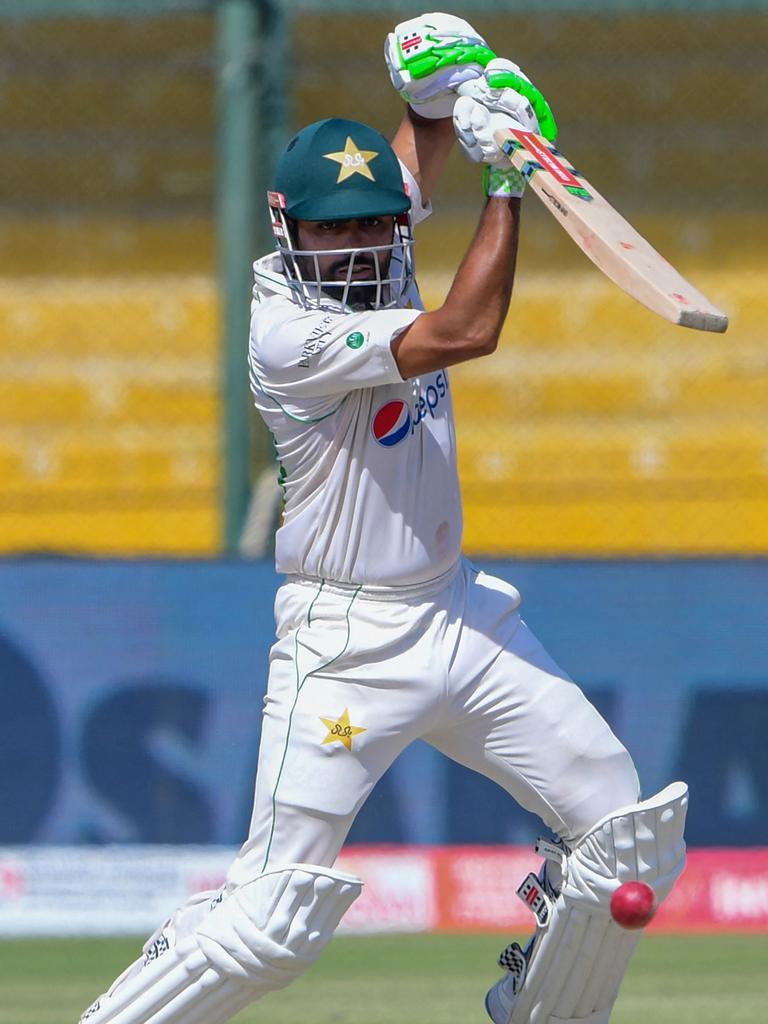 Pakistan's captain Babar Azam held the Aussies at bay.
True, there's only one Warne but Pakistan's mighty, fighting draw in Karachi is the fifth time in three years – following Headingley 2019, Sydney and Brisbane in 2021 and Sydney against England this season – Australia couldn't nail a fourth innings result when they were heavily favoured to do so.
It's not the end of the world because the team is playing well but Australia has never won in Karachi and will leave with that gnawing sense of an opportunity lost.
Warne said in the months before his death that teams respect but don't fear Australia any more. That, as good as Australia are, teams play the ball and not the man.
That translates into the vibe where they walk out to bat on the fifth day they don't feel like nervous tourists walking down a dark lane after midnight in a dangerous city.
Pakistan respected rather than feared Australia in Karachi.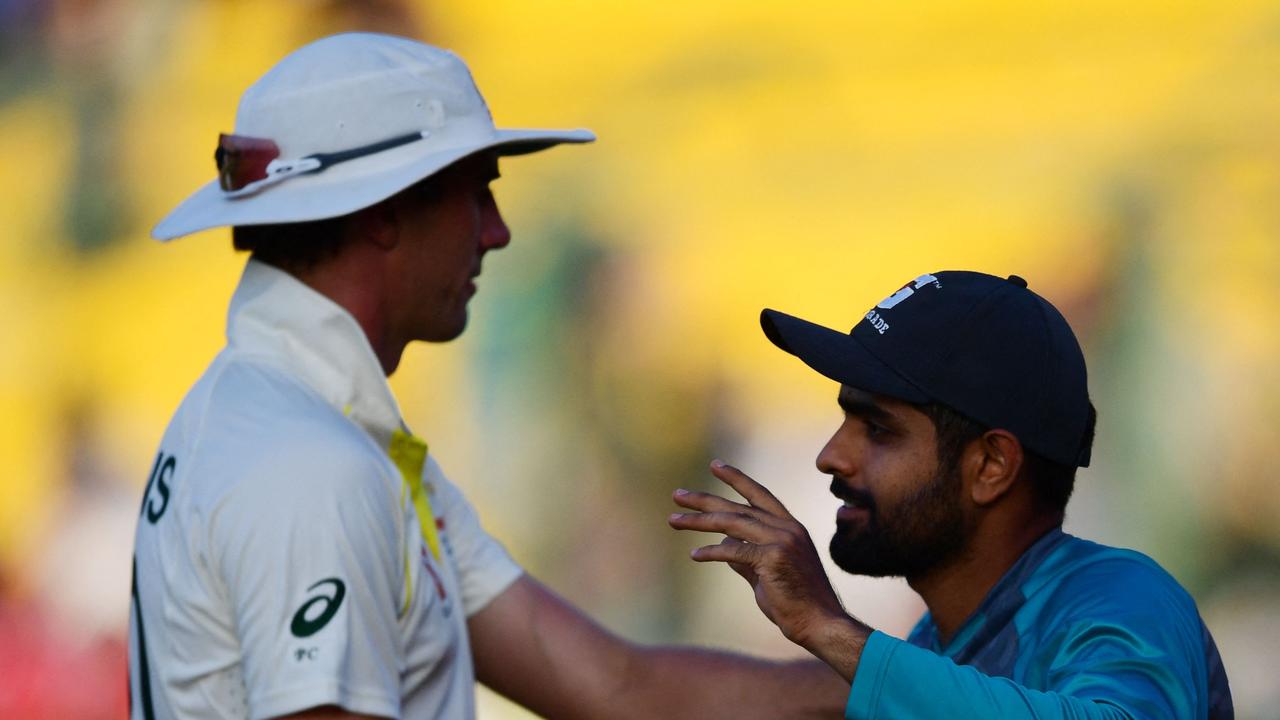 The two captains shake hands after an absorbing final day.
As well as the Australian attack performed was there was no sense that could huff and puff and simply blow the locals house down, admittedly on a deck which not deteriorate as much as expected.
In the last Test of the home summer Australia needed just 38.5 overs to bowl out England and finished without shedding a solitary bead of sweat.
Yet against Pakistan in Karachi 171.4 overs of brutal toil could reap only seven wickets against a magnificently defiant team.
The two scorecards spotlight the contrasting worlds and challenges Australia has faced this season.
Pat Cummins will cop some fair questions about not enforcing the follow in the second innings and it's true when an Australian captain goes to Pakistan he had to throw away the navigation manual he trusts in Australia and give himself far more time to win a Test.
But the simple facts are if you cannot bowl out a team in 171.4 overs on day four and five – almost two full days – you don't deserve to win the Test.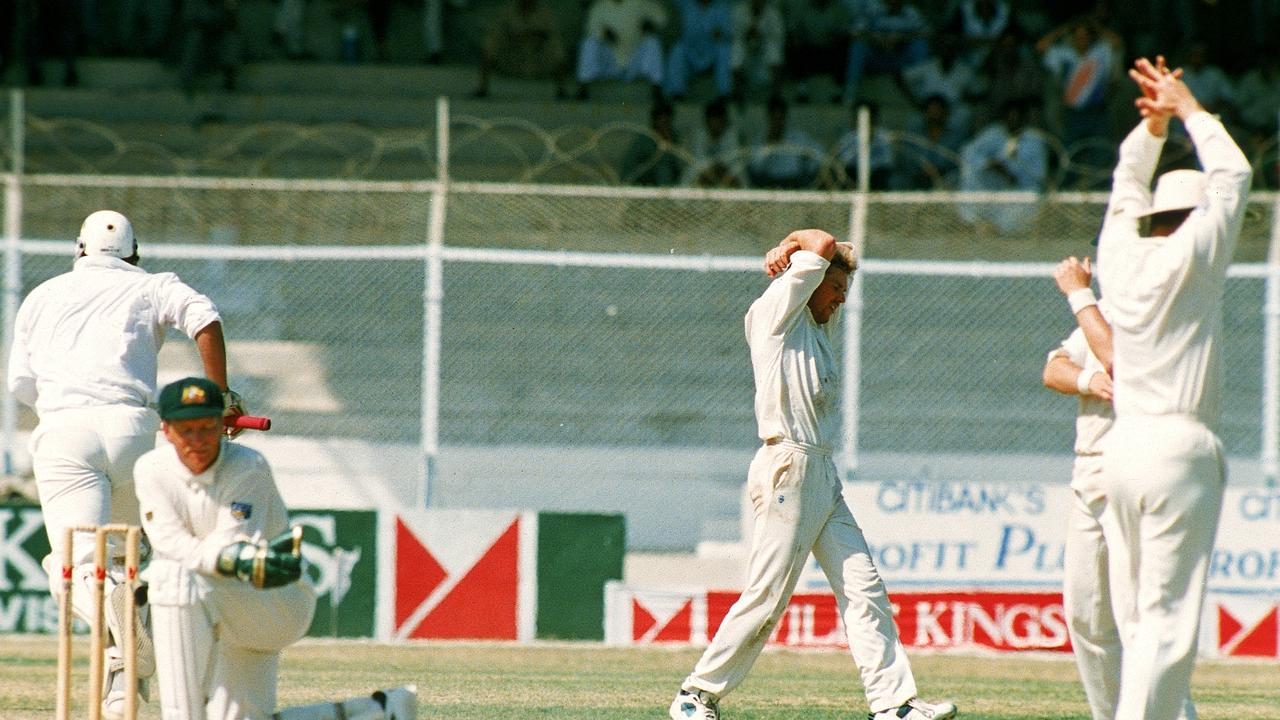 Shane Warne laments a missed chance duyring a Karachi Test.
And if Pakistan can bat that long they deserve – at the very least to save it, for only one team in history has batted longer to save a Test.
Before drawing this Test Australia had won 24 Tests in a row when it had the chance to enforce the follow on and didn't.
It's a big statistic but it's still probably worth Cummins testing the water at some point and enforcing a follow-on just to see what it does to a shaken rival batting line-up to pad up again with nothing more than survival to aim for rather than have a total and time deadline to bat for as Pakistan did.
Australia had the misfortune to be on the receiving end of one of the greatest Test knocks of recent times with Babar Azam's 196 a monument of technical perfection and mental resilience.
During his term as assistant coach of Pakistan during the T20 World Cup Matthew Hayden developed great respect for Azam's class and humility. He once came to Hayden after a team talk to ask "do you think I'm delivering the right messages?''
He messages were again on point in Karachi, by his deeds as much as words.
Originally published as Australia v Pakistan: Robert Craddock recaps second Test draw