Australia v Sri Lanka: First Test selection and other news
He parachuted in late to beef up the spinning ranks, but an injury to Jon Holland threatens to leave several selection questions unanswered two days out from the first Test in Sri Lanka.
A finger issue which prevented Jon Holland from bowling at all on Monday could be the only thing to stop the Victorian making a Test return from the clouds in Sri Lanka.
Australian coach Andrew McDonald was adamant, after a searching training session in searing heat at Galle, there remained a number of selection questions to be answered two days out from the clash and that included who would partner Nathan Lyon as his team's frontline spinners.
There will certainly be two slow bowlers after McDonald, having seen the pitch for two days in a row, declared with a grin "it will spin".
Watch Australia's Tour of Sri Lanka. Every T20, ODI and Test Match Live & On-Demand on Kayo. New to Kayo? Try 14-Days Free Now >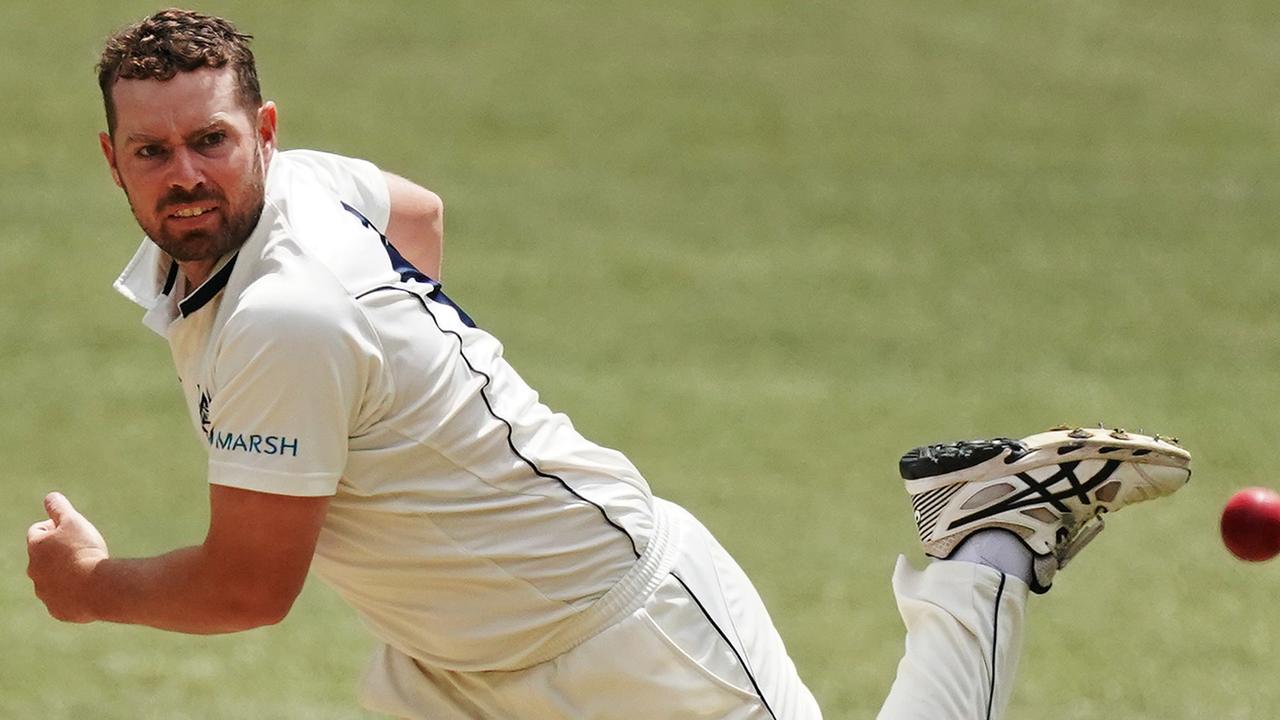 Jon Holland is struggling to overcome a finger injury just two days out from the first Test.
Mitchell Starc looked to dispel any doubt over his own finger issue, having had six stitches removed after slicing open his left finger in the opening T20, bowling for close to an hour, with no tape on his finger, in a centre-wicket effort.
Travis Head batted, bowled and fielded as he looks to prove he's overcome a hamstring issue for Wednesday's clash, which could see Glenn Maxwell miss out on the Test return he was after.
But Holland, who was parachuted in to Sri Lanka on June 20 after an injury to Ashton Agar, was the lone Aussie to do nothing as McDonald declared he would get the nod ahead of fellow left-armer Matt Kuhnemann, should the Aussies opt for a second finger spinner instead of incumbent leggie Mitchell Swepson.
"We've got an idea (about the team), so we're working towards that. So still a couple of days out and obviously a few concerns around some injured players," McDonald said.
"Trav (Head) has had a good day today, but it's more important how he pulls up tomorrow. Same with Jon Holland. We haven't made any firm decisions on either but we feel like we have coverage in the squad whichever way we go."
Holland, who played the last of his four tests in Abu Dhabi in 2018 having made his debut at Galle in 2016, hasn't played a game since the last of six Sheffield Shield matches in March. He took 20 wickets in those matches for Victoria.
McDonald conceded the 35-year-old was "underdone" on arrival before bowling 41 overs for two wickets in a game for Australia A, but had been in selectors' thoughts despite not being picked for that squad initially.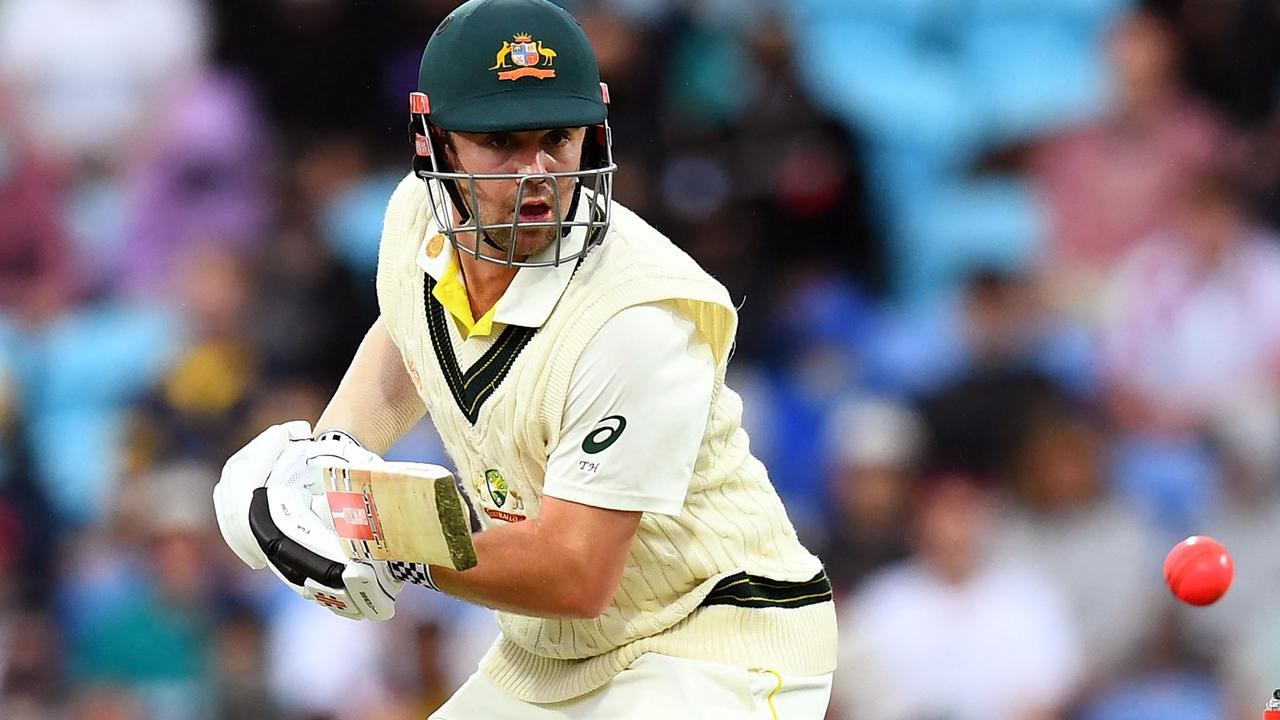 Australian batsman Travis Head continues to make progress to the first Test.
But he also said Swepson, who took two wickets in two Tests in Pakistan bowling with Lyons, remained "very much in the section frame" despite history pointing to finger spinner success in Galle,
"We know what Jon can do, hence why he's been called into the squad. I wouldn't read too much into the A selection, he's always been there or there about when you look at domestic performance," McDonald said.
"He was called in late, and was a little underdone, there's no doubt about that but we feel he can bowl his way into the form we need. Clearly he has a little issue at the moment but we are just working through that.
"We certainly haven't committed to picking Jon Holland. What we are talking about is the value of accuracy versus wrist spin which can be less accurate.
"Traditionally finger spin has done well here. I'd be going against all the statistics to say otherwise."
Australia is looking to turn around a 3-0 series sweep by the home team in 2016, when left-arm finger spinner Rangana Herath took 28 wickets, including three five-wickets hauls, to rout the tourists.
Why Uzzie's not hesitating with Sri Lanka Test declaration
Resurgent Test opener Usman Khawaja declared he has "more shots" to be successful on this tour of Sri Lanka than his two previous underwhelming efforts as the Australian line-up for the first Test in Galle became somewhat clearer.
With Steve Smith declaring he's over a quad strain which kept him out of the final two one-day games, Travis Head, under a cloud with hamstring strain, did the warm-up at Australia's first training session at the picturesque seaside venue where a dry looking wicket expected to spin from ball one was on full display.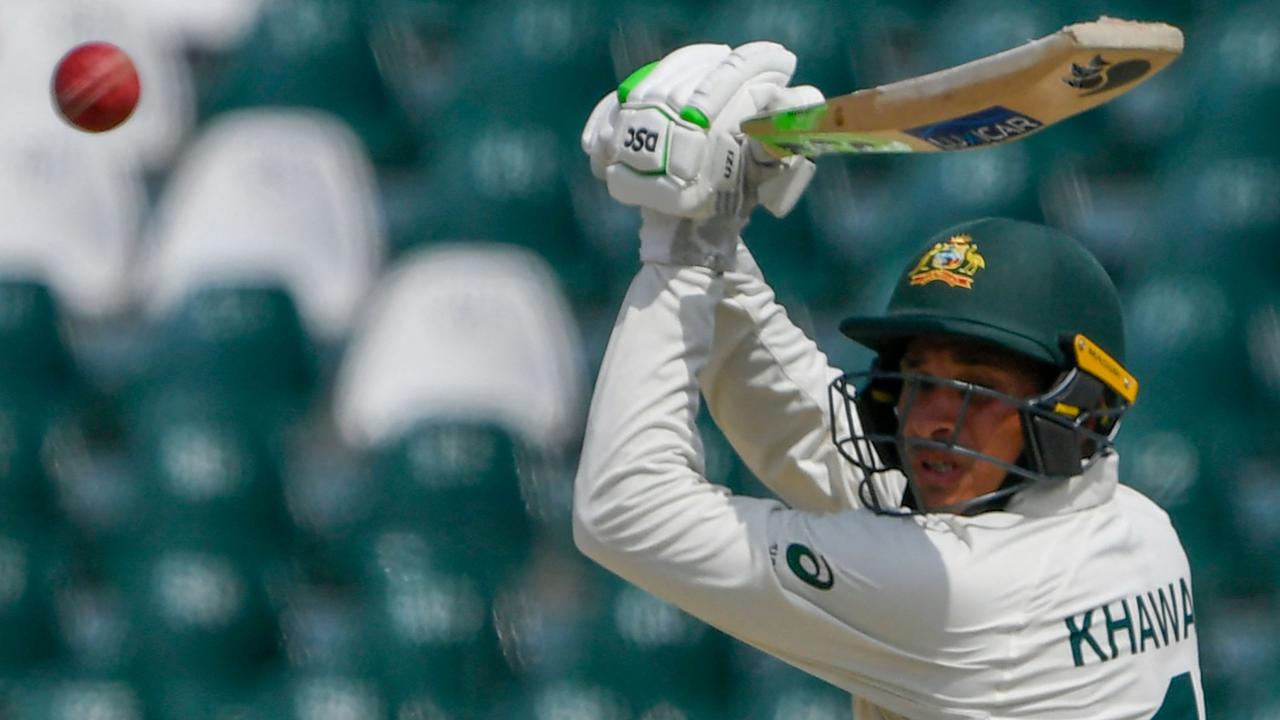 Usman Khawaja says his game is more developed for his second Test series in Sri Lanka.
But Head was then diverted to doing fitness work with spinner Ashton Agar, who has a side strain and won't play the series opener when it starts on Wednesday.
Glenn Maxwell looms as the next man in should Head be ruled out with Khawaja throwing his support behind leg-spinner Mitch Swepson to partner Nathan Lyon in a two-man spin attack looking to take advantage of the conditions and turn around the 3-0 whitewash when Australia last toured Sri Lanka in 2016.
Khawaja played just two Tests for 55 runs in 2016 but returns as the hottest hand in the Australian batting line-up, with four hundreds in his past nine innings against first England then Pakistan, better armed to tackle the spin friendly conditions.
"I just have more cricket shots," Khawaja said after a brief look at the pitch before training.
"Last time we came I probably thought I was a better player to handle these conditions well. I thought I did all right in the first game and then I didn't do very well in the second game.
"I just have a lot more shots now to spin than I did back then. I use my crease better, I score different parts of the ground. It's just about trying to make the best decisions now. A bit of luck is involved too. But if I can do that for long enough, I give myself the best chances to be successful.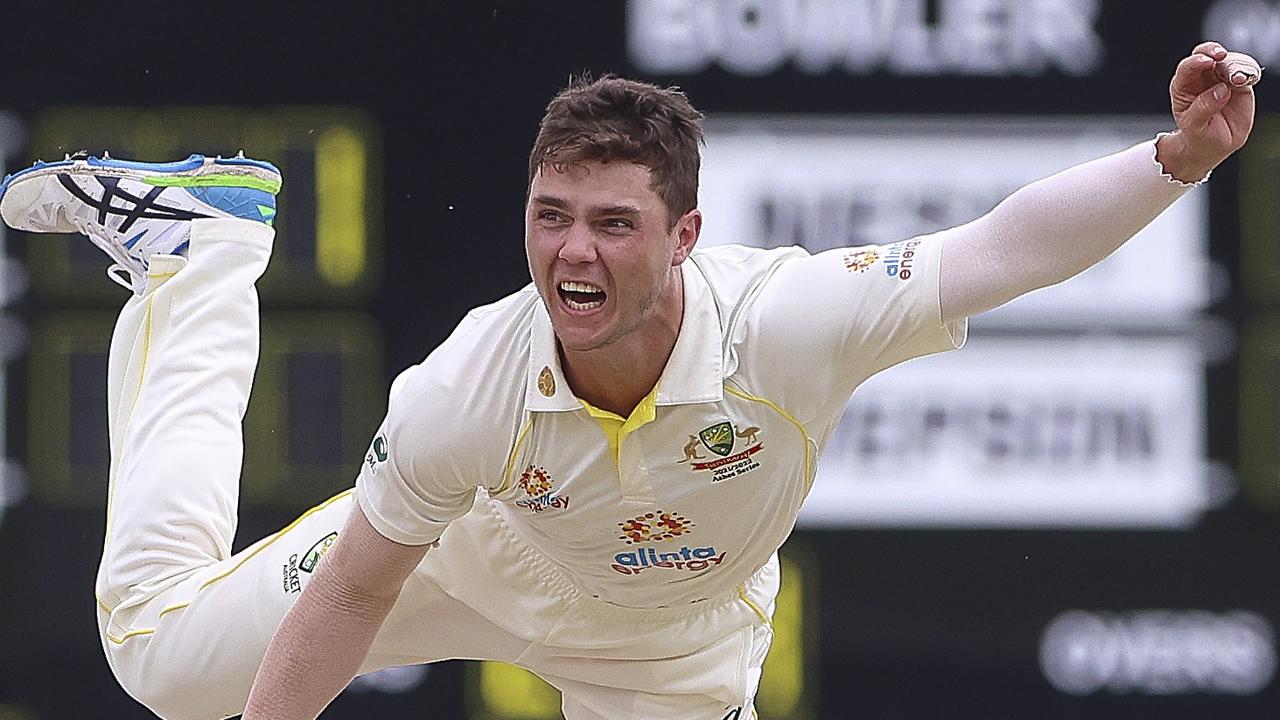 Khawaja is leaning towards leg-spinner Mitch Swepson to partner Nathan Lyon
"There's so many variables to this game, and I could sit here for hours talking about this stuff. One game to the next things can change like that. You just can't get lost in that.
"It's just about continuing the process over and over again. Because I believe in my process playing spin over here, and I know the other guys do too. If you can do that consistently for long enough, and we have a lot of games on the subcontinent coming up, you can be successful."
Khawaja, who captains Swepson at Queensland, also threw his support behind the rookie leg-spinner who took just two wickets in his first two Tests in Pakistan and remains Lyon's preferred spin partner.
Jon Holland, Matt Kuhnemann and Todd Murphy are the other spinners with the squad in Sri Lanka with Agar trying to recover for the second match, to be played at the same venue.
"I've seen a lot of examples where once he locks on, he's as good as anyone," he said.
"It's just that leg-spin is such hard art. It's never easy out here. Warney struggled in the subcontinent
"He's only played two games … Test match cricket is hard for anyone. I have a lot of faith in him."
Lyon ready to step up as spin Test bolters enter frame
The minute David Warner declared the Australian batters were preparing to face not just turning wickets in Sri Lanka but "extreme spin" during two Test series, Nathan Lyon's ears pricked.
Not that the now 34-year-old veteran of 108 Tests, who had just landed for his third tour of Sri Lanka, really expected anything different.
But as the first-choice Australian spinner for the best part of a decade, a trip to the subcontinent puts an intense spotlight on Lyon.
There's been a turnstile of spin partners for Lyon over that time, with leg-spinner Mitchell Swepson the latest to be Australia's next great hope.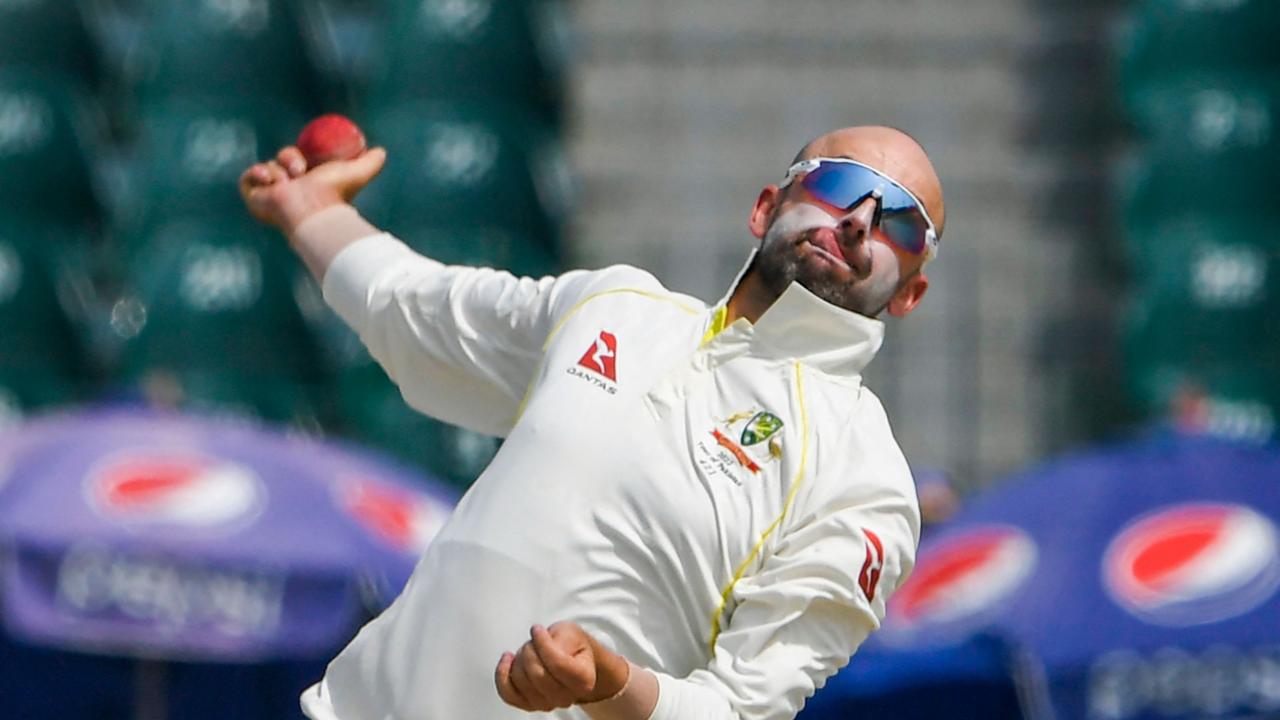 Nathan Lyon will be key to Australia's chances in Sri Lanka. Picture: AFP
But Lyon has been the constant, his 427 wickets 400 more than any of those partners have been able to muster.
So another trip to Sri Lanka, where Lyon took his first Test scalp with his first ball way back in 2011, brings with it a weight of expectation.
That expectation rises exponentially when the promise of turning wickets becomes a clear and present reality. It brings pressure on Lyon to perform.
"There's always pressure," Lyon said on arrival, unperturbed by the extra focus set to come his way,
"It doesn't matter where you play in the world. We'll all be sharing the load of responsibility."
But will they?
On the 2016 tour, on which Australia lost all three Tests, Lyon bowled 154 overs for his 16 wickets. That's just short of 1000 balls.
Only Mitchell Starc came close, sending down 103.
Lyon's chosen spin partners, first Steve O'Keefe, before he hurt his hamstring, and then Jon Holland, bowled 108 overs.
Lyon did the lion's share of work, as he will again, with Swepson still just a two-Test rookie, who didn't quite make the impact some expected in his debut series in Pakistan.
An injury to Ashton Agar means Holland could again find himself second-fiddle to Lyon, or Queenslander Matt Kuhnemann, who made a surprise ODI debut.
Whether he's Test ready though, one-day skipper Aaron Finch wasn't so sure.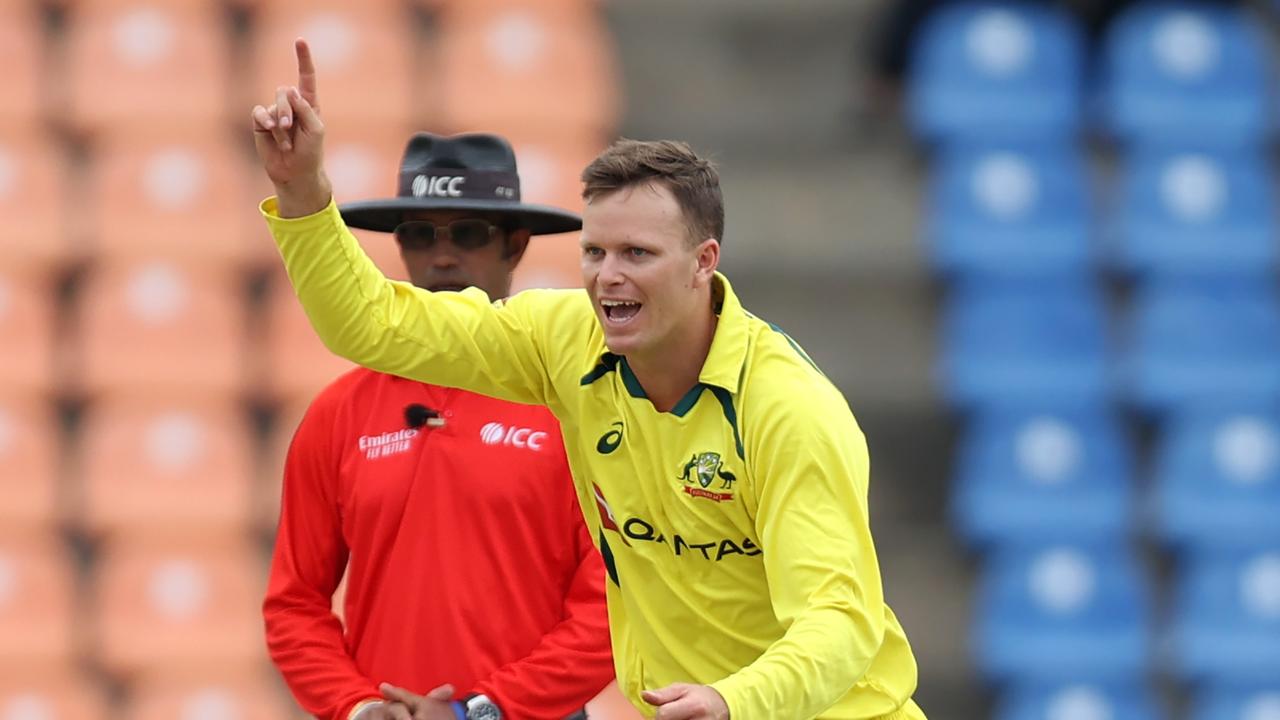 Matthew Kuhnemann celebrates a wicket during the ODI series. Picture: Buddhika Weerasinghe/Getty Images
"That's well and truly swimming out of my lane. Test selection," Finch said.
"I get the heebie-jeebies thinking about putting white pads on. I'm not sure (if he's ready)
"But he's been really impressive the way that he thinks through the game and the plans that he's got and his own confidence in his own ability has been really impressive. He's a lovely guy who tries his heart out.
"Queensland love him and they don't play on a huge amount of spinning wickets so for him to continue to play on wickets which offer a little bit of assistance that will only see him grow."
Lyon grew off the back of that 2016 tour of Sri Lanka, and will take lessons learned into the opening clash at Galle this Wednesday.
"It was a really good learning curve and that tour in 2016 – it wasn't the tour that I planned in my head or anyone else as part of the Australian set up coming over here," Lyon said.
"But it was a challenging tour and an opportunity for all of us to learn, and that was the best thing about it. We were able to learn and grow as cricketers and as people."
Ever the team man though, Lyon said more recent experiences in the successful series in Pakistan, the first on the road with new captain Pat Cummins, watched over by new coach Andrew McDonald, provide Australia a blueprint, and belief, to right the wrongs of the last trip to Sri Lanka.
"We all know how hard it is to win games of Test cricket away from home," he said. "There's a decent trend around the whole world, and in the subcontinent you probably add an extra 20 per cent onto that.
"So just that pure belief that we were able to hang in there for 15 days of really hard Test cricket in Pakistan and end up with the right result was the biggest thing. The Australian team has a lot of belief in coming over here and performing in difficult conditions.

Maxwell's 'disintegrated' baggy green problem
When Glenn Maxwell went to grab his baggy green cap in the continued hope he may need it in Sri Lanka, what he found wasn't great.
It had been five years since Maxwell last wore it, in the most recent of his seven Tests in Bangladesh in 2017, the only winning one he played in, and its condition was about the same as he thought his chances of wearing it again had become.
When his new wife Vini first inspected it, Maxwell, called in to the Test squad in Sri Lanka after an injury to Travis Head which has put the Victorian closer than ever to a recall, it wasn't a pretty sight.
So much so he travelled for the white ball series without one.
"She (Vini) got it out of the bag and it had completely fallen apart," Maxwell said after the final ODI on Friday night, having put his baggy green away wet after being doused in celebratory fluids before being leaving it untouched in it's accompanying carry bag since that victory in Chittagong.
"It's completely disintegrated. I'm going to need a new one over here.
"It's happened to a few of the boys. Unfortunately when it goes in the bag and it's wet, it doesn't dry that well when you leave it in the bag … It's absolutely destroyed.
"I'm probably going to have to put it in a glass case and leave it there I reckon. I'll see if I can get it fixed when I get home but at the moment, it's probably a bit too late for that."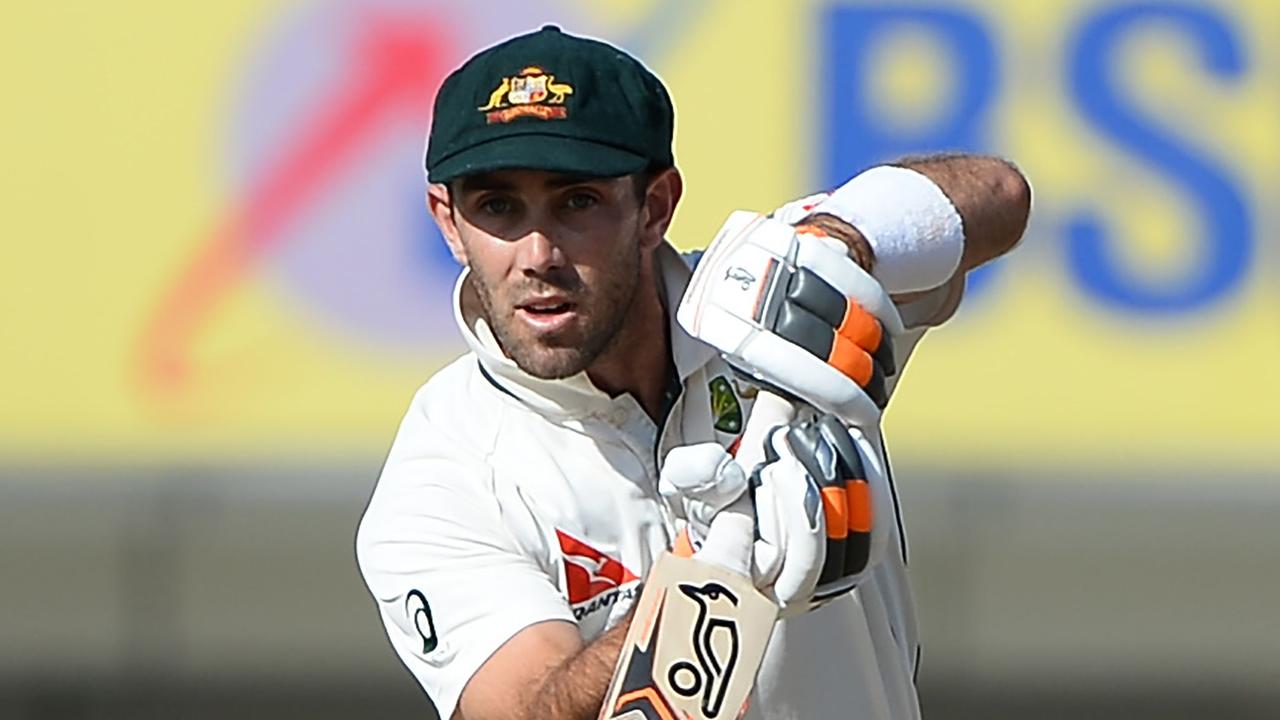 Glenn Maxwell is in the frame to return to Australia's Test side.
Comparisons between the fate of Maxwell's baggy green to his Test career were not lost on the now 33-year-old who many thought a chance to be included in the initial Test squad for Sri Lanka because of his capacity to handle what everyone now expects to be "extreme" spinning conditions for the two Test matches in Galle.
Overlooked even since that last series in Bangladesh, Maxwell also felt forgotten.
"I thought that might have been it," he said having missed the initial squad.
"I just felt like I was there and thereabouts, and forgotten about.
"Five years ago when I played my last Test, I felt like I was in career-best form and to not play another Test immediately after that, I thought maybe I'd missed my opportunity without doing too much wrong."
But while he conceded there was a stage "you think you might give up hope", he remained hopeful, training against a red ball with Victorian coach Chris Rogers, despite not playing a single Sheffield Shield game since 2019, to "be ready" should a call come.
"Knowing there was a fair few subcontinent Tests coming up, not just this year but next year, I stayed ready," he said.
"At some stage you think you might give up hope, but it was just no nice to get the tap on the shoulder."
Maxwell wasn't getting ahead of himself regarding selection this week, adamant only he'd been told to "hang around" with the Test squad with the white ball games completed.
But he also knows what he brings to the table, a more mature, more experienced, more capable player than he was even in 2017, and he wants to show that.
A century in India in 2017, his only one, was proof then what he could do, and Maxwell is adamant he's even more ready now.
"I think I bring a lot of experience playing in these conditions and being able to tackle tough spin bowling," he said.
"It's something I pride myself on, being able to have quick feet and find a way through adversity in tough conditions.
"Looking back to 2017 and being able to get a test century in India is something that I'm extremely proud of and to be one of only a couple of people in the pats decade is something I am hoping holds me in good stead.
"My game plan isn't going to change a whole lot . it's just about spending more time at the wicket, and without any run rate pressure I'm looking forward to batting for a longer period of time."
His white-ball captain, and long-time friend, Aaron Finch was adamant Maxwell could have a presence that ensured the home team would always have something to think about.
"I think he can have a really big impact," Finch said.
"Whenever he plays in the subcontinent, he' got so many resources with the bat and he's cagey with the ball.
"The pressure he puts on the opposition just by being there I think is something that gets overlooked at times
"They have to search so much to find answers for him."
MASTER BLASTER MAXI BACK IN TEST SQUAD
Ben Horne
Glenn Maxwell is in line to play his first Test match in over five years after being called into the Australian squad in Sri Lanka.
A minor hamstring strain to Travis Head has prompted Australia's selectors to add Maxwell to the Test squad and he is now a massive chance of being thrust into the XI with the first Test starting next Wednesday in Galle.
Watch Australia's Tour of Sri Lanka. Every T20, ODI and Test Match Live & On-Demand on Kayo. New to Kayo? Try 14-Days Free Now >
It's been a long time since we've seen Glenn Maxwell in Aussie Test whites.
The Victorian could be invaluable on the spinning minefields Australia is likely to encounter in the two Test series, if the one-day series is anything to go by.
Maxwell's ability to bowl handy off-spin as well as fill Head's shoes in the middle-order could put him in the box seat to play, if Head does not recover in time.
Head has not been ruled out and is working hard to be fit, but time is running out.
Maxwell has played seven Tests, the last in Bangladesh in 2017.
The 33-year-old scored his maiden Test century in India earlier that same year and despite his lack of consistent Test matches, Maxwell remains one of Australia's only recent masters of subcontinental conditions.
Maxwell's all-round talents could prove crucial to the Aussie hopes — if he does make the final XI.
Australia has also announced Jon Holland, Matthew Kuhnemann and Todd Murphy will remain in Sri Lanka after the Australia A tour and stay with the Test squad to continue their development in subcontinental conditions.
Although it's not impossible one of the spinners could play a Test, the fact they haven't been added to the squad suggests one of Mitchell Swepson and Ashton Agar are poised to complement Nathan Lyon as the second spinner in Sri Lanka.
Originally published as Australia v Sri Lanka: First Test selection and other news