Cricket news: How can Australia make players rest instead of playing IPL?
Cricketers could be paid $4 million for six weeks' work when the IPL's new TV deal goes through — and it presents a massive problem for Cricket Australia.
This has left Australia in a complete pickle as it tries to manage arguably the busiest year in the history of the game.
'Tell the players to take a rest from the IPL', is the obvious catch cry.
But how realistic is that when the IPL is about to sign a new TV rights deal — likely to be in excess of $7 billion — which could double or even treble their already astronomical wages?
There is no way out.
The IPL window in April-May shapes as the only chance for players to get a proper breather amid a jam-packed international calendar which includes tours to India, England and South Africa, and an ODI World Cup.
Watch The 2022 Indian Premier League on Kayo. Every Match Live & On-Demand. New to Kayo? Try 14-Days Free Now >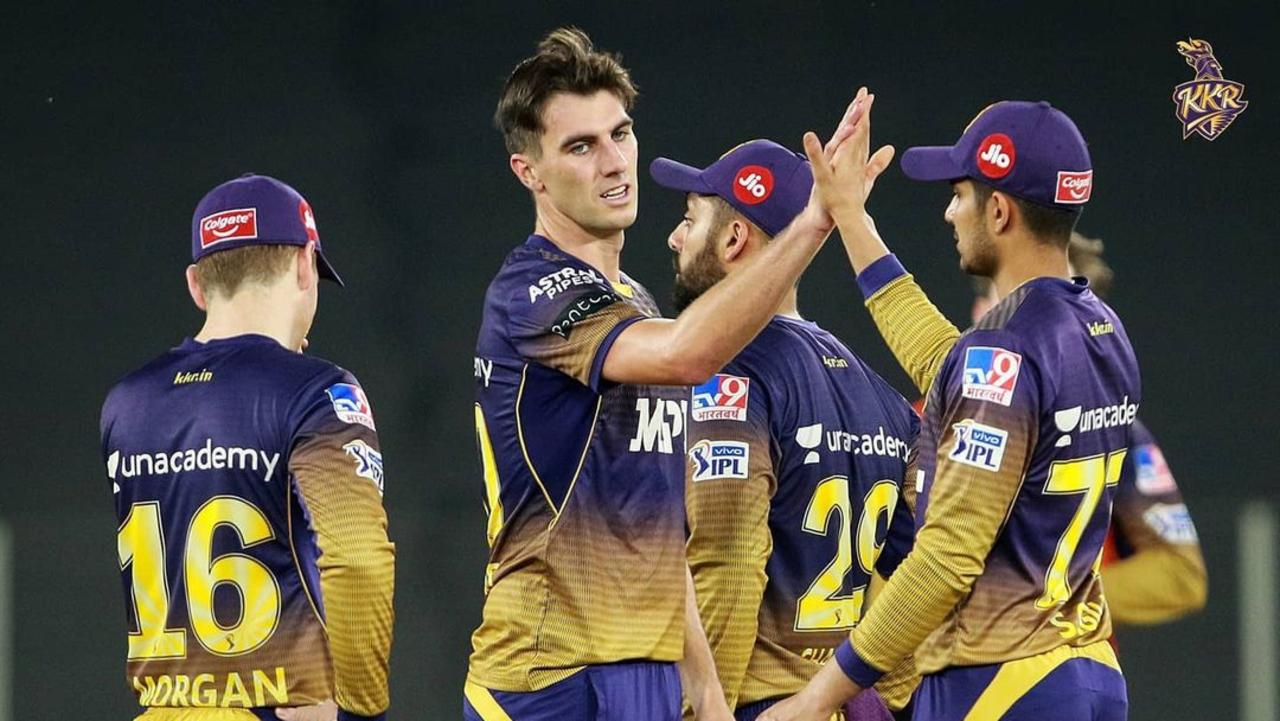 Australian captain Pat Cummins playing for Kolkata Knight Riders.
But as hard as it is to stomach, the cricket world now revolves around the Indian Premier League and finding players like Mitchell Starc willing to sacrifice millions of dollars for two months' rest, is very much a rarity.
And it's not hard to understand why. The mail is IPL player wages are set to skyrocket with the next TV rights deal. Players earning $2-4 million for six weeks' work could become commonplace and if so it will continue to change the face of international cricket forever.
How can it not?
Australia's selectors and high performance team face an almighty task in ensuring the lid doesn't blow off the saucepan.
In a summer where CA are desperately hoping international players can play more of a part in the Big Bash League, it's looking like a first Test against India in India may kick-off as early as February 8, potentially four days after a BBL final.
David Warner raises the bat after an innings for Sunrisers Hyderabad.
And it's relentless from there.
It sounds ridiculous, but paying players to take a holiday instead of going to the IPL could be a smart play for Australia next year.
There's no way CA can compete with the big bucks being offered by the IPL and nor should they.
But if there are financial incentives CA can offer players to sit out the IPL next year – or at least part of it – it's worth a conversation.
That might be as simple as offering even more generous multi-year central contracts to provide security in choosing country over cash.
Make no mistake, an Indian Test tour, an Ashes in the UK and a 50-over World Cup in India is Mt Everest and winning all three coveted trophies within the space of a few months will take every ounce of commitment Australia can muster.
Of some relief is the fact Cricket Australia is negotiating for the three Test matches owed to South Africa to be scrapped from the proposed tour next August.
But it's so close to a World Cup that the proposed one-day internationals will be crucial preparation and Australia will need its best team on the park.
Australia won last year's Twenty20 World Cup with a poor preparation. But it's almost impossible to do that in the 50-over game.
Same with winning Tests in India and England. It's very hard to simply turn up in those conditions and succeed. Some investment needs to be made in preparation time.
The load on players will push them to breaking point and as unfair as it might be living in the IPL's shadow – it's up to Australia to be adaptable enough to manage it.
AUSSIES BRACE FOR BUSIEST SCHEDULE EVER
Australia is set to shoehorn a tour of South Africa into a 2023 schedule shaping as the most spectacular and condensed in cricket history.
Pat Cummins' world No.1 Test side will hit the road straight after the upcoming summer for the three most heavy-duty series in Australian cricket before Aaron Finch's ODI side also challenges for a World Cup, all in the one calendar year.
After barely travelling overseas during the pandemic, Australia's top players are suddenly bracing for a non-stop onslaught of cricket which effectively begins next month with the all-format tour of Sri Lanka.
Watch The 2022 Indian Premier League on Kayo. Every Match Live & On-Demand. New to Kayo? Try 14-Days Free Now >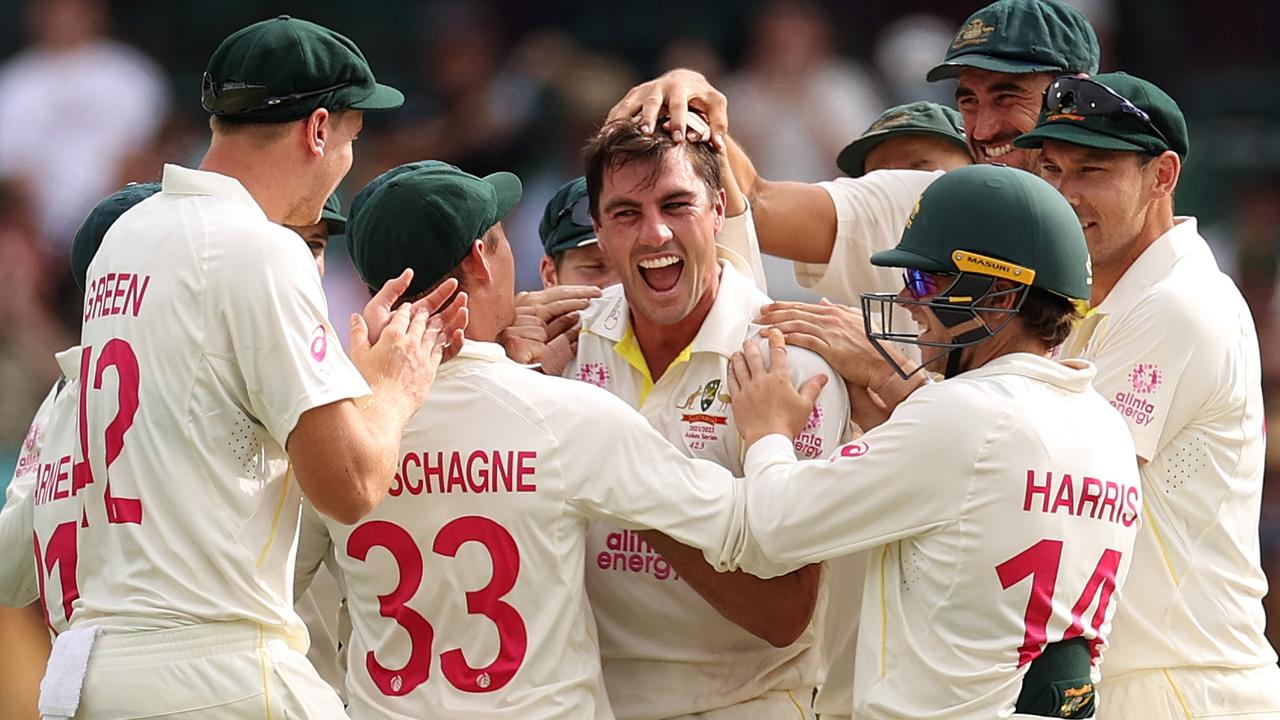 Pat Cummins and his Australian teammates face a minimum of 25 weeks on the road next year.
In 2023 Australia will travel for four Tests against India, five against England, three against South Africa and then a World Cup — meaning a bare minimum of 25 weeks on the road of the most intense cricket possible.
Australia will start next February with the Border-Gavaskar trophy in India — the toughest assignment in world cricket.
Then after the IPL — the only 'holiday' period Australian players will get — it's off to England to defend the Ashes crown and most likely play limited overs matches as well.
Australia has now given South Africa assurances it will make-up for last year's cancelled Test series with three Tests in August of 2023 — a challenge which will push Test players to their mental and physical limits straight off the back of five Ashes Tests.
It will be the first time Australia has played Test matches in South Africa since Sandpapergate.
Then after all that, Australia must fly to India again to try and reclaim the coveted 50-over World Cup.
Australian coach Andrew McDonald and chief selector George Bailey will have to be vigilant in safeguarding the mental wellbeing of the players in particular.
Investigations into the 2018 Sandpapergate scandal found players were "fried" by the time they got to South Africa, having just come off a home Ashes summer.
The intensity of competing against India and England before heading to South Africa again cannot be underestimated.
South Africa was filthy when Australia pulled out of last year's scheduled tour due to Covid concerns, and CA are under pressure to return for a make-up series — which to their credit — they're committed to doing.
"England, I think, is around Feb-March next year and then Australia is in August 2023 to replace the [Test series postponed in 2021]. That will be announced sometime soon," said South African cricket boss, Graeme Smith.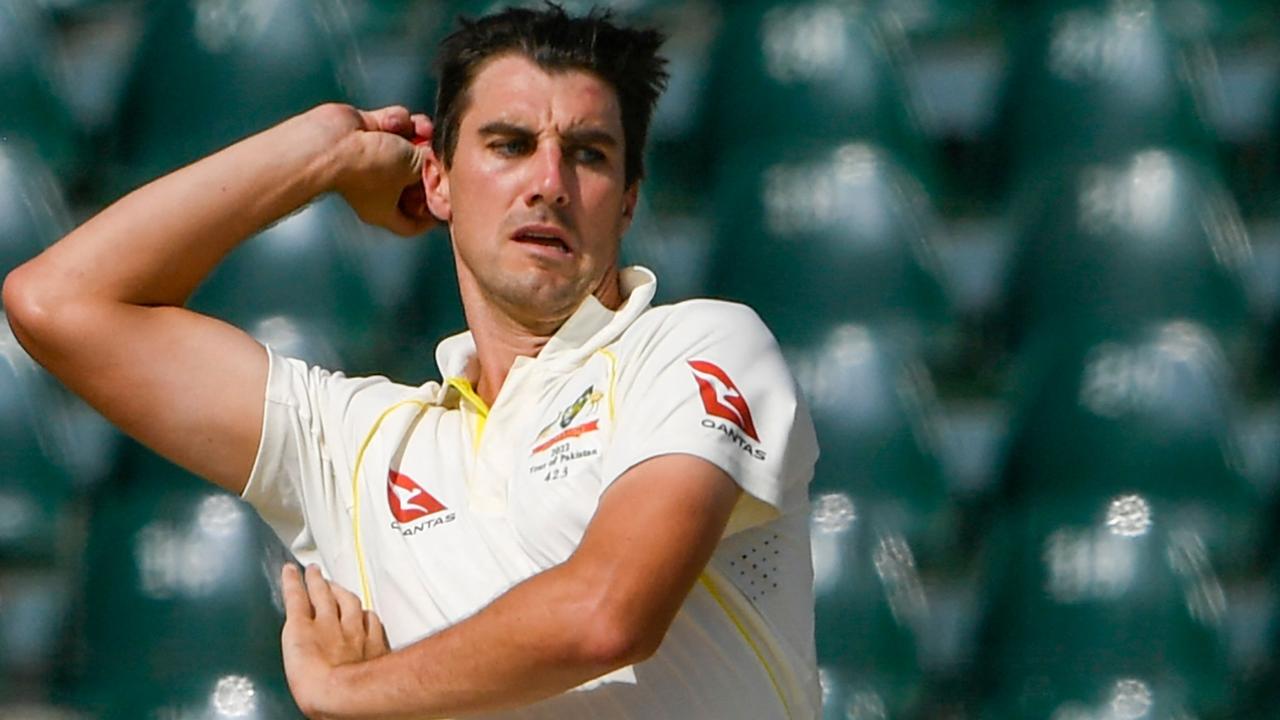 As an all-format cricketer, Cummins' mental and physical wellbeing will need to be monitored closely.
CA chief executive Nick Hockley late last year confirmed a window had been found, although didn't specify whether that was August.
"Our relationships with South Africa are very strong," said Hockley at the time.
"As we said at the time, we were very disappointed and I know our players were extremely disappointed not to be able to go to South Africa.
"So we're pleased we've been able to find a window in 2023 to reschedule that tour."
Selectors face a tricky balancing act preparing the ODI squad for the World Cup at the end of the year, because with the amount of Test cricket on the calendar, Australia's all-format superstars like Cummins, Mitchell Starc, Josh Hazlewood, David Warner and Steve Smith will struggle to back-up for white ball matches as well.
New England captain Ben Stokes said this week that the amount of cricket being played needs to be looked at after England's Test and ODI sides were scheduled to play simultaneously.
On a high performance level, selectors will also have to carefully manage the workload of its fast bowlers in particular.
It's why the likes of Scott Boland and Jhye Richardson could play crucial roles for Australia in 2023 in England and South Africa, even though they're sitting behind the big three of Cummins, Starc and Hazlewood.
Sandpapergate reunion: Gabba to host blockbuster Test
Brisbane are frontrunners to win the race to host the first Australia and South Africa Test match since Sandpapergate this summer.
News Corp understands Perth – which hasn't hosted a Test in two summers due to the pandemic – appears poised to open the summer by hosting the first Test against the West Indies, with Adelaide in line to host the second match against the reinvigorated Windies.
The Gabba is then expected to lead off a three-Test showdown against Australia's great rivals the Proteas which will culminate with the marquee Tests in Melbourne and Sydney.
It would be a huge boost for Brisbane as it braces for the Gabba to be taken out of play later this decade ahead of a complete reconstruction for the 2032 Olympic Games.
Meanwhile, selectors are set to name Glenn Maxwell as part of the touring squad to head for the June and July tour of Sri Lanka on Friday.
Australia's big guns are likely to turn out for the white ball matches as well as the two Tests.
For Maxwell, it presents an opportunity to resurrect his Test career in the sub-continent having last pulled on the baggy green way back in 2017.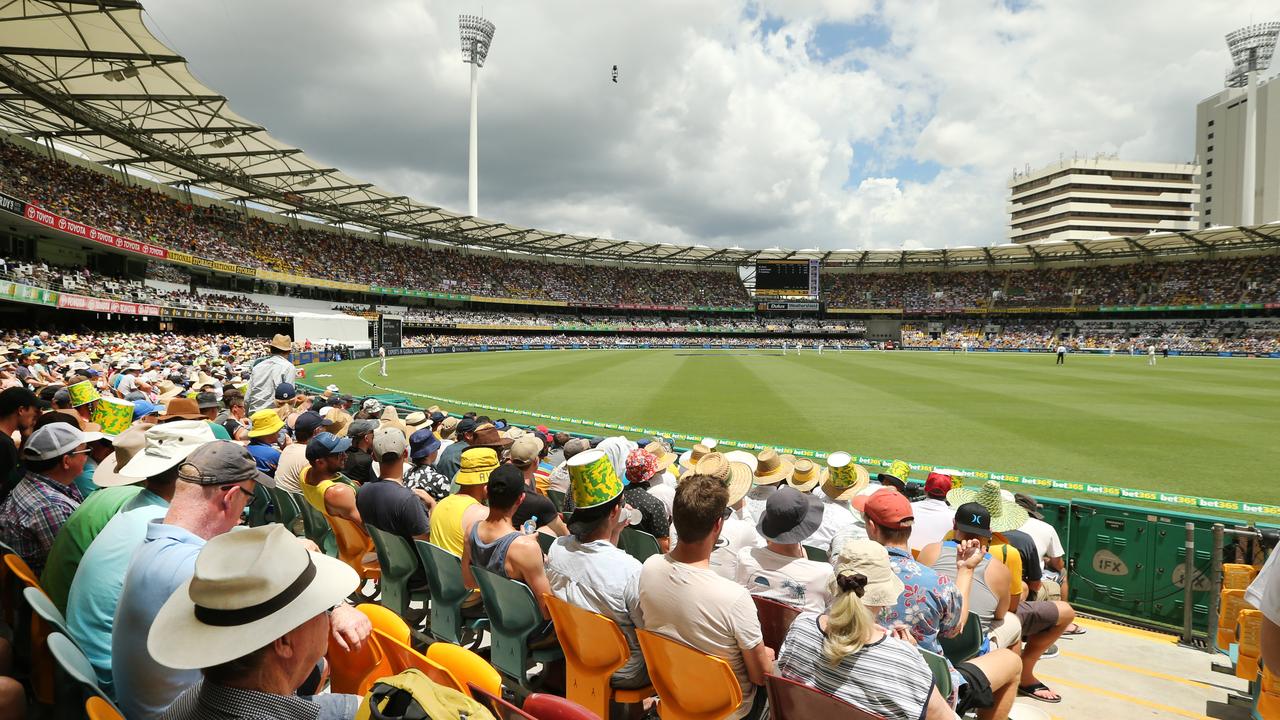 The Gabba is set to host the first Test between Australia and South Africa. Picture: AAP/Jono Searle
Meanwhile, selectors are set to name the touring squad to head for the June and July tour of Sri Lanka in the coming days, with Australia's big guns likely to turn out for the white ball matches as well as the two Tests.
The first cricket in Australia this season will kick-off well before the NRL and AFL has even reached finals time, with Zimbabwe and New Zealand coming out to play white ball matches in Townsville and Cairns in August and September.
Cricket Australia is yet to finalise its schedule but if the Gabba lands the South African first Test, it would confirm Australian players still very much consider Brisbane to be its Fortress – despite the chastening loss to India there two summers ago.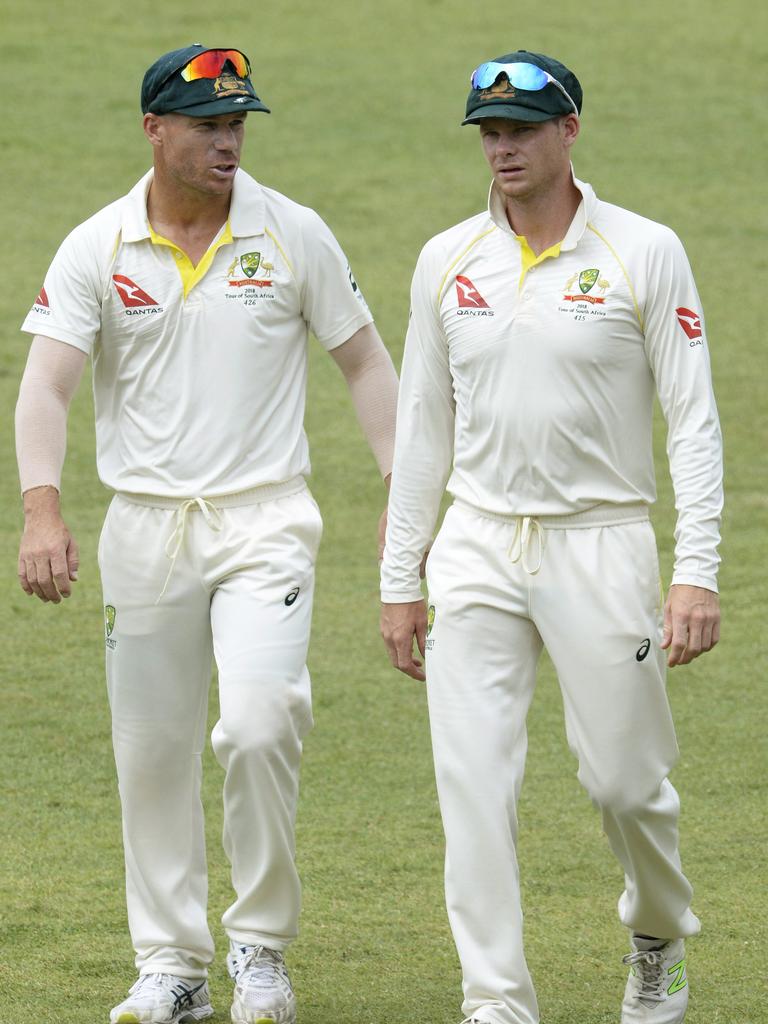 David warner and Steve Smith in South Africa. Picture: Lee Warren/Gallo/Getty
South Africa have not toured Australia since 2016, when Cricket Australia went away from tradition and scheduled the first Test in Perth instead of Brisbane – only for it to backfire on them and lose.
Even with fast bowler Dale Steyn unable to continue bowling halfway through the Test, the Proteas still powered to famous victories in Perth and Hobart to humiliate Australia and prompt seismic changes to Steve Smith's team.
Tensions soured late in the tour when South African captain Faf du Plessis was embroiled in "mint gate", but evaded being suspended despite being found guilty by the ICC of tampering with the ball.
Fast forward two years to 2018 and the last meeting between the two sides erupted in South Africa when the Australians were busted for their own ball tampering scandal – only with far greater consequences for the major players involved.
Australia was due to go back to South Africa last year only for Cricket Australia to pull the pin based on safety concerns in the midst of the COVID-19 pandemic.
South African officials were filthy at Australia for not touring, and there will be no love lost between the two teams, although Pat Cummins' side will this time start heavy favourites after a drain of talent from the Proteas Test outfit.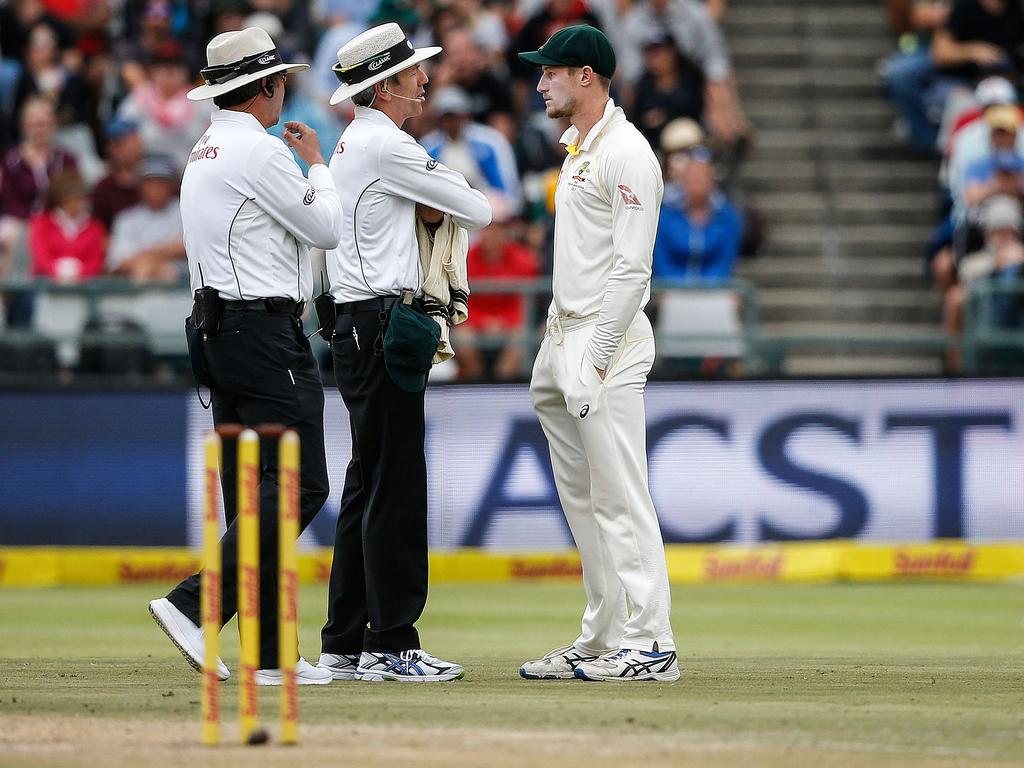 Umpires speak to Cameron Bancroft (R) in Cape Town. Picture: AFP/Gianluigi Guercia
The South Africans have only ever played four Tests in Brisbane, and this summer is set to be only the second in more than 50 years.
The last time the Proteas fronted at the Gabba, former Australian opener Ed Cowan scored his only Test century, and then captain Michael Clarke a massive double hundred.
It's expected the summer will open against the Windies at Perth's Optus Stadium.
It will be the first time Australia has played a Test against the West Indies since 2015-16, an extraordinary lapse in time given how frequently Australia has played against the likes of England and India in that time.
Originally published as Cricket news: How can Australia make players rest instead of playing IPL?