Australia v Pakistan: Matthew Wade powers Australia into T20 World Cup final
Matthew Wade's reinvention as a player has been nothing short of immense — and now he's powered Australia into a World Cup final.
Matthew Wade has produced his Mike Hussey moment in Dubai to cement cricket's most underrated comeback story.
Axed from the Australian team in all three forms on the eve of the 2017 Ashes, Wade's reinvention as a player has been nothing short of immense and his three consecutive sixes to sink Pakistan in this morning's World Cup semi-final will go down in history as one of the great white-ball finishes.
The only other time Australia has made a World T20 final it was in eerily similar circumstances, with the also left-handed Hussey coming out in Wade's No. 7 position in the 2010 semi and smashing 60 not out to win the unwinnable game against the same haunted Pakistani opposition.
Matthew Wade's reinvention as a player has been nothing short of immense. Picture: Aamir Qureshi/AFP
Since Hussey's retirement the fact Australia has not been able to find another T20 finisher has been perhaps the primary reason for their World Cup failures, and critics doubted whether top order specialists Wade (41 not out off 17) and Marcus Stoinis (40 not out off 31) could transition into late innings ice men.
Last night, a Pakistani journalist summed it up best at the start of the post-match press conference by telling Wade "Pakistani fans will never forget the names Mike Hussey and Matthew Wade."
Twice in this World Cup, Wade and Stoinis have delivered in the clutch for Australia – also saving their bacon in the tournament opener against South Africa.
But their unbeaten 81 run partnership off 41 balls in Dubai was heroic stuff after Steve Smith and Glenn Maxwell threw their wickets away and David Warner (49 off 30) didn't review when incorrectly given out in what seemed it could be a game-defining moment as the asking rate climbed to 12 an over.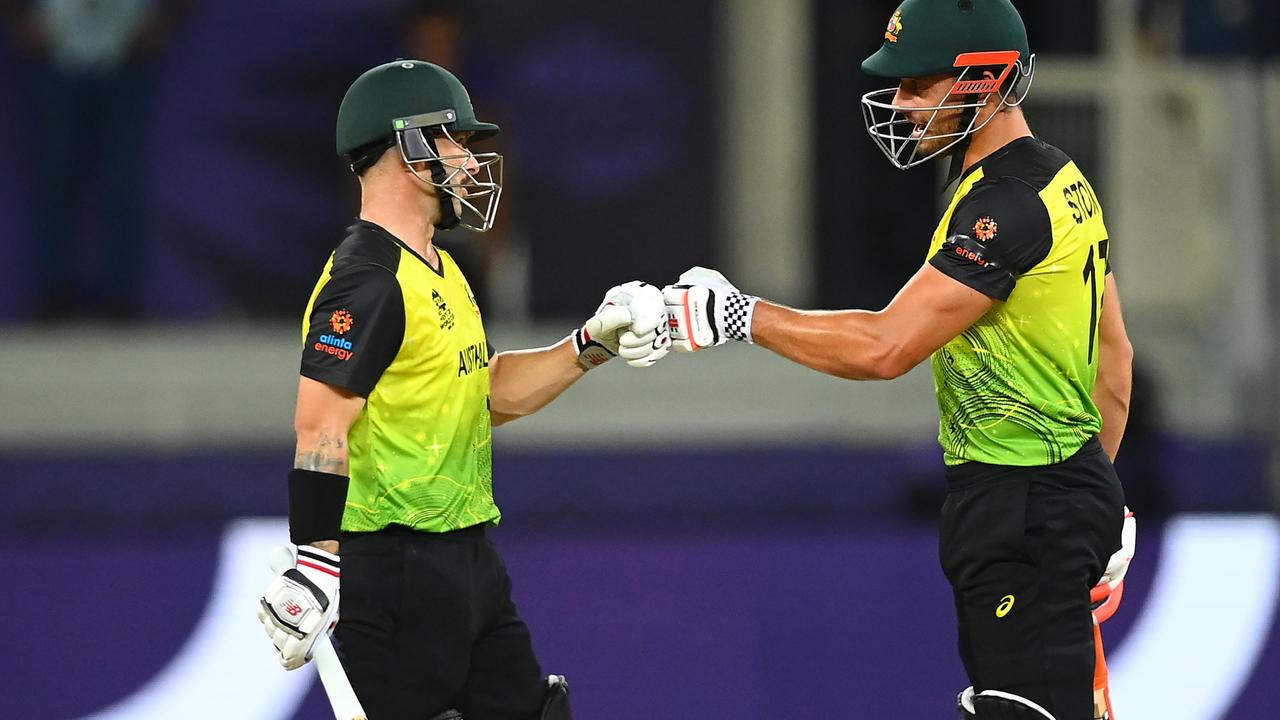 Matthew Wade and Marcus Stoinis delivered in the clutch for Australia. Picture: Alex Davidson/Getty Images.
Wade smashing three straight sixes off Pakistan death bowling master Shaheen Afridi in the penultimate over (after being dropped in the deep by Hasan Ali) showcased the fearlessness that has underlined his extraordinary career renaissance.
Selectors marked Wade's cards never to play again when they axed him for Tim Paine as Test wicketkeeper, and the Tasmanian started a carpentry apprenticeship in Hobart to prepare for life after cricket.
But a total reset in the expectations and pressure Wade put on himself flicked a switch and allowed him to peel off consistent hundreds in state cricket and suddenly he was dominating all three forms at a time when Australian teams were still looking for answers.
For a while selectors still refused to pick him, but eventually the dam wall burst and they had no choice.
For a wicketkeeper to be reborn in Test cricket as a specialist batsman is some achievement, and although his time in the baggy green might be done now, he played a vital role in Australia retaining the 2019 Ashes on English soil for the first time in two decades.
In short form cricket he has bounced back to receive the honour of captaining his country, and overnight he produced what will probably be remembered as the definitive knock of his entire career.
Australia are now brimming with confidence heading into Sunday night's World Cup final against New Zealand, and should start as favourites with Wade revealing the team now empowered by the feeling it has "nothing to lose."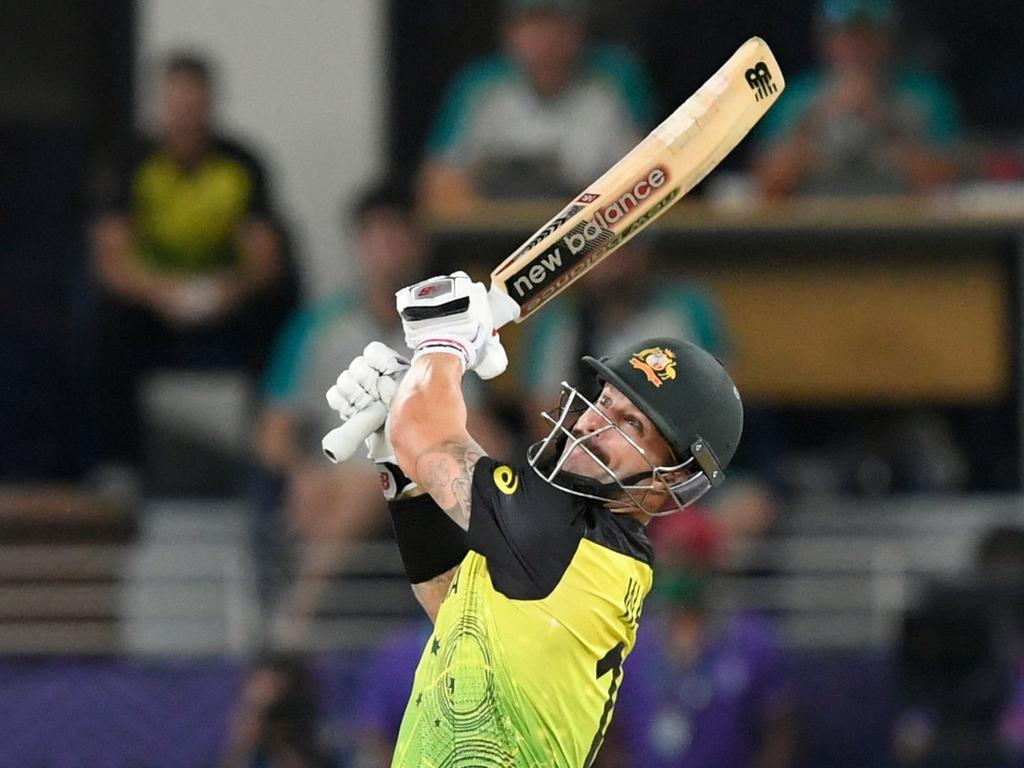 Matthew Wade hits a six during Australia's win over Pakistan. Picture: Aamir Qureshi/AFP.
It's a feeling Wade knows all too well, because it's what's shaped a stunning career revival that hasn't received the plaudits it deserves.
"It's hard to reflect on tonight so quickly to be honest it hasn't really sunk in yet. I'm sure when I get back to the hotel and tomorrow morning it'll sink in a little bit more about how we went about it and the win we just had but I'm just happy I got the opportunity to reinvent myself," said Wade, who reckons he might be the most dropped Australian player of all time.
"To go away and come back with more confidence and really feel like I belong at international level now. I reinvented myself as a batsman and all of a sudden I'm a keeper batsman again and batting down at 7.
"I just feel like the older I am the more eyes wide open I am about the opportunity I got. It didn't worry me to go down the order and hasn't worried me at all whether I captained or not, I've just wanted to grasp every opportunity I get.
"I don't know when my last game is going to be, I treat every one like it potentially could be.
"I'm sure when it's all over, when I get the tap on the shoulder I'll look back on the last three or four years and be really proud of the way I've been able to come back."
Match report: Wade powers Aussies into final
By Steve Barrett
Nerveless Matthew Wade struck three straight sixes to launch Australia to a remarkable take-down of powerhouse Pakistan in a T20 World Cup semi-final thriller in Dubai.
Wade (41no off 17 balls) and Marcus Stoinis (40no) combined for 81 off 40 balls as Australia came from the clouds to snap Pakistan's 16-game winning streak on United Arab Emirates soil and book a spot in the decider against New Zealand.
Chasing its maiden T20 World Cup title, Australia advanced to its first final since 2010 with an over to spare after Wade smoked Shaheen Shah Afridi for three maximums – two via audacious scoops – after being dropped the previous delivery in the deep by Hasan Ali.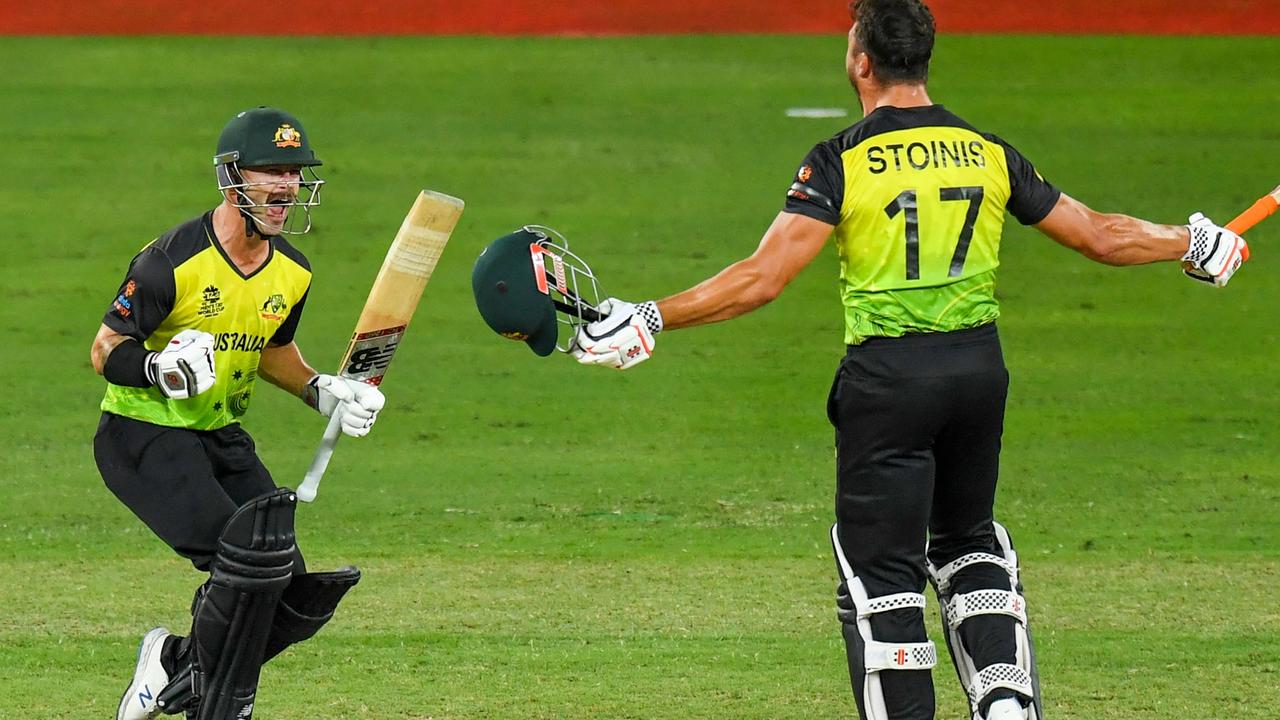 Australia's Matthew Wade and Marcus Stoinis celebrate their victory. Picture: Indranil Mukherjee/AFP.
The Aussies looked done and dusted before Wade joined Stoinis in the middle, but they were in control earlier when the rejuvenated David Warner (49) was firing.
However, an untimely colicky handle in Warner's blazing bat brought about his bizarre downfall and dragged Pakistan back into the match.
Warner accepted his fate when he was adjudged caught behind off star legspinner Shadab Khan, trudging off the Dubai International Stadium without reviewing.
Subsequent television replays confirmed a faint sound but clear daylight between Warner's bat and the ball.
Shadab (4-26) ravaged Australia's top and middle order, claiming the scalps of Warner, Mitch Marsh (28), Steve Smith (5) and Glenn Maxwell (7) to place Pakistan, defending 4-176, in firm control before the Wade-Stoinis show.
WADE OPENS UP ON SEMI-FINAL HEROICS
T20 World Cup semi-final hero Matthew Wade said Marcus Stoinis's assault on paceman Haris Rauf in the 17th over, and not Hasan Ali's dropped catch near the death, was the turning point of Australia's remarkable semi-final triumph over Pakistan.
With the asking rate climbing, Stoinis clubbed back-to-back near-yorkers from Rauf for six and four to suddenly give Australia a sniff.
Wade was on a scratchy eight off nine balls at the time, but Stoinis's belligerence proved infectious.
Wade duly sent Hasan sailing into the stands before cementing one of Australia's greatest wins the next over with a trifecta of sixes off Pakistan's ace spearhead Shaheen Shah Afridi – immediately after the Aussie gloveman was grassed by the hapless Hasan at deep mid-wicket.
"It's an easy thing to do, to focus on missed chances," Wade said.
"By the time that catch went down, I was pretty confident we were in a really good position to get the runs.
"The turning point of the game was Marcus's over against Rauf – that swung the momentum our way and gave us an opportunity to win the game.
"Marcus's innings was underestimated and took a lot of pressure off me early.
"It gave me the ability to get in and get them late."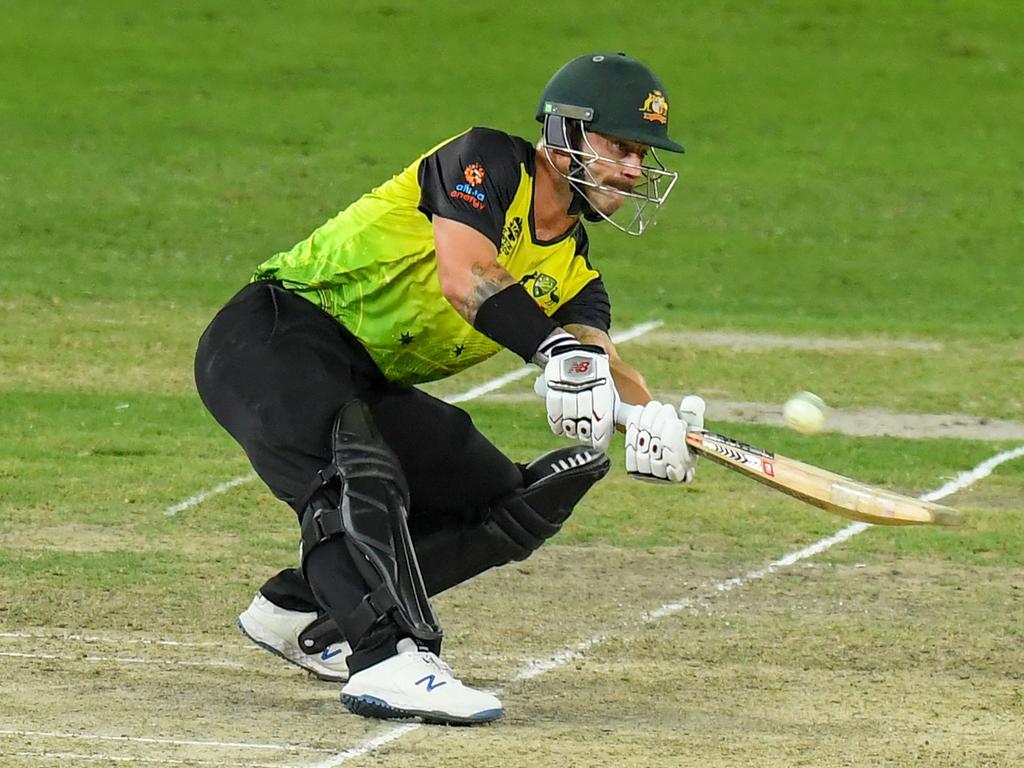 Wade ramped two sixes in the last three balls to secure victory for the Aussies. Picture: Indranil Mukherjee/AFP.
Wade and Stoinis put on 81 in 6.4 whirlwind overs, the duo's second vital sixth-wicket partnership of the competition, after their plucky unconquered 40-run union in Australia's hard-fought opening win against South Africa effectively sealed the semi-final berth.
Clearly they don't mind batting together.
"To go out and bat with him (Stoinis) gives you a lot of confidence," Wade said.
"I know that if I can just hang with him for 4-5 overs, he's going to find the boundary … he's too big and strong not to.
"The reason me and him work well towards the back end is because we know each other's game so much.
"There was no doubt I was feeling the pressure a little bit, (but) Stoin was saying 'we'll get these, we'll get these'.
"While he's around, I'm confident we can chase any total."
Marcus Stoinis reacts during the World Cup semi-final. Picture: Alex Davidson/Getty Images
Wade, who turns 34 next month, felt more nervous than usual throughout the match.
He is well aware his chequered career, which has incorporated more comebacks than most, could have ended with defeat to Pakistan – and may still end in two days when Australia tackles New Zealand.
"I was a bit nervous coming into the game knowing potentially it could be my last opportunity to represent Australia," Wade revealed.
"If this is it, this is it. It's not really on the line for me – it's going to be all over.
"I feel like this game was maybe harder nerve-wise than what the final will be because now we're in it we've got nothing to lose.
"That might be my last game too and I'm comfortable if that is it."
OFF HIS SICK BED
Mohammad Rizwan and Shoaib Malik missed Pakistan's practice session on Wednesday with what team management disclosed as "mild flu" leading into the big match.
It appears Rizwan's condition was considerably more serious than that — making his knock particularly special.
"Mohammad Rizwan was in hospital a night ago," confirmed Pakistan's batting coach and Australian Test legend Matthew Hayden.
Mohammad Rizwan plays a shot during the World Cup semi-final. Picture: Francois Nel/Getty Images
"He was suffering from some sort of a lung condition. This is a warrior.
"He's been brilliant through this tournament, and he has great courage. Fantastic knock from him."
Pakistan's team doctor later confirmed Rizwan spent two nights in the ICU with a chest infection.
Rizwan was somewhat manic early and offered two difficult outfield chances to Warner (on 0) and Adam Zampa (39) before compiling a fine 67.
After captain Babar Azam fell for a typically classy 39, Rizwan and Fakhar Zaman (55no) were savage on Australia's seamers.
AMAZING AFRIDI
Paceman Afridi had the pro-Pakistan crowd on its feet when he produced an opening over for the ages.
Evoking memories of Wasim Akram, Pakistan's greatest left-arm paceman, Afridi magnificently curled one back late to trap Australian captain Aaron Finch lbw for a golden duck.
Afridi almost found himself on a hat-trick when his searing yorker struck Marsh in front, the Aussie No. 3 surviving a confident "celebrappeal" by millimetres.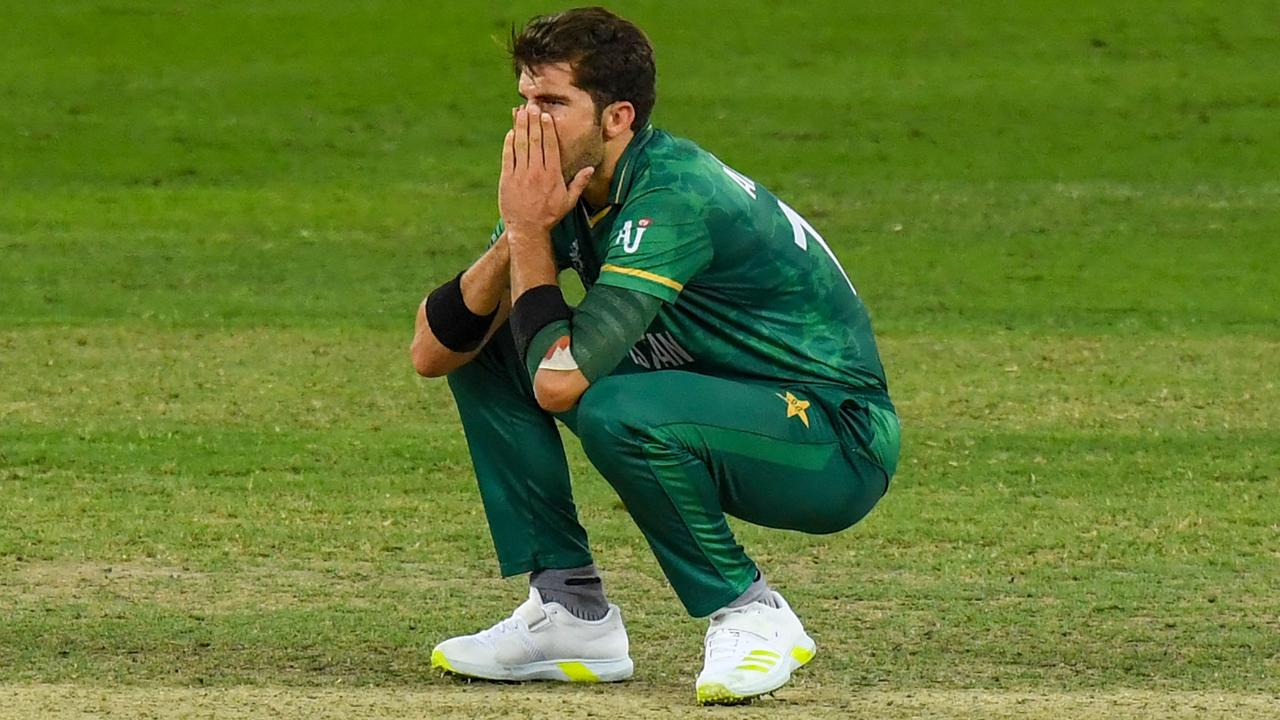 Pakistan's Shaheen Shah Afridi reacts after a delivery. Picture: Indranil Mukherjee/AFP
HAFEEZ'S HALF-TRACKER
Pakistan's 41-year-old all-rounder Mohammad Hafeez has sent down more than 13,000 deliveries across his long international career, but none would have been worse than his first ball of the match against Australia.
After the ball got stuck in Hafeez's hands and bounced twice on the pitch, Warner helped himself to the easiest six he'll ever nail.