Interim Australian coach Andrew McDonald prepared to wait for top job
Interim coach Andrew McDonald hasn't put his hand up for the top job just yet, instead says he's more focused on what happens with the national team's two pressing assignments.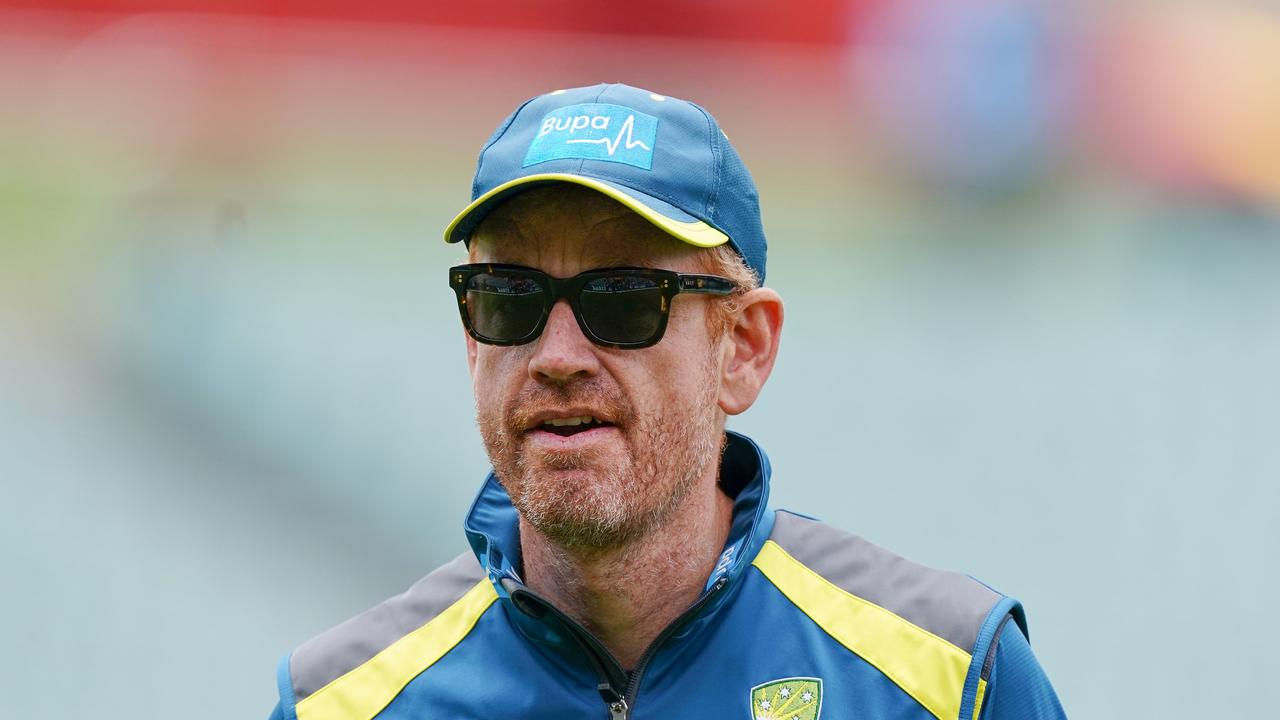 Andrew McDonald is in no hurry to be confirmed as full-time Australian coach with his mind purely on the matches at hand. Picture: AAP Image/Scott Barbour
Australian head coaching favourite Andrew McDonald is seeking more information on what the role will entail before he commits to throwing his hat into the ring.
In the box seat to take over from Justin Langer permanently after being named interim coach, McDonald has stopped short of declaring he wants the job as he balances family life and franchise postings with any decision on guiding the national team.
McDonald has expressed his respect and admiration for the job done by Langer, but said the onus is now on the team to move forward and put results on the board.
Andrew McDonald says he's yet to be spoken to by CA about taking the coaching job full-time. Picture: Getty Images
Cricket Australia chief executive Nick Hockley has already made it clear he wants an overarching head coach to take over, rather than moving to split the role across the formats.
It's understood powerbrokers have already met to outline the process for appointing Langer's successor, and that search will take place over the coming weeks.
McDonald is focused on the important job of launching the Australian Test team's bid to become road warriors against Pakistan next month, but said he's yet to be spoken to by CA about taking the job full-time.
"I literally haven't given it much thought. It's a demanding job (coaching Australia), what does it look like? Once the process starts you'll give it some thought and you'll either throw your hat in the ring or you won't," McDonald told News Corp.
"There needs to be a bit more clarity about what the expectation is of the head coach from the people who are making that decision and they'll be running a process.
"There's a lot of variables in how they could set it up so at this stage, until you've seen it, as a coach it's not as simple as 'yeah, I'm interested', or 'no.' It's literally, let's see what unfolds."
McDonald has a pre-existing coaching commitment at the Birmingham Phoenix in England's Hundred competition later this year, because his current contract with CA as a senior assistant allowed him the opportunity to seek franchise opportunities around the globe in and around Australia's schedule.
It's understood numerous IPL franchises were also scouting McDonald, but Australia's tour of Pakistan which overlaps with the start of the Indian franchise tournament meant that job wouldn't work.
McDonald might only be the interim at the moment, but the 40-year-old is treating his two assignments in charge of this week's Twenty20s against Sri Lanka and the Pakistan Test tour as crucial chances to shape the evolution of the Australian team.
A World Cup defence, and the chance to prove themselves overseas — having not played a Test internationally since 2019 — are driving McDonald in his desire to put the right environment in place for the players.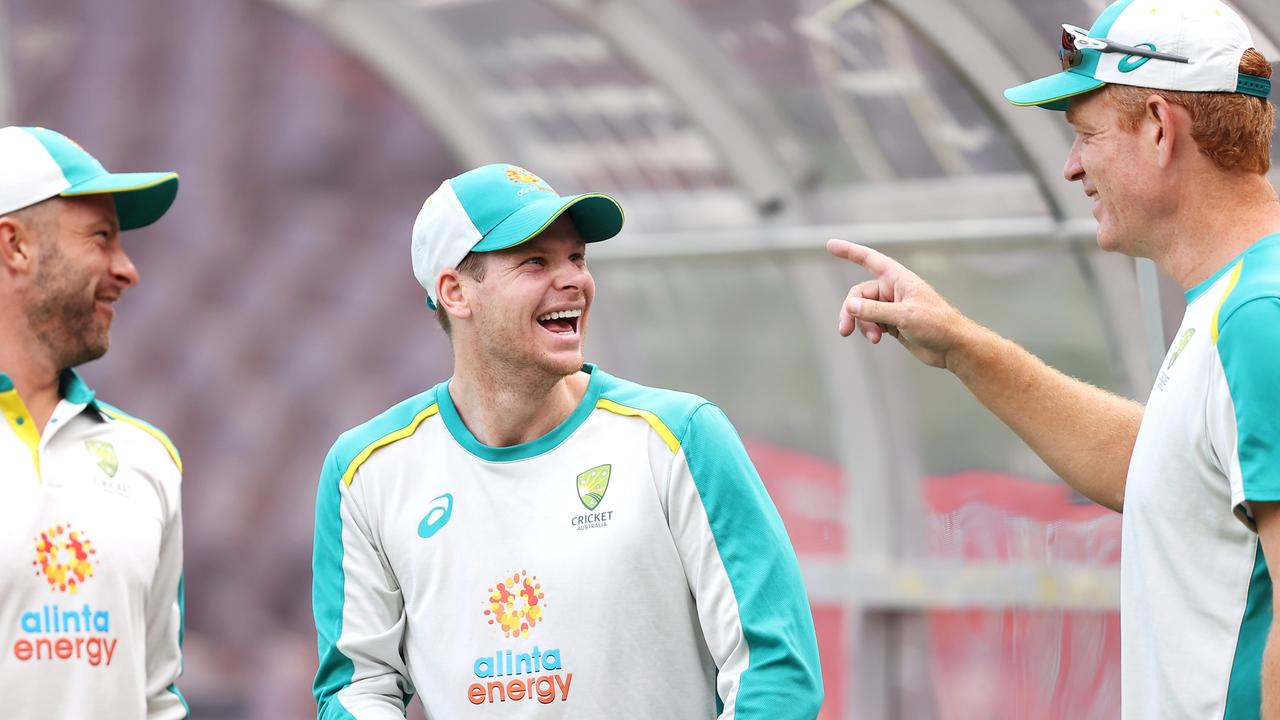 Matthew Wade and Steve Smith with interim coach McDonald. Picture: Getty Images
"Definitely. The World Cup build starts now … then we've got an incredibly difficult period of overseas tours coming up, with Pakistan and Sri Lanka and (next year) the final frontier in India. We're ready for that," McDonald said.
"Pat (Cummins) has done a good job as captain in the short stint he's had … and Aaron Finch equally.
"We look forward to building on the back of that success but we're going to be challenged in different ways."
There is inherent pressure on McDonald after Langer resigned on the back of a World Cup title and Ashes series triumph.
But McDonald sees it as opportunity and a crucial job to be done.
"It's an incredibly difficult time whenever a coach moves on, different emotions fly around," McDonald said.
"I totally respect JL's input as a coach and his contribution to Australian cricket. The role he did over the last four years has been an incredibly tough job.
"I think now it's really about how we move on, how we move forward. We have to pick ourselves up and move forward and we've got an incredible opportunity with a tour of Pakistan, where we haven't been since 1998.
"This interim role is about us navigating through that Pakistan series."
Influential voice backs McDonald's coaching claims
Aaron Finch has sung the virtues of Andrew McDonald and added weight to the old theory that says coaching appointments are an antidote to what's happened before.
Australia's World Cup winning captain had no intention of slighting Langer — who he praised and thanked — but it's obvious players are after a new coach at the opposite end of the volatility scale to the Test legend who resigned in such dramatic circumstances last Saturday.
McDonald has taken over as interim head coach for the Twenty20 series against Sri Lanka starting on Friday night and next month's historic Test tour of Pakistan, and appears in a two-horse race with Trevor Bayliss to assume the role full-time.
Bayliss has support to come in from the outside and sources say that while happy with his quieter life as a T20 freelancer, the former England coach would be open to listening to what Cricket Australia has to say if an approach was made.
McDonald shares a close relationship with Finch going back to their many years together at Victoria and it's obvious the former Australian all-rounder ticks most boxes for the prototype wanted for the new era.
"He brings a lot of respect from the players. He has a calm approach. He's someone who never seems to get flustered by any situation or result," said Finch.
"It's all about the process and making sure that your attention to detail and your preparation and your planning is 100 per cent.
"He brings a really good attitude around the group. He's been with the team for quite a while now. It's exciting times."
Andrew McDonald is favoured by players to take over as Australian coach.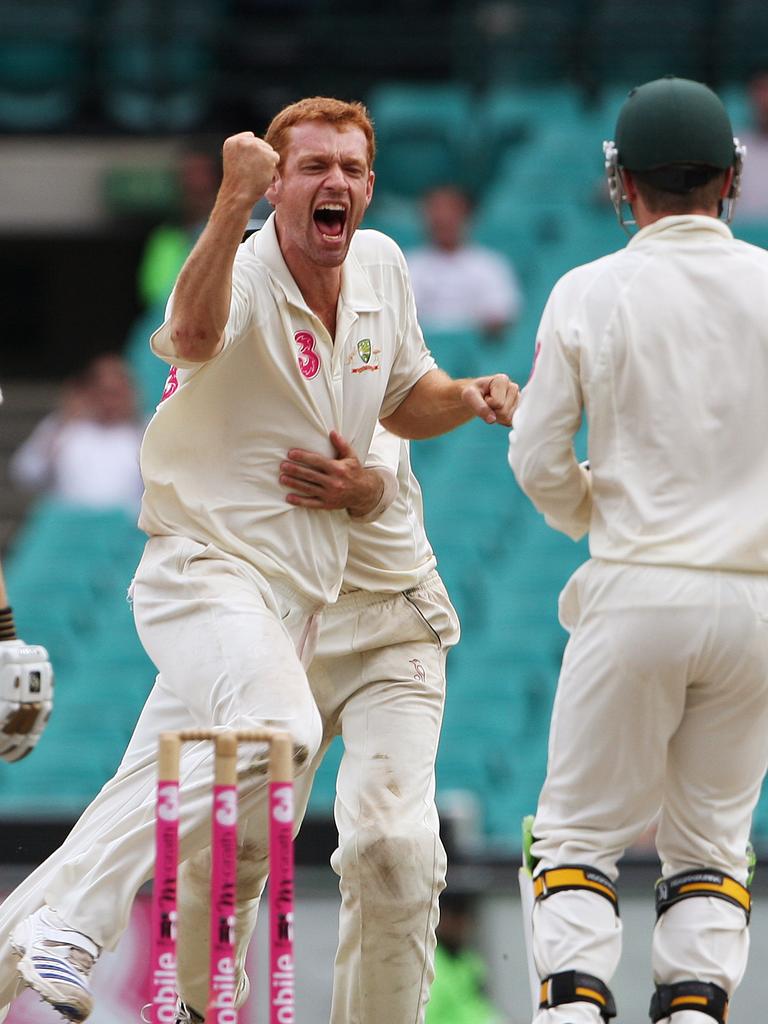 Andrew McDonald celebrates a wicket during his Test career.
Finch said it would be up to Cricket Australia to decide who the next coach would be, but gave an outline for what the players are looking for.
"A collaborative approach with the players I think is really important," said Finch.
"When you've got different formats and guys are rotating in and out, creating a really consistent environment is really important in that regard.
" … I think we've started to get there over the past few months in particular with a really collaborative approach to the way the team is ran.
"Patty and I have spoken about that and that's really important to us. There's so much experience, guy shave played a lot of ODI, T20 and Test cricket – I think that's the way the team functions best.
" … Like everything that has gone before us (with Langer's exit), the players don't make those decisions. We give our opinions, we give our feedback and that's about it."
Finch said he has only spoken to Langer over text message in recent days but confirmed the feedback he provided to Cricket Australia was similar to what Cummins passed on about the belief a new direction was needed.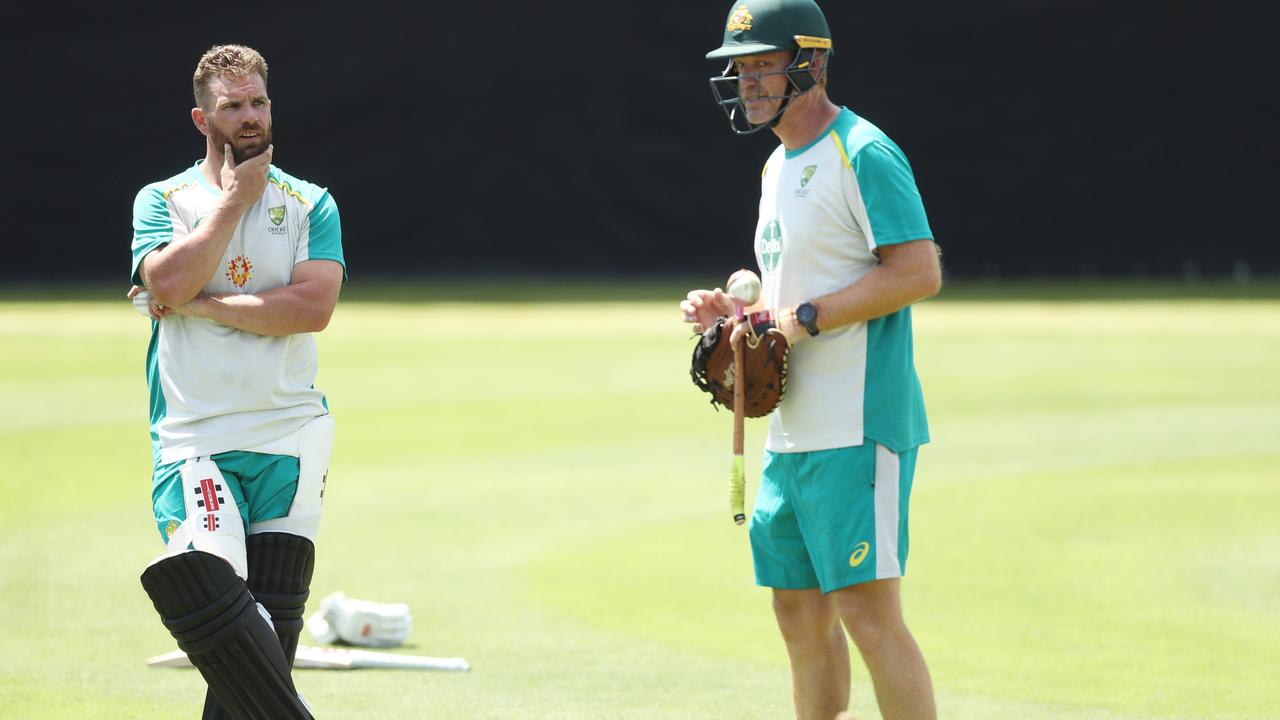 Aaron Finch chats to Andrew McDonald ahead of training in Sydney.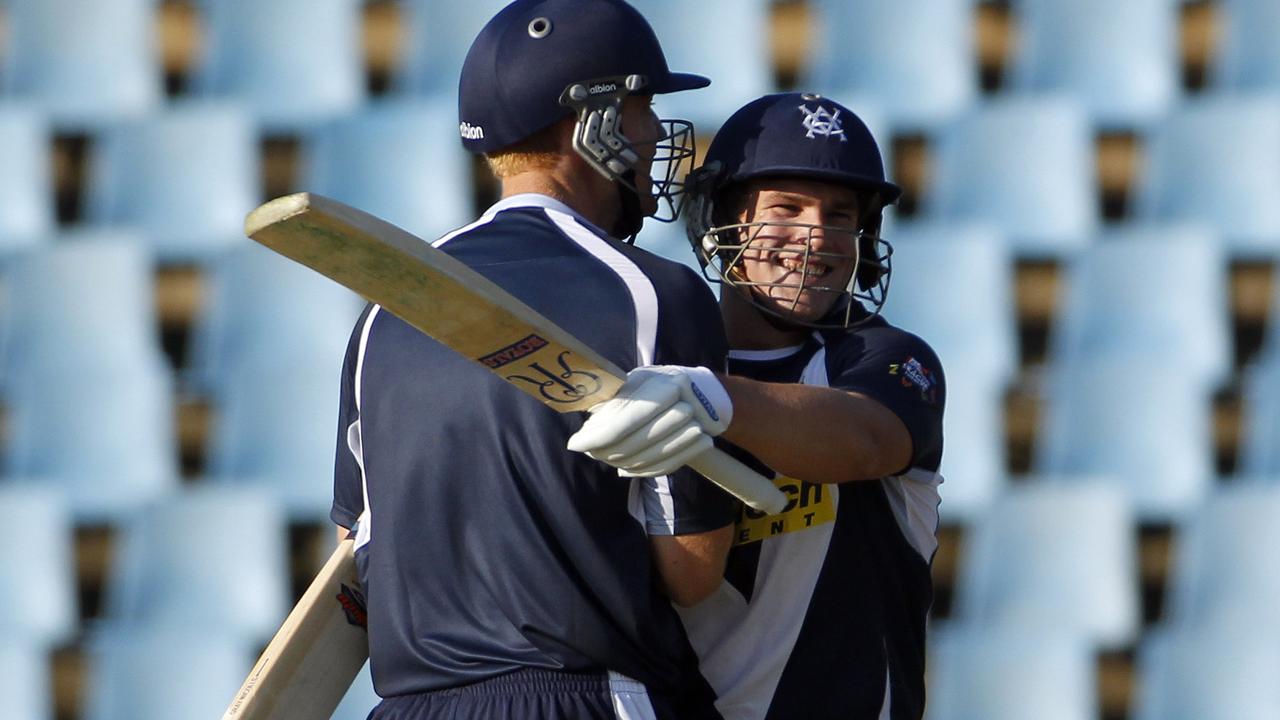 Andrew McDonald and Aaron Finch celebrate a win for Victoria.
Although he indicated he hasn't spoken to CA powerbrokers since a crisis meeting in August last year, in which he, Cummins and Tim Paine aired their grievances to then Cricket Australia Chairman Earl Eddings and chief executive, Nick Hockley.
"We sat down in August and talked through all of that about things to improve and gave our feedback pretty much. That was as much conversation that I've really had about it all," said Finch.
"Like Pat said yesterday it's not our decision to be made but we gave all our feedback along the way and we've got to move on from all that now and start with the Australian cricket team hopefully winning this series."
Finch said Langer had succeeded as a coach.
"JL did an amazing job for four years and that ended with a brilliant T20 World Cup win and a brilliant 4-0 Ashes win," he said.
"As a playing group, we couldn't thank him enough and I know personally, the amount of work he's done for me as a batter, as a person, as a leader has been fantastic."