Brad Haddin assesses whether Tim Paine should be Australia's wicketkeeper this Ashes summer, and who could replace him
BRAD HADDIN isn't entirely convinced Tim Paine will be Australia's wicketkeeper at the Gabba, but not because of the controversy this week.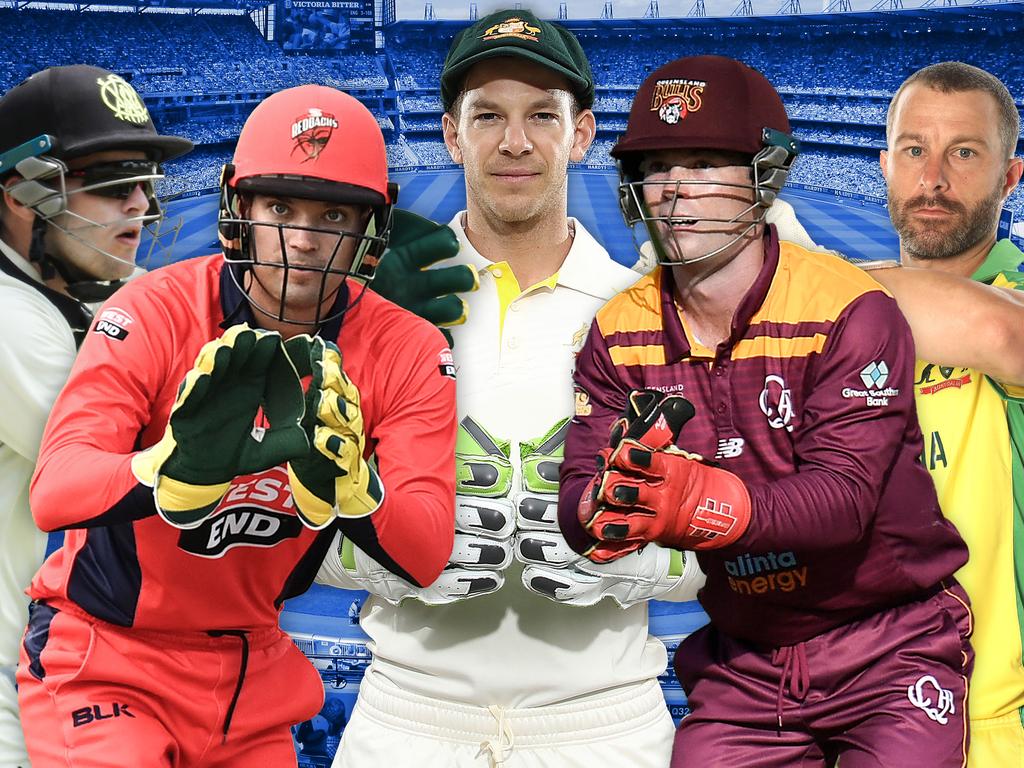 Haddin: the burning Paine question. Picture: Supplied
There is plenty of discussion around the country as to whether Tim Paine should retain his wicketkeeping duties for the Australian Test team after his resignation from the captaincy.
The selectors obviously have plenty to consider.
Australia has historically had a good production line of wicketkeepers and now is no different. In my view, there are four guys who could do the job for Australia at the moment, and an emergency option if they really needed it.
Here's how I think things will play out behind the stumps for the Gabba Test.
Tim Paine
Glovework: Paine, at his best, is still the leading gloveman not just in Australia, but around the world. He is a great technician and has proven that over a long period of time, especially on days four and five standing up to the sticks for Nathan Lyon. If he is physically ready to play, I think the selectors will stick with him for the Ashes.
But the "if" is significant. The big concern for me is that he has hardly played any cricket since last summer, he is returning from serious neck surgery and he's running out of time to play meaningful cricket before the first Test. It's difficult to pick up the gloves after a period like that and immediately find your rhythm, so he will have to assess that. I've read reports about him being a "distraction" because of the drama around his captaincy resignation, but I don't think he would've elected to play on if he felt that was going to be an issue.
To me, heading into a marquee event like the Ashes, the question is whether he is physically able to perform with the gloves at the top level.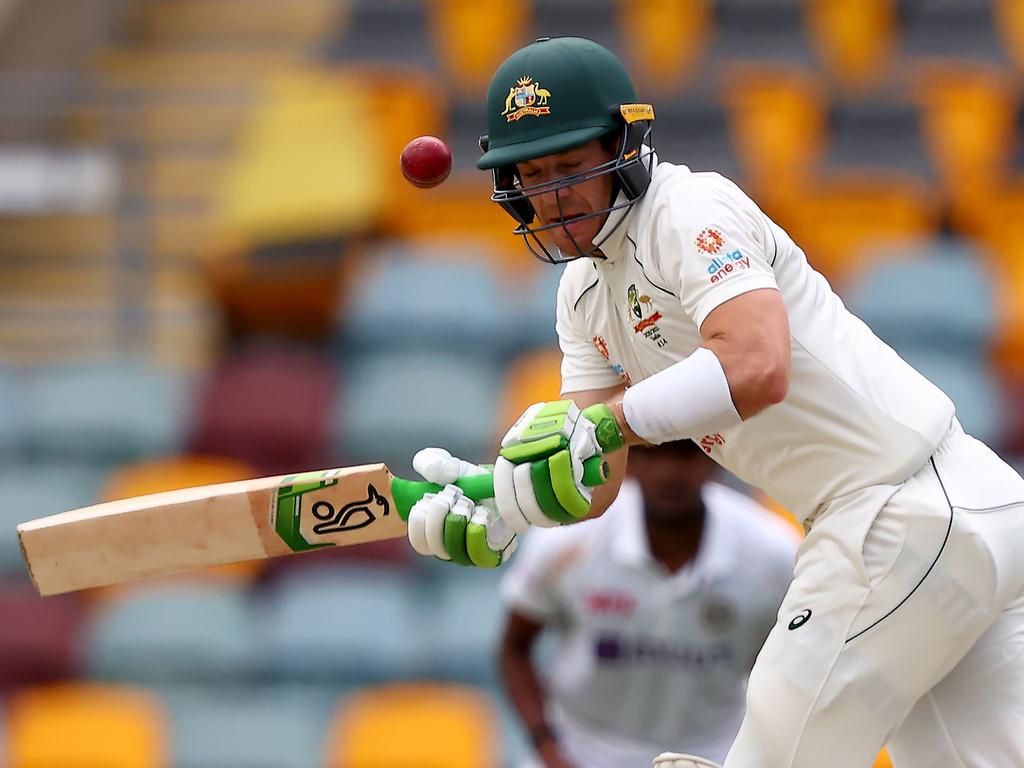 Still without a Test century to his name, Paine has showed plenty of improvement with the bat for Australia in a number of important innings. Picture: Patrick Hamilton/AFP
Batting: His batting has improved a lot over the last few years. He has averaged 40.80 and 38.25 in his last two Test series against India and New Zealand respectively and he's shown an ability to change score quickly when in the ascendancy and knuckle down when under pressure.
It hasn't always been that way for Paine in international cricket but he's shown recently that he knows when to occupy the crease, and when to move the game forward.
Intangibles: He brings a calmness to the dressing room and he does so in big events. We saw it during the 2019 Ashes and across his career. He's not a reactive person when there's a lot going on around him.
Rating: Before the neck injury, Paine would have been the first-choice wicketkeeper for Australia with or without the captaincy. It will now come down to whether he is physically ready to present for that first Test.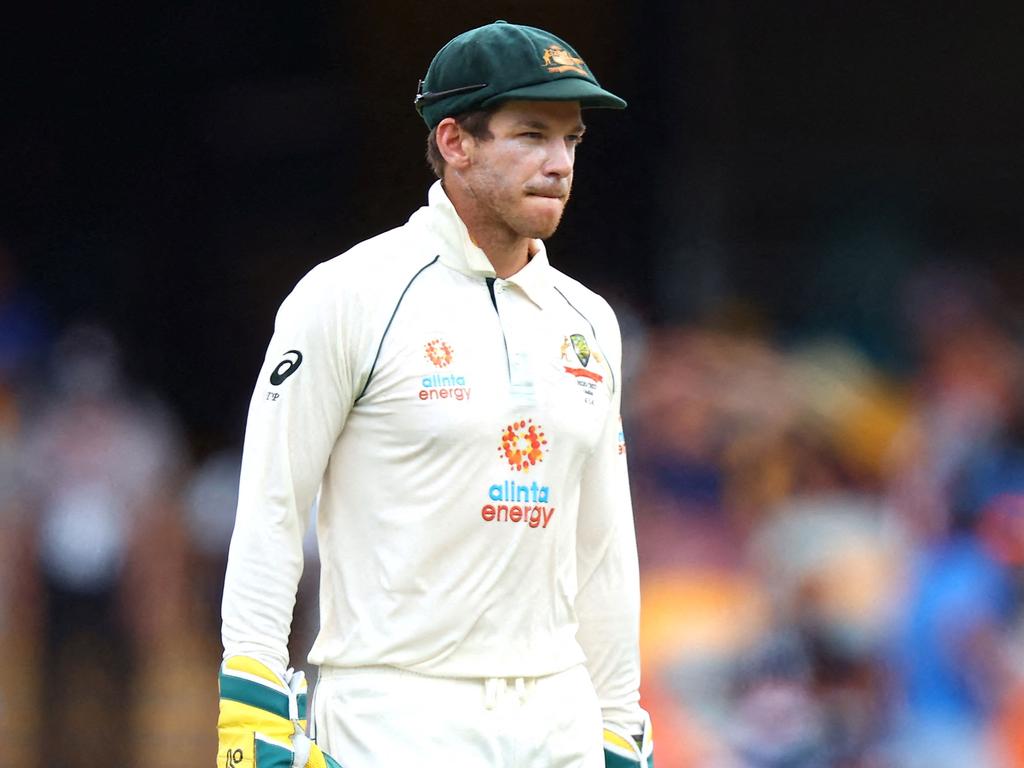 Tim Paine's wicketkeeping is still among the best in the world but a lack of match practice could cost him leading into the Ashes. Picture: Patrick Hamilton/AFP
Alex Carey
Glovework: Carey's had an interesting time over the last 12 months. He has looked a bit down on confidence with the gloves, which might have been the result of being left out of some key white-ball tours for Australia recently. That said, he has benefited from playing the opening Shield rounds of the season for South Australia and has been finding some rhythm behind the stumps.
As a technician, his big challenge in a Test match would come standing up to Lyon late in the match on a wearing wicket. He's kept to plenty of good spinners, like Rashid Khan in the BBL, but it's a different ball game late in a Test match.
Batting: He's been consistent over a decent period of time now. He's gone up the order and scored runs in Shield cricket for South Australia, which will help, and has played big innings on big stages in the white ball game, including World Cups.
He's naturally aggressive with the bat and likes to move the game forward when in that middle-order role. His technique stands up, so the final question mark would be around his ability to bat with the tail in different situations in the pressure-cooker of a Test match.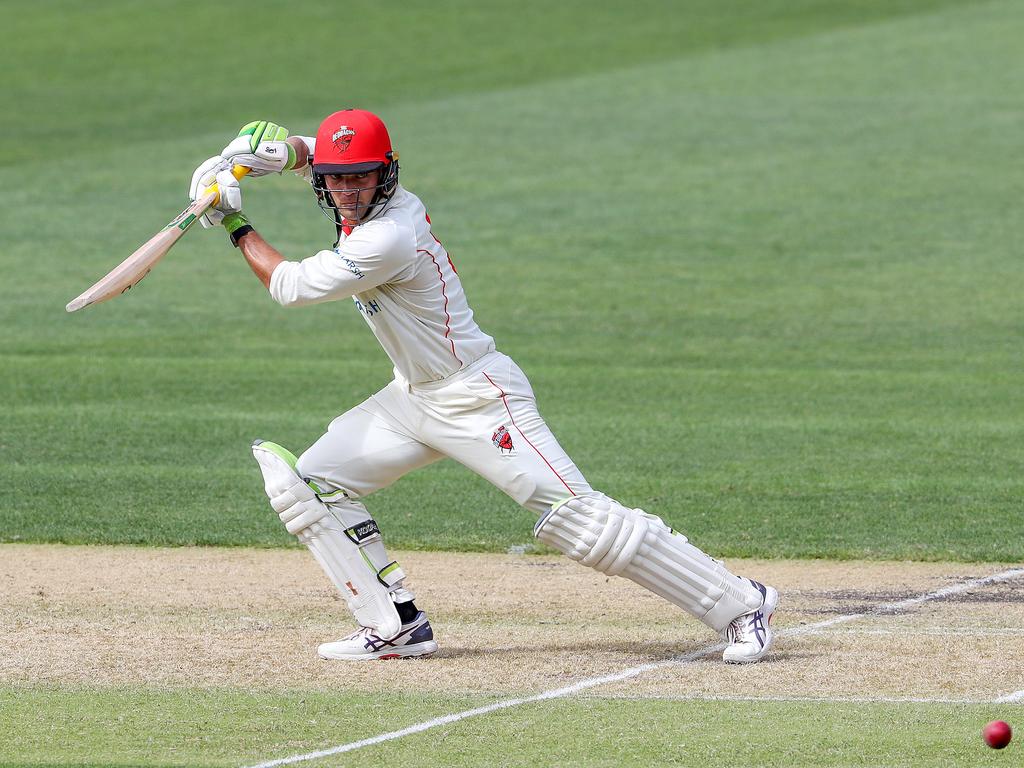 You know what you're going to get with Carey's batting. He has scored runs at all levels and that's a huge bonus. Picture: Sarah Reed/Getty Images
Intangibles: Physically, he will be able to handle the demands of Test cricket. He's very fit. The challenge will be the mental side of things. He has a lot of nervous energy and that can play out in different ways. His leadership qualities are less verbal and more about the way he prepares. He's very diligent in his approach to every level of the game.
Rating: If Paine is not physically up to playing at the Gabba, I have Carey fractionally in front of Josh Inglis. But it's very, very close. I think the fact he's been the back-up option for a while now should get him the nod, but Inglis has made up a lot of ground in a relatively short space of time.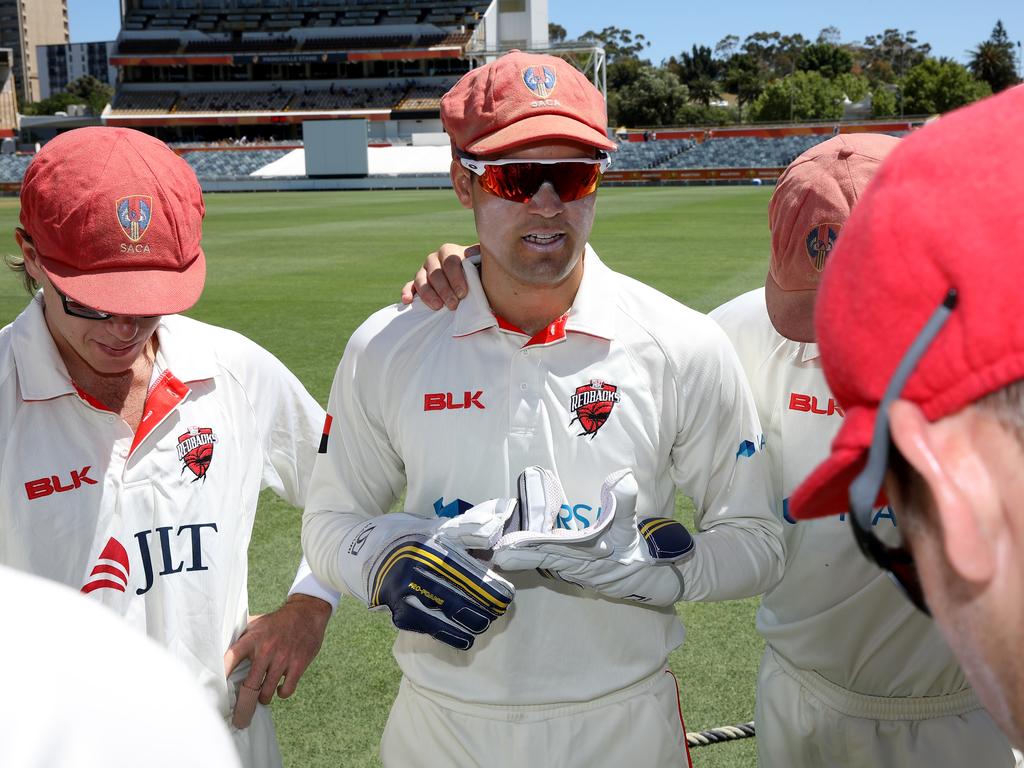 A tidy gloveman and regarded as the keeper-in-waiting, Carey will probably have first crack as Paine's replacement, just. Picture: Richard Wainwright/AAP Image
Josh Inglis
Glovework: I'm impressed with Inglis' work with the gloves. 'Keepers coming from the West usually don't get a lot of exposure to spin, but I would rate him second only to Paine in terms of his work up to the stumps. That's a huge positive for him, given the importance of Lyon and the role he plays within the Test team.
Inglis is also very powerful and has a good wingspan. He moves well laterally and has a good set of hands. He's taken some very athletic catches over the last couple of years, and that starts with the power of his lateral movement.
Batting: This is a big strength. He's a genuine momentum-changer. Inglis puts the pressure straight back onto the opposition and plays spin well, both of which are crucial if he was to bat at No.7 in the Test team. He averaged more than 73 and scored three centuries last Shield season, all briskly, and he has different gears to his batting.
He reads the game well and knows how to bat with the tail.
Inglis can change the game with the bat. That's what sets him apart from the rest. Picture: Will Russell/Getty Images
Intangibles: His youth. At 26, he would bring a lot of energy and enthusiasm to the group. He's also had the experience of touring with the national team to the T20 World Cup, so he will have a much better idea of the standard required to succeed at international level.
Rating: It's close but, as stated above, I have Carey fractionally ahead if Paine is not physically ready for the Gabba. Still, I wonder if the selectors might have been sending a signal by picking him over Carey for the T20 World Cup squad. He's certainly applying a lot of pressure to his older rivals.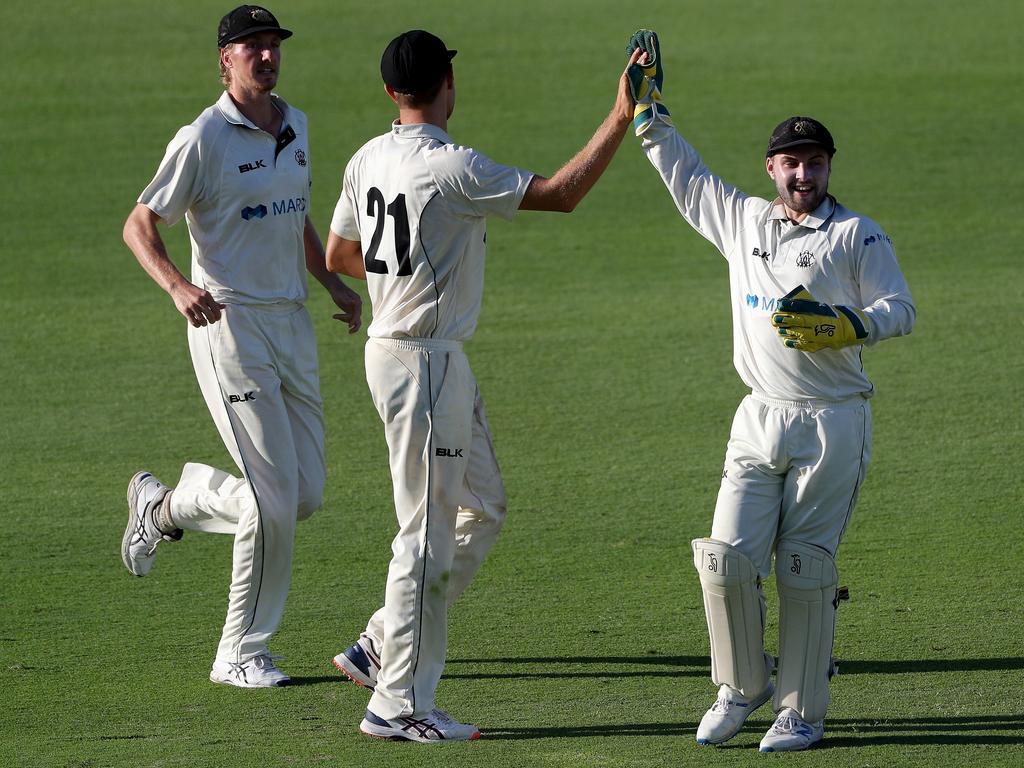 Inglis has rocketed into contention and his inclusion in the World Cup squad suggests that selectors think highly of him. Picture: Richard Wainwright/AAP Image
Jimmy Peirson
Glovework: Peirson is a fascinating one for me: I think he's been the biggest improver in Australian cricket over the last three years. He's benefited from having Wade Seccombe as his coach at Queensland, which I reckon is a big factor behind the substantial improvement in his glovework. He's become a lot tidier and you don't notice him behind the stumps as much as you did in previous years.
Leadership also appears to have suited him, with the Heat and winning a Shield with Queensland, and has not impacted his wicketkeeping at all. That's a great sign.
Batting: It was inconsistent at times but like his work with the gloves, he's improved a lot over the last three years. He's an old-school wicketkeeper who scores under pressure. He gets tough runs, when his team needs them, and he gets them in different styles. He can grind when he has to, and can turn a game when he can. A big mover.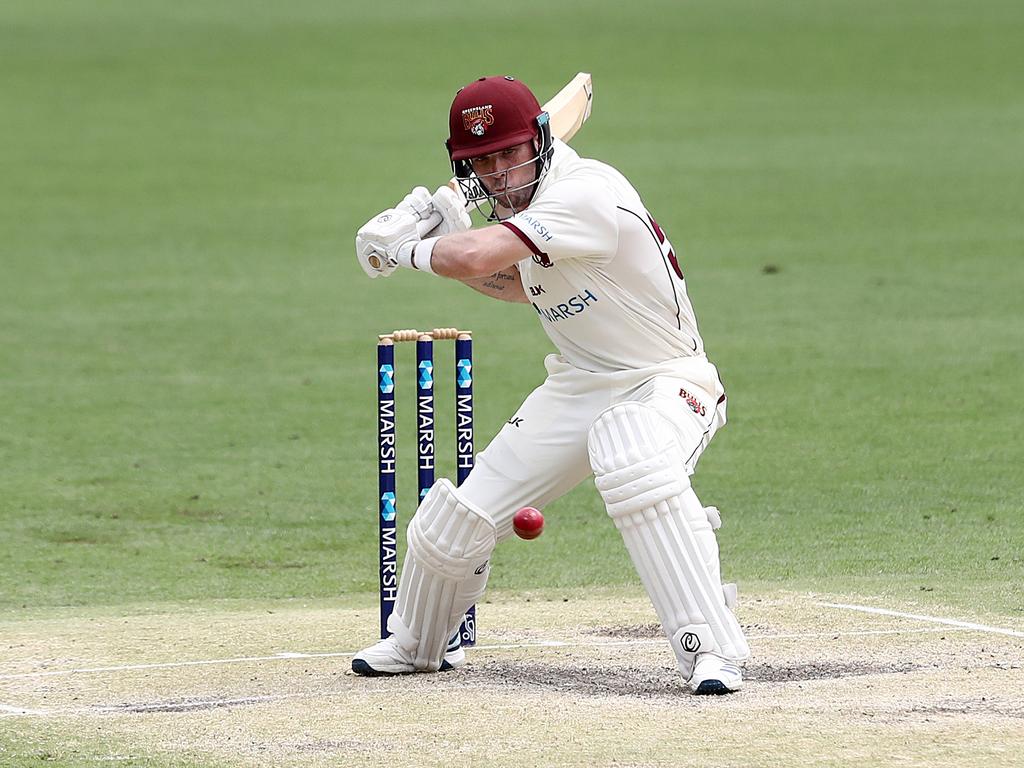 Not afraid to get the tough runs, Peirson has been a big part of Queensland's Sheffield Shield success in recent seasons. Picture: Jono Searle/AAP Image
Intangibles: The more pressure he's under, the better he seems to play. I don't think he'd be overawed if he got called into an Australian Test match. He's had leadership thrust upon him and it hasn't slowed him down. There would be a certain romance with a Queenslander getting a call-up for a Gabba Test, but I think he still trails the other three.
Rating: He wasn't in the conversation a while ago, which shows just how much he has lifted his game in recent years. He wouldn't let anyone down if given the chance.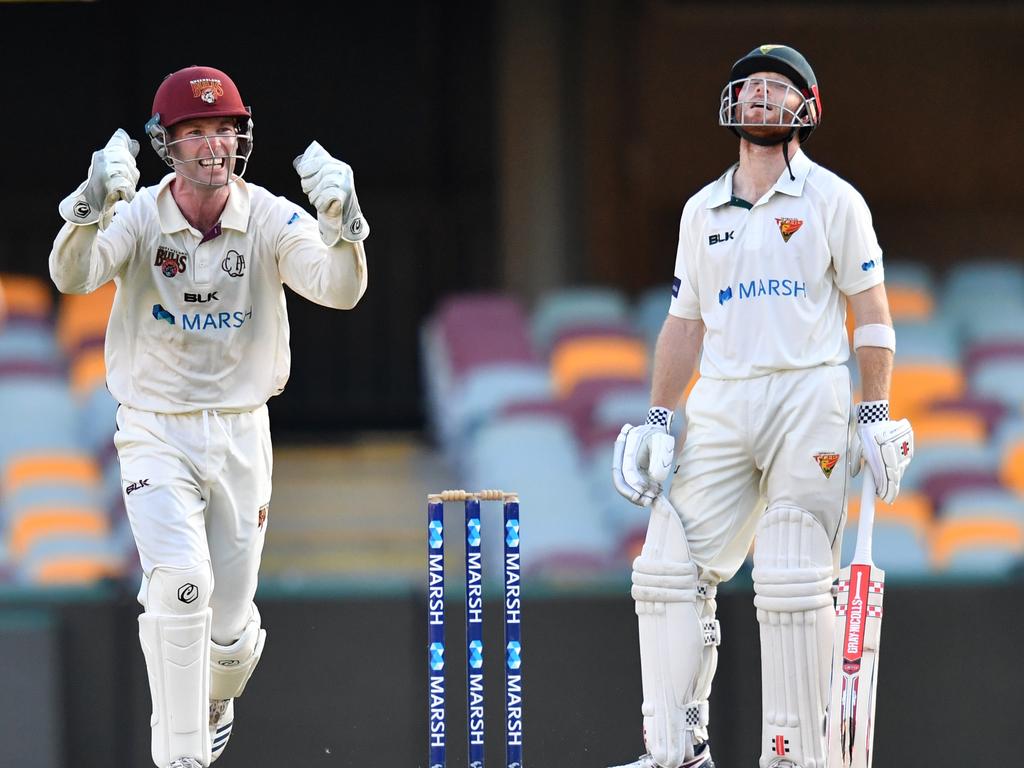 Peirson's development is making people take notice but for now, he probably sits just behind Carey and Inglis. Picture: Darren England/AAP Image
Matthew Wade
Glovework: This would be an emergency-only option in my view. I don't think the selectors, or Wade himself, consider him to be a red-ball wicketkeeper. He's a known quantity, which isn't a bad thing in an Ashes summer, but his days with the gloves are almost certainly going to be in white ball cricket from here.
Technically, he's lost a bit over the years, and I think that's because of the white ball focus.
Batting: He has scored four centuries at Test level, including two against England in the 2019 Ashes. He knows his game well, he enjoys the contest, and he's coming off a big T20 World Cup semi-final innings against Pakistan.
Wade has Test centuries to his name and certainly wouldn't look out of place in Australia's batting line-up. Picture: William West/AFP
Intangibles: His will to win. He's a tough competitor. He's good for the playing group and keeps things real with everyone.
Rating: A fair way behind the other contenders as a Test wicketkeeping option.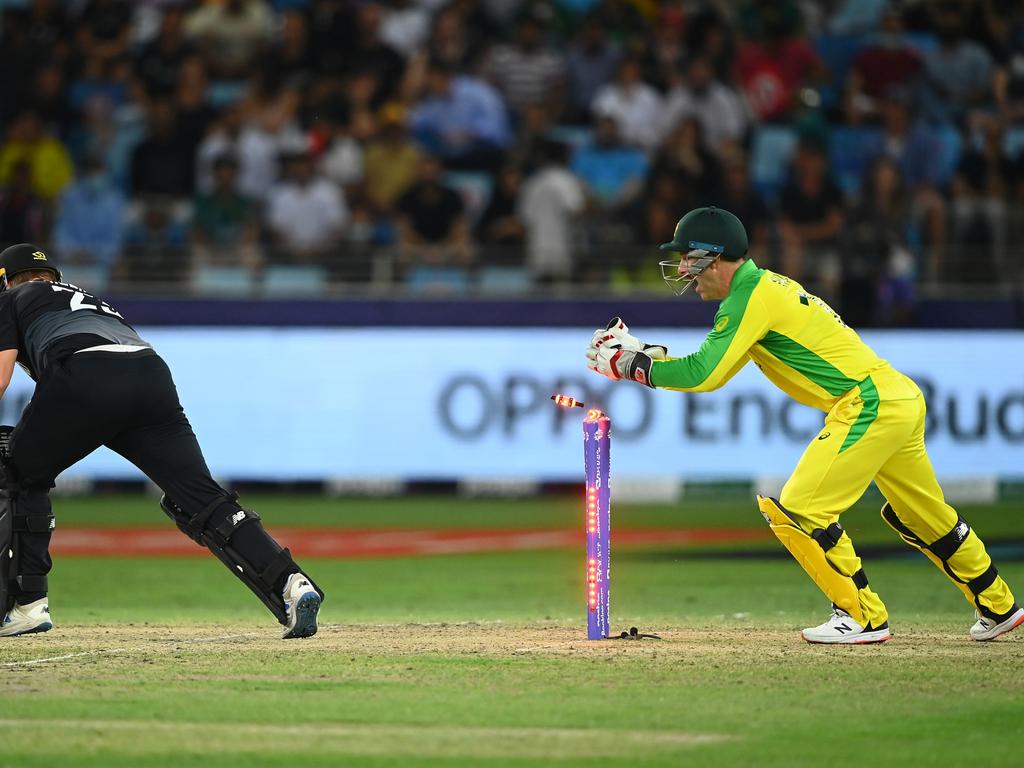 Wade does a great job behind the stumps with the white ball, but it's unlikely he'll be considered for the Test side. Picture: Alex Davidson/Getty Images