Higher standard than Prime Minister's office; Paine the latest in series of captains to fail character test
What began in tears and scandals ends amid the same. The shock of the camera glare. The disbelief. The raw emotion.
Tim Paine during day three of the 5th Ashes test in 2019. Picture: Ryan Pierse/Getty Images
What began in tears and scandals ends amid the same. The shock of the camera glare. The disbelief. The raw emotion.
Tim Paine, the wise cracking kid from Hobart whose late-life recall to the Test side and the Australian captaincy was Boys Own annual fare, is a sorry sight in the news clips that keep repeating on our screens.
A fresh scar across his throat from recent neck surgery.
Paine has stepped down over a sexting scandal that predates his return to the captaincy but one known at Cricket Australia's board and executive level for some years now.
The 37-year-old was stoic through the opening stanzas of his statement, but his voice began to break as he mentioned his teammates who had been alerted in the minutes before of the developing situation.
He read from a prepared statement. By the time it came to mention of his family, his emotion was apparent. This was a wretched business.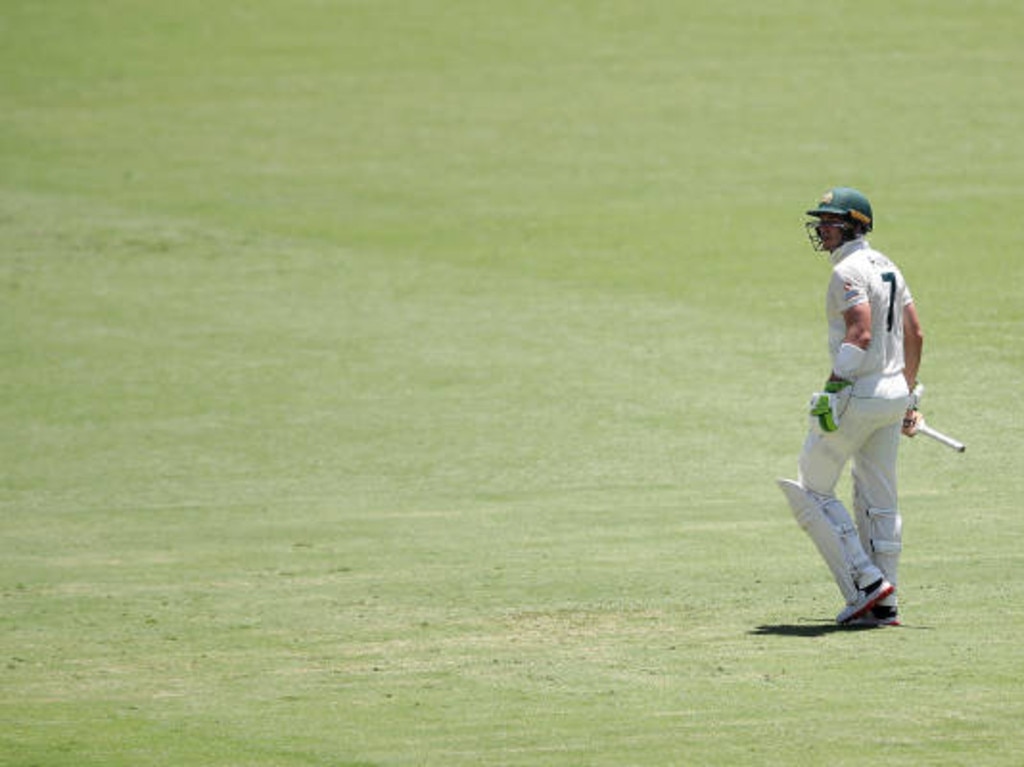 Tim Paine looks dejected after being dismissed by India in 2018. After resigning as captain, his future as a player with the Australian Test team remains unclear. Picture: Jono Searle/Getty Images
Paine is painfully aware that the job is predicated on character as much as talent. In the grand scheme of sporting scandals it is a tawdry personal indiscretion which occurred before he was made captain or had played the first game of his return.
It is not match fixing, doping, violence or racism, but Paine ­appears to have made a judgment that it was inappropriate to remain in his position.
If he wanted any guide on how this would play out he only had to cast his mind back to the drama surrounding his appointment.
That was an emotional time amid a torrent of moral judgments. Steve Smith was removed from the game and his role as captain by Cricket Australia and Paine called in to fill the void.
Cricketers argued the only damage in South Africa was to the ball and that was so insignificant umpires saw no need to replace it but they did not understand that this was about damage to a brand.
When Paine fronted the local media in a hastily convened press conference, the absence of screens proclaiming cricket associations and commercial brands was evident.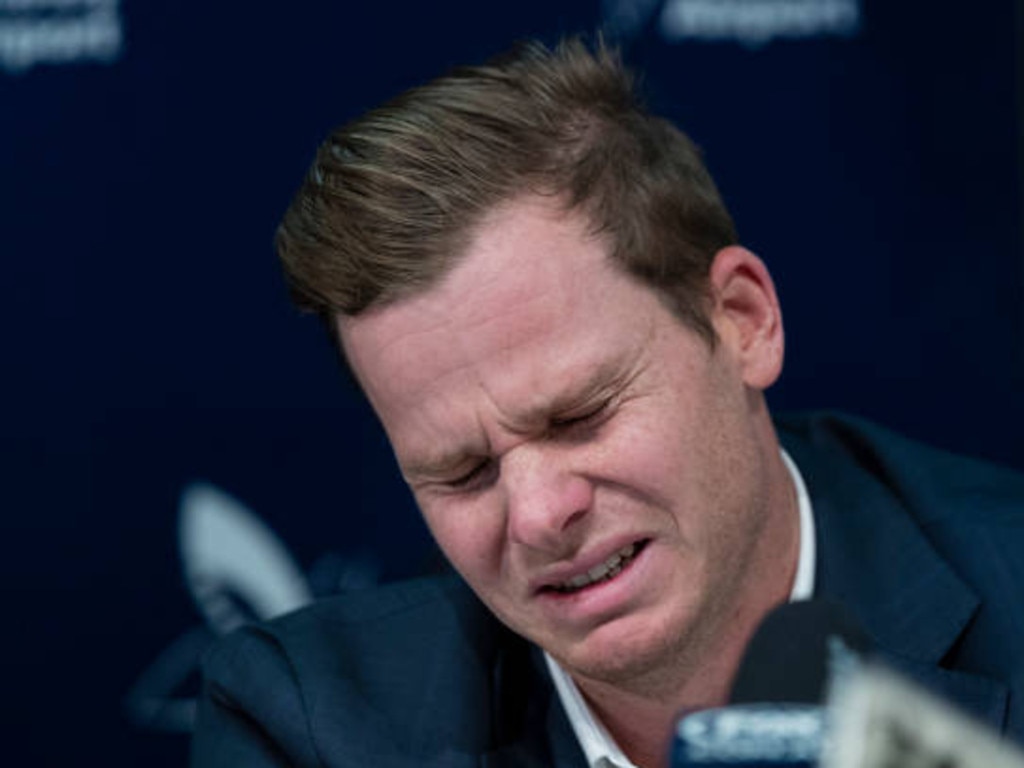 Steve Smith's teary end to his captaincy reign was the beginning of the Tim Paine era. Picture: Brook Mitchell/Getty Images
Cricket's popularity and value is measured by its appeal to Australians. It needs to own the front of cereal packets. It needs the sort of clean that energy companies trying to greenwash their image and fast-food retailers who want to be associated with athletes at the height of their abilities will invest in. Shiny, happy, clever people sell the game to regular Australians while industry sells its services through association with those exemplars.
Sports stars making racist jokes in dressing sheds, sending dick pics on Messenger, taking drugs on iPhone video, and in fixing scandals…
Sometimes you wonder what possesses these people but when you watched Paine, you realised that what possesses these people is that they are just that – people.
Somehow the morality play so popular in Tudor England migrated from the theatre to the sports field.
The classic form was an allegory that involved a protagonist who represented mankind and who was inevitably challenged to fall into sin by devils. In the narrative the falling hero is usually guided away from disaster by their better angels – a role filled these days by crisis consultants.
Paine's only victim here appears to be himself and the fall out will be felt most in his personal life but there's no separation of church and state on this once it became public. An ordinary Test player would be excused but the captain's office comes with a higher character test.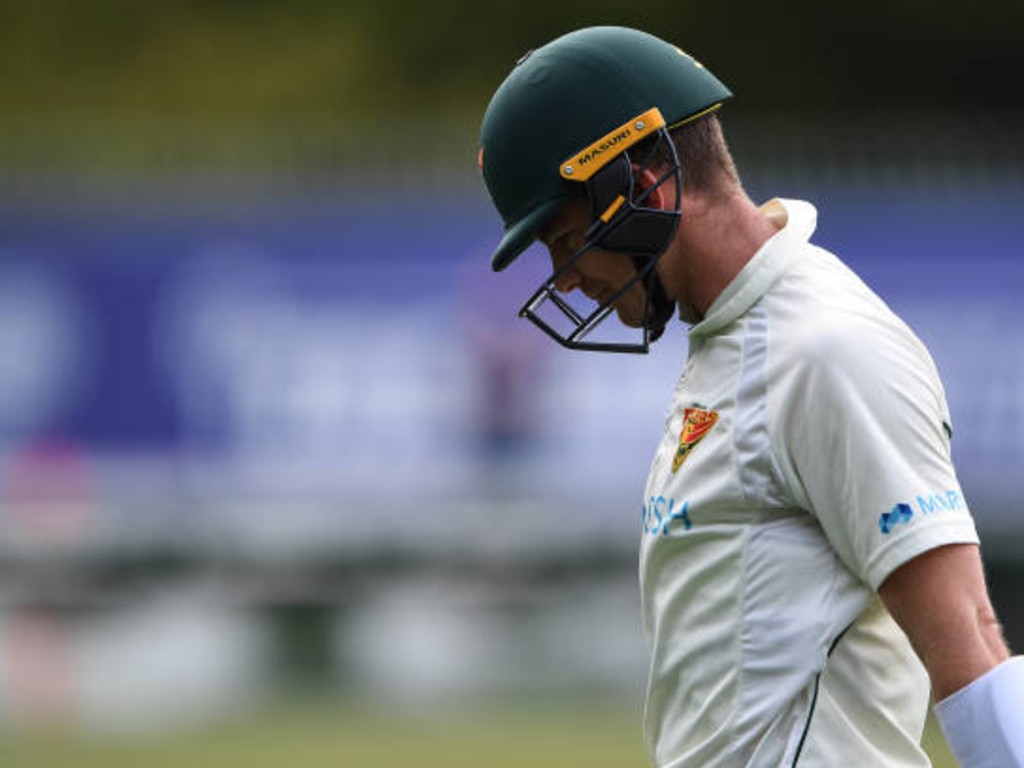 Tim Paine leaves the field after being dismissed during a Sheffield Shield against New South Wales. Picture: Steve Bell/Getty Images
Smith was considered ill-suited to resume the role because of his indiscretion. Shane Warne was removed from the role of vice-captain 20 years ago because of a string of public scandals. David Warner is apparently considered of such poor character that he has a lifetime ban from leadership roles in Australian cricket.
Not even ministers in the federal government are held to such high standards. Prime ministers are not held accountable for the behaviour of their team in the same way Smith was.
There is a sense of a double standard here too. Paine's employees had exonerated him of any offence when they investigated the incident.
In the years that followed, they were happy for him to keep the role but the moment it became public it became a problem.
Paine would not have jumped if Cricket Australia had wanted him to stay, but one of the mantras they teach sports stars in scandal 101 is that perceptions are reality.
If you have skeletons keep them in the closet.
Paine has another mantra which he had been forced to fall back on more regularly in what was expected to be his last summer and that was he never looked past his next Test. And having been given a second chance late in life, every Test he played was a bonus, even if it could be his last.
The Australian