Anthony Stuart relives the MCG hat-trick that proved the end of his Australian career
Anthony Stuart could have sneezed and Bay 13 would be in raptures. An MCG hat-trick will do that. But instead of launching his international career, the banker-turned-bowler was never seen in green and gold again.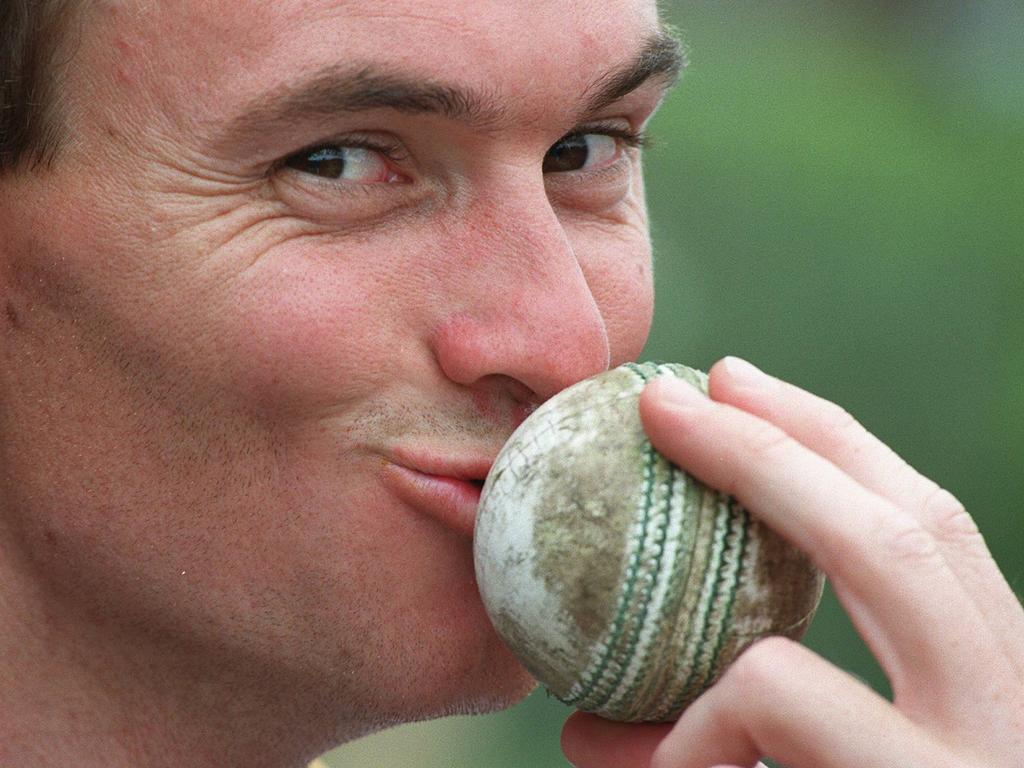 Anthony Stuart with his hat-trick ball.
At the end of the over, Steve Waugh gave Anthony Stuart a pat on the back and told the paceman to "go down and enjoy it."
"Down" was to the MCG boundary in front of Bay 13. "It" was the reception of the masses.
"I remember looking up at the group of people and they were all standing on seats and they were all bowing," Stuart recalls.
"I burst out into this big smile."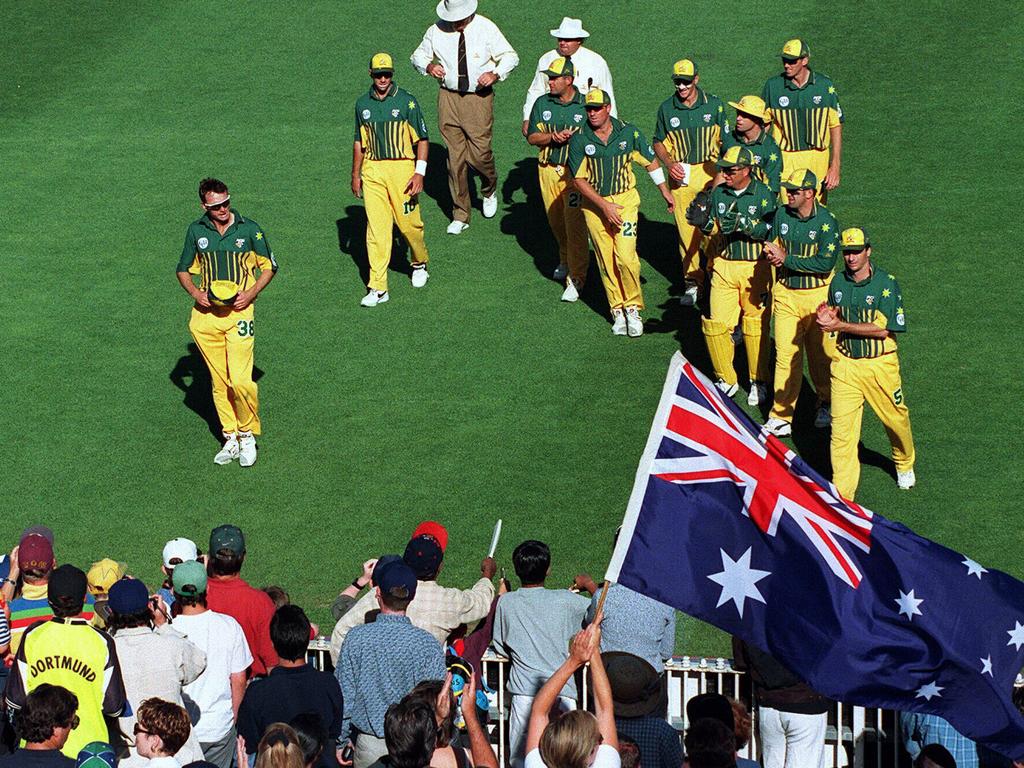 Stuart (with hat in hands) is cheered off ground after his hat-trick at the MCG. Picture: Supplied
Pakistan were 5-29. Stuart had never played before at Australia's most famous sporting venue, but he had all five wickets. Including a hat-trick.
When Australian selectors were initially unable to confirm Scott Boland would play the next match despite taking 6-7 in the second innings of the Boxing Day Test, there loomed a reasonable chance that the Victorian quick's debut Test would be his only appearance in the baggy green. It would have been cruel, but also beautiful in its own way, adding another dimension to the folklore.
But before there was Boland, there was Stuart, whose meteoric journey still causes the head to shake in disbelief 25 years after its peak.
An entire international career packed into a fortnight just after his 27th birthday. And then pretty much out of the system in little more than three years.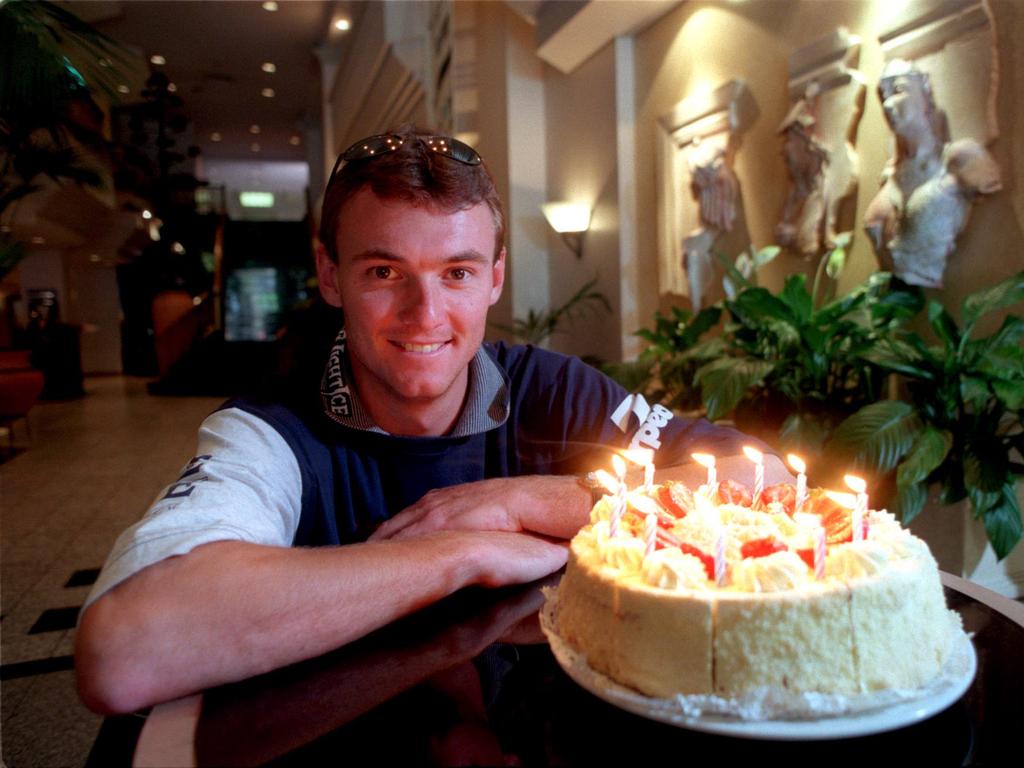 Celebrating his selection in Australian side and his 27th birthday. Picture: Supplied
It is a story of its time, one of a man born arguably a few years too early or too late, depending on which way you look at it. A cricketer who had to uproot his life to even get a game with NSW, coming onto the domestic scene just before it turned fully professional.
And of a man who having reached a sudden zenith, would soon be out of his own state side, usurped by the next generation of Blues pacers. It is a story with postscripts of both regret and gratitude.
Just like Glenn McGrath before him, Stuart arrived in the big smoke hoping to give first-class cricket a crack, joining Randwick for the summer of 1993-94 after dominating in Newcastle.
But there were no promises of a game with NSW, let alone Australia. Stuart was fitting in any cricket commitments around his day job with the National Bank.
"When I first got picked I was catching taxis and buses and trains with a cricket kit, catching taxis to the SCG for cricket training, I didn't have a car," Stuart says.
"I had to organise my own gym, my own physio."
Soon enough though, Stuart had attracted the attention of state selectors. At first he would only get a game when NSW's top guns were away on national duties. But within a couple of years he'd become a first-choice player.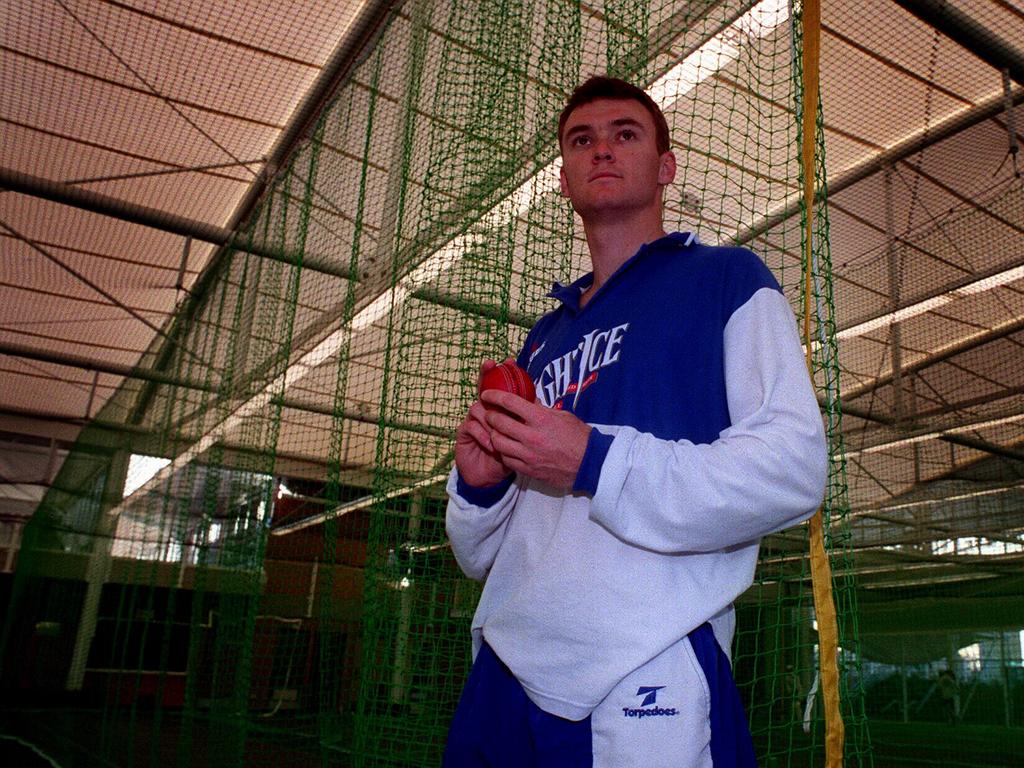 At the SCG nets during his time with NSW. Picture: Supplied
It was only in October 1996 however, just three months before that day, that Stuart finally pulled the pin on his other life, deciding "I didn't move to Sydney to work for the bank."
He was getting NSW match payments, but state contracts were still another season from being a thing.
But on the back of strong domestic form, Stuart kept rising up the pecking order of Aussie quicks. A standby call-up for the summer's opening Test against the West Indies came first, and then when Paul Reiffel went down with an injury on New Year's Day, the day before Stuart's birthday, he was called up to the Aussie squad for the back end of the one-day tri-series.
A few days later McGrath was struck on the knee by Greg Blewett in the Brisbane nets, opening the door for Stuart to play against the Windies at the Gabba, where he would take 2-48.
Stuart played the next game against Pakistan in Hobart, this time finishing with 1-35. But in a form slump that would precipitate the radical move to split Australia's Test and one-day squads the following summer, the Aussies had crashed out of the running for the finals by the time the final pool game came around on January 16, 1997, 25 years ago on Sunday.
McGrath had recovered to play against Pakistan, but Stuart and Bichel were preferred as the opening bowlers. Despite the game being a dead rubber, there were still more than 48,000 on hand at the 'G, all the more remarkable given it was a Thursday and a couple of weeks clear of the public holiday rush.
Pakistan won the toss and batted first. Struggling to make a substantial score, captain Mark Taylor would not have known it at the time, but he was playing his final ODI on Australian soil. "Who wants to field in front of Bay 13?" Taylor asked the group.
On his initiation at the 'G, Stuart was more than willing to take up the position.
Stuart picked up the early and cheap wickets of Aamer Sohail and Zahoor Elahi.
Stuart after taking first wicket of hat-trick. Picture: Supplied
"They were pretty vocal even by about 2:30," Stuart, whose memory for detail is excellent, recalls of the crowd.
"Me being from New South Wales, there was a bit of lighthearted banter about Victorians and New South Welshmen."
Then, the fateful 12th over. Ijaz Ahmed, on two, was the first victim.
"[Ahmed] was having a pretty good summer. But the wicket had a little bit in it. It suited my style of bowling," Stuart says.
So it proved. Ijaz edged one to Ian Healy, and Stuart had three wickets already.
The next man in was Mohammad Wasim. Stuart had noted how Wasim had driven well through the on-side in Hobart. It would prove the batter's downfall this time around.
"So I just sort of pulled my length back a bit. I didn't want to overpitch. Back of a length, he tried to force off the back foot and it just sort of decked away a bit off the seam and he nicked it through to Ian Healy."
Four-fer in your first game at the MCG. Unbelievable.
But folklore could yet become legend as Moin Khan wandered out slowly to the middle.
"I'd taken a couple of hat-tricks in the past. I had one in second grade in Newcastle and got one in England in 1991," Stuart says.
"I remember standing at the top of my mark and I looked up at the screen. I remember looking at the screen that was on my right side. It was all blacked out, but in big black writing it's 'Anthony Stuart is on a hat-trick.' It literally just shocked me into the realisation that that was a possibility."
Taylor had added a third slip for the occasion. Stuart was keen not to do anything too different with this next ball. The crowd noise ramped up halfway through his run-up, almost leading him to abort and go back to the top of his mark again.
"It threw me for a fraction of a second but I just kept going because my rhythm was good," Stuart says.
He knew right away that this was a good pill. "I felt that it came out of the hand right."
Up he looked. Another nick. Taylor's hands grasped the ball at first slip. Stuart had done it.
"I remember being in the huddle and the guys all came in," he says.
"I remember the huddle got shifted about two metres towards fine leg, and I looked around, and Andy Bichel who had been fielding at mid-off had hit the group of us like a ruck in rugby."
It was heady stuff. Just as Waugh advised him to do, Stuart soaked it all in. He fielded cleanly on boundary moments later, bringing further eruption. By this point, Bay 13 would have just about cheered Stuart had he done as little as sneezed.
He finished with 5-26 from his 10 overs, with an unbeaten 79 from Michael Bevan guiding Australia to a consolation three-wicket victory with three balls to spare.
The following morning there were cameras waiting for him in Melbourne, just as there were in Sydney where Stuart gave an exclusive interview with journalist James Knight, in exchange for a ride home from the airport.
TV crews were present for Stuart's next turnout in grade cricket as well.
It should have been just the beginning. Stuart was shaded by Bichel for a debut in the fourth Test of the Windies series, but there were tours to South Africa and England coming up in '97. Surely Stuart would get on the plane?
But almost as quickly as it got going, it was over. A couple of weeks later, Stuart was hurt playing a day-night Shield game against Victoria at the 'G.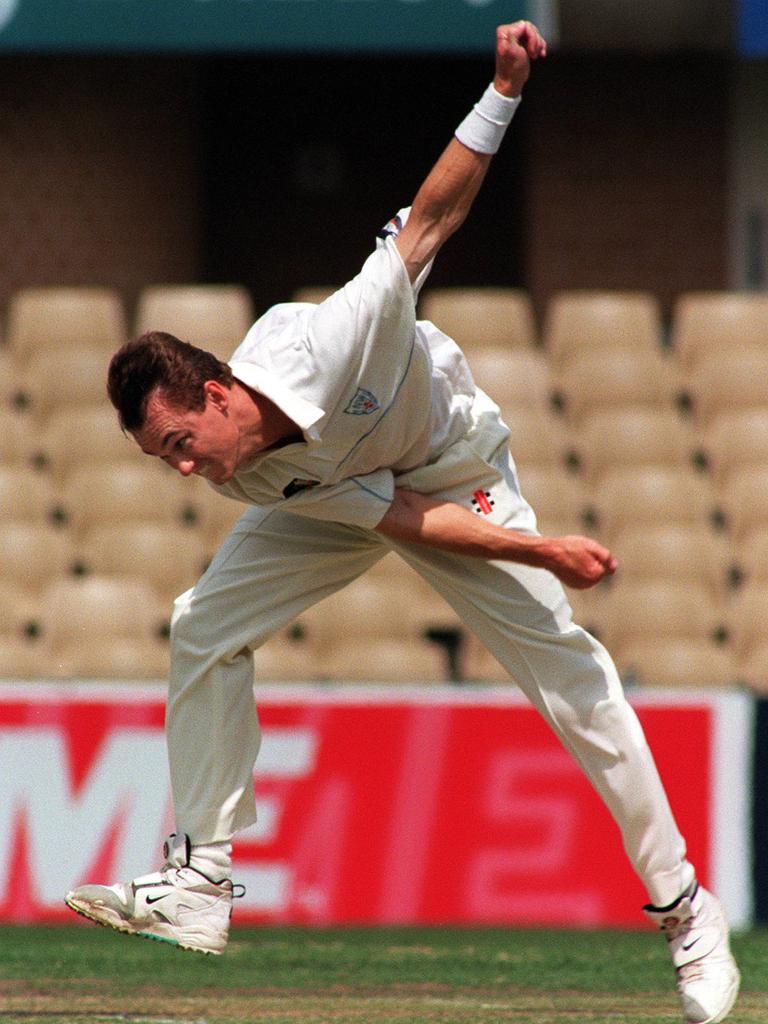 Bowling during a Sheffield Shield match between NSW and SA in 1997. Following his hat-trick game, he was never picked for Australia again. Picture: Supplied
"I slipped on the edge of a footmark," he remembers.
"I tore the ligaments in my ankle."
He missed about eight weeks at the back end of the domestic season, returning for the last match of the campaign against WA in Perth in a bid to win a spot in the Ashes touring party. Alas, there was no room for the Novocastrian, Australia going batting-heavy with their squad, helping prop up the flagging Taylor who famously saved his career with a century in the first Test at Edgbaston.
Stuart earnt a state contract for the following season, but by now other contenders had emerged. Nathan Bracken, Stuart Clark and Brett Lee were the next generation, while there was also Simon Cook, who played Test cricket the next summer too.
"I did OK the next year but not great and then got dropped," Stuart says.
"There were a lot of good bowlers around at the time as well."
Again just a fringe player with the Blues, Stuart's last game for his state came in February 1999. He would play one more season of domestic cricket, performing solidly in the final summer of the Canberra Comets one-day cup experiment. But there would be no more days in green and gold.
In 2006 he crossed the ditch, coaching NZ first-class side Wellington for five years before returning to his home state as coach. It would prove an ill-fated move, with the Blues sacking Stuart just 18 months into his tenure in December 2012.
It is a period Stuart looks back on somewhat ruefully, suggesting that there should be blame apportioned to several parties.
"I've had a lot of time to think about things. That's probably one situation where I do have some regrets. I do look at that as a missed opportunity for me," Stuart says.
"At the end of the day I had the opportunity to do better. Do I think that certain situations could have been handled better? Yes, from my perspective and others' perspective. And I do have some regrets about that job. Would I like to do it again? No. Would I be better at it, this time around? Absolutely.
"I've learnt a lot about people and relationships and myself, my communication is certainly better.
"But I think if you look at the fallout that went on after I lost my job there, you can safely say that there was a fair bit going on at the time. The environment at the time probably wasn't as good as it should have been."
His love for the game was challenged by the episode.
"I needed to do something different. I got out of cricket there for a while."
Stuart decided to head back to study, graduating in commerce from Sydney University in his mid-40s, an experience which he says took him out of his comfort zone.
He then took on a job with the AFL in Sydney, a role he "loved," before returning to cricket in recent years as coach of prestigious Sydney school Knox Grammar.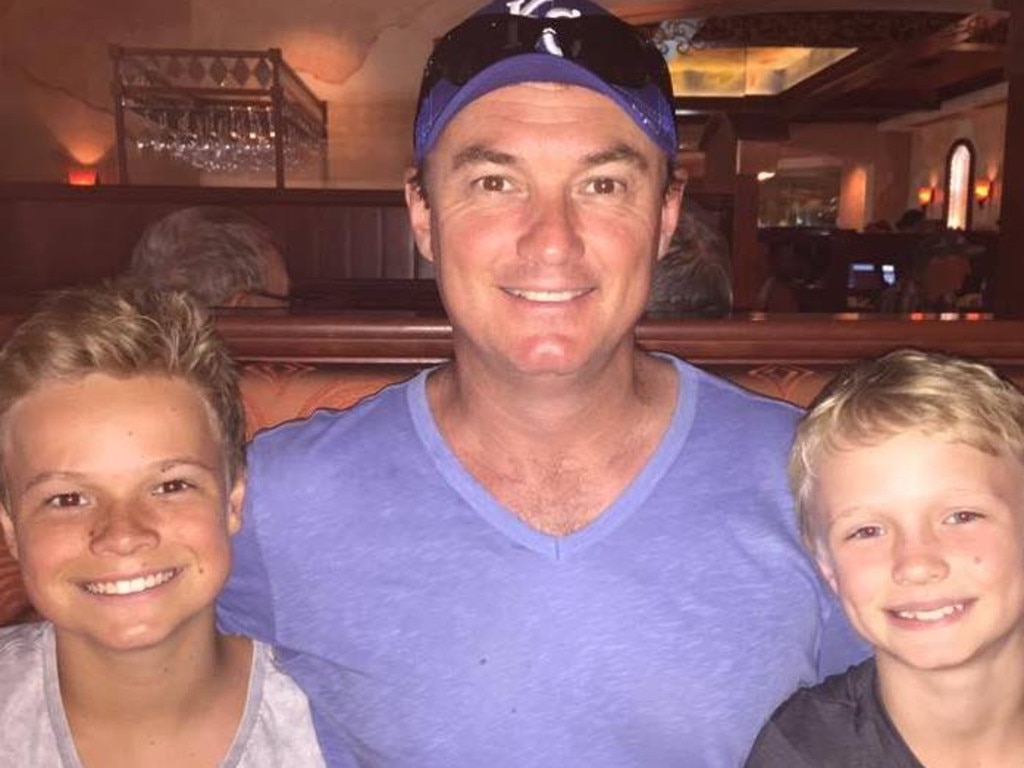 Anthony Stuart in 2018. Picture: Facebook
Stuart is settled in Sydney, with children aged 20, 17 and 13. He has two sons who play cricket, and every so often his 15 minutes of fame gets raised with their mates.
"Every so often I catch myself thinking about it," he says.
"Occasionally it gets replayed or for some reason it gets brought up.
"I see it more often than I probably think it deserves.
"Other guys have taken hat-tricks in the past and done some amazing things but for some reason it seems to get a bit of media."
Albeit brief, it was an amazing chapter, and one about which Stuart harbours no bitterness.
"I loved it, I loved playing for NSW, I loved playing grade cricket, but I have no regrets. I'm extremely grateful for what I did.
"I really enjoy doing what I'm doing now.
"I find myself extremely fortunate to have played for Australia. It's part of the reason why I'm still in the game."