Pat Cummins as Australia captain is not without risk – England will view any upheaval to their advantage
Just weeks out from the first Ashes test in Brisbane, MIKE ATHERTON unpacks what Tim Paine's resignation means for England, and why Pat Cummins may not be such an obvious choice.
Daily, it seems, cricket is doing its utmost to uphold the reputation once ascribed to it by Richie Benaud as the "most controversial of all games". With English cricket undergoing an existential crisis, its biggest county, Yorkshire, on the verge of implosion and the game bereft of decisive leadership and authority, Tim Paine, the 46th captain of Australia, has stepped down in scandal and tears.
Paine became the second consecutive Australia captain to step down brushing tears from his eyes after his predecessor, Steve Smith. The difference would seem to be considerable: while Smith was removed for being a bad captain, having allowed the behaviour of his team to disintegrate, Paine stood down for being found out about sending text messages and explicit images to a female employee of the Tasmanian Cricket Association four years ago.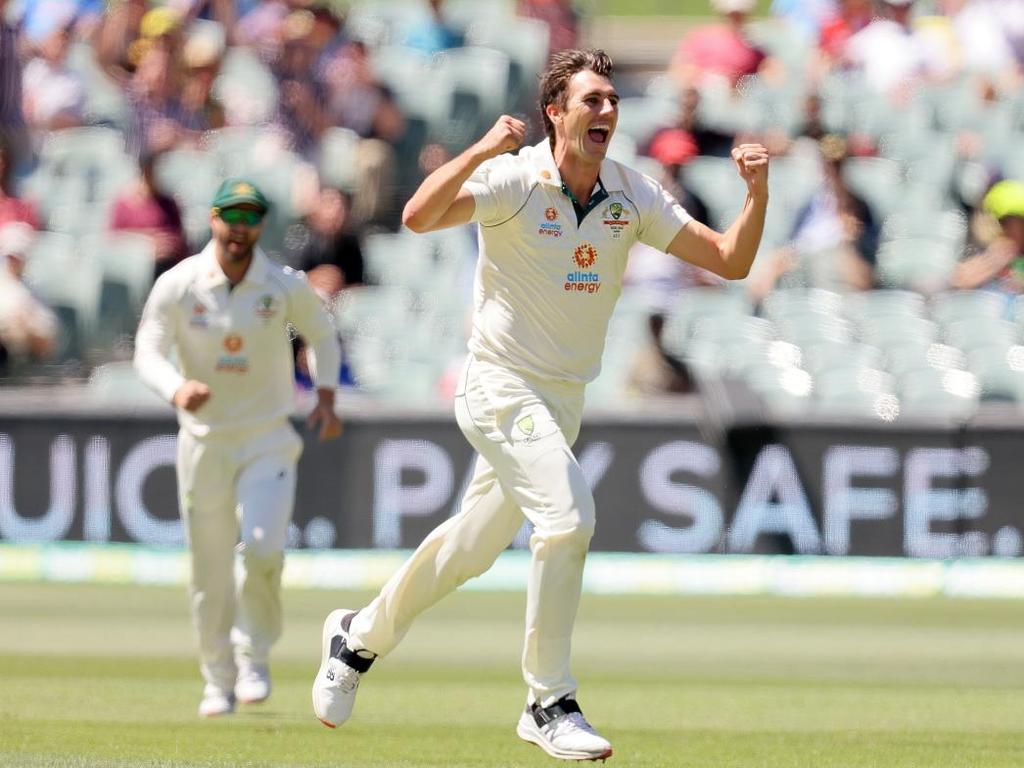 Cummins is expected to be named Australia captain following the resignation of Paine. Picture: Daniel Kalisz/Getty Images
The story is less than straightforward, as these things tend to be. The messages and image(s) were sent on the eve and morning of the Ashes Test in Brisbane in November 2017, when Paine had been recalled as a wicketkeeper after a seven-year absence from Test cricket and predated his ascension to the captaincy. At this stage the notion that Paine could be four months from the Australia captaincy was far-fetched. Smith, who was about to lead Australia to a thumping Ashes victory, had never looked more secure and the limit of Paine's ambition was to get to the Boxing Day Test in Melbourne.
● Australia cricket captain Paine resigns over sexting scandal
Then came the sandpaper scandal in South Africa four months later, and the sacking of a raft of senior figures, including Smith. Paine, now senior and unscathed and thought to be a safe pair of hands in more ways than one, was parachuted into the position with responsibility for cleaning up the mess. He was considered to be worth his place in the team, and someone who could bring about a cultural and cricketing renewal at a time when Australian cricket was at its lowest ebb. By common consent, he has done a good job in Test cricket since then, retaining the Ashes on English soil among his accomplishments.
When he was appointed, Cricket Australia (CA) did not know about the messages. It became aware of them months after his appointment, once a complaint had been made in 2018. The organisation held an internal inquiry in which Paine participated, and he was cleared of breaching the CA code of conduct. Tasmania cricket did the same with the same result, noting the exchange was "consensual, private, occurred on one occasion only, was between mature adults and was not repeated". What changed?
Paine stepped down after details of a text exchange from 2017 between him and a former colleague became public. Picture: Chris Kidd/NCA
The Herald Sun broke the story overnight in Australia. Paine stepped down, citing actions that did not meet the standard required of an Australia cricket captain and CA did not stand in his way. Richard Freudenstein, the CA chairman, said the organisation did "not condone this type of language or behaviour". They don't when it becomes public knowledge, it seems.
Other things have changed, as well. CA's officers are different from those in place when these messages were first brought to the organisation's attention — CA has a new chief executive and chairman — and the climate of the workplace has changed irrevocably too. But Paine may wonder, as may the rest of us, what the point of a code-of-conduct inquiry is if the relevance of its conclusions varies according to whether conduct is in the public domain or not.
All that said, Australia now find themselves without a captain less than three weeks before the opening Ashes Test in Brisbane. Pat Cummins, the 28-year-old fast bowler from New South Wales, is the vice-captain and is almost certain to be given the job for the series. As well as being a brilliant bowler, ranked No 1 in the world in Tests and one of the fastest, Cummins is an intelligent, widely admired character, with an interesting hinterland that includes a business degree, and is someone who is expected to provide sound leadership off the field.
In an outstanding profile for The Australian, the cricket writer Peter Lalor described Cummins thus: "There's every expectation that when England leaves us after the Ashes this summer, heads will nod in agreement around the board table at Cricket Australia and they'll crown Patrick James Cummins as the 47th captain of the Test team. Australian cricket's most marketable male is already the face of the team and jeez he'd look good in that captain's jacket.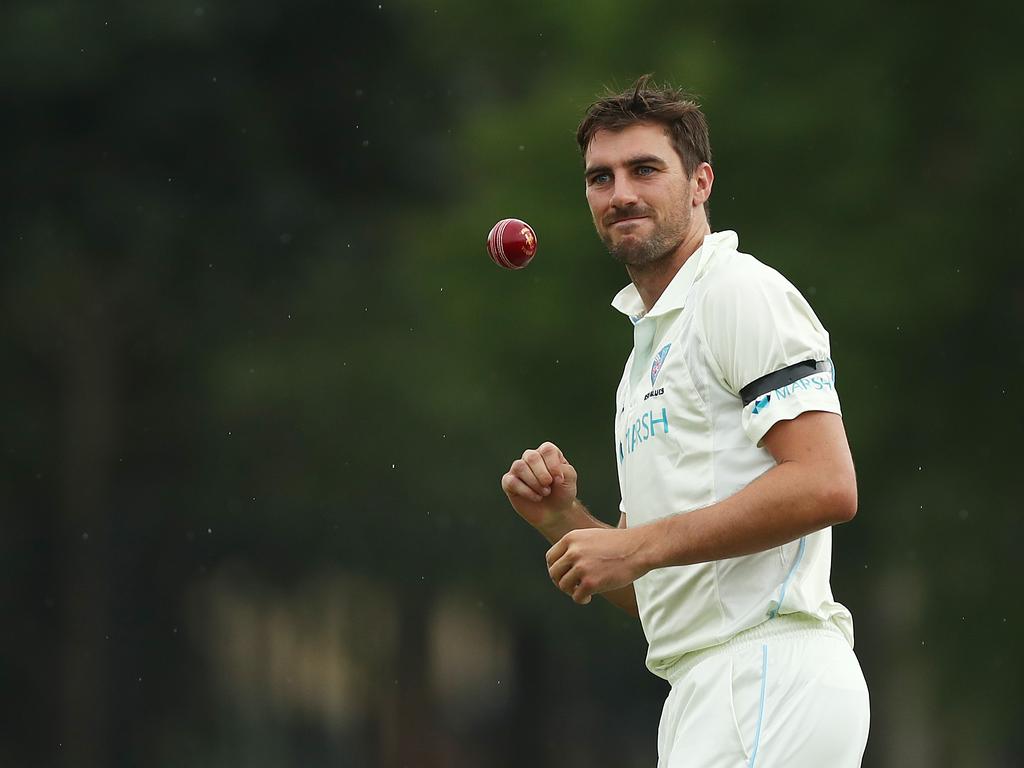 Pat Cummins during a Sheffield Shield match between Vic and NSW. If elected, Cummins would be the first fast bowler to captain Australia since 1956. Picture: Mark Metcalfe/Getty Images
"The blue eyes, the handsome face, the beaming smile is the one every sponsor wants in their campaign. Power companies, shaving brands, clothing lines, energy drinks. The squeaky-clean image helps too. Here's cricket's cleanskin. No sledging, no arguing, no anger, no love-gone-wrong, no dust-ups, no bust-ups, just a business degree, a vision and the singular fact that he is the best fast bowler in Test cricket."
Apart from much the same having been said about Paine and his squeaky-clean image, that Cummins's rise to high office looks like coming sooner than Lalor imagined, his appointment is not without risk. The last time an out-and-out fast bowler captained Australia in Test cricket? Go back more than six decades to Ray Lindwall in 1956. Cummins is sharp and intelligent, but fast bowling is ferociously hard work without the additional strain of captaincy.
Only 42 days separate the opening day at the Gabba to the end of the series, wherever that may take place: six weeks, five Tests and an incredible physical challenge. While Cummins seems now to have got over the injuries that dogged him as a young man, he said recently said that he did not expect Australia's feared pace attack — Cummins himself, Josh Hazlewood and Mitchell Starc — to play in all those five Tests. What then is Australia's plan B if rest, rotation or injury strikes? England will view any potential upheaval to their advantage.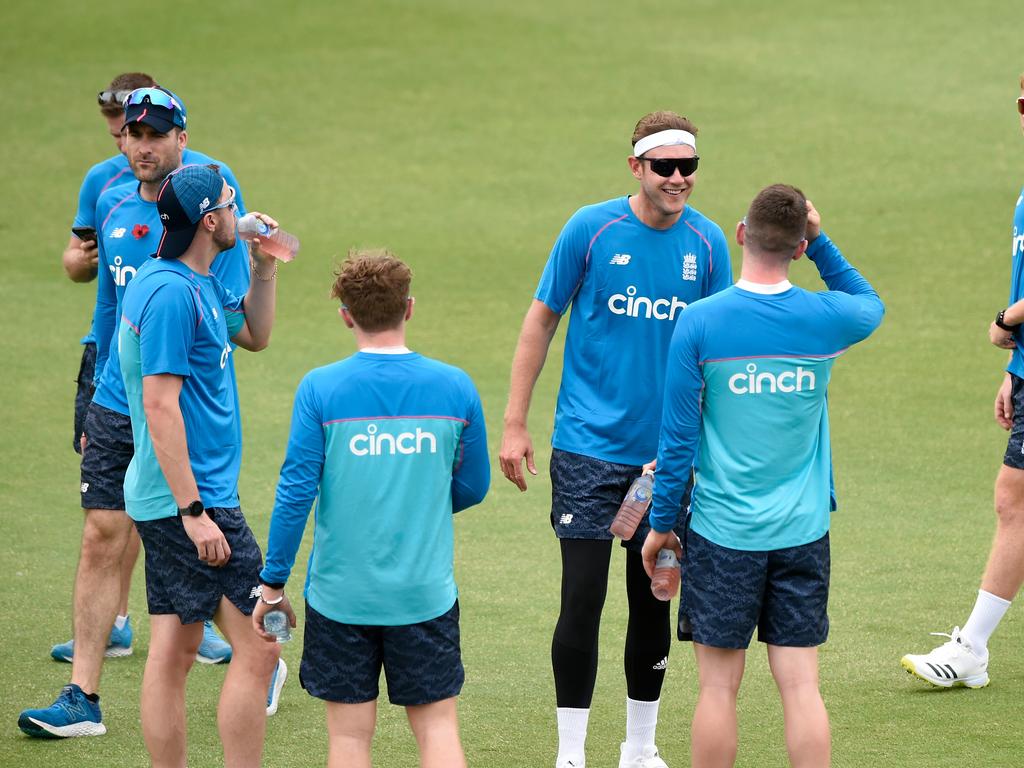 Stuart Broad and members of England's Ashes squad have already begun training for the first test at the Gabba in Brisbane. Picture: Matt Roberts/Getty Images
And Paine? What now for the 36-year-old? Will he still be considered for a place for the Gabba or will Australia look to the future, to Alex Carey, 30, perhaps, or Josh Inglis, the 26-year-old wicketkeeper-batsmen, both of whom were selected in the Australia A squad as part of the inter-squad Ashes preparation? Paine had recently undergone a neck operation, has hardly played any cricket since the pandemic began and his place was always considered to be vulnerable without the captaincy.
Even more so than in England, the captaincy of the Australia team is a cherished position. It has been held by some of the greatest names in the sport. One of them, Steve Waugh, thought the Australia captain should be seen as a "benchmark of mental toughness and resilience". As Paine might note, ruefully, he is held up as a benchmark of rectitude as well.
The Times