Teen World Cup winner Darcie Brown chose cricket over netball after a free Under-19s trip
Darcie Brown is eyeing off the Commonwealth Games after becoming a World Cup winner at 19. She could have been playing netball at Birmingham 2022, writes JACOB KURIYPE.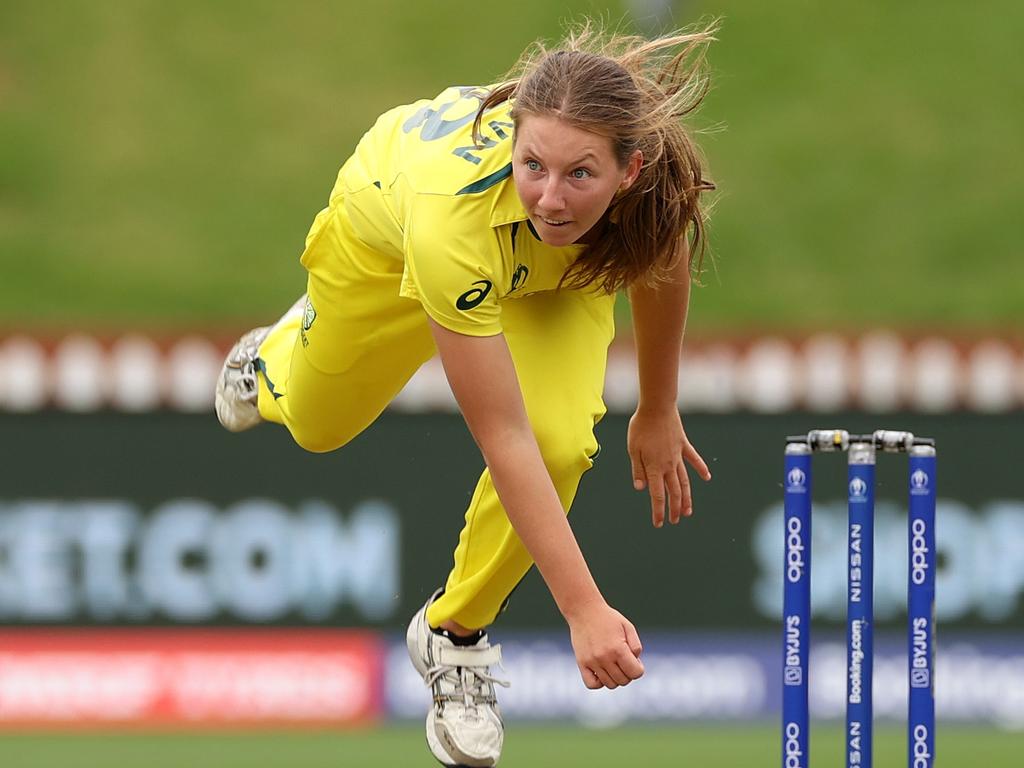 Darcie Brown is the first teenager to ever win a 50-over World Cup final for Australia. Picture: Fiona Goodall/Getty Images
Nineteen years old and already a Cricket World Cup winner, Darcie Brown's next bucket list items are playing at the Commonwealth Games and solving a 5x5 Rubik's cube.
In a different life, that Comm Games appearance may have been in netball rather than cricket.
Hypercompetitive growing up, Brown spent her weekends playing cricket, netball, Aussie rules and basketball to a reasonably high level.
She made it as far as the Adelaide Crows development program in footy and was looked at as one for the future in netball, winning the national Under-17 Championships with South Australia.
At 15, she was blessed and burdened with making the toughest of choices: touring with Australia's Under-19s cricket team or playing netball for the national high school team in New Zealand. On one trip, all her expenses would be covered. On the other, she and her family would have to foot the bill.
"When I was young, cricket gave me so many opportunities, I got to go over to New Zealand for an Under-19s trip," Brown, just back home from a more famous trip across the Tasman, tells CodeSports. "It was all expenses paid plus a bit of pocket money. That was really cool.
"I was really lucky for the age that I am that it (women's cricket) was getting professional. With that 19s trip, we could go over for free.
"I also could have gone for Under-15s netball to play for Australia in under-age. That one we had to pay for. It was either a free trip or a paid trip, so it would have been pretty silly of me not to go with the free trip."
Brown is both the beneficiary and benefactor of Australia's move to professionalise women's cricket. The process was accelerated in 2017, when female players were included alongside men in the revenue-sharing model for the first time in the memorandum of understanding.
At national level, players are now paid well enough for cricket to be a full-time vocation, while things have headed in the right direction at domestic level. Pathway programs and talent spotting have also improved in the years since.
"At the moment for women's cricket, it's really cool that we don't have to actually work [outside the sport] anymore, especially in the Australian environment," Brown says. "There's a lot more work to do in other sports and some domestic cricket as well.
"It shows in how dominant Australia have been since we've become professional, that the time and stuff like that helps the skill level in cricket."
Since the shift to professionalism began in 2017, Australia has gone from being the world's best team, yet beatable, to near untouchable. Meg Lanning's side went unbeaten through the World Cup in New Zealand, knocking over 2017 champions England in the final. They have won 40 of their past 42 ODIs, collecting two successive T20 World Cups along the way, and will be favourites to complete the hat-trick next year in South Africa.
Brown's only World Cup winner's medal thus far was Australia's most recent but, fitness permitting, she can be expected to collect plenty more. She has already experienced plenty since debuting last March as an 18-year-old.
"It feels like I've done so much in just a year. If I get to do that 15 times over – it's pretty cool that there is so much more to learn and new experiences to get."
She couldn't find herself in a better place to learn what it takes to be successful for an extended period of time.
Brown is the first Australian to have won a 50-over World Cup final before turning 20 and the fourth globally, yet Australia's team is full of young achievers. Jess Jonassen and Ellyse Perry were both T20 World Cup winning teenagers, while Ashleigh Gardner, Megan Schutt, Alyssa Healy and captain Meg Lanning all debuted before entering their 20s.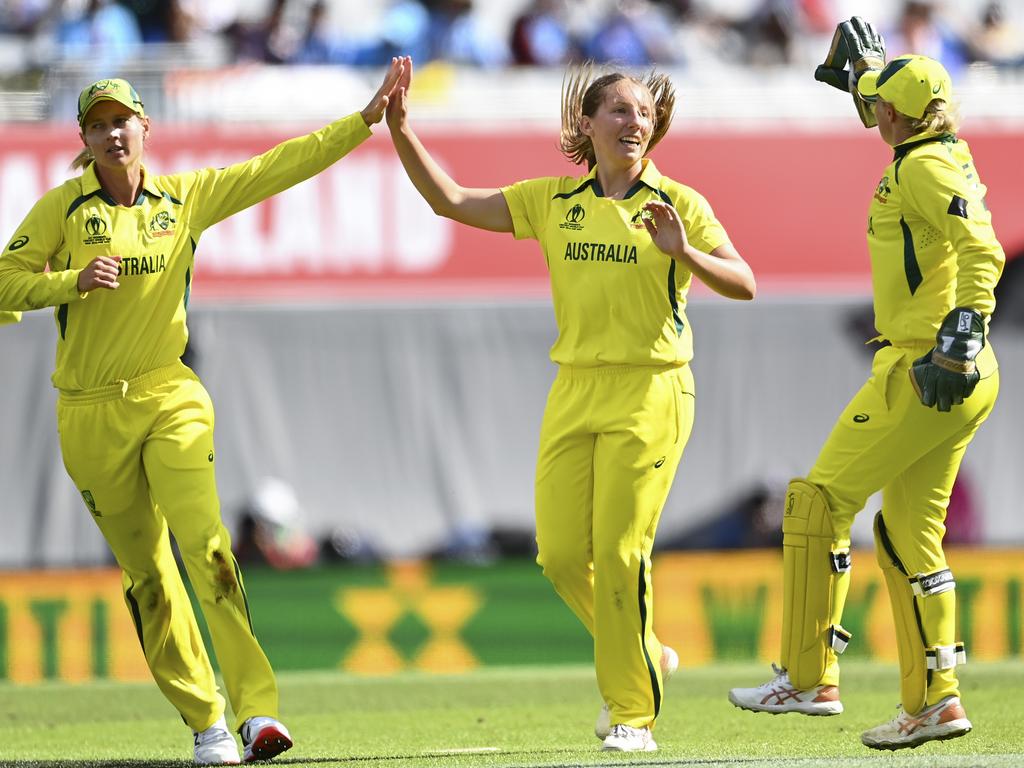 Darcie Brown is surrounded by young achievers. Picture: Hannah Peters/Getty Images
The senior crop's advice for her has been less about long-term planning and more about appreciating each stage of the journey.
"They tell me to enjoy it while I can. Before that World Cup final, Meg said to the group this will probably be the last time this group is together because there is always a few ins and outs over a few months. So, it's live in the moment and enjoy it while I can."
She thus hasn't spent too much time mulling over her possible career trophy haul. When she does one day call stumps, she wants to have carried on the legacy of this team and taken women's cricket even further.
"I'd love to keep the success for this team going," she says. "They've been so successful, long before I even started playing cricket. It would be pretty cool to be a part of that.
"And just developing the women's game to being equal or even better than the men's. Looking forward to that and we'll just see what happens."
They are lofty ambitions but Brown is not feeling the weight of them.
It will still be some time before she's a senior member of the team, with the core of Australia's World Cup winning group still in their 20s. Only three are older than 30: Rachael Haynes (35), Perry and Healy (both 31).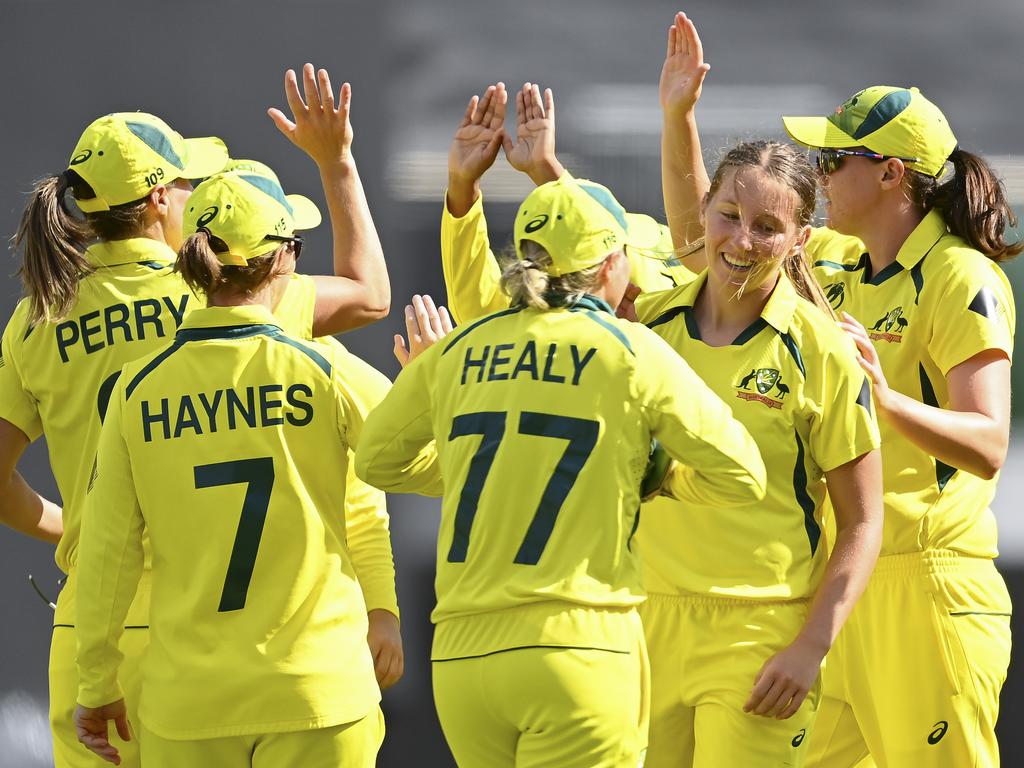 Darcie Brown (second from right) was a regular throughout the World Cup. Picture: Hannah Peters/Getty Images
When the time comes for regeneration, there won't be a shortage of options. Alongside Brown, Sophie Molineux, Taylor Vlaeminck, Georgia Wareham, Amanda-Jade Wellington, Annabel Sutherland and Hannah Darlington are all under 25.
"We're pretty chill," she says of the pressure to carry on the legacy. "There's some big shoes to fill but we've got so many great domestic cricketers in Australian cricket at the moment and lots of young guns coming through, so not too worried."
Pretty chill feels an apt description of Brown, who four years on from joining that Under-19 tour found herself on the dressing room floor of Australia's World Cup-winning team completing a Rubik's cube.
"I was just looking through my bags to get a speaker out because one of the speakers went flat," she laughs.
"My Rubik's cube, I keep it in there in case it rains and if I get bored, then I will do it. It was unsolved and people didn't think I could really do it, so I just sat down and started doing it.
"I can do it in under two minutes but by that time, when I was doing it on the camera, I was a few bevs deep so I wasn't as switched on.
"I'm trying to learn a 5x5 Rubik's cube but we'll see how we go with that one."
She has until August 7 to master it if she wants to celebrate a gold medal at the Birmingham Games in the same way that she did the World Cup.