The day Test hopeful Mitch Swepson took charge for Queensland and truly arrived as a leg-spinner
Mitch Swepson will receive a long-awaited baggy green in Pakistan. Two years earlier a key moment in the MCG dressing rooms set his Test bid in motion writes JACOB KURIYPE.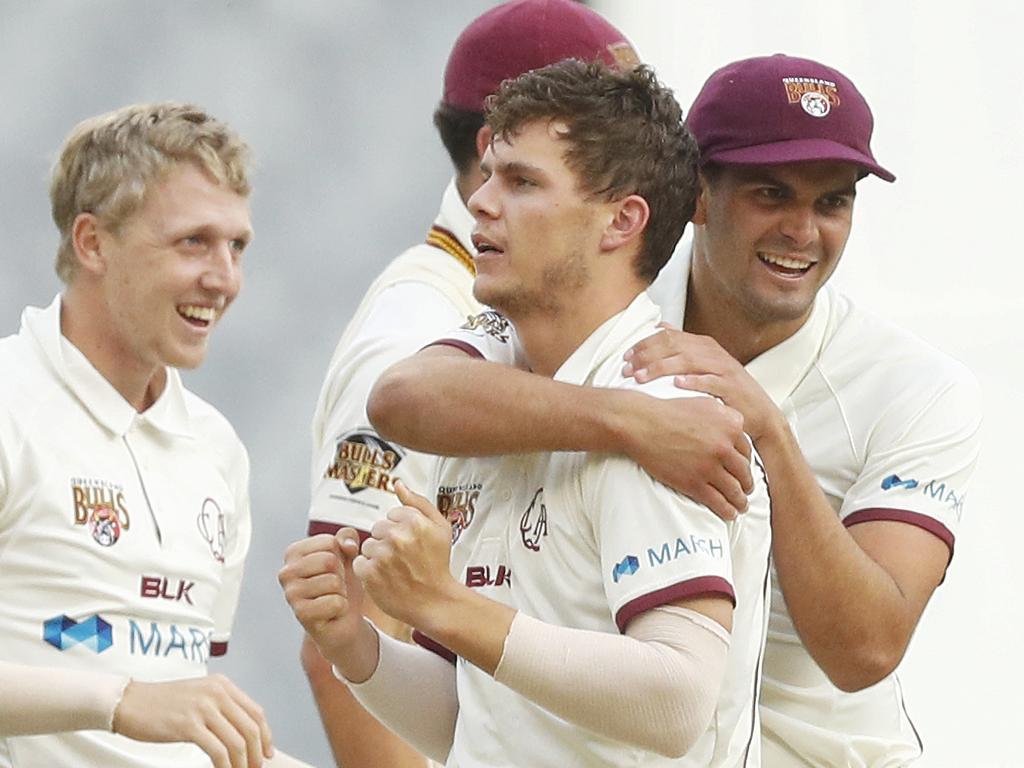 Mitchell Swepson has been sensational for Queensland for years now. Picture: Daniel Pockett/Getty Images
During a late-2019 rain delay at the MCG, with stumps fast approaching and a stubborn tail to remove, Queensland Bulls coach Wade Seccombe laid out his game plan.
Mitchell Swepson, fresh off a first-innings hat-trick, was having none of it.
"I actually wanted to bring on one of the quicks to attack the stumps. Sweppo (Swepson) came up to me and said, 'I've got this'," Seccombe chuckles.
That was the moment he knew Swepson had truly arrived.
With nine overs to go, the leggie trapped Peter Siddle in front and with just seven balls to spare he did the same to Jon Holland, securing an unforgettable victory over the reigning Sheffield Shield champions.
For what felt like the first time, the then 26-year-old had bowled Queensland to victory on a day four wicket. He hasn't looked back since, establishing himself firmly as the Bulls go-to man in the fourth innings.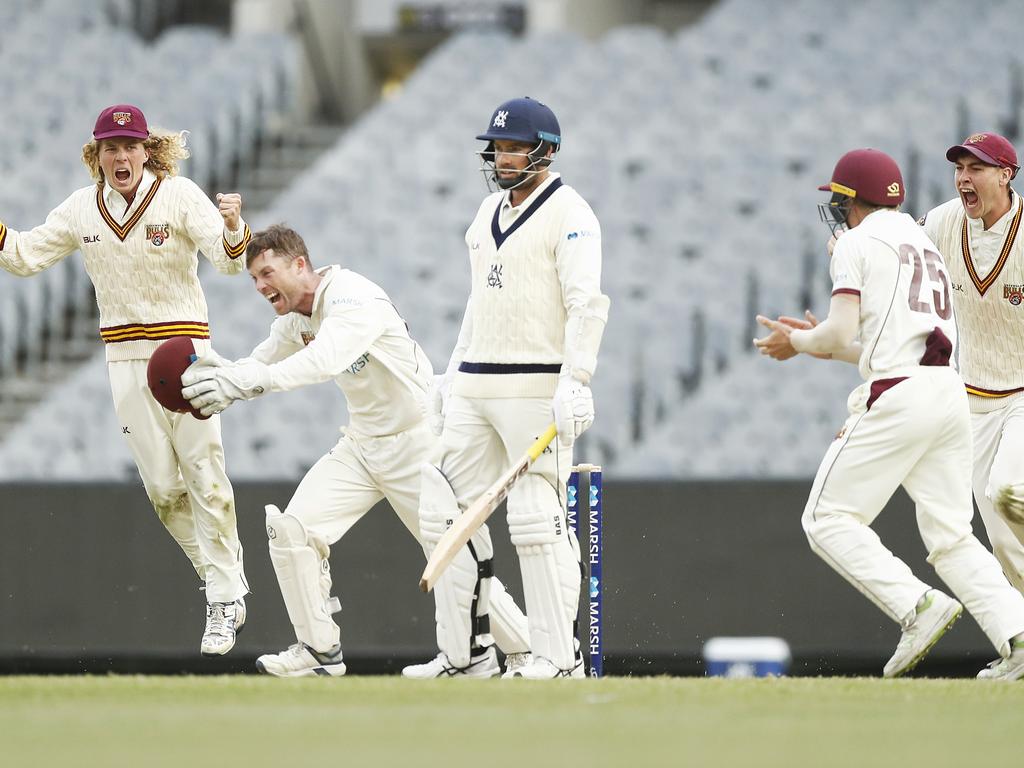 Queensland won in the penultimate over of a Shield classic against Victoria thanks to Swepson. Picture: Daniel Pockett/Getty Images
Two and a half years later, Swepson will make his Test debut this Saturday.
Looking back on that day under his state's maroon cap, it's Swepson's determination to be the man that took Queensland home rather than the act itself that sticks out in Seccombe's memory.
"That was the moment, he'll remember it, I remember it, the fact he shut me down and said, 'I've got this, I want to do this'," he says.
"That showed the confidence even before he went on to win that game for us. To me that was a wonderful moment as coach where I wanted to go (in) a different direction but a player actually talked me out of it because he had that much confidence in his skillset."
It was a timely evolution. The next season the Bulls would need Swepson more than ever as the pandemic saw the early stages of the Sheffield Shield played in Adelaide, away from the seam friendly conditions Queensland's attack traditionally thrived in. If the MCG provided the initial spark, then Adelaide was the catalyst for the things to come.
"That was turning conditions, flat conditions and we needed a leg-spinner and he just bowled a lot of overs," Seccombe says. "It's funny in cricket, the more time they spend in the middle the better off they end up becoming.
"You saw the belief in himself at that time just keep growing and growing. It was a combination of things, but possibly that mindset that he knew he could do it and he went out and kept doing it."
Swepson finished the season with 32 wickets across just five matches at an average of 23.40, cementing his status as Australia's premiere red-ball spinner behind Nathan Lyon.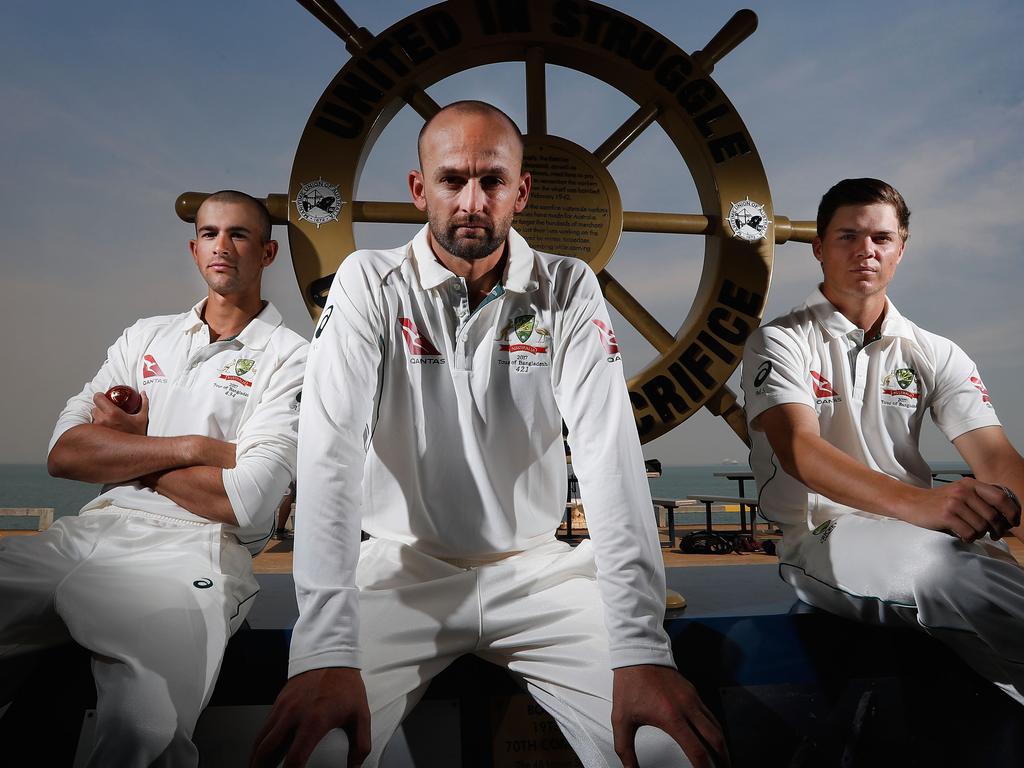 Nathan Lyon will be paired with Mitchell Swepson in Karachi. Picture: Michael Dodge/Getty Images
In Karachi, Swepson's five years mixing the cordial for the Test team comes to an end. First picked in a squad in 2017, when Australia toured India and then later Bangladesh, Swepson has shadowed Australia's XI every Test going back to 2020. He went 11 straight Tests with a baggy green kept just out of touching distance.
With Covid-19 restrictions enforced, that came at the cost of regular cricket too. He has played just three first-class matches this summer. Still, before departing for Pakistan, Swepson was adamant he would be ready to go if given a chance. He now gets to prove it.
"It's definitely a patience game for sure," Swepson said. "I love being around the Australian team so while it's frustrating not to be playing it's also a great thing for me that I'm still in and around that group.
"I feel like I'm in a place where I'd be confident to play and ready to play. Which is where you want to be."
Seccombe, who first crossed paths with Swepson as coach and player in Queensland's youth set-up, took over the Bulls senior team just after the leg-spinner's first Australia call-up. His ability to turn the ball had always stood out, but it was the way Swepson carried himself that had the coach confident he could make something of himself.
"We've always known what a talent Mitch has been. There's never been a question over that. He's got a level head. If he put his mind to it, he was always going to succeed because he's such a good character."
In five years as Bulls coach, Seccombe has seen Swepson reach the level needed to succeed as a leggie in unforgiving Australian conditions. It takes talent to turn the ball. It takes time and hard work to consistently land it where you want to. Swepson has put plenty of both – time and work – into his craft and is now reaping the rewards.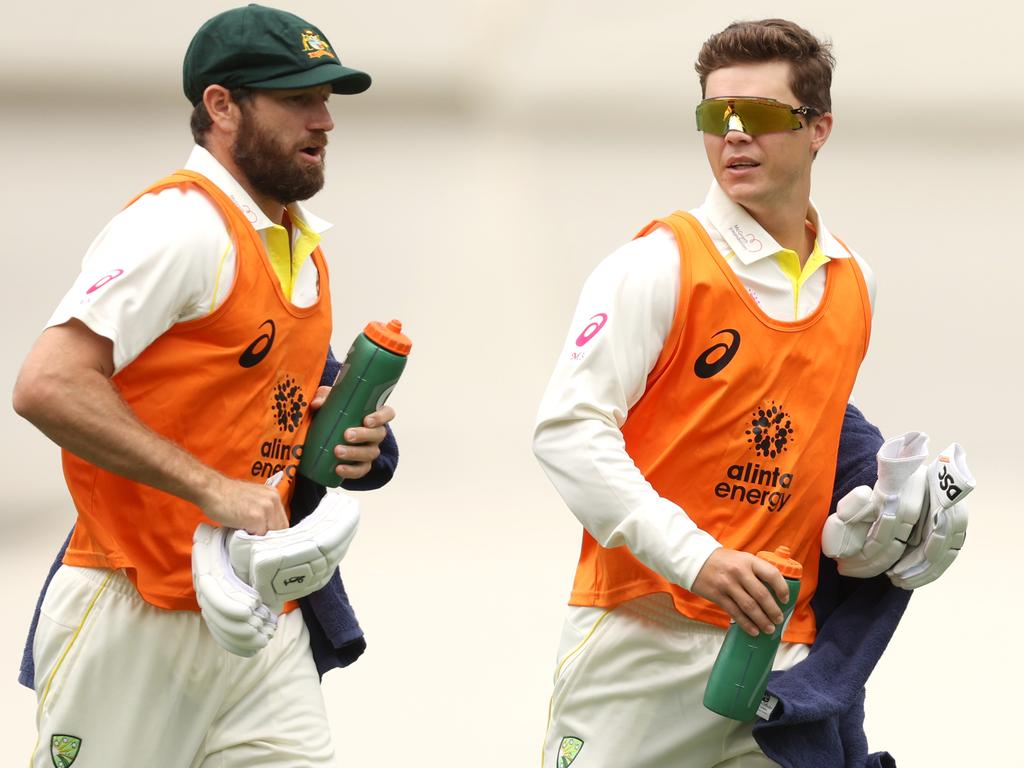 Mitchell Swepson has been around the Australian squad since 2017. Picture: Mark Kolbe/Getty Images
Since the 2019-20 season, Swepson has taken 47 Sheffield Shield wickets at 28.64, compared to a first-class career average of 34.55. That's come with a marked improvement in his economy as well, indicative of his improved control. While Swepson's first-class career economy sits at 3.46, since 2019-20 he has gone at 2.61 in the Shield. For reference, Shane Warne had an economy of 2.82 and average of 34.72 in the Shield, and Stuart MacGill 3.51 and 34.54. It's tough being a leggie in the Shield, even for the greats.
"It's not as if we're asking him to bowl defensively, it's just that he actually does put pressure on while still having an attacking mindset," Seccombe says.
"For any young leg spinner, it's such a tough craft that there will always be an error ball that allows a batter to score a boundary or get off strike. Those balls are just completely out of his game.
"He's incredibly accurate. And that has allowed him to continually build pressure."
When Swepson finally gets his hands on a baggy green in Pakistan, Seccombe is beyond confident he will be prepared for the step up.
"I have absolutely no shadow of a doubt that he is ready for it and he will take it with both hands."
Chris Lynn meanwhile, he first met Swepson in high school at Nudgee College in Brisbane's north. A few grades above Swepson, Lynn doesn't have too many memories of him from that time, growing closer with him and the Swepson family in the years afterwards. What he does remember though is thinking there was always something special about the youngster.
"I've seen out a few mango seasons since then," Lynn says. "Like all young leggies, he'd bowl the odd bad ball but I could see from a young age the rip he put on the ball. I knew there was something there."
Across nearly two decades since, Lynn has seen Swepson grow as a bowler and gotten closer to him off the field.
What you see with Swepson is what you get according to Lynn. An honest bloke who is quiet at first but opens up when he is comfortable in his environment – no major issue in Australian camp given how long he has been around it.
While Swepson is quiet, there is also a swagger about him. He's a Julio not a nerd, but a very smart one. He's also incredibly hard working and is now reaping the rewards of the effort put in so far.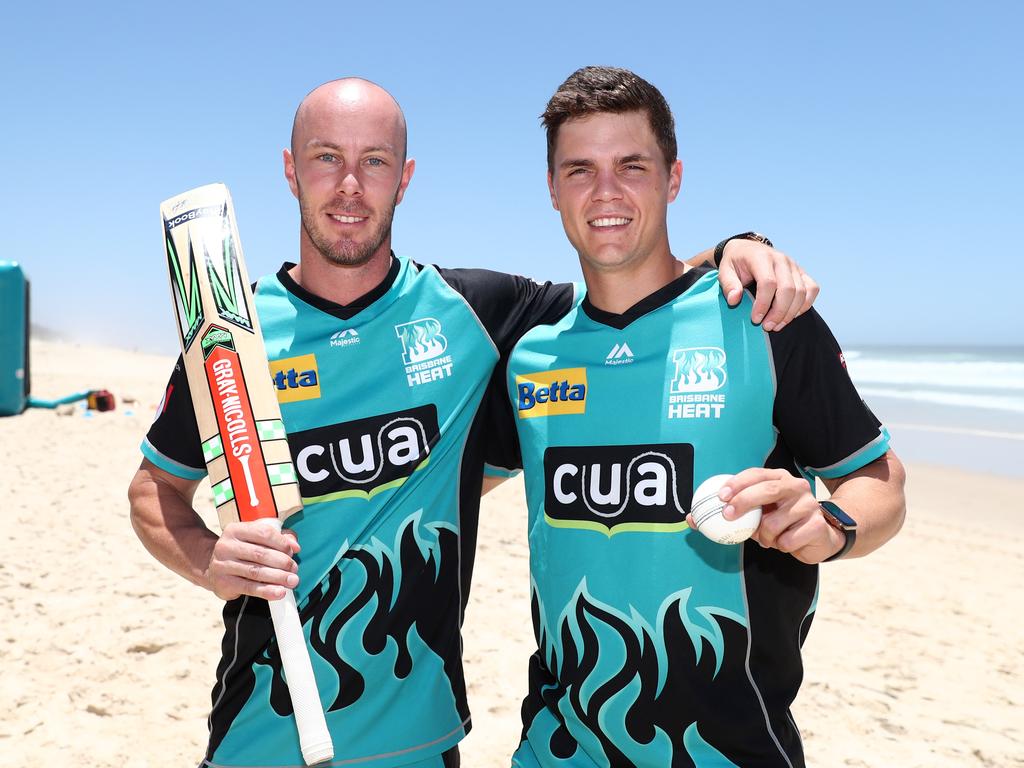 Brisbane Heat teammates Chris Lynn and Mitch Swepson go back a long way. Picture: Chris Hyde/Getty Images
"Like anything, you work hard at your trade, you're going to improve. His never ending work ethic is the reason why he is up in lights and potentially getting a Test debut," Lynn says.
"As (we learnt from) Shane Warne, leg spin is the hardest art to learn in cricket so you've got to spend more time nailing your skill.
"Every time we met at a Bulls session or Brisbane Heat I just found him going from strength to strength every year. He was so much more confident in his game and his skill.
"In the early days when a guy's nervous he's happy to basically try and execute whatever you came to do. Now he's owning his space, owning his trade, owning his role.
"Confidence can do wonders. Whether that's bowling leg spin, whether that's having a voice around the Australian team."
Lynn was in a surf club last Friday with a close mate of Swepson's. Both had their fingers crossed he was going to get a game. Alas, the wait had to go on just a little longer.
"He has been on a lot of tours, it's been a hard slog, when you're not getting a game it can get a bit longer but he is always upbeat. He's always trying to improve whether it is the art of leg spin or it's being a team man.
"To his credit he has taken everything in his stride, earning his place there. It's going to be really special when he makes his debut because he knows he has earnt it and he knows he is in a comfortable environment."