Disappointing silence from the players on Justin Langer's departure as coach
The silence from Australia's cricketers ahead of Justin Langer's departure as coach was disappointing, but not as disappointing as their silence following it, writes PETER LALOR.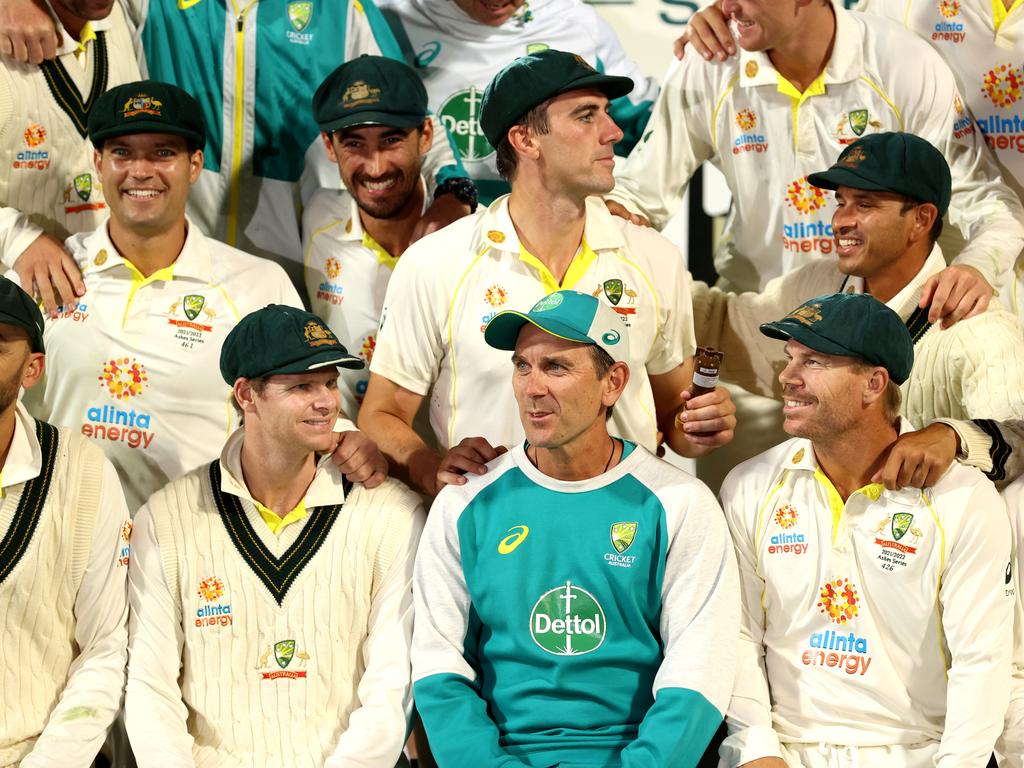 None of Australia's cricketers have voiced their support for Justin Langer since he stepped away as coach. Picture: Robert Cianflone/Getty Images
An emotional Justin Langer spoke to Cricket Australia staff via Zoom on Monday to explain the reasons why he was leaving, but the players remain silent since his resignation on Saturday.
Marnus Labuschagne was supposed to face the media on Monday to talk ahead of Wednesday recommencement of the Sheffield Shield season, but that was cancelled.
Only wicketkeeper Alex Carey offered a brief observation. "Everyone respects the man highly — he's obviously an Australian cricket legend," Carey told Seven News. "I'm a little bit surprised but it's now about the stability of the team and trying to win games moving forward."
Some players are understood to have messaged their former coach, but none have spoken publicly.
Labuschagne, who is more interested in batting than politics, is not at fault. Skipper Pat Cummins has been as dignified as possible until now, but the air needs to be cleared, positions need to be owned, bandages need to be ripped off.
Justin Langer resigned as Australia coach last weekend. Picture: Jonathan DiMaggio/Getty Images
Officials claim the Labuschagne press conference was called off because of a problem with scheduling, but there were also issues with sending out a player such as him, who had no role in events, to talk first.
Usman Khawaja will be the first crash test dummy sent out to talk since Langer's resignation and one-day captain Aaron Finch later in the week.
Finch and Cummins met separately with Cricket Australia chief executive Nick Hockley last week and were asked their opinions on Langer's coaching style. Nobody knows what they said, but the matter turned into a firestorm when The Australian broke the news of Langer's resignation on Saturday morning.
The silence is unsettling and a number of observers say trust is being lost.
Langer admitted he was emotional on the conference call to the staff on Monday and his camera shut off as he detailed the reasons for his departure. His explanation was essentially similar to what he said in his resignation letter, but he did single out some of the reporting of his situation over the past 12 months for criticism.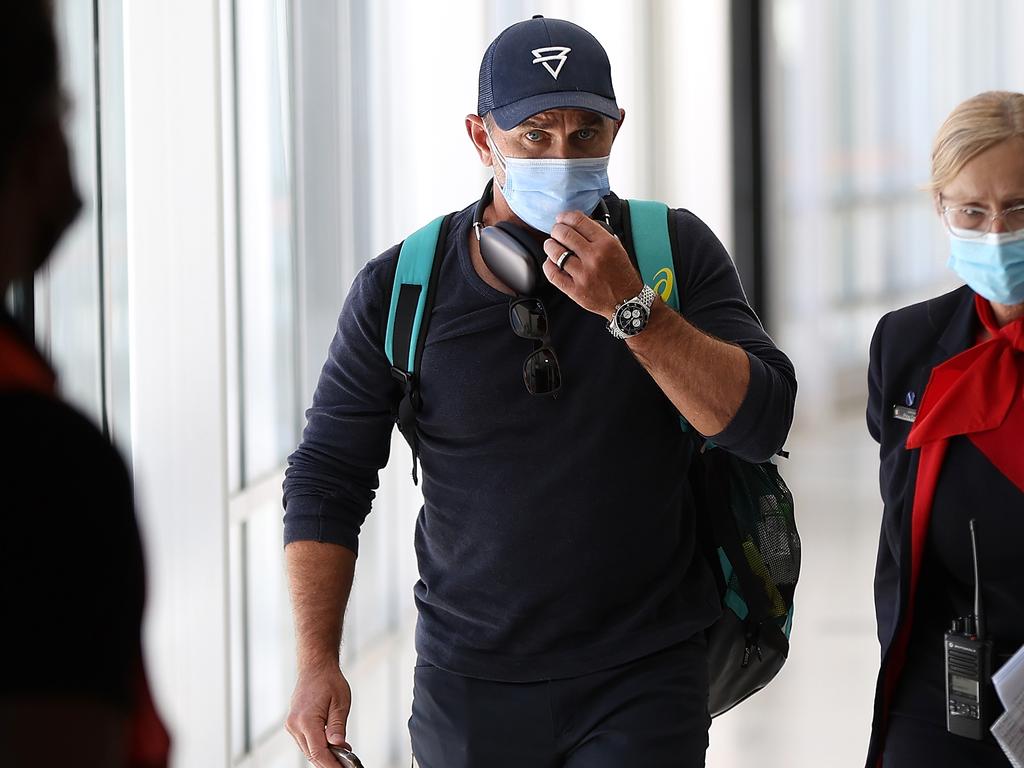 Langer returned to perth on the weekend, and spoke with Cricket Australia officials via Zoom on Monday. Picture: Paul Kane/Getty Images
Adam Gilchrist is a close friend of Langer's, but he says the issue has deep roots given what he has observed in recent years.
"I don't care to listen to any of the corporate speak about transition and analysis of the coach's position and requirements and evolution," Gilchrist told Gerard Whateley on SEN. "That is just covering up that certain players and support staff around that team have spoken and they no longer wanted Justin there."
Langer, in his resignation letter published by The Australian, said that if senior players, some support staff and the board did not support him, he felt it necessary to walk away from the job.
"If media reports are correct, several senior players and a couple of support staff don't support me moving forward, and it is now apparent the CA board, and you Nick, are also keen to see the team move in another direction," he wrote. "I respect that decision."
Gilchrist was damning of the organisation's behaviour in recent years.
"The cost on a human being and his family and the method with which everyone has gone about this and none the least CA and the board," he said. "It stuns me, the personal capital and human capital they are happy to churn and burn is extraordinary.
"He'll be the first to admit he has his frailties, his areas of weakness. But geez, he'll sit with you and look you in the eye and sort it out. He's being painted as a monster.
"What sort of effect would that have on you personally? What's the flow-on effect on to your family? Particularly through a period of time where you are not really understanding what's going on.
"I think it's quite reckless and some of the decision making over a long period of time has been fuelled by greed and it really leaves me staggered."
Adam Gilchrist hasn't been impressed by what he's seen. Picture: Quinn Rooney/Getty Images
Former captain Michael Clarke believes Cummins, who was one of the players pushing for change, needs to clear the air with the public.
"The Australian public aren't stupid and this is my point with Pat Cummins," Clarke said on his The Big Sport Breakfast program.
"His reputation is squeaky-clean. Right now it has taken a hit, until he stands there and voices his opinion. Look what Mitchell Johnson said about Pat Cummins. A teammate, a friend of his has smoked him.
"My advice to Patty is he has got to stand there. He needs to tell the fans where he sits on this because everyone thinks it is Patty who made the decision. That accountability sits with him.
"He is trying to honour both parties and has done it very well. He is trying to look after Cricket Australia. I don't like seeing Pat get smacked for this because I think he is in a lose-lose situation. He sits right in the middle."