BBL 2022: All the latest news from the Big Bash League
Darren Lehmann has weighed into the release legal fight between Chris Lynn and Cricket Australia, claiming even half a season of the big hitting batsman in the BBL is better than not at all.
Chris Lynn's former coach Darren Lehmann has called on Cricket Australia to allow the master blaster to play the first half of the Big Bash before heading to the Dubai Desert.
CA don't want an Australian drawcard like Lynn to fly the coop halfway through the season and are at this stage refusing to grant him permission to head to the new UAE T20 League in mid-January.
However, Lehmann argues it's unfair for CA to allow overseas stars to come over and double dip between the two leagues, only to block Lynn from doing exactly the same when he has no existing contract in Australian cricket.
Watch The Hundred. Every Match Live & Exclusive to Fox Sports on Kayo. New to Kayo? Start your free trial now >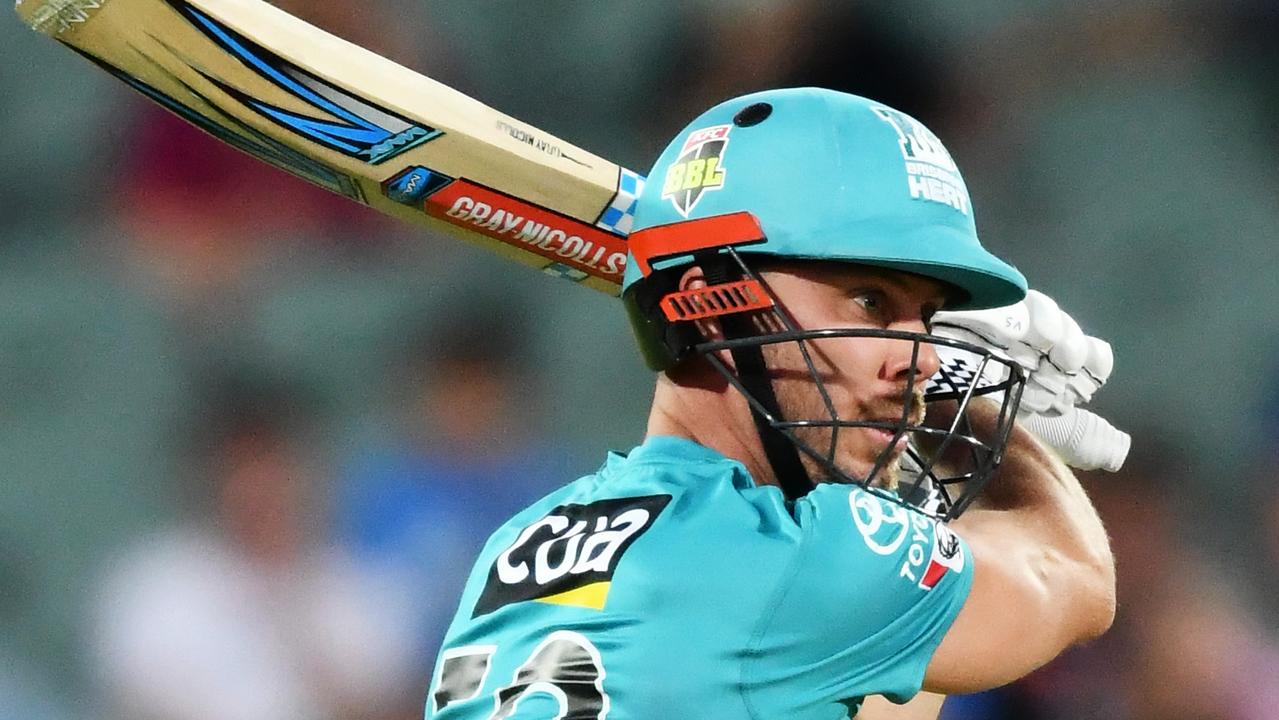 Chris Lynn wants to spend half of the Big Bash season with the Adelaide Strikers before taking up a $500,000 plus contract in the UAE.
Despite being unceremoniously dumped by the Brisbane Heat earlier this year, Lynn doesn't want to abandon the BBL altogether and is keen to sign with the Adelaide Strikers for the first half of the season, as long as he can then take up a $500,000 plus contract in the UAE in mid-January.
Lehmann — still a Heat assistant coach — says CA must accept having the BBL's greatest ever run-scorer Lynn for half a season is better than not at all, and they should meet the Queenslander halfway like they have with countless overseas superstars like Rashid Khan and Faf du Plessis.
"It's a tough one for all involved, really because Lynny is such a marketable asset for the BBL and a BBL team … and you want to protect the BBL product too," said Lehmann, who will be part of Fox Cricket's team of analysts for the inaugural BBL draft on August 28.
"He obviously moved on from the Heat but we still want him playing the competition. But where do you stand with what he can and can't do? It gets down to the legal angle I suppose (with restraint of trade).
"For me, he's not contracted to Cricket Australia, I'd like him to have the options given overseas players can have the options.
"We want him playing the BBL too somewhere, for the BBL's sake, but you can't have one rule for overseas and one rule for the other. If he plays half a tournament, it's still half a tournament."
The Adelaide Strikers want to work with Cricket Australia for the best outcome and would sign Lynn for half a season or a full season — but need clarity on what the governing body will allow the right-handed batsman to do.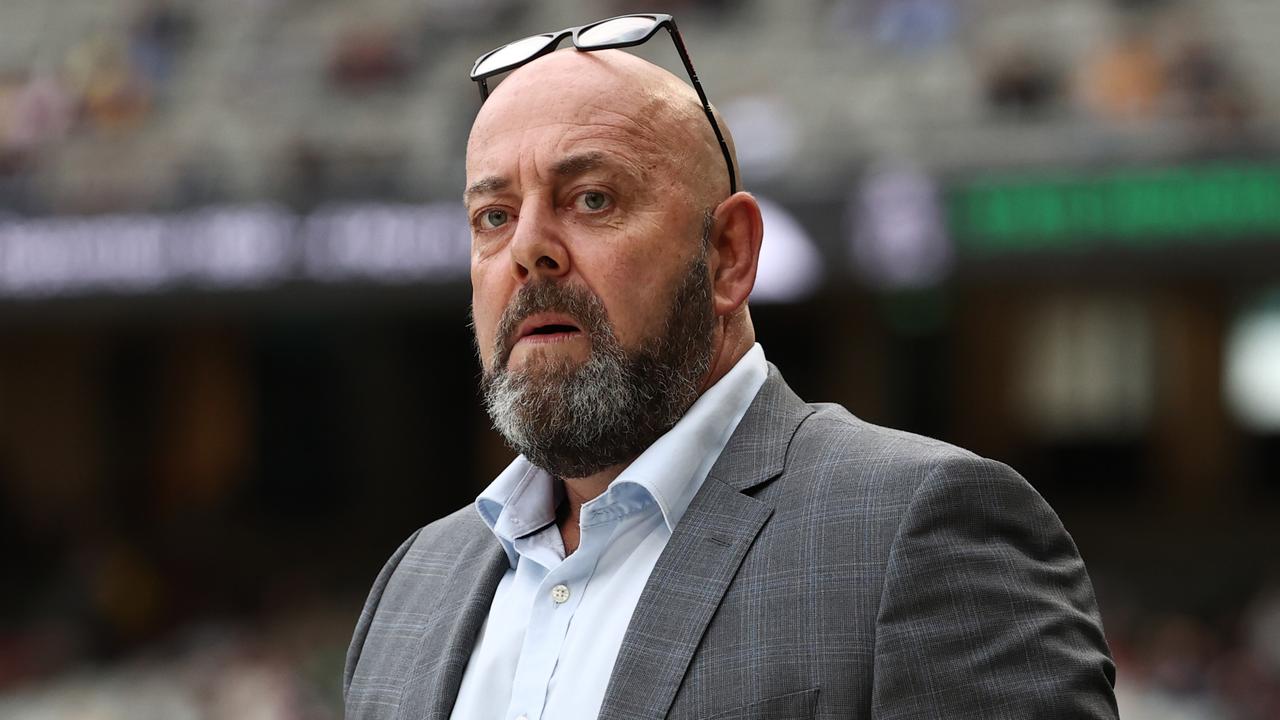 Darren Lehmann says CA must accept having the BBL's greatest ever run-scorer for half a season is better than not at all.
The fear is CA won't be able to legally stop Lynn from playing in the UAE anyway, so all CA might achieve by putting its foot down on refusing an NOC is losing the T20 star from playing any BBL at all.
"I think (allowing Lynn to play BBL and UAE) is a fair compromise," said Lehmann.
"We want Chris playing cricket. We'd love him to play the whole year, but if he plays half of it, he's still a big drawcard."
David Warner's landmark CA-boosted deal with the Sydney Thunder is yet to be confirmed but could be signed off on any day.
Meanwhile, Cricket Australia has reacted quickly to revelations Trent Boult has been granted an immediate release from his New Zealand cricket contract, and have approached the Black Caps fast bowling great about nominating for the BBL draft on August 28.
There are some superstar batsmen already in the draft, but Boult would go straight to the top of the list for seam bowlers available if he does nominate.
"Yeah he'd be pretty good with the new ball wouldn't he," said Lehmann.
"Has a good record. If he nominates I'm sure he'll be looked at.
"You'll see it more and more (players opting for franchise cricket over national contracts) as the IPL expands and league cricket expands. The IPL has its own window and who knows where that stops. It's interesting times in cricket really at the moment."
Warner poised to join BBL club, Lynn's future decided
- Peter Lalor
Only one Australian is among the international signings with the UAE's controversial new T20 league but it is not David Warner as initially feared by the BBL, broadcasters and Cricket Australia.
Chris Lynn, a huge name in the BBL but recently cut by his Brisbane side, has signed with the league in a move that seems destined for conflict.
Lynn needs clearance from CA to play despite not holding a contract with any state or BBL club but is understood to have not sort permission.
Players must receive a No Objection Certificate from their home board to participate in overseas leagues for up to two years after retiring.
Lynn was cut by the Brisbane Heat this season but was in negotiations with the Adelaide Strikers.
There had been reports of up to 20 Australian players receiving offers, but only one appeared in the official list of almost 50 signings released early Tuesday.
Usman Khawaja was one Australian player who turned down an approach.
Players were being offered up to $700,000 to participate in the new league which stands in direct competition with the BBL during January.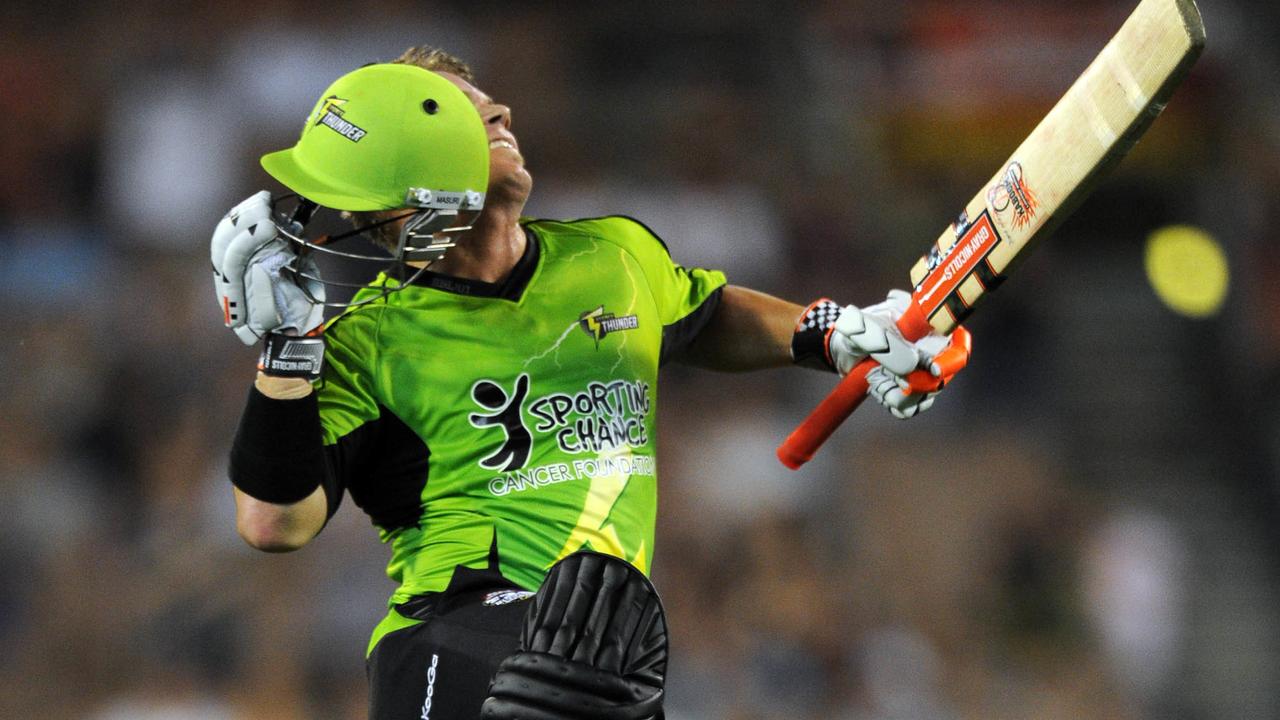 David Warner is poised to sign with a BBL club this week.
The prospect of Warner's name being among them caused the most consternation after News Corp revealed his desire to participate during a break in the summer fixture.
Although he has not played in the BBL for a decade, the sight of the international T20 star plying his trade in a privatised foreign league this January in competition with the homegrown product would have upset broadcasters and damaged future broadcast negotiations.
Cricket Australia made an extraordinary pay offer to keep Warner and he is expected to sign a contract this week.
The BBL has also found extra money – up to $340,000 each – for high profile international players to enter a new draft system in order to stay competitive.
The new UAE league controversially allows up to 12 foreign players in the six franchises' 18 player squads.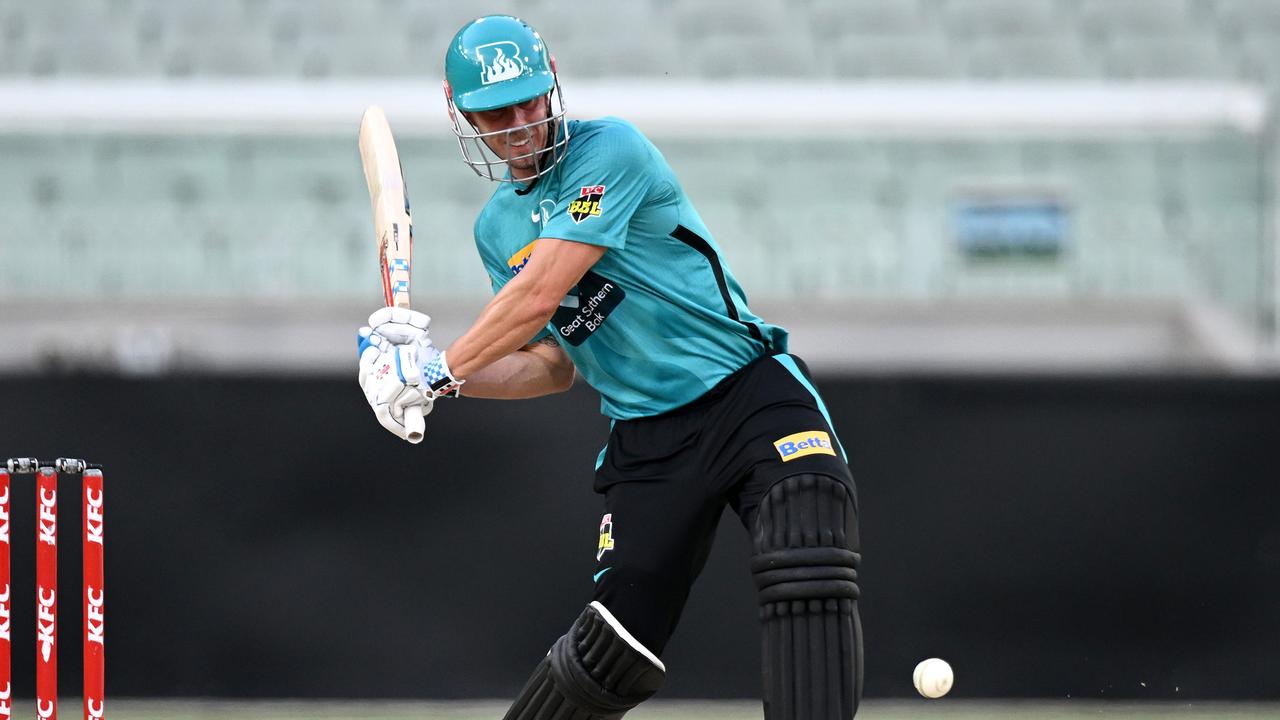 Chris Lynn will be part of the UAE T20 competition.
Andre Russell, Moeen Ali, Wanindu Hasaranga, Chris Jordan, Alex Hales, Colin Munro, Mujeeb ur Rahman, Ben Duckett and Chris Jordan are among the names signed to the new International League.
Hales, Russell, Rahman, Jordan, Munro and Duckett were among the foreign players in the last iteration of the BBL.
No cricketers from India, Bangladesh or Pakistan players are among the signings.
A number of players, including Sandeep Lamichane and Mujeeb, appear on the draft lists for the BBL and the ILT20. It is expected they would be unavailable for the entire Australian tournament.
India does not allow its players to participate in other domestic T20 tournaments, Pakistan appears to have denied its players requests for No Objection Certificates to compete and Bangladesh, like Australia, has its own tournament on at the same time.
"Over the past weeks, ILT20's six franchises have started discussions and engaged with players, and players' agents, to exercise their 'Direct Acquisition' rights," Khalid Al Zarooni, chairman of the ILT20, said in a statement.
RADICAL CALL TO EXPAND BIG BASH WITH NZ TEAM
Ben Horne
The Big Bash might be getting gang tackled by the rest of the world, but one of the game's most underrated batting stars has declared New Zealand can come to the rescue.
Black Caps' run-scoring machine Daryl Mitchell believes Australia can strengthen its position in the rapidly changing global T20 market by joining forces with their trans-Tasman rivals and injecting kiwi teams into the BBL.
Mitchell is fresh from scoring three consecutive Test centuries against England on UK soil and will be one of the players' to watch when New Zealand tackle Australia in the opening match of the T20 World Cup at the SCG on October 22, with tickets already on sale.
The middle-order genius has taken the cricket world by storm at age 31 as a mature-age rookie, and is living, six-hitting proof of the quality of the New Zealand domestic system.
Mitchell is adamant, if admitted, a New Zealand team could win the Big Bash, and at the same time potentially open Australian sides up to accessing another entire system of top talent.
Watch The Hundred. Every Match Live & Exclusive to Fox Sports on Kayo. New to Kayo? Start your free trial now >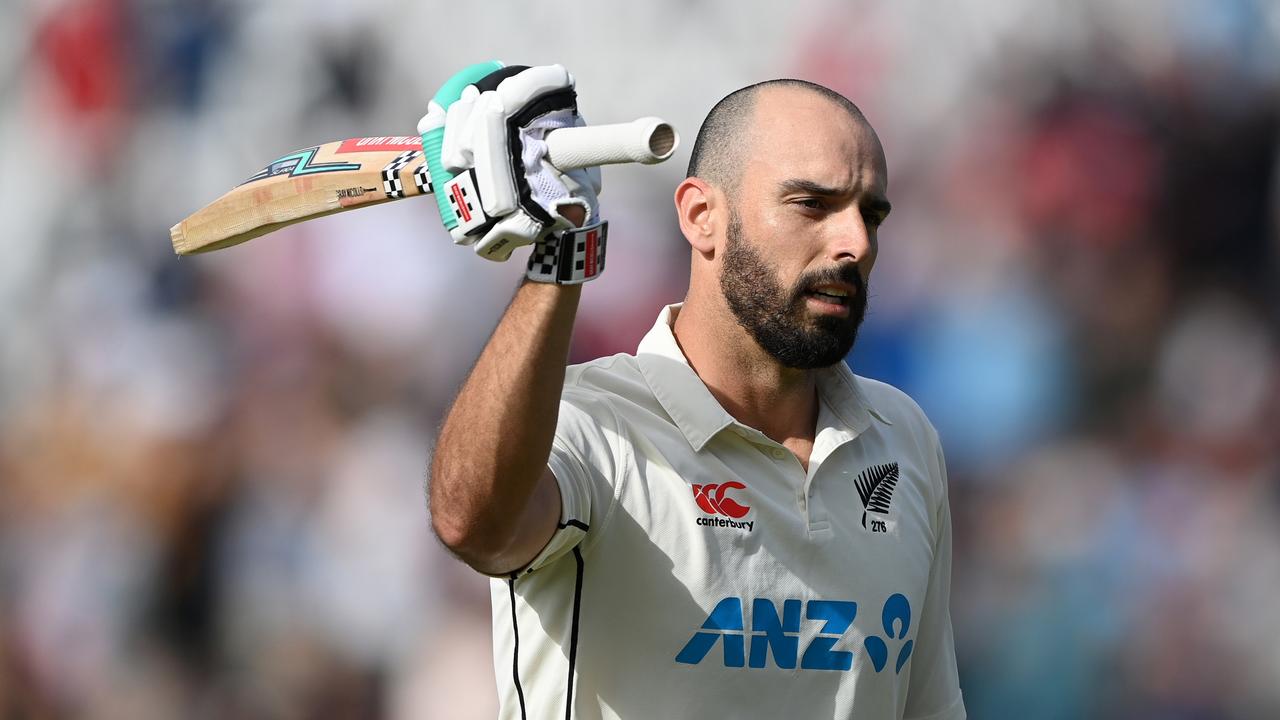 Black Caps' run-scoring machine Daryl Mitchell. Picture: Stu Forster/Getty Images
"I think you can see by the amount of players coming into this New Zealand international set-up at the moment straight from domestic cricket and performing straight away on the international stage, that obviously our domestic competition back home is very strong at the moment," Mitchell told News Corp.
"It's something that New Zealand Cricket as a whole has put a lot of time and effort into over the last decade, to try and create some world class players.
"I know if I put my domestic team up against a lot of the Big Bash teams I'd like to hope we'd compete if not beat them, and hopefully something in the future can happen.
"That's well and truly above my pay grade and there'd need to be a lot of negotiations for that to happen – but I know us as kiwis, we'd love to take on the Aussie domestic teams at some point, and hopefully we'd give them a good run for their money."
At the moment, the Big Bash seems reluctant to expand given the fight for top class international talent is getting harder not easier amid the introduction of new cashed-up competing leagues in the UAE and South Africa.
However, if the Big Bash had access to the entire New Zealand domestic system as opposed to just one or two kiwi nationals, it could significantly boost the standard of the competition overall.
Broadcasters have lamented the falling standards of play at times over recent years and the frequency in which club cricketers are being called up to fill spots in BBL rosters.
Australia is under intense pressure to maintain the relevance of the Big Bash given the ridiculous amounts of money now being tossed around by the UAE and South Africa.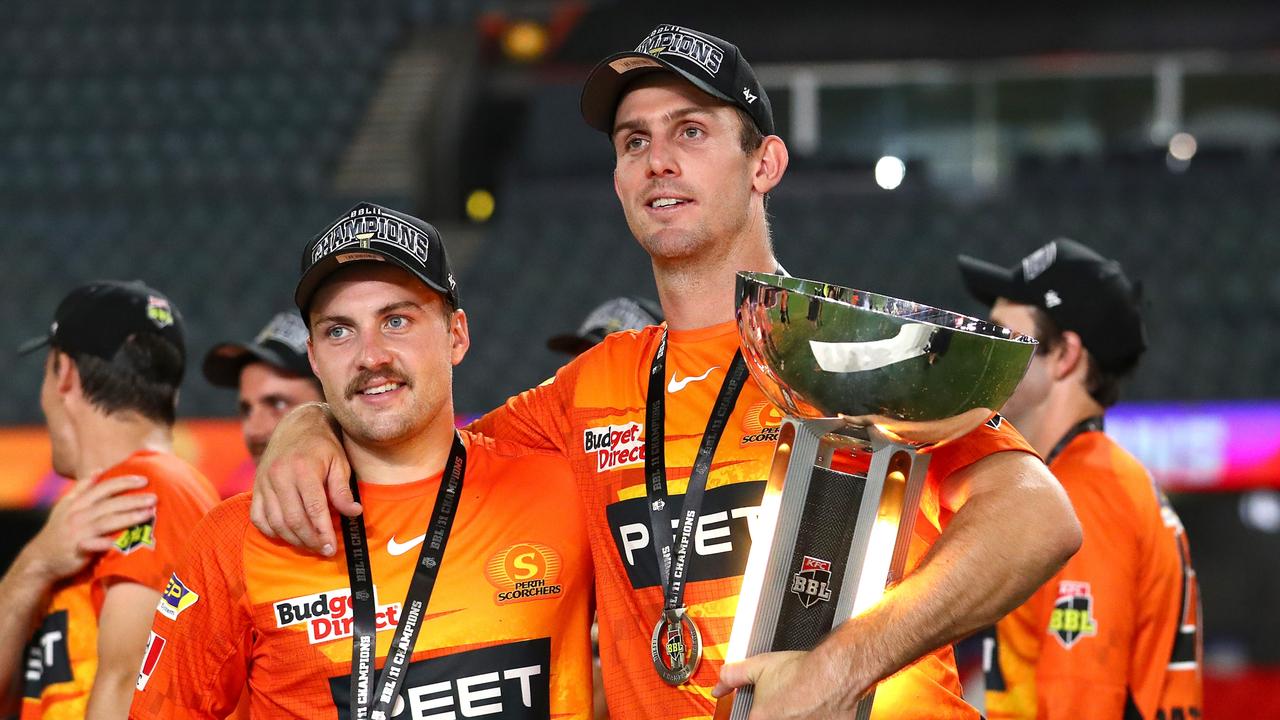 BBL title-winning Scorchers Josh Inglis and Mitch Marsh. Picture: Kelly Defina/Getty Images
But there is an argument to suggest perhaps there could be strength in numbers by joining forces with New Zealand.
Mitchell – eager to take on Australia in the World Cup – says he owes his late-blossoming career to the strength of the often underrated New Zealand domestic system.
The right-hander is one of the most dangerous middle-order hitters in T20 cricket and was immense in last year's World Cup, until Australia pipped the Black Caps in the final in Dubai.
"I think for me it was a blessing in some ways I didn't play international cricket at an early age. It allowed me to learn my game at the domestic level and it probably speaks wonders for how strong domestic cricket is in New Zealand at the moment," he said.
"To be able to go through failures and learnings (at a domestic level) and work out what works for me in my game and how I can adapt it to different situations at the international level, I'm very grateful that's actually happened.
"For me it's just trying to be as present as possible and keep trying to win those little moments. I'm a competitor and hopefully if we keep doing that as a team it'll give us a good chance of (World Cup) success."
Originally published as BBL 2022: All the latest news from the Big Bash League