BBL11: Strict rules in place for Andre Russell and Melbourne Stars teammates ahead of West Indian's Big Bash return
West Indian star Andre Russell will debut for Melbourne Stars on Friday — but only thanks to the strictest of Covid conditions. We reveal what his teammates will be banned from doing.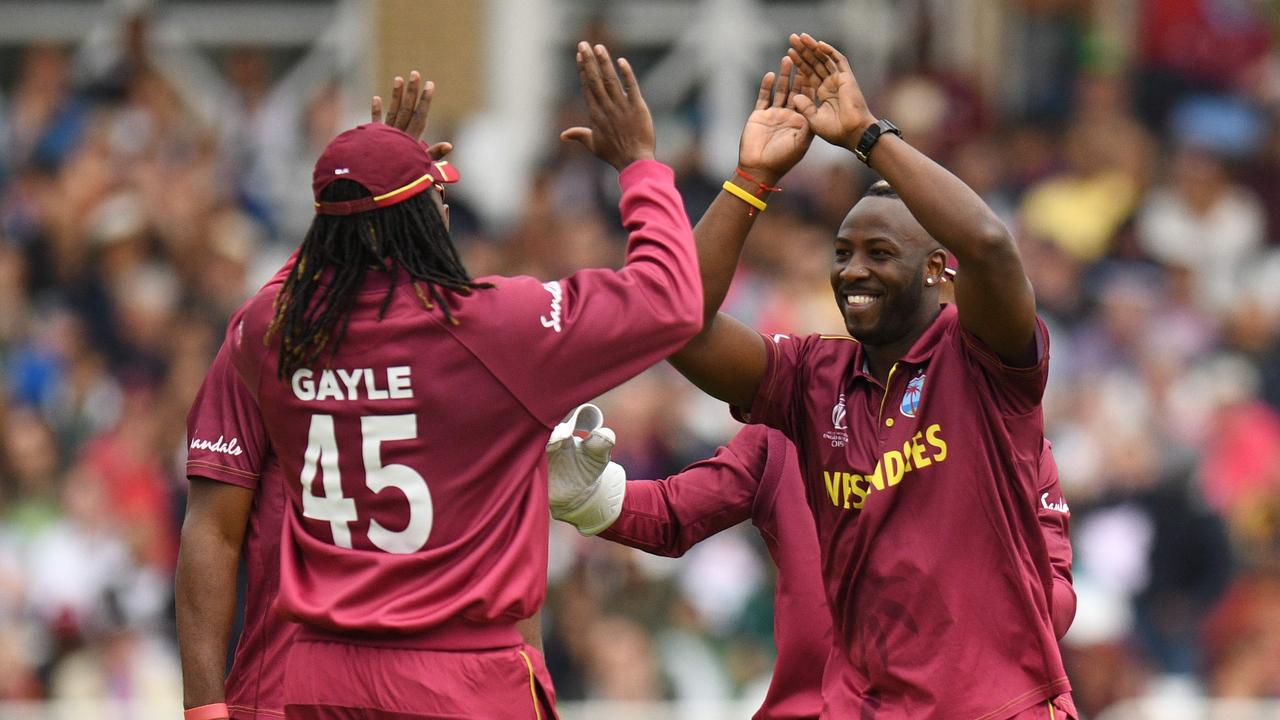 Andre Russell will be forced to withold the high-fives in his Melbourne Stars BBL debut. Picture: Oli Scarff/AFP
Melbourne Stars players have been told they can look at Andre Russell – but they can't touch him — with high-fives banned for the Calypso king when he rocks the MCG on Friday night.
Russell and Qais Ahmed will light up Glenn Maxwell's line-up against Sydney Thunder, but are still under a strict set of Covid protocols after only arriving in Australia this week.
News Corp revealed on Monday that the marquee signings were set to be given a private dressing room to help expedite their availability while still serving Cricket Australia's integration period into the Big Bash League bubble.
But physical celebrations have also been put on the no-go list for both Friday and Sunday's games against Sydney Thunder, paving the way for the peculiar sight of Russell and Ahmed celebrating their first ever wicket for the green team all alone.
The MCG DJ should cue up MC Hammer's "Can't Touch This" whenever Maxwell tosses the ball to Russell or Ahmed because while the Covid rules might sound comical they are no joke to those in charge of ensuring the virus doesn't hit the BBL for six.
Russell and Ahmed spent 72 hours in quarantine when they landed in Sydney but have to serve a further four-day integration period before they are allowed full access to the Stars' bubble.
Russell enjoys a high five during his last BBL stint. Picture: Michael Dodge/Getty Images
Andre Russell batting for Sydney Thunder. Picture: Julian Smith/AAP
The acrobatic Ahmed's front-flip wicket celebrations have gone viral on YouTube in recent seasons and his new teammates will have to remember not to join the mystery spinner's party if he suddenly decides to rotate through the air.
Marcus Stoinis – who is hoping to bowl for the first time since October in January – will replace wicketkeeper Peter Nevill at the top of the order after overcoming a niggle in his side.
"(Russell) hasn't been to training yet and he can't come to training either, so we'll see him for the first time at the game tomorrow," Stoinis said.
"He's arguably one of the best Twenty20 players in the world for an extended period of time.
"I don't even think the boundaries here at the 'G are big enough to stop him.
"Hopefully he's bowling quick, he's hitting big bombs and taking good catches in the field.
"Qais will be good on this wicket as well with the big square boundaries. He bowls quite fast, he's quite experienced as a Twenty20 bowler now and he's played a bit of Big Bash before.
"I don't know if the flip's coming out but we might see a flip if he takes a wicket."
Nathan Coulter-Nile will also slot into the Stars' team, guaranteeing at least four big-name inclusions to the team that was embarrassed by Sydney Sixers on Sunday night.
Originally published as BBL11: Strict rules in place for Andre Russell and Melbourne Stars teammates ahead of West Indian's Big Bash return