Ben Stokes succeeds Joe Root as new England men's Test captain
Ben Stokes has been named the new England men's Test captain as the obvious choice to take over from Joe Root in the role.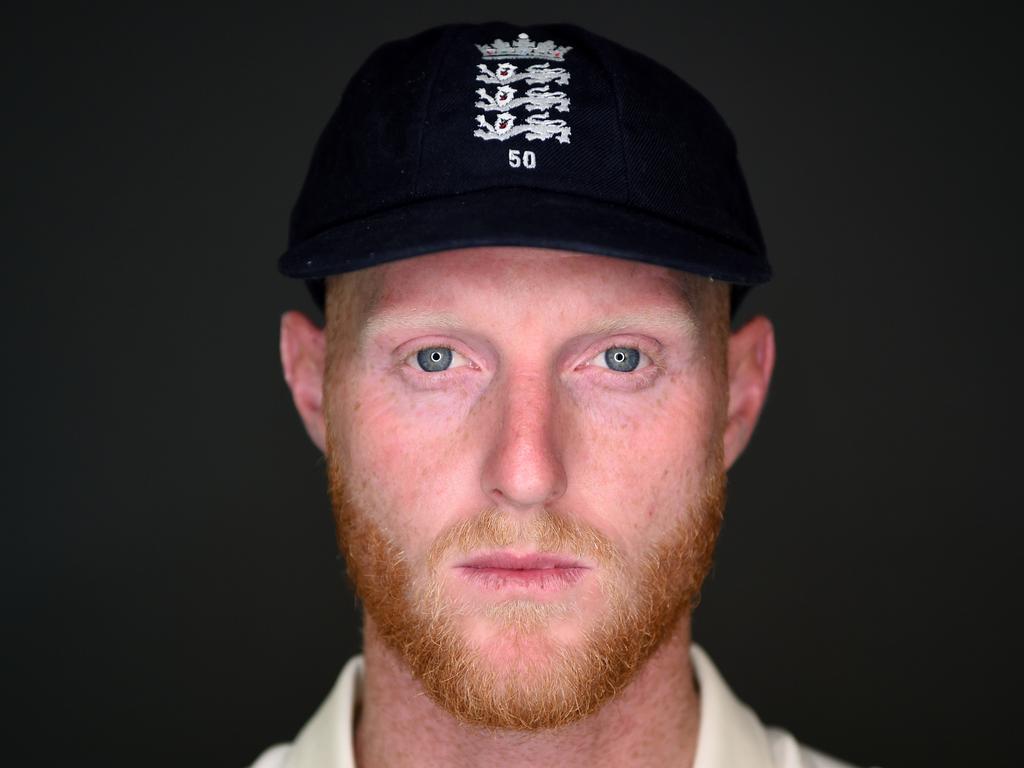 Ben Stokes will become the 81st man to captain the England Test team. Picture: Gareth Copley/Getty Images
Ben Stokes is the new England Test captain and "epitomises the mentality" required to take the team forward, according to Rob Key.
Key, the new managing director of men's cricket at the ECB, confirmed that the 30-year-old all-rounder will be Joe Root's permanent successor. He was the obvious candidate after Root resigned this month in the wake of series defeats in Australia and the West Indies.
The appointment was formally approved by Tom Harrison, chief executive of the ECB, and the interim chair Martin Darlow on Tuesday after conversations with Key last week.
"I had no hesitation in offering the role of Test captain to Ben," Key said. "He epitomises the mentality and approach we want to take this team forward into the next era of red-ball cricket. I am delighted that he has accepted and he is ready for the added responsibility and the honour. He thoroughly deserves the opportunity."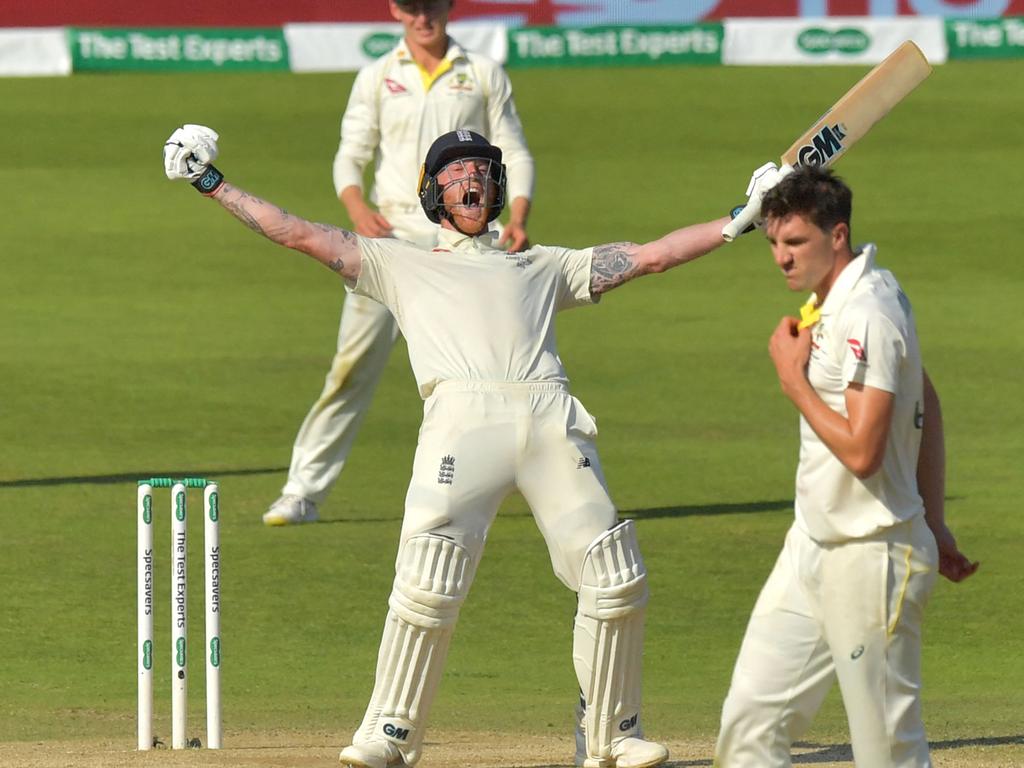 Stokes says he was "honoured" to be given the chance to lead the Test team. Picture: Anthony Devlin/AFP
Stokes said he was "honoured" to have been asked to be captain: "This is a real privilege and I'm excited about getting started this summer. I want to thank Joe Root for everything he has done for English cricket and for always being a great ambassador for the sport all across the world. He has been a massive part of my development as a leader in the dressing room, and he will continue to be a key ally for me in this role."
After holding conversations last week about the vision and direction for the Test team, Key and Stokes are set to bring back James Anderson, 39, and Stuart Broad, 35, after they were dropped for the recent West Indies tour.
The veteran bowlers are set to be named in the squad for the first Test against New Zealand at Lord's, starting on June 2, although it is improbable that both will play all seven Tests of the summer and they may not feature in the same match together.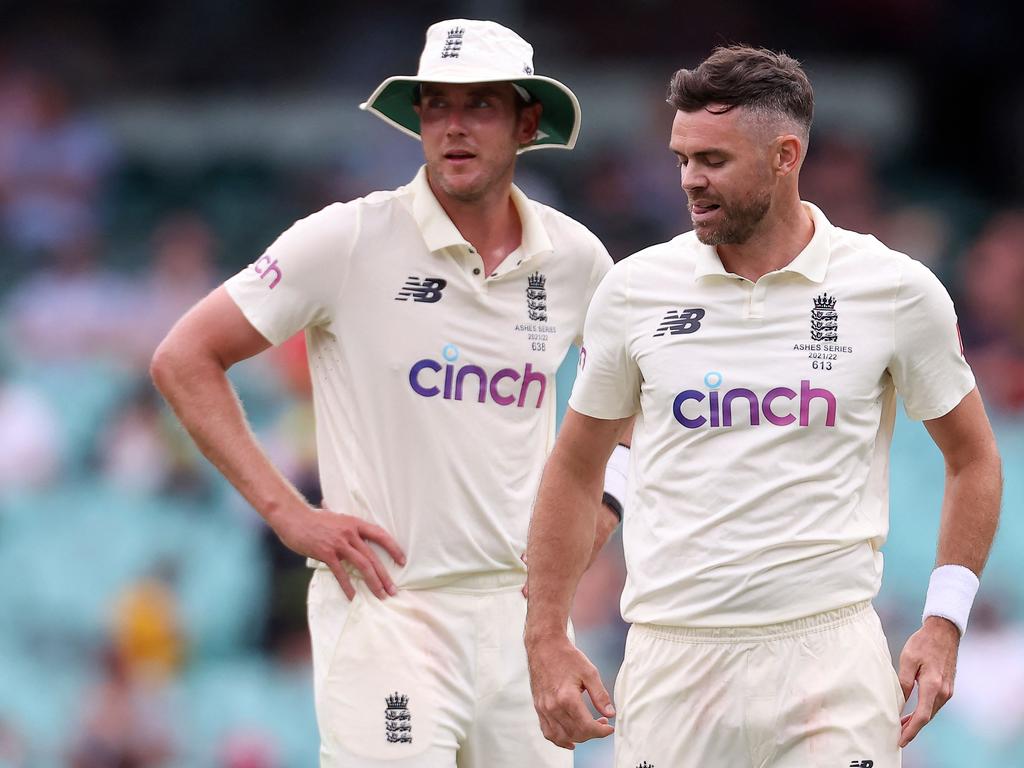 Broad, left, and Anderson are expected to feature in the summer Tests. Picture: David Gray/AFP
The talks last week between Key and Stokes centred on the star all-rounder's workload and the strategy for improving the performances of the ailing Test team, as well as who should fill the vacant head coach roles.
Stokes was Root's vice-captain for much of the Yorkshireman's tenure and stood in to skipper the side when Root was on paternity leave in 2020, although England lost that match against West Indies.
He also stepped in at short notice to replace Eoin Morgan for three one-day internationals last summer, leading England to a 3-0 victory over Pakistan with an inexperienced squad when the first-choice team were all ruled out by a Covid outbreak.
One question that remains is who will be Stokes's vice-captain, given that very few players are guaranteed their place in the Test team. Root would be the most obvious choice but that is unlikely to happen, at least initially. Stokes and Key may decide to appoint vice-captains on a match-by-match or series-by-series basis — there has not always been a permanent deputy in the past.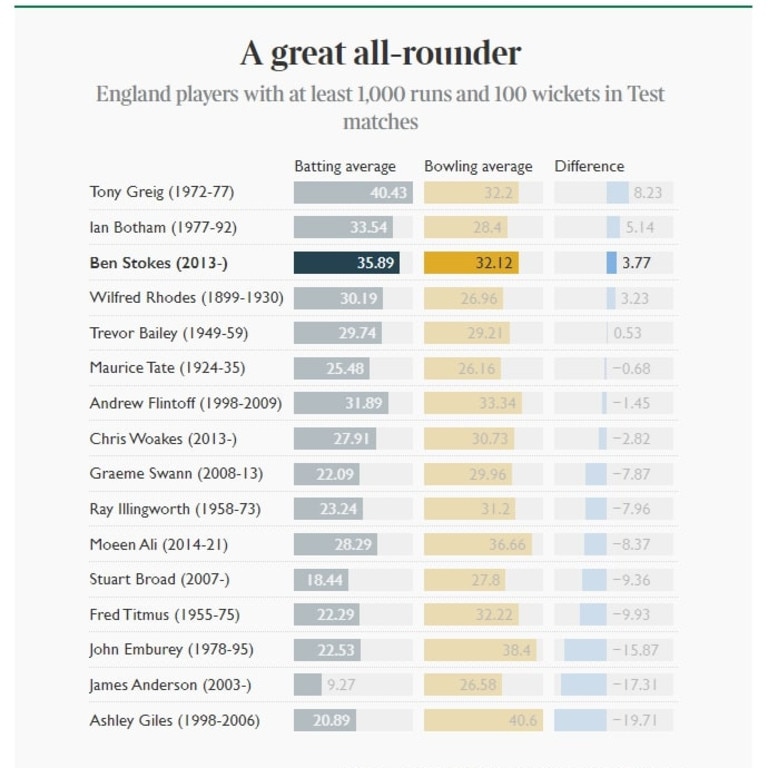 England players with at least 1,000 runs and 100 wickets in Test matches. Picture: The Times
The squad for the first Test of the summer needs to be picked by May 26 at the latest and Stokes will play a role on a newly formed selection panel, although Key has yet to make any formal appointments to that panel and is expected to hire a new head selector.
Stokes will give his first appearance in front of the media on Tuesday and is expected to return to playing next week, when Durham take on Worcestershire at New Road. He has a longstanding knee injury, which was exacerbated by bowling a large number of overs during the three-match series against West Indies last month — which England lost 1-0 — but a scan this month showed there was no new damage and he returned to training this week.
After being appointed last week, Key has held talks with both Broad and Anderson about their futures. Both bowlers will play three or four matches for their counties before the first Test.
– The Times