Brendon McCullum set to be confirmed as England Test head coach
Former New Zealand cricketing great Brendon McCullum had originally been considered for the limited-overs role, but now appears to have clinched the Test role.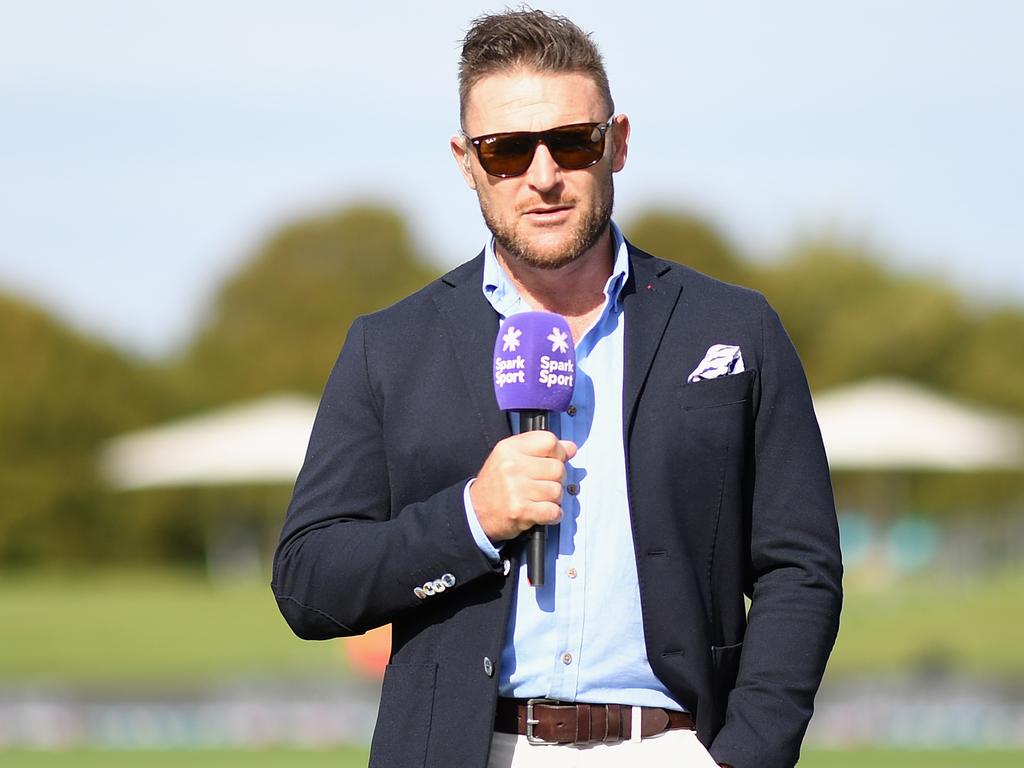 Brendon McCullum retired from cricket in 2016. Picture: Kai Schwoerer/Getty Images
England are in discussions with Brendon McCullum over a contract to become their Test head coach.
The former New Zealand captain is expected to be confirmed in the role as early as today. The 40-year-old emerged as the favourite from a field that included Gary Kirsten, who also missed out on the head coach job in 2019 when it went to Chris Silverwood, who was in charge of the red and white-ball sides but was sacked after the 4-0 Ashes defeat in Australia.
McCullum retired from international cricket in 2016 but remained on the global T20 circuit — including two stints at Middlesex — until 2019, when he moved into coaching in the Indian Premier League and Caribbean Premier League. He is in charge of the Kolkata Knight Riders in the IPL at present.
Initially, McCullum was being considered for the limited-overs role because of his previous coaching experience and the fact that he is a close friend of Eoin Morgan, the England white-ball captain — he was master of ceremonies at Morgan's wedding.
However, after conversations with Rob Key, the managing director of England men's cricket, and his interview, which took place on Monday, it became clear that McCullum would be interested in taking the Test job and that his vision for the team matched that of Key and Ben Stokes, the new Test captain. Paul Collingwood, who has held coaching roles with England since 2018, and Matthew Mott, the coach of the Australia women's team, are seen as the leading contenders to become the white-ball coach.
Key was able to give reassurances to McCullum about the amount of time off he would be able to have and that he may be able to continue working in the IPL, if his schedule allowed.
McCullum with Stokes, now the England Test captain, back in 2015. Picture: Mitchell Gunn/Getty Images
The Knight Riders have struggled in this year's edition of the IPL and are unlikely to qualify for the play-offs, which would allow McCullum to arrive in England in time for the first Test, against his home country, which begins on June 2 at Lord's.
Although McCullum has never been a red-ball coach, either at first-class or international level, this is not thought to concern Key. The new managing director believes that McCullum's experience as a player and captain — leading his side in 31 of his 101 Tests — and his approach to the game are what England need.
The Test side are looking to recover from a miserable two years in which they have fallen to the bottom of the World Test Championship table. McCullum is unlikely to be a hands-on coach, but will instead put together a team of assistant coaches who will be in charge of the technical elements.
McCullum's bold and imaginative captaincy of New Zealand was widely praised and the team's resurgence started under his leadership. In his first Test in charge, in 2013, his side were bowled out for 45 against South Africa, but by the time he stood down from the five-day game in 2016 the team had laid the platform that led to them becoming world champions last year.
An announcement of McCullum's appointment within the next two days would allow him to be involved, albeit it via video call, in next week's selection discussions, which will be led by Key but also involve Stokes and Mo Bobat, the ECB lead performance director. A squad of about 17 players is expected to be announced next Wednesday. Stokes and Key have already indicated that James Anderson and Stuart Broad are likely to be recalled, having been dropped for the tour to the West Indies.
A decision about who will take on the limited-overs job may come later because announcing the white-ball coach is less of a priority given that England are not back in action until mid-June, when they play a short series against the Netherlands in Amsterdam.
Collingwood, a fine one-day player for England who stood in as head coach in the Caribbean, and Simon Katich were thought to be the leading contenders for the white-ball role, but Mott has emerged as an outsider.
He was appointed the Australia women's head coach in 2015 and has won two World Cups, the most recent triumph coming last month when they beat England in the final to make it 26 consecutive one-day international victories.
Mott, 48, played first-class cricket as a batsman for Queensland and Victoria and has coached New South Wales and Glamorgan. He is close to McCullum, which could be an advantage given the potential for conflict between the coaches of the two sides.
-The Times