Cricket 2022: Shelley Nitschke named Australia's interim coach after England poaches Matthew Mott
Australia's all-conquering women's side has moved quickly to appoint an interim coach after World Cup winner Matthew Mott was poached to join England's revolution.
Shelley Nitschke will take over as interim head coach of Australia's all-conquering women's team after Matthew Mott confirmed he was jumping ship to coach England's male players.
Mott will go head-to-head with some of his former pupils including David Warner at this year's World Cup after landing one of the most-sought after jobs in cricket as the coach of England's white-ball formats.
It leaves Australia's world champion women's team without a coach heading into July's Commonwealth Games, with Nitschke to take charge on an interim capacity while a full scale search is conducted for a permanent replacement.
Nitschke, a former Australian all-rounder, could well find herself in the same position as Andrew McDonald, who was appointed interim head coach of Australia's men's team in Pakistan only to assume the role full-time at the end of the tour.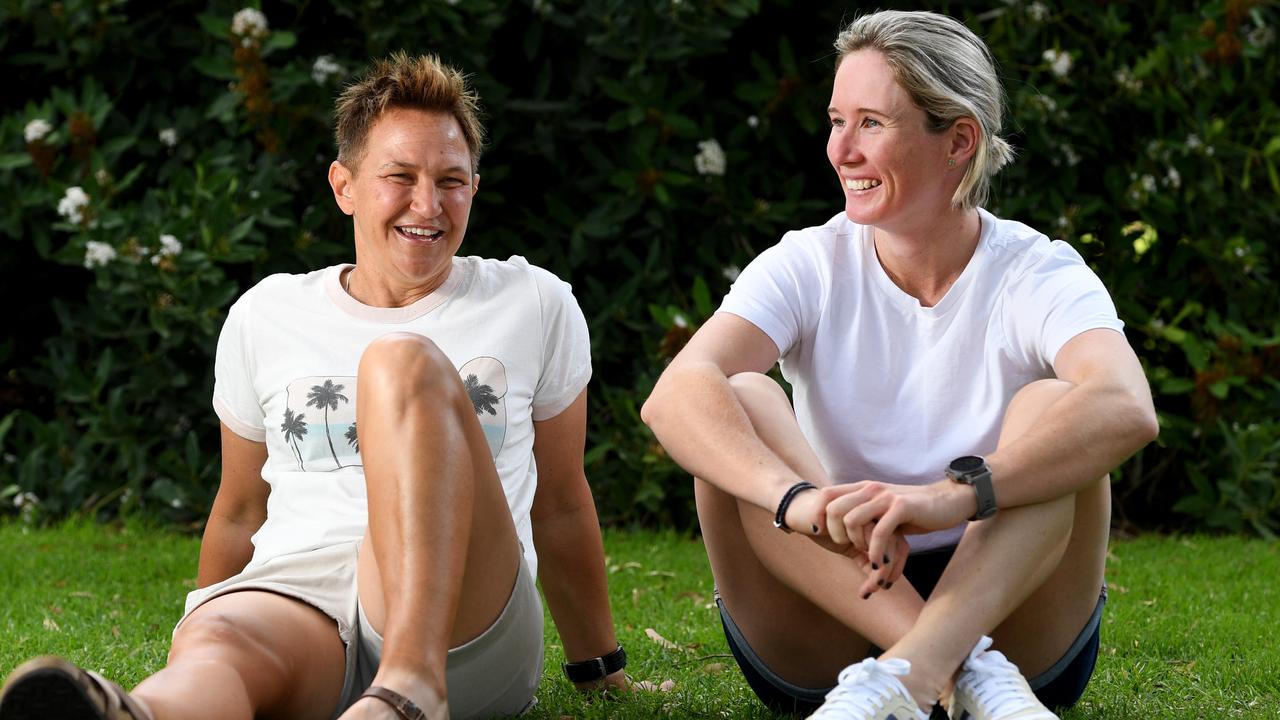 Shelley Nitschke (left) relaxes with Beth Mooney ahead of last year's Ashes series. Picture: Tricia Watkinson
Mott is still reeling following the death of his best childhood mate, Andrew Symonds, and has asked for time to digest his loss before speaking about his English appointment.
"Since accepting this role, I - like many people around the world - am trying to come to terms with the tragic loss of my great mate Andrew Symonds," said Mott.
"The support of his beautiful family and close friends in the coming days is going to be vitally important so I respectfully request for some time to process his passing and the immense loss before making any further comment on our move to the UK."
Mott has been in charge of Australia's women's team for seven years and in that time the side has claimed almost every piece of silverware available.
The former NSW men's coach and Queensland teammate of Symonds is ready for a new challenge.
"I'd like to thank everyone involved across Australian Cricket; I feel honoured to have been a part of such an amazing group of people over the last seven years. I leave with a heavy heart but with so many wonderful memories," said Mott.
"The on-field success is well documented but it's the lifelong friendships that I've formed that resonate most with me. I am very proud to have been part of a sport that has been able to endure the last couple of years and come through it with an even brighter future.
"There is never a perfect time to leave such a wonderful environment, but this opportunity is one that excites me very much. My family has a strong connection and love of the UK, having spent several summers over there and we are excited for our next family adventure."
Shelley Nitschke in action for Australia during a World Cup clash.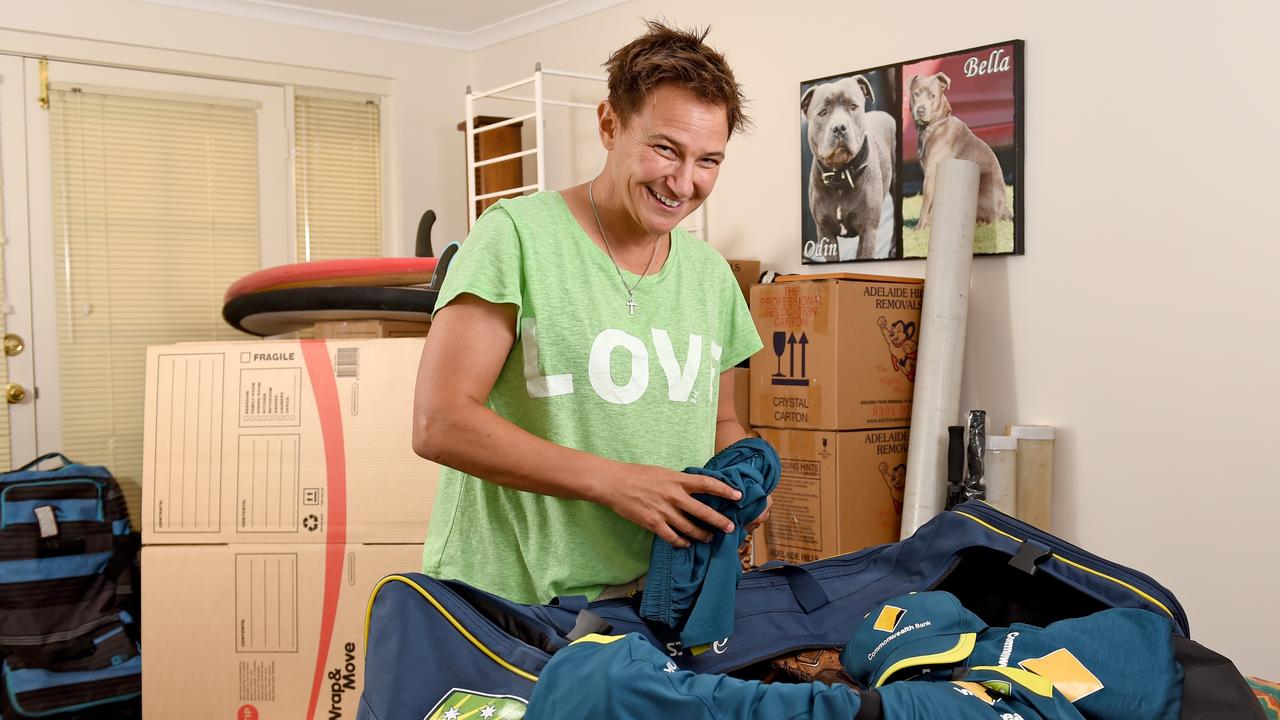 Shelley Nitschke is a South Australian cricketing legend. Picture: Naomi Jellicoe
Nitschke will take the reins of the Australian women's team for the upcoming tri-series in Northern Ireland followed by the Birmingham Commonwealth Games.
Nitschke has been Australia's assistant since 2018 having previously spent time with the South Australian Scorpions and Adelaide Strikers.
In 2019 she took over as coach of the Perth Scorchers WBBL side, leading them to their maiden WBBL title – and she will start as one of the frontrunners to take over from Mott full-time.
ENGLAND PIN WHITE-BALL HOPES ON AUSSIE WC WINNER
Elizabeth Ammon, The Times
Matthew Mott is the surprise choice to lead the England men's limited-overs teams - and his appointment could be confirmed as soon as tomorrow.
The 48-year-old head coach of the Australia women's side is understood to have impressed the recruitment panel of Rob Key, Sir Andrew Strauss and Tom Harrison, and overtook Paul Collingwood as the preferred candidate after interviews last week.
Mott has overseen huge success for Australia since taking charge in 2015. They have won 40 of their past 42 one-day internationals and lifted the World Cup last month. They are also the T20 World Cup holders.
The former Queensland and Victoria batsman also coaches the Welsh Fire women's team in the Hundred but would step down from that post if appointed by England. He was previously the head coach of New South Wales and worked as a consultant with Kolkata Knight Riders in the Indian Premier League, after which he had a stint in county cricket as head coach of Glamorgan, leading them to the one-day cup final in 2013. He then had a short contract with Ireland in 2015 before taking his present job.
The ECB had identified the relationship between the Test and white-ball head coaches as being of paramount importance given that they will work closely together in selecting squads and managing the workloads of the multiformat players such as Ben Stokes and Jonny Bairstow. Previously when the coaching job was split between Andy Flower and Ashley Giles there was some tension between the two over selection matters.
Mott and Brendon McCullum, the new Test head coach, have a good relationship and have similar ideas about personal responsibility and style of play. The views of McCullum and Eoin Morgan, England's white-ball captain, were influential in the decision to appoint Mott.
Collingwood, who stood in as England's head coach for their T20 and Test tours to the West Indies this year, now looks to have missed out on the top job, but the former all-rounder, 45, is likely to stay within the England coaching set-up.
There had been some concerns within the ECB about appointing two overseas head coaches - McCullum is from New Zealand - but, as The Times revealed yesterday (Monday), Key, the ECB's new director of men's cricket, is keen to also identify homegrown candidates that can be developed into high-calibre international coaches. The ECB has advertised a number of short-term specialist coaching roles with the England Test and white-ball teams and is encouraging applications from county coaches. Marcus Trescothick, James Foster and Richard Dawson are already employed by the ECB as specialist coaches and are likely to remain with England in the summer.
Aussie WC supremo in mix for England job
Ben Horne
Record-breaking Australian women's coach Matthew Mott has forged his way into the final cut for a shock appointment as coach of the England men's white ball teams.
Mott has been interviewed for a second time and along with former England international Paul Collingwood is on a very short list to make a switch to men's cricket for the old enemy.
New England head of cricket Rob Key is known to be a fan of Mott, while newly appointed England Test coach Brendon McCullum once provided a reference for Mott for the New Zealand coaching job.
And it's not hard to understand why.
Mott is coach of one of world cricket's most dominant ever teams.
It's a massive testament to and endorsement of the quality of Australia's World champion women's team that Mott is in a potential two horse race for one of the biggest jobs in men's cricket.
Cricket Australia certainly aren't surprised they could lose their women's coach on the verge of the Commonwealth Games.
"He's coached one of the most successful cricket teams in history," CA chief executive Nick Hockley told News Corp.
"He's outstanding.
"You'd expect him to be in high demand."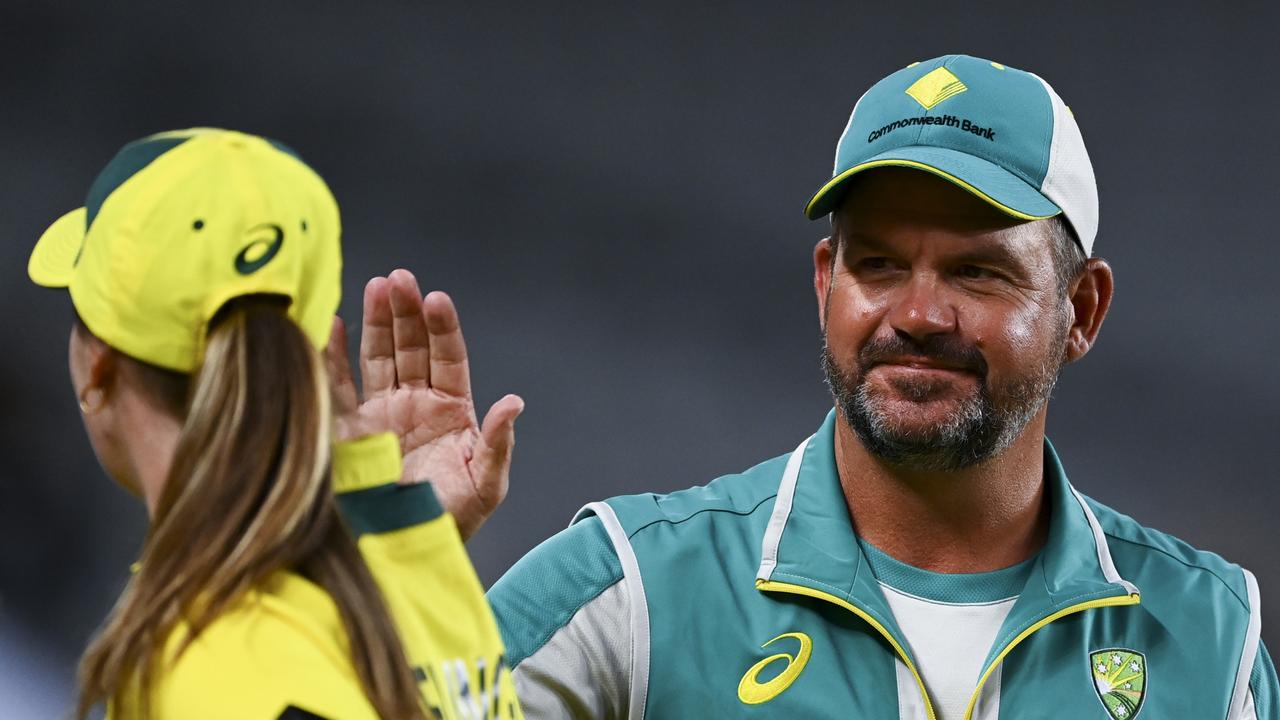 Matthew Mott is in the mix for a role in England's new coaching set-up.
Mott is a boyhood teammate of Andrew Symonds.
Unassuming, hard/working and well-respected as clear and concise thinker, Mott has helped guide Australia's all-conquering women superbly.
The down-to-earth Mott once quipped that when someone is praised as "hard working" it often means they don't have many other skills.
But that couldn't be further from the truth with Mott.
A proven master communicator with a trophy cabinet the envy of any international coach.
Gold Coast raised Mott has also worked with Australia's men's team as an assistant coach and coached the likes of David Warner and Usman Khawaja as kids.
Collingwood has been touted as the favourite for the England white ball job all along, but if Mott is successful he'd go up against Australia at this year's T20 World Cup.
An announcement could come from the ECB as early as next week.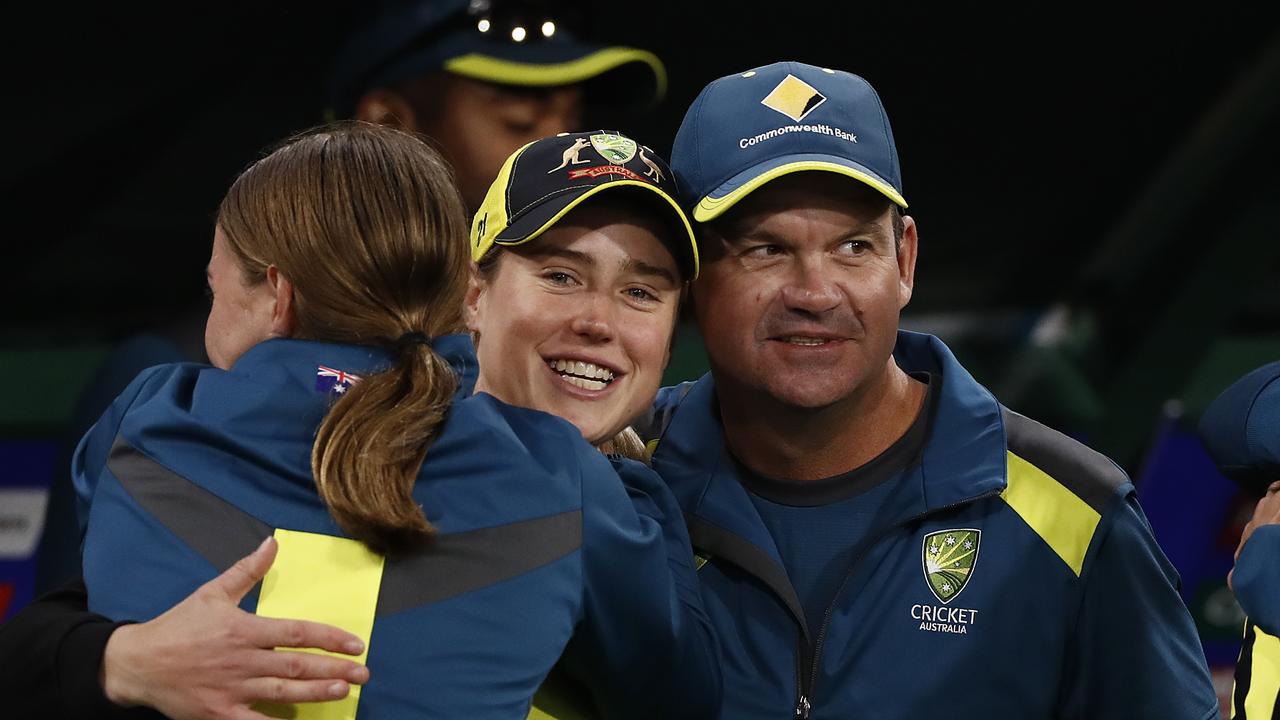 Matthew Mott celebrates with Ellyse Perry and Tayla Vlaeminck.
KIWI GREAT HANDED REINS OF ENGLAND TEST SIDE
AFP
Former New Zealand captain Brendon McCullum was Thursday named as the new coach of England's Test side in a bid to shake the team out of its deep malaise.
McCullum will leave his job in charge of Indian Premier League franchise Kolkata Knight Riders to take over a red-ball side that has fallen to bottom place in the World Test Championship after a dire run of one win in 17 matches.
McCullum, who won 101 Test caps and retired from international cricket in 2016, made it clear that he has firm views about what actions he needs to take.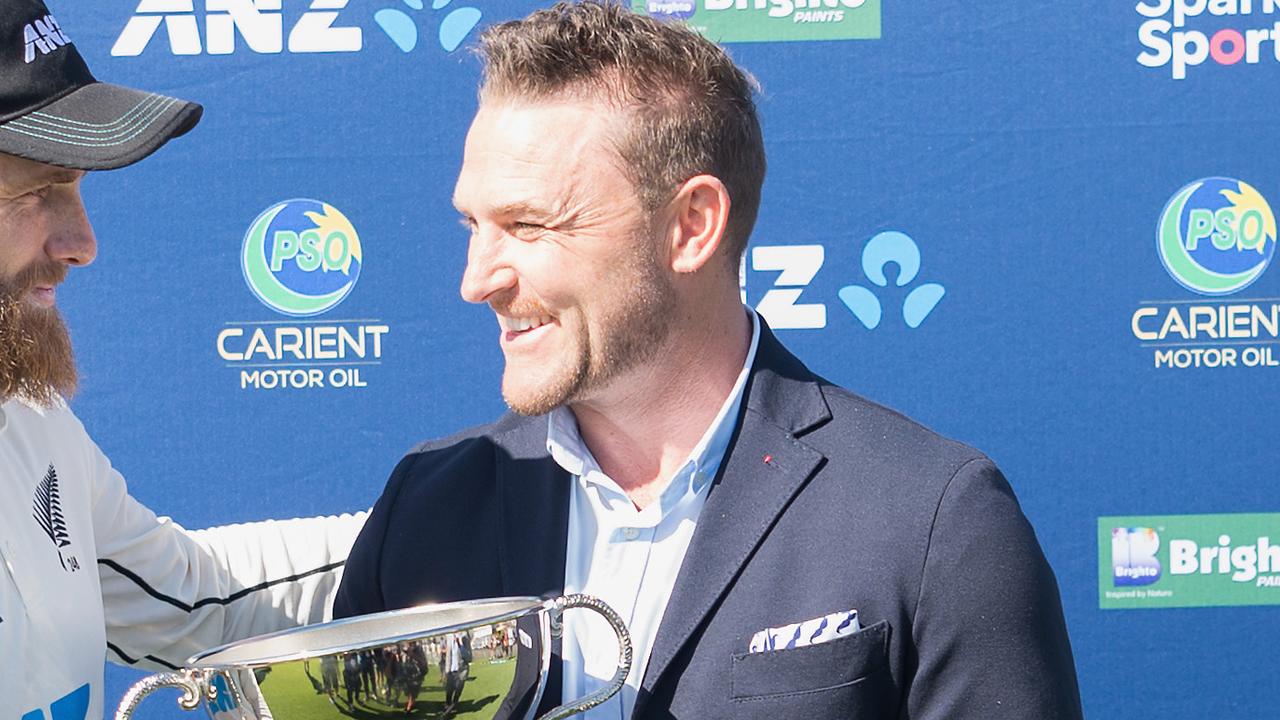 Former New Zealand skipper Brendon McCullum will take the reins as coach of the England Test team. Picture: Kai Schwoerer/Getty Images
"In taking this role on, I am acutely aware of the significant challenges the team faces at present, and I strongly believe in my ability to help the team emerge as a stronger force once we've confronted them head-on," the 40-year-old said.
"I've enjoyed several robust conversations with (new director of cricket) Rob Key about the direction of travel for the team and have found his enthusiasm contagious. I'm no stranger to bringing about change within a team environment and I can't wait to get started."
Key said he was enthused about the prospect of McCullum linking up with new Test skipper Ben Stokes.
"We are delighted to confirm Brendon as England men's Test head coach," he said. "It has been a real privilege to get to know him and understand his views and vision for the game.
"I believe in Brendon and Ben Stokes — a formidable coach and captain partnership. Time for us all to buckle up and get ready for the ride. I believe his appointment will be good for England's Test team."
Originally published as Cricket 2022: Shelley Nitschke named Australia's interim coach after England poaches Matthew Mott