Cricket 2022: Pat Cummins leaves training session appearing to clutch hamstring
Aussie skipper Pat Cummins has left the field with the team physiotherapist just two days out from the second Test in Pakistan.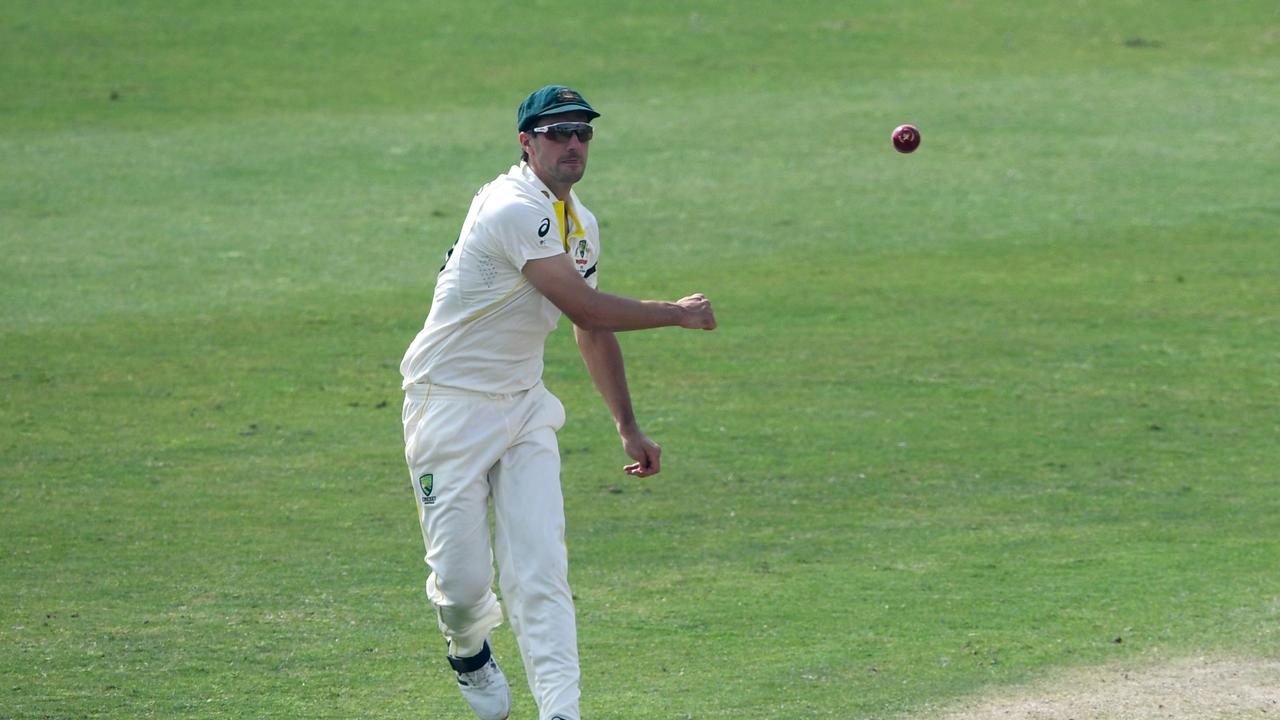 Australia's captain Pat Cummins fields the ball during the fifth day of the first Test cricket match between Pakistan and Australia at the Rawalpindi Cricket Stadium in Rawalpindi on March 8, 2022. (Photo by Aamir QURESHI / AFP)
Pat Cummins has left the field with the team physiotherapist after appearing to grab at his hamstring.
The Australian captain was training with his side ahead of the second Test of the Benaud Qadir trophy.
A Cricket Australia spokesman denied there was anything wrong with Cummins, saying he spoke to the captain as he left the field and he'd said he was fine.
Coming off a heavy workload in the first Test, none of the bowlers spent much time on the field during the training session.
The team has had a quick turn around with the first Test in Rawalpindi ending Tuesday.
Cummins bowled 32 overs in the match which saw just 14 wickets fall in five days.
Watch Australia's Tour of Pakistan on Kayo. Every Test, ODI and T20 Live & On-Demand. New to Kayo? Try 14-Days Free Now >
The pitch, designed to nullify the Australian bowlers, has been widely criticised since.
"It wasn't a super fair contest between bat and ball," he said.
"Turning up to a pitch that's probably not a traditional pitch you would get here in Rawalpindi, and it's probably clear they've made an effort to try and nullify the pace bowling.
"I think that's a positive. And, subcontinent conditions, coming away with a draw it's not a bad result."
Cummins worked hard to ensure he did not put too much workload into his quicks and said the game provided a number of positives for the visitors with most of the top order scoring runs _ even if none reached triple figures.
"I think we all tried different things," Cummins said. "I think all the quick bowlers, although we've spent the best part of three days out in the field, I think we've all bowled around about 25, maximum 30 overs each, which in comparison to a lot of Australian Test matches is actually a pretty light workload.
"Didn't get a huge look at reverse swing this Test, but that might come into it later on. But I was really happy with how everyone went and everyone's come through unscathed."
Originally published as Cricket 2022: Pat Cummins leaves training session appearing to clutch hamstring