Daryl Mitchell seizing stardom in a cricket career made in New Zealand but built in Perth
In two incredible weeks, Daryl Mitchell went from odd man out to undroppable. The Black Caps can thank a cricket club in Perth for his success after a forced move with his famous dad, writes DYLAN CLEAVER.
New Zealand's Daryl Mitchell has made a big impression early in his Test career.
The life of a professional rugby coach can be peripatetic, moving from job to job, city to city or, in the case of John Mitchell, country to country to secure employment, satisfy ambition and seek success.
As a 15-year-old, his son Daryl already knew this.
"It was part and parcel of our lives. Every four or five years we'd pack up and move somewhere different," he says.
This impending move was harder than most though.
The Mitchells were living in Hamilton, the city they called home. After a bitter end to his two-year stint as All Blacks head coach, Mitchell senior had dropped down two levels and coached Waikato in the National Provincial Championship.
Mitchell junior was happily ensconced at St Paul's Collegiate, a fee-paying school with great sports facilities; a school that counted Daniel Vettori among its alumni.
"I didn't want to leave," Mitchell recalls.
But Dad was on the move again, this time accepting a job at Super Rugby's newest outpost, the Western Force. It didn't take long before Mitchell discovered there might be upside to his new life on the edge of the Indian Ocean.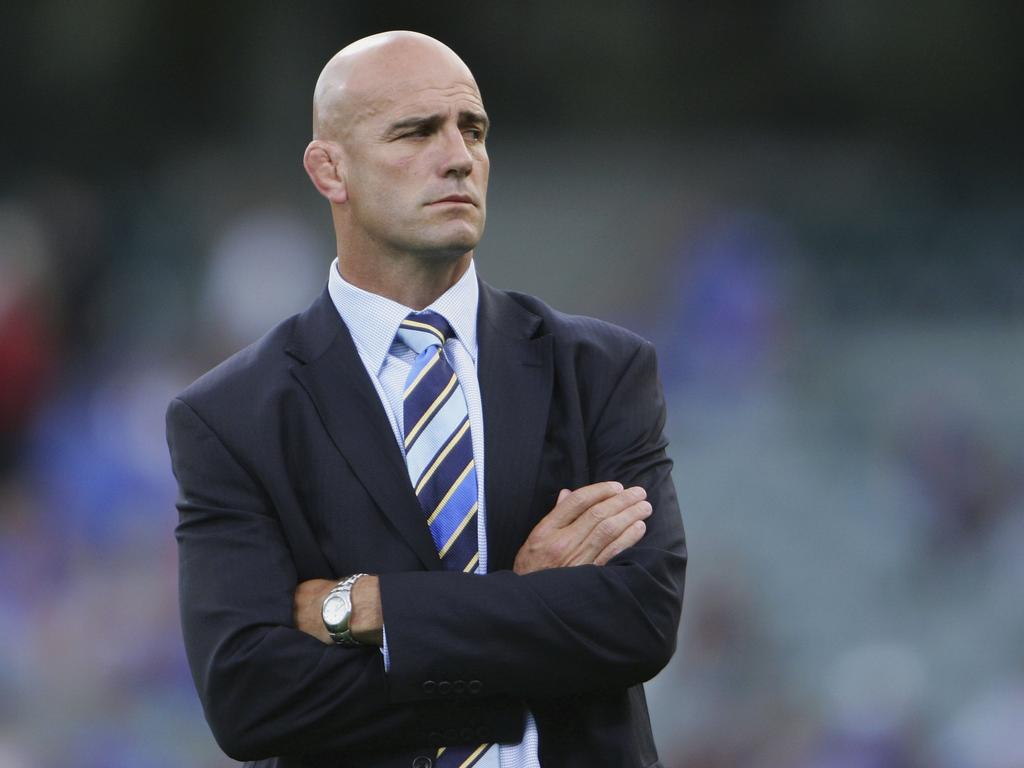 John Mitchell's appointment as coach of the Western Force saw Daryl end up in Western Australia. Picture: Chris McGrath/Getty Images
"I took a tour of my new school – Hale School – and as soon as I saw they had grass nets I was pretty excited and looking forward to getting stuck into it."
It wasn't just the nets, either, it was the format.
"We played two-day cricket and that played a massive part in my development."
He completed his schooling at Hale, where he played in the first XI alongside Marcus Stoinis, two years his senior. A school team photo of that team reveals them to be almost comically wide-eyed and innocent.
"He's a good friend of mine," Mitchell says. "You could tell he was going to make it from the moment you first saw him play."
There might have been an age difference but the pair trained relentlessly, whether at school or club, in one-on-ones with their batting coach, at the gym – both are noted as muscular, long hitters of the ball – or at the indoor nets in town.
Mitchell had arrived in Perth as a two-sport kid, but his days as "a slow-running first five-eighth" were pushed a long way into the background as cricket became all-consuming.
As it turned out, the Force provided the Mitchells with more job security than had previously been afforded and he followed Hale with two-and-a-half years at Edith Cowan University. The most far-reaching education he received while in Western Australia, however, was how to become a real cricketer.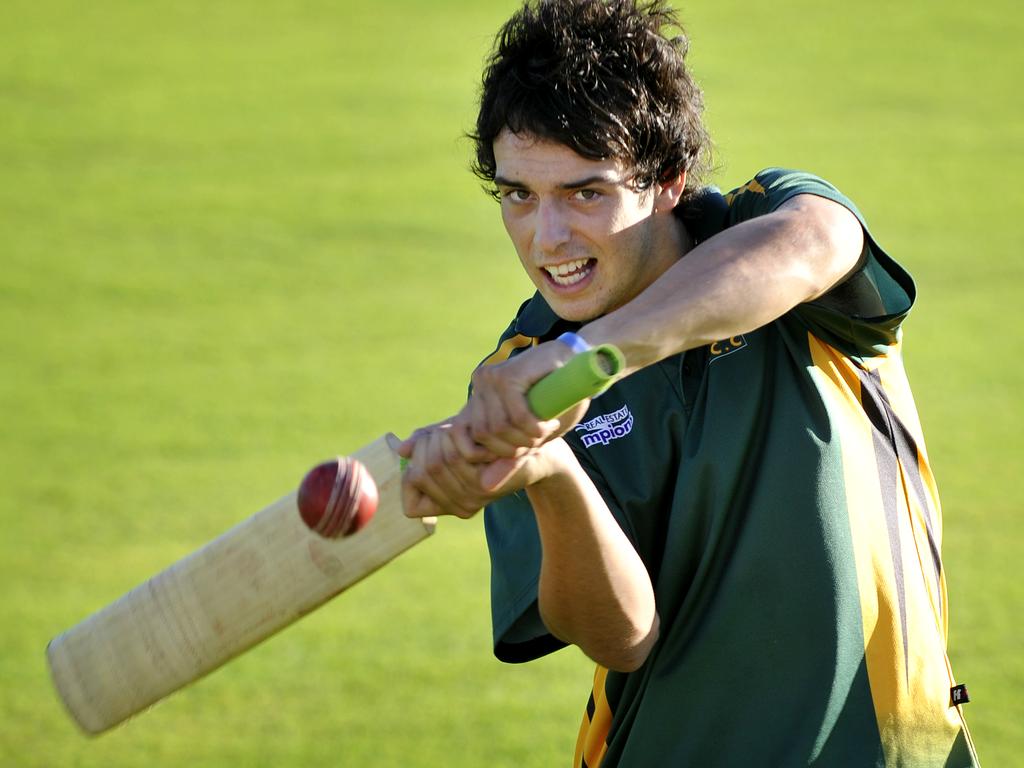 Daryl played for Hale first XI and Scarborough Cricket Club during his time in Western Australia. Picture: Lincoln Baker
*****
New Zealand have just lost two Tests on the bounce to England. Their World Test Championship defence lies in tatters after an underwhelming home summer ruined by Covid restrictions and the absence of their captain and best player.
Regardless, they went to England as favourites after comfortably winning a Test series there 12 months ago with largely the same personnel. This time, however, they've run into a side liberated from the fear of failure by the new leadership axis of coach Brendon McCullum and New Zealand-born skipper Ben Stokes.
The two Tests, at Lord's and Trent Bridge, have been outrageously good games of Test cricket; a ready-made rebuttal for all those who think the format is dying.
The series has reunited the old firm of James Anderson and Stuart Broad, and reinvigorated Trent Boult; offered a case that Joe Root has distanced the rest of the so-called Big Four; and provided a platform for Jonny Bairstow to play the innings of a lifetime.
It may also be argued that the outstanding individual performer of the series is not mentioned above – something that nobody saw coming.
Mitchell has batted four times scoring 13, 108, 190 and 62 not out. His 373 runs dwarf that of Joe Root (305) and next-best New Zealander Tom Blundell (240).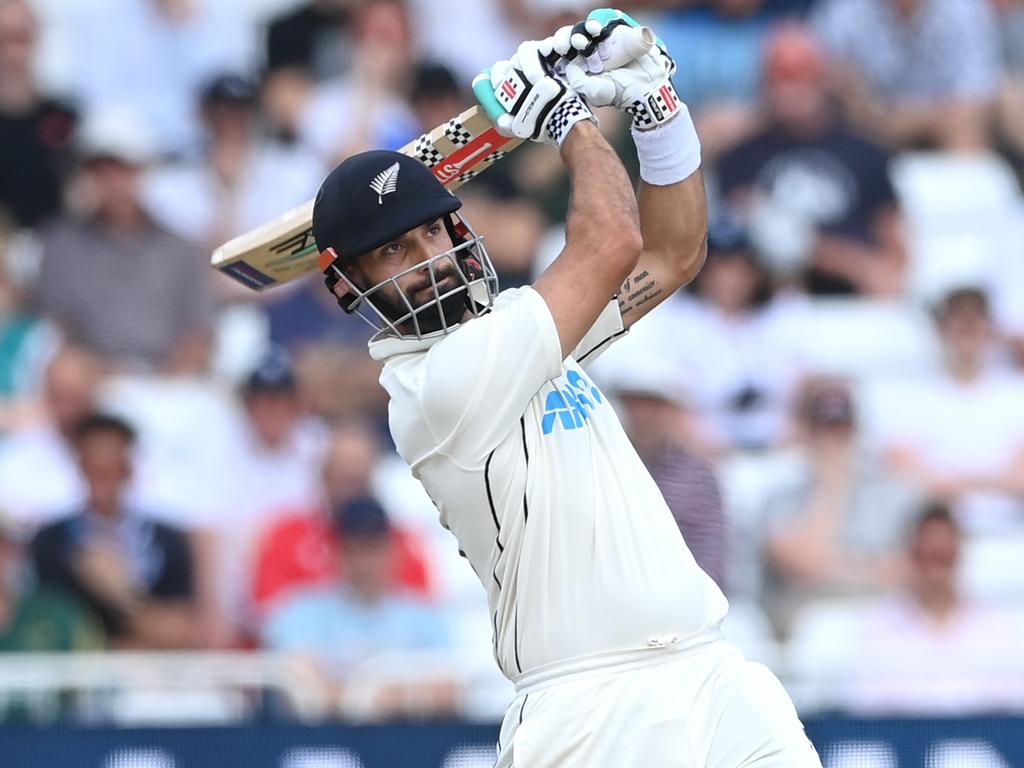 Mitchell has been New Zealand's standout player across the first two Tests against England. Picture: Stu Forster/Getty Images
He and wicketkeeper Blundell have compiled 431 runs in partnership across the two matches, a fifth-wicket retaining wall that has stood between the Black Caps and complete collapse.
His twin centuries have elevated the numbers on an already impressive start to this Test career to an average a tick under 60. Given his first-class average is 20 runs inferior, it is not likely sustainable, but it's been a hell of ride so far; the sort of rise and rise that even the astute judges at Scarborough Cricket Club in Perth might struggle to comprehend.
*****
Mitchell joined the beach-suburb club straight from school, joining a roster that included Stoinis, Justin Langer, Andrew Tye and, a little later, Marcus Harris.
Mitchell admits his couple of the years at the club before returning to New Zealand were hardly a screaming personal success story.
"I was no superstar," he says, "but I was young, 17 and 18, and it opened my eyes to the man's game."
Playing as a batting all-rounder, runs were not easy to come by but Scarborough won a premiership in 2009 and it was in part to his bowling. In a closely contested final, he took 4-26 to swing the match.
It followed a five-wicket haul he'd taken earlier in the season with his nagging but hardly threatening medium-pacers.
"I don't really know how I got the wickets," he offers.
Justin Langer was a stalwart of the Scarborough side. Picture: Lincoln Baker
Mitchell believes his cricket truly developed thanks to his stint at Scarborough. Picture: Lincoln Baker
Batting was his strong suit and the reason he went to Scarborough was to follow a man who was making his name as one of the most sought after batting brains in Australia.
Neil 'Noddy' Holder was known by many as "Justin Langer's coach", but Mitchell prefers to call him a mentor, describing him as somebody who looked at the game with a wider lens than just improving your technique.
"Getting to work with him every second day was special. He had a way of breaking the game down to make it as simple as possible.
"It wasn't just cricket either, he wanted you to grow as a person too."
If you look for the essence of Holder's coaching, it can be hard to find online. Truth be told, Mitchell struggles to articulate it. The mantras seem to be simplicity, concentration and selling your wicket dearly – something Langer followed to a tee in his 14-year Test career.
He is a proponent of getting in line with the ball, rather than the modern trend of clearing the front leg to give yourself room.
"Unfortunately with the shorter forms of the game, the basics of going to the line of the ball seems to be forgotten," Holder said in a Cricinfo piece from four years ago about another one of his Scarborough proteges, Harris.
"Once you go to the line of the ball you can see it, and you can use your hands effectively … I'm not really big into soft hands and hard hands, you can choose if you have the line of the ball, where to make a connection."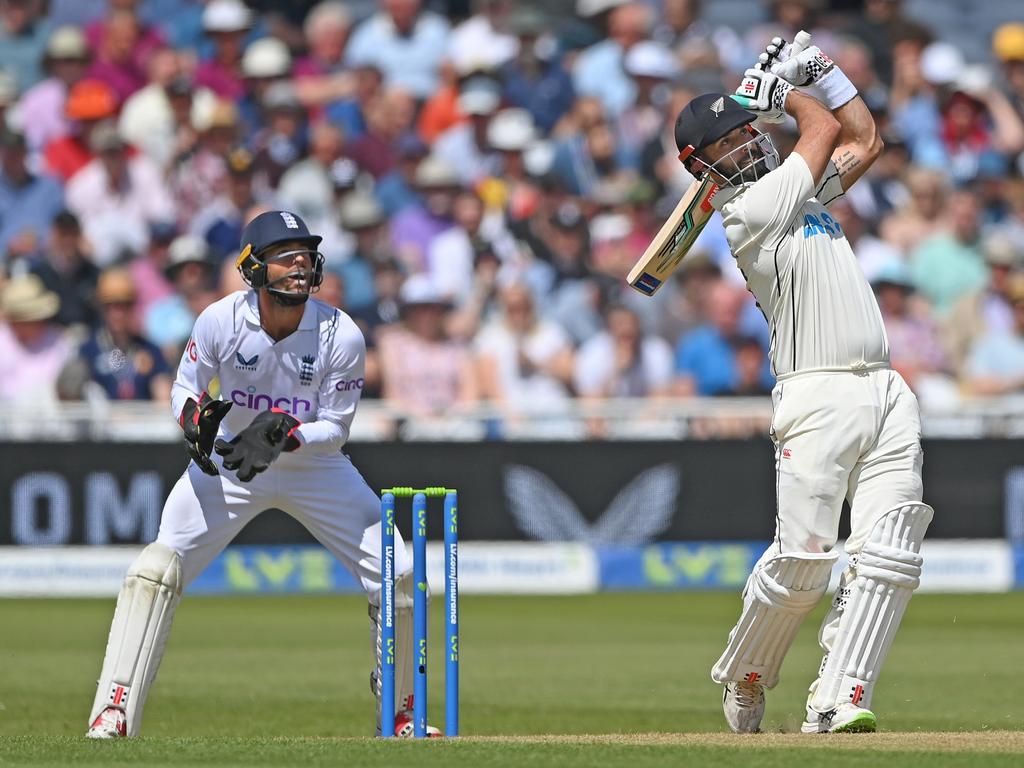 Mitchell has shown a great ability to use his feet, no matter the bowler. Picture: Stu Forster/Getty Images
Mitchell does not play with soft hands. If you're being hypercritical you could argue that he goes at the ball a bit hard, a bit early and can bring the cordon into play.
What he does wonderfully well is get on the nerves of bowlers by shuffling down the wicket to meet the ball, sometimes as early as ball one.
At Trent Bridge, during his epic 190, he wormed his way under the skin of the notoriously short-fused James Anderson.
"Did I?" he says and although there's the hint of a laugh there, Mitchell remains inscrutable enough that for a moment you wonder if the byplay had actually sailed over his head.
Mitchell says there's a method to his madness when walking down the wicket to the quicks.
"I don't do it all the time, but I've found what works for me after playing 10 years of domestic cricket."
That right there is the essence of his game: he's found what works for him.
*****
Mitchell loved Perth, but he didn't hesitate to leave when presented with an opportunity in 2011 to cross the Tasman again and join the Northern Districts' program.
"It was an easy decision. I was a Kiwi through and through," he says.
He lived with his grandparents in his native Hamilton and by the end of the 2011-12 season had forced his way into the first-class Plunket Shield team.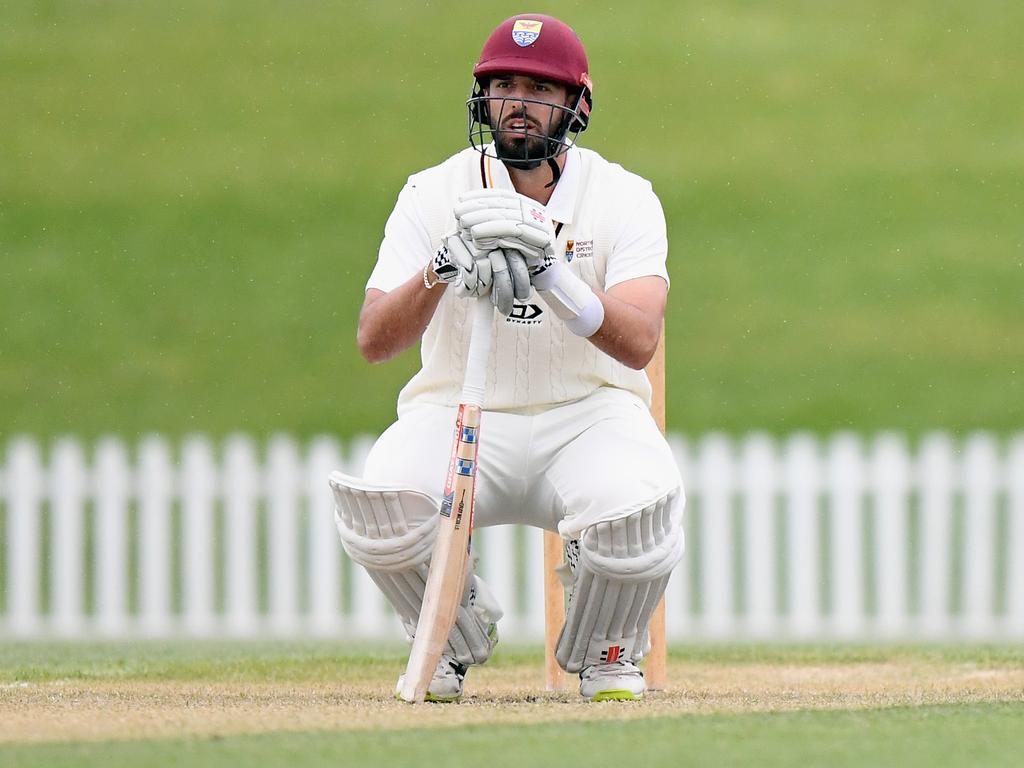 Mitchell's consistent form for Northern Districts saw him eventually rewarded with a New Zealand Test call-up. Picture: Kai Schwoerer/Getty Images
So began a long domestic apprenticeship that might have reaped international rewards earlier than it did were it not for the fact he was trying to elbow his way into the Black Caps at the one moment in history when they were strong and settled.
As is the norm these days, he made his international debut in the T20 arena but late in 2019 his chance to play Test cricket came when Colin de Grandhomme was ruled out of the second Test against England.
Playing on a torpid Seddon Park pitch in his hometown, Mitchell scored a composed 73 batting at No7, sharing a 124-run partnership with fellow Hamiltonian BJ Watling.
Most of all, Mitchell had fulfilled a dream he'd set about achieving since he was a kid.
"I'd always wanted to be able to hang a Black Caps Test jersey next to dad's All Black one."
This interview with Mitchell took place shortly after the second Test.
His double of 190 and 62 not out was especially pleasing to him because it demonstrated a"a professional mindset."
It would have been easy to get swept up in the emotion of the Lord's century, to see his name inscribed onto an honours board alongside guys he grew up watching, like Martin Crowe.
"It took a long time to sink in. As a kid I'd watch matches from Lord's and watch some of the greats of the game score 100s.
"My name doesn't belong up there," he notes, incorrectly.
He's back in London, enjoying a few days off before the tour moves north to Leeds.
He's timed the interview so he doesn't have to sit in the dark while his daughters Addison (3) and Lily (1) drop off to sleep. That's wife Amy's job tonight.
He's unfailingly polite and pleasant but there is a sense there's only a certain depth he'll go to before coming up for air.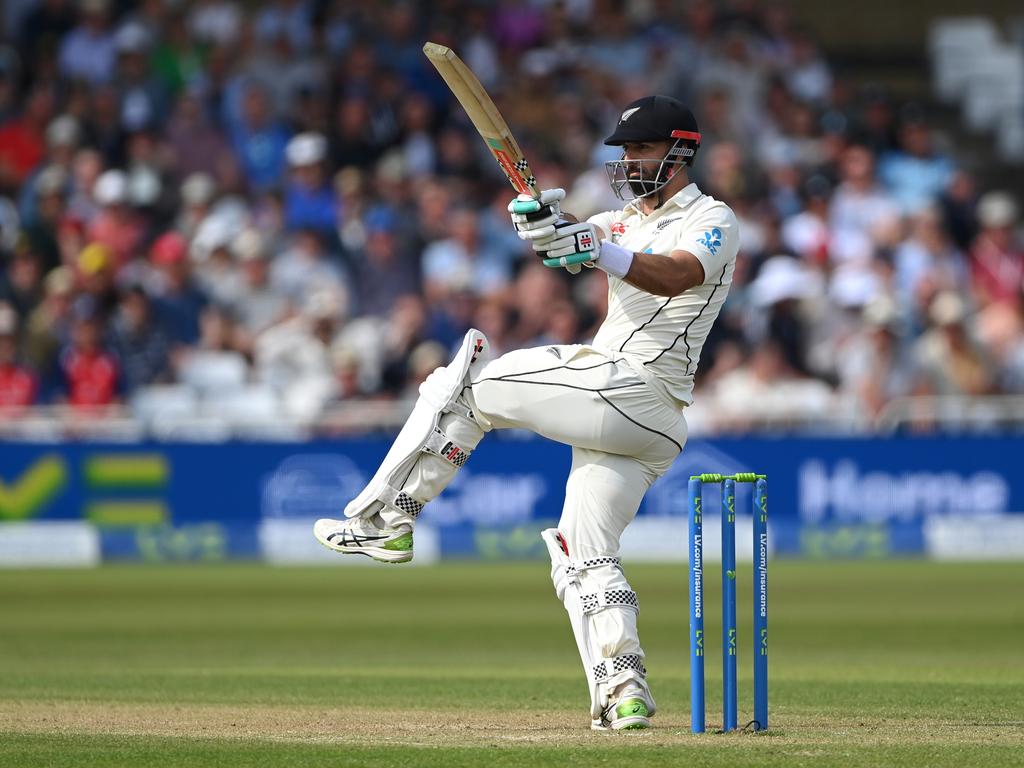 Mitchell has taken to life as a world-class Test batter. Picture: Stu Forster/Getty Images
As a reporter who covered rugby while his father was All Blacks coach, you can't help but wonder if the two things are related.
John Mitchell's relationship with the media was about as fraught as it got.
To put it bluntly, he didn't see any positives for the All Blacks from interacting with the media – one of his selectors described the media as "fleas" in an interview – and therefore did his level best not to unless it was required.
While that was fine while they were winning, it meant that a lot of pent-up frustration was vented at Mitchell when the All Blacks were knocked out of the 2003 World Cup at the semi-final stage by Australia.
It unquestionably had an effect on a boy entering adolescence.
"I remember that World Cup," he says. "It didn't go to plan. There were times at school that were challenging. People didn't seem to realise that it was just a game.
"There are more important things in life than a rugby game. What I learnt from that is you shouldn't judge people for results; judge them for the person they are."
It was his dad who fostered his love for cricket in the backyard, and his dad that let him come to his rugby trainings so he could see what a high-performance environment looked like.
They still speak on the phone every few days. Dad still imparts advice when asked for and lends an ear when that is all that's required.
(In a weird rugby subplot, it was reported last year that Mitchell senior left Eddie Jones' England coaching staff after the acerbic Australian tried to stop him going to watch Daryl Mitchell play for Middlesex on a day off. Mitchell would later say it was untrue and that he'd been thinking of getting off the Test-rugby treadmill for some time.)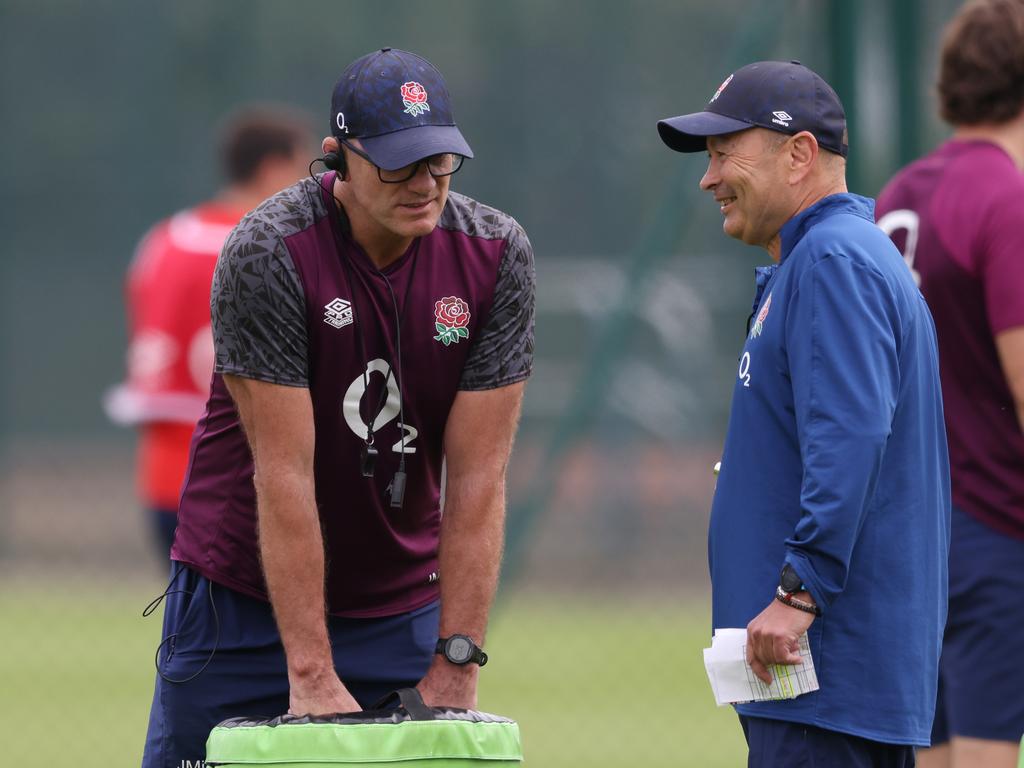 Mitchell's dad, John (L) is still a great sounding board despite all his rugby coaching commitments. Picture: Paul Harding/Getty Images
Interestingly, Mitchell said he's "learned from the mistakes dad made" as much as anything, but doesn't go into specifics.
Mitchell hasn't made a lot of mistakes so far. Not in the Test arena anyway.
He's ridden out the vagaries of selection having been dropped after scoring 73 on debut, being dropped after scoring 42 on a green top in Wellington, being dropped after scoring a debut century in Christchurch, being dropped from the WTC final squad and being dropped after scoring 60 on a Bunsen burner at Wankhede Stadium.
He's done it with a humility that exemplifies the "team-first" ethos of New Zealand.
"[Selection] has never been too much of an issue for me," he says, mostly convincingly. "It's about recognising and being grateful for the opportunities when they come along."
Everybody in the squad, he says, is giving 100 per cent and nobody has any right to demand being picked.
It's a level-headed approach. One that points to a guy who knows his game and knows how much of himself to share with the public and how much to keep private. It's a formula to keep him humble in success and untroubled in failure.
It's an attitude made in New Zealand and forged in Perth.