Australia's tallest ever cricketer Billy Stanlake trades states as injury return nears
The tallest man to play for Australia, Billy Stanlake's career has stalled in recent years, and he is hoping a change of states will bring a change in fortunes.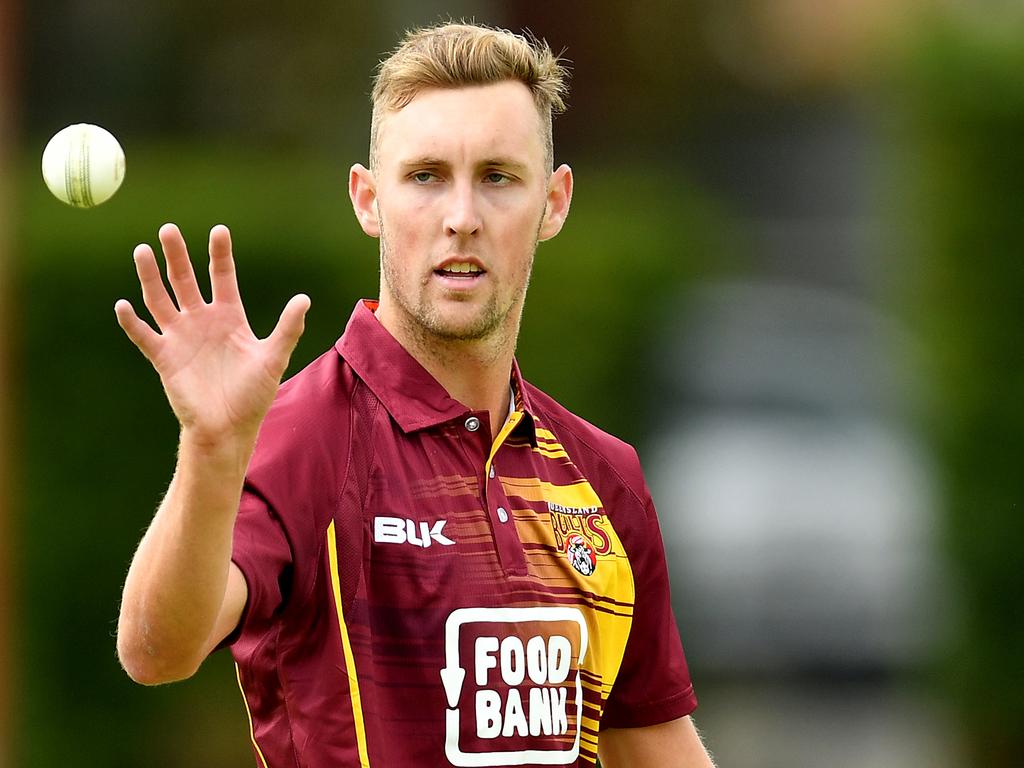 The tales man to ever play for Australia, Billy Stanlake is leaving Queensland to play for the Tigers in the next Sheffield Shield season. Picture: AAP Image/Joel Carrett
Australian white-ball quick Billy Stanlake will join Tasmania in a bid to rejuvenate a promising international career stalled by injury.
Stanlake, 27, will depart his home state of Queensland, joining the Tigers' for next season.
"A fresh start was probably something that I was a little bit keen on. And long-term I felt like it presented a really good opportunity especially with red-ball. That's something I have a desire to play, and chase Test cricket," Stanlake says.
"It's definitely still my goal to get back in the Australian team."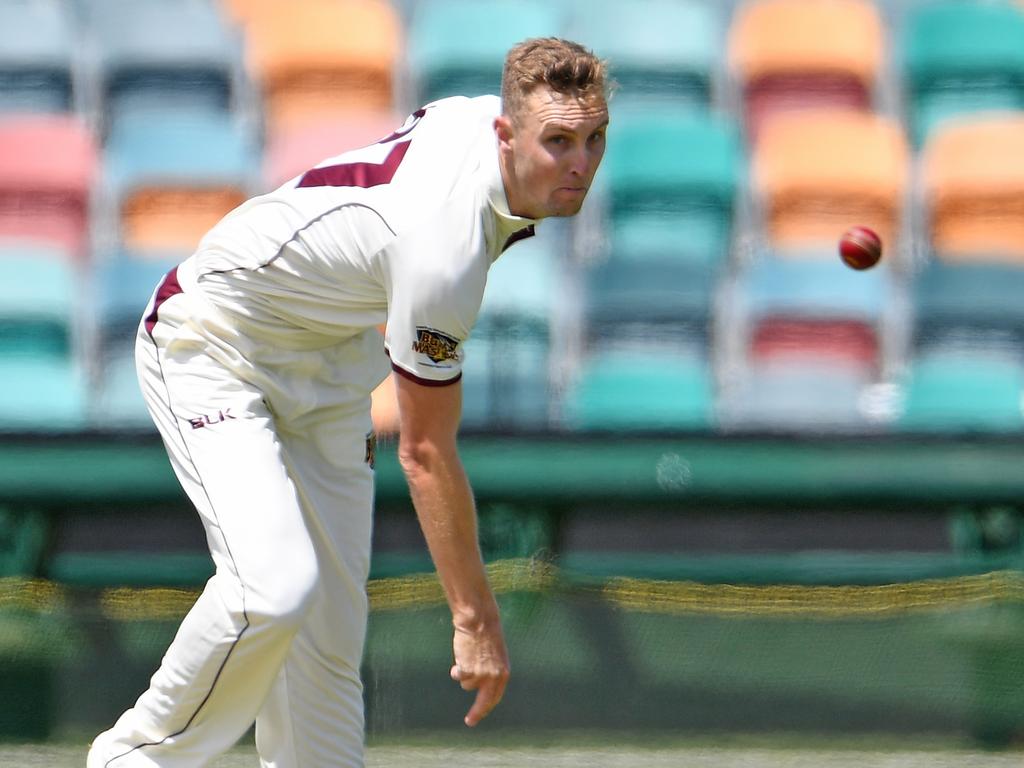 Billy Stanlake will be taking his talents to Tasmania next season, in a bid to regain Australian selection. Picture: Steve Bell/Getty Images
The tallest man to ever play cricket for Australia, 204-centimetre Stanlake was around the Australian white-ball side for several years late last decade but hasn't added to his seven one-day internationals and 19 Twenty20 internationals since November, 2019.
His best performance for Australia was his haul of 4-8 in a T20 international against Pakistan in Harare in mid-2018.
While always harbouring red-ball ambitions, Stanlake has been limited to just nine first-class matches since his debut in 2015 as Queensland took a conservative approach to his management because of injury.
Stanlake hasn't played a professional match in almost 12 months, with a county stint at Derbyshire halted last season after just one match because of a back stress fracture.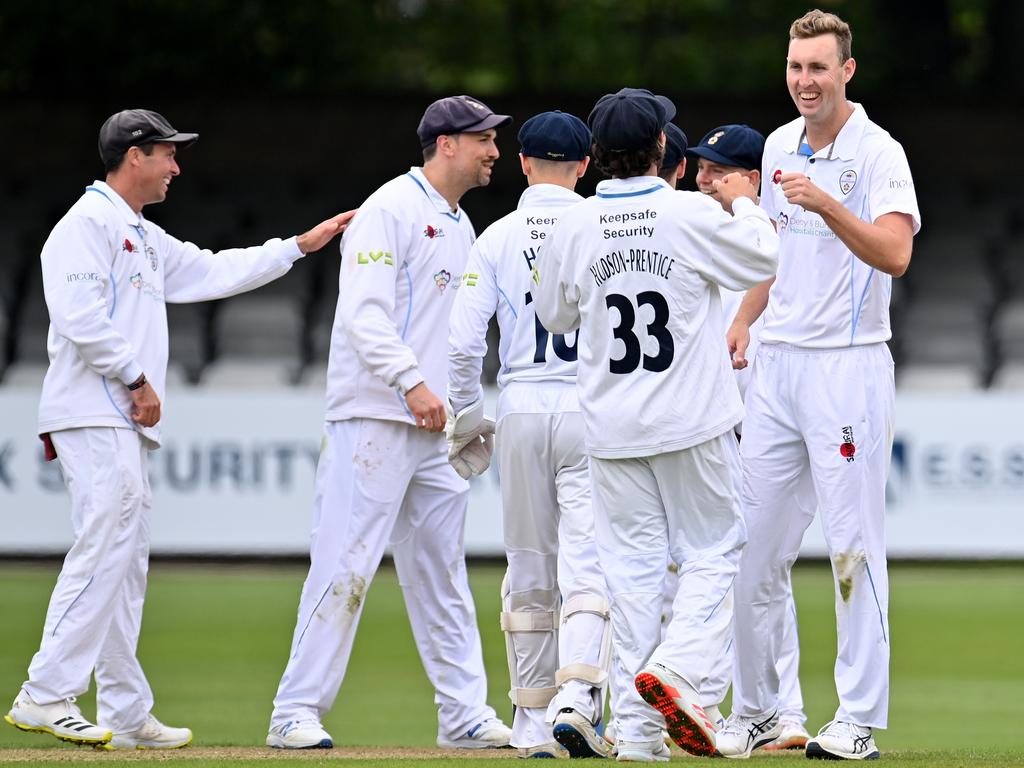 The Australian tall played English county cricket with Derbyshire through the 2021 Covid restricted season. Picture: Justin Setterfield/Getty Images
He had been close to a return before another back setback in January, but the wheel appears to be turning at last.
"I got some good news a couple of days ago. I went in for an injection and the CT showed up that my latest fracture had pretty much fully healed, which is a bit of a miraculous turnaround from where it was six weeks ago," Stanlake says.
"I actually though the bloke was taking the piss! It's probably the first bit of good news I've had for 12 months I reckon. It just took so long to heal. And once it finally did heal, it pretty much refractured straight away.
"I feel like I was playing some really good cricket just before the back injury last year. For me it's about just getting back on the park. I'm working hard and (am) very confident that when I do get back, my best cricket is still coming.
"But when I go back to bowling, that's hard to say at the moment. It's probably something we'll have to discuss further when I get down there."
Stanlake was traded to the Big Bash League's Melbourne Stars from the Adelaide Strikers in 2020, and has previously featured in the Indian Premier League.
Stanlake was traded to the Stars ahead of the 2020 BBL, and has played overseas in both India and England. Picture: Robert Cianflone/Getty Images
Ben McDermott, one of Stanlake's close friends from their days together in Queensland, already plays for Tasmania.
"Obviously it's a tough decision to leave home, but I'm also excited for the new opportunity. I just felt like I was going to get more opportunity in Tasmania going forward," Stanlake adds.
Stanlake joins a stacked Tasmanian pace attack featuring veterans Peter Siddle and Jackson Bird, and fringe Australian quick Riley Meredith.
States are set to release their squads for the 2022-23 season in the coming days. Harry Conway will move from NSW to South Australia, and is likely to be joined at the Redbacks by spinner Ben Manenti.
Liam Guthrie is poised to head to Queensland from Western Australia, who should gain former NSW player Charlie Stobo.
Sources have indicated that Victoria are on the hunt for wicketkeeping depth, with Matt Gilkes from NSW one player linked to the Vics.