Hometown hero Bairstow leads England out of the dark again, as Brits fell early on Day Two
Headingley (second day of five): England, with four first-innings wickets in hand, are 65 runs behind New Zealand.
Yorkshire's famous son Bairstow hit 130 not out on his home ground. Picture: Stu Forster/Getty Images
Headingley can throw up some mysterious days, and this was one to rank with the craziest of them. Jonny Bairstow, a famous son of Yorkshire soil, and Jamie Overton, a bowling all-rounder who had looked as nervous on his first day in Test cricket as a young bird leaving the nest for the first time, thrilled a raucous Friday crowd by engineering a remarkable recovery from a position where the follow-on seemed by far the likeliest outcome.
Where to start with a day that veered so violently back and forth? There was a first five-wicket haul for Jack Leach on home soil; a third hundred in consecutive Tests for Daryl Mitchell; there was a sublime opening spell of swing bowling from Trent Boult, New Zealand's champion left-armer, before Bairstow and Overton doubled down on a commitment to entertain and left us with the defining images of the day.
One moment to gift-wrap and take for posterity would have to be when Bairstow drove Boult down the ground as the needle struck 6 o'clock to register his tenth Test-match hundred and his second on his home ground. His broad smile cut through the gloom - the floodlights were on full beam at this point - as he raced towards the England dressing room with his arms raised high, soaking up the roar at a ground on which his family have made an indelible mark.
Bairstow added another century to his stats in an incredible run of form this English summer. Picture: Visionhaus/Getty Images
This was Bairstow's fourth hundred in seven Tests, and a second consecutive hundred at quicker than a run a ball - another first for an England player - so he is in the form of his life. There were similarities to the innings at Trent Bridge, in the way he attacked with gusto and struck the ball with ferocity and power, but this innings was fashioned from a more desperate situation. He managed to tread the fine line between attacking and reckless intent in a way that his partner at Trent Bridge, Ben Stokes, struggled to do.
Nevertheless, because Bairstow is such a remarkable cricketer, Overton's performance, finishing 11 runs shy of his maiden Test hundred, was even more notable. Overton has only scored one first-class hundred, that for Somerset against Warwickshire two years ago, but he defied that tepid history to play with real freedom and good sense. If he makes it to a century this morning, he will become the 21st player to do so on debut for England, but the first to do so from a batting position as low as No 8.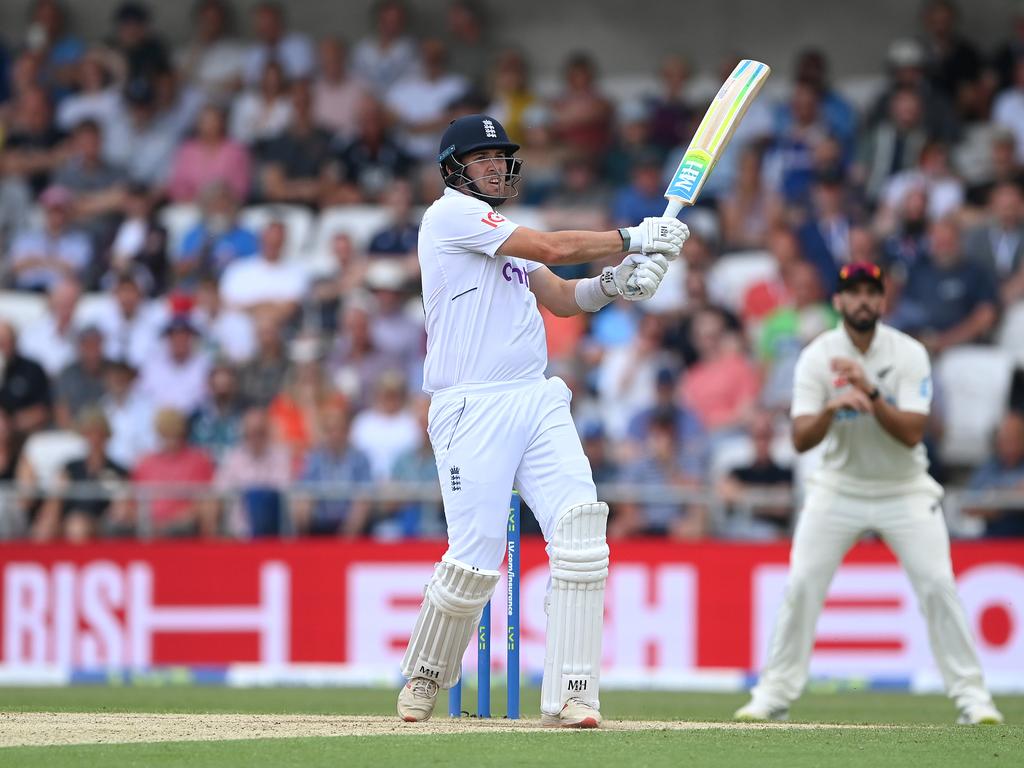 The debutant Overton played with real freedom to hit 89 not out. Picture: Stu Forster/Getty Images
England were 55 for six and in disarray, when the two came together, with the ball swinging sharply on a muggy, humid and breathless afternoon, and Boult strutting his stuff and reminding us why he is one of the best left-armers to have played the game. No one was thinking of records then, or an England victory, only the chance to grumble at the way the top order had folded. So when they walked from the field cradling England's highest seventh-wicket partnership in Tests, they had transformed the mood completely.
New Zealand's mood had certainly turned. They had their chances to pin down England, not least when they spurned a leg-before review against Overton on five, and when Neil Wagner dropped Bairstow on 28 to a caught-and-bowled chance. Had they taken those, we would have been talking about the brilliance of New Zealand's swing bowling and the sharpness of their out-cricket. Instead, as Bairstow and Overton attacked, they became ragged, short of ideas and regretful of the absence of a specialist spinner, with Michael Bracewell conceding 37 runs in four overs.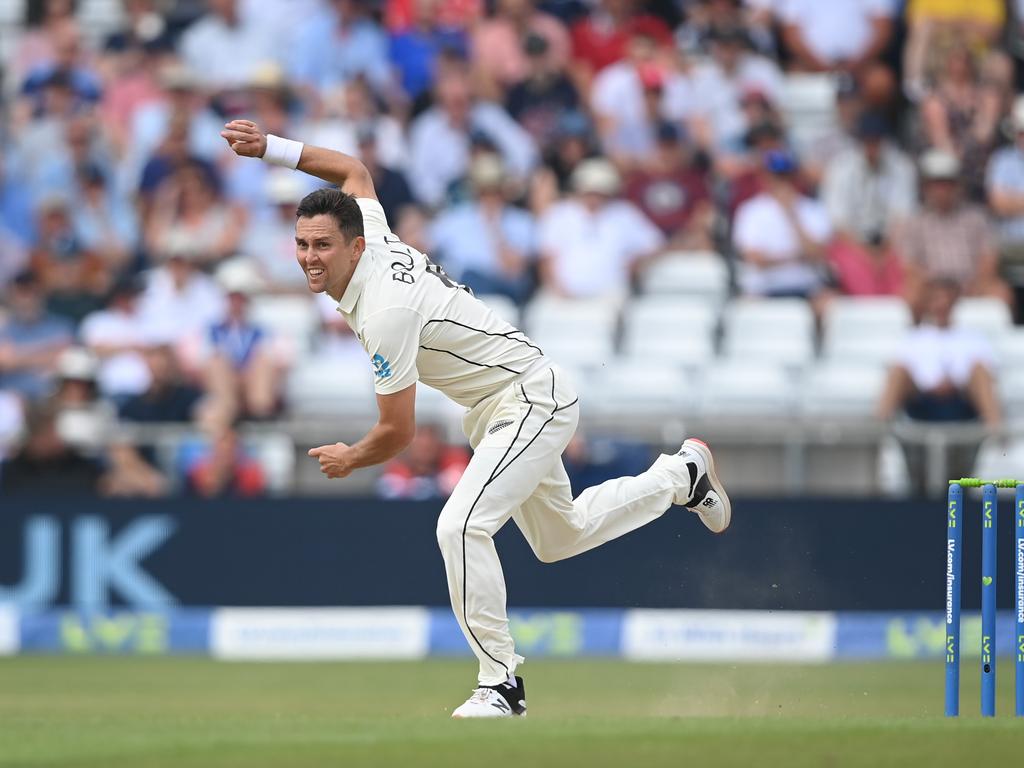 Boult removed Lees, Pope and Crawley in a superb opening spell. Picture: Alex Davidson/Getty Images
Never has England's commitment to attack under new management been given sterner questioning, though, than after Boult ran through the top order shortly after lunch in an opening spell that demonstrated all the beauty of his beguiling art. Benefiting from a batting line-up still learning to balance pragmatism against the desire to entertain, Boult removed England's top three in the space of four overs. To late swing, delivered at waspish pace, they had no answer.
Boult is not unlike James Anderson in build and shape. He is lean and wiry, the perfect construct for a fast-medium bowler to last the course, and, like Anderson, he purrs in off about 15 paces, utterly smooth and rhythmical after years of honing and repetition. Bowl, Sleep, Repeat, as the advice of the title of Anderson's autobiography urges. And, like Anderson, Boult can manipulate the ball at will, with the merest tilt of fingers and wrist.
The first sign of danger came when Alex Lees aimed a cut to his second ball, only to edge the ball through the hands of first slip. Two balls after that, Boult swung one past the opener's defence, and the ball after that, the fifth of the over, Lees was walking back to the pavilion, beaten by a beautiful ball that angled in and swung late before crashing into the stumps. Ollie Pope and Zak Crawley followed, aiming expansive drives and suffering similar consequences and, for once, there was to be no revival engineered by Joe Root, undone by late swing from Tim Southee.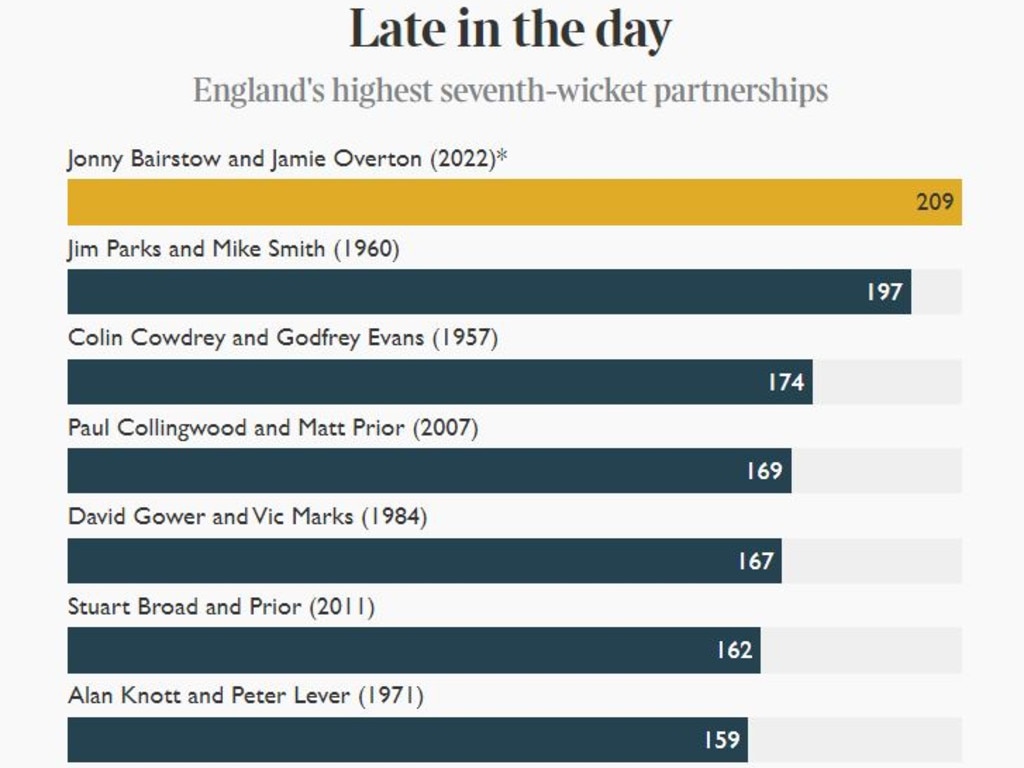 England's highest seventh wicket pairings. Graph: The Times
All this after a highly eventful morning, with 100 runs coming, two dropped catches going begging and three wickets falling, all wrapped around another compelling performance from Mitchell. When he went to 90, Mitchell surpassed a long-held record for the number of runs scored by a Kiwi in a three-match series or more against England, and when he hit Leach majestically down the ground for six shortly before lunch, he brought up his third hundred in as many matches.
That said, Mitchell was dropped off the 11th ball of the morning, when Foakes moved across Root at first slip. Tom Blundell had fallen leg-before in an over when the review system was not available because of a technical glitch and Bairstow later dropped Bracewell at third slip, off Stuart Broad, which did not improve the bowler's tetchy mood.
The reason? The Dukes ball, which was not to Broad's liking but which the umpire Marais Erasmus refused to change. Finally, in the 17th over of the morning, Erasmus relented. The next ball nipped sharply off the seam; the ball after that took Bracewell's edge and Broad smirked, cheekily.
New Zealand began to throw the bat. Mitchell and Southee added 50 in 38 balls and Stokes called for Leach. With lunch beckoning, the field was brought up to encourage Mitchell to take the bait, which, duly taken, led to a fine running catch for Stokes at long-off, further evidence of the captain's unwillingness to let the game drift.
Southee and Wagner departed to Leach in equally gung-ho fashion, the latter to a superb running and diving catch from Bairstow, who turned to take the crowd's acclaim for what would not be the only time during another remarkable day for him on this magical old ground.
Originally published as Hometown hero Bairstow leads England out of the dark again, as Brits fell early on Day Two