Ashes 2021-22: Marnus Labuschagne set to overtake Joe Root as world's best batsman
Marnus Labuschagne has completed one of the most meteoric rises in the history of Test cricket as he overtakes Joe Root as the world's best batsman.
Steve Smith has thrown his support behind embattled opener Marcus Harris. Picture: Getty Images
Marnus Labuschagne has been crowned the world's No.1 Test batsman as he relishes the thought of another bouncer barrage on Boxing Day.
Fresh from his first Ashes century, Labuschagne is now hunting a maiden hundred at the MCG as Australia's run-making prodigy eclipsed England's Joe Root as the top ranked batter in the game.
It's an extraordinary achievement and defines one of the most meteoric rises in the history of Test cricket.
At this point during the 2019 Ashes, Labuschagne was only just back into the Australian side as a concussion replacement for Steve Smith. A year before that he'd been plucked out of relative obscurity as a Sheffield Shield batsman averaging in the low 30s to make his Test debut against Pakistan in the UAE.
But a couple of years later, Labuschagne has overtaken his mentor Smith in the rankings and another solid return in the Boxing Day Test could see the Queenslander pip Root at the post to finish the calendar year recognised amongst some of the game's all-time greats as the leader in his craft.
And in a competitive era, with Root scoring 1600 runs this year, Virat Kohli, Kane Williamson, Smith and David Warner all at the top of their games.
England reverted to almost modern-day Bodyline tactics in a bid to unseat Labuschagne in Adelaide, and with 150km/h enforcer Mark Wood to return to the attack, Australia's rock solid No.3 has thrown down the gauntlet and welcomed another fast-paced bombardment.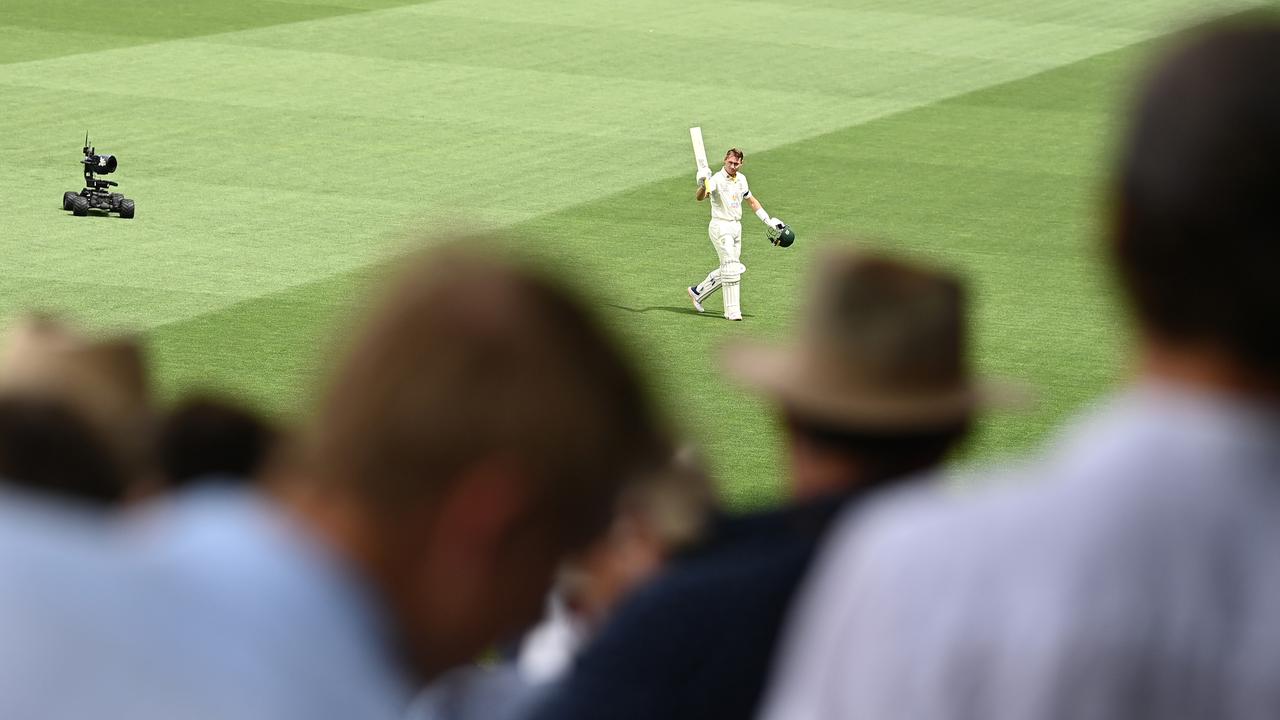 Marnus Labuschagne walks off after his maiden Ashes century. Picture: Getty Images
"Yeah I probably do. Mark Wood obviously didn't play this game and (I'd expect he'd) play at least one of the next two games," said Labuschagne.
"For me it's just making sure I'm always trying to read what the game plan is and in some aspects the game plan almost worked, in that I had that one I gloved down leg side and Jos (Buttler) dropped it.
"Unfortunately for me, I think it's a tactic they might use a little bit more depending on if I get out early or if I stay at the crease a little bit longer. That's not my job to think about, it's just making sure I'm ready and I have all bases covered so when the time comes and they do go short pitched, then I'm ready for it."
Labuschagne admits England did expose him at times with the bumper tactics led by all-rounder Ben Stokes – namely the dropped chance by wicketkeeper Buttler down the leg-side – but he also believed he was able to turn the game plan against the Old Enemy.
England's attempts to dry up the scoring of Labuschagne, David Warner and Steve Smith failed to stop the trio from posting big scores, and also failed to take enough time out of the match for a draw.
With the MCG's reputation as a flat surface, Labuschagne has told England to bring it on when it comes to bowling short.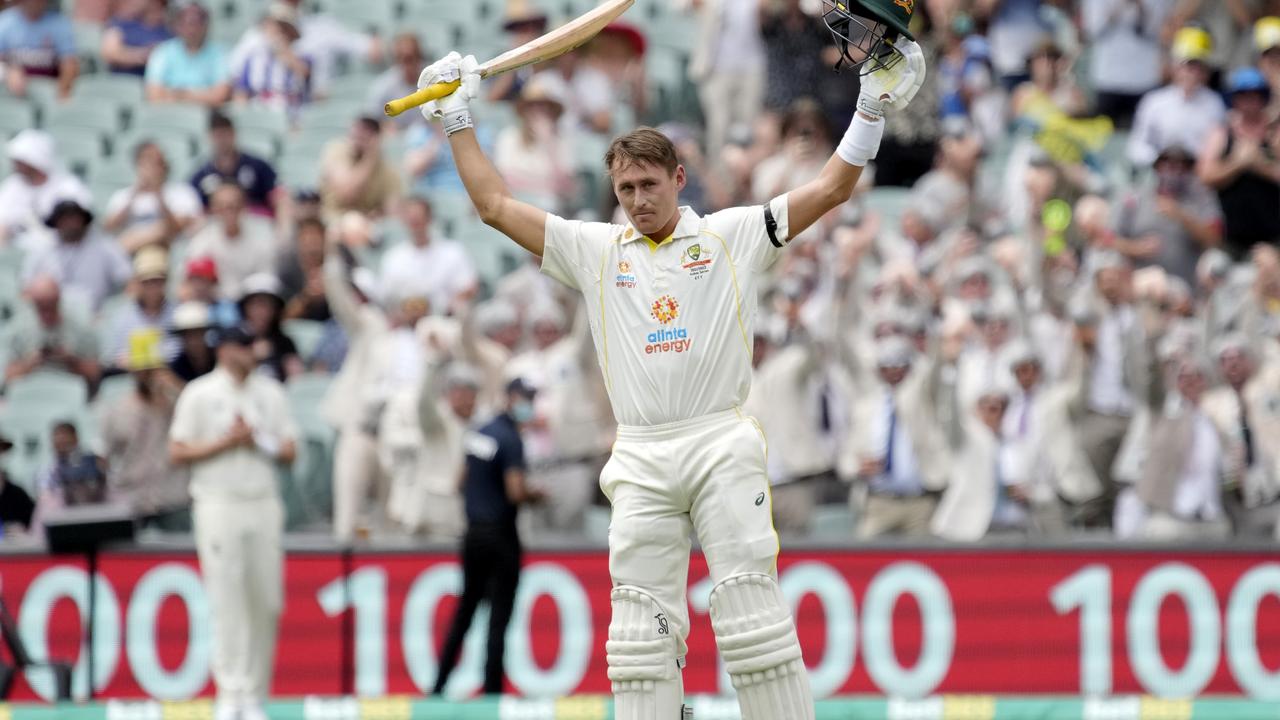 Marnus Labuschagne can claim the top batsman crown on Boxing Day. Picture: Getty Images
"That's always the catch 22. You can slow the scoring down and it takes out the (chance) of getting wickets and you're hoping for a mistake from one of us if we're two in batters," said Labuschagne.
"But obviously that takes time and it takes energy, especially if you're going that short ball tactic, it really wears them down.
"It's exciting to see that whatever they're throwing at us at the moment we've been able to counter that. But we don't want to get too ahead of ourselves and make sure we're ready for anything they can throw at us the next couple of games."
Labuschagne revealed Australia has tried to adopt a more ruthless mindset this summer, scarred by missing out on the World Test Championship final based on a couple of loose performances.
Smith had openly admitted he was struggling to hit his straps batting behind Labuschagne, who had taken over his old job of setting a platform for the side.
But the vice-captain's 93 in Adelaide made in conjunction with Labuschagne's century was a breakthrough moment in that it opened up the enormous possibilities of what can happen when the two like-minded batting giants can combine in partnership.
"For us it's just making sure we're building a partnership whether we're 2-20 or if we're 2-200 and we come together. It doesn't matter. It shouldn't matter to either of us," he said.
"… and make sure we keep building a really good partnership between 3 and 4 because that's going to get us into a winning position more often than not."
Shock inclusion adds to Boxing Day pace puzzle
Josh Hazlewood may run out of time to prove his fitness for Boxing Day, as common sense and compelling statistics mount a case for him being rested at the MCG.
Selectors have recalled Hazlewood to the Australian squad in a sign he is not far away from returning from a minor side strain, but Victorian Scott Boland was also added on Tuesday as further back-up for a tired fast bowling cartel.
Coaches and medical staff will need to get a good look at Hazlewood in the nets on Friday before a call is made on whether he's ready for a Test return, but one session isn't a lot of time to convince selectors their most reliable commodity is 100 per cent.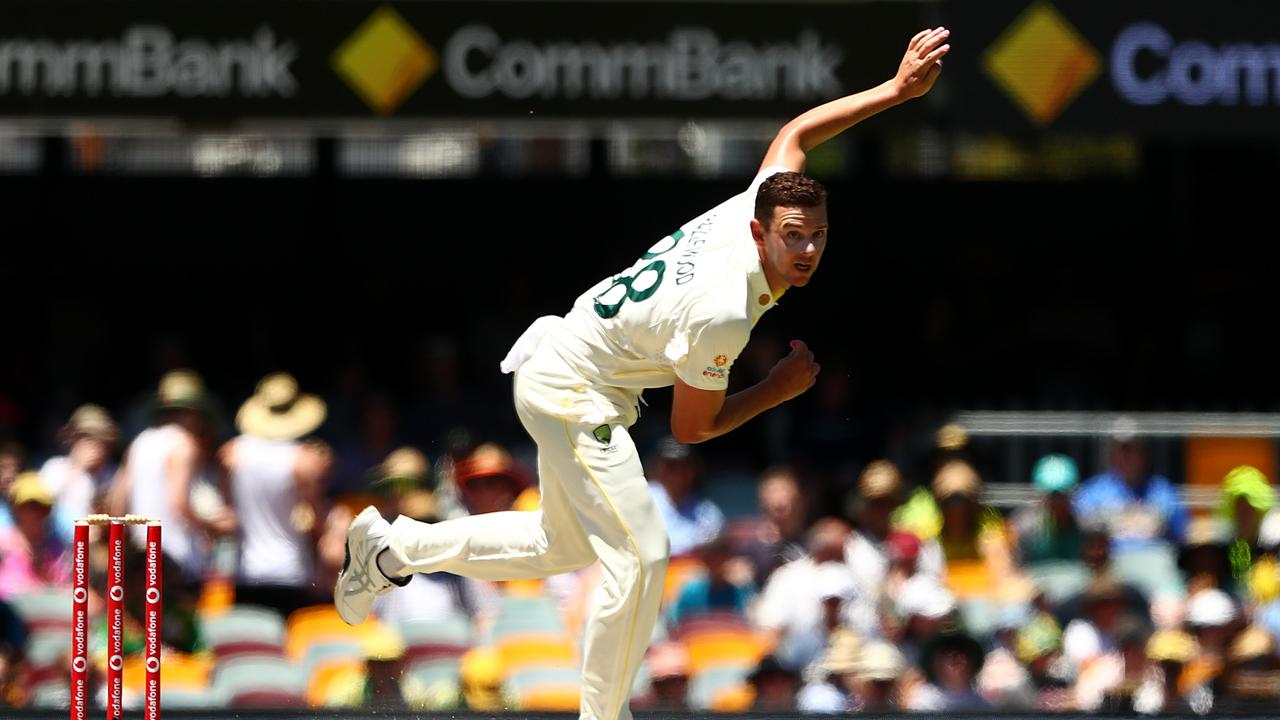 Josh Hazlewood remains under an injury cloud. Picture: Chris Hyde/Getty
Hazlewood is flying to Melbourne and yet to be properly assessed by medicos having spent the past week in Sydney, but there are several factors which are likely to sway selectors to err on the side of caution and save the world's most consistent fast bowler for the fourth and fifth Tests.
Australia is already up 2-0 in the series and the MCG is renowned as a back-breaker for fast bowlers.
In fact it's the only surface Hazlewood has consistently struggled on at home — taking 14 wickets from six Tests at an average of nearly 40.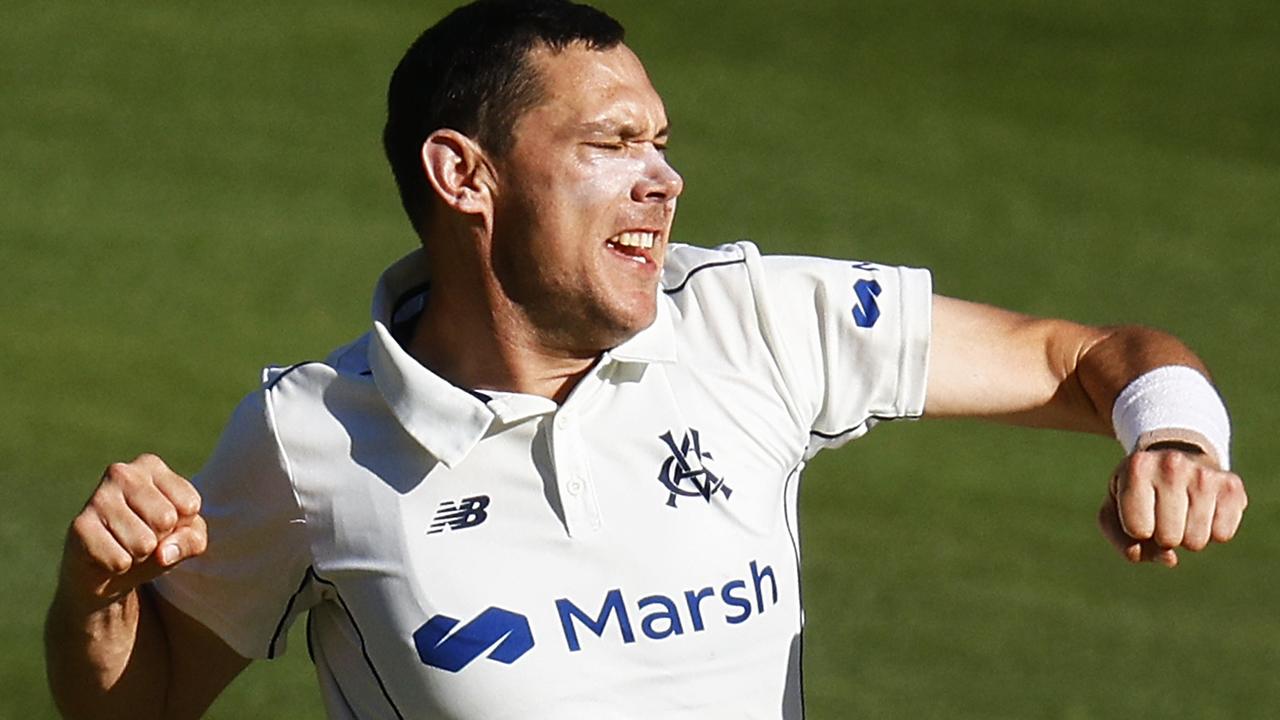 Victoria's Scott Boland is a late squad inclusion for the Boxing Day Test. Picture: Getty Images
Mitchell Starc and Cameron Green are exhausted but fit and expected to back-up in Melbourne, while Fox Cricket expert Kerry O'Keeffe believes Victorian Boland should be seriously considered at the MCG as a track specialist.
Jhye Richardson is ready if Hazlewood is put on ice, and the young West Australian whippet — shorter and skiddier than the other quicks — believes he could be a point of difference for Australia on the notoriously difficult MCG deck after his stunning Test comeback in Adelaide.
"It's just another string to the bow for the team to have different variations for different scenarios of the game," Richardson said.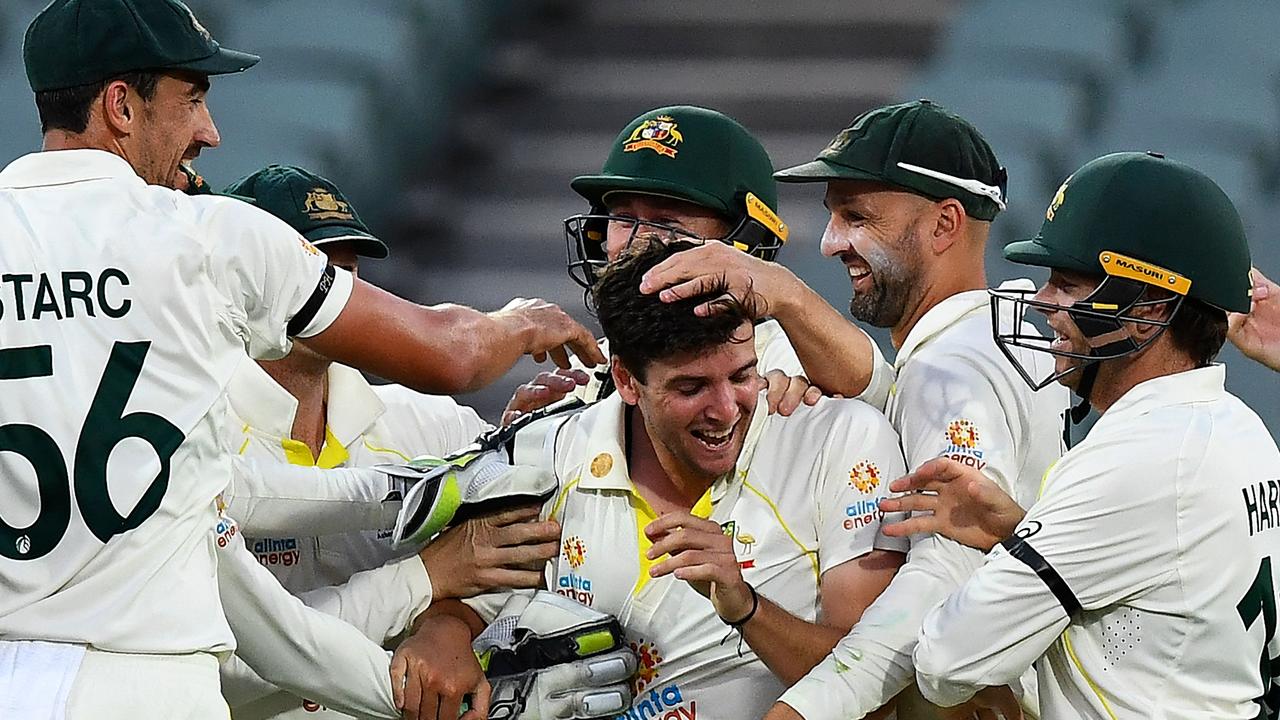 Jhye Richardson (C) believes he can be the point of difference on the MCG deck. Picture: William West/AFP
"I certainly agree that potentially being a little bit skiddier on wickets that are maybe up and down, that may be an advantage for sure.
"Moving forward we've seen the MCG be a little flat at times. I know that they've made an adjustment this year, and it's been quite green. So we'll see what happens when we go there.
"Somewhere like the SCG as well I think could be an advantage on day four and five when it starts to go up and down. If it's spinning, and the pace bowlers aren't getting much variation, I think release height is important … where I'm a lot shorter, (combined with someone taller) like Cameron Green who can find something out of a pretty dead wicket."
Fox Cricket expert Kerry O'Keeffe said selectors needed to consider how difficult the MCG has been for Starc and Hazlewood in particular and said Boland shouldn't be dismissed.
"I would probably play Starc and rest him in Sydney," O'Keeffe told Fox Cricket.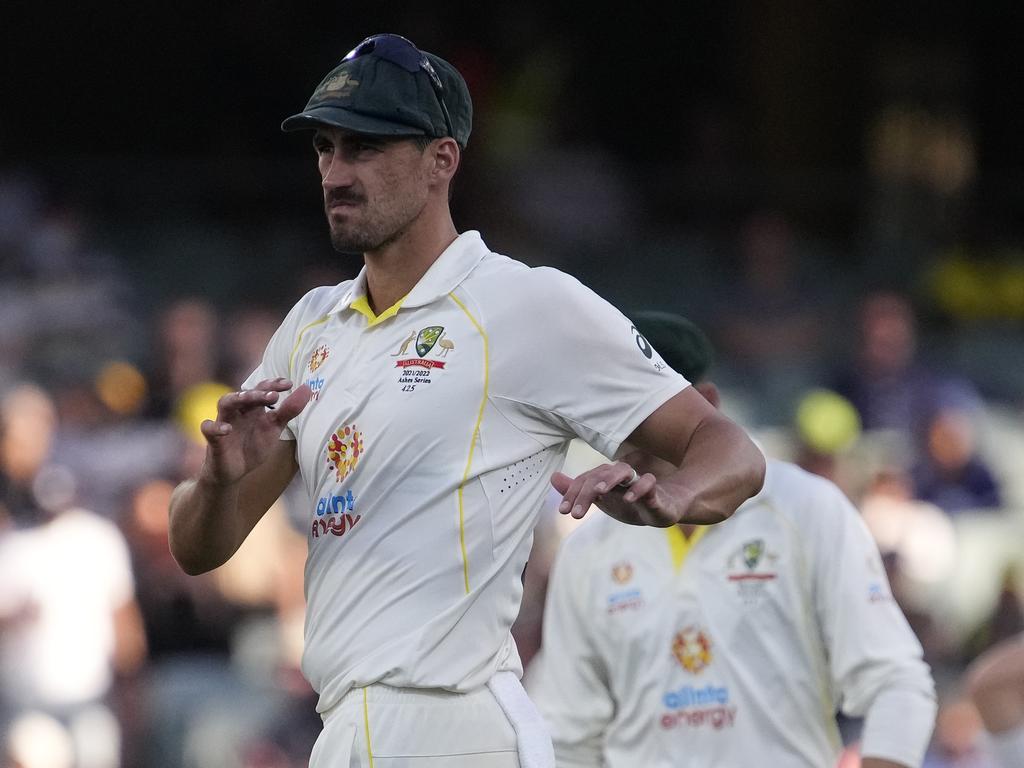 Mitchell Starc has been in red-hot form this series. Picture: Daniel Kalisz/Getty
"The bolter could be somebody like Scott Boland, who is a track specialist (and) who takes his first-class wickets there (at the MCG) in the mid-20s.
"He's around the team. There could be some shock announcement they might go horses for courses and pick the Victorian in Melbourne who has done well on that deck.
" … it is a particularly (difficult) deck for a certain type of bowler. It's never really benefited Starc or Hazlewood."
Even the most minor side strains usually take around a month to recover from, which would be more in line with a return at the SCG on January 5, where Hazlewood has excelled with a record of 20 wickets from six Tests at an average of 25.
The fact captain Pat Cummins is returning fresh and Richardson hit his straps in Adelaide takes the pressure of selectors to rush Hazlewood back.
In the context of Australia's current domination of England versus the potential worst case scenario of losing Hazlewood for an extended period — picking him in Melbourne would appear unlikely.
BOXING DAY BATTING EQUATION
Marcus Harris is set to survive the Boxing Day axe, as stand-in captain Steve Smith went into bat for the embattled opener.
Selectors are set to turn their backs on a landslide public push for Usman Khawaja, after Harris was kept in the squad for the next two Tests in Melbourne and Sydney despite his unconvincing scores this series and record-low career average of 22 from 12 matches.
National Selector George Bailey promised he'd give embattled opener Harris an extended run at it, and Australia's dominant start to the Ashes series has allowed him to stay true to his word and keep the faith.
Smith threw his support behind Harris and strongly suggested he will be given another crack for his home Test.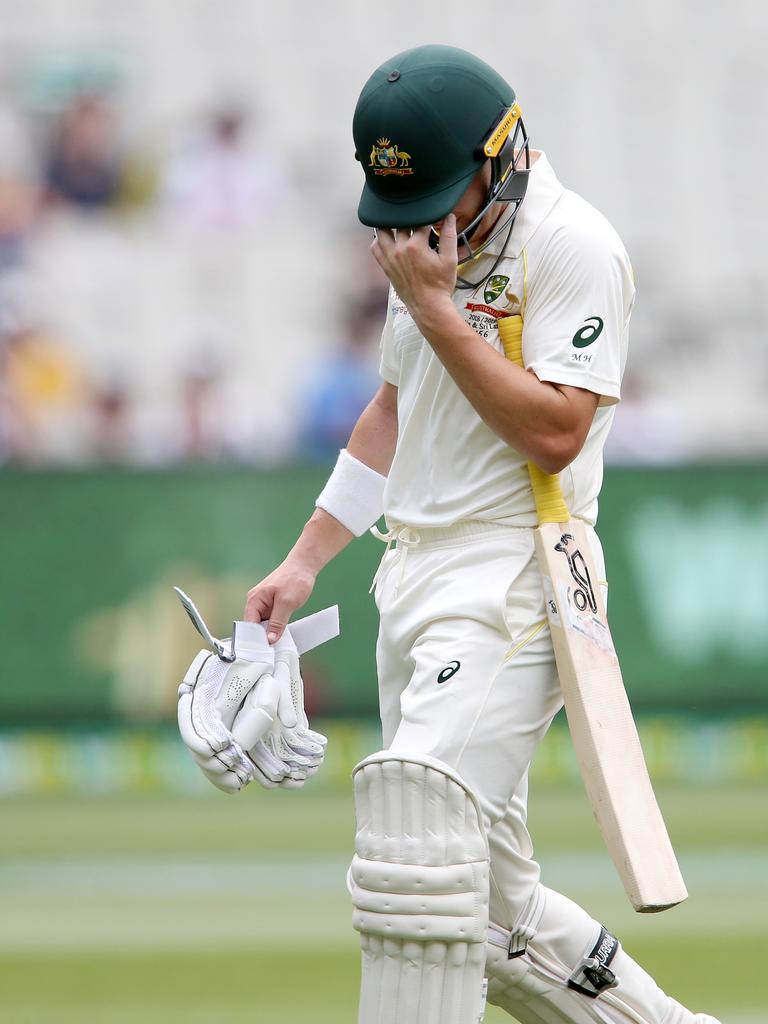 Marcus Harris is under pressure after a poor start to the Ashes.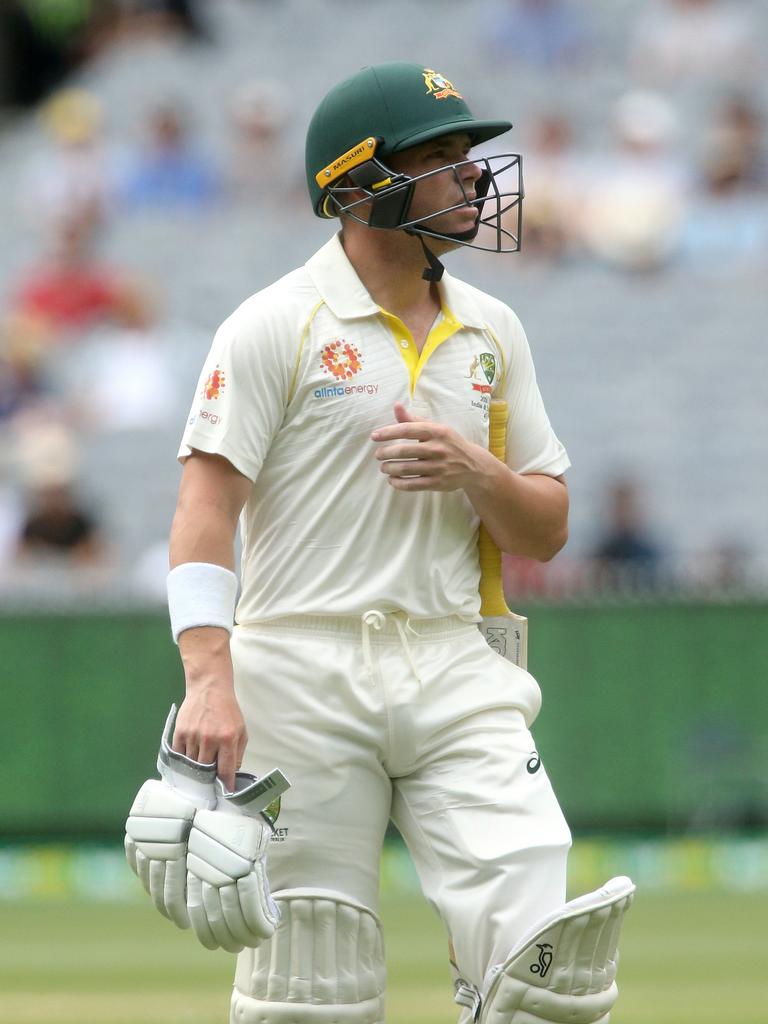 But the Victorian has retained his place in the squad for Boxing Day.
"Marcus is batting really well. He's batted well in the nets, and has been facing our bowlers nicely," said Smith on Fox Cricket.
"Sometimes you can get a few good balls and be out of runs in the middle. It's about trusting himself and having faith that it turns around."
A News Corp poll revealed only six per cent of punters were in favour of Harris holding his spot for the third Test, with a whopping 61 per cent backing in the veteran Khawaja to partner his childhood friend David Warner at the top of the order.
There is no doubt Harris has been saved by the strong performances of his teammates, and one more Test might be the extent of the time he is given with a current Test batting average of 22 from 12 Tests.
That's not sustainable as an opener, and there is a growing push for the more experienced Khawaja to be given an opportunity at the top of the order.
The problem for selectors is that Khawaja isn't necessarily a long-term option at 35 years of age, although he would add real value from an on-field and off-field sense if taken to Pakistan for three Tests in March.
Born in Islamabad, it would be a fairytale tour for Khawaja to go on in the twilight of his Test career, and would be based on substance as well as sentimentality, given his greatest ever Test hundred was against Pakistan on turning decks in Dubai in 2018.
AUSTRALIAN SQUAD: Pat Cummins (capt), Alex Carey, Cameron Green, Marcus Harris, Josh Hazlewood, Travis Head, Usman Khawaja, Marnus Labuschagne, Nathan Lyon, Michael Neser, Jhye Richardson, Steve Smith, Mitchell Starc, Mitchell Swepson, David Warner
TICKETS SELLING FAST FOR BOXING DAY BONANZA
—Sam Landsberger
Fears of a Boxing Day flop are fading fast with Victorians a chance to capture the biggest crowd Australia has seen since the pandemic began.
It can be revealed that a recent upswing in Ashes ticket sales has seen the projected crowd for day one at the MCG above 70,000.
That would deliver returning captain Pat Cummins a rousing atmosphere as he tosses the coin on Boxing Day for the first time.
Consumer hesitancy about congregating at the famous ground in large numbers had Cricket Australia and the Melbourne Cricket Club bracing for a miniature Boxing Day crowd last month.
Melbourne Stars have played in front of 11,037 and 10,888 fans in their two home games at the MCG this month while Melbourne Renegades drew 8932 on December 7.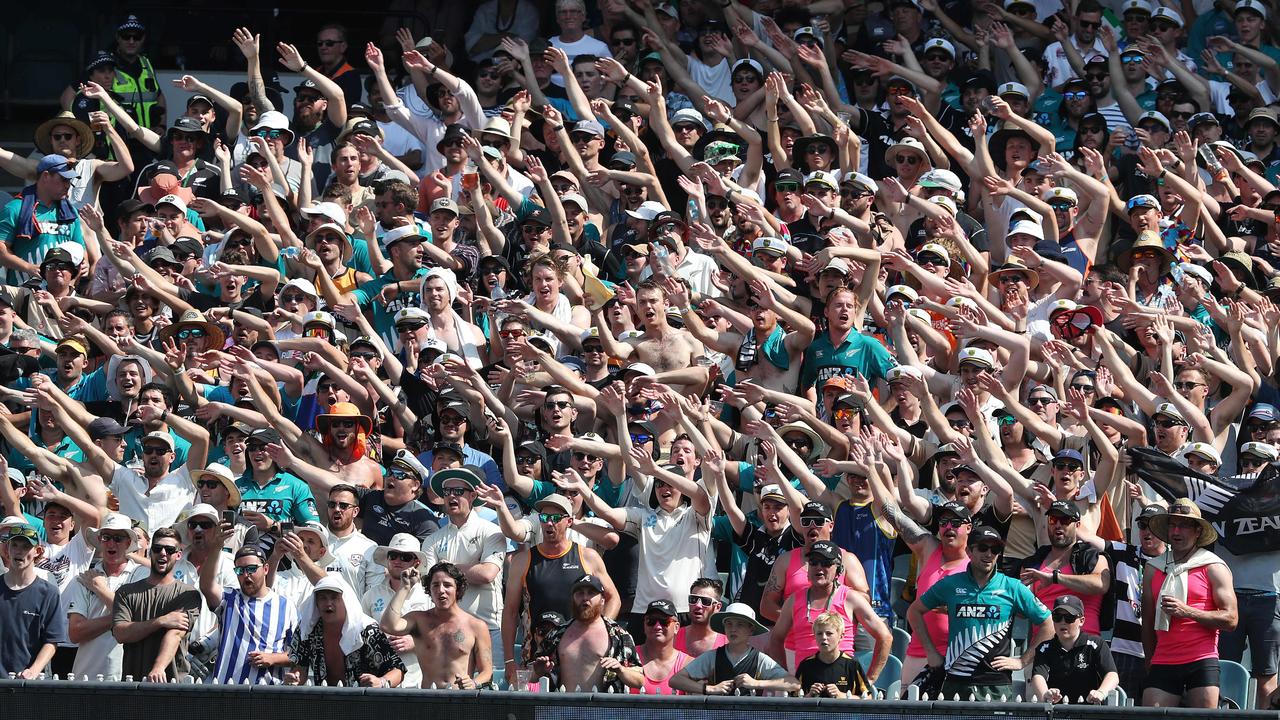 A massive crowd is expected for Boxing Day. Picture: Michael Klein
The Victorian government was one of three states to lodge a bid for the January 14-18 fifth Ashes Test, which would've been a historic pink-ball match played under the MCG's recently upgraded six LED light towers.
But the early alarm bells over pre-purchased tickets for the Boxing Day Test was factored into CA's decision to award the fifth Ashes Test to Hobart's Blundstone Arena and its capacity of just 14,000.
While sources familiar with ticket sales said it was hard to get an exact read on the data, they told News Corp that around 70,000-75,000 were expected at the MCG on Sunday.
This year's Anzac Day game between Essendon and Collingwood drew 78,113.
That blockbuster was sandwiched between Victoria's third and fourth lockdowns and remains the largest crowd since the pandemic hit.
It was the one of just two Australian crowds greater than 60,000 in 2021, along with the 61,118 at Perth Stadium for Melbourne's Grand Final win against Western Bulldogs.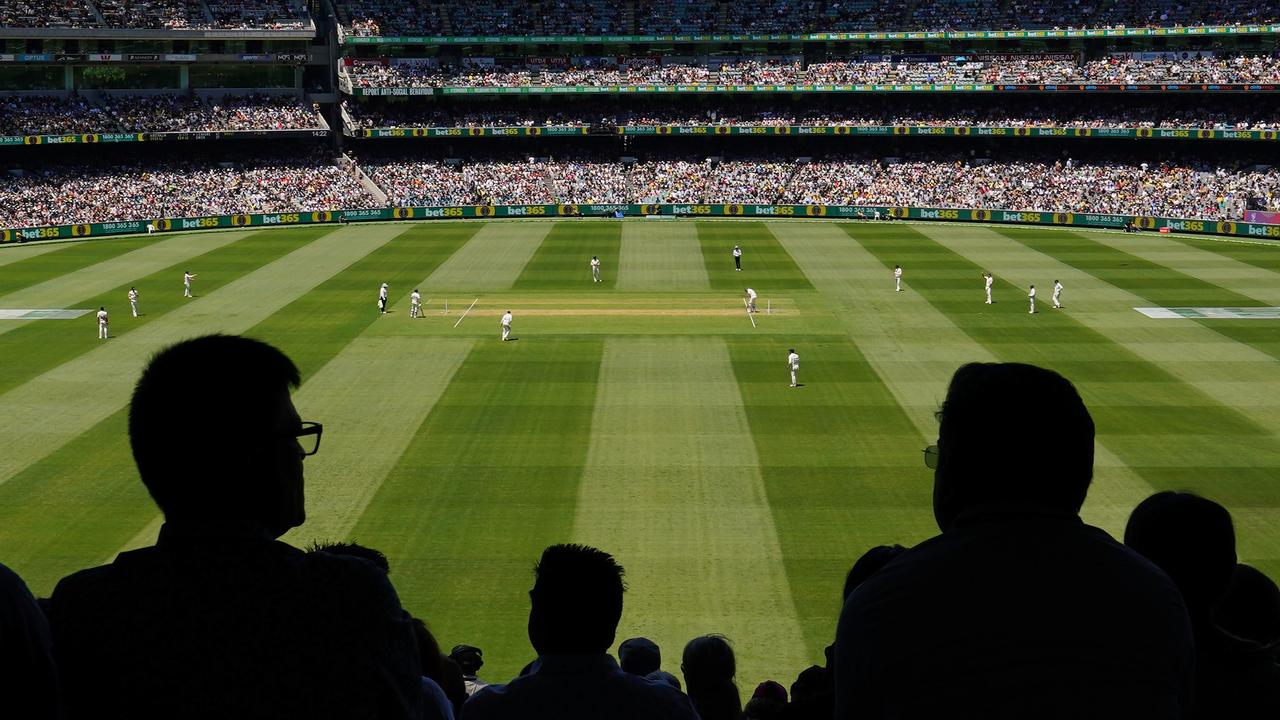 It will be one of the biggest crowds since the pandemic began. Picture: AAP Images
Meg Lanning's team won the Twenty20 World Cup final in front of an 86,174 – an Australian record for women's sport – at the MCG only weeks before the world started to shut down.
The MCG is operating at full capacity and can legally cater for 100,000 spectators.
But while Boxing Day won't be a sellout, organisers would be thrilled if more than 70,000 click through the turnstiles as coronavirus continues to rip through Melbourne.
The past four Ashes series have drawn around 90,000 on Boxing Day – 88,173 in 2017, 91,112 in 2013, 84,235 in 2010 and 89,155 in 2006.

Those figures are not under threat, but given Victoria's surge in Covid-19 infections and the absence of the travelling Barmy Army a crowd north of 70,000 shapes as a big win.
Cricket fans will need to have their vaccination certificates ready to show gate staff as they enter but will not need to wear masks
MCG curator Matthew Page is working hard to prepare a pitch that can replicate the even balance between bat and ball from the past two Tests.
The ICC rated last year's Boxing Day pitch for India's shock victory as "good" while the 2019 MCG pitch received full marks as "very good".