'I didn't really know what to do' ... Meg Lanning on learning the art of captaincy
Meg Lanning, the captain of Australia's all-conquering women's cricket team, says she's still learning to lead.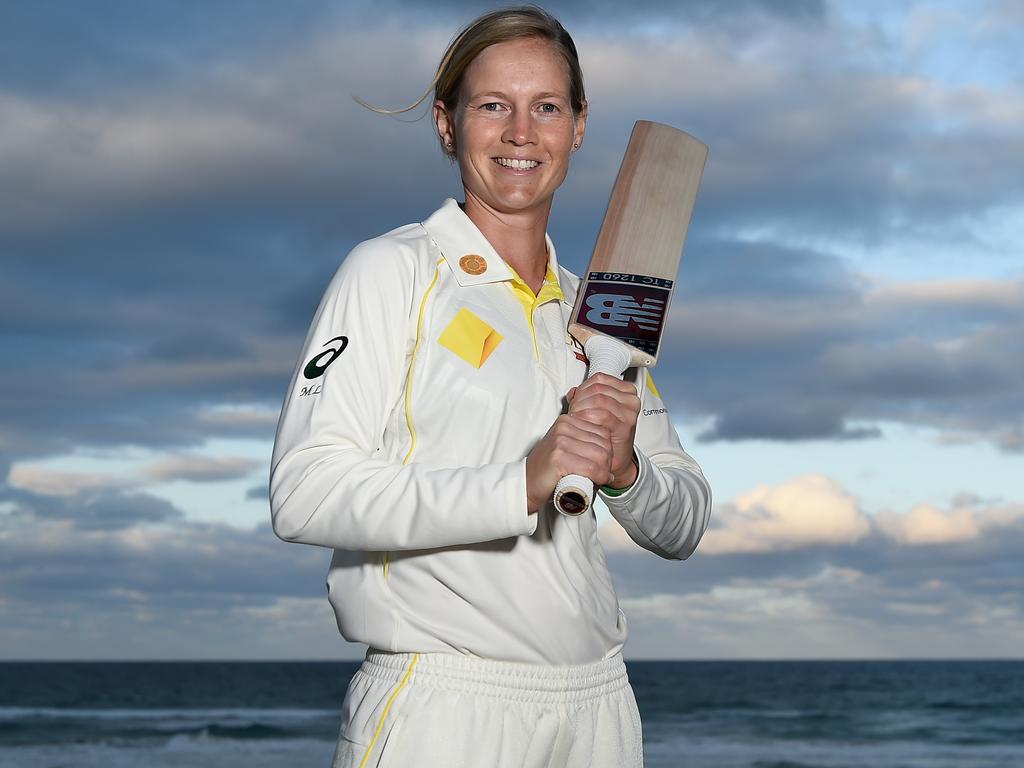 Meg Lanning has learnt that she doesn't have to control everything. Picture: Getty Images
Will Swanton: Your first ever job was at Bakers Delight, right? What was that young woman like?
Meg Lanning: That's true. I reckon I must have been in Year 12. I was doing a bit of work on the side. Funny story – I missed the phone call from the selectors telling me I'd made my first Australian team because I was doing a shift at Bakers.
I remember that job. The fresh-baked scones got a bit tempting after a while. They gave me a few 6am shifts, which I didn't appreciate at that age. When I was lucky enough to get the chance to play for Australia, my Bakers career ended pretty abruptly. I reckon I did one or two more shifts and that was it.
I heard you just finished yard time over there. Yard time? Are you in quarantine, or jail?
Yep, yard time's over — 2.30 to 3.30 every afternoon. It's the only time they let us out. There's security guards around to make sure we're doing the right thing. It's not much in terms of freedom, but better than nothing.
New Zealand is probably one of the last countries still doing quarantine. Seems like it will end over here soon. We were supposed to be in for 10 days and now it's only seven. What a nice surprise. What a bonus. We prepared ourselves for 10, hoped for seven, and got what we hoped for."
Nice yard? Talk us through yard time.
Big yard. I run during yard time. Some people walk. Some people don't come down at all. It's all been quite good. I've done a proper hard quarantine. It was in Brissie last year when there was no open window, no fresh air, nothing. This is a breeze compared to that. I look back at hard quarantine and I'm not sure how I got through it. You always find a way.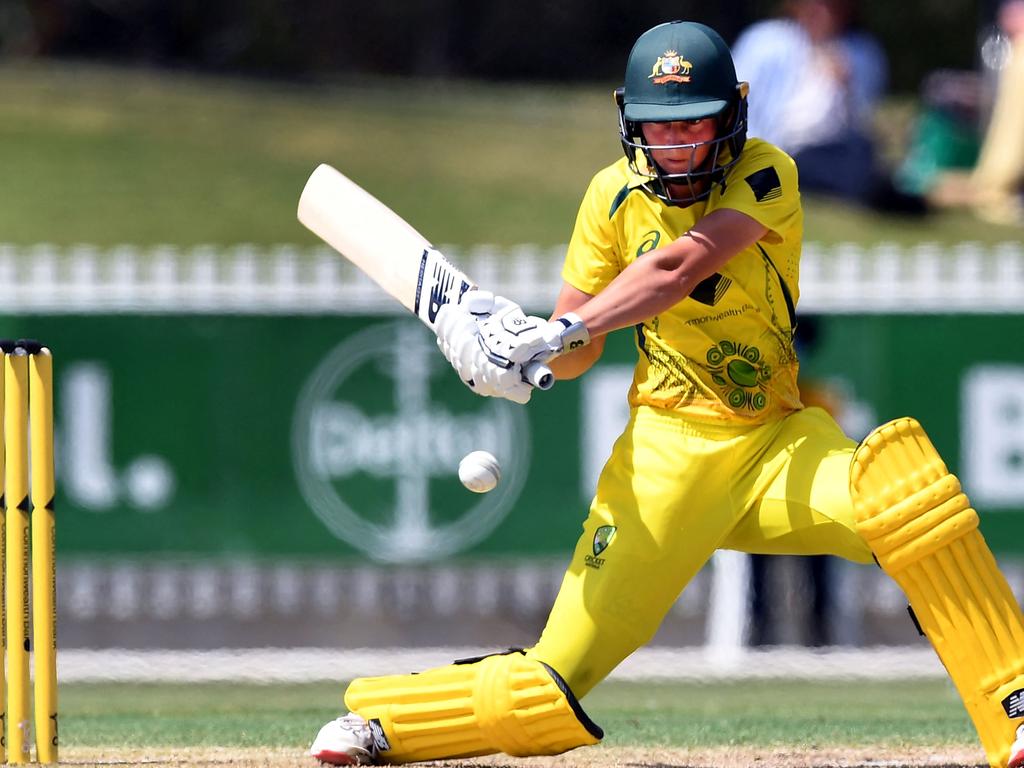 Lanning hits the ball through the offside during another successful run chase in the Ashes. Picture: AFP
Netflix?
I've watched a bit of Netflix. Probably not as much as I could. I just find little bits and pieces to do. We have team meetings here and there. Get them done while we're stuck in our rooms and can't do anything else. Then we won't have to worry about them as much when we're out.
Usually I hate team meetings but in quarantine, it's pretty much the highlight of your day. You do a bit of exercise and then another day's nearly done.
Ash Barty spent most of the Australian Open worried about catching Covid. A positive test would have wiped her out of the tournament. Same for your team at the World Cup? One case could be a disaster?
We just had a briefing from the ICC, as a squad, about the likely protocols. What we can and can't do will depend a bit on which city we're in. We're in Christchurch now. There's very few cases. When we're out, I think we'll be able to eat at a restaurant instead of living on takeaways – but we'll have to eat outside. That sort of thing. There's definitely the thought in the back of your mind that if you get Covid, or if you become a close contact, it's going to be trouble at the World Cup.
A close contact here still has to do seven days of isolation. If one player tests positive, maybe we're all close contacts, I don't know. The rules about close contacts are complicated. It can depend how long you spent with the person, whether you were outside or indoors. But getting Covid isn't the only danger. Being a close contact could put you out of action.
We're going to be very aware of it. Outdoors seems OK. Anything indoors seems risky. Our approach will be to have as much freedom as possible without taking unnecessary risks because the consequences could be severe.
The last World Cup was a heartbreaker. The semi-final defeat. But you've lost only twice in the five years since then. What changed?
We completely changed the way we play our cricket. I guess you could say that last World Cup was our line-in-the-sand moment.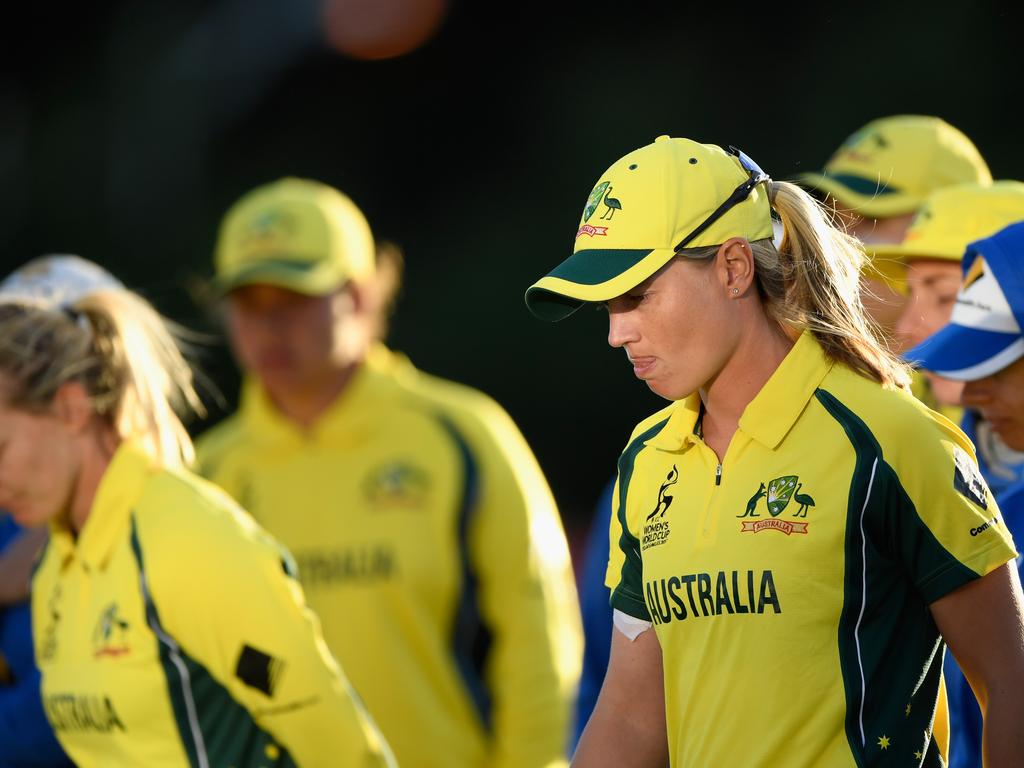 Meg Lanning leads the Australians from the field after their World Cup semi-final loss in 2017. Picture: Getty Images
How so?
We looked at that last match and the whole tournament and realised there were a number of things we could do better. Do differently. We came up with a whole new set of team values. Off the field, it was about how we wanted to operate.
On the field, it was about being a lot more aggressive. We just weren't playing to our full potential. We were leaving too much out there. Being too careful. We didn't play at our best and it felt like we were holding ourselves back. We wanted to start playing fearlessly. That's what has driven us to where we are now. Playing fearlessly.
Is this a revenge mission for 2017?
It's interesting, because a lot of people in this squad weren't there in 2017, so no, it's not about revenge. We've spoken about this World Cup being about the group we have now. It's a new tournament, every team starts on zero points, we have a mostly different team – 2017 did its job for us in that it taught us how to approach our cricket.
That tournament was disappointing, but it's irrelevant now. So many of our important players are the younger players: Darcie Brown, Tahlia McGrath, people like that. Players who have come in and made an immediate impact. They bring a lot to the squad and they had nothing to do with 2017."
What do they bring?
They bring personality. They bring energy. They keep us senior players on our toes. It's an exciting group to be around, to be honest. That fearless approach – it's just a very fun way to play. Hopefully it's good to watch. You're trying to move the game forward. You're taking more risks, but they're calculated risks and they're to your strengths. That's important. That's what we focus on. We make mistakes but the risks we take are based on our strengths. The young players are leading the way with that.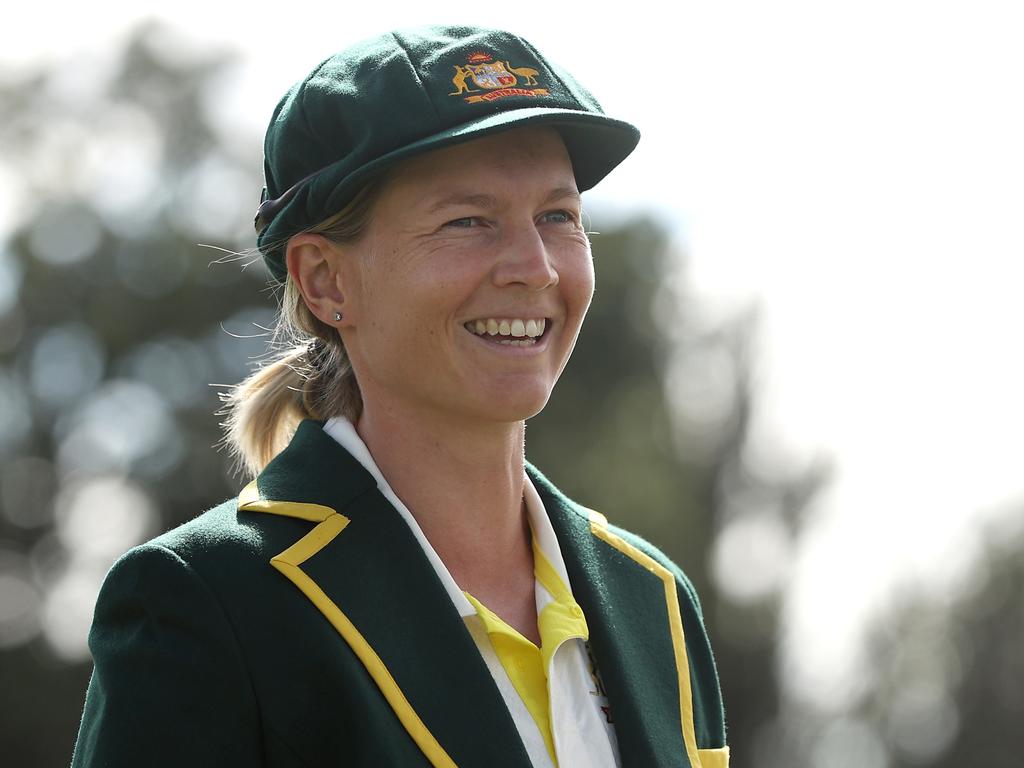 Lanning is still evolving as a captain. Picture: Getty Images
Example?
Tahlia McGrath is a great example. In the Ashes, she came out in the first T20 and just bossed the game, right from the start. That's what we want to see. When you attack and get proactive – it's just such an enjoyable way to play and as we've shown over the last five years, it's a successful way to play.
Are you still evolving as captain?
I've changed a fair bit since I took the role.
How so?
I had no leadership experience when I started. I didn't really know what to do. I definitely felt like I needed to have absolutely everything under control, all the time, when I began. With experience you become more comfortable about letting others in."
Can you expand on that?
It's been eight years now as captain and we're a very different team from when I started. What I've learned the most is the need to build strong relationships. To try to understand the people in the squad. The players and the staff, if you can really connect with them, it makes such a big difference.
There's so many good things that come from it. It's something I'm still working on but I've come to understand how important it is. That's been a huge part of my learning process.
What's another part?
The other big thing has been identifying what my strengths and weaknesses are as a captain and accepting help where I need it. I'm better at recognising the areas I'm not as good in as others. (Vice-captain) Rachael Haynes and I work really well together because she's great at the things I'm not so strong at. I realise now that I don't have to do everything myself. I don't need to be good at absolutely everything. I have strengths, but I'm more comfortable these days in letting Rachael fill the gaps. I've learned to use and accept support from the people around me.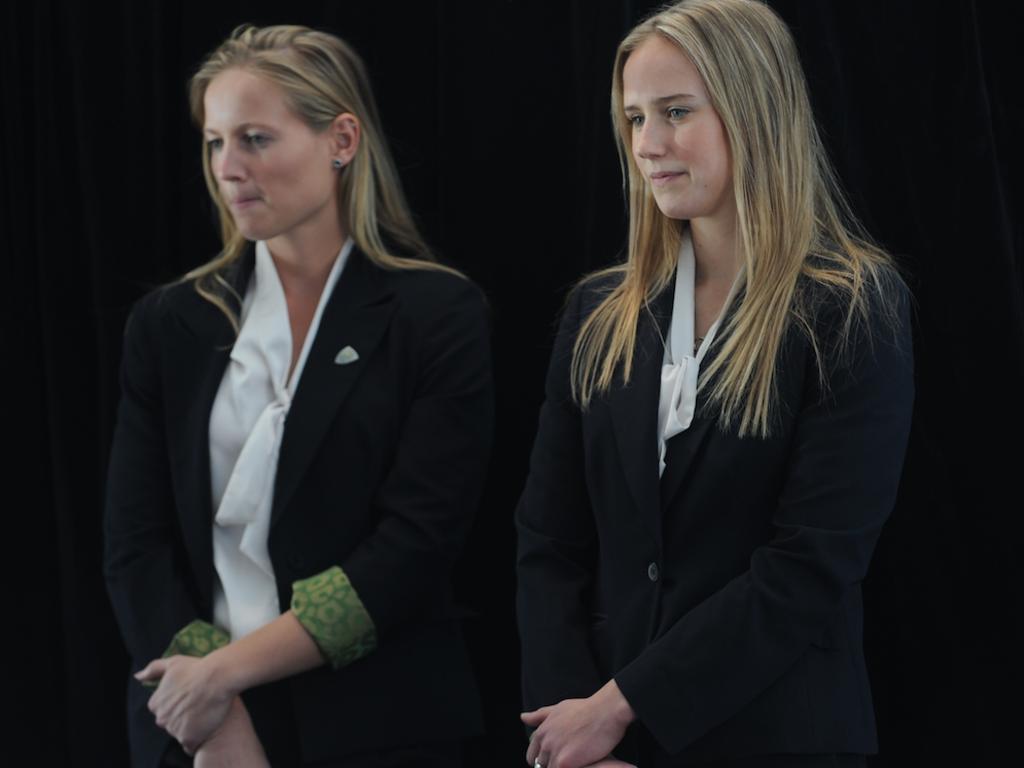 Meg Lanning (left) and Ellyse Perry in 2013. Picture: Getty Images
What gaps?
I'm a doer. I like actions. I let getting things done. I'll see something and I'll be yep, let's do like this. Now. I can be quite direct with my communication, which can be good – but sometimes you need to take more of a measured approach. Rachael's very good at understanding the feelings within the group. What's working and what's not. Gathering some great feedback and passing it on.
Sometimes I'm not as observant, but Rachael's excellent at that side of it. You always keep working on your weaknesses and I always will. But like I say, letting other people help me out in certain areas – that's been a huge part of developing as a captain.
You're the best chaser in world cricket. What's your approach to mowing down a target?
To be honest, I don't have one. I don't approach chasing any differently to how I approach setting. The record I have in chasing – it's just sort of happened. When I'm batting well, I'm really not too concerned with the scoreboard. You're aware of the match situation, of course, but I feel like I can get a good sense, naturally, of whether we're travelling at the rate we need to be.
My philosophy is that I'm out there to score runs. I know that sounds simplistic. But when you're trying to score instead of just surviving, you're naturally going keep the scoreboard moving. You just have to stay out there long enough to make it count. If you get fixated on strike rates, or how many runs the team needs every over, it can be very distracting. I'm just going out there to score runs as quickly as I can without losing my head. That doesn't change if we're chasing 300 or 150 or if we're setting.
How do you score quickly without losing your head?
You respect the good balls and try to put away the bad. That's about it. You do that for long enough and things will generally work out. Particularly in one-day cricket, you've got a lot more time than you think. If you're chasing 300, yes, you'd love to be at the right run rate from the start. But you can make up the ground as you go along. You want good body language. You want to give the impression you own the pitch. That you're not going anywhere.
Generally I start a touch slower and then catch up towards the end. If you worry too much about the equation every ball, it builds up too much pressure in your head. I try to avoid worrying about all that stuff and just bat.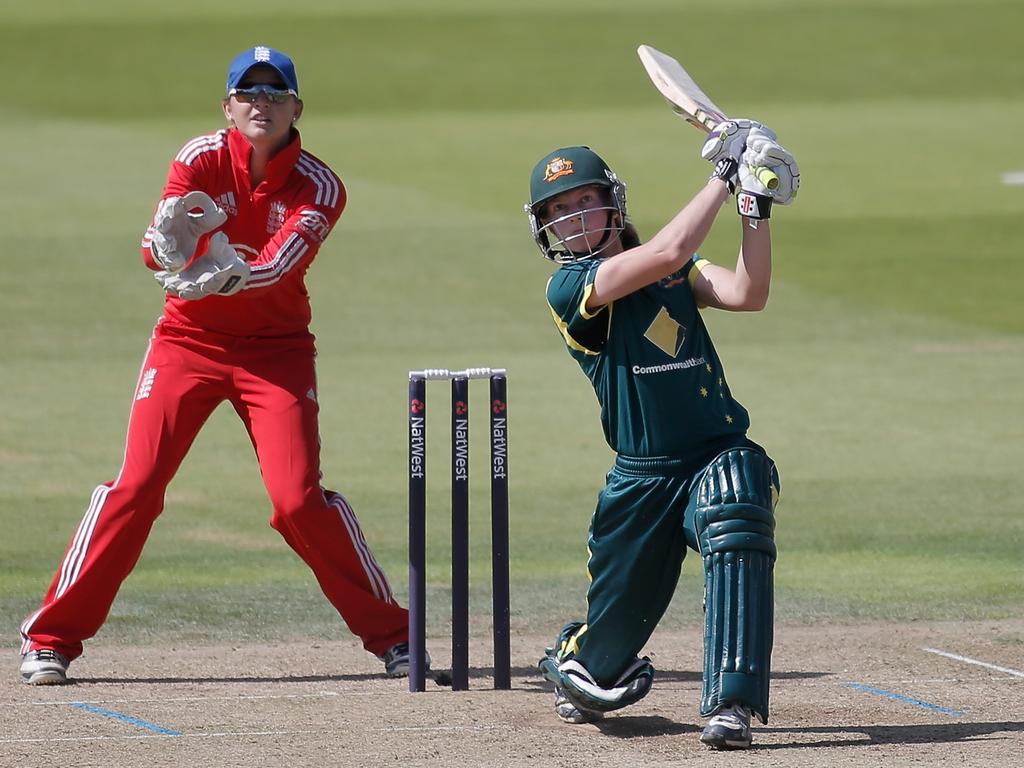 Meg Lanning hits out during the 2013 Ashes series. Picture: Getty Images
What's the plan after quarantine? Straight to the nets? Off to the pub?
We're going to have a few days off. The urge is to go straight into cricket but from experience, it's nice after quarantine to settle into being relatively normal again.
What will relative normality look like?
Going out and having a coffee. Having a nice brekky. Not being too structured. Once we get into training next week, there's still two weeks before our first game (against England on March 5). There's plenty of time. We see this first little recharge period as something that's really important.
We don't want to go too hard too early over here. We're aiming to go really deep and we want to be playing our best cricket, and be in a great frame of mind, towards the back end of the tournament. If we have net sessions straight away, players will go and hit balls and bowl.
So the support staff and myself and Rach think it's best to take the decision out of the players' hands. We're given everyone some days off. We'll have more than enough time to get back into cricket mode when we need to next week.
That teenage employee at Bakers Delight, while she was handing over the Cheeseymite scrolls on the 6am shift, could she have believed where her life was heading?
I always had the dream to play sport for Australia. Originally I wanted it to be hockey at the Olympics. I grew up just absolutely loving sport – hockey or cricket or athletics, I just wanted to be part of it. And now? I absolutely couldn't have imagined how it would turn out.
The team's been very successful. We've been lucky to be part of the professional era. Hopefully 10 years from now for the next generation, it will be even better. That's an important role we have in playing the game now. The more senior players, we want to make sure the landscape keeps improving for the girls who are coming through and will still be here in 10 to 15 years.
We've got it pretty good at the moment. We want them to have it even better in the future. What we leave behind, for them, that's important to me.