'I never gave up on it': How Scott Boland became Test cricket's late bloomer
He was 32 years old, and running out of chances, when he was tossed the ball in his debut Test. What Scott Boland did next beggars belief.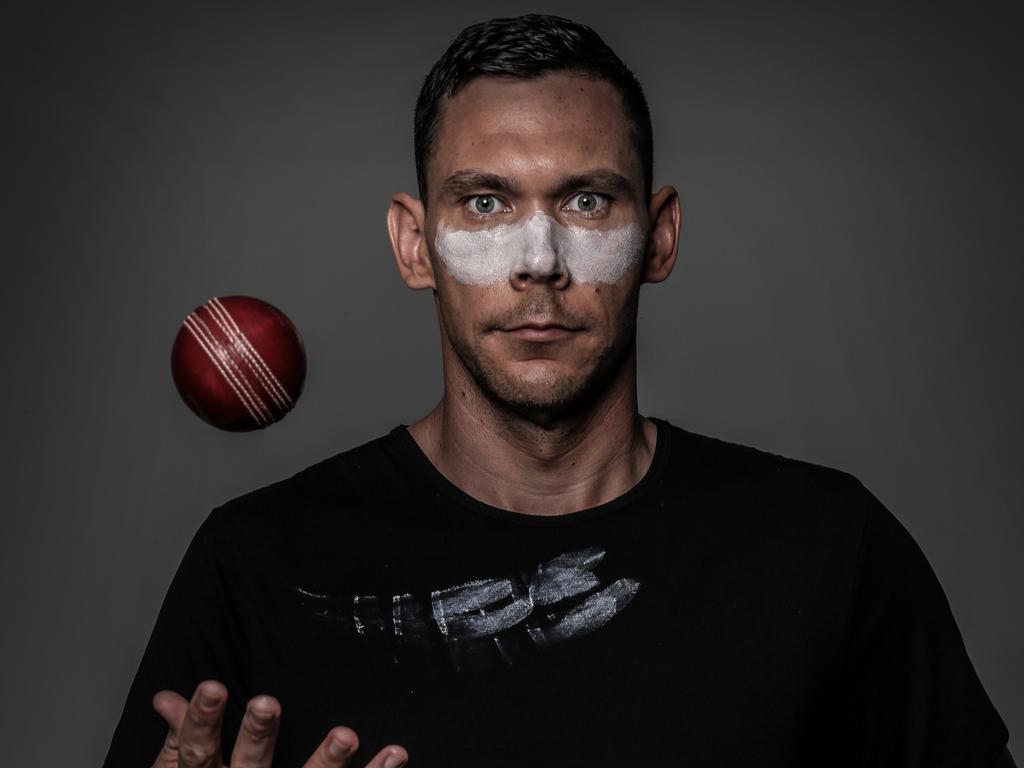 Scott Boland's dream start to Test cricket was a long time in the making. Picture: Julian Kingma
When Michael Clarke strode out into the heat and the roar of the M.Chinnaswamy Stadium, Bangalore, it was as though his destiny had been hardwired into the stars. The prodigy honed his skills in the family's indoor cricket centre and pulled on the pads for NSW before he owned his first manscaper. On debut at Bangalore in 2004 the 23-year-old Clarke crafted and clubbed a majestic 151 to put Australia in an unbeatable position. Pat Cummins, likewise, had not long emerged from the manger when the wise men of cricket came with gold and frankincense; in his debut in South Africa, aged 18, he took six wickets for 79 in the second innings. His teammate, Josh Hazlewood, was spotted early too – as a 14-year-old he was terrorising bush cricketers in Tamworth when a posse of his old man's mates were on holidays, on the beers in London. So certain were they of the lad's prospects they each handed over $100 to a bookie, at the generous odds of 500-1, wagering the kid would play Test cricket before he turned 30. The five hayseed hucksters each trousered $50,000 when Hazlewood was handed his baggy green at the Gabba in Brisbane in 2014, aged 23.
It was an injury to Hazlewood that would pave the way for 32-year-old Scott Boland to make his Test debut at the MCG in last year's Boxing Day Test. Nobody, not even his mum, handed over their hard-earned to a bookie predicting this ­outcome for Boland at the start of the summer, let alone in his teens. His manager, Nick Byrnes, says that at the start of the season they were hopeful he'd be selected for the nation's second XI, ­Australia A. "You've just got to put your best foot forward, and you know, a few injuries …" he told Boland in the tone of a reassuring uncle. Both knew the chances of a spot opening up were slim. I ask the cricketer's dad if he could have predicted how things would turn out. "No," Mick Boland says. "No, not really … it all came about a bit unexpected. And then it came with a rush." Scott's old bat sponsor, Gray-Nicolls, was no soothsayer, either – it dumped him at the end of last season.
Boland tells me he never gave up hope he'd play Test cricket but he knew time was running out. "I knew I was a few rungs back with Starc, Hazlewood and Cummins and guys like Jhye ­Richardson coming through," he says. "I never gave up on it, but I thought it may have passed me by."
At the age of 18, when most of his current Australian teammates were in development squads, playing for national junior teams and contemplating which corporate brands best suited their image, Scott Boland was 118kg. He was told he needed to lose 10 kilos to be considered for the top team at his Melbourne club. From that moment he set about changing his ways. For starters, he asked his mum to serve him just soup for dinner every night for a month. And then, season after season, he worked on getting fitter, stronger and relentlessly accurate in his bowling. As one coach put it, he became the "Merchant of Length". Boland plugged away for 14 long years, honing his skills, building his strength, lasering in on that ­perfect spot on the pitch, biding his time.
And then this journeyman's journey reached the promised land on day three of the Boxing Day Ashes Test at the 'G. Scott Boland finally had his day in the pantheon. "Gone!" said the commentator as England captain Joe Root nicked a delivery, giving Boland the unbelievable figures of four wickets for four runs. "Scott Boland's day can't get any better!" But it did. "Return catch! Five for five on debut! What a story this is." And then better again. "Edged. Taken! … What is going on?"
What was going on was one of the most remarkable debuts in the 144-year history of this grand old contest. More remarkable for the fact no one saw it coming. In this caper of pathways for pampered prodigies, and memberships bequeathed from fathers to sons, this was a ­glorious victory for the underdogs, the toilers, the outsiders, the $5000 nag that ­thunders down the straight at Flemington to steal the Cup. And it took just 24 balls. Four overs. One maiden. Six wickets. Seven runs. And it couldn't have happened to a nicer bloke.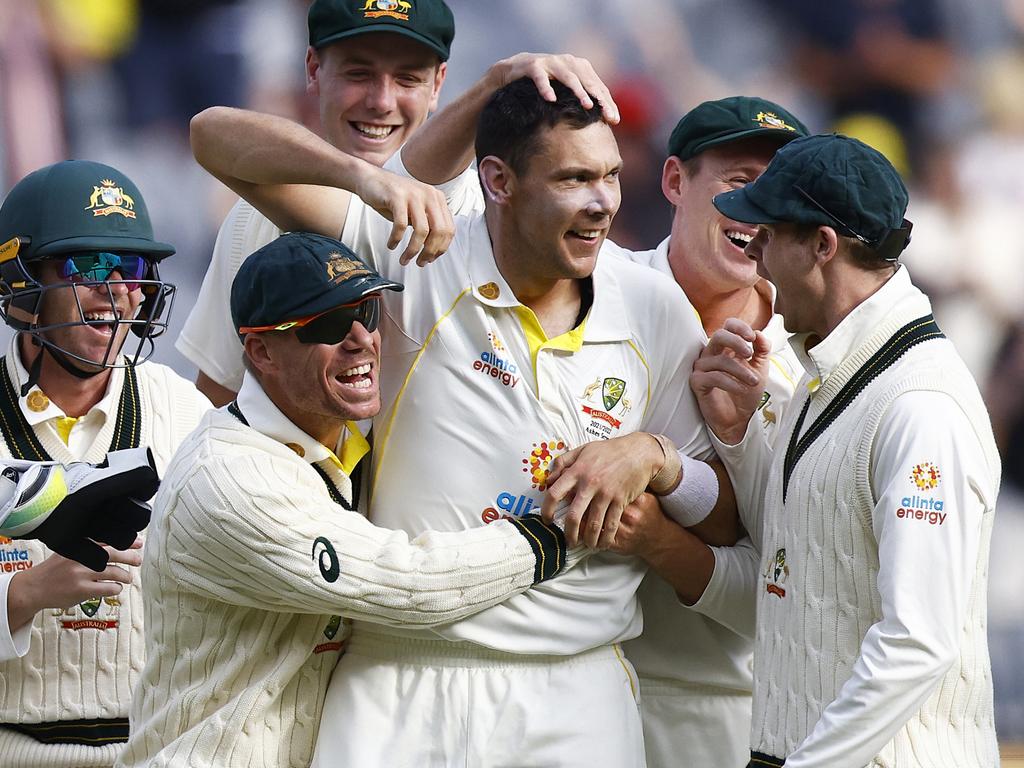 Scott Boland celebrates with teammates after taking another wicket during the Test match between Australia and England at the MCG last December. Picture: Daniel Pockett – CA/Cricket Australia via Getty Images
The long, cruel summer of suffering for the Poms was mercifully tapped on the head with an early finish on day three of the final Test at Hobart in mid-January. The Australians were still celebrating the next morning and Boland was among those still awake, but he was sober. "I had a couple of beers, but not many," he tells me. "I just didn't want to miss any of it. I wanted to soak it all in."
There's been a lot to absorb. He took 18 wickets in his three Tests for bugger-all runs. For much of the past decade England captain Joe Root has been a contender for the title of world's best ­batsman; Boland pouched this treasured scalp four times. He's been selected for the tour of ­Pakistan – whether he sees much play or not, he's happy to be there – and has bowled himself into consideration for the next Ashes series in England in 2023.
Steve Waugh reckons there's no reason why Boland couldn't be part of the Australian squad for the next "three, four, five years", adding: "He'll do well anywhere if he keeps bowling like he is. Test cricket is all about putting the ball in the right areas and challenging the batsman's techniques. That's what he does." With players like Boland, Cameron Green and Alex Carey, Waugh reckons the Australian public has "fallen in love again" with the team. "He's shy and humble and almost embarrassed by his success, and the Australian public love a good underdog story," Waugh says.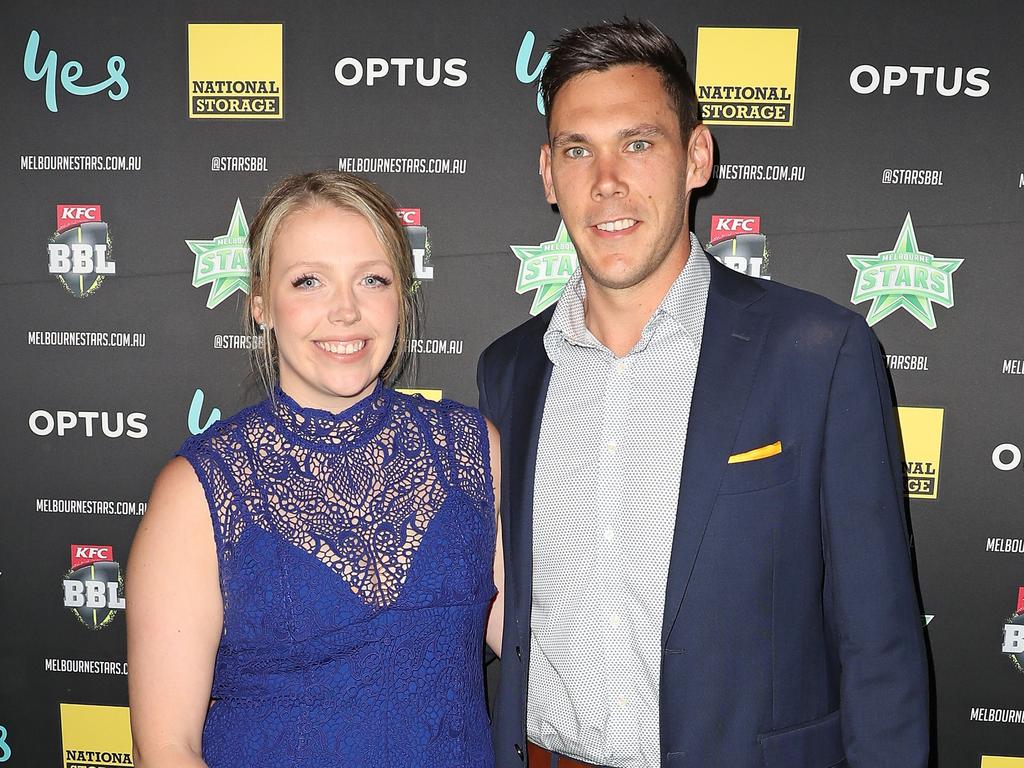 Scott Boland and his wife, Daphne. Picture: Scott Barbour – CA/Cricket Australia via Getty Images/Getty Images
As I sit down at the dining table with Boland and his wife, Daphne, he's still in shock – like a bloke who's just won the Lotto. He's having difficulty comprehending what this will mean for him. The early indications are good; he hasn't had any trouble getting a new bat sponsor. "It's all a bit unbelievable," he says, shaking his head.
He and Daphne and their girls – Charli, three and half, and Andi, 18 months – live in a big new townhouse in the Melbourne bayside suburb of Parkdale. His folks – Mick, who owns a hospital linen delivery van, and Janice, a dental nurse – live five minutes' drive away. Daphne's folks live in the next suburb and in between are a gaggle of uncles, aunts and cousins.
Boland is a big handsome man, with snow leopard eyes and honey-coloured skin – a gift from his Gulidjan forebears who lived for ­millennia along the shores of Victoria's Lake Colac – and despite his size, and his occupation, there's a ­gentleness to him. At 189cm tall and weighing 96kg – 22kg lighter than in his teens – he's like a thoroughbred at the end of the spring carnival, both solid and lean. Daphne sits on a stool, chipping in when needed. They met as 21-year-old uni students working in a pub. "Usually you go for the bad guys, right," she says. "He's the total opposite. He's always been one of those really nice, reliable guys. Still is." She was studying criminology and is now a detective with Victoria Police. He was toiling away at a PE degree. Daphne has been there for the highs, and the many lows. She reckons the lows have made him a better man.
He was first picked to play limited overs cricket for Australia in 2016 and his one-day debut was against India, a team that included Virat Kohli, MS Dhoni and Rohit Sharma. The brutality of that first outing is summed up in his Wikipedia entry: "Boland went on to record figures of 0/74 off 10 overs, the worst figures by a debutant Australian bowler ever." He was actually fairly happy with his bowling. "Rohit Sharma was on, like, 140, and he hit four sixes off my last two overs and my figures ballooned out," he says. He played a few more games for Australia. Then he was dropped. "I got in there and had a few tough games and thought, 'My skills aren't good enough'," he admits.
Daphne says Scott's axing from the one-day squad wasn't a bad thing. He went away and worked on his game, becoming stronger and fitter, and worked relentlessly on his accuracy. He grew up, too. "He was a bit selfish at that time," she says of his stint for Australia six years ago. "A bit immature. He forgot about his friends and his family. It was only all about cricket. I said to him, 'At the end of the day, cricket is going to finish and then what will you have?'" Was he getting a bit up himself? "Yeah," she replies. "You could say that."
Daphne has to leave for work; there are crimes to be solved, crooks to be cuffed. Boland and I head out for a drive in his black Lexus 4x4 with kids' seats in the back. He takes me to Robert Street, Parkdale, where he grew up; his paternal grandparents also lived in the street, as did his aunt and uncle and cousins. We drive a couple of blocks to the Gerry Green Reserve. This oval was the centre of Scott's childhood universe. In winter he and his cousins played footy here and dad Mick captained the senior footy team. In ­summer it was home to the Parkdale Cricket Club. Mum Janice was the club's junior cricket co-ordinator. Mick was a handy batsman – he still plays the occasional game.
Scott points to the training pitches on the far side. "I pretty much grew up in those nets." He was a good player, "but nothing of note", and never made it past the ­district team. And when he did make the rep team he was selected primarily for his batting, not his bowling. In juniors, his dad was the coach. His cousin was the team's other best bowler. His was a loving and secure upbringing, coddled by family and the suburban village. But beyond the neatly mown lawns and behind the brick facades there were big secrets.
A few blocks from this oval, in the neighbouring suburb of Mordialloc, lived Jack and Elsie Edwards, Scott's maternal grandparents. Jack, an army veteran, was among the first to sign up in 1939. He fought in North Africa, Greece, Crete, ­Palestine and the Pacific. Unlike many, he was happy to talk about his war service. He never missed an Anzac march. But he never spoke a word about his ­childhood. After he left the army he worked as a printer, and he died in 2000 at the age of 83. He had beautiful olive skin. His nickname was Darkie.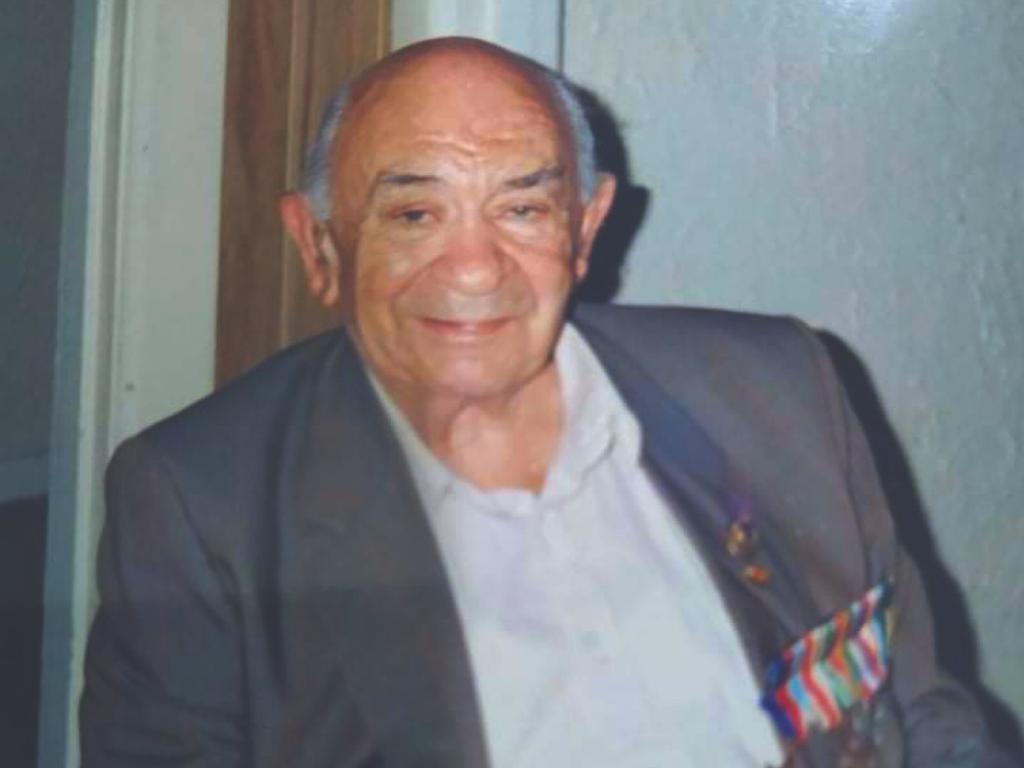 Scott Boland's grandfather, Jack Edwards. Picture: Supplied
Peter Edwards, Scott's uncle, tells me he and his siblings, including Janice, grew up not ­knowing anything of Jack's indigenous roots. Peter says their childhood was filled with "a whole lot of very big secrets". Looking back, there were hints. "Whenever Dad had had a couple too many beers he'd start talking about Colac and Mum used to say, 'Shut up Jack. Shut up.'" In Colac were secrets she felt could destroy them.
In 2015 Peter was researching his family tree and when he obtained his father's birth certificate, he made a startling discovery – his father was not who he said he was. The name on his birth certificate was Alexander John Wynne. He did some more digging and discovered that Jack's mum was an Aboriginal woman from Colac named Ellen Wynne. She died of typhoid not long after giving birth to Jack and he was raised for a while by another Aboriginal woman, probably his aunt.
At some point Jack was adopted by a family named Edwards, who moved him to Melbourne. "It appears he was part of that stolen generation," says Peter. The records show that he "used to bolt back to Colac all the time and they kept dragging him back to Melbourne". This ­continued until Jack was too old for authorities to return him to his adoptive parents. And then he joined the army. Jack never talked about his ­childhood traumas to his children; he also never talked about the Edwards family who'd adopted him and given him their name. Not a single word.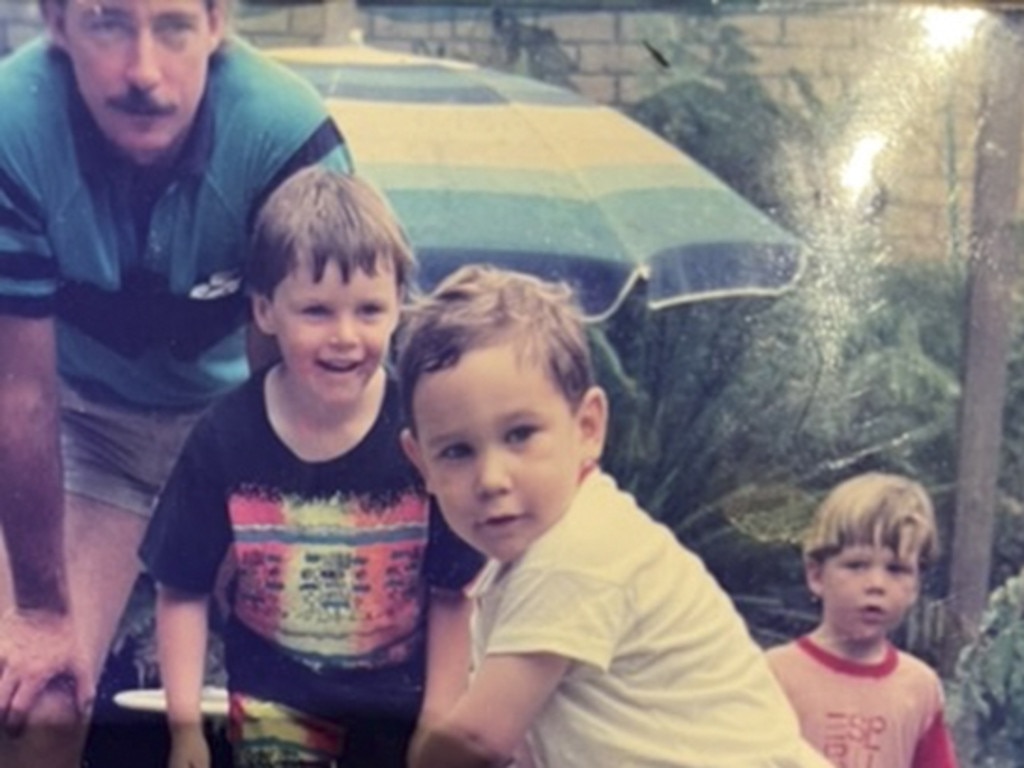 Scott Boland, 4, with his dad in the background in Parkdale, Victoria. Picture: Supplied
This discovery of indigenous ancestry has been both thrilling and confusing for Scott Boland. He has embraced it and is glad to be a role model to Aboriginal kids, but is leery of speaking on behalf of Aboriginal people. "I find it hard to talk about sometimes," he says. "It's new to me and I'm still trying to understand what it means." He has ­spoken with other cricketers who have indigenous ­ancestry, D'Arcy Short and Dan ­Christian, and is learning more all the time.
In 2018, Scott and his brother Nick were selected for an indigenous team to tour England, celebrating the 150th anniversary of the 1868 tour of ­England by an All-Aboriginal team that included the great all-rounder Johnny Mullagh. Prior to that 2018 tour, he and Nick travelled out to ­Harrow, Western Victoria, to a museum dedicated to Mullagh and the 1868 cricketers, as part of his quest of discovery. Daphne says that when she first started going out with him she thought his complexion indicated he had some exotic forebears. "I would say, 'What's your background? What's your heritage?' And he would say, 'I don't know'". And now he does.
His Uncle Peter travelled to Colac to meet his cousins. It was an emotional experience. Peter says Jack had spent his lifetime terrified that his Aboriginality would be discovered and the ­middle-class life he had built would be shattered. "I suppose he thought it would count against him. He'd never have been able to have joined the RSL, which he loved … his army mates were his brothers."
After victory at the MCG, and that glorious six wickets for seven runs, Aboriginal woman Belinda Duarte was called upon to present the Boxing Day Test man of the match award, the Mullagh Medal. Duarte is a direct descendant of Jungunjinanuke, whom the whites called Dick-a-Dick, who was also on that 1868 tour. "It was a spine-tingling moment," says News Corp cricket writer Ben Horne; he interviewed Duarte afterwards and she told him her phone had been running hot with calls and texts from her mob when they realised she'd be presenting the award to an indigenous brother. "I'm a big believer in the work of our ­people and the spirit of our people and ancestors," she said. "I truly believe they supported him in his confidence today to just slay it … what a beautiful way to celebrate his ancestry."
How times have changed. What was once the family's great shame was now the most public of events – celebrated with tears of joy by tens of thousands of spectators at the MCG, and by ­millions more at home, or in motels up the coast, watching on the telly and about to carve into ­leftover Christmas ham for lunch.
Scott Boland's cricket career is a study in the power of persistence. In his late teens he moved from his local club, Parkdale, to Frankston, "to have a crack at playing grade cricket". In his first year he won the league medal, playing second grade. He thought he should be in the firsts, and so confronted the team coach. "He said that if I could lose 10kg in the off season he'd pick me in the ones," Boland says. He listened, changed his diet and began a rigorous fitness regime. It was an invaluable lesson: the direct correlation between effort and results. "I proved to myself that if I had a go I could do it," he says.
Dave McClean, a long-time coach at Frankston, says the club had been desperate to find a good all-rounder when one day the chairman of ­selectors came and said: "I think I might have found that all-rounder, he's a big lad, but he's very talented." McClean liked what he saw. "He was very good with the bat and the ball." They just had to whip him into shape and keep him away from the pies. "In his first season [in second grade] he made something like 600 runs and took 40 or 50 ­wickets … we knew if we could get him to lose some weight he'd be a really, really good player." McClean says they dangled the carrot of a spot in first grade, with the potential of getting into a ­Victorian training squad. Boland never looked back. "He decided that it was something he really wanted to do … he became the hardest worker … and he's smart, he listens and he learns."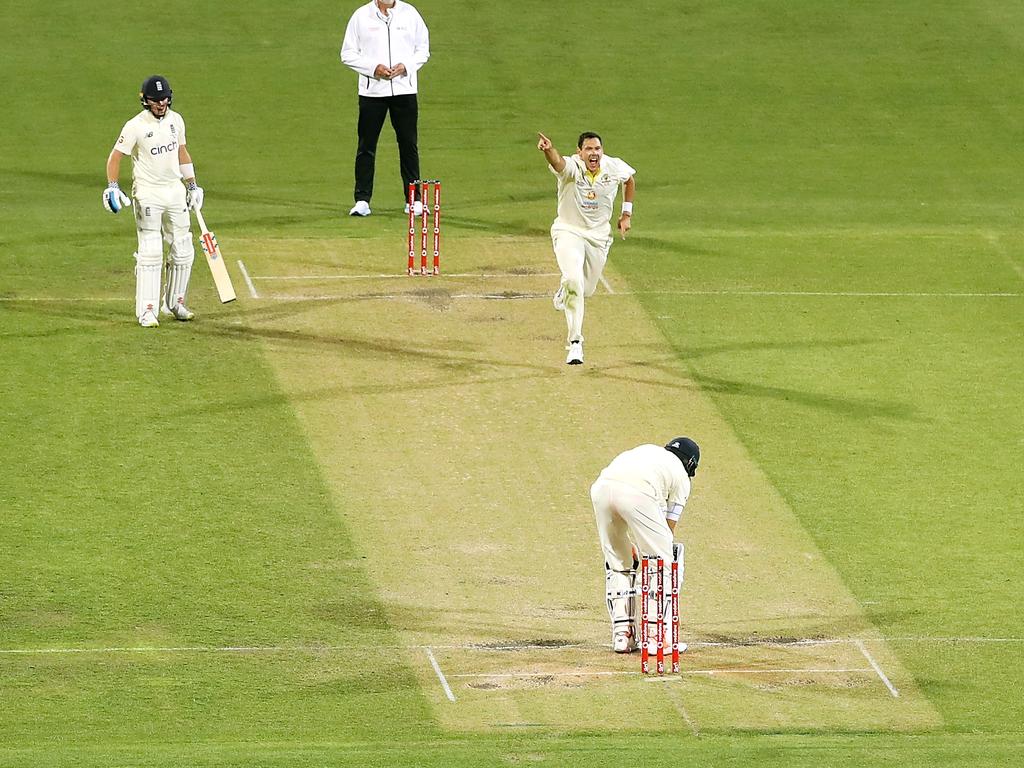 Perfect spot: Boland takes the wicket of Joe Root of England during the Fifth Test in Hobart. Picture: Mark Kolbe – CA/Cricket Australia via Getty Images
For seam bowlers like Boland there's a magical spot on the wicket that coaches and commentators bang on about endlessly. When a delivery hits that spot it spears into the pitch and bounces just high enough to hit the very top of a batsman's exposed off-stump. It's a ­devilishly difficult length for a batsman to play – too high to drive and too close to the body to cut. A good batsman, if he's certain it is missing the stumps, will leave such a delivery. But if he's unsure, he'll try to defend and risks nicking the ball to the slips. If he misses, it may hit the stumps. The bowler can also get small but lethal deviations if the ball bounces on the seam. Boland has been working his entire career to perfect this one delivery.
In one Shield game in Perth he decided he'd bowl that perfect length every single delivery, no matter what. He took seven wickets for 31, and from that time on everything he did became about achieving that perfect length. He worked with a sports psychologist who helped him ­concentrate on each individual delivery. It didn't matter if he took a wicket, or he was smashed for six, what mattered was that next delivery. "I learnt to put the last ball out of my mind and concentrate on the ball I was about to bowl," he says.
He began to methodically prepare for every game in the same manner. A day out from each match he goes down to the nets alone. He takes marker cones, placing them on the perfect length to consistently hit the top of off-stump. And then, without a ball, he goes through his bowling action, releasing an imaginary ball that will land on an imaginary perfect length that will hit the imaginary seam, deviate ever so slightly, and catch the top of an imaginary off-stump. This is his mission. "I'm definitely closer to the end than to the start of my career," he says. "But there are advantages. I've had 10 years to work on my game. I know what works and what doesn't. I've chucked away all the stuff I don't need."
All this came together on day three of the ­Boxing Day Test at the MCG. Sitting in his living room a few weeks later, Boland can recall every single one of those 24 deliveries. Late on day two of the match, he was thrown the ball. "I got Hameed with my third ball … a little fine nick to the keeper. I knew I was only going to get one or two overs so I wanted to make every ball count." England sent out the nightwatchman, Jack Leach. Boland hit that perfect length. Leach left it. It clipped the top of off-stump, just as Boland had imagined. "The crowd went nuts – I was two for nothin' off five balls." Ben Stokes took an age to reach the middle, not wanting to face another over. He survived the night.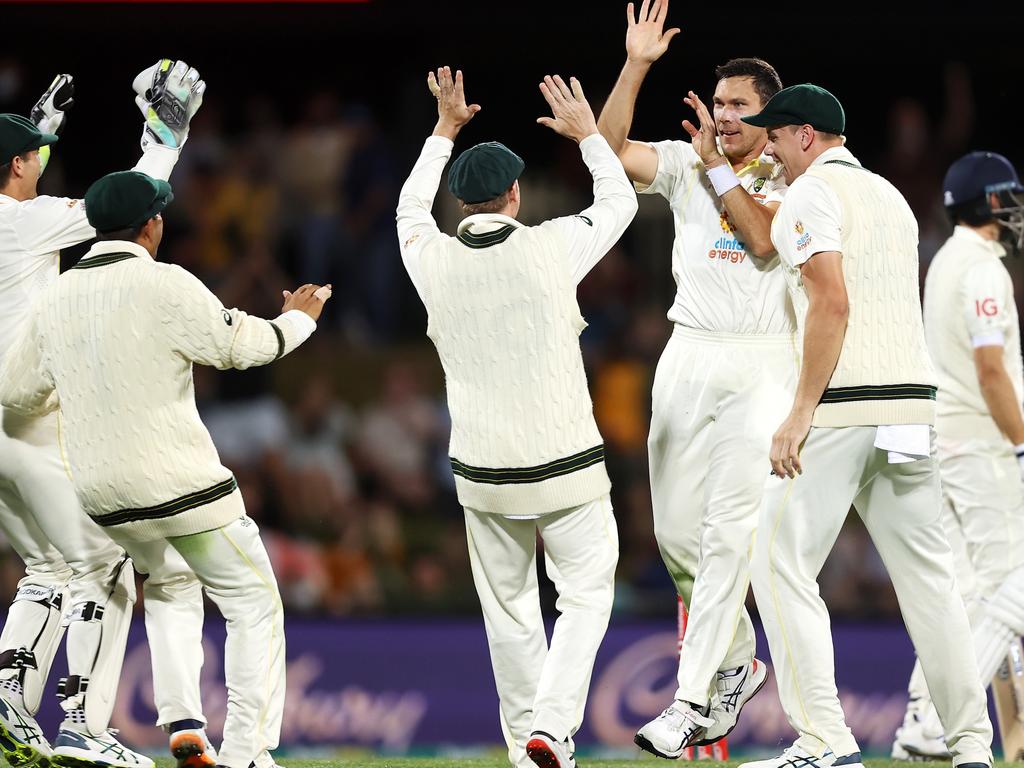 Boland celebrates after taking another English wicket. Picture: Mark Kolbe – CA/Cricket Australia via Getty Images
The next morning, day three, Boland was ­preparing for a long hot day in the sun. He'd played dozens of Shield matches at the MCG and knew what a torture it could be for bowlers when it flattened out. Dad Mick, his ­biggest fan, thought he'd do some linen deliveries in the morning and get to the game around midday; meanwhile, he'd ­listen on the radio. Daphne was playing with the kids in a park near the MCG. There'd been a Covid scare within the bubble and so the families were not allowed into the ground.
Mitchell Starc bowled Stokes. There was blood in the water. Boland came on. His very first ball to Jonny Bairstow was nicked to Green, who dropped it. Boland didn't snarl. He went calmly back to his mark. Then he trapped Bairstow LBW.
Joe Root came in to bat. Cummins and Boland consulted. They tightened the screws and brought in another slip. Boland stood at the top of his run. His usual delivery is an inswinger but as he gripped the ball it was positioned to swing away from the batsman. It felt good in his hand so he kept this grip. The great batsman didn't pick it, nicking it straight to David Warner at first slip. Daphne's phone was lighting up with fire emojis. Mick was desperately trying to park his van so he could get into the MCG. Boland was bowling with such fierce accuracy that any tiny error by the English was proving fatal. Mark Wood came to the crease. Three slips. Wood smacked the ball back at Boland, who caught it. Five wickets! "The boys tried to get me to hold up the ball but I was a bit embarrassed, so I threw it to the umpire … I've never been one to carry on. It's not all about me," he says. But on that day it was.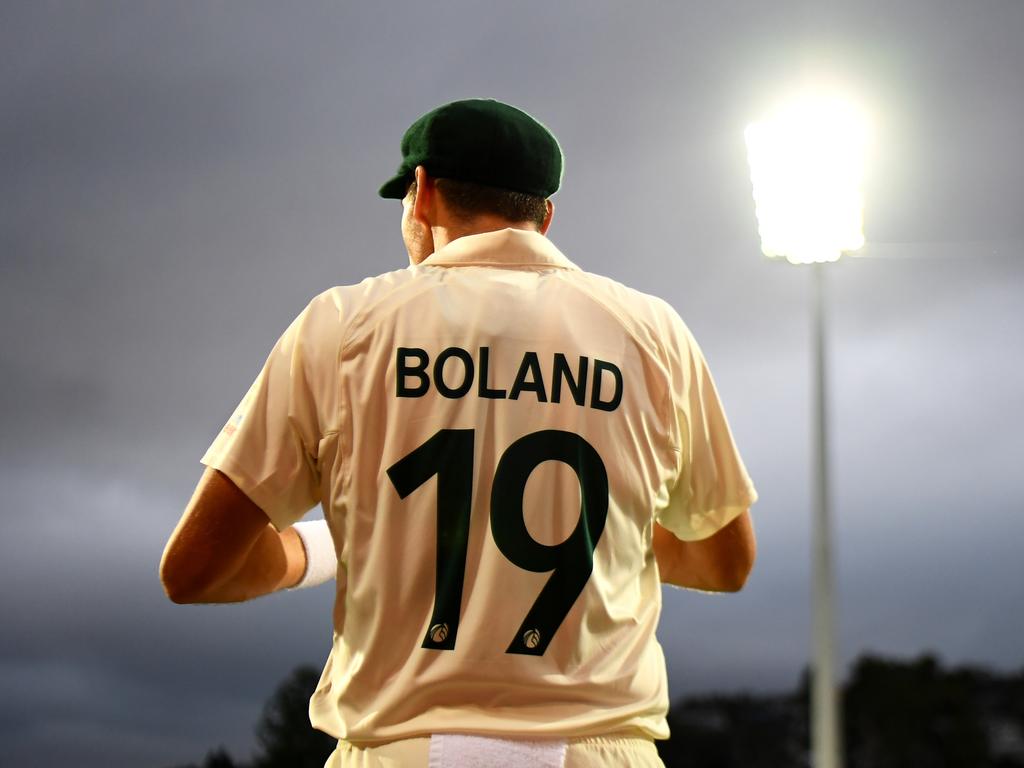 Crowd pleaser: Boland on the field. Picture: Steve Bell/Getty Images
Between his overs he was sent down to field at fine leg in front of the raucous Bay 13. The roar of the crowd was overwhelming. Deafening. With a left-handed and a right-handed batsman at the crease he had to swap sides and the crowd would erupt with his movement from one side to the other. He was trying to shut it out. At one point, Nathan Lyon ran across to him. "Take it in mate," he said. "Look around and soak it in. It's not always going to be like this." He turned and smiled and gave them a wave. The crowd went even wilder. The next over, Ollie Robinson nicked his perfectly pitched outswinger. Six wickets for seven runs.
Boland went to field at fine leg. Pat Cummins called him up into the circle. Australia were about to win the Ashes and he wanted Boland in close, along with the rest of the team. Cameron Green snared the wicket. Boland's teammates hugged him and handed him the Ashes-winning ball and a stump and they did a victory lap. Everything, it seemed, had changed for Scott Boland.
This time, however, Daphne says, he won't be so up himself. He's matured. She reckons the arrival of his two little girls, Charli and Andi, have made him a better man and a better athlete. It's helped him focus and made him realise what's important in life. The night before his debut at the MCG he and Daphne and the kids were holed up in the team's hotel. It was getting late and she told him to go to bed while she bathed the girls and got them ready for bed. "No way," he told his wife, "I'm a dad first and foremost – this is my most important job."
She looks at her husband and smiles. "I think that age and maturity have made him a lot more confident in himself and his ability to play," she says. "He just gets better as he gets older."
– The Weekend Australian Magazine